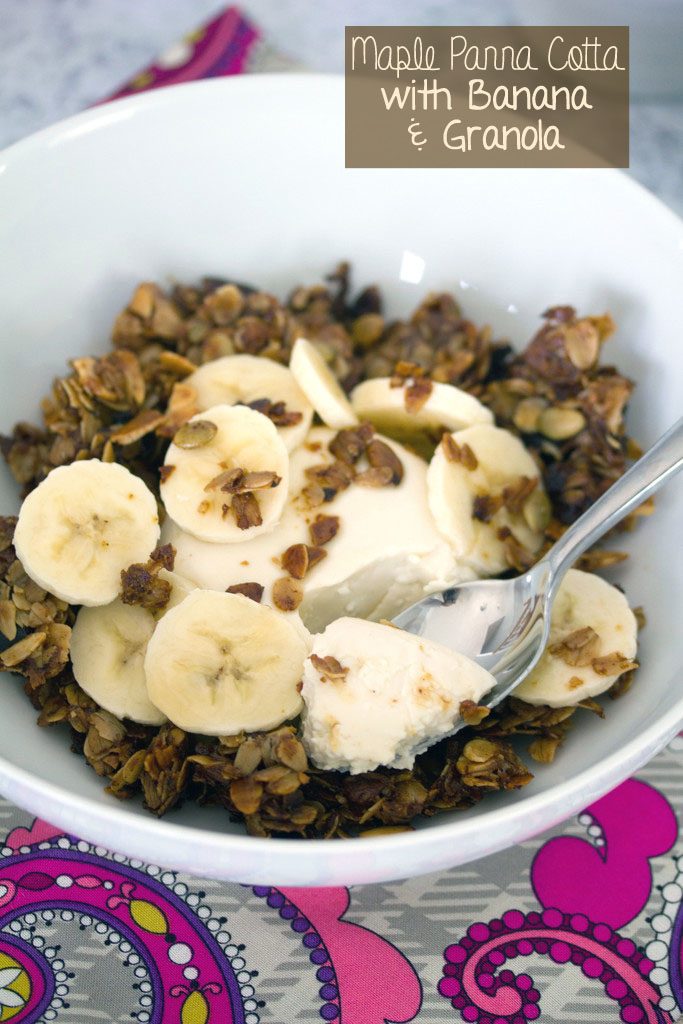 Happy Monday!! If you fake it, you'll feel it. I promise. At least kind of. I've always been a huge proponent of the idea that your attitude can take you a long way. Think happy thoughts and you'll naturally be happier. Complain and moan and groan and you're going to feel pretty crappy. But sometimes things just aren't so great and no amount of positivity can change things. So, if that's the way you're feeling on this mid-February Monday, feel free to think a couple negative thoughts. Get it all out. But then throw in some happier ones... Some food related thoughts, perhaps?
If you're having trouble coming up with anything happy to think about, try this one... Panna cotta for breakfast. It's basically the best idea in the world and oh so perfect for an otherwise lame Monday. This Maple Panna Cotta with Bananas and Granola was one of the dishes made at the brunch class I attended at Stonewall Kitchen with Chef Dana Moos last month and I've been thinking about it ever since. While I've never heard of panna cotta for breakfast before, it just kind of makes sense. Especially when surrounded by granola and a little bit of fruit.
I've actually never made panna cotta before, but was happy to learn that it's super simple. It's very fast to whip up, but then has to chill for a bit, so make sure you plan ahead.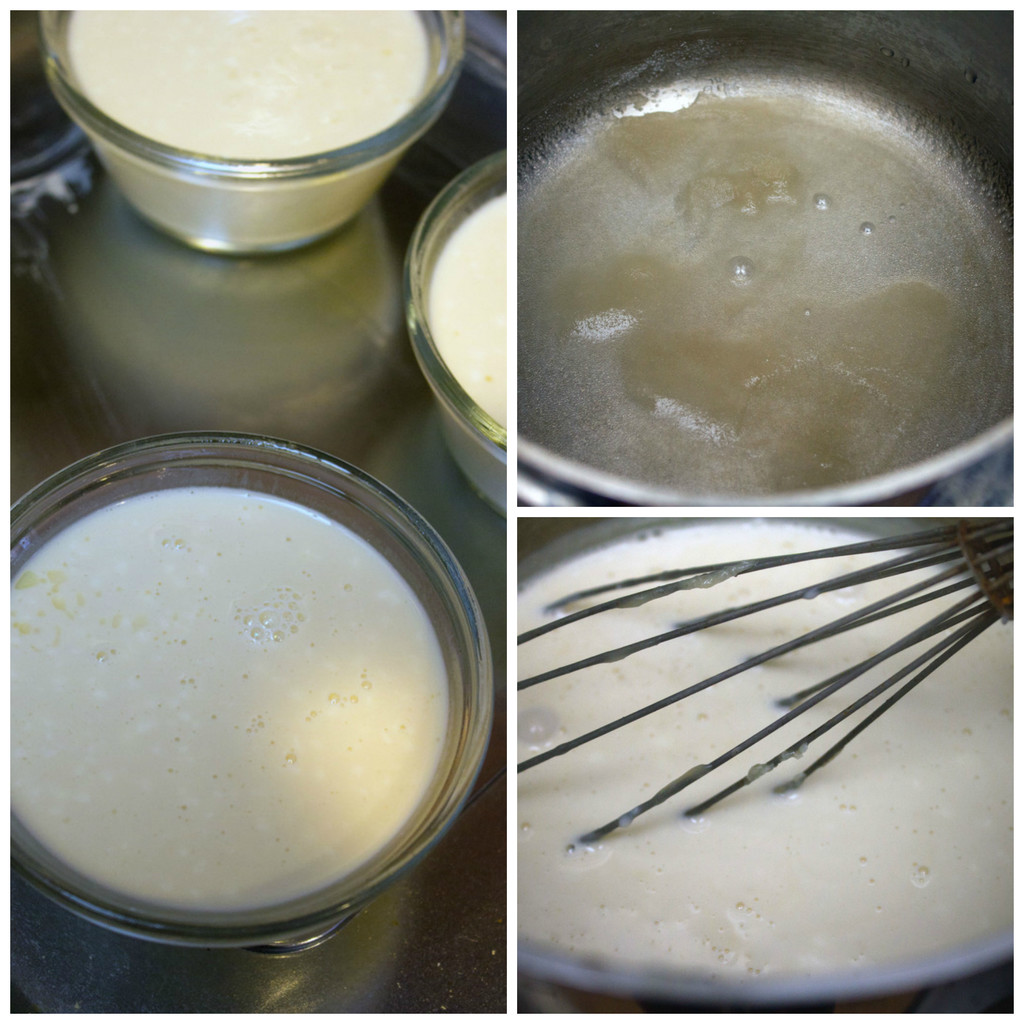 The granola simply involves baking a whole bunch of delicious ingredients. You can really use anything you choose, but this version involves oats, pecans, pumpkin seeds, dried cranberries, coconut, and sliced almonds.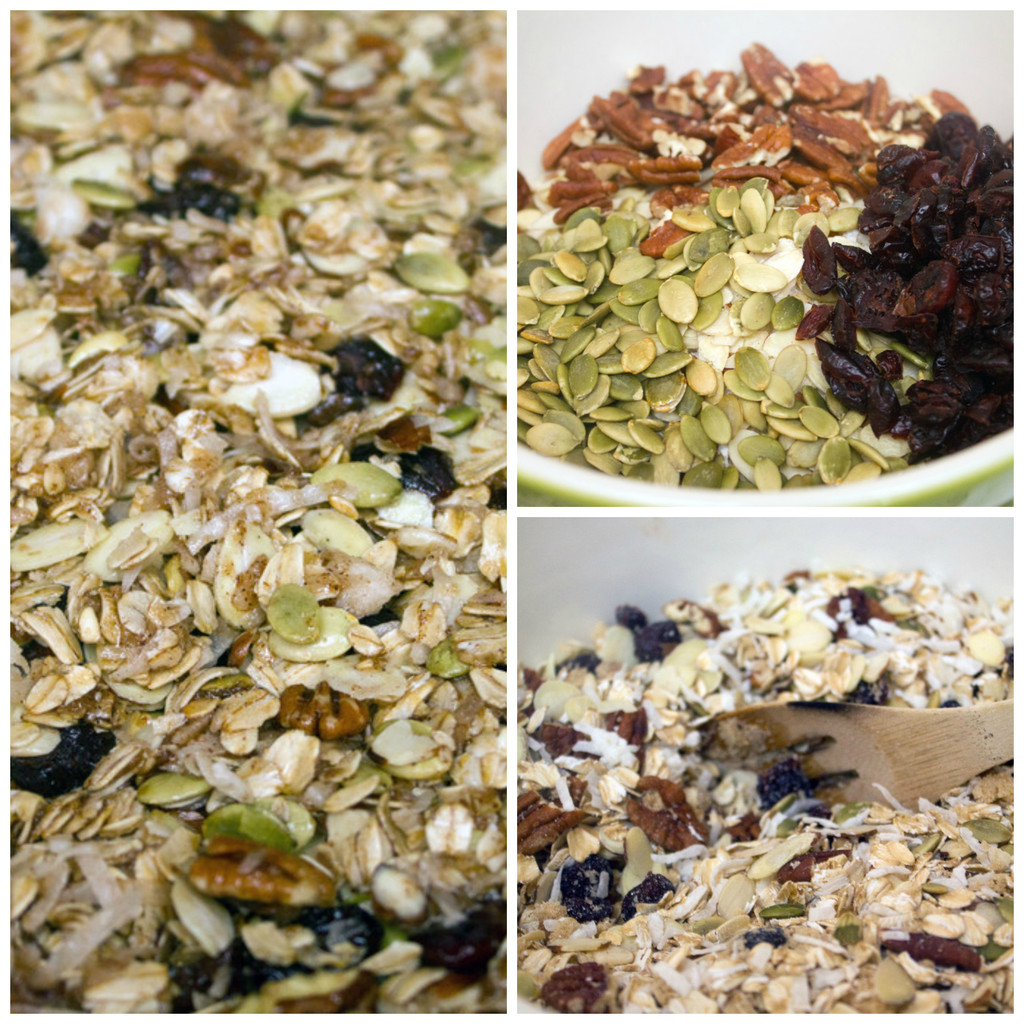 And then some assembly is required. Because all of these dish components can be done in stages, this is the perfect dish to make for a brunch gathering. Make everything the day before and keep the granola in mason jars and the panna cotta in the fridge. When your guests arrive, it's super easy to slice a couple bananas and plate everything. Basically, all you have to do is wake up and make the coffee (and maybe run a brush through your hair if you sport the kind of bedhead I do).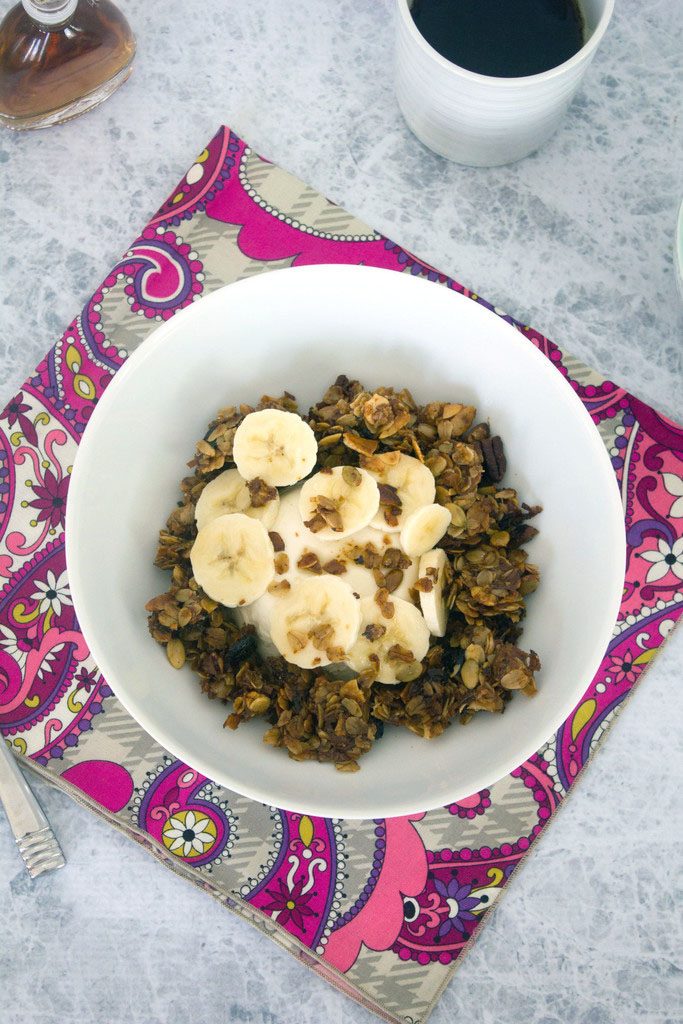 You may feel just a littttle bad that you're eating panna cotta for breakfast. But not bad enough to stop. You'll also feel really, really good about it.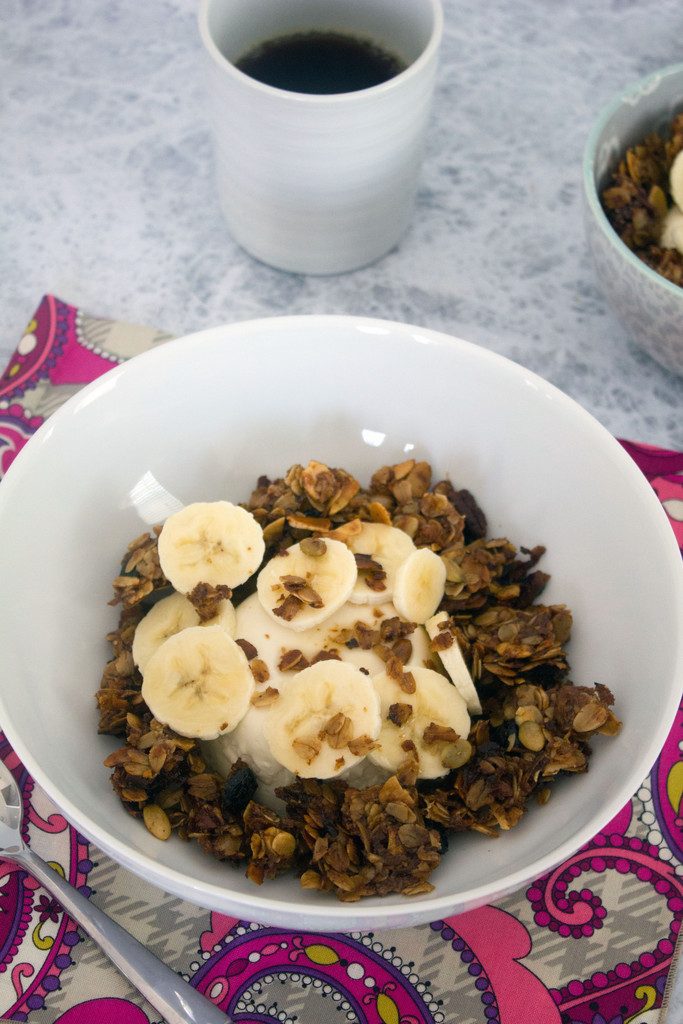 Hopefully you'll even briefly forget that it's Monday. Though big tears to the fact that I probably wouldn't be eating a brunch like this if it were a Monday. In fact, today, I'm most likely eating either oatmeal or a yogurt. But most definitely dreaming about this.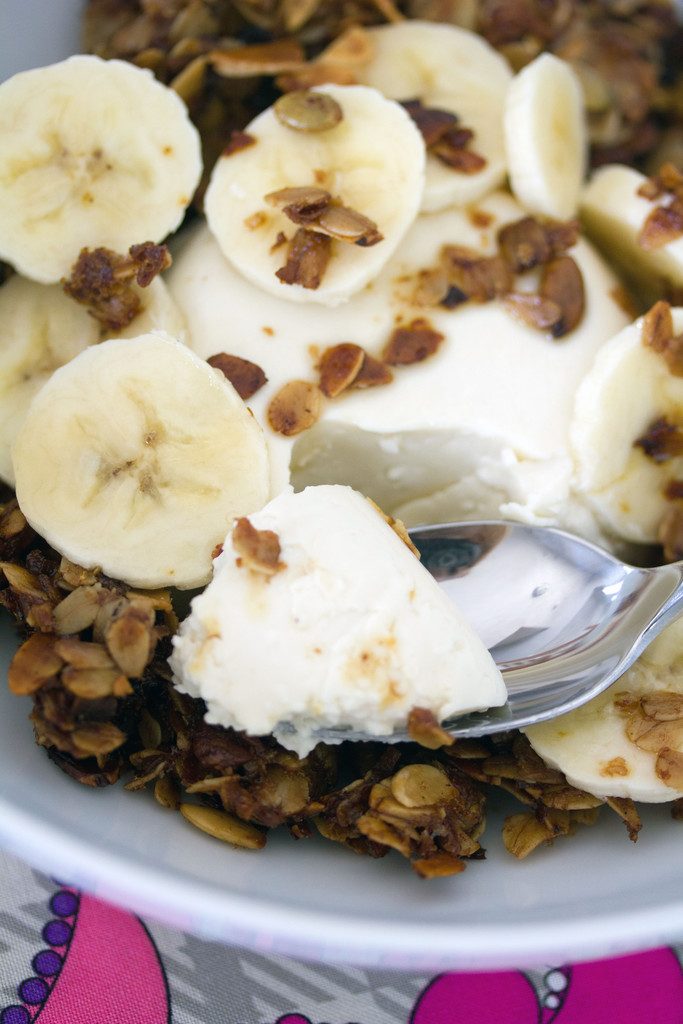 In addition to this dish, my happy thoughts this morning involve the fact that The Bachelor is on tonight and the fact that there are only 4 more days until I can have brunch again. Also, maple syrup. Does maple syrup make anyone else ridiculously happy? I honestly think it's one of the best foods in the world.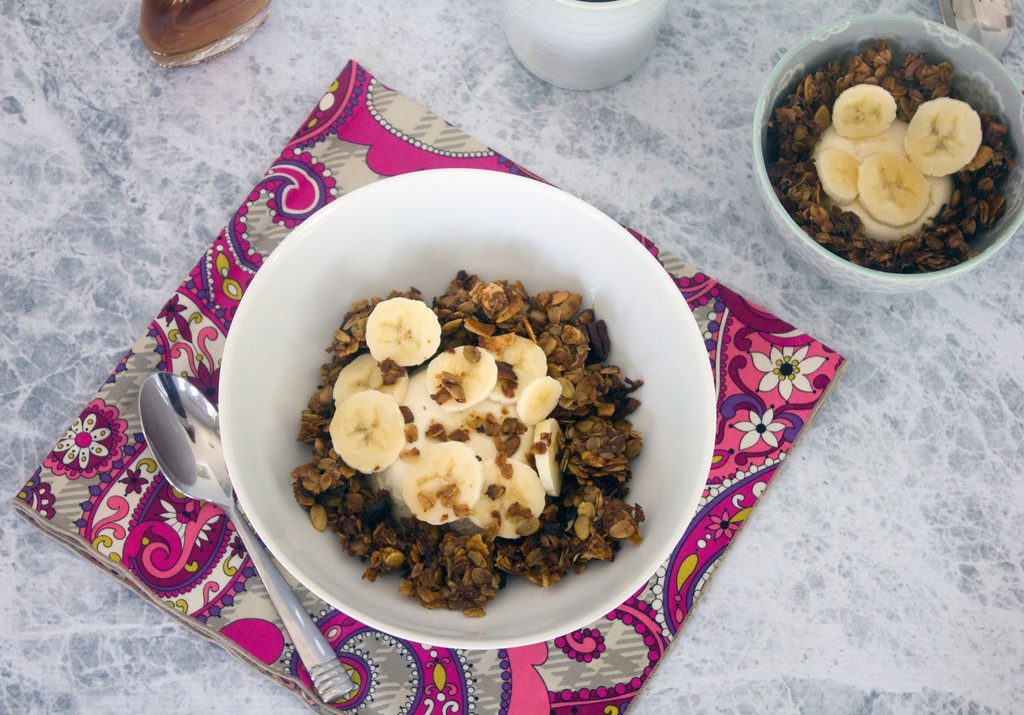 And does anyone else agree that sliced bananas taste so much better than whole bananas? When I was a kid, I used to slice bananas up and put them in a bowl of milk. Sometimes I'd add a little sugar, too. That's my kind of comfort food. But yes, maple panna cotta is way better than sugar milk.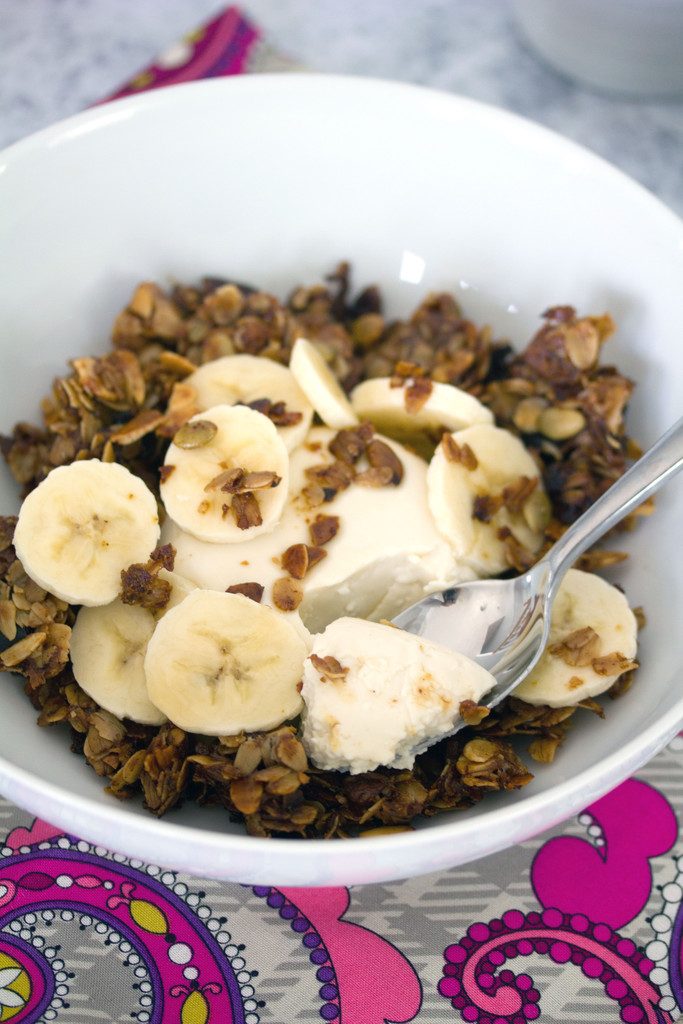 I hope I've given you at least one reason to be happy this Monday. Orrr else I just depressed you more with the thought that some people are living the maple panna cotta for breakfast life on a Monday. Perhaps in our next life, we will be those kinds of people.
What's the happiest breakfast you've ever had?
P.S. another thing that will make you happy is Stonewall Kitchen cooking classes. I attend as often as I can and if you're in the New England area, you should make your way to York, Maine, and take a class ASAP!
📖 Recipe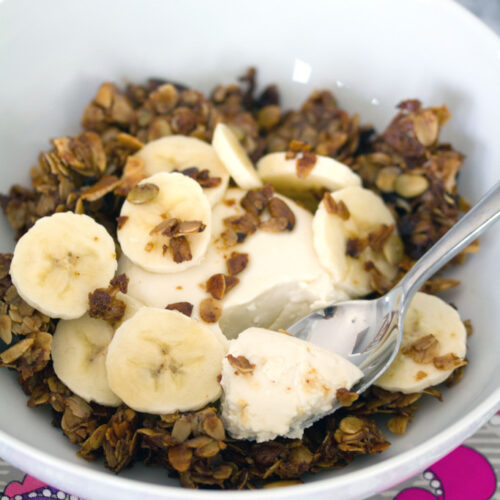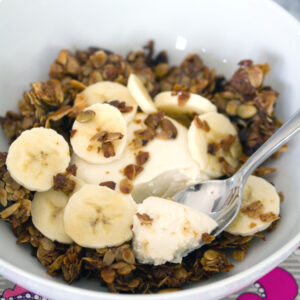 Maple Panna Cotta with Sliced Bananas and Granola
Panna cotta for breakfast? Yup. This brunch-style take on a classic dessert involves maple syrup, bananas, and a delightful homemade granola.
Print
Pin
Rate
Makes:
4
-6 (dependent on size of containers)
Ingredients
Maple Panna Cotta:
1

envelope unflavored gelatin

about 2 ¼ tsp

2

Tbsp

cold water

1 ½

cups

heavy cream

¾

cup

half-and-half

⅓

cup

plus 1 Tbsp granulated sugar

4

oz.

cream cheese

softened

2

Tbsp

real maple syrup or ½ tsp pure maple extract

2

ripe bananas

About 3 cups granola

recipe below
Granola:
¼

cup

canola oil

¼

cup

honey

1

tsp

cinnamon

1

tsp

vanilla extract

¼

cup

light brown sugar

2

cups

old-fashioned oats

no quick-cook

½

cup

shredded coconut

½

cup

chopped pecans

¾

cup

sliced almonds

½

cup

pumpkin seeds

½

cup

dried cranberries
Instructions
Maple Panna Cotta:
In a small saucepan, combine gelatin and cold water and let sit to soften for about 2 minutes.

Turn heat on to low and cook until gelatin is dissolved, about 1 minute. Remove from heat.

In a medium saucepan over medium high heat, combine heavy cream, half-and-half, and sugar and bring to a boil.

As soon as mixture begins to boil, remove saucepan from heat and stir in cream cheese, maple syrup or extract, and gelatin mixture.

Mix very well to blend in cream cheese. Cool to room temperature.

Coat 6 6-oz. ramekins with cooking oil (you could also use ½ cup muffin tins or martini glasses) and fill them evenly with the cream mixture. Cover all ramekins with plastic wrap and place in fridge to chill 4-6 hours, or overnight.

When ready to serve, run a sharp knife around the edges of the ramekins so the custard loses suction. Place custards onto plates or in bowls.

Serve with banana slices and ½ cup granola.
Granola:
Pre-heat oven to 325 degrees.

Line a rimmed baking sheet with parchment paper.

In a small saucepan over medium-low heat, combine canola oil and honey. Remove from heat, add the vanilla and cinnamon and set aside.

In a large mixing bowl, combine light brown sugar, old-fashioned oats, shredded coconut, chopped pecans, sliced almonds, pumpkin seeds, and dried cranberries. Mix well.

Stir in the oil and honey mixture, until oats are well-coated.

Spread granola on a baking sheet and bake until just lightly browned, about 25-30 minutes. Be sure to stir mixture halfway through baking to ensure granola cooks evenly.

Remove from oven and let cool. Once cool, break granola up.
Share a Photo of Your Finished Recipe!
Mention @wearenotmartha and share a photo if you've made the recipe!