These Mexican Chocolate Cookies are delicious cinnamon cookies packed with dark chocolate chunks and mini marshmallows. Totally addictive and perfect for summer campfires!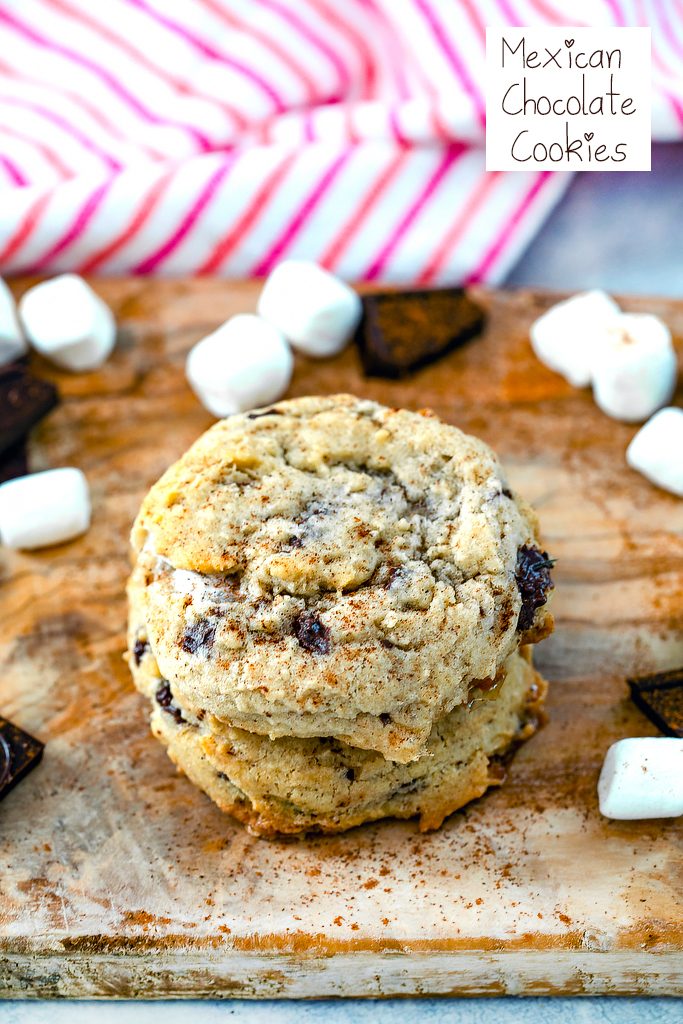 I'm somewhat ashamed to tell you that after 11 years of blogging about delicious desserts, I am only just now perfecting my cookie recipes. Don't get me wrong, my cookies are almost always delicious, but they often look like puffy little mounds instead of flatter cookie-like cookies. I decided that 2019 was the year to get serious about my cookie-making and I've set off to conduct some major experimentation into how to bake the perfect flat, but still moist and chewy (and kinda poufy in the middle) cookie. So far, my results have been very happy. And I'm pretty sure my grocery store is staying in business due to the amount of flour I purchase. Also? My clothing may be fitting tighter.
The first time I made these Mexican chocolate cookies, they were little mounds. But after some experimentation and ingredient swapping, most notably using baking soda instead of baking powder, I ended up with the flat but still chewy cookie of my dreams. Baking soda helps cookies spread (as long as it has an acid to react with; in my case here, brown sugar), while baking powder helps cookies rise, but not spread. The science of baking is so important and the more I dig into it, the better my cookies turn out.
I was initially going to call these cookies Mexican hot chocolate cookies. But there are already a lot of Mexican hot chocolate cookies on the internet and they're pretty much all, well, chocolate. I kept these cookies cinnamon flavored while adding in chunks of dark chocolate and marshmallows. So, I'm sticking with a Mexican chocolate cookie name, but with marshmallows included. While "hot chocolate cookies" sound like more of a winter treat, these Mexican chocolate cookies are the perfect summer cookie and the chocolate and marshmallows make them feel almost s'mores like. With a cinnamon twist!
MEXICAN CHOCOLATE COOKIES RECIPE
There's something about the chocolate and cinnamon flavor combination that's so warming. That's why Mexican hot chocolate makes for the perfect winter treat. But I crave the flavor combo in the summer, too. So for these cookies, I made a delicious cinnamon batter and added in dark chocolate chunks and marshmallows. They're almost like deconstructed Mexican hot chocolate in solid form... But they also make the perfect campfire treat.
The batter is easy to whip up, though I do have two recommendations for you. The first is to use a high-quality chocolate that you chop into chunks. I'm telling you, this makes such a difference over using chocolate chips! The second is to keep your mini marshmallows in the freezer for about an hour before adding them to the dough. This will help prevent them from melting too quickly while the cookies are baking, which means they'll be less likely to turn into a sticky caramelized mess.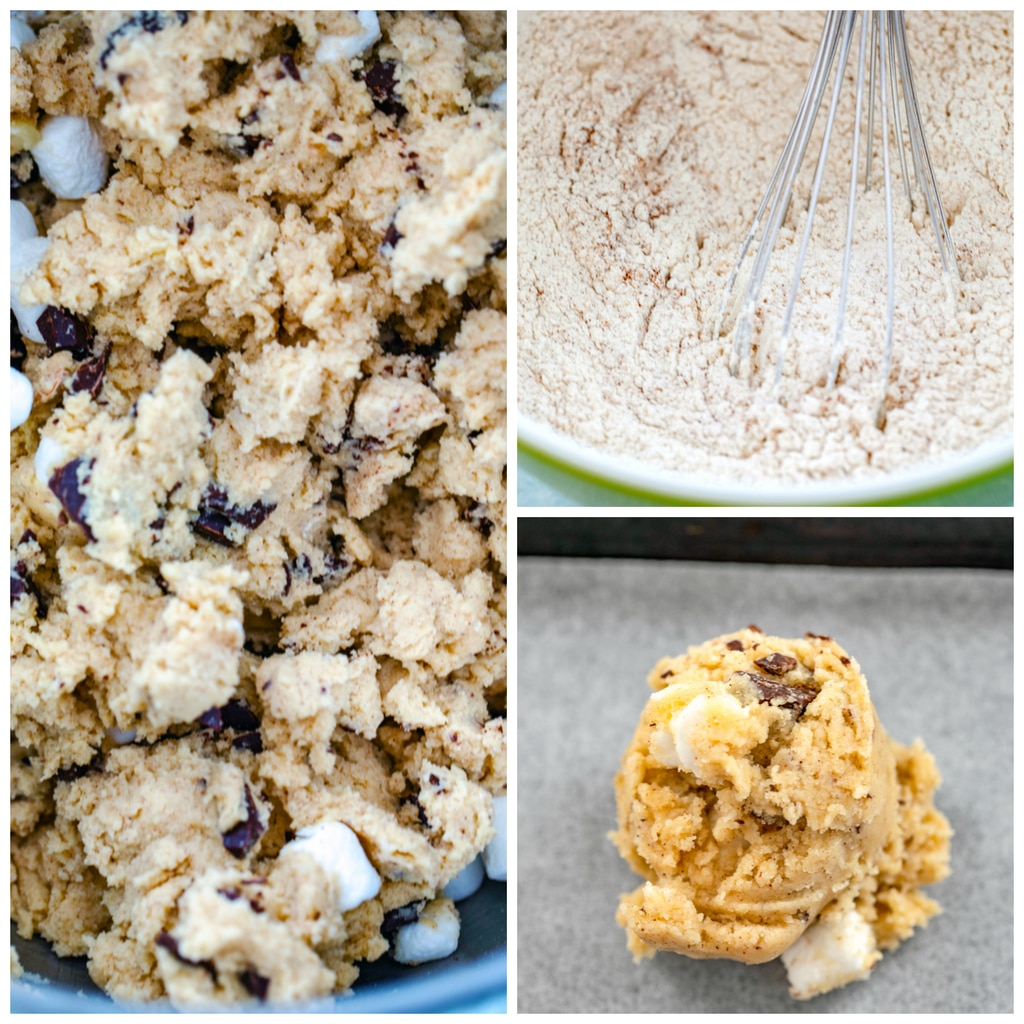 Once your dough is ready, just scoop and bake. Bonus points for the fact that your house will smell deliciously of cinnamon while these cookies are baking.
I like to sprinkle a little extra cinnamon on them once they're cooled.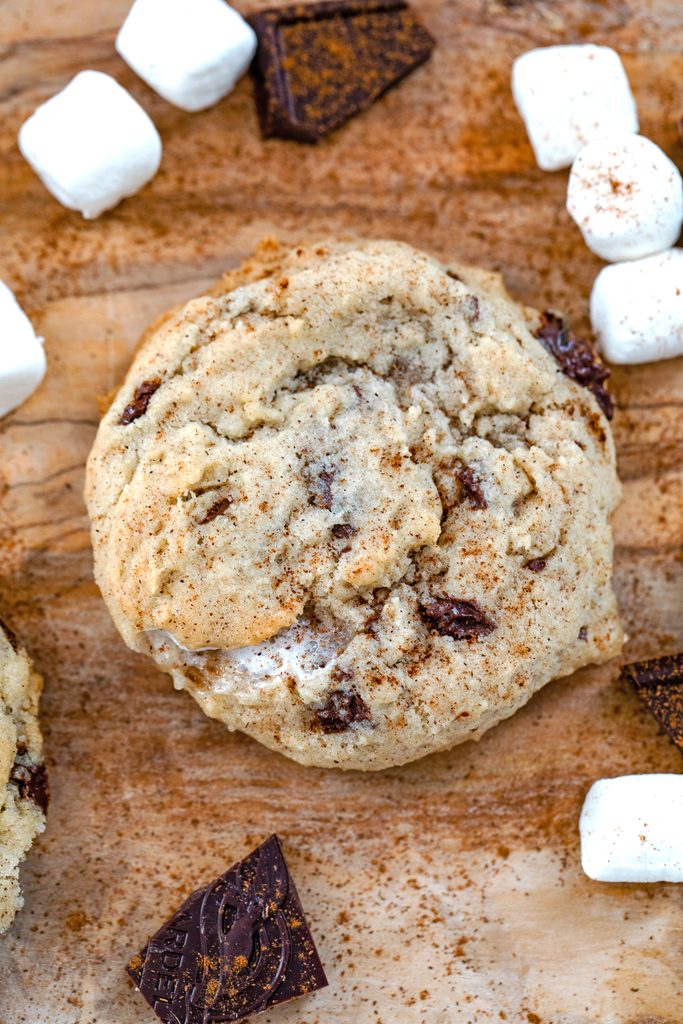 I was happy that with freezing my marshmallows, they melted into the cookies, but didn't ooze out of them causing too much extra crispiness (that's what happened without freezing them).
I was also happy these were packed with so much dark chocolate. If you prefer milk chocolate, you can certainly use it, but to me, dark chocolate and cinnamon is an incredible combination.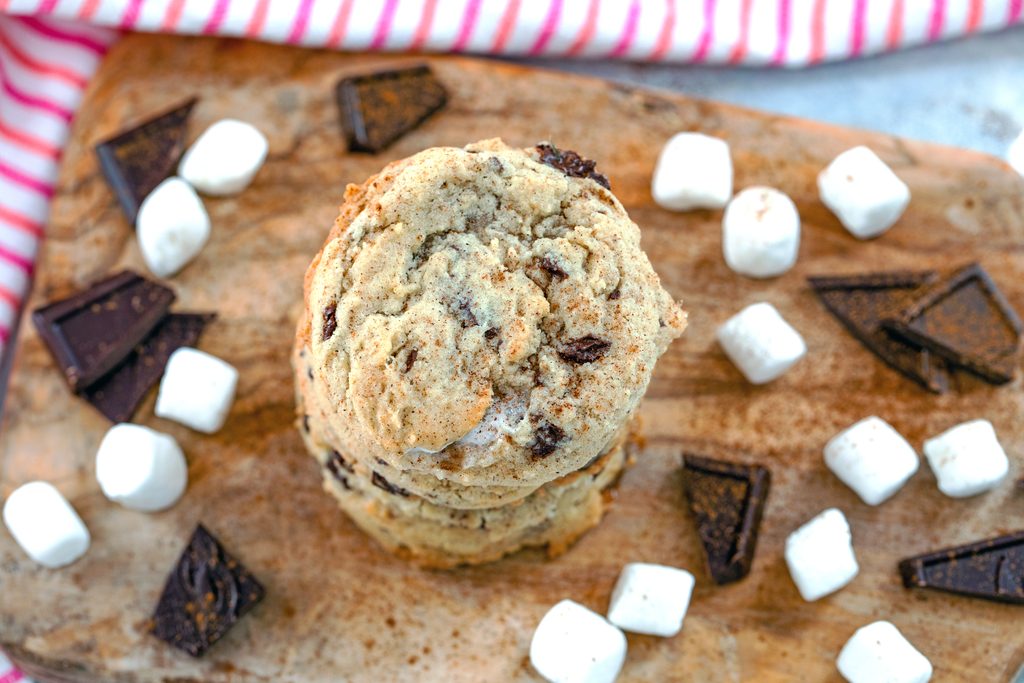 SinceI made these cookies four times (and they all tasted good, they just didn't all look fabulous), Chris and I have eaten a lot of these cookies over the past couple months. It made me so happy that despite having cabinets packed with baked goods (ugh I have no self control), Chris always seemed to be picking up one of these cookies. He said they were one of the best cookies he's ever had.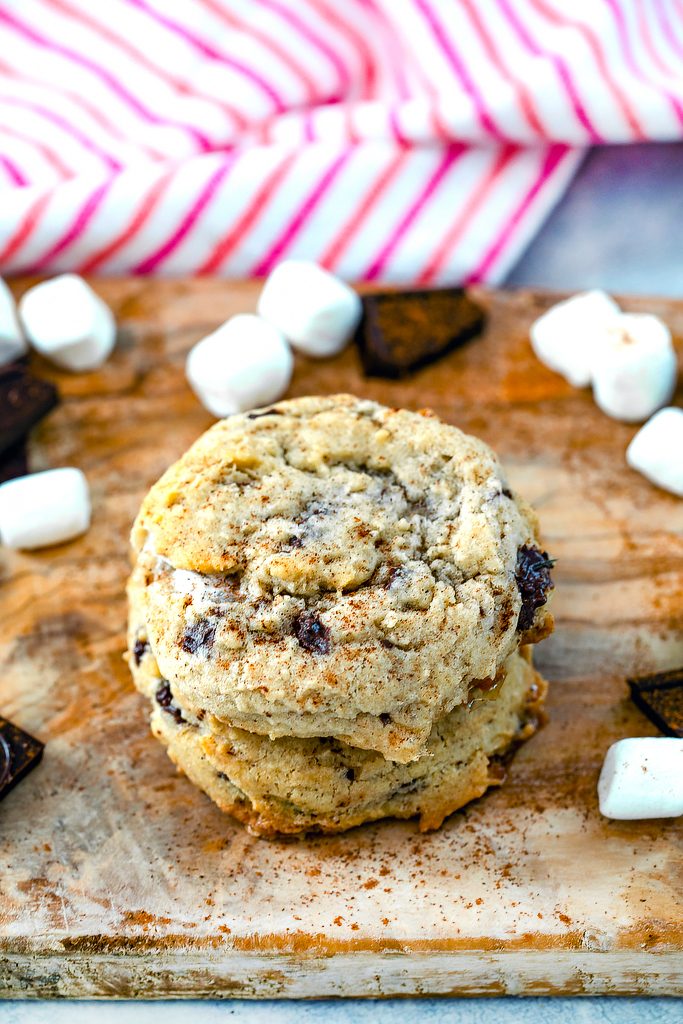 I think I probably need a little break from these Mexican chocolate cookies, but I definitely know I'll be making them again soon. And in the meantime, I've got plenty of other cookies I want to make!
Do you prefer flatter cookies or puffy cookies?
If you like these cookies, check out my recipes for XL Peanut Butter Cookies (they're super flat!) or Banana Split Cookies (they're little mounds!). These Triple Chocolate Cookies look absolutely perfect to me!
📖 Recipe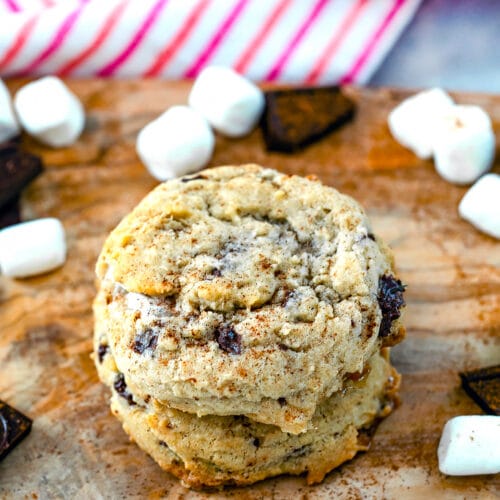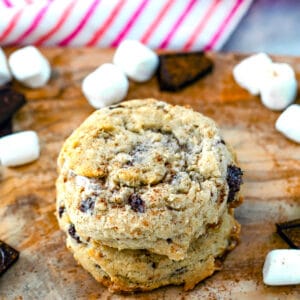 Mexican Hot Chocolate Cookies
These Mexican Chocolate Cookies are delicious cinnamon cookies packed with dark chocolate chunks and mini marshmallows. Totally addictive and perfect for summer campfires!
Print
Pin
Rate
Ingredients
1

cup (2 sticks)

unsalted butter,

room temperature

1

cup

granulated sugar

¾

cup

packed light brown sugar

2

large eggs

1

Tbsp

vanilla

3

cups

all-purpose flour

1 ½

tsp

cinnamon

1

tsp

baking soda

½

tsp

salt

4

oz (¾ cup)

chopped dark chocolate

(I use 60%)

1

cup

mini marshmallows

(*see notes)
Instructions
Pre-heat oven to 375 degrees and line two cookie sheets with parchment paper or Silpats.

In the bowl of a stand mixer (or a large bowl with a hand mixer), cream together the butter and sugars until light and fluffy, 2-3 minutes.

Add eggs and vanilla and beat until smooth.

In a separate medium bowl, whisk together flour, cinnamon, baking soda, and salt.

With mixer on low, gradually mix in the dry ingredients until just combined, taking care not to over-mix.

Gently fold in chopped dark chocolate and mini marshmallows.

Drop about 1 ½ Tbsps of cookie dough onto prepared baking sheets (I like to use a cookie scoop), placing dough about 2 inches apart.

Bake cookies for 8-11 minutes, until cookies are just turning golden. Let cool on the pan for a couple minutes before moving to wire racks to cool completely.
Notes
For best results and to avoid too much melting, place mini marshmallows in the freezer for about 1 hour before adding to cookie dough.
Share a Photo of Your Finished Recipe!
Mention @wearenotmartha and share a photo if you've made the recipe!