The only thing better than peanut butter cookies are extra large peanut butter cookies packed with rainbow sprinkles and toasted oats. You're still allowed to have more than one, trust me.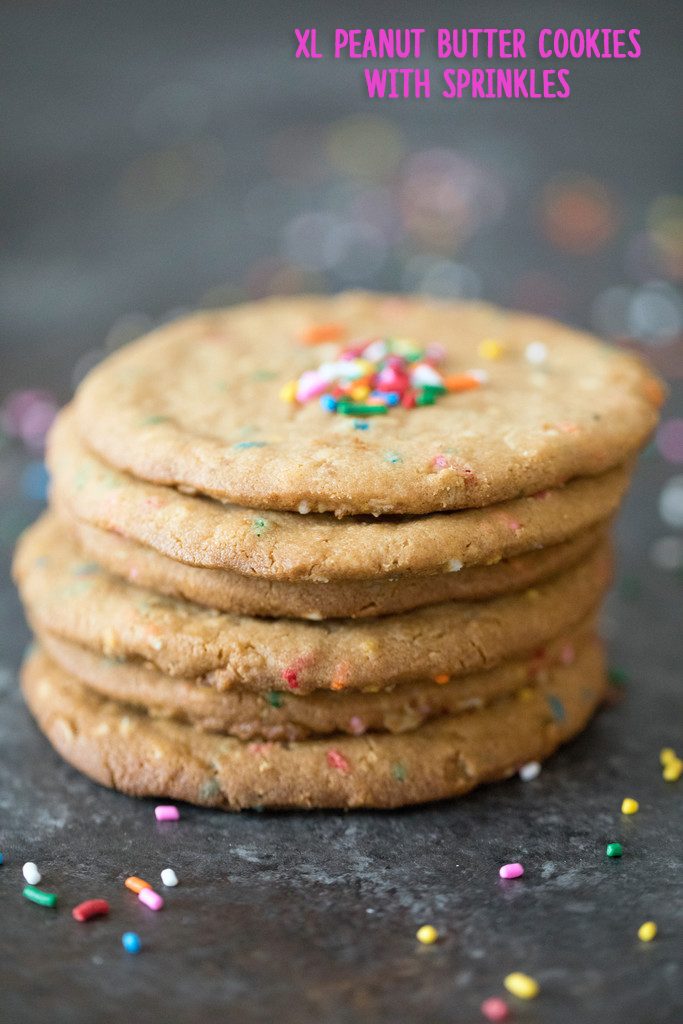 There's nothing more awkward than that moment when you need to get off the train, but the person sitting next to you blocking your way out is sound asleep. This is legitimately my nightmare and causes me to break out into a serious cold sweat as I contemplate how to escape.
Do I loudly say, "excuse me!" or do I tap them gently with my hand? Perhaps a combination of the two? Or do I try to crawl under the seat to avoid bothering them? But that would cause a real scene.
You know what? Why don't I just sit here silently and miss my stop and try again at the next one? This thought has actually crossed my mind. That it would be easier to make my husband pick me up 15 minutes away than it would be to have to touch this stranger and disturb their dreams.
But when push comes to shove, I always go with the combination of gentle tap and verbal pleading. They open their eyes, look incredibly uncomfortable, and then frantically jump up so I can get around them. Nightmares.
The only thing worse than being locked in your seat by a sleeping stranger is being stuck in a seat with someone eating stinky food. Or someone eating a giant slice of pizza when you're so hungry, you feel like you might pass out.
To the point that you wonder if it might actually be OK if you just ask them for a bite (who am I kidding... if I can't even wake someone up to ask them to move, I'm definitely not asking them for a bite of their food. Also, gross).
There are only a few foods that are acceptable for train eating and all of them should be able to be eaten discretely and without smell. Which is exactly why I have been packing one of these XL Peanut Butter Cookies with Sprinkles in my backpack each day.
This is especially handy when I have plans after work and get on the train having not eaten in hours. Sure, I might be making other hungry commuters a little bit jealous, but at least I can eat a cookie in small dainty bites instead of shoving a huge cheesy slice of pizza in my mouth.
How to Make XL Peanut Butter Cookies with Sprinkles
I made these peanut butter cookies XL size, so you only need to pack one. Not that I'd judge you if you brought more. Nope, not at all. Ever since I made Tom Colicchio's peanut butter sandwich cookies with toasted oats, I vowed never to make peanut butter cookies without toasted oats. And I've stood by that.
Basically, you start by coating old fashioned oats with melted butter and getting them nice and toasty. Then lay them on a parchment-lined baking sheet.
From there, you make a pretty standard peanut butter cookie batter.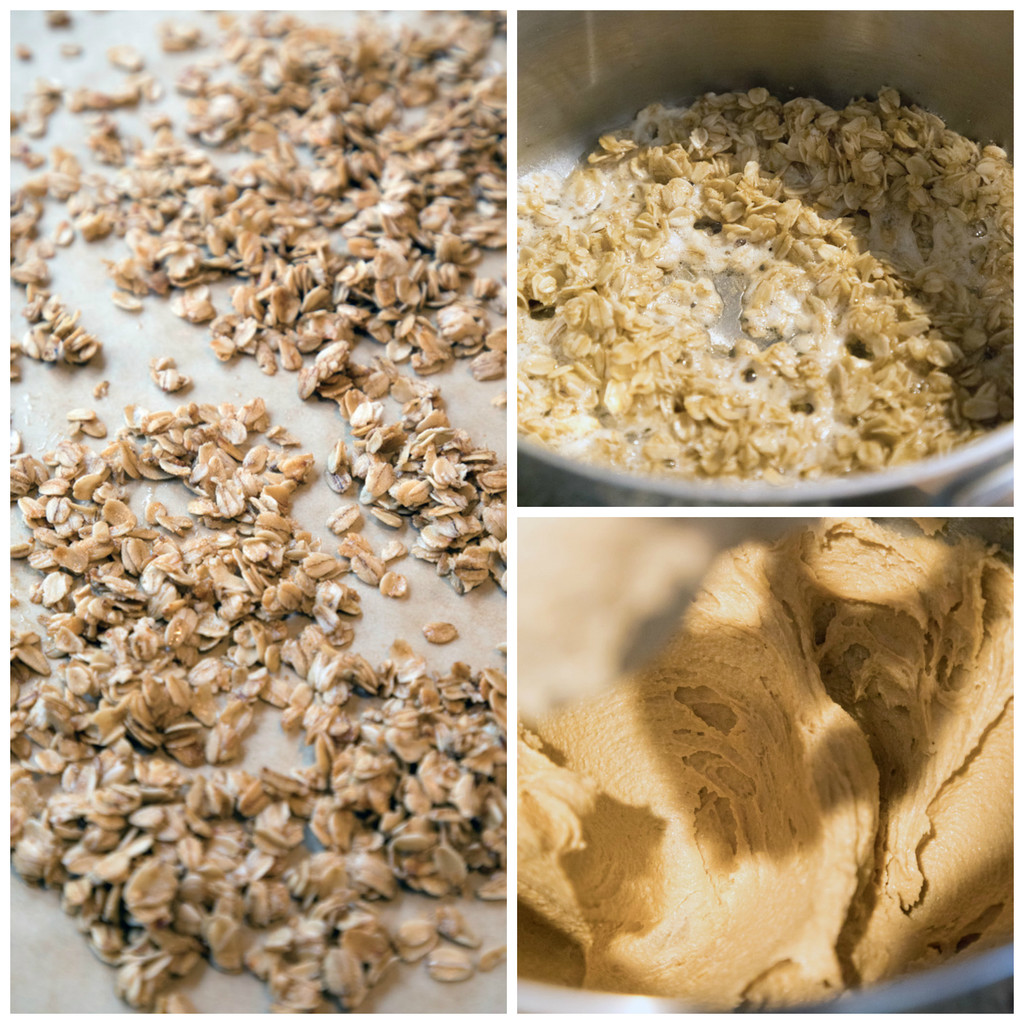 But you mix the toasted oats and rainbow sprinkles into said standard peanut butter cookie batter.
Now I should also probably vow to never make peanut butter cookies without sprinkles either. Because it just doesn't make sense not to add them??
Also from now on, all peanut butter cookies need to be giant peanut butter cookies. Because it takes just as much work to make the cookies large as it does to make the cookies small.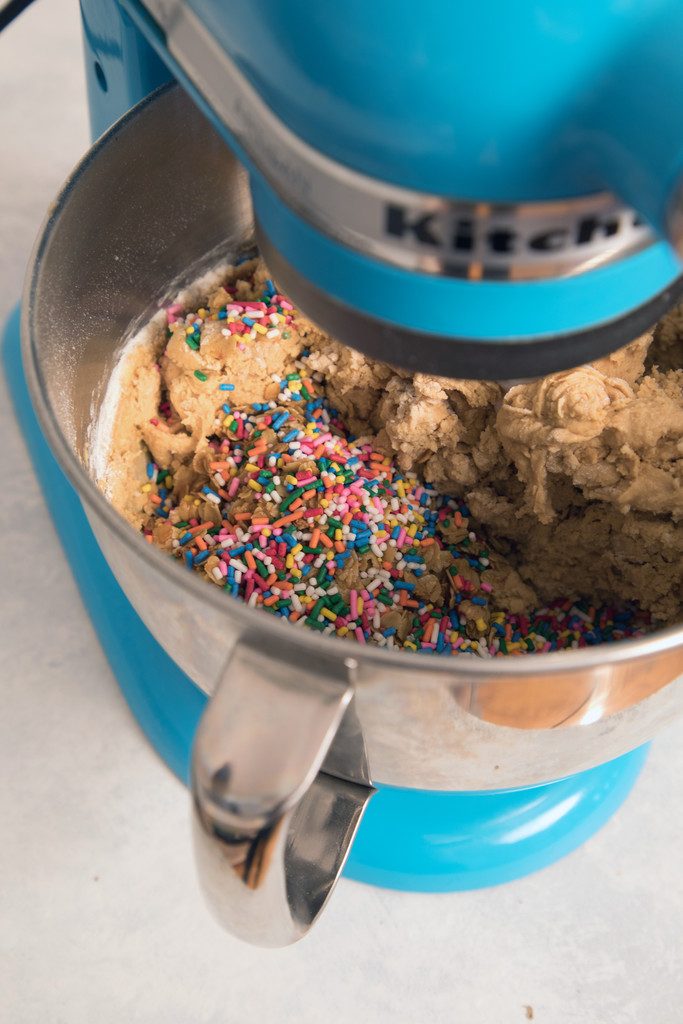 I used a 3.5-inch round cookie cutter to form these big peanut butter cookies, but you can go even larger if you want.
The closer a cookie is to being the size of your face, the better.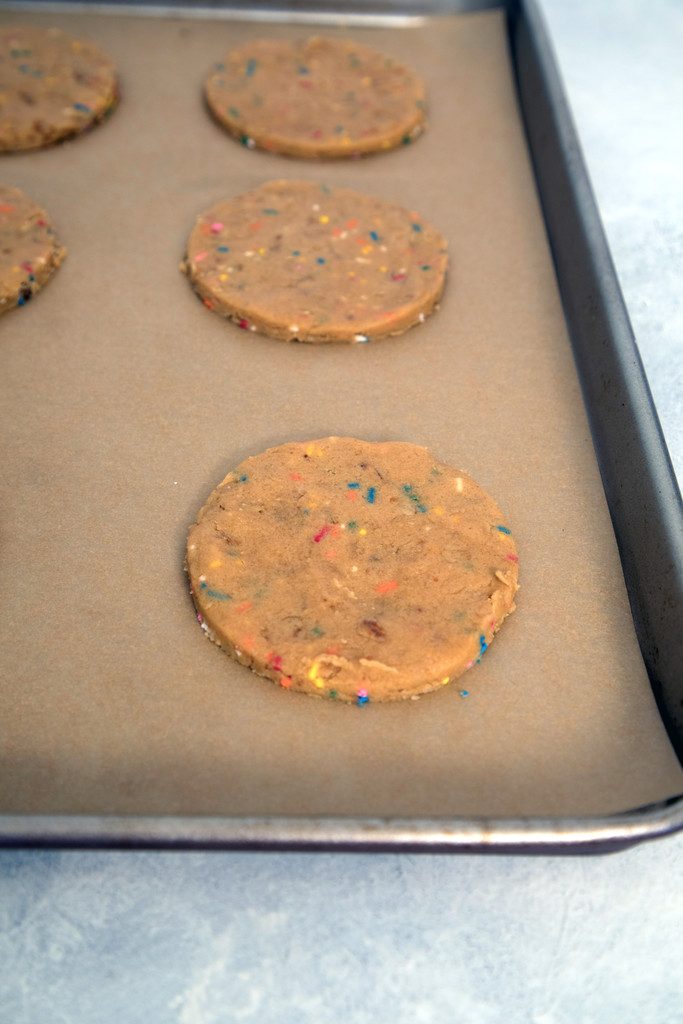 Everyone has a different idea of what the ideal peanut butter cookie is, but in my world they're soft, while also being nice and crumbly and full of peanut butter flavor without being too sweet.
Mission accomplished here!
I really have to control myself and continuously remind myself that these cookies are already XL, meaning I shouldn't eat eight of them.
Luckily, they are so satisfyingly awesome, that one is almost always enough for me (except, you know, when I'm having a particularly stressful day... Or when my dog has a night where she chose to viciously bark at every other dog that appears in a television commercial).
Isn't it funny how sprinkles have no flavor, but they automatically make everything taste better? One of life's little mysteries that we may never figure out.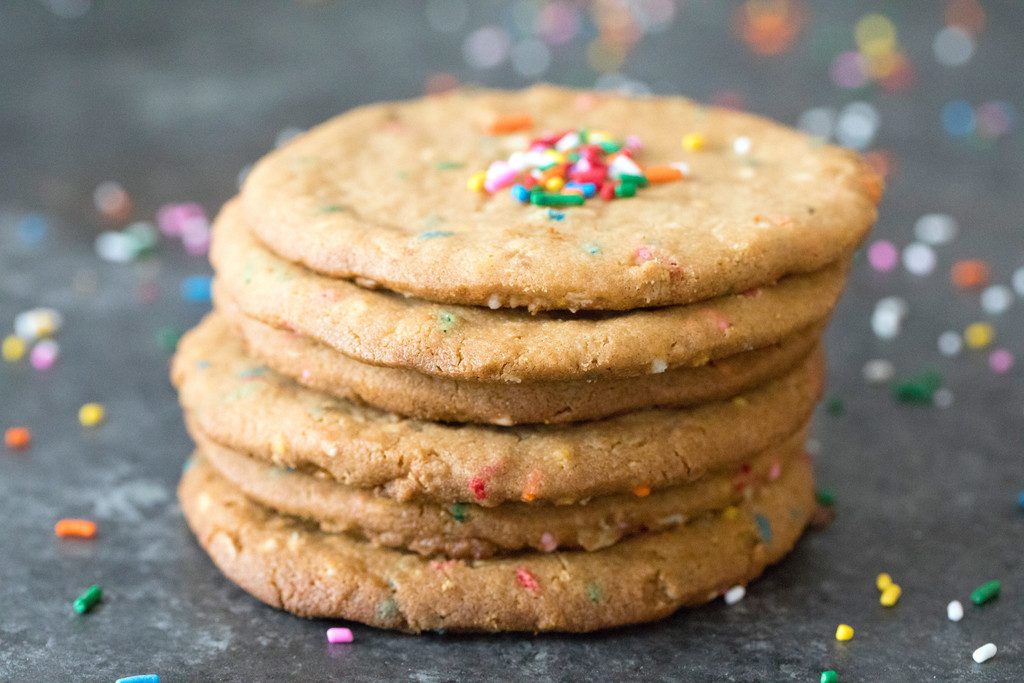 More Fun Cookie Recipes
I love a cookie that steps outside the ordinary and is a little more fun than typical. Sprinkles help, but so do unique flavors and designs. Here are some of my favorite fun cookie recipes:
---
I never have skim milk in my fridge anymore, but I'm telling you that these peanut butter cookies are the perfect cookies to dip in milk. But soy milk and/or coconut milk doesn't cut it. I wish it did, but it just doesn't.
I vote these peanut butter cookies as the best commuting snack of the year. And you know... the next time a sleeping man (I'm sorry, but it's always a man) is blocking my way out of my seat, perhaps I'll just wave a cookie in front of his face.
That will save me the creepiness of touching him or potentially frightening him out of his dreams (the worst!).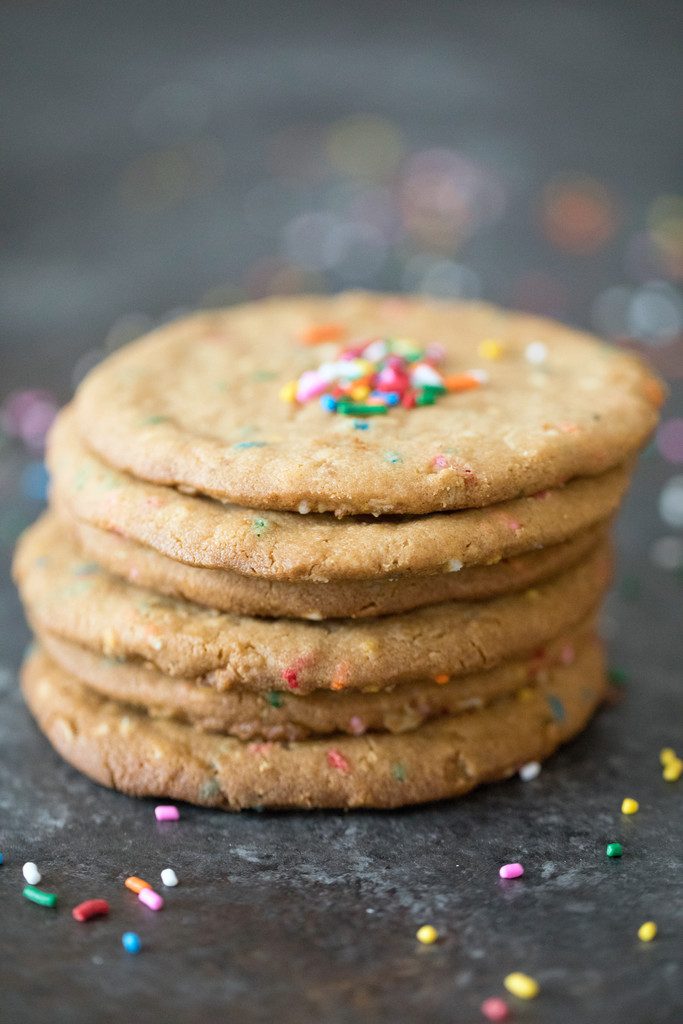 See, I really think peanut butter cookies can solve the world's problems. Or at least my minor awkward girl problems.
Please tell me I'm not the only one who has had to deal with the sleeping stranger on the train issue?
I suppose this can be an issue on airplanes, too, but at least you're all getting off at the same place and you can wait an extra five minutes to go to the bathroom while you consider your escape plan (or while you wait for the flight attendant to kindly come wake them up for you).
What's the best peanut butter cookie you've ever had?
📖 Recipe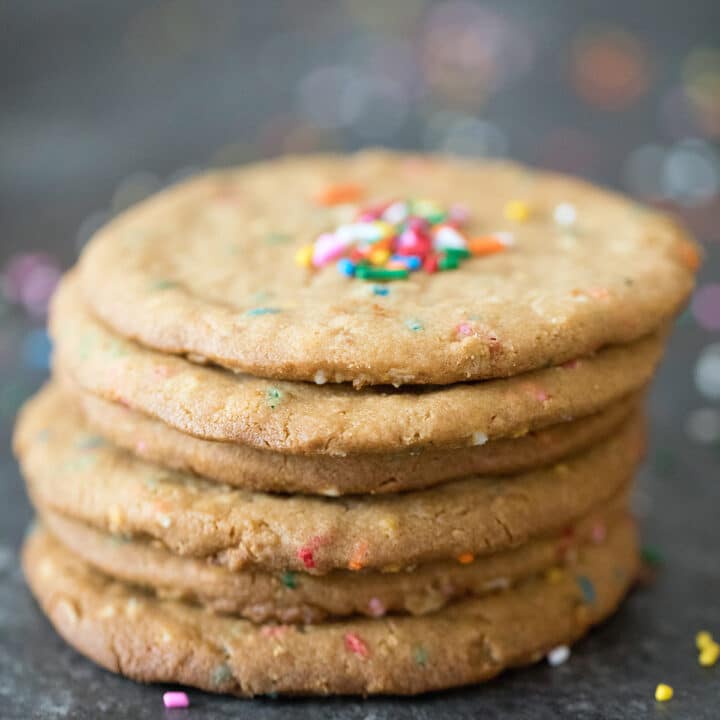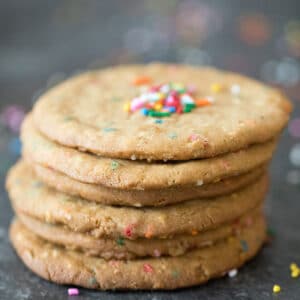 XL Peanut Butter Cookies with Sprinkles
The only thing better than a peanut butter cookie is an extra large peanut butter cookie packed with rainbow sprinkles and toasted oats. You're still allowed to have more than one.
Print
Pin
Rate
Ingredients
1

cup + 5 Tbsp

unsalted butter,

room temperature and divided

1 ⅓

cups

old-fashioned oats

2

cups

all-purpose flour

2

tsp

baking powder

1 ¼

tsp

salt

1

cup

packed light brown sugar

⅔

cup

granulated sugar

1

cup

peanut butter

2

tsp

vanilla

⅓

cup

rainbow sprinkles
Instructions
In a small saucepan over medium heat, melt 5 Tbsp of butter. When it's melted, pour in oats and stir for about 5-7 minutes, until browned and toasted.

Lay a piece of parchment paper on a baking sheet and when the oats are done toasting, pour them into an even layer on the parchment paper. Set aside to cool.

In a medium bowl, whisk together flour, baking powder, and salt. Set aside.

In the bowl of a mixer with paddle attachment or in a large bowl with a hand mixer, combine remaining cup (2 sticks) of butter, brown sugar, and granulated sugar. Beat until mixture is light and fluffy.

Add peanut butter and vanilla and continue mixing until well-combined.

Beat in the flour mixture until just combined, taking care not to over-mix.

Fold oats and sprinkles into the batter.

Divide dough into two portions. Place one portion on a large piece of parchment paper. Cover with a second piece of parchment paper. Using a rolling pin over the top of the parchment paper, roll the dough out, until it's about ¼ inch thick and even. Repeat with second ball of dough.

Place rolled out dough sheets in the refrigerator for about 20-30 minutes to chill.

Once dough is chilled, pre-heat oven to 350 degrees and line two cookie sheets with parchment paper.

Working with one portion of dough at a time, place on floured surface and take the top sheet of parchment paper off.

Using a 3.5-inch round cookie cutter, cut circles out of the dough and place on baking sheets. Re-roll scraps to get about 12 cookies out of each portion of dough. Repeat with second dough sheet.

Bake cookies at 350 degrees for 9-11 minutes, until just starting to turn golden at edges.

Let cool on the pan for a minute before moving to wire racks to cool completely.
Share a Photo of Your Finished Recipe!
Mention @wearenotmartha and share a photo if you've made the recipe!