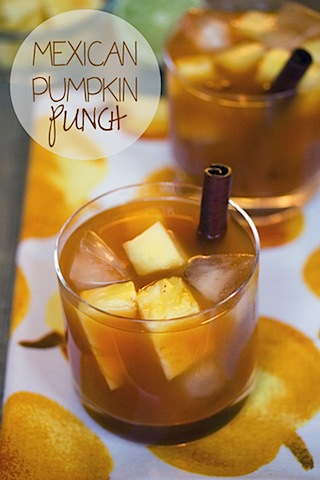 Let's get this weekend kicked off with a cocktail, shall we? I think it's safe to say we all need one and I'm sure I'm not the only one who's experiencing major busy season in all areas of life. I actually meant to post this last night, but according to my husband he found me passed out with my computer on my lap at 3:00 a.m. And half the things I wanted to do before going to sleep not done. So, that's how things are going right now. Can you say I'm very much looking forward to Thanksgiving break? And a cocktail?
But I'm also taking a bit of a mini vacation this weekend. I can't spill the details, though, because it's a surprise birthday trip for Chris. I'm hoping it will be a fabulous and fun getaway and a kickoff to what should be a fantastic holiday season. So, let's start celebrating with a cocktail. I admit this one sounds a little weird. But when I found it on the Food Network website, I knew I had to try it. And it's one of my new favorite drinks… both with alcohol and without. This Mexican Pumpkin Punch is perfectly seasonal and should be made and enjoyed ASAP before pumpkin season is over (SOB!).
Mexican Pumpkin Punch (serves 6):
Adapted from Food Network
Print this recipe!
6 C water
1 C packed brown sugar
2 cinnamon sticks
1 ¾ C pumpkin puree
1 lime
1 C rum
Pineapple chunks, for serving (optional)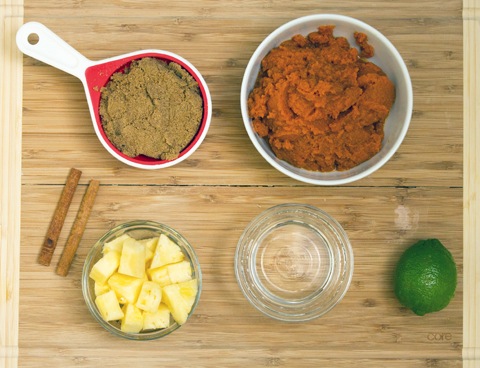 In a large saucepan, combine 6 cups of water with the brown sugar and cinnamon sticks and bring to a boil over medium-high heat. Stir until the sugar dissolves.
Then stir in the pumpkin and return the mixture to a simmer. Peel the limes in wide strips (with a vegetable peeler) and add them to the pot. Simmer for 15 minutes.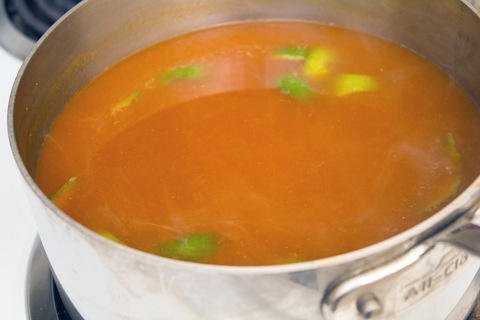 Let the mixture cool a bit before moving to the fridge to cool completely (2-3 hours).
Now, place a fine mesh sieve over a pitcher or bowl and work in batches ladling the mixture through the strainer and keeping all of the pumpkin pulp behind. Discard the pulp and the lemon zest, keeping cinnamon sticks in mixture.
Fill glasses with ice and divide rum among them. Then pour the pumpkin punch into the glass and stir in chopped pineapple and a cinnamon stick garnish.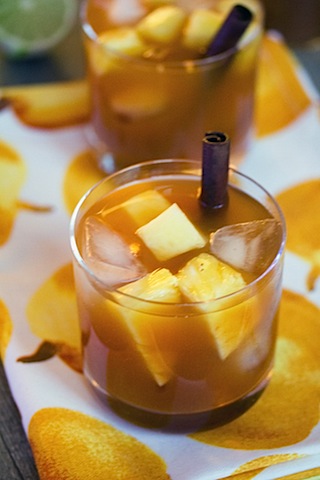 I had no idea what to expect with this drink, but I'm seriously in love. It's so perfectly pumpkin flavor packed and absolutely addicting. I can't even believe I've never made anything like this before.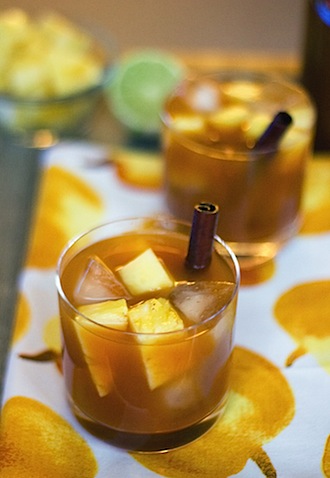 Even the non-pumpkin-obsessed Chris drank it right up.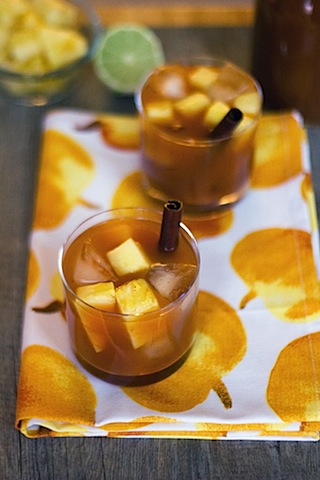 The addition of the pineapple is a little odd, but I do think it makes a pretty little garnish. The original recipe also recommended pecans for garnish, but I wanted to keep it a bit more simple.
Not an alcohol drinker? Well, I obviously am, but not every day of the week 🙂 But I had a bunch of leftover punch and I continued to drink it throughout the week, mixed with a little soda water. Best drink ever.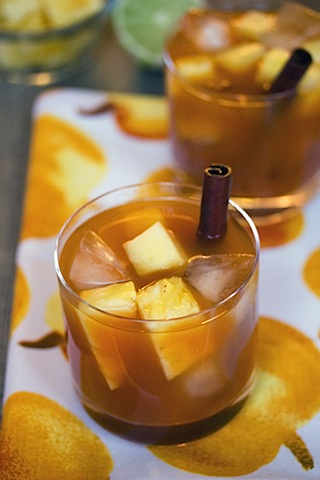 If you're looking for an ideal Thanksgiving cocktail, I highly recommend whipping this up. You can make the pumpkin punch at home, pack it in a travel pitcher or tupperware and then mix the drinks when you get to your place of celebrating.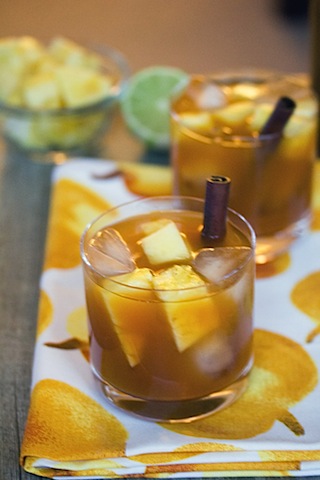 You could probably sprinkle a little cinnamon over the top, too, but I think the cinnamon stick adds a nice subtle spice without overpowering.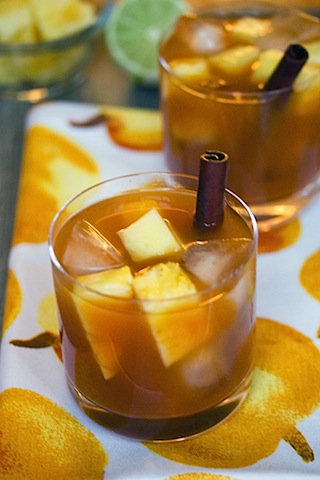 OK, I am off to take Chris on his mystery trip! I'm sure I'll have some fun details to share when we get back… Or you can follow me on Twitter (WANM and personal) where I'm sure I'll be tweeting about it once we arrive! I hope you all have wonderful weekends 🙂
What will you be sipping on this weekend?
[Sues]