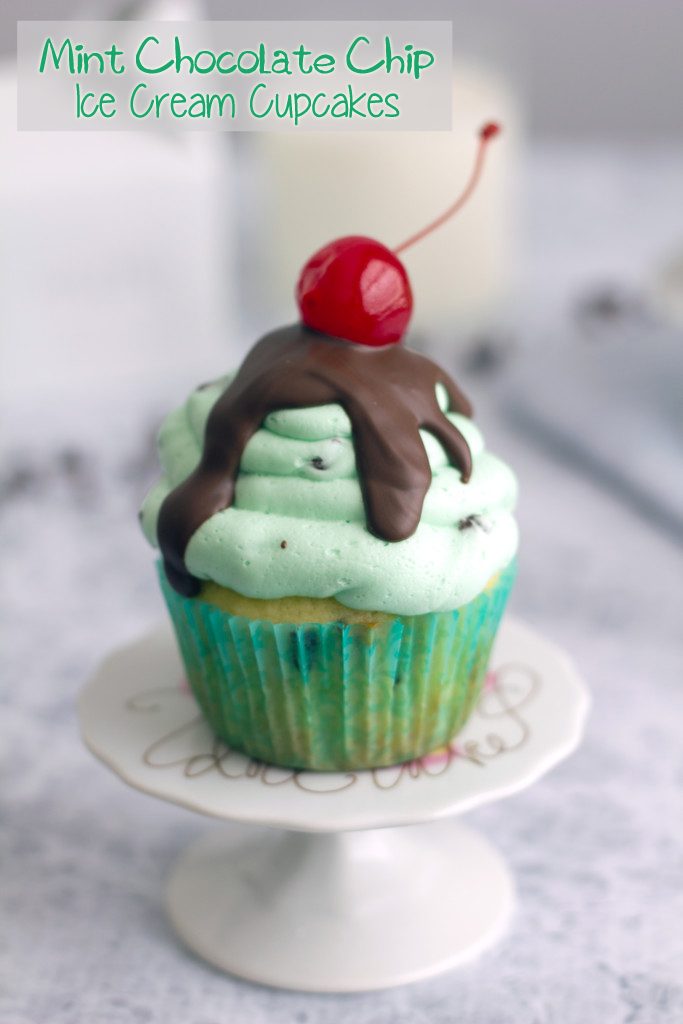 Happy Monday! I guess. Maybe you're still on a high from the glorious weekend you just had and that will help power you through the work week. Or maybe you just need a dozen cupcakes to get you through. And a pint or two of ice cream. And probably with that, like a million hours of exercise, right?? Sorry, I'm just over here being a regular negative Nancy over here.
But I do have to tell you that I have become a true cliche and have been getting more exercise lately… All because of my Fitbit. Well, really more because of my husband's Fitbit considering he basically gets a million steps in every day (at least that's my rough estimate!) and it's all I can do to get a fraction of his daily count. It's been great, though, because it forces me to get moving during my work day and I've been trying to break up my afternoons with a walk around the North End or Faneuil Hall and Government Center. Which is both needed for my body and my head. But do you want to hear something really, really sad? I generally try to get in 3,000 steps before I sit down at my desk on workdays. I did so on Friday, but then I had a ridiculously busy workday. I had to skip my afternoon walk, but since I was running back and forth to meetings throughout the day, I figured I'd be semi-OK. Well, when I went to leave at the end of the day, I had 3,886 steps. That means in my entire 10.5 hours at work, I took a total of 886 steps. Which is really ridiculously disturbing. Am I right?
And now I feel like I need to eat another cupcake. But that I seriously do not deserve it after Friday's performance.
Still, I made these cupcakes this weekend because I've been dreaming of them for a long time. I've always loved the idea of an ice cream cupcake and think mint chocolate chip ice cream is one of the best flavors ever. These are pretty much a mint chocolate chip ice cream sundae in cupcake form and they'll hopefully cure your otherwise humdrum Monday.
The batter is easy to whip up and involves a little bit of mint extract and some mini chocolate chips.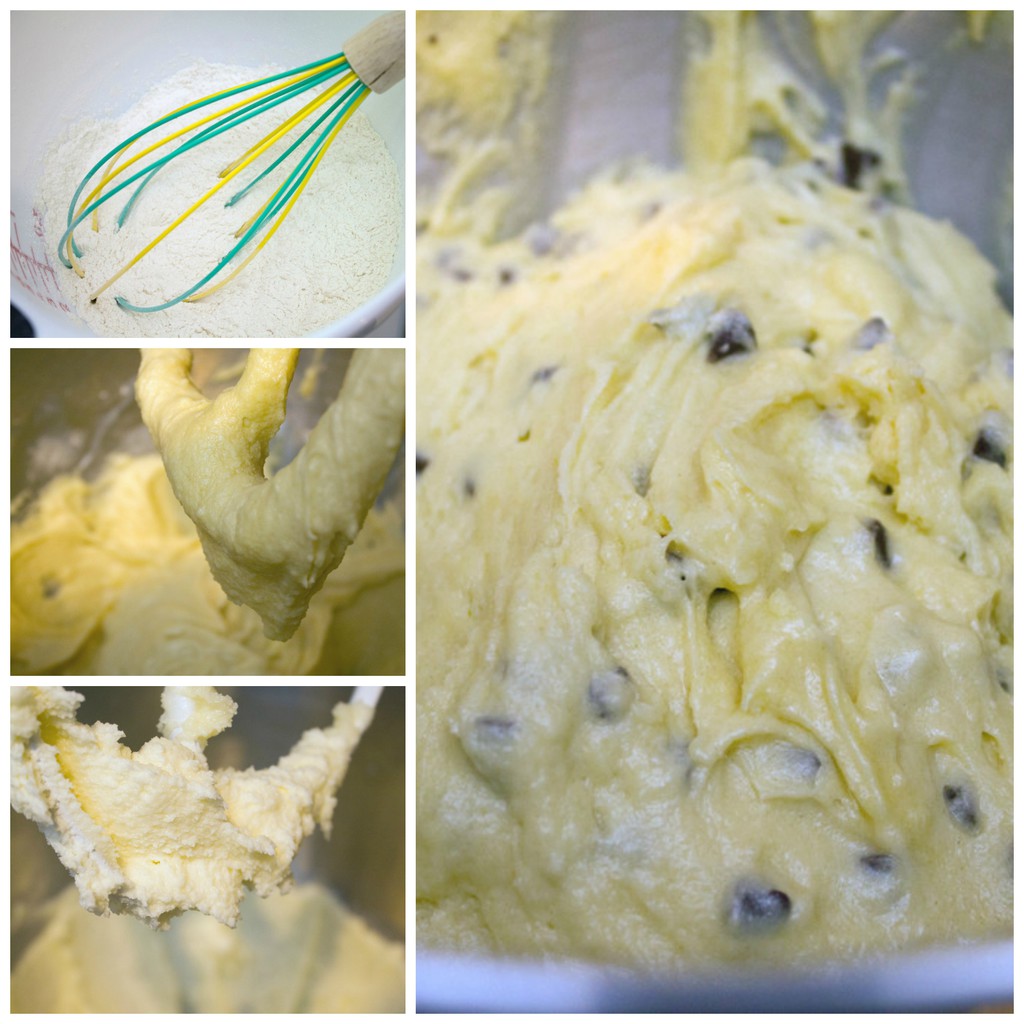 I could eat a million of these without any frosting at all. That makes them muffins, right? And perfectly acceptable for breakfast.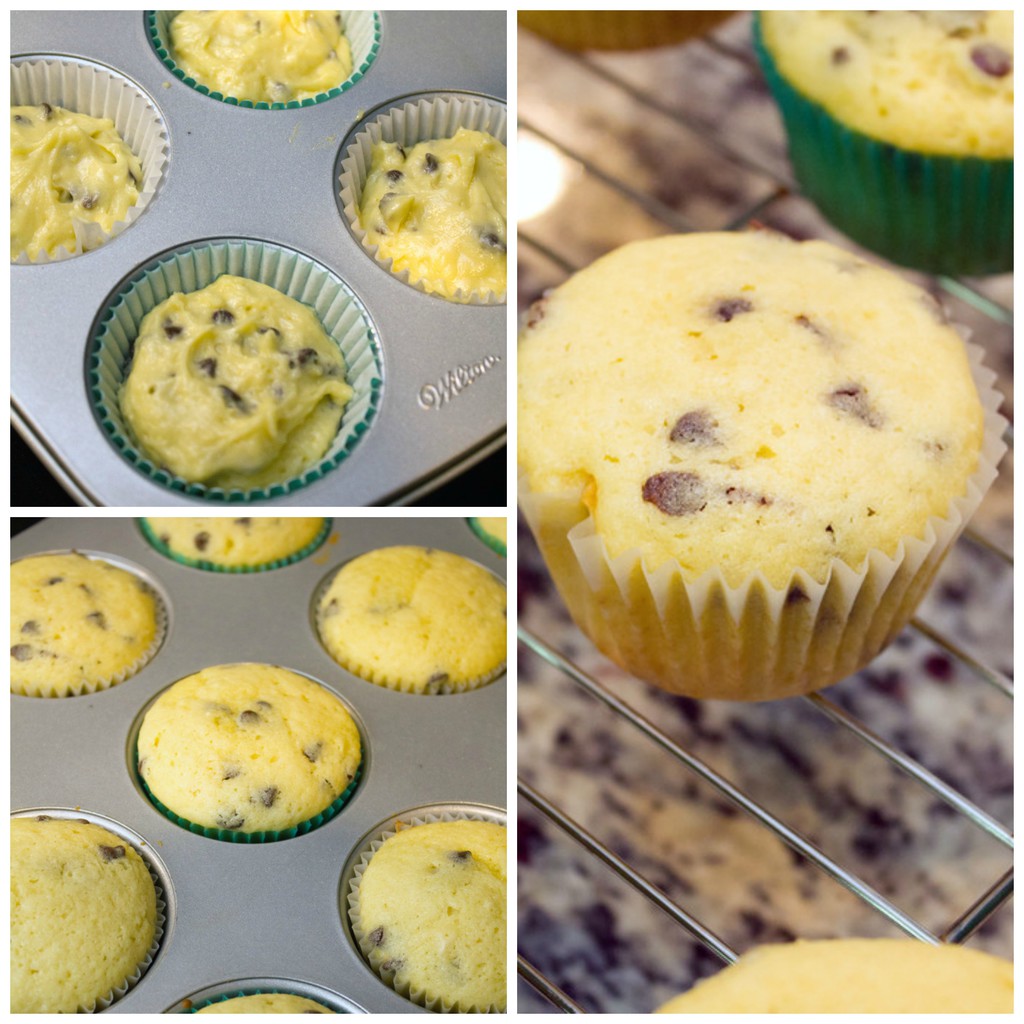 For the frosting, I used Wilton's Color Right Performance Color System. I was a little nervous because there was no color on the color map that matched exactly what I wanted, but I figured I'd just get as close as I could and then adjust. I only added two drops of color and had the perfect shade of green! This is one drop of yellow and one drop of blue.
I mixed some more mint extract and mini chocolate chips into the buttercream frosting, too. I also melted some candy melts for the chocolate syrup that should be atop any ice cream sundae.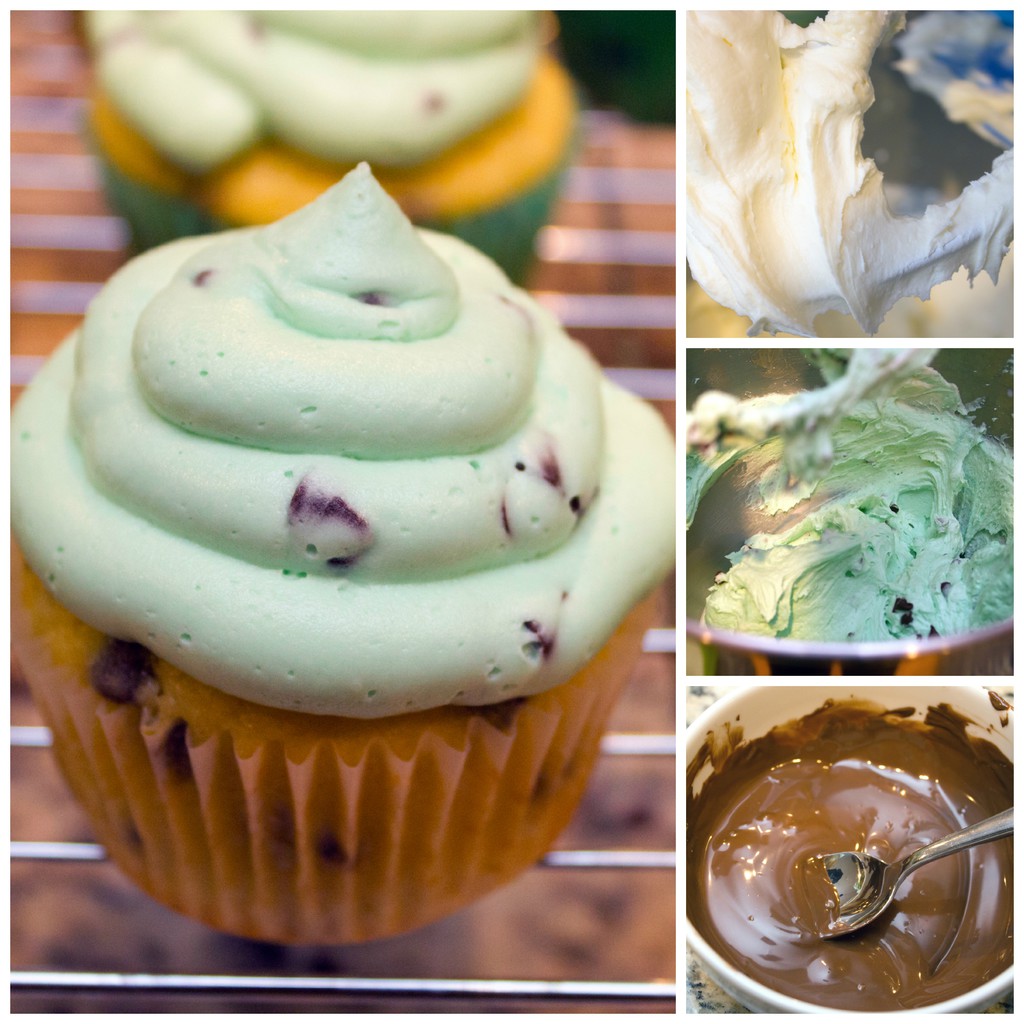 I used a Wilton #1A icing tip to get the soft serve-like swirls. And then drizzled chocolate on top of the frosting and topped it with a cherry!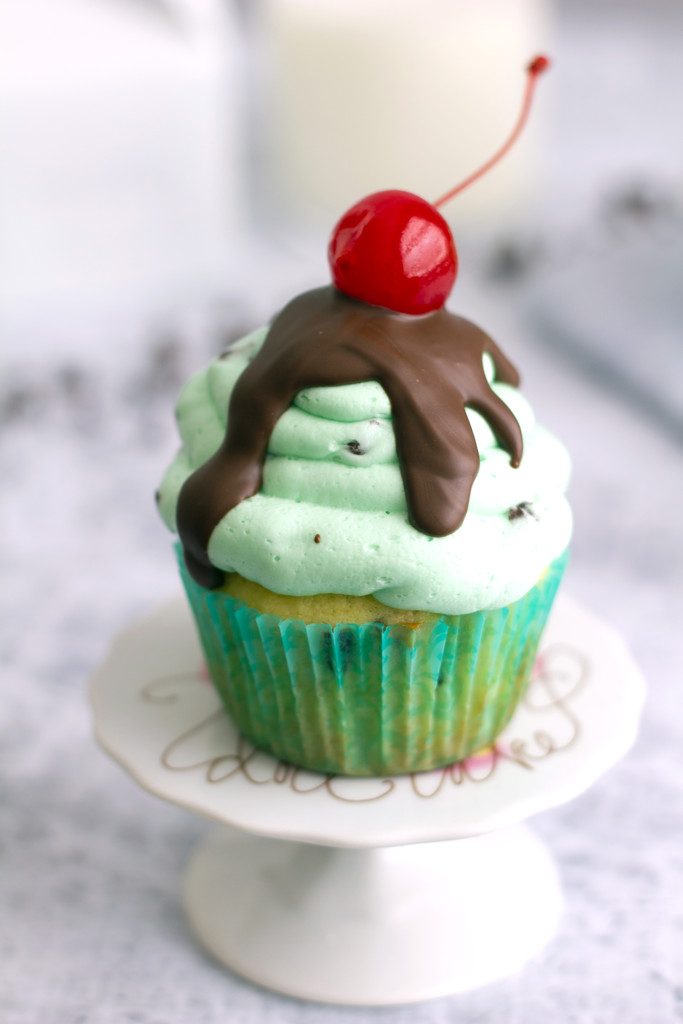 I toyed with the idea of adding sprinkles on top, but decided less was probably more here. I have a slight tendency to overdo things a bit and it took a lot of self-control not to go wild.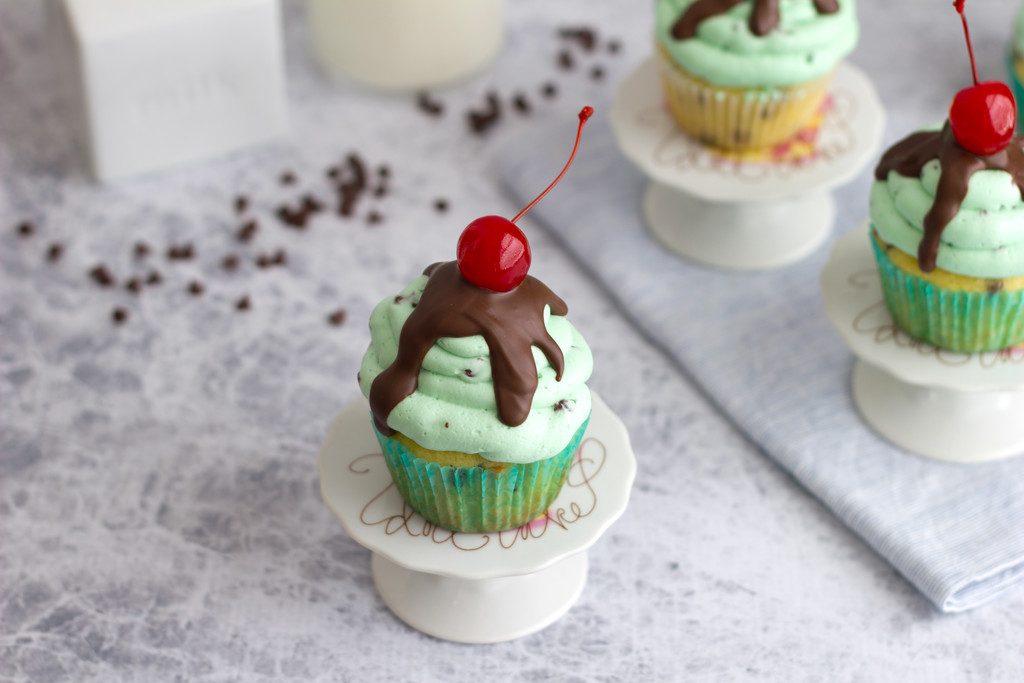 But simple was definitely the way to go here as these had absolutely everything you could need. Including a WHOLE LOT of frosting.
And lots of mint flavor, too. Definitely a lot like mint chocolate chip ice cream. Which reminds me, that would make the perfect side. What? You don't have sides with your desserts? I guess a glass of milk would make a decent side, too… But I'd prefer ice cream.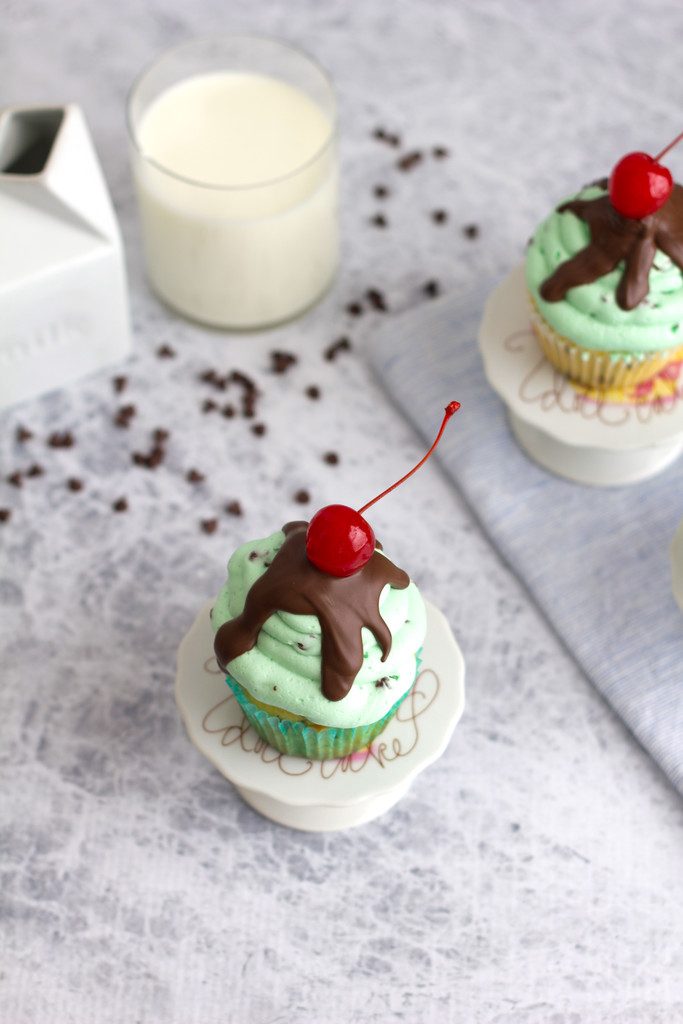 It just so happens that my aunt and uncle were in town from Buffalo and stopped by for lunch with my whole family on Sunday. We grilled burgers and brats and had some of these cupcakes for dessert.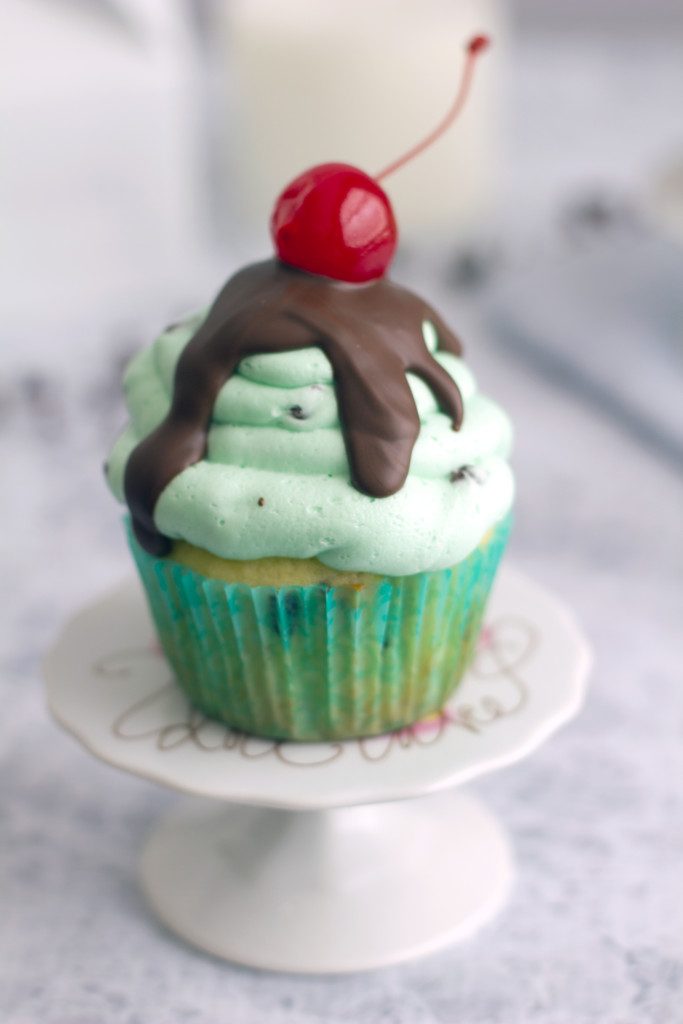 The only thing these cupcakes are missing is whipped cream. I'm actually not a whipped cream lover (I can only eat it if it's homemade and even then, I don't go wild for it), but I think whipped cream would be pretty seriously awesome inside these cupcakes. Guess I'll have to make them again!
Guess I'll also have to get a trillion more steps this week since I have a few of these leftover and am pretty sure it's the only real remedy for this Monday. If you think of any low-call remedies, please let me know!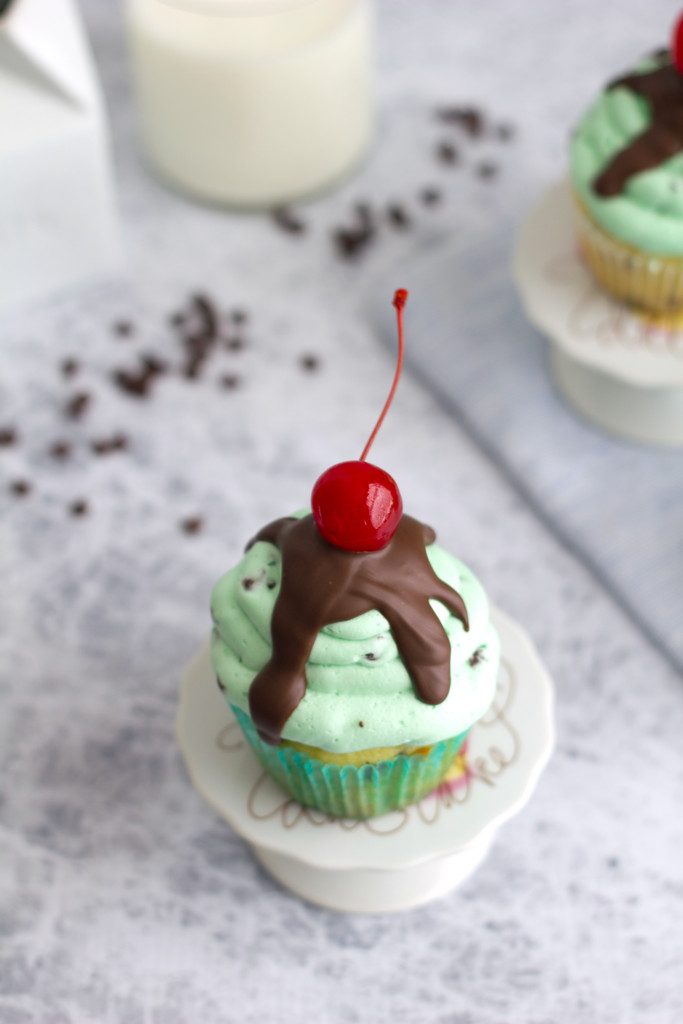 What's the best thing you ate this weekend?

📖 Recipe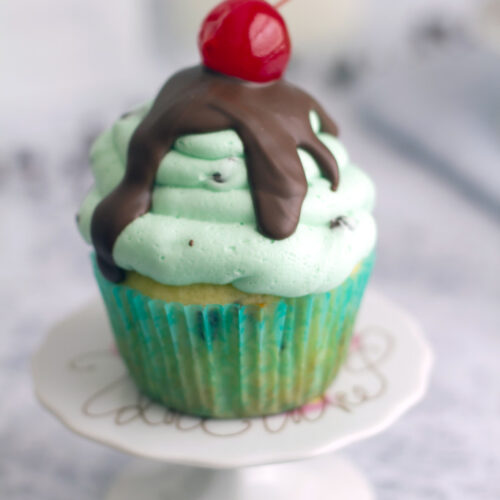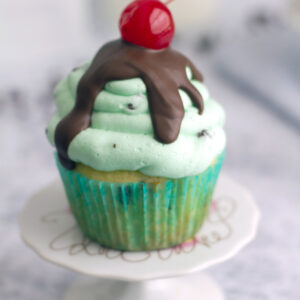 Mint Chocolate Chip Ice Cream Cupcakes
These Mint Chocolate Chip Ice Cream Cupcakes combine two of my very favorite things in life... Cupcakes and mint chocolate chip ice cream. Add a little chocolate syrup drizzle and a cherry on top for a summertime treat all year round.
Print
Pin
Rate
Ingredients
1½

C

all-purpose flour

½

T

baking powder

¼

t

salt

½

C

1 stick unsalted butter, room temperature

1

C

granulated sugar

2

large eggs

room temperature

½

t

vanilla extract

½

t

mint extract

½

C

whole milk

½

C

mini chocolate chips

1

batch Mint Buttercream Frosting

recipe below

⅓

C

chocolate candy melts

or chocolate chips

12

maraschino cherries
Mint Chocolate Buttercream:
2½

sticks butter

room temperature

6

C

confectioner's sugar

1

t

mint extract

1 -2

T

milk

Food coloring (I used 1 drop yellow and one drop blue from Wilton Color Right Performance Color System

½

C

mini chocolate chips
Instructions
Pre-heat oven to 350 degrees.

In a medium bowl, combine flour, baking powder, and salt together.

In the bowl of a stand mixer or in a large bowl with a hand mixer, cream together butter and sugar on medium-high speed until light and fluffy, about 3-5 minutes.

Add eggs in one at a time, mixing well after each addition.

Mix in vanilla and mint extracts.

With mixer on low speed, beat in dry ingredients in 3 additions, alternating with the milk. Mix in each addition until just incorporated.

Line cupcake tin with 12 papers and fill about ¾ of the way full.

Bake at 350 degrees for 17-20 minutes, until edges are golden and tester comes out clean.

Put buttercream icing in pastry bag and using a #1A pastry tip, pipe buttercream around cupcake.

Melt candy melts or chocolate chips in the microwave on medium power, at 30 second intervals, stirring in between each. Let chocolate cool a bit, but not to the point of hardening.

Drizzle chocolate on top of each cupcake, letting it drizzle down the sides.

Top each cupcake with a maraschino cherry. Let chocolate harden.
Mint Chocolate Buttercream:
In the bowl of a stand mixer or in a large bowl with a hand mixer, beat butter until creamy.

With mixer on low, slowly blend in the confectioner's sugar, cup by cup until well-combined.

Mix in vanilla and 1 T milk. If buttercream is too thick, add additional T milk.

Add food coloring until a pale green color is achieved.

Fold in mini chocolate chips.
Share a Photo of Your Finished Recipe!
Mention @wearenotmartha and share a photo if you've made the recipe!