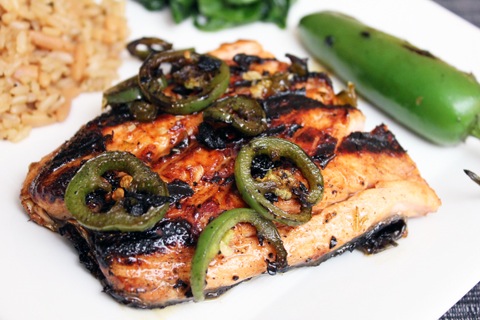 December is busy. Like oh my God, I don't even remember what my apartment looks like or what my couch feels like busy. That's either because I'm never at my apartment or because it looks like a bomb hit it. Which is also because I'm never there. Healthy eating? I mean, I'm not even sure where my kitchen is anymore, not to mention how to cook in it. Basically, I need an entire weekend to lounge around in my pajamas and hang out on the couch with a good book or a Christmas movie, taking short breaks to cook and bake. I'm also living in a dream world if I think that's going to happen any time soon. Happy December! (Really, I'm not complaining as my busy-ness is mainly all FUN busy. But I still miss sleeping).
So, for now, I'm finding shortcuts to keep myself cooking and eating semi-healthy. Cue salmon. Contrary to popular belief, most fish is super easy to prepare. And, of course, it's also mostly healthy. While I'm generally a crazy ridiculous planner when going to the grocery store, if I happen to see any sort of seafood at a good price, I'll snatch it up and figure out how to prepare it as I go. That's my idea of living on the edge. And that's exactly what I did with this salmon. Orange juice, honey, and a hearty dose of jalapeños kicked the flavor up, but still let the salmon remain the star of the show.
Also, it involves ridiculously few ingredients. Things I always have at home anyway (besides the salmon). Yes, I consider it essential to always have jalapeño backups at home. Never know when you'll need to call them in.
Orange Jalapeño Salmon (serves 2):
Print this recipe!
2-3 jalapeños, 1 minced 1 chopped and 1 whole (whole is optional garnish)
¼ C orange juice
⅛ C honey
¾ lb.-1 lb. salmon
Olive oil
Salt and pepper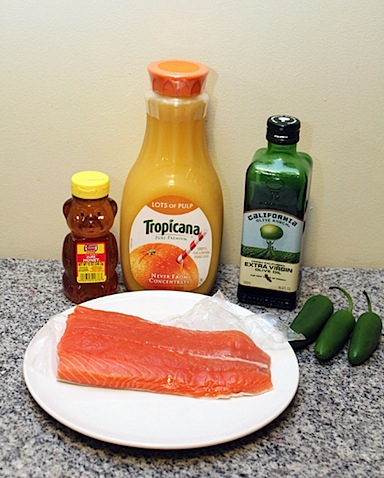 As always, I'll have you go through the seeds or no seeds in the jalapeño debate. I always include seeds. But I always love spicy. If you don't, you can remove the seeds.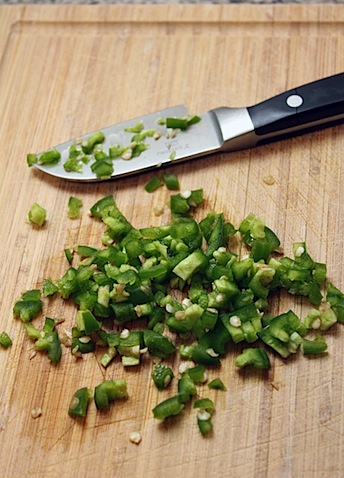 Start by putting the minced jalapeño, orange juice, and honey in a small saucepan and bringing to a boil.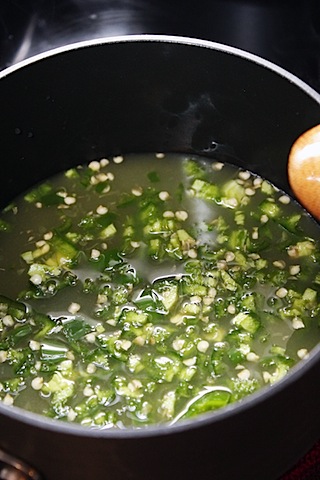 Then lower the heat and simmer for about 8-10 minutes. Mixture will thicken.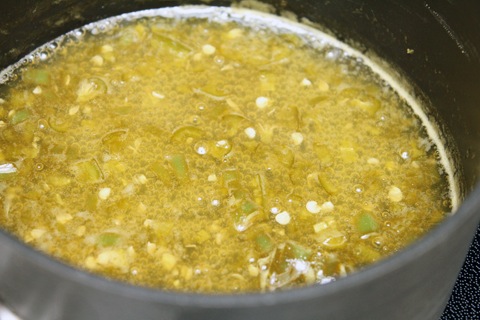 In the meantime, divide salmon in half if needed and brush lightly with olive oil and sprinkle with salt and pepper.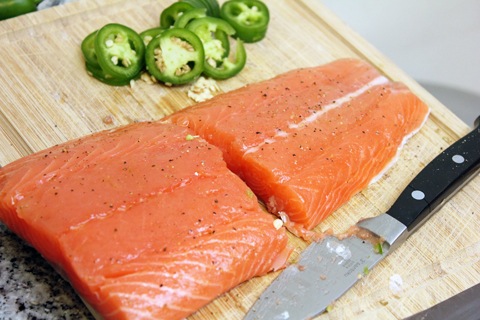 And when the jalapeño orange juice mixture is done simmering, brush about half of the mixture over the salmon.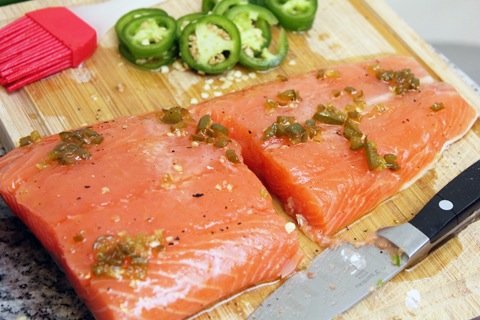 Grill salmon on medium-medium low in a grill pan or frying pan for about 3 minutes on each side.
My grill pan was a bit too hot and my salmon got a little charred. I actually kind of loved it though, especially since it wasn't overcooked inside.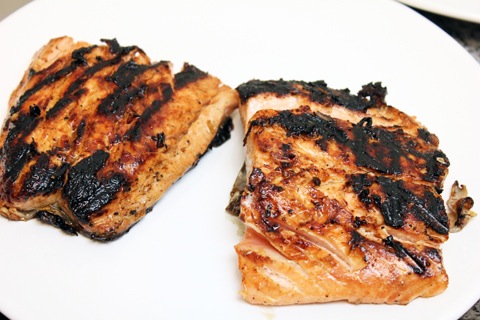 Remove salmon from pan and immediately put jalapeño rounds in grill pan. Turn heat to medium-high and grill until browned. If you're using the whole jalapeño as garnish, put that in the grill pan, too.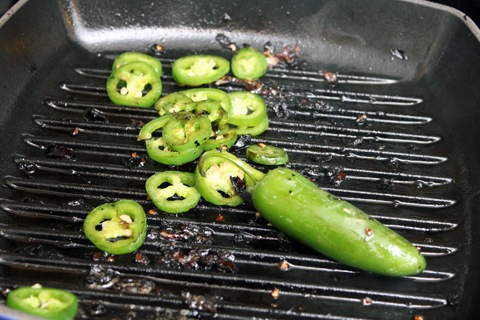 Brush salmon with the remaining jalapeño, orange, honey mixture and top with grilled jalapeño rounds. I also served my salmon with some simple spinach and rice pilaf.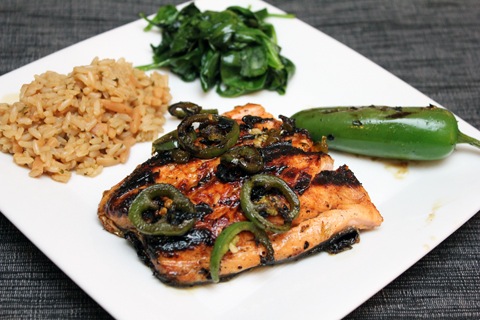 This is literally a 15-minute meal (take that, Rachael Ray!) and is perfect for those nights when you know you should cook, but also aren't quite sure where to find a good 3-4 extra hours in your evening. Which is almost every day for me.
Yes, this looks like a ridiculous amount of jalapeños, but to be honest, because they were grilled (and boiled), much of the heat was absent. But don't worry; the flavor remained. I loved the slight spice, combined with the sweetness of honey and citrus notes from the orange juice.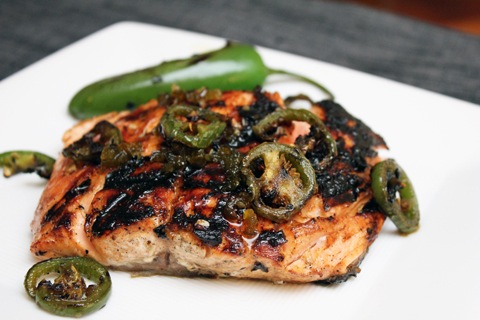 Also, you might want to serve it with a Jalapeño Orange Spritzer. Because after cooking this quick meal, you'll have a few extra minutes to sit and put your feet up. Or maybe you should hang that pile of clothes on your bed. Or vacuum. Yeah, your living room probably needs a good vacuum. Forget that whole relaxing thing.
Oh, another reason I don't remember what my apartment looks like is because I've been staying with this delight for the past 1.5 weeks: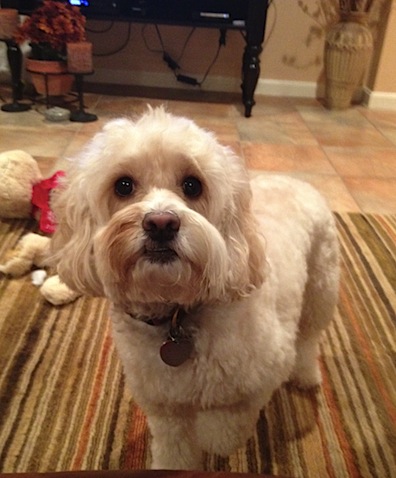 Of course, seeing her face is totally worth it. Cutest ever!
What's your favorite quick and easy fish dish?
[Sues]