Yesterday afternoon I took, what I thought was going to be, a quick run to the grocery store to pick up some basics to restock the fridge. Once I arrived I realized I didn't have anything for dinner. My friend Missy and I were hanging out all day running errands and I knew I wanted to make a quick but tasty dinner. Plus it was 12,232 degrees in Boston so I wanted something light and summery. I was aimlessly wandering around the grocery store, which I tend to do more often than I should, and out of the corner of my eye I noticed the Cook's Illustrated 30-minute Suppers magazine at the deli counter. I picked it up and started skimming it in hopes to gain a bit of inspiration. When I got to the seafood section of the magazine I saw a beautifully looking recipe for Pan-Seared Scallops with Bacon and Succotash and besides a few ingredients, I already had mostly everything at home. AND the grocery store was having a sale on little mini frozen scallops at the seafood counter… $4.99/lb versus $13.99/lb for the larger ones. Hooray!
Here's what you need: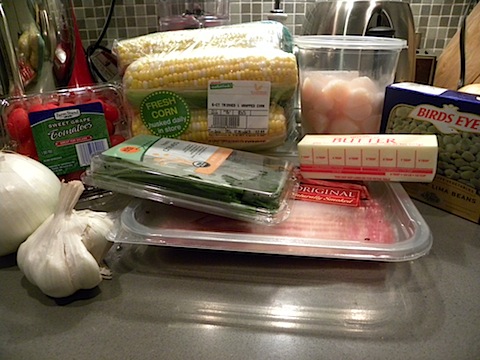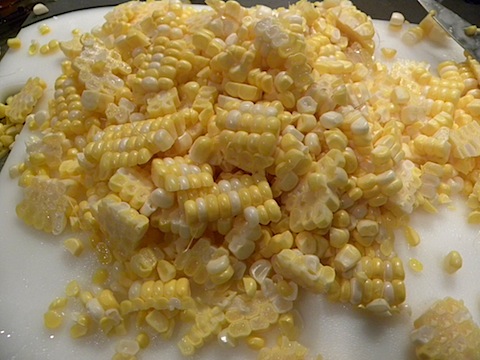 • 4 slices of bacon, chopped (I used 5 slices. 1 for good luck!)
• 1 1/2 pounds scallops, tendons removed
• salt and pepper
• 1 onion, chopped fine
• 3 garlic cloves, minced
• 4 ears of corn, kernels removed from cobs (and how delicious is fresh corn?!)
• 1 cup frozen lima beans, thawed
• 2 plum tomatoes, seeded and diced (I had grape tomatoes so I used those)
• 2 tablespoons unsalted butter
• 1/2 cup chopped fresh chives
Here's what you do:

• Cook bacon in a large nonstick skillet over medium-high heat until crisp, about 4 minutes. Transfer bacon to paper towel-lined plate and pour out all but 2 tablespoons rendered fat from the skillet.
• Pat scallops dry with paper towels and season with salt and pepper. Cook scallops in the rendered bacon fat in skillet until golden brown, about 3-4 minutes. Flip scallops and cook until firm and almost opaque, an additional 1-3 minutes. Transfer to a plate and tent with foil.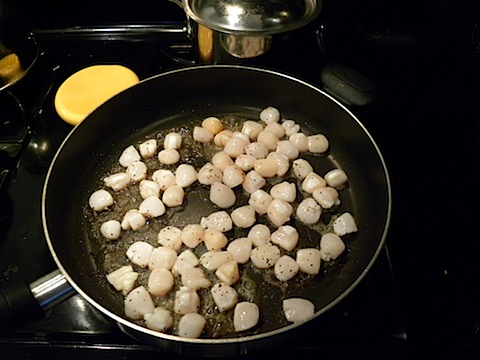 • Add onion and garlic to the skillet and cook until softened, about 3 minutes.
(here I am chopping the onion in my new Tupperware QuickChef! I've never chopped an onion so fast… it was glorious and the cleanup was even easier than a food processor! And, allow me to reiterate, it was 12,232 degrees in Boston yesterday. So pardon my appearance and the "glow" aka no makeup aka no effort went into how I looked yesterday… at all. Not even a little.)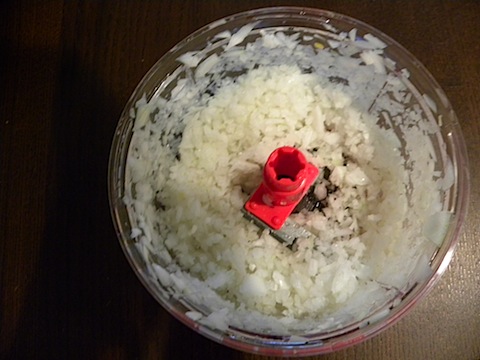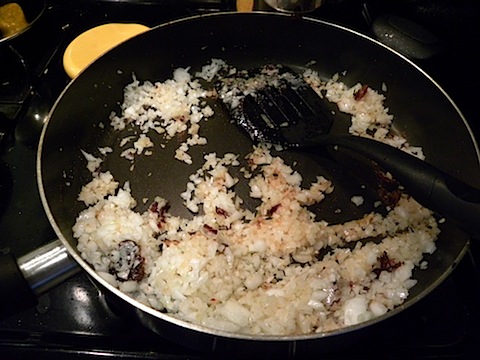 • Add corn, lima beans, and tomatoes and cook until heated through, making sure to stir frequently, 3-5 minutes.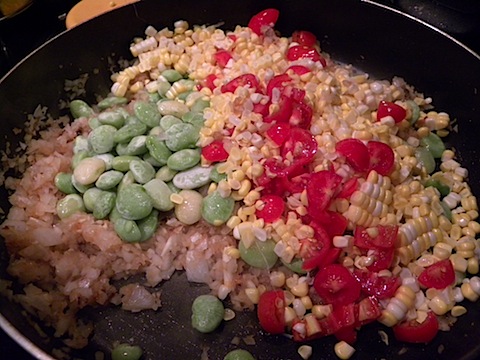 • Add butter and accumulated juices from scallops to skillet and stir until the butter is just melted.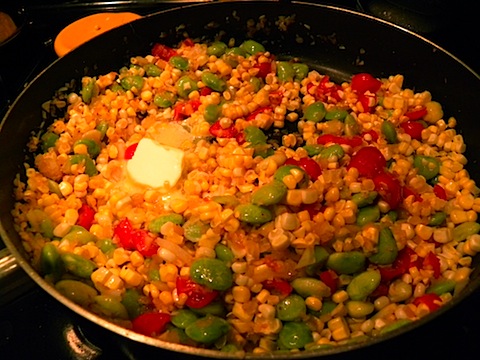 • Remove the skillet from the heat and stir in the chives and bacon, season with salt and pepper to taste.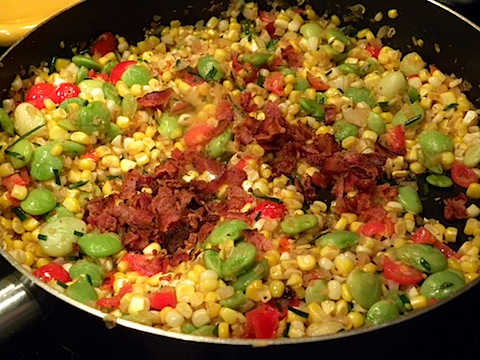 • Top the succotash with scallops…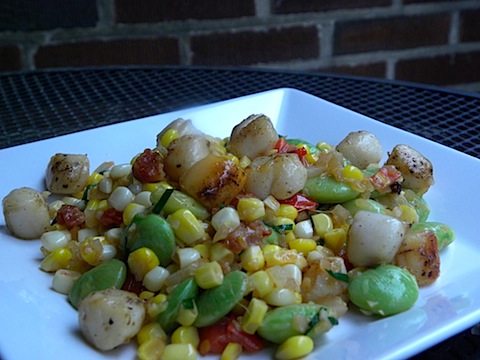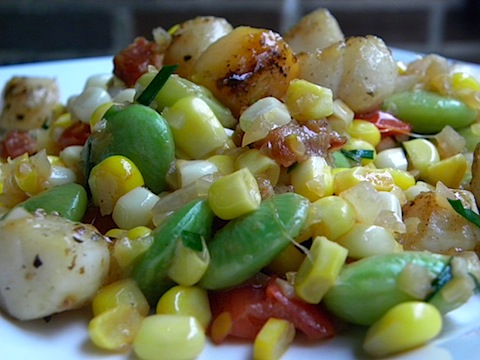 This is by far my newest favorite quick and simple Summer creation. Make this for anyone and they'll never leave your life… guarantee it. I actually liked how the little scallops worked with the dish versus a larger scallop. It was effortless eating and everything fit into one forkful 😉 It was light, fresh, crunchy, satisfying, colorful, delicious, mind-blowing… you get the idea. The best part about cooking in the Summer is being able to photograph my food out on my deck, too 🙂 It brings it to life! Now pardon me while I eat the leftovers for lunch!
[Chels]