Pan Seared Scallops with Bacon Succotash is the ultimate summer meal, best enjoyed al fresco with a nice chilled glass of white wine.
(This recipe for Pan Seared Scallops with Bacon Succotash was originally posted in June 2010, but was updated with new photos and content in 2018).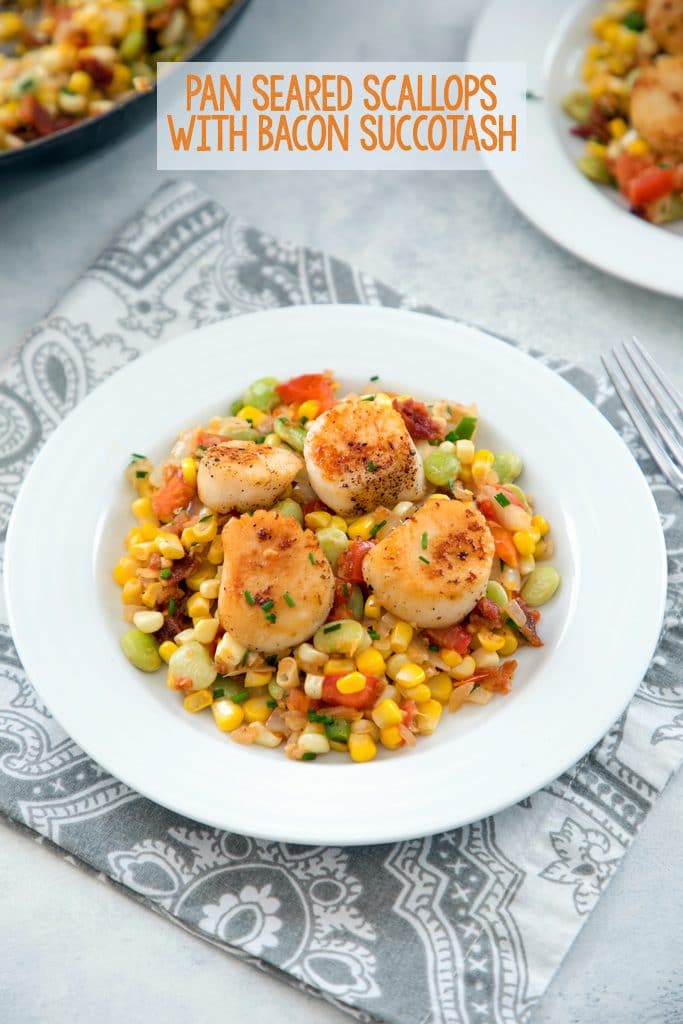 Yesterday afternoon I took, what I thought was going to be, a quick run to the grocery store to pick up some basics to restock the fridge. Once I arrived I realized I didn't have anything for dinner. My friend and I were hanging out all day running errands and I knew I wanted to make a quick but tasty dinner. Plus it was 12,232 degrees in Boston so I wanted something light and summery.
I was aimlessly wandering around the grocery store, which I tend to do more often than I should, and out of the corner of my eye I noticed the Cook's Illustrated 30-minute Suppers (affiliate link) magazine at the deli counter. I picked it up and started skimming it in hopes to gain a bit of inspiration.
When I got to the seafood section of the magazine I saw a beautifully looking recipe for Pan Seared Scallops with Bacon and Succotash and besides a few ingredients, I already had mostly everything at home. AND the grocery store was having a sale on sea scallops... $9.99/lb, which is an excellent price for sea scallops! I switched a few things up with the recipe and ended up with a delightful dish that can (and should!) be enjoyed all summer long.
SEA SCALLOPS OR BAY SCALLOPS?
The two main types of scallops that you probably see at your grocery store or fish market are sea scallops and bay scallops. Here's a little bit of info. about each type.
Sea Scallops:
These are the big guys. And what you generally get in a restaurant if you order "the scallops." You can really make a meal out of sea scallops since they're large and rich and they're perfect for searing and serving atop risotto (or in a scallop BLT!). Sea scallops are about 3 times the size of bay scallops.
Bay Scallops:
These are the little guys and they're generally said to be a bit sweeter than sea scallops. Oftentimes, bay scallops are served in pasta and stew dishes and don't so much "make a meal" like sea scallops. Since they're small, you have to be more careful when you cook them (over-cooked scallops are not good!).
I wanted the scallops to be the star of the show in this dish, so I opted to use sea scallops.
DRY SCALLOPS OR WET SCALLOPS?
Good question! The easy answer is that when you're purchasing fresh scallops, always buy dry scallops when possible. Wet scallops are treated with phosphates (in this case, sodium tripolyphosphate), which causes them to gain water weight and thus, cost more per pound. Also, because the water evaporates when you cook the scallops, the result is often tougher scallops. Dry scallops are generally more flavorful, prettier when seared, and cost-effective (since you're not paying for water). I try to buy scallops from my grocer's fish counter when possible to ensure I'm getting what I want.
PAN SEARED SCALLOPS WITH BACON SUCCOTASH RECIPE
This dish is incredibly easy to make and is packed with fun summer flavors that will just plain make you happy. I made this once and then found myself craving it all the time. Even when it's not summer, sometimes I think about these scallops and bacon succotash and get crazy excited for warm weather and dinner on the deck.
There are three different steps for this recipe, including frying the bacon, searing the scallops, and making the succotash. Don't be intimidated by searing sea scallops, it's incredibly easy. After you fry the bacon, you'll sear the scallops in the same pan in the bacon grease. You basically just cook them for a few minutes on each side and then they're DONE! Cooking fish is one of the easiest things in the world and I hate how it's gotten this perception of being so difficult. You barely have to do anything to most fish to get a delicious meal.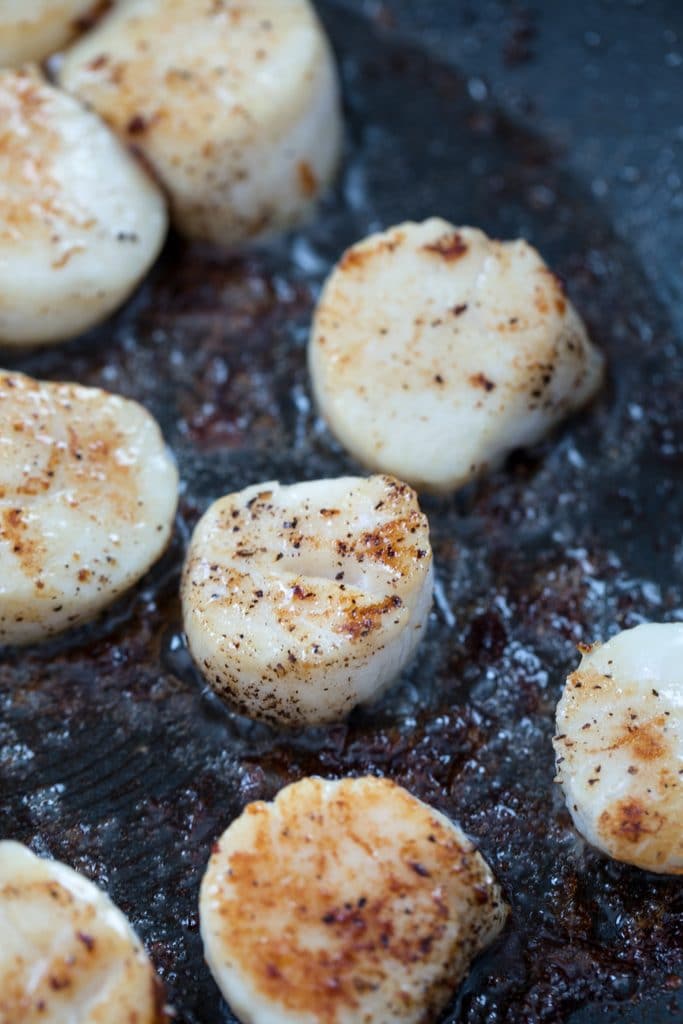 The bacon succotash requires some chopping of ingredients, but is otherwise easy to make. You basically just need to cook the onion, garlic, corn, lime beans, tomatoes, and jalapeño together. Can we also talk about why lima beans have such a bad name?? I truly do not understand! I rarely eat them, but every time I do, I remember how delicious they are and wonder why they're such a hated food.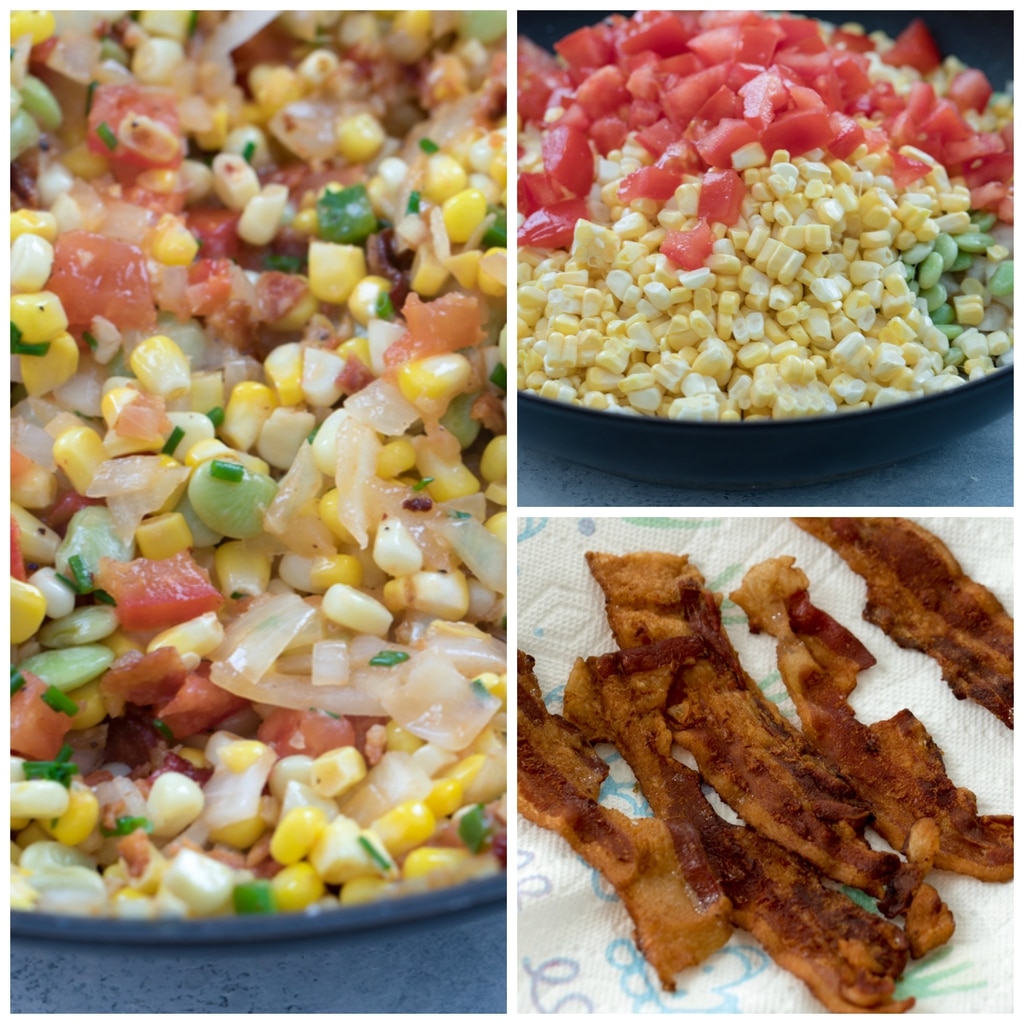 When the succotash is all done, stir in that beautiful bacon and you're good to serve everything up.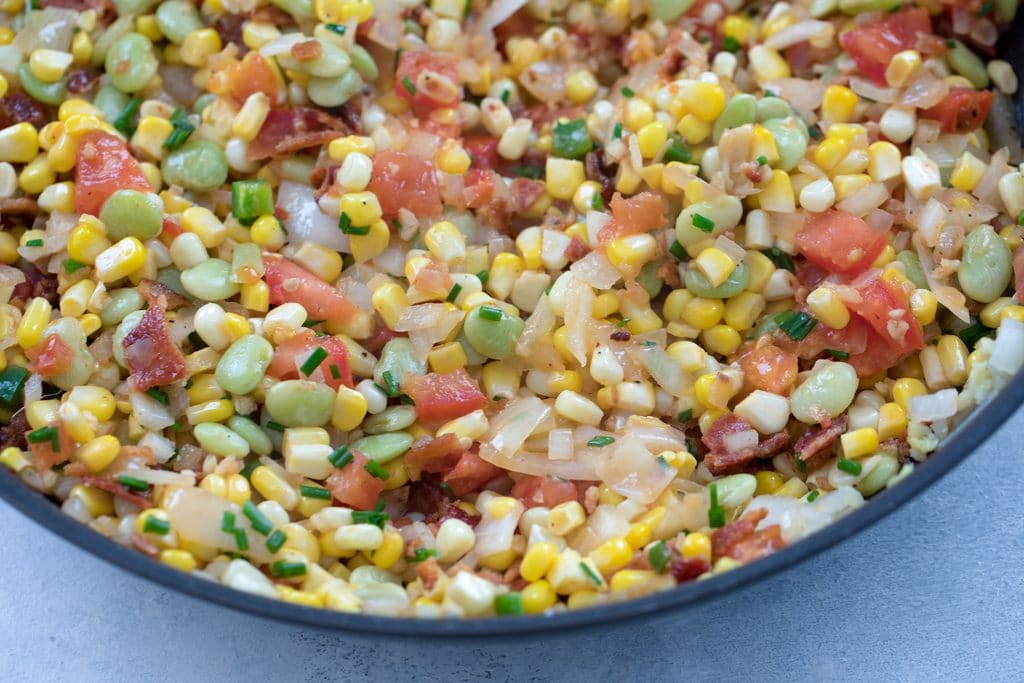 Serve the bacon succotash on individual plates and top with three-four sea scallops.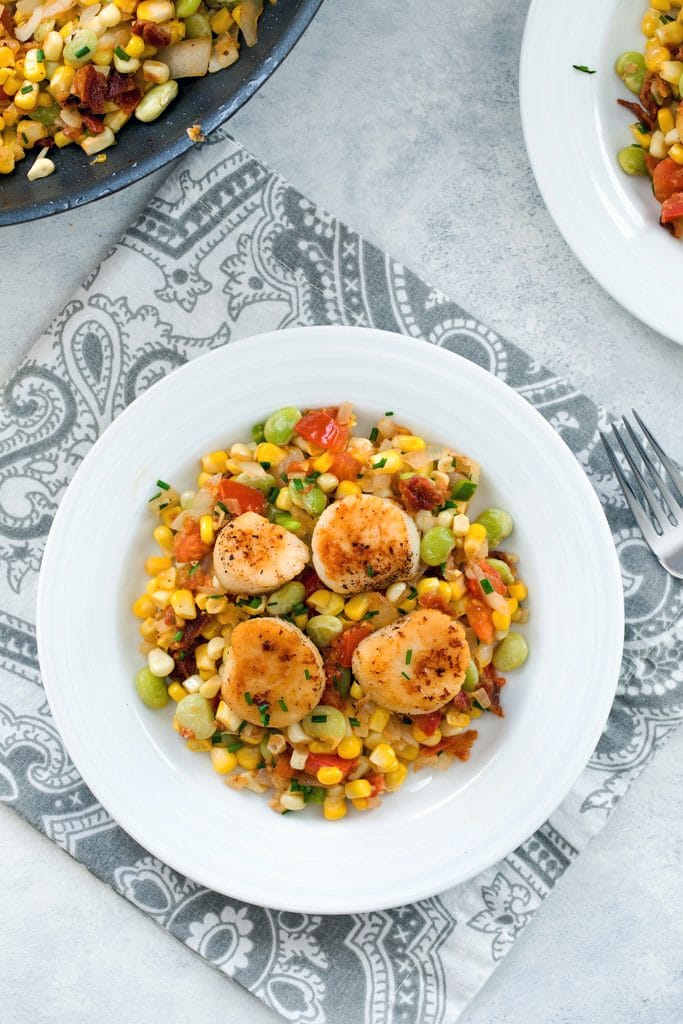 This is by far my most favorite quick and simple summer creation. I absolutely love corn on the cob in the summertime, but I hate actually eating it off the cob, so succotash works perfectly for me. And bacon succotash is the most perfect kind ever as it adds a little bit of umami that will knock the socks off your tastebuds (you know, if your tastebuds were wearing socks, which would be a little bit strange).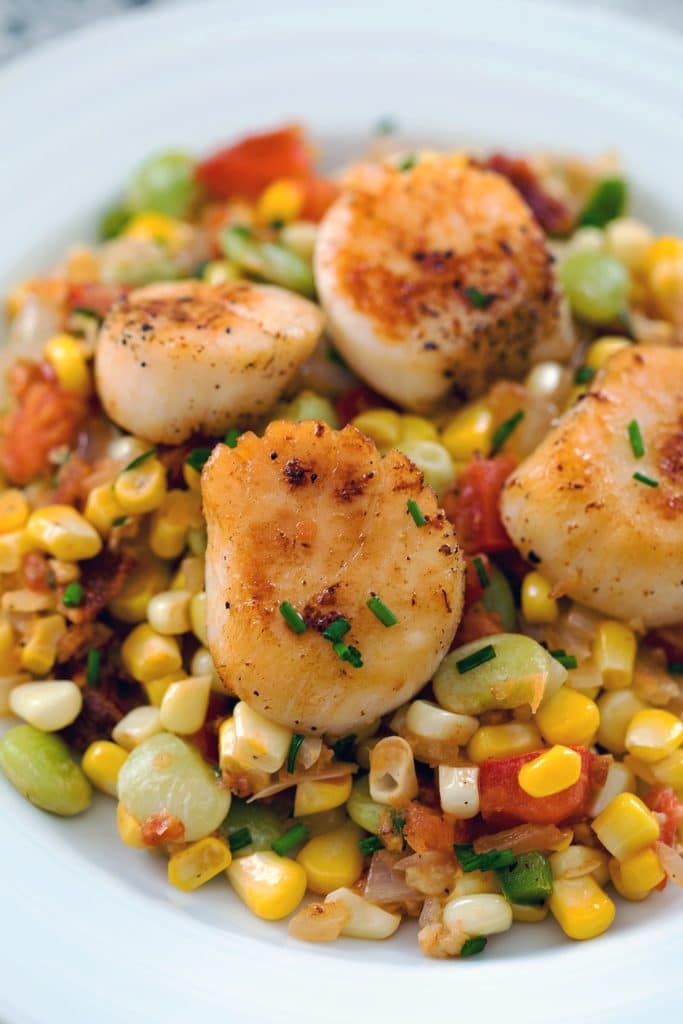 As with most summer meals, this dinner is best enjoyed outside on your deck at the end of a long day. It also matches pretty fabulously with a chilled glass of white wine. Just saying!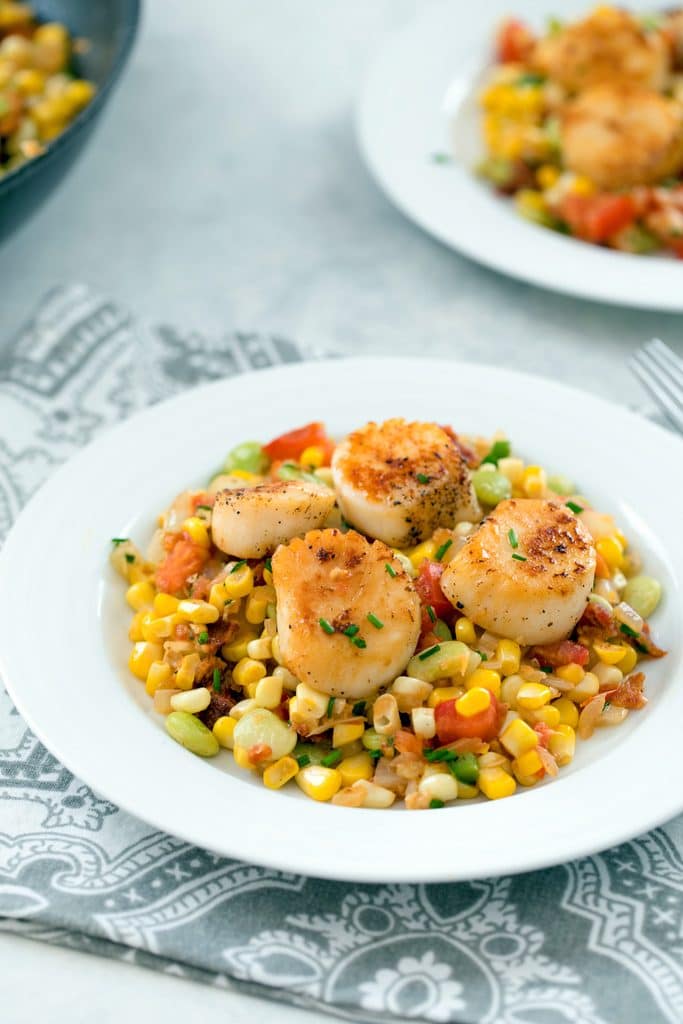 And succotash makes for the best ever lunch leftovers. If you work in an office, I recommend leaving the scallops at home (silly office politics about bringing fish for lunch and all), but the succotash is like a big corn salad that will totally satisfy you. For some reason, I rarely think to make succotash (I think it also has a bit of a bad name, perhaps partly because of the lima beans and partly because of Sylvester the Cat saying "suffering succotash"). If succotash sounds weird to you, try this one and I promise that it no longer will!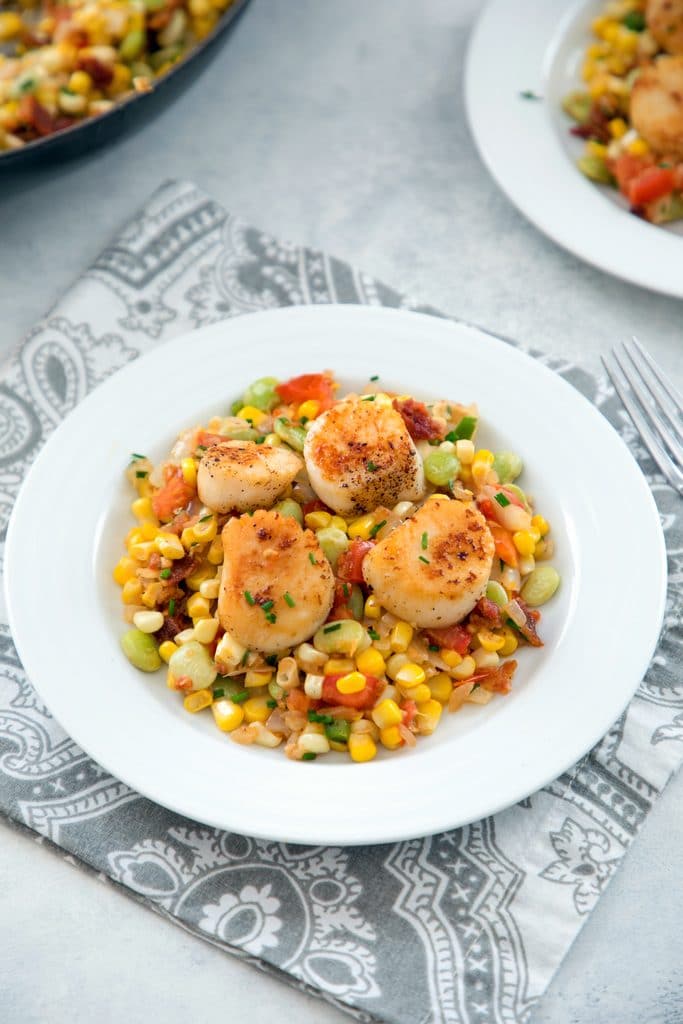 Now, excuse me while I make this every single night for the rest of my summer.
Do you eat scallops often in the summer?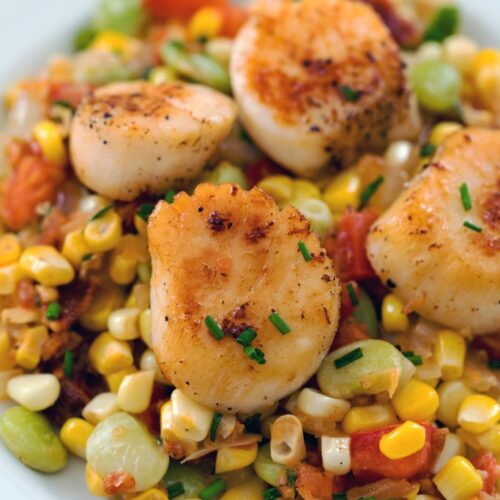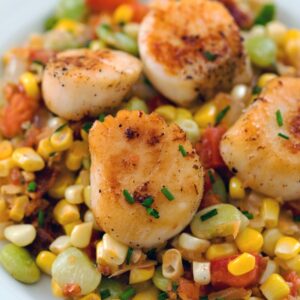 Pan Seared Scallops with Bacon Succotash
Pan Seared Scallops with Bacon Succotash is the ultimate summer meal, best enjoyed al fresco with a nice chilled glass of white wine.
Print
Pin
Rate
Ingredients
4

slices

bacon,

chopped

1

lb.

sea scallops,

tendons removed

Salt and pepper

1

onion,

finely chopped

3

garlic cloves,

minced

3

cups

corn kernels

(from about 4 ears of corn)

1

cup

frozen lima beans,

thawed

1 ½

cups

chopped plum tomatoes

(from about 2 tomatoes)

1 ½

Tbsp

diced jalapeño pepper

¼

cup

diced chives

2

Tbsp

unsalted butter
Instructions
Cook bacon in a large nonstick skillet over medium-high heat until crisp, about 6-8 minutes. Transfer bacon to paper towel-lined plate and pour out all but 2 tablespoons rendered fat from the skillet.

Pat scallops dry with paper towels and season with salt and pepper. Cook scallops over medium heat in the rendered bacon fat in skillet until golden brown, about 2-3 minutes. Flip scallops and cook until firm and almost opaque, an additional 1-2 minutes. Transfer to a plate and tent with foil.

Add onion and garlic to the skillet and cook until softened, about 3 minutes.

Add corn, lima beans, tomatoes, and jalapeño pepper and cook until heated through, making sure to stir frequently, 3-5 minutes.

Add butter to skillet and stir until the butter is just melted.

Remove the skillet from the heat and stir in the chives and bacon, season with salt and pepper to taste.

Serve succotash on plates and top with sea scallops.
Share a Photo of Your Finished Recipe!
Mention @wearenotmartha and share a photo if you've made the recipe!