I am still deeply immersed in my 3+ year food magazine recipe compiling project. I mean, it will probably never end. It's a strangely relaxing project. Thank goodness.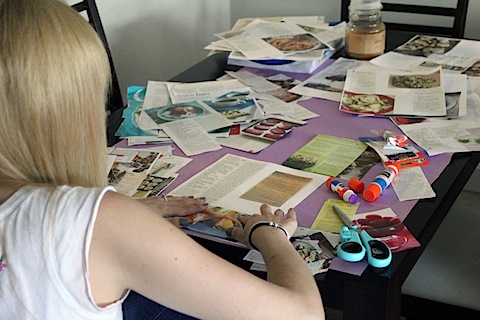 And it also has me discovering recipes that I cut out of magazines ages ago and then promptly forgot about. Whenever I go to my parents' house, my mom gives me a stack of food magazines and instead of letting them pile up to the ceiling (which they have basically done before), I try to cut out the pages that I want to save right away. Occasionally there are a few Rachael Ray mags in the mix and I do count her magazine as being quite entertaining and filled with simple inspiration. And while working on my project the other day, I was attracted to this ultra summery recipe that I found amid the cut-outs.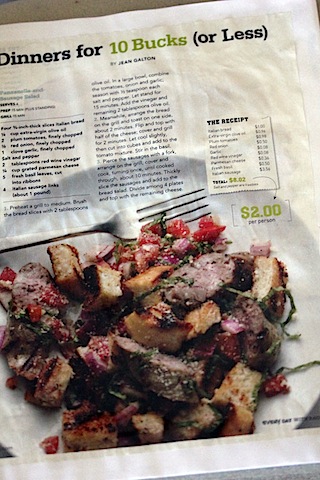 If I had my way, I'd eat juicy red tomatoes and fresh aromatic basil all summer long. Plain. OK fine, maybe with some nice crusty bread. And/or mozzarella. And/or good olive oil and vinegar. But plain is totally perfect, too. My dad recently potted some basil for me and it's been growing brilliantly. And non-stop. Heaven in a (super cute) pot!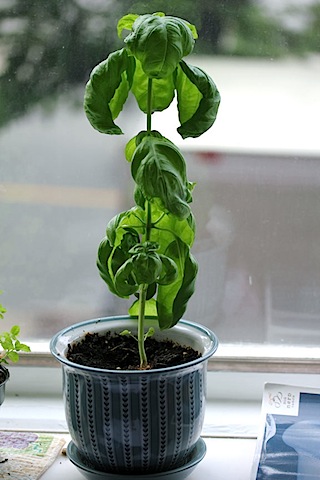 So, how about a super refreshing, you don't even have to turn the oven on (stove, maybe, but no oven) salad? That also involves some meat. And it very quick and easy. I promise. I definitely lightened R.R's version up with lots more tomato and basil. Because that's what summer is all about.
Panzanella with Sausage (serves 4-6):
Adapted from Rachael Ray mag
Print this recipe!
• 3 medium vine tomatoes, chopped
• 1/2 red onion, chopped
• 2 cloves garlic, finely chopped
• 4-5 thick slices of Italian bread
• 1/4 C extra virgin olive oil
• 2 T red wine vinegar
• 1/4 C parmesan, grated
• Small bunch fresh basil leaves, julienned
• 4 links of Italian sausage (spicy or sweet)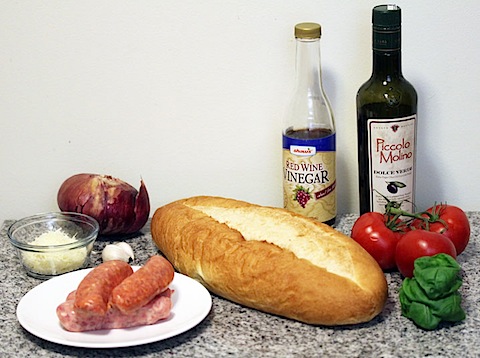 Chop the tomatoes to whatever size you like. I like to keep them a little bit bigger, but still bite-sized.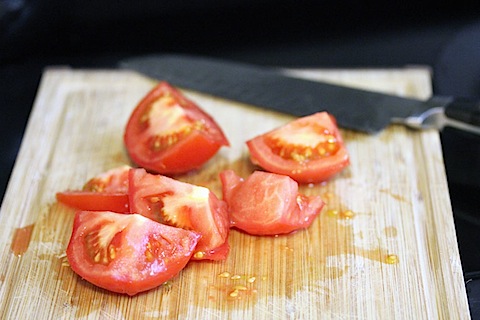 Combine the tomatoes, red onion, and garlic in a large bowl. As you can see, I kept my garlic pieces not so small either. This made for a SUPER garlic-y bite, which I love. You could always mince your garlic… Or use less. Or just make sure to brush your teeth and use mouthwash after you eat this. Especially if you have a date later 🙂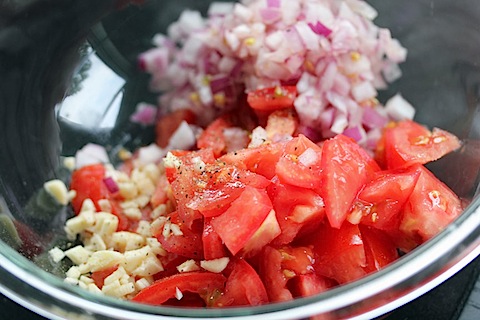 Mix the tomatoes, onion, and garlic up and season with salt and pepper. Let rest for about 15 minutes, so the flavors can marry each other. Here comes the bride…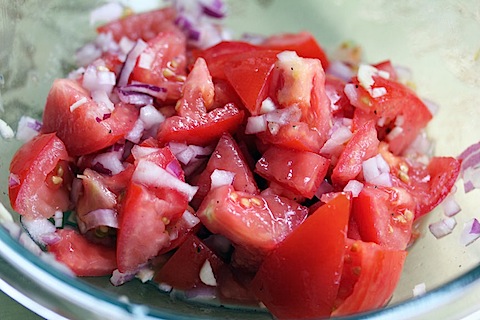 While the flavors are marinating, you'll want to toast up your bread. Brush both sides of bread slices with olive oil (using about 2 T of the olive oil).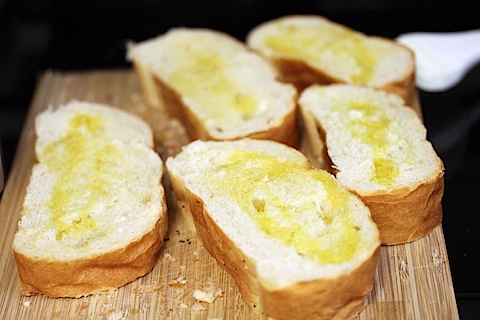 Toast in grill pan (or on an actual grill… Or just in a regular old pan) over medium heat for about 2 minutes.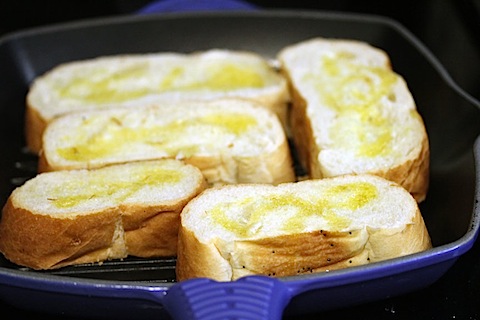 Flip the bread and cover the toasted side with half of the parmesan cheese. Let toast for another 2 minutes.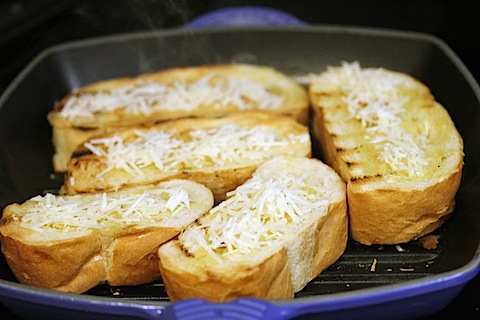 Remove from grill and let cool.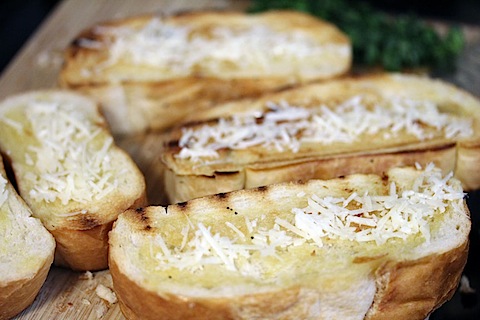 Now, pierce the sausage with a fork or knife and cook it over medium on your grill/grill pan/regular pan, too, until cooked through. I used spicy Italian sausage because I always use spicy when given a choice.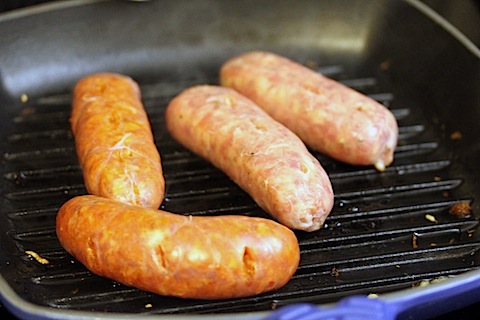 Add the vinegar and remaining 2 T olive oil to the tomato mixture. Stir in the basil, too. (P.S. this photo makes me so happy).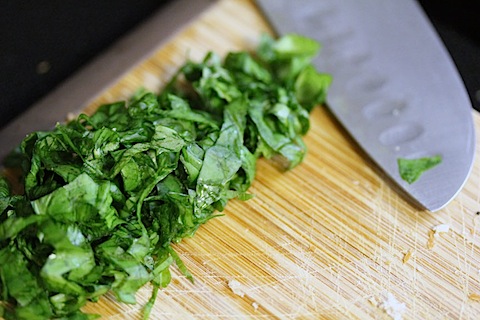 Cut the bread into cubes and slice the sausage and mix it into the salad, too.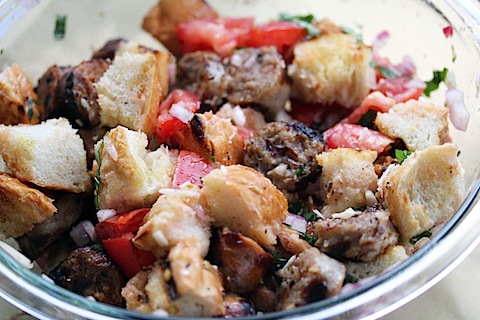 Serve on plates or in bowls and top with the remaining parmesan.
The flavors are obviously all perfect together and I could eat this for breakfast, lunch, and dinner throughout the summer. While I enjoyed leftovers, you might not love that the bread gets soggy. I still liked it.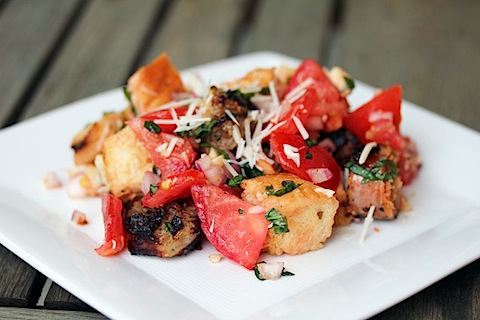 Eat outside, while enjoying the hot evening air and the setting sun. Because summer really is too fleeting and fresh tomatoes and basil plants on your windowsill won't last forever. Sob.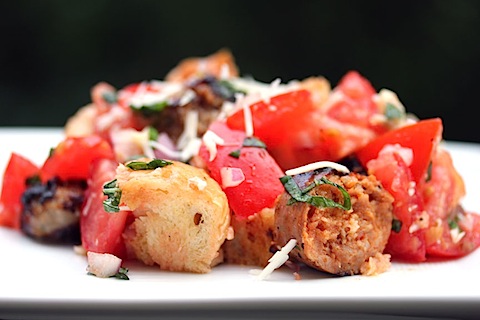 But that's OK because there's something to be said for the freezing cold Boston winters, right? Right?? OK, we don't have to think about that right now. But for the record, yes there is something to be said for cold Boston winters: sweet potato and pumpkin everything, thick and hearty chili, indulgent mac and cheese, winter veggie soups, and mugs filled with steaming tea or hot chocolate. Case closed.
For now, just enjoy this.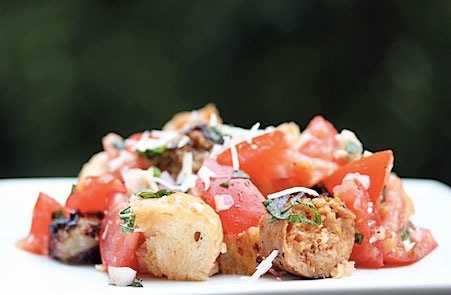 And then when winter comes, you can stare at the photos with your hands wrapped tightly around your hot cocoa.
But for now, enjoy! It was 90 degrees in Boston today and I'm intent on enjoying every single second of it 🙂
[Sues]