Whether you love or hate Peeps, there's no denying that these Peeps cookies are adorable! Filled with chocolate fudge and covered in sprinkles, Peeps cookies are the perfect Easter dessert.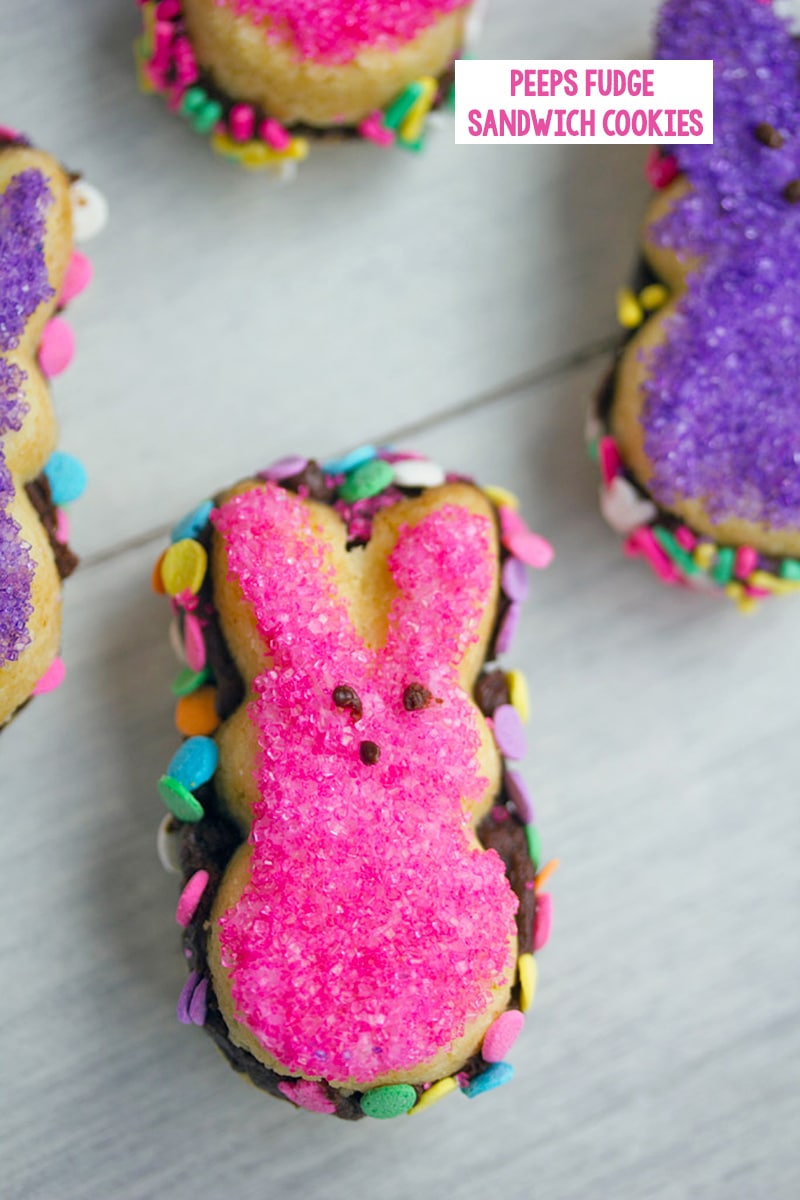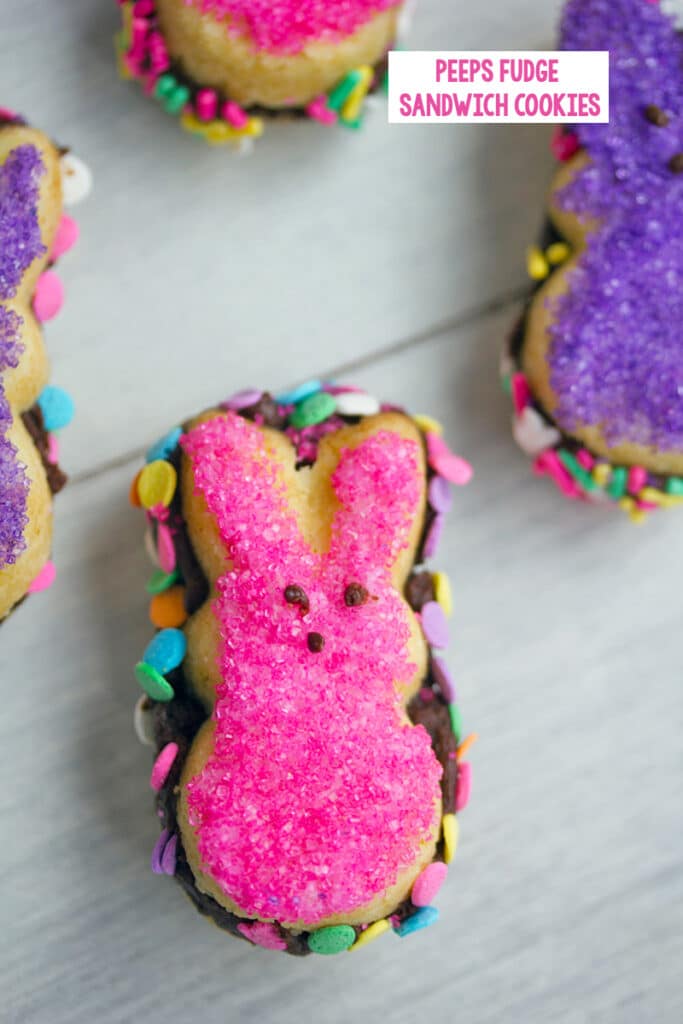 What do you think the most trash talked candy is? I'd like to take an informal poll, though I have a few ideas of my own. Candidates include circus peanuts, candy corn, and Peeps. I'd also like to nominate those little paper buttons that come on sheets of paper. Seriously, you call that candy? Stop. You will never find me defending circus peanuts or those little candy buttons.
But I will defend candy corn and Peeps until my dying day. Peeps! They're marshmallows! Rolled in sugar! I'm pretty sure I rant on this on an annual basis, but please stop disrespecting marshmallows rolled in sugar. Thaaaank you.
But no matter how you feel about the taste of Peeps, there's absolutely no denying that they're adorable, right?? Bunnies and chicks in super bright spring colors? Please, just admit that you can't look away. Sooo, what if I told you you could enjoy Peeps without, well, the Peeps? I pretty much jumped for joy when Wilton sent me a Peeps cookie pan earlier this month and knew Peeps cookies would be happening in my kitchen ASAP.
Also adorable? Peeps accessories in the form of icing decorations! Putting hipster glasses on marshmallow chicks? This is way more fun than dying Easter eggs!
Instead of making regular 'ole Peeps cookies, I decided to make sandwich cookies… With chocolate fudge filling. I was envisioning an E.L. Fudge type cookie (only one of the best cookies of all time!) and that is pretty much what I got. Only way cuter. Bunnies > Elves. Right??
Peeps Cookie Pan Alternatives
If you can't find a (affiliate link) Peeps cookie pan (as I'm updating this post, I've noted that Wilton no longer sells them), you can use an alternative bunny cookie pan. The cookies may not look exactly like Peeps, but they'll still be cute Easter cookies! I've included my affiliate links for a few options below (meaning that at no additional cost to you, I will earn a commission if you click through and make a purchase).
You can also feel free to make mini bunny cookies with the dough and use a cookie cutter for cutting them- these cookie cutters look just like Peeps! Then, make the fudge filling, sandwich together, and decorate.
Peeps Fudge Sandwich Cookies Recipe
Once you have a cookie pan, this fudge sandwich cookie recipe is super easy. Simply, pre-heat your oven to 350 degrees and lightly spray the cookie mold with baking spray.
Cream together the butter and granulated sugar in a large bowl until light and fluffy. Then beat in egg and vanilla.
In a separate medium-sized bowl, whisk together flour, baking powder, and salt.
Mix the dry ingredients into the wet ingredients until just combined.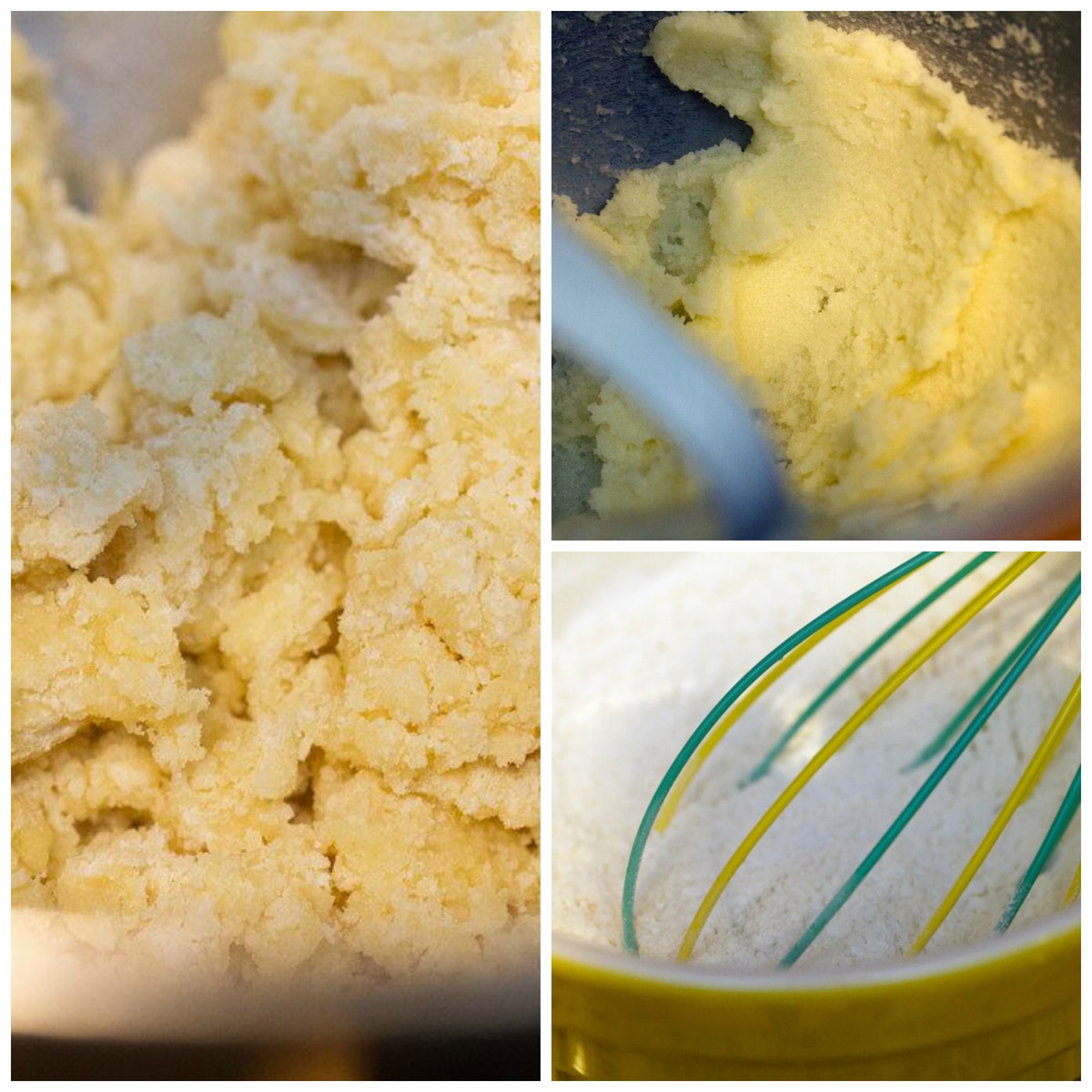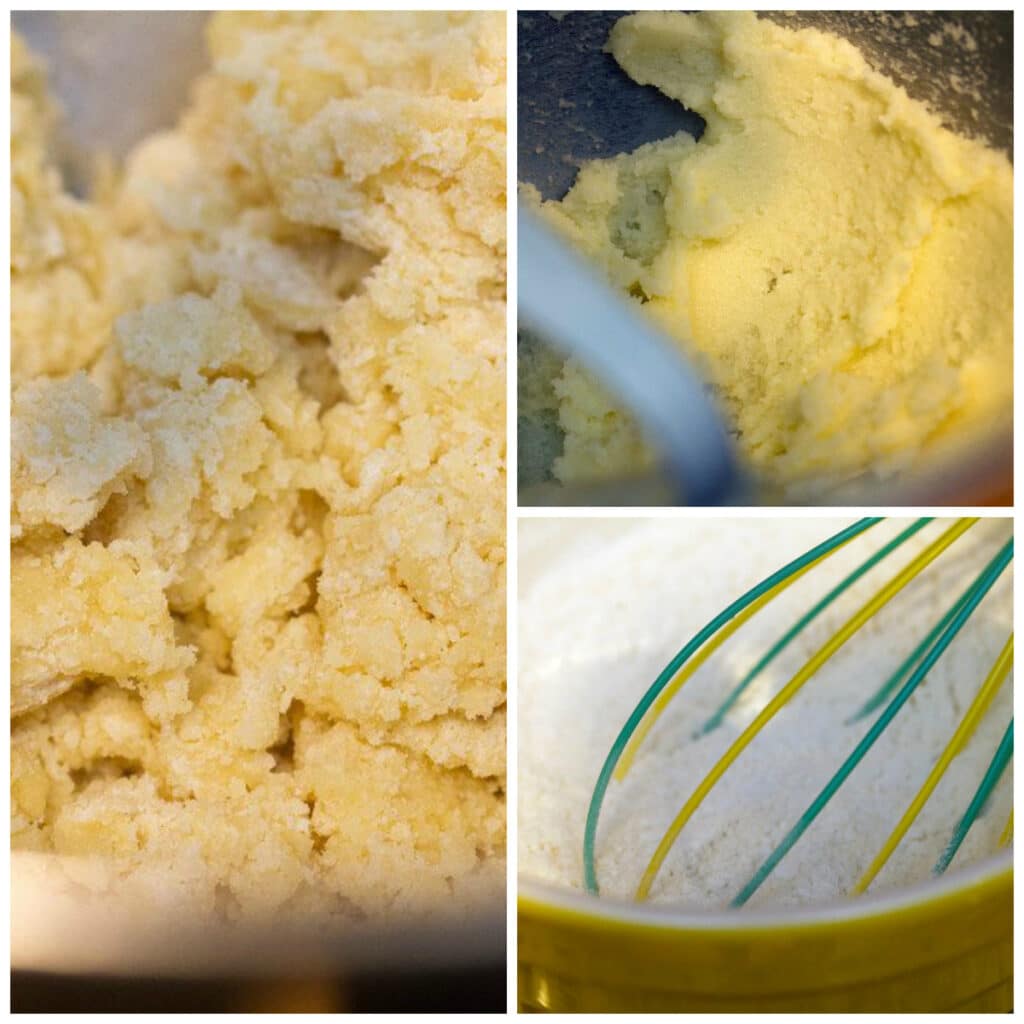 Press dough into cookie pan, filling each cavity about ⅔ of the way.
And bake at 350 degrees for 8-10 minutes, until the cookies are just starting to turn golden around edges.
Cool cookies in pan for a few minutes and then turn the pan upside down and tap cookies out. Cool completely on metal rack.
Hello, cute little Peeps!
While the cookies are cooling, you can start on the super simple chocolate fudge. For this one, you're going to create a double boiler if you don't own one.
To make your own double boiler, fill a medium-sized saucepan ¼ way with water and bring to a simmer over low heat. Then, place a heat-proof bowl over the saucepan and put chocolate chips and sweetened condensed milk into bowl.
Stir mixture until it's completely melted and smooth. Stir in vanilla.
Let cool to room temperature.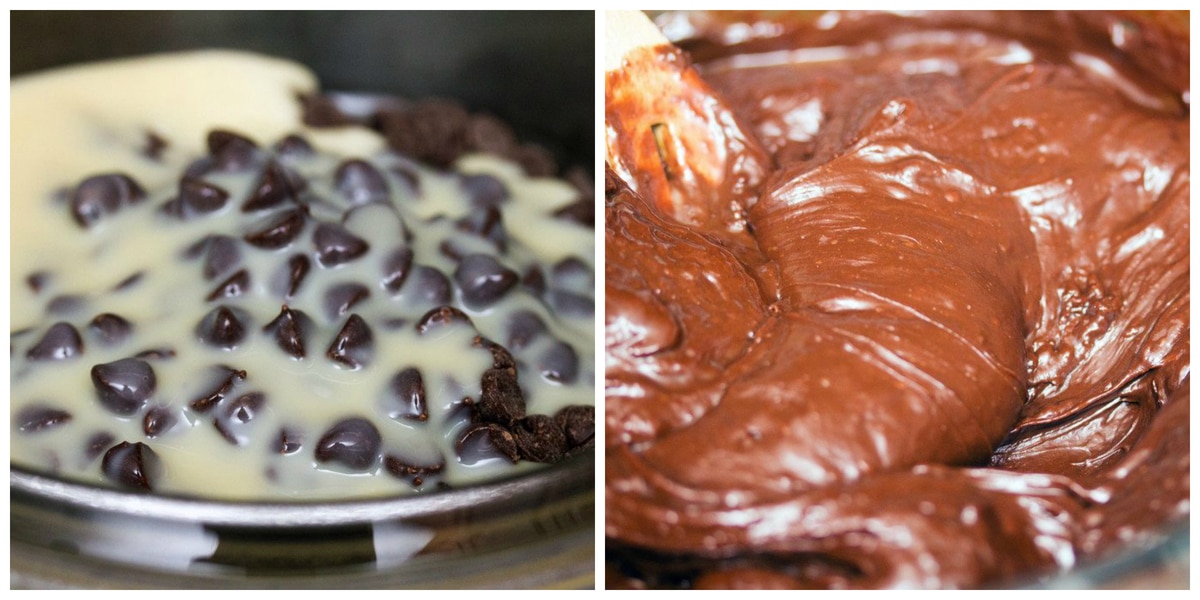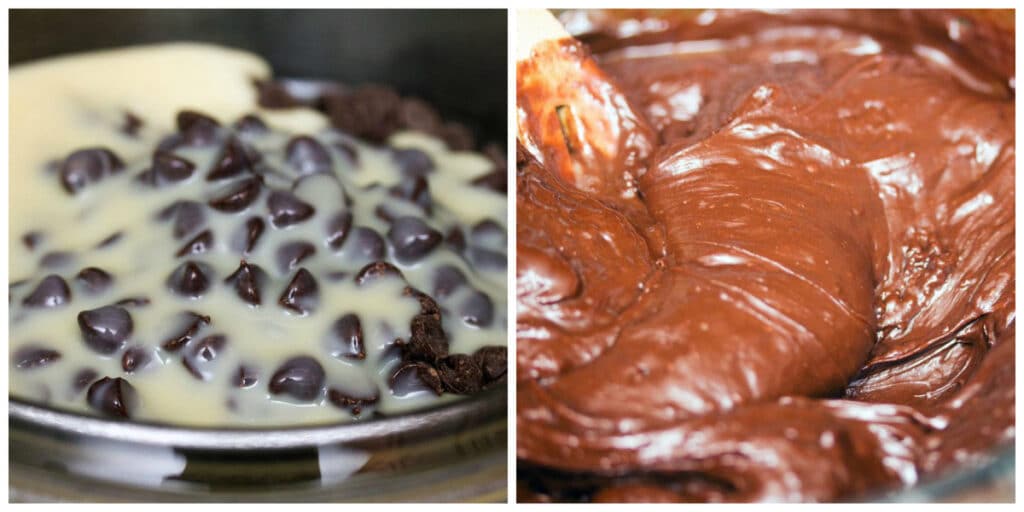 Ready to assemble those cookies?? Set up your decorating station! I have learned that one of the MOST important rules to cookie and cake decorating is to give yourself enough space. It can make a world of difference!
Fill a pastry bag (or plastic bag with corner cut off) with the chocolate fudge filling. Pipe a generous amount of filling onto one cookie and top with another cookie. Repeat for all cookies.
I decided to dip the edges of the cookies into fun springlike sprinkles (affiliate link).
You don't have to do this… But I highly recommend it.
Now, it's time to Peeps-ify the cookies! Spread a simple white icing on cookie- I used Wilton's Decorating Icing (affiliate link).
And then dip cookies directly into sugar! I used some of the classic Peeps colors of pink and purple for the sanding sugar.
Dot on the eyes and nose. I dipped a toothpick in the leftover chocolate fudge for this, but you could also use an icing pen or chocolate Wilton Candy Melts.
These definitely rank as the cutest cookie I've ever baked. Ever. OK, my melting snowmen (also from Wilton) may want to compete for that title, but now that I'm completely fed up with snow, I'm awarding Peeps the prize. Peeps mean spring!
And now you can enjoy them even if you're not a fan of the marshmallowy goodness that they typically are. But I'm still begging you to reconsider on that.
Oh wow, I just spent so much time gushing about how cute Peeps are that I forgot to talk about how these Peeps cookies actually taste! I was incredibly happy with how they turned out. They taste SO close to E.L Fudge cookies, which made me seriously happy.
Obviously these take a little bit more time to make than the average cookie, but in my opinion, they're so so worth it.
And hi, Peeps cookies are the perfect treat to bring to Easter dinner.
You could, of course, keep this recipe a little simpler and just make the decorated cookies instead of sandwich-syle with fudge filling. But that fudge….
I suppose everyone is allowed to have a candy they don't love. My husband and I have pretty much opposite tastes in candy. I'll almost always choose chocolate (or marshmallow) and he goes for fruity. The other day he had a pack of "Mamba" in the car and I still cannot get over the fact that out of ALL the candy in the store, he chose Mamba. Like, who does that?? Have you ever even heard of Mamba?? I haven't! Who have I married? Le sigh.
What are your feelings on Peeps?
If you're looking for more fun Easter treats, check out my Cadbury Mini Egg Scones and my Mini Easter Pavlovas. And I can't wait to make this Peeps Lasagna from 5 Stars Cookies!
📖 Recipe
Full disclosure: This post was sponsored by Wilton, but all opinions are 100% my own. I've been a Wilton fan for as long as I can remember and am absolutely thrilled to be working with them