Sometimes I get crazy ideas in my head. And they don't leave until I act upon them. Especially when I'm being constantly tempted every time I step into a store for months and months. You see, Easter may not be for another 3 weeks, but Easter candy has been on the shelves of pharmacies and grocery stores for well over a month now. In fact, I think it was put out the day after Valentine's Day. Pure torture. Especially when it comes to Cadbury Creme Eggs and Cadbury Mini Eggs.
I can't even express to you how much I love these candies. And I know I'm not alone… The Cadbury Mini Egg Facebook group currently has 318,410 fans. And the Cadbury Creme Egg Facebook group has 1,700, 519 fans. Crazy! But while I love them deeply, I try not to eat them very often because a) I like them to remain special Easter treats and b) well, they're obviously not good for me. Especially an entire bag. In one sitting. Ahem. But I've ignored them on the shelves as long as I possibly could and finally had to buy a bag of the mini eggs. And I immediately knew I wanted (no, needed) to make scones with them.
These are not your grandmother's scones. Oh no. They're not really your sit down with a cup of tea and nibble on a scone scone. They're more of a pour yourself a mug of hot cocoa with extra rum and whipped cream and break these scones out. And I'm OK with that. Because they're chocolatey and sweet and perfect for Easter morning… And the months leading up to Easter.
Cadbury Mini Egg Scones (makes 12):
• 2 C flour
• 1 t baking soda
• 1.5 t baking powder
• 1/4 t salt
• 3/4 C (1.5 sticks) butter, chilled
• 1/4 C sugar
• 3/4 C vanilla Greek yogurt
• 2 T vanilla
• 1/4 C milk
• 1 C Cadbury Mini Eggs, crushed
• 2 Cadbury Cream Eggs (optional for chocolate drizzle)
(Pre-heat oven to 350 degrees)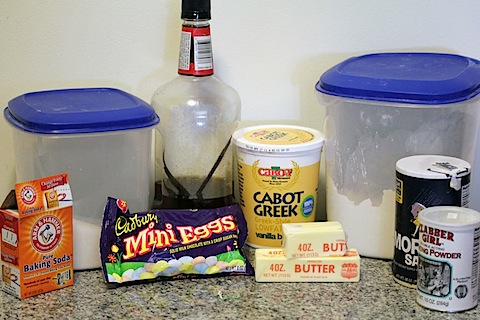 Milk is missing from the photo since it was a last minute addition (the dough needed to be moistened more).
These are little eggs of heaven. I could probably eat an entire bag in one sitting… Which is why I try not to buy them and feel that it's torturous to have them in stores for over 2 months straight. Are you with me?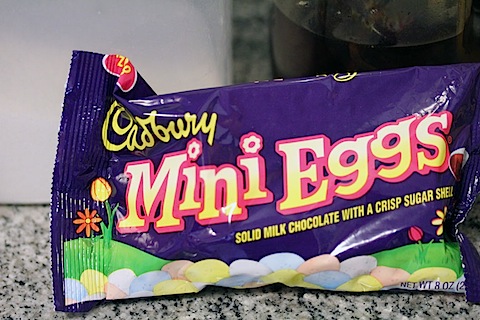 Whisk together the flour, baking soda, baking powder, and salt.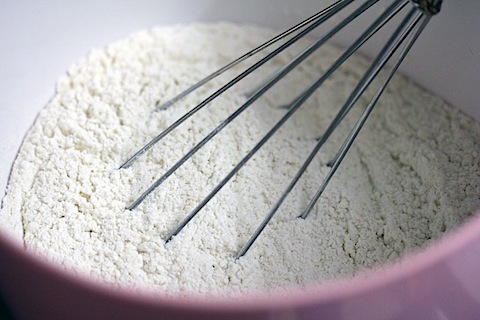 Then dice the cold butter into small pieces and add it to the flour mixture.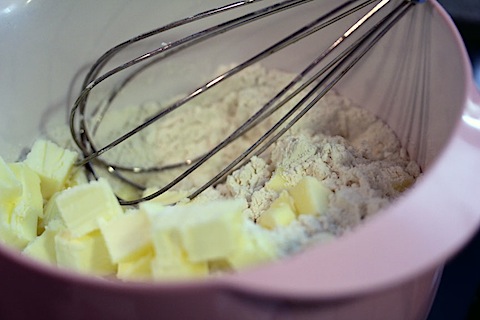 Using your fingers or a pastry blender, break down the butter in the mixture until it resembles coarse meal.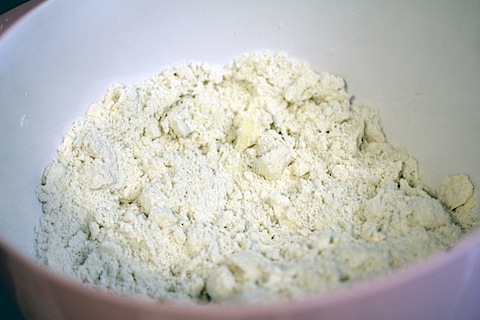 Now add the sugar, vanilla Greek yogurt, vanilla, and milk to the mixture. I love using Cabot's Vanilla Bean Greek Yogurt because it has the pretty little specks of vanilla bean in it.
Chop up your Cadbury Mini Eggs. They don't have to be chopped super finely or anything; basically in thirds or so. Try not to eat too many as you chop.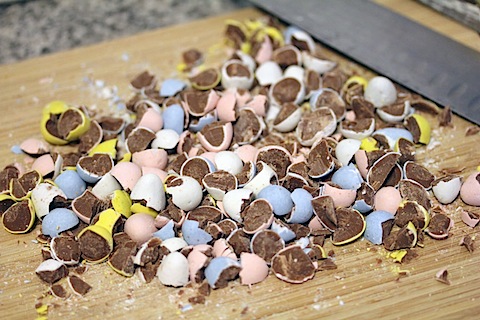 Add the Cadbury Mini Eggs to the batter.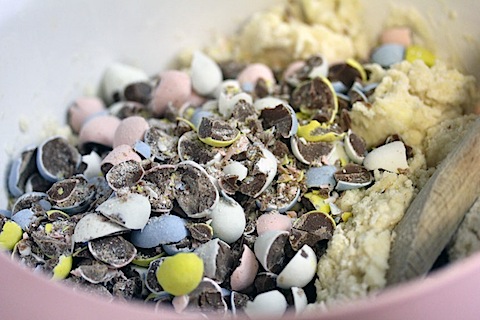 And mix everything together until the mixture is all moistened by the wet ingredients.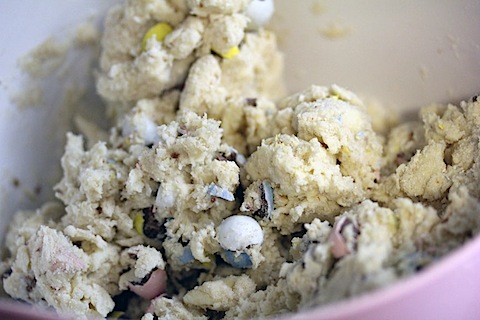 Now separate the dough into 2 pieces. Place one half of the dough onto a lightly floured surface and set the other half aside. Roll the dough into an 8-inch circle. It kind of looks like a giant Easter egg.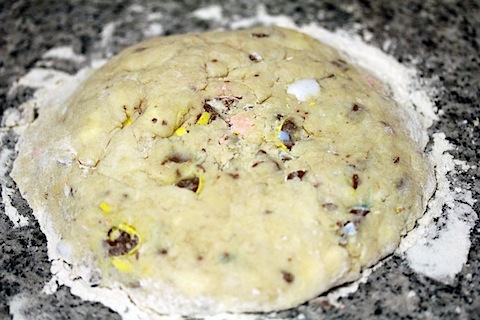 Cut 6 triangular sections from the dough and place them on a parchment lined baking sheet.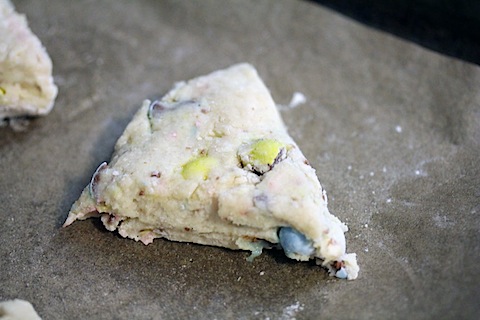 Bake them at 350 degrees for about 17-20 minutes. They should be lightly golden around the edges and firm, but soft in the center.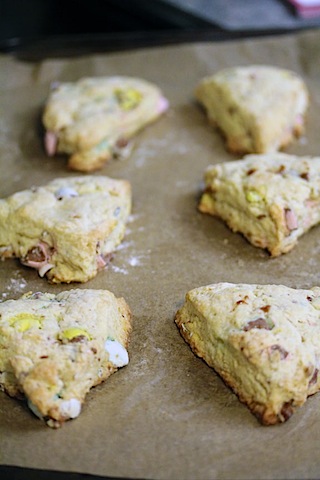 Let them cool on the pan for a few minutes and then move the scones to a wire rack to cool completely.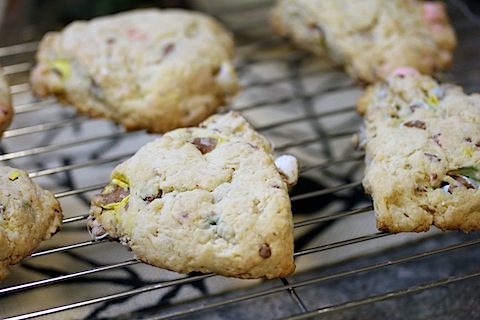 Repeat with the second section of dough.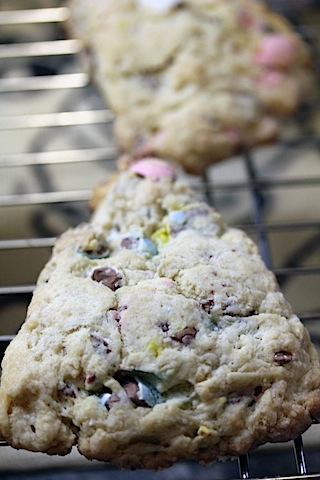 THEN, I got another bright idea. Why not melt some Cadbury Creme Eggs and drizzle the chocolate over the scones? OK.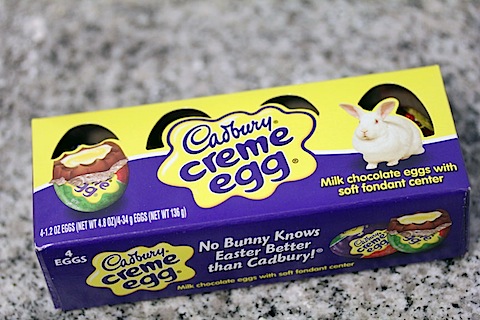 I wasn't sure how it would work, but I cut 2 Cadbury Creme Eggs in half.
And put them in a double boiler over boiling water to melt. The chocolate was super thick, so I added a tablespoon of milk in and mixed well.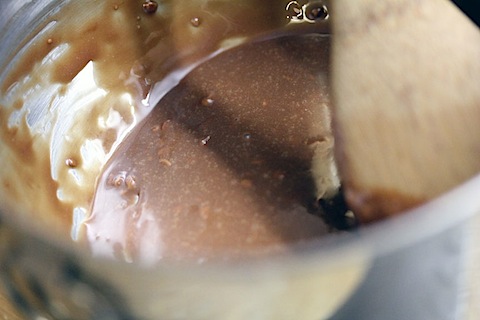 Then I drizzled over the scones.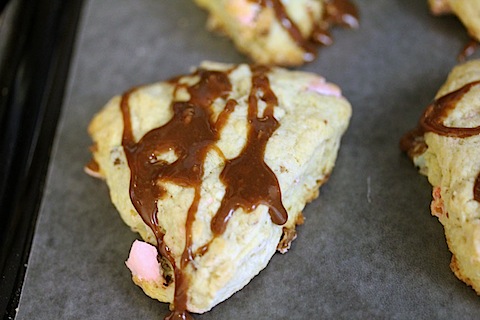 I only drizzled the chocolate over half the scones because I was a little bit undecided about it. I mean, ti was amazing and I was thrilled to be able to combine both kinds of Cadbury Eggs into one treat (!!), but on the other hand, it may have been a bit overkill. I love sweet, but this was sugar overload!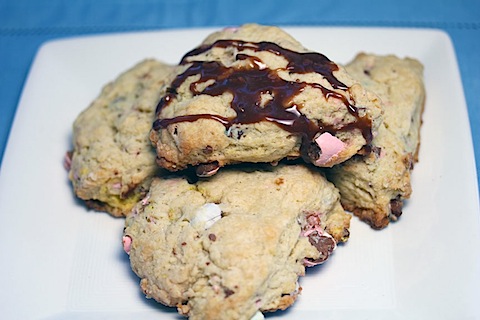 I really do love all kinds of scones, but as far as dessert scones go, these are perfectly amazing. In fact, I'd rather eat these than sit on the couch with a bag of Cadbury Mini Eggs. And just think about how perfect they'd be for Easter morning breakfast?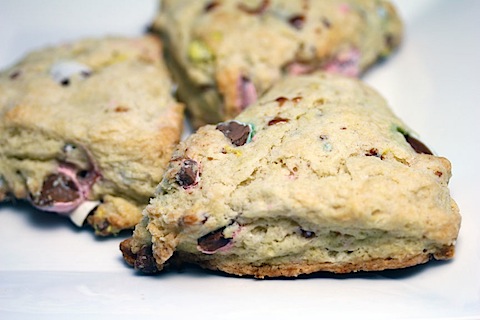 The scone is packed with vanilla flavor that perfectly complements the milk chocolate candies. I'm also a big fan of the dark chocolate Cadbury Mini Eggs and think those would definitely work in the scones, too. The scones were not your sometimes typical dry scones and were definitely more moist and almost cookie-like. But they still had plenty of the flakiness I love about scones.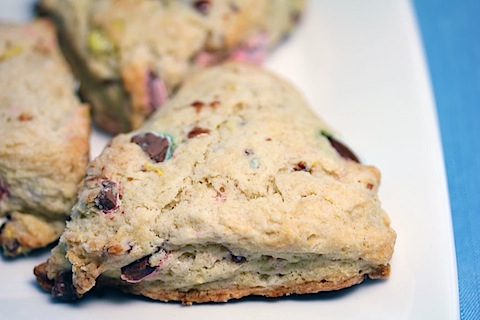 When I first started this baking experiment, I wasn't quite sure how the scones would come out, so I'm super excited by how awesome they are. I had to send a whole batch of them to work with Chris because let's be honest. I can't be trusted sitting in the apartment alone with these. It's a rainy Monday morning and these might be the only thing that can make it better 🙂
What's your favorite kind of Easter candy?Are you feeling tortured that Easter candy has been on the shelves so long?
[Sues]