Mmm, polenta. A great base for all kinds of tasty goodness. For some reason, though, I haven't made it in SUCH a long time. I feel like I always used to make it pre-WANM days and since it takes a quick few minutes to make, there really isn't any excuse for that, now is there?
I was recently poking around Real Simple's website when I saw a banner for recipes for meals under 400 calories. There was a slew of healthy recipes in this category, but one of the first ones that stood out was the Polenta-Stuffed Poblano Peppers. I've noticed myself making a lot of meatless meals lately, which is bizarre for me (duh, bacon and steak lover). I'm normally craving meat by the end of the day, so I don't know what's gotten into me! I think the "secret" is finding meatless meals that still feel meaty. If that makes any sense. I feel like after I eat say, just a salad, for dinner, I never feel fully satisfied, but with a "meaty-feeling" meatless meal, I still feel as satisfied as I would if it had been a meat-fill meal. Am I crazy?
Don't answer that.
On to the food!
Here's what you need:
Serves 4 (281 calories per serving)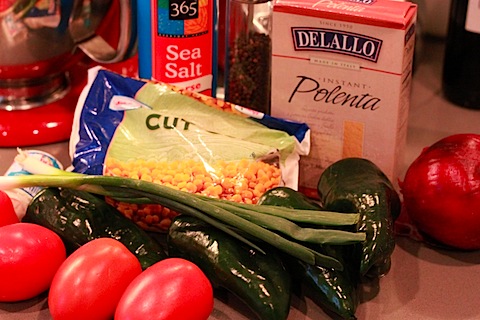 • 4 plums tomatoes, halved
• 1 red onion, cut into wedges
• 1 tablespoon olive oil
• 4 poblano peppers, seeded and halved lengthwise
• ¼ teaspoon ground cinnamon
• salt and pepper
• ½ cup instant polenta
• 10-ounces frozen corn
• ¼ cup soft goat cheese
• 4 scallions, slices
Here's what you do:
Tip: If you prepare all of your veggies before you start cooking, this recipe is a breeeeeze!
Heat your broiler. Toss the tomatoes, onion, pepper and oil on a rimmed baking sheet. Put tomatoes and peppers cut-side down.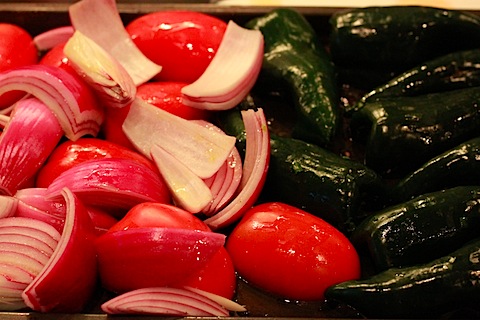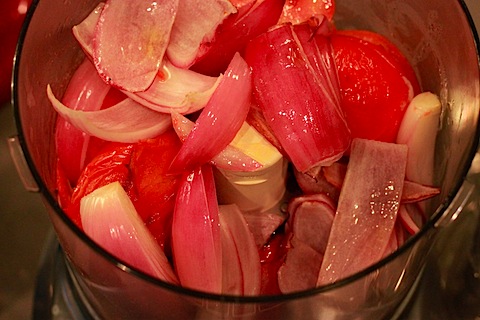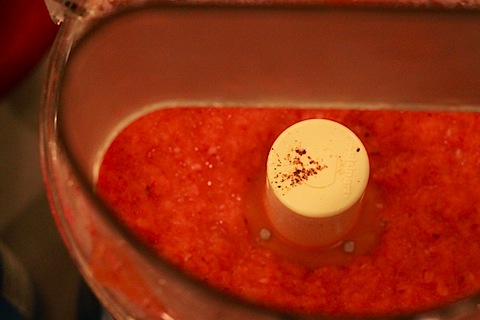 Broil the vegetables until tender, making sure to stir the onions and turn the tomatoes and peppers halfway, about 5-8 minutes. Add the tomatoes, onions, cinnamon, ½ teaspoon salt, and ¼ teaspoon pepper into the bowl of a food processor and puree until smooth.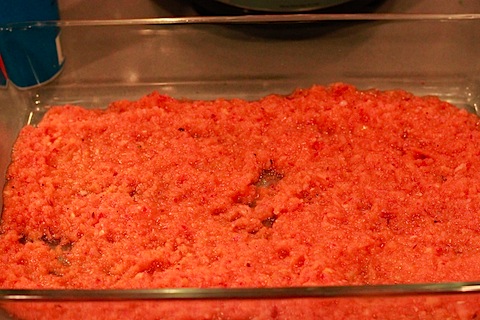 Spread about half of the tomato sauce into a baking dish (roughly 9x13 inches). (Errr, That image isn't the most appetizing-looking!)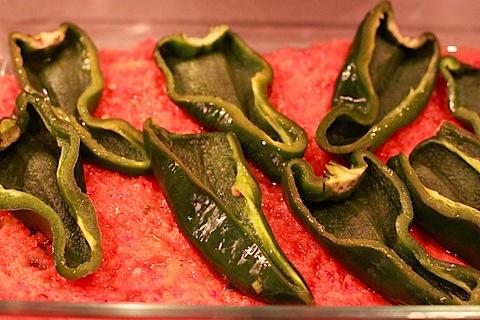 Now, place the poblano peppers over the sauce, cut-side up.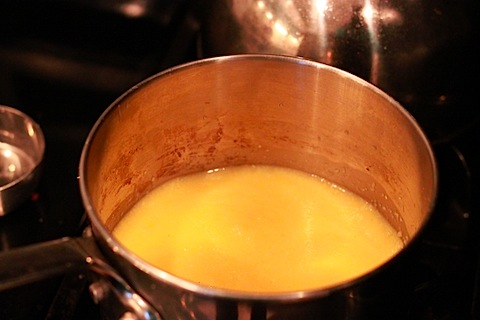 In a small saucepan, bring 2 ¼ cups of water to a boil and add a dash of salt. Gradually begin to whisk in the polenta. Like I said, polenta takes only a few minutes to prepare, so keep an eye on it and constantly whisk until it thickens, about 3 minutes. Stir in the corn, goat cheese (YUM!), and the scallions, making sure to leave about 2 tablespoons for garnish.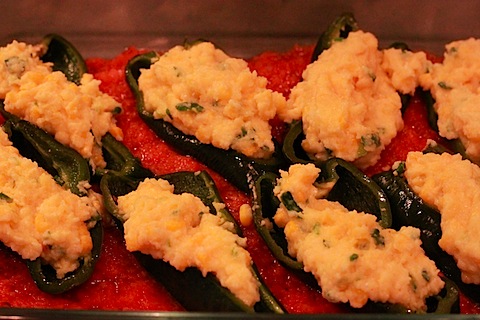 Arrange the polenta into the peppers...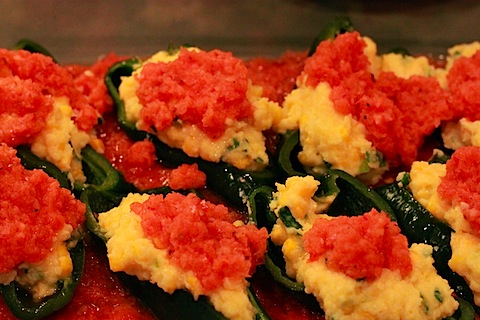 Then top with the remaining tomato sauce and bake for about 5-10 minutes. Once the peppers are done baking, top with remaining scallions.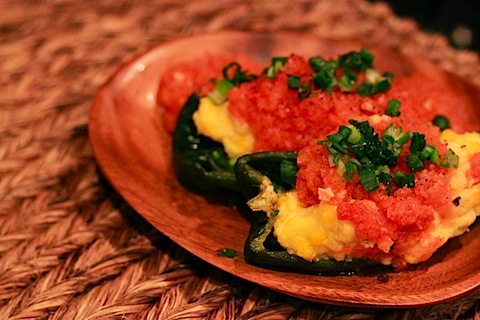 The little bit of heat the poblano provided was nice, although I think next time I will add something else for an additional bit of spice. Maybe a dash of hot sauce drizzled over?? 😉 As a huge meat-lover, I sometimes worry about meatless meals because I feel like I'll still be hungry after, but this was pleasantly surprising. I had two halves (or one full pepper) and it turned out to make the perfect Sunday dinner this past weekend. Also, since I made the full recipe, it looked like I was serving a family of 5, so I knew I'd have a lot of leftovers. I was actually worried that they wouldn't do well as leftovers and I'd end up wasting, but I brought a couple to work for lunch and was kind of impressed with how well they held up! I thought they were going to be a soggy mess, but they held their shape quite nicely and tasted just the same, if not better!
Do you cook with polenta? What's your favorite dish you've made with it?
[Chels]