As we mentioned in our first Foodbuzz Project Food Blog post, it's our main goal as food bloggers to remain true to ourselves by teaching our readers while we ourselves are learning. When it comes to cooking, there are still many things that make us feel like we're stepping outside of our comfort zone. Heading to the butcher shop to pick up a cut of meat that is different from our usual (you know, like chicken breast or ground turkey) has always been a bit daunting. And we know we're not alone in this sentiment. We, along with others, are also often hesitant to experiment with yeast and baking bread. It does take time and practice, but you need to start somewhere and with patience, we've learned you'll get the hang of it.
We decided to cook the classic Indian dish lamb vindaloo as our ethnic classic. It would force us to step outside our comfort zone since we haven't yet conquered Indian food and we'd have to purchase lamb at the butcher. And we knew to make it truly authentic we'd have to complete every step, from grinding our own spices, right down to baking our own garlic naan. Oh, and since we'd need something to sip on, we figured we'd make an Indian Chai tea as well. We were kind of nervous to attempt so many new ventures at once since it can be a bit intimidating, but if there was any time to do it, this challenge was it!
For this challenge, we decided we needed to get to know our local butcher. We recently got a new butcher shop in our neighborhood called The Meat House. We've been in several times and noticed everyone working is super friendly and helpful. So, this time we went in and asked our butcher, Seth, what cut of lamb would be best for lamb vindaloo. He immediately knew what to grab from the case, asked us how much we wanted, and even asked us if we wanted him to cube it. We obviously said yes, knowing this would make our job much easier later on in the kitchen.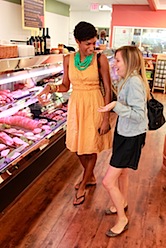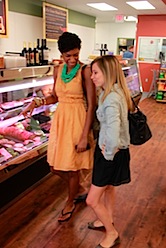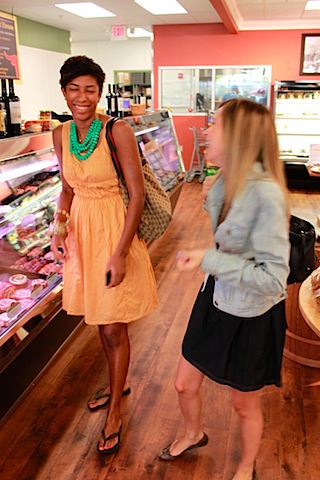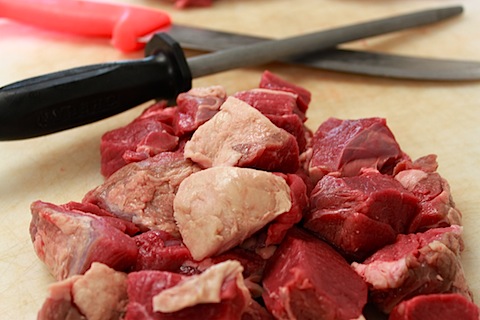 We left confident in the fact that we had just the cut of lamb we needed for our vindaloo.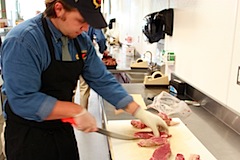 Our next stop was Whole Foods where we knew they would have the wide variety of exotic spices we needed. Your traditional grocery store might not carry specialty spices such as whole cardamom pods or whole fenugreek seeds, so it's always good to have a backup plan. And the good thing is, the next time you want to make a similar dish, you'll have all the spices ready to go!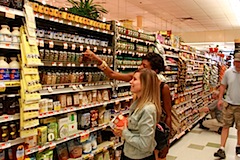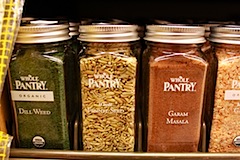 Seth also recommended a fabulous bottle of malbec to us, knowing it would go great with the lamb. Of course, we bought that, too, since we knew we had a long night of cooking ahead of us.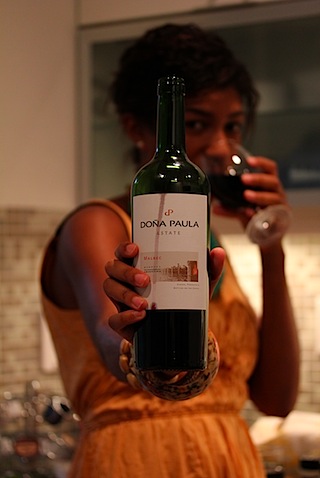 Since the garlic naan would need time to rise, we decided to start with it. Well, after opening and pouring the wine, of course.
After doing lots of naan research, we decided we liked the idea of combining yogurt and honey to make the dough.
Garlic Naan (makes about 6 rounds):
• 2 sticks butter (for coating)
• .25 oz. of yeast (1 packet)
• 1 C warm water
• 4 T yogurt
• 1 T honey
• 1 t salt
• 3.5 C flour
• 1 head garlic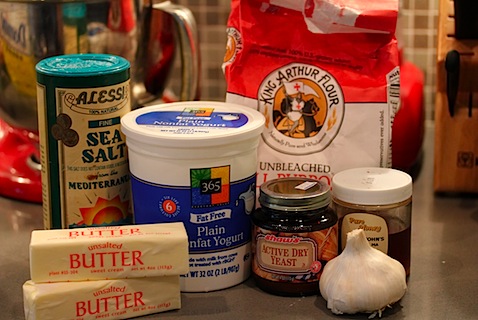 First we had to conquer the KitchenAid mixer. The bowl was stuck to the stand mixer and we just could not get it out! Of course, it would have helped if we knew whether we were supposed to turn it to the left or right to loosen it (turns out, it was right... for future reference).
After much struggling, the bowl finally came off! Thank goodness Chels's sister was there to add some extra strength.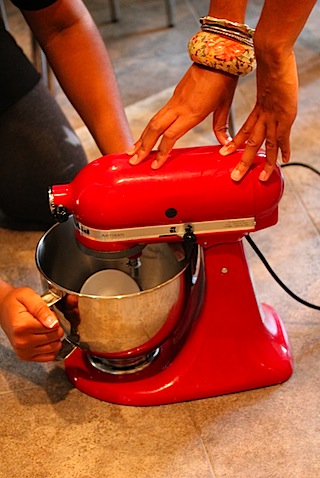 Now, 2 sticks of butter might seem a bit excessive for the naan. But you're going to make ghee with it and be constantly coating the dough in it. And it's so worth it because it will give you the flaky, crispy, soft naan you want. So, what exactly is this "ghee" you'll be making? Ghee is the same thing as clarified butter. Just melt the butter in a saucepan and skim off the white film that forms on top.
Now, dissolve the yeast into the cup of warm water and give it about 10 minutes to become a bit frothy.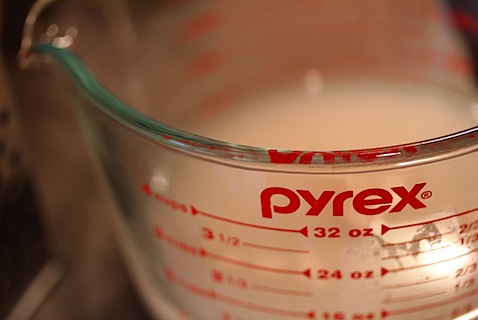 Then add in the yogurt, honey, salt, and flour.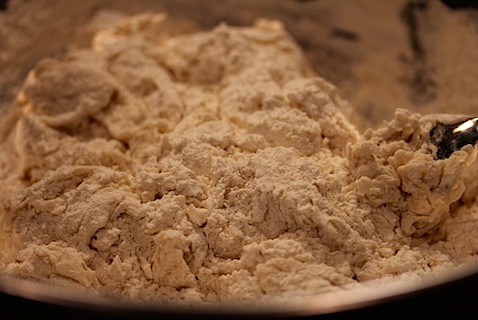 Use the dough hook on your stand mixer to knead the dough for about 3 minutes. If you don't have a mixer, you can knead it on a floured surface for about 6 minutes.
Form a ball with the dough and coat it in ghee.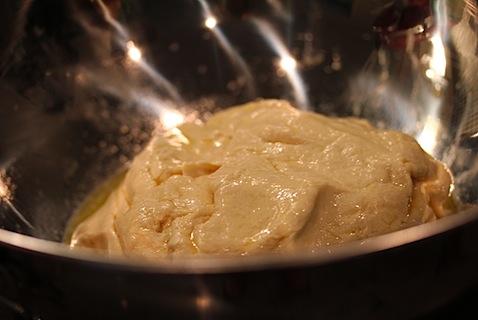 Put the ball in a bowl and place in a warm environment for about an hour. You can cover it with a kitchen towel or whatever you want. We used a We are not Martha apron! The dough should double in size.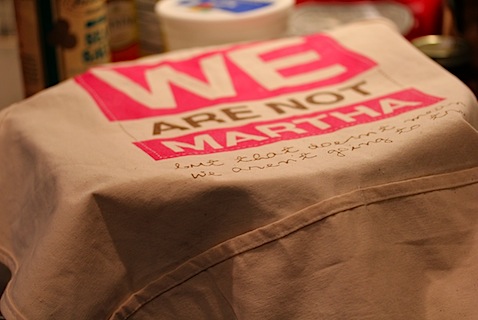 Mince all the garlic. It's a lot, but it's most definitely worth it. And it really helps to have a GarlicZoom! Of course, you can always make regular naan without garlic, too.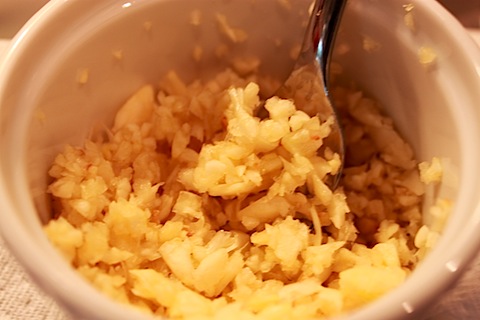 Knead the garlic into the dough and make 6 little dough balls of equal size. Coat them in some more ghee and let them sit for another 30 minutes.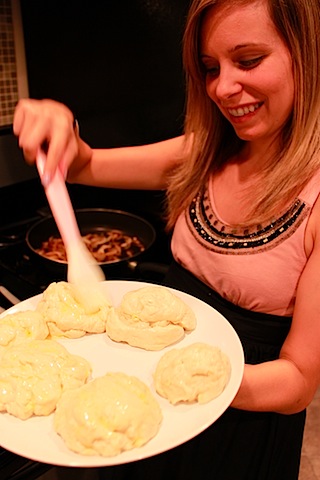 At this point, you can start pre-heating your oven to 500 degrees. Put the baking sheet you're going to bake your naan on in the oven too, so the surface will be nice and hot.
Roll the balls into flat disks on a lightly floured surface. Coat with some more ghee.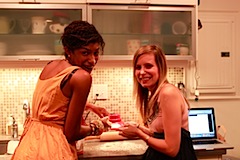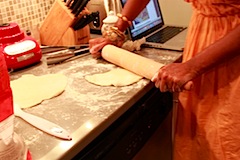 Now put them on the hot pan a couple at a time and pop them in the oven.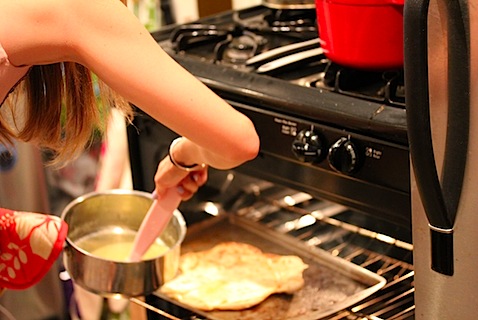 Let them bake for about 2 minutes before you take the pan out, flip the naan over, brush more ghee on them, and put them back in for 2 more minutes. Repeat until all rounds are baked.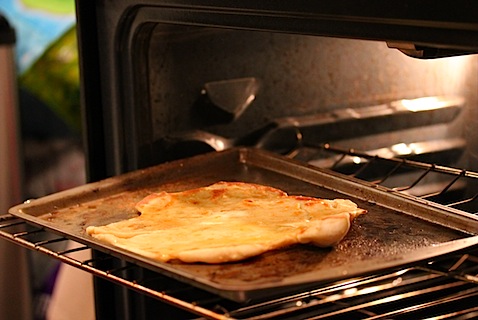 They should be nice and browned and bubbly looking.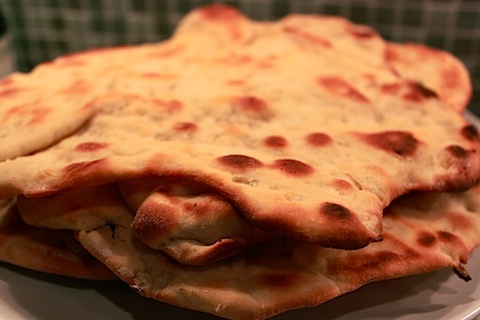 *****
We wanted the lamb vindaloo to be as authentic as possible, so we mainly followed a recipe from the trusted Madhur Jaffrey. The recipe called for a lot of whole spices. Of course, you can buy most of the spices ground (or even already blended, like with curry powder), but actually grinding and mixing them yourself will make the flavors much more vibrant and fresh.
Lamb Vindaloo (serves 6):
Adapted from Madhur Jaffrey's Indian Cooking
• 2 t whole cumin seeds
• 4 hot, dried red chili peppers
• 1 t black peppercorns
• 1 t cardamom seeds (take seeds out of pods)
• 3-inch stick of cinnamon
• 1 ½ t mustard seeds
• 1 t whole fenugreek seeds
• 5 T white wine vinegar
• 1 ½ t salt
• 1 t light brown sugar
• 10 T vegetable oil
• 2 medium onions, peeled and sliced into half-rings
• 1 ⅓ C water
• 1.5 lb. boneless lamb, cut into 1-inch cubes
• 1-inch cube fresh ginger, peeled and coarsely chopped
• 1 small whole head of garlic, cloves separated and peeled
• 1 T ground coriander
• ½ t ground tumeric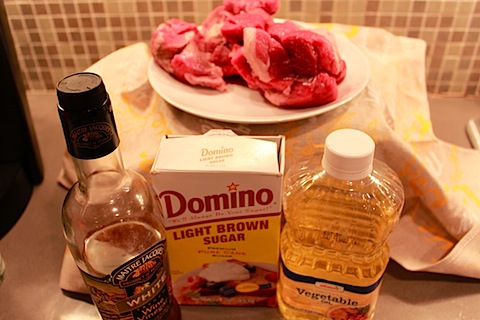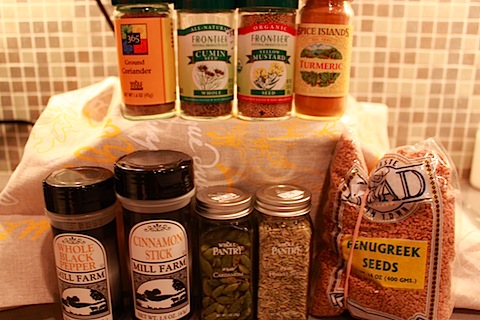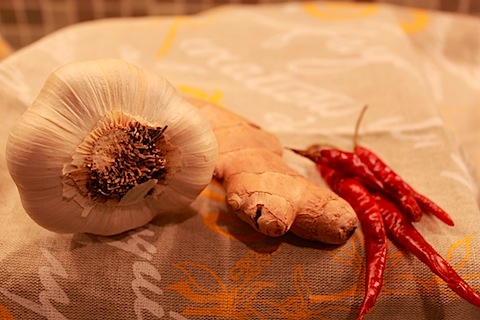 We used whole cardamom pods, so we had to open them and remove the seeds.
Start by grinding your spices. Put the cumin seeds, dried red chili peppers, black peppercorns, cardamom seeds, cinnamon stick, mustard seeds, and fenugreek seeds in a coffee/spice grinder (a food processor or blender might also work). When they're all ground up, make sure you smell them because it will blow you away!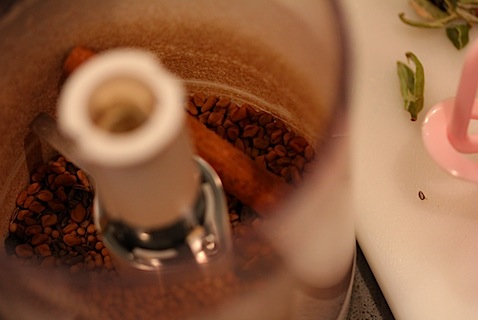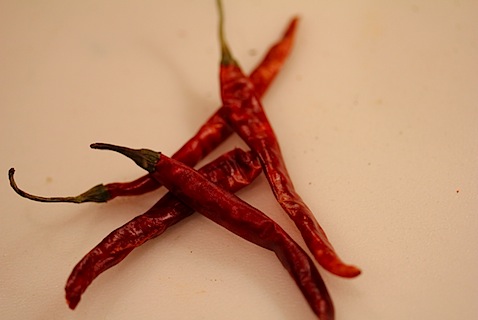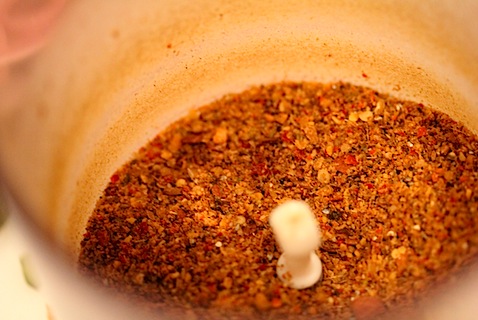 Put the spices in a bowl and add vinegar, salt, and sugar. Mix and set aside.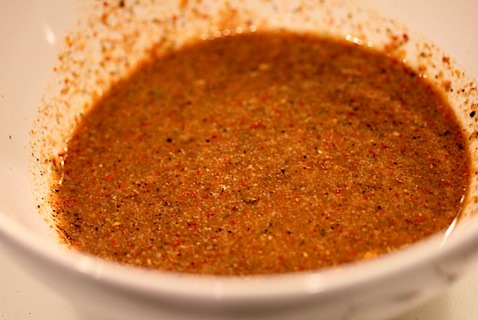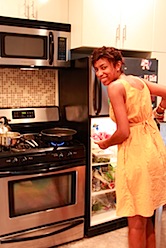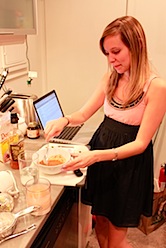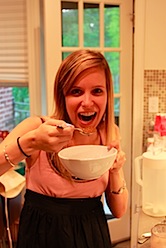 Now, heat some oil in a pot over medium heat. Add the onions and stir frequently until they get nice and brown.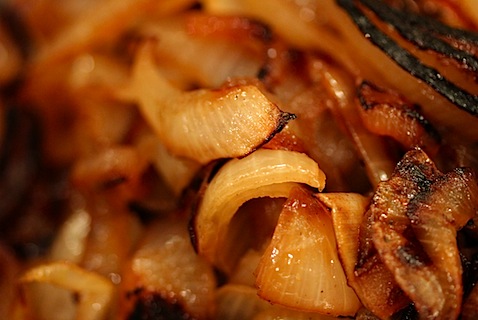 Remove the onions and put them in a food processor or blender. Add 2-3 T of water and puree the onions.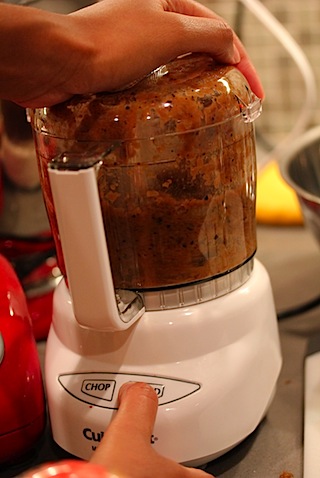 Add the pureed onions to the ground spices in the bowl. And that's your vindaloo paste!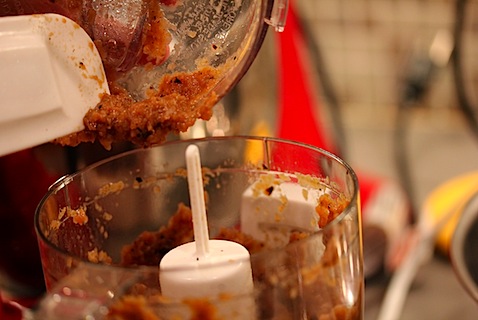 Next, put the ginger and garlic cloves in a food processor or blender. Add 2-3 T of water and blend until you have a smooth paste. Yup, that's your ginger garlic paste.
Heat oil over medium-high heat in the pot you're going to cook your lamb in. We used a 5.5 quart cast iron dutch oven. When the oil is hot, put the lamb cubes in the pot, forming a single layer. Depending on the size of your pan, you might have to do a couple batches.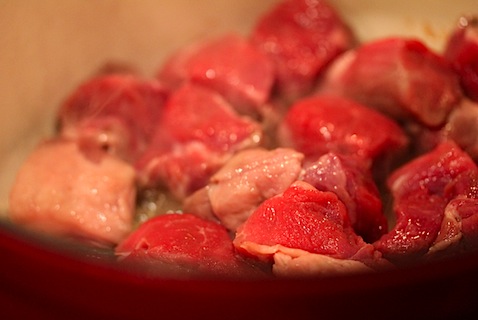 Brown the cubes on all sides, remove from pot, and place on a plate or in a bowl. Repeat with the rest of the lamb until it's all browned. Remove from pot.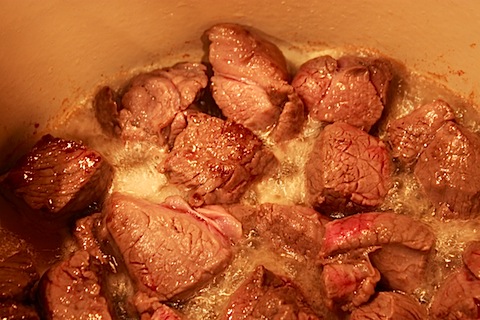 Put the ginger garlic paste into the pot. Turn the heat down to medium and stir. Add the coriander and tumeric. Stir some more and add the lamb and any juices that have accumulated. Add the vindaloo paste and 1 C of water and stir. Bring to a boil. Then cover the pot and gently simmer for 45 minutes until lamb is tender. Make sure you stir the mixture a few times throughout the cooking time.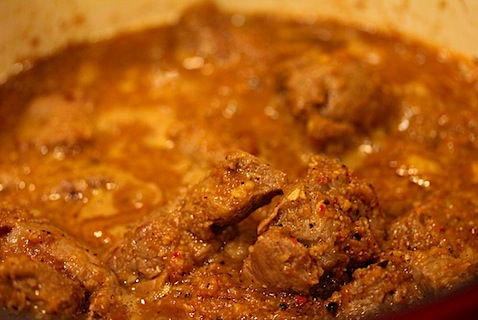 *****
We wanted to accompany our Indian cuisine with a traditional Indian Chai tea from Vij's, a famous restaurant in Vancouver.
Indian Chai Tea (serves 5-6):

• 4-5 orange pekoe teabags
• 1 inch cinnamon stick
• 1.5 teaspoons fennel seeds
• 4 green cardamom seeds
• ¾ cup whole milk
• 5-6 teaspoons sugar
• 5.5 teacups water (the actual size of the cup in which you'll serve the tea)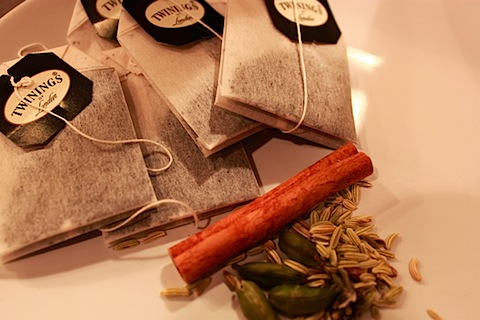 Place the cinnamon, fennel, cardamom, sugar, and water in a saucepan and bring to a boil. Once the water is boiling add teabags and let the water boil for another minute.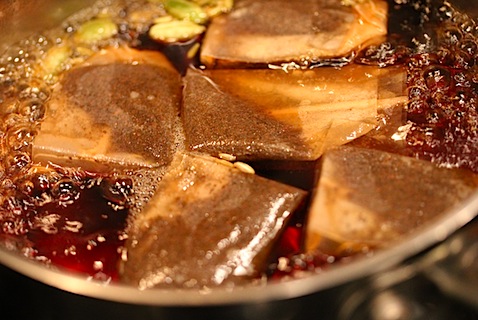 Add ¾ cup of milk and bring to an almost boil. Remove immediately from the stove.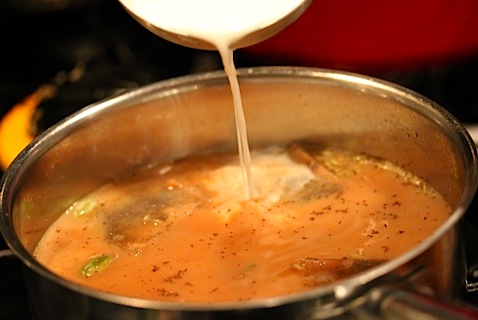 Remove teabags and pour tea through a strainer and into a teapot or directly into teacups.
By the time everything was done cooking, we were definitely ready for a big meal!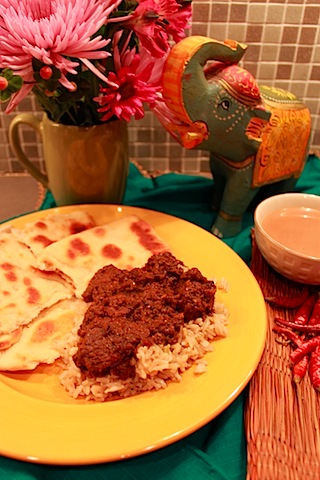 We served the lamb vindaloo over brown basmati rice with the garlic naan on the side. Even though we had silverware, we ended up scooping a lot of the rice and lamb up with the naan.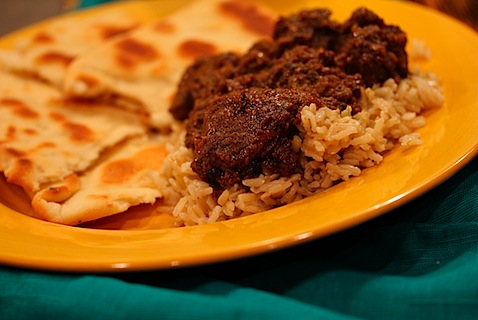 All the spices came together wonderfully and the lamb vindaloo tasted exactly like what we've had in our favorite Indian restaurants. We were so impressed that just by stepping out of our comfort zones, we were able to create restaurant-quality food at home.
And the naan! Fresh out of the oven, it was a melt-in-your-mouth, buttery delight. We had never even considered the fact that we could bake our naan, but now that we've done it, it's going to be difficult to stop.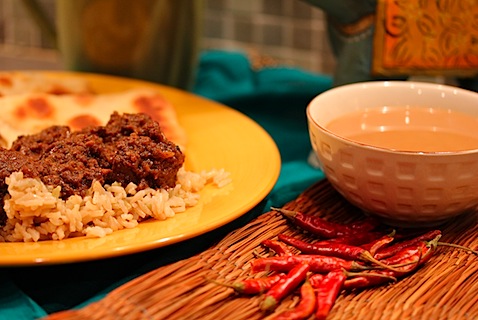 The tea was the perfect touch. The spices complimented the meal and it was nice to have a warm drink while we sat eating our meals on the deck.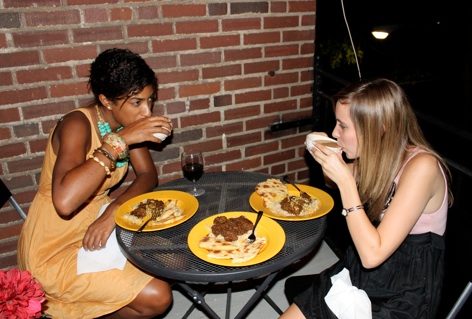 After cooking the food, taking a billion photographs, and eating the meal, we remembered we still had to blog about it! So, we settled in on the couch and got right to work. Things got a little crazy, especially when a giant moth flew into the living room and tried to attack us.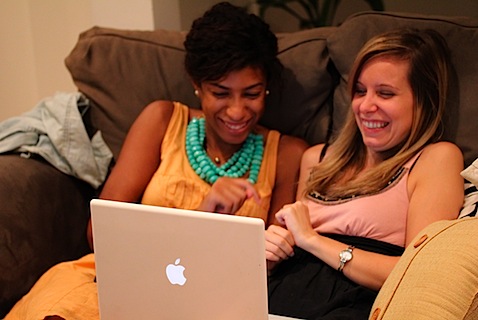 Oh, but the first thing we did was to put our slippers on! Standing on our feet for so long in the kitchen had both of us majorly craving the comfort of our slippers.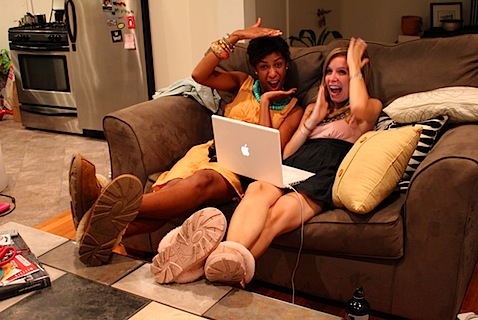 We never knew we could step so far outside our comfort zone while in our own kitchen. And staying in on a Saturday night to cook up an Indian feast with your best friend, a glass of red, and 2 laptops is probably the best way to make you feel comfortable while stepping out of your comfort zone.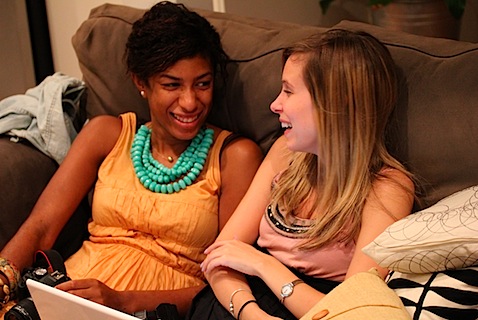 We encourage you to take some time to step outside your comfort zone, too, by creating a meal you wouldn't normally attempt from a culture different than your own. We loved the idea of making something we order at restaurants quite a bit, but never bring to our own kitchen.
The other benefit you'll receive? We learned that making lamb vindaloo and naan at home is so much less expensive than ordering it in a restaurant. Especially once you already have all the spices in your cabinets.
Just make sure you have your slippers ready.
[Sues and Chels]
Voting starts Monday, September 27, at 9 a.m. EST. Thank you so much for your votes in round one. We'd love it if you'd take the time to vote for us again! Next week's challenge involves us hosting a luxury dinner party and we'd love to show you what we have up our sleeves 😉