The thing about arancini is it's one of those foods I could eat every single day and probably never get sick of. Little balls of fried pouffy rice, filled with a variety of deliciousness. It's quite versatile because you can add so many different ingredients to create such different and unique outcomes and flavors. One of my favorite appetizers is the arancini that Vlora, a Mediterranean restaurant, in Boston serves. It's simple but delicious, light and fluffy but beyond satisfying. It never gets old.
While I waiting at the deli of my local Whole Foods the other day they were serving Pea and Prosciutto Arancini. I'm always up for a grocery store sample, so I, naturally, reached over to try one of the piping hot delights. I melted. And then instead of buying 12 pounds of the heavenly bites, I decided I would attempt to challenge myself in the kitchen and try to make them, from scratch, in my own kitchen. The things a food blog will encourage you to do 😉
Now, I've never ever made arancini on my own. I've always been quite content with Vlora's, but I decided to give it a go. I did a little browsing online to see if I could find a basic technique. The majority of the recipes were different in technique; some required you to mix the eggs, breadcrumbs, and risotto together while others instructed you to form the balls of rice, then dip them individually into eggs, flour, and breadcrumbs. I decided to just take a stab at it and make it up as I went along since it was my first time. These were definitely delicious and would make outstanding appetizers at a party (Super Bowl!).
Here's what you need:
• 2 cups arborio rice
• 4 slices of prosciutto, chopped
• ⅓ cup chopped parsley
• ½ cup plain flour
• 2 cups dried breadcrumbs
• 4 eggs, lightly beaten
• Fontina cheese, a cube per each ball
• canola (or vegetable) oil, for frying
Here's what you do: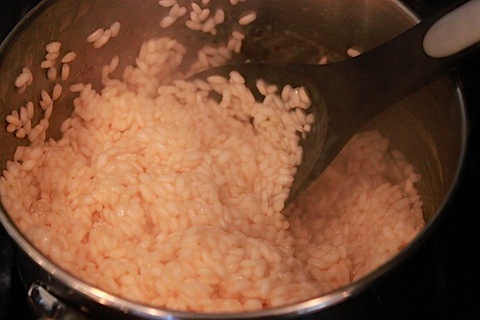 • Prepare your risotto as you normally would. Here is a good and basic recipe from Martha Stewart's Cooking School.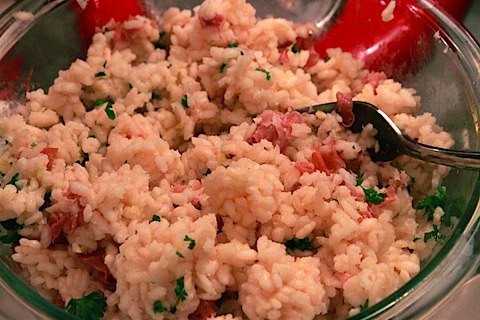 • Once risotto is finished, transfer it to a large bowl and add prosciutto and parsley and stir. Cover and refrigerate for 2-3 hours or until cool.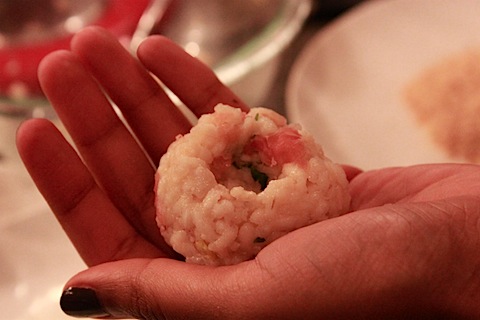 • Next, you'll want to form the cooled risotto into the about 1-inch balls. With your thumb, make an indentation.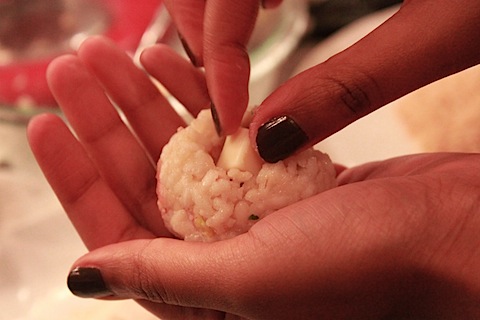 • And place a cubed piece of fontina in. When it's fried, it will melt and it will be stringy and magical.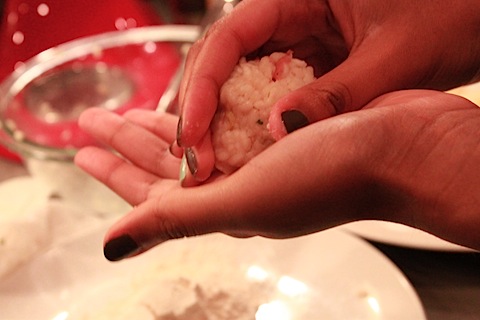 • Once the cheese is in place, close off the top of the ball by forming it in your hands.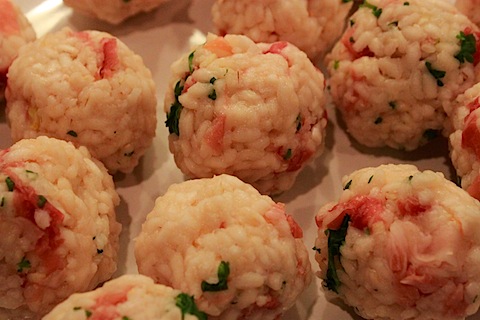 • Balls o' rice... HOORAY!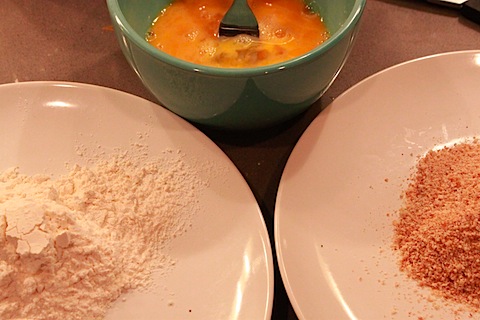 • Once all of the balls are formed, you can set up your little work station by setting the flour and bread crumbs on separate plates and putting your lightly beaten eggs in a bowl. This will be where the dipping of risotto balls will occur!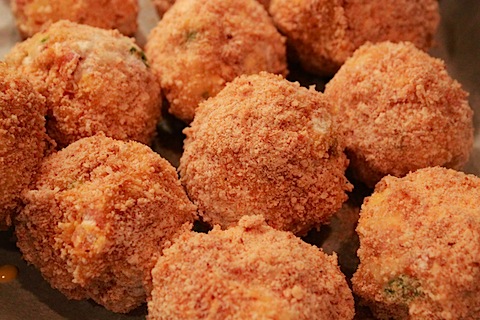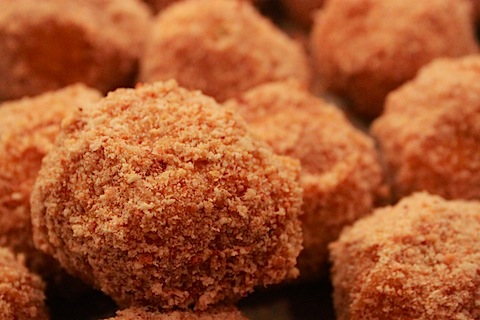 • Now, you're going to dip each of them into first the flour, followed by the eggs, then the breadcrumbs. Once this first round is finished, you're going to re-dip them to double coat, into just the eggs, then again into breadcrumbs.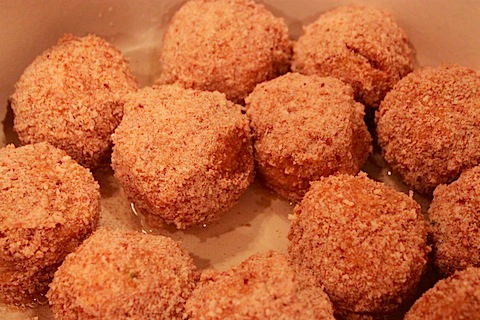 • Now, pour the oil into a large pan or pot to just cover the base of it.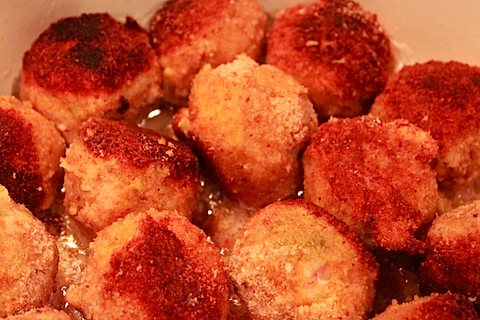 • Cook on each side for a few minutes or until golden brown. As they finish, place them on a paper towel-lined plate. Cover with foil and serve warm...
...With delicious marinara sauce.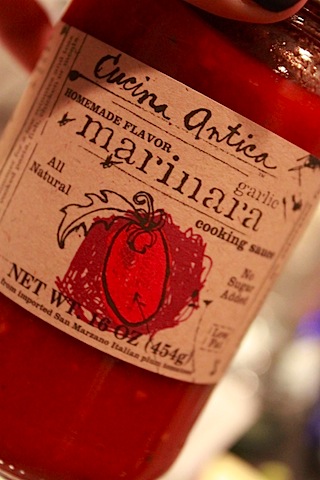 Stare in awe...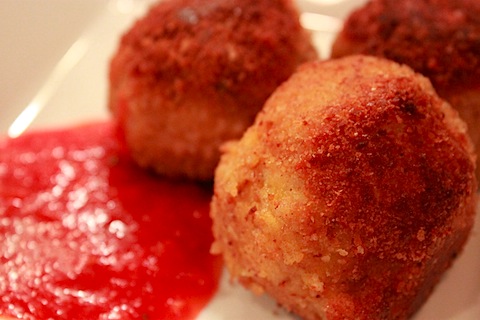 Take your fork...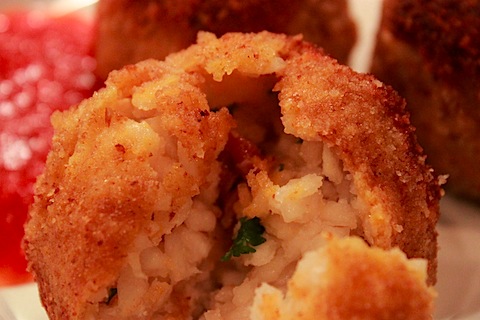 and just dig in.
And then when you're about to take a bite, realize that the original recipe you tried at Whole Foods had peas in it, that you purchased peas to include in the recipe, but somehow forgot, so toss a few peas in, too 😉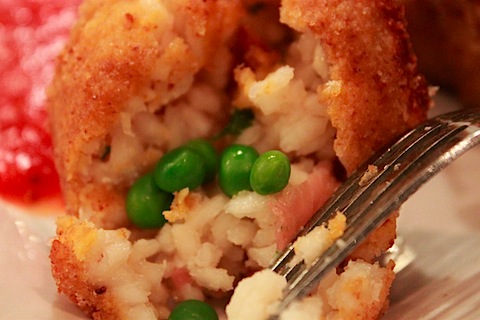 I definitely have a whole new level of respect for anyone who creates delicious arancini. Now that I've made my own I realize it takes patience and it's sort of an art form that I definitely want to perfect!
Have you ever challenged yourself to re-create your favorite food at a restaurant? It's definitely a rewarding task!
[Chels]