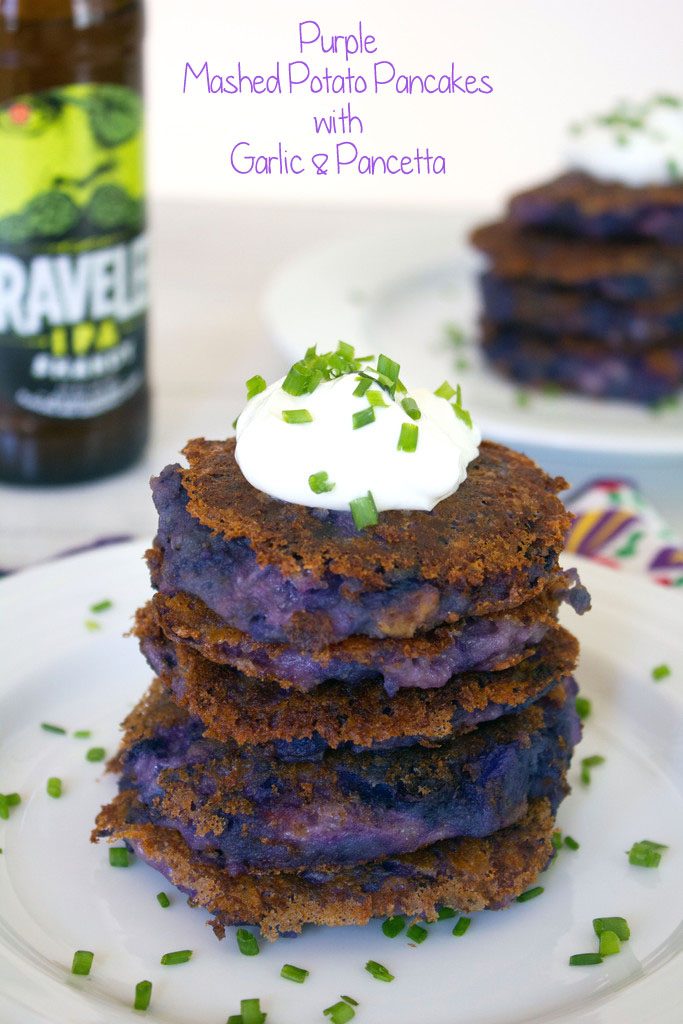 What's your favorite color? The one question that has always had the power to unite us all, ever since we first learned to talk. Every kid has an instant answer, too. Mine was always yellow. In part because it's bright and cheery and happy… But you know why else? I felt sorry for yellow. Because nobody else ever chose yellow as their favorite color. So, I chose it as mine. I legitimately felt sorry for a color and chose it as my favorite so that it wouldn't be sad. Yes, I had (and probably still have) some very unique issues. Story of my life.
These days, my issues are almost all due to my extreme indecisiveness. In fact, if you asked me what my favorite color is now, I'd probably get really nervous and start stuttering and say something like, "yellow… it's always been yellow (yes, I still feel kind of bad  for yellow)… No, pink. No, purple. No, let's just go with grey. Wait, do you consider white a color?" My favorite color fully depends on what it is we're talking about and changes by the second. However, if you ask me my favorite color potato, I'll say purple. Maybe… I also kind of love orange potatoes. UGH. My indecisiveness is alive and well. But seriously.. how awesome are purple potatoes?
When I picked these beauties up at Whole Foods earlier this month, I knew I wanted to do something fun with them… I tossed around about 30 different ideas in my mind, but ultimately landed on an old favorite- potato pancakes. But with mashed potatoes. And a couple of fun add-ins. The result was these Purple Mashed Potato Pancakes with Garlic and Pancetta.
They involve a few steps because first you have to make the mashed potatoes (and attempt not to eat all of them) and then you have to form the patties and fry them up. But so worth every second.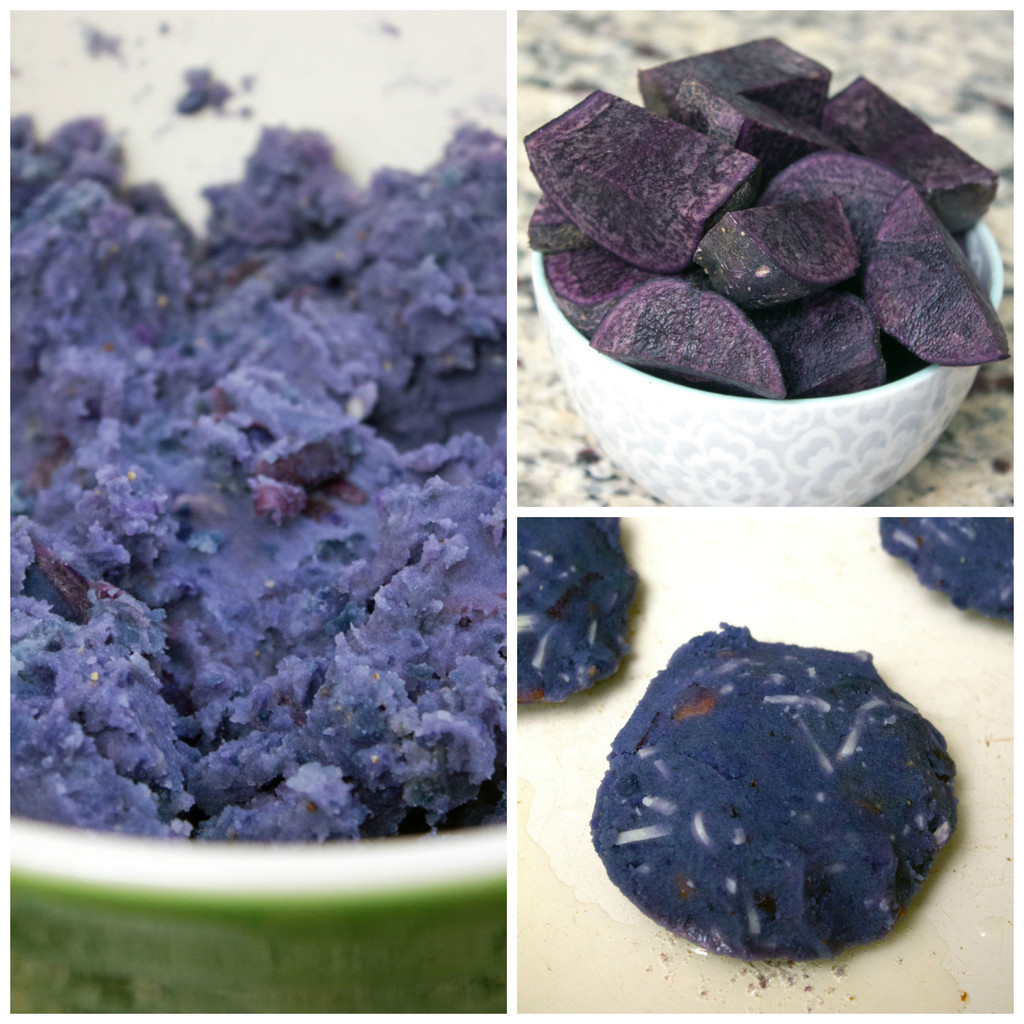 When you fry them up (just in a little bit of olive oil), they form the most exquisite crispy crust. Life is beautiful.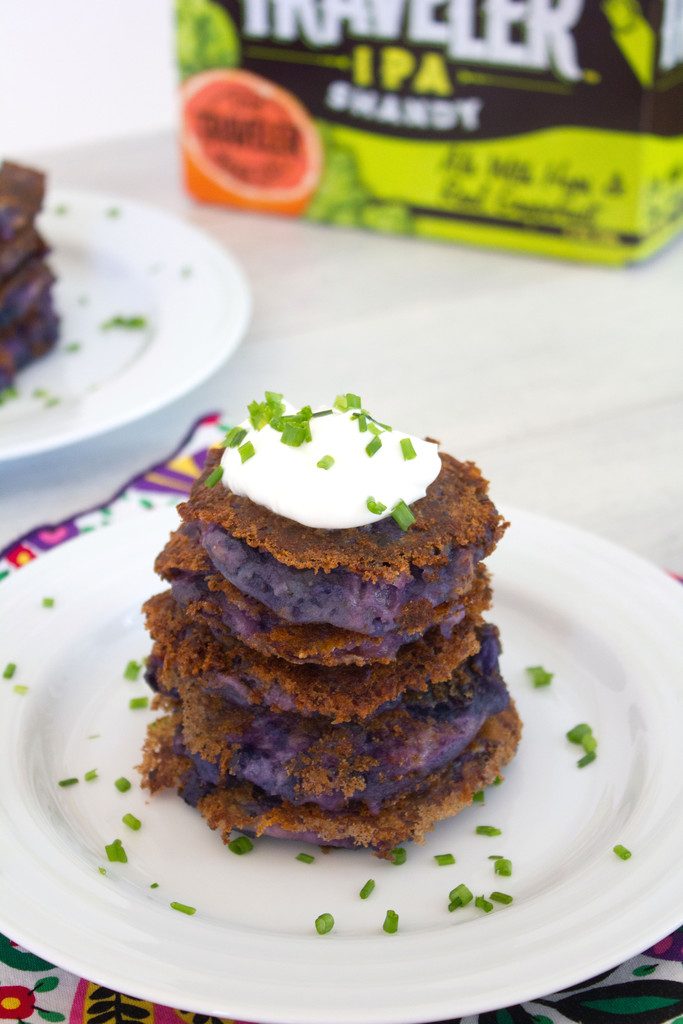 Top them with whatever you desire. I went with a little dollop of Greek yogurt and a whole bunch of chives.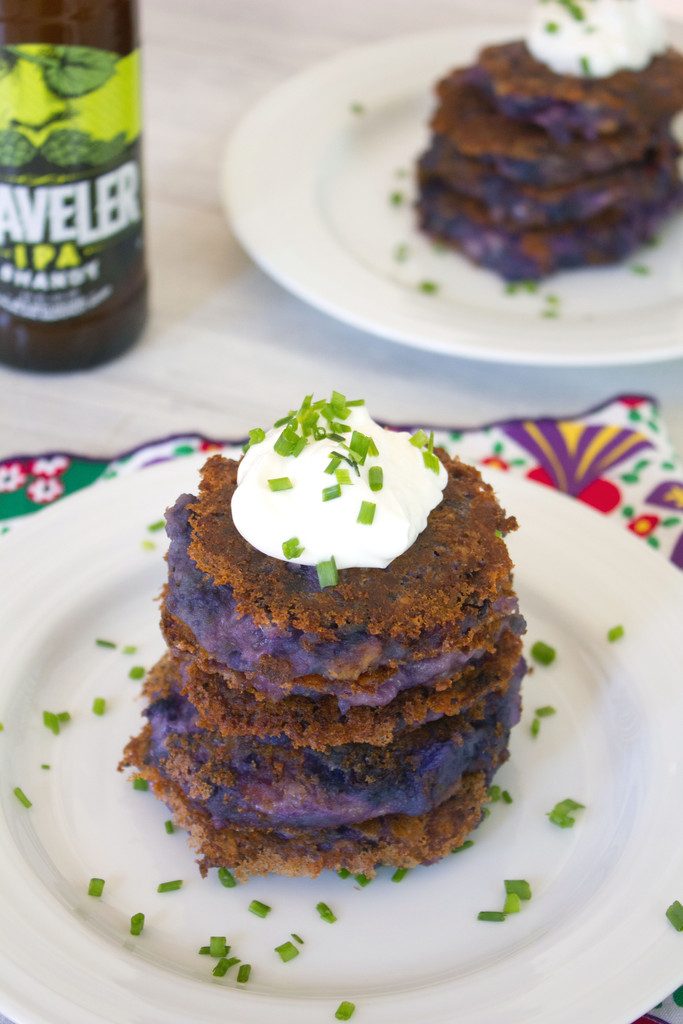 And served with a nice cold beer. Because it's unofficially summer, y'all! And this new Traveler IPA Shandy is my new favorite. I was obsessed with Traveler Grapefruit Shandy last year, but now that there's an IPA version, I'm even more in love.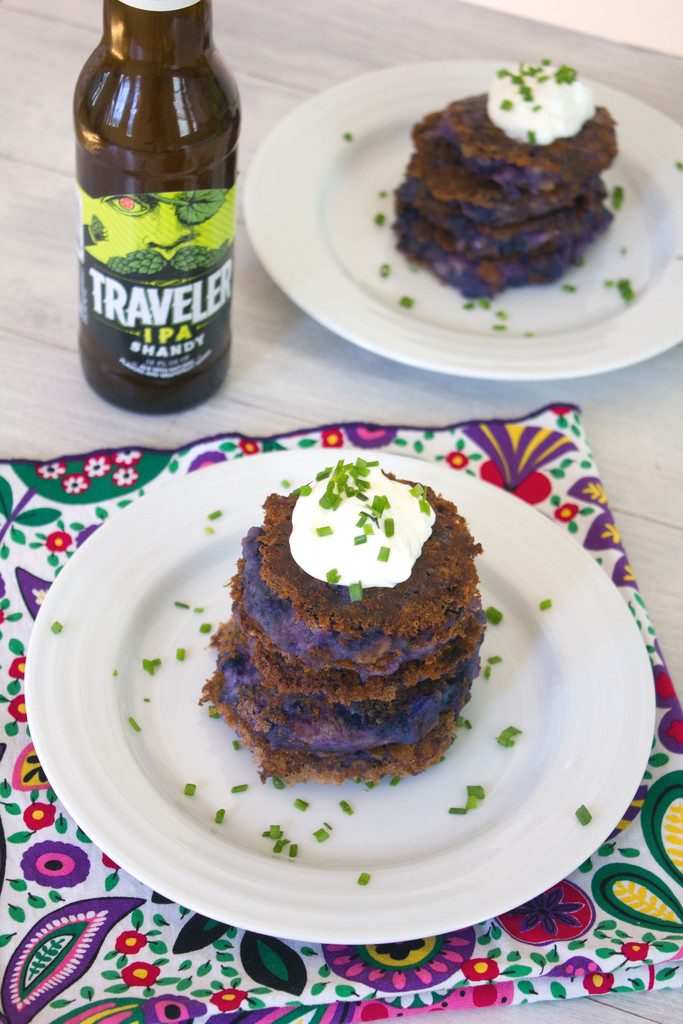 I probably tell you this every time I make a dish with potatoes, but I think it's worth mentioning that I'm in the minority of people who aren't really obsessed with potatoes. I think they're OK, but in general, they don't really do a whole lot to excite me. Mashed potatoes need to be really good mashed potatoes for me to want them. Otherwise I could do without.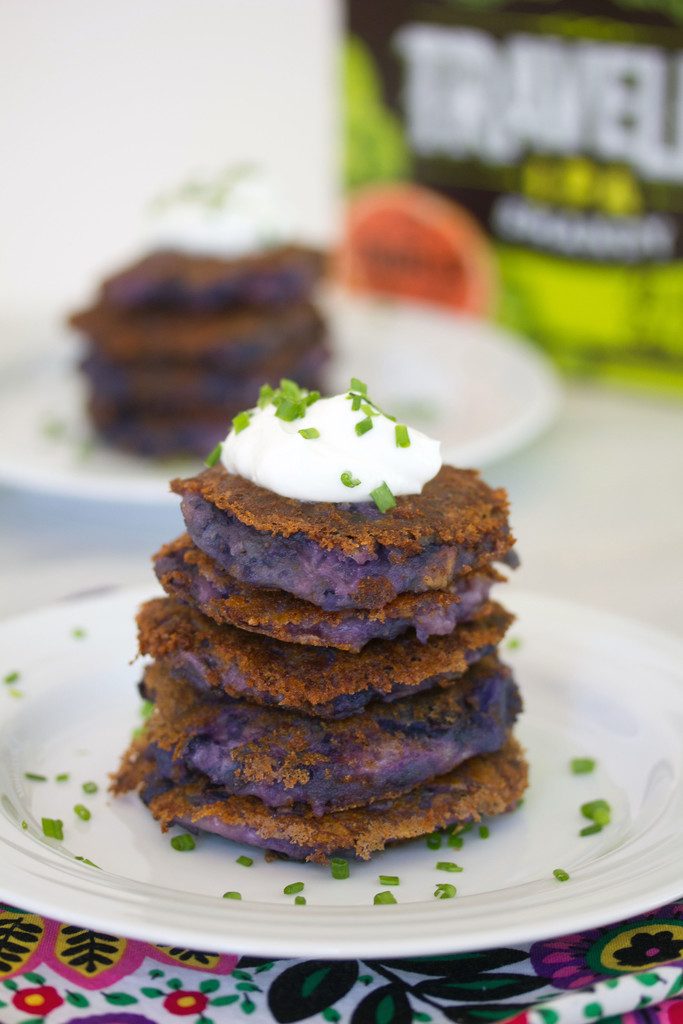 But these potato pancakes I could not do without. I'm sure it had something to do with that crispiness. But also the added garlic, pancetta, and cheddar cheese.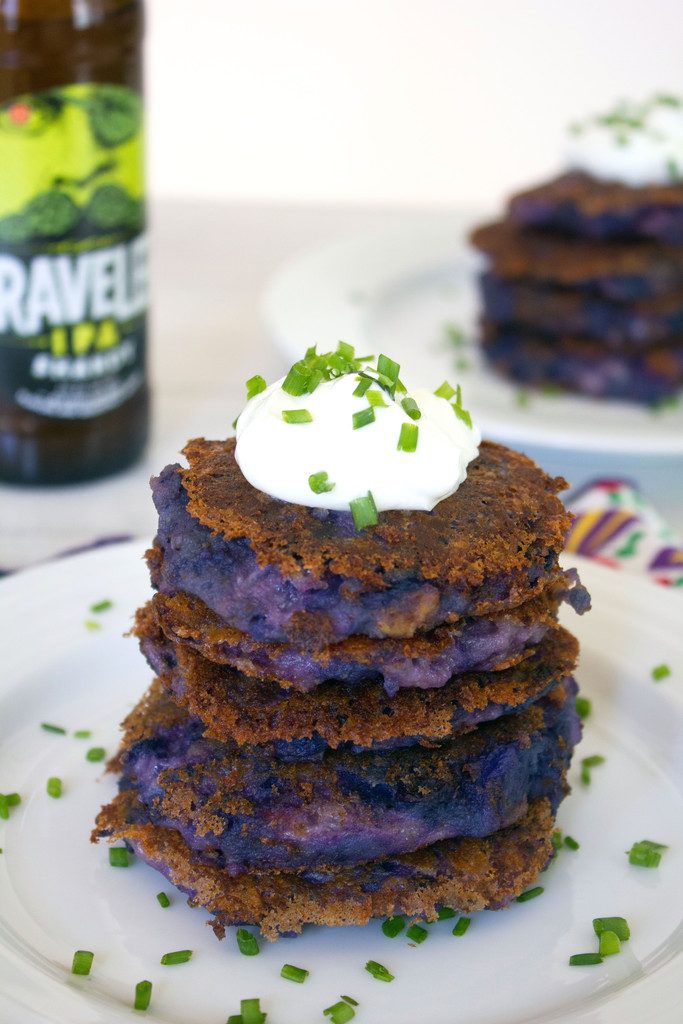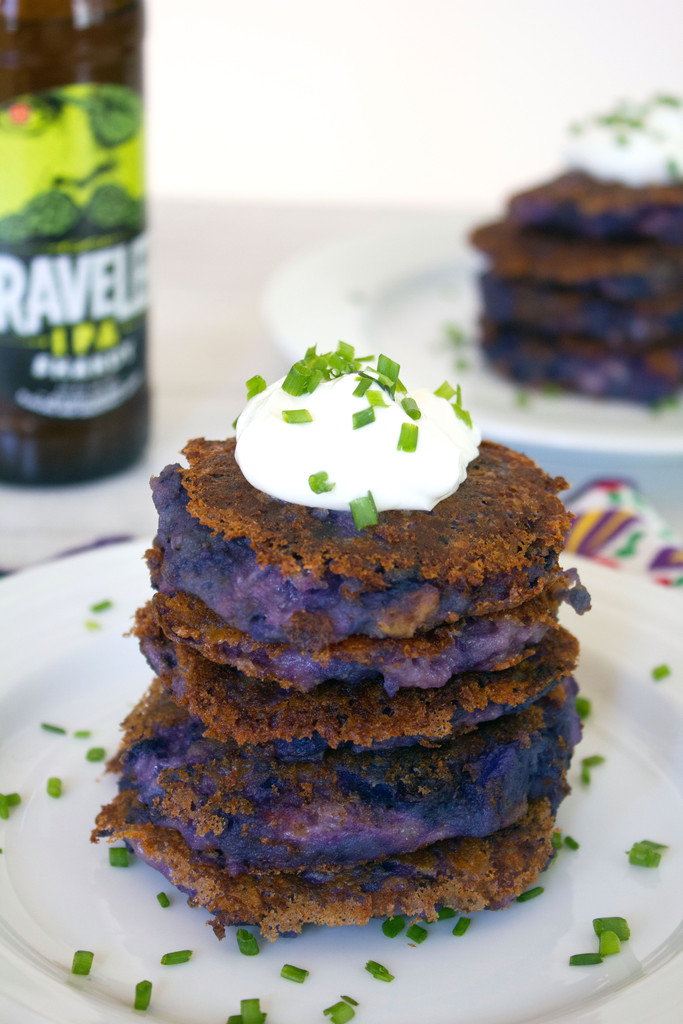 OK fine… And probably because they're purple. My favorite color for the week. Unless yellow feels sad. Then I'll totally switch back to yellow. Wouldn't want any colors to be feeling sad.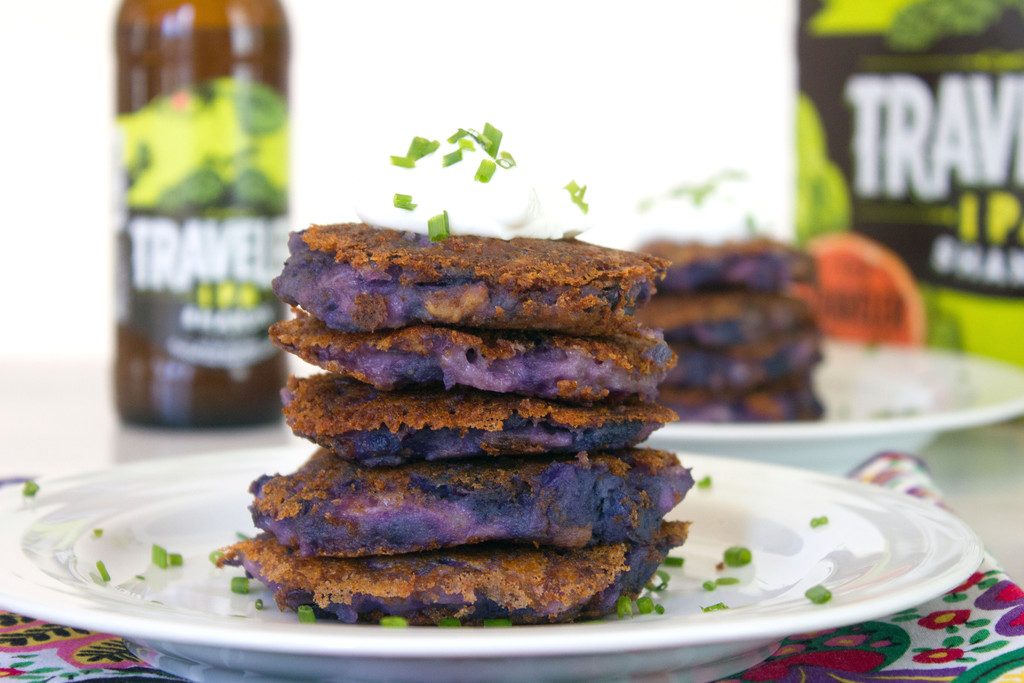 I do know that these mashed potato pancakes are enough to cheer anyone up, especially when made with purple potatoes. They can be served as an appetizer or a side… Or as a complete meal, if you're me.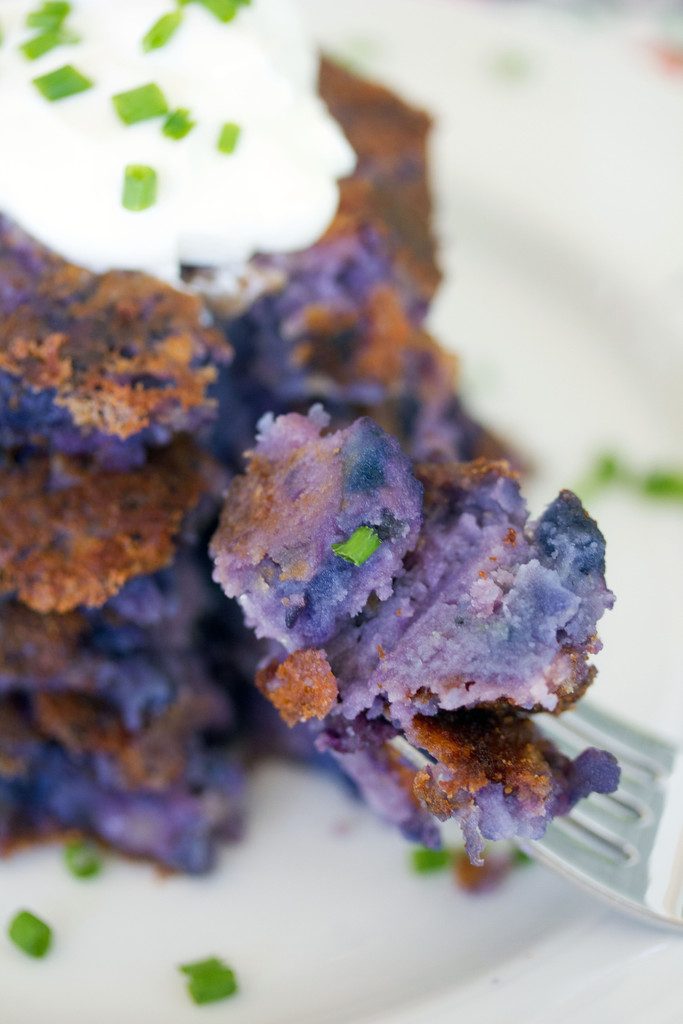 What's your favorite color? (I won't blame you if you can't decide).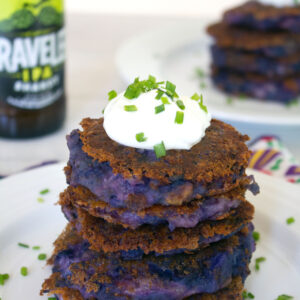 Purple Mashed Potato Pancakes with Garlic and Pancetta
Mashed potato pancakes need no improvements, but making them with purple potatoes makes them way more fun. So does adding lots of garlic, pancetta, and cheddar cheese. These Purple Mashed Potato Pancakes with Garlic and Pancetta should be served at every cocktail party.
Ingredients
2

lbs.

purple potatoes

unpeeled, cut into quarters

4

cloves

garlic

minced

3

Tbsp

butter

1/3

cup

milk

1

egg

lightly beaten

1/3

cup

shredded cheddar cheese

4

oz.

diced pancetta

cooked

Salt and pepper

2

Tbsp

canola oil

Greek yogurt or sour cream

for topping

Finely chopped scallions

for topping
Instructions
In a large pot of lightly salted water, boil the potatoes until soft, about 20 minutes.

Drain potatoes and push them through a potato ricer into a large bowl.

Add butter, milk, egg, minced garlic, cheddar cheese, pancetta, and salt and pepper and mix well.

In a large nonstick skillet, heat 1 Tbsp oil over medium-high heat.

Form potato mixture into about 10 balls and gently flatten into pancakes.

Place in skillet in batches and cook until pancakes are golden brown on bottom, about 3 minutes.

Flip pancakes and cook until golden brown on other side, another 3 minutes.

Add more oil to the pan if necessary and repeat with remaining pancakes.

Top pancakes with Greek yogurt or sour cream and scallions.