This healthy Quinoa Black Bean Corn Salad is packed with veggies and will keep you full and satisfied whether you enjoy it as lunch, dinner, or as a side dish!
(This recipe for Quinoa Black Bean Corn Salad was originally posted in January 201o, but was updated with new photos in 2018).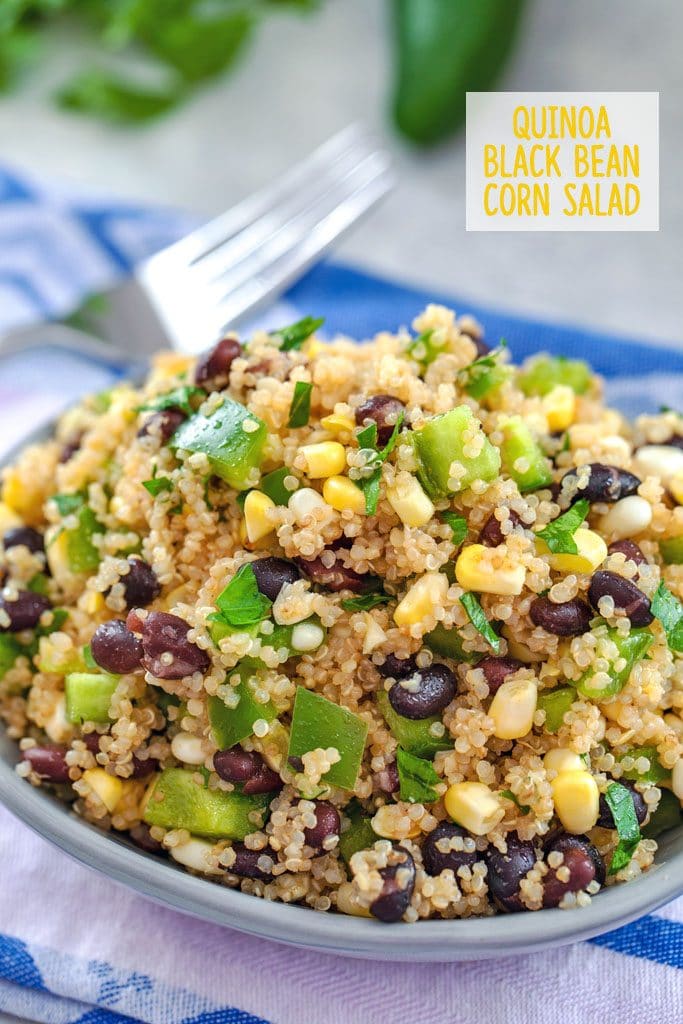 Quinoa is one of those foods I would eat every day if I could. I mean, there's SO much you can do with it. Remember when I made it for breakfast? It's protein packed and filling and satisfying no matter what time of day you eat it. Those of you who also work from home can probably relate to the serious snacking problem. If I don't have actual meal food around, I will literally just snack from breakfast to bedtime. But if I have real food already prepared in my fridge, I'm much more likely to have a healthy day. Quinoa to the rescue!
I figured some sort of quinoa salad would be perfect for my lunches, and one big batch of it would last a week in my fridge. And after eating a lunch packed with quinoa, I imagined I'd stay away from chips. And cookies. And Cheez-Its. And candy. OK, I'll stop now. There are SO many quinoa salad recipes out there, but I decided to riff off of this one for Quinoa and Black Bean Salad.
My favorite thing about this recipe is that there's nothing complicated about it. The ingredients are all incredibly simple and you can probably imagine exactly how this will taste before you even make it! In the summertime, I recommend using fresh corn for the quinoa salad... I actually take it right off the cob and add it in raw sometimes (though you can certainly cook it, too). But if it's wintertime or not during corn season, you can certainly use frozen corn.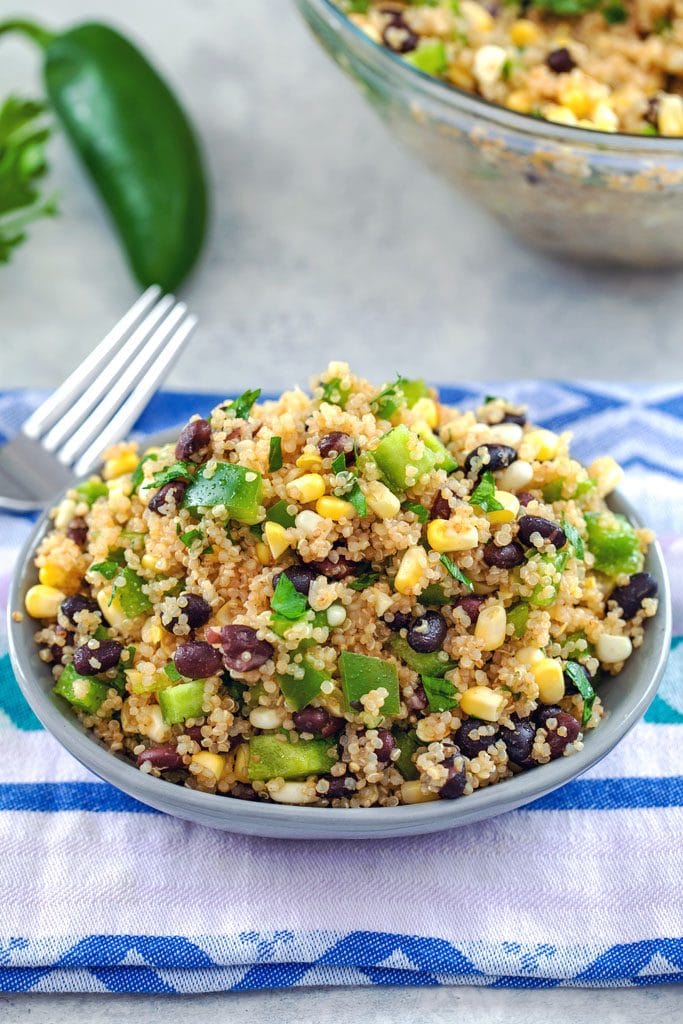 I used the original recipe as my base for this salad, but I switched things up a lot in terms of ratios and ingredients used. I used fresh jalapeño peppers instead of pickled and parsley instead of coriander (cilantro). I added a healthy amount of jalapeño, but I promise they add more flavor than they do spiciness. Especially if you remove the seeds.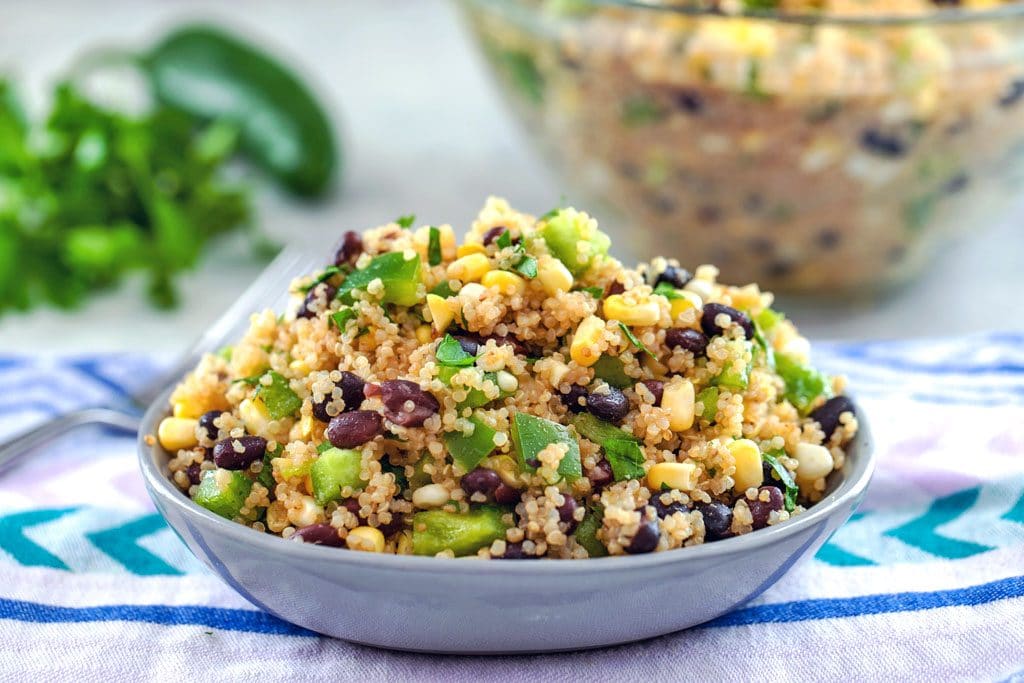 This is the kind of satisfying lunch I need in my life. And the kind of lunch that will help me power through the rest of the day without making me head to the snack cabinet an hour later. It's like a quinoa miracle! Also, this quinoa salad only got better the longer it stayed in the fridge. No lie! The flavors all melded together.
Though it makes a great lunch or dinner entree, it also makes a fantastic side dish, especially if you're headed to a BBQ or cookout and need to bring something along. I guarantee you'll convince a few skeptics that quinoa is actually delightful and get them onboard the quinoa train!
In case you're sitting there wondering what's so good about quinoa (Keen-Wa), let me tell you a few facts. First of all, it's often considered a grain, though it's actually related to leafy green vegetables like spinach. It's a "complete protein," meaning it contains all 9 essential amino acids. It also contains lots of fiber and is filling, but easy to digest. And it's delicious, too! What more could you ask for? You're totally greedy if you think that's not enough.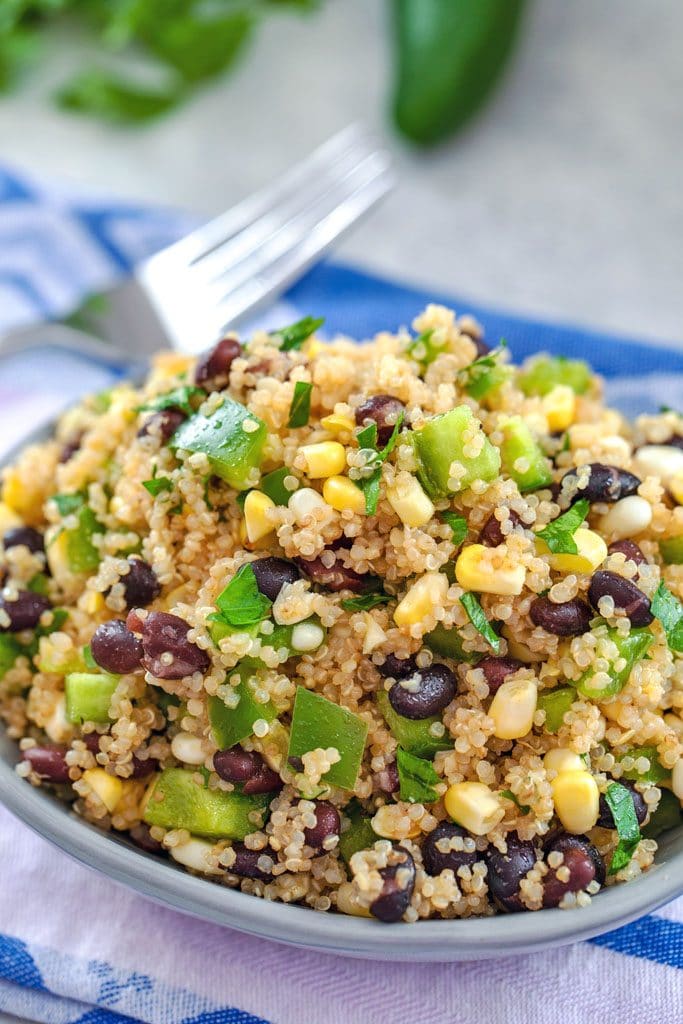 I've already eaten the whole batch of this salad and am already craving more. Do you guys have any favorite quinoa recipes? I'd love to try some new ones and I want your help! I'm thinking I need to make a new quinoa salad/recipe every week! It's a great way to curb the snacking AND get other veggies in as well. Maybe I'll even start my own quinoa fan club because clearly, I am obsessed. I swear, you will be too if you're not already.
What's your favorite quinoa recipe?
If you're looking for more fun ways to use quinoa, check out my Jalapeño Parmesan Quinoa Tater Tots or my Peanut Butter Quinoa Chia Granola.
📖 Recipe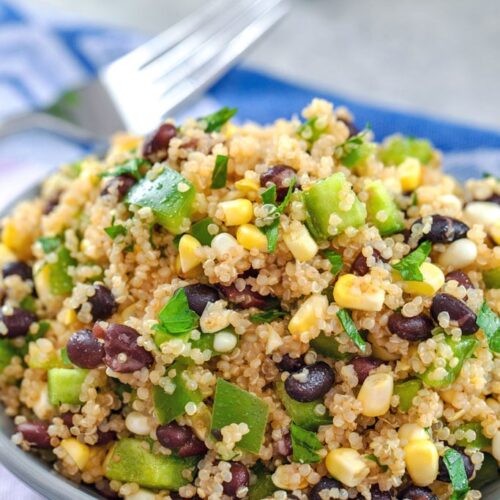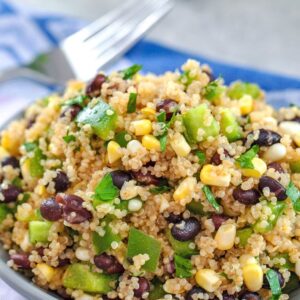 Quinoa Black Bean Corn Salad
This healthy Quinoa Black Bean Corn Salad is packed with veggies and will keep you full and satisfied whether you enjoy it as lunch, dinner, or as a side dish!
Print
Pin
Rate
Ingredients
1

cup

uncooked quinoa

2

cups

water

15

oz. can

black beans,

rinsed

1 ½

Tbsp

red wine vinegar

¼

tsp

salt

¼

tsp

pepper

1 ½

cups

cooked (or uncooked) corn

(I used corn from 2 large ears)

¾

cup

green bell pepper,

finely chopped

3

Tbsp

diced jalapeño pepper

(for less heat, remove seeds)

¼

cup

chopped parsley
Dressing
4

Tbsp

freshly squeezed lime juice

1

tsp

salt

1 ¼

tsp

ground cumin

¼

cup

extra virgin olive oil
Instructions
In a medium saucepan, bring quinoa and water to a boil. Lower heat, cover saucepan and let simmer until all water is absorbed, about 15-20 minutes. Fluff quinoa with a fork. Transfer to a large bowl and let cool.

Put black beans in a small bowl and toss with red wine vinegar, salt, and pepper.

Once quinoa is cooled, add black beans, corn, chopped green pepper, jalapeño, and parsley to bowl and toss to mix. Pour dressing over salad and toss to coat.
Dressing
In a small bowl, whisk together lime juice, salt, and cumin. Slowly add olive oil to bowl, whisking the entire time.
Notes
Salad can be made ahead of time and kept in fridge. I actually think it's more delicious on the 2nd day!
Salad is best if brought to room temperature before serving.
This should serve about 10-12 as a side dish or 4-6 as an entree.
Share a Photo of Your Finished Recipe!
Mention @wearenotmartha and share a photo if you've made the recipe!