These Red Velvet Marshmallow Peeps Cupcakes are the perfect Valentine's Day dessert. Who says Peeps are just for Easter?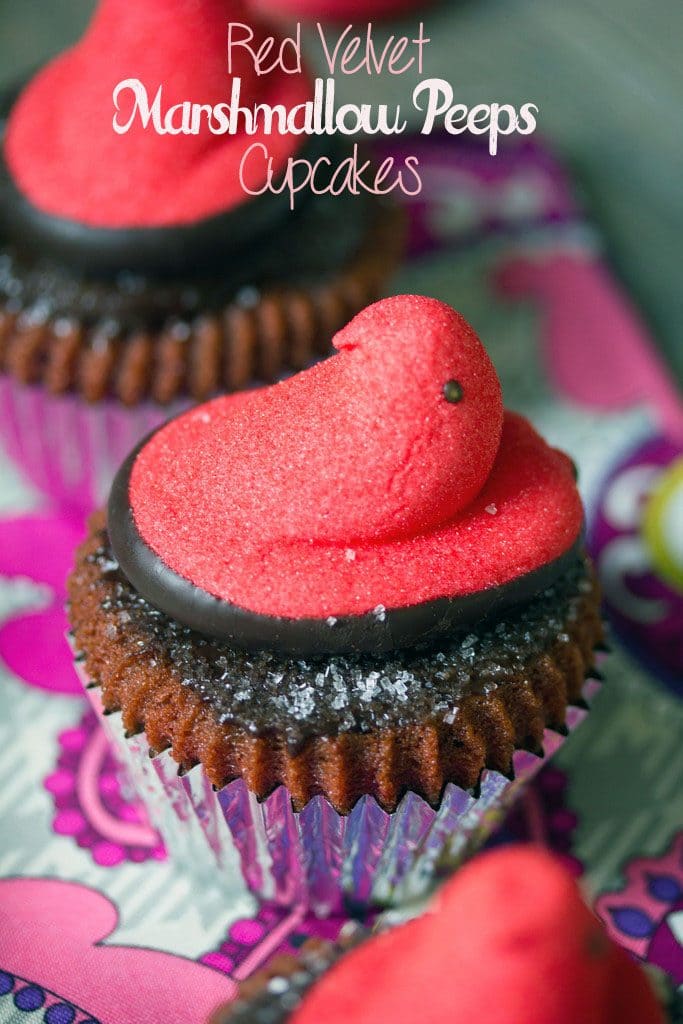 Have you ever met a more polarizing candy than Peeps? People get passionate. Really passionate. Personally, I don't understand how you can't love Peeps… They are marshmallows covered in sugar. I repeat, marshmallows covered in sugar. There is absolutely nothing not to love about that. Right?? The good news for Peeps lovers is that there are now basically Peeps for every holiday. From the original Easter to Halloween to Christmas and now to Valentine's Day.
In case you haven't seen any of my other Valentine's Day posts, this day of love is pretty much my favorite holiday because of how freaking pretty it is. Love pink and red, love hearts, and love love. Swoon. Yes, I know it's a crazy commercialized weirdo holiday, but that doesn't mean I can't obsess over baked goods and decorations.
And I'm not going to lie that the addition of Peeps to the holiday is making me pretty thrilled. I was also thrilled when they offered to send me a little care package filled with plenty o' Peeps.
Have you seen the new Valentine's Day Peeps (affiliate link) yet? Vanilla Creme hearts: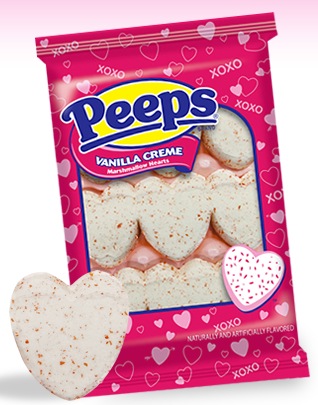 Chocolate Mousse Bears: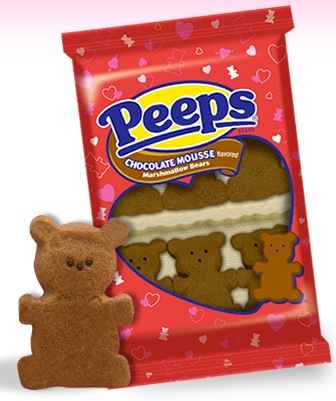 Chocolate Dipped Strawberry Crème Chicks: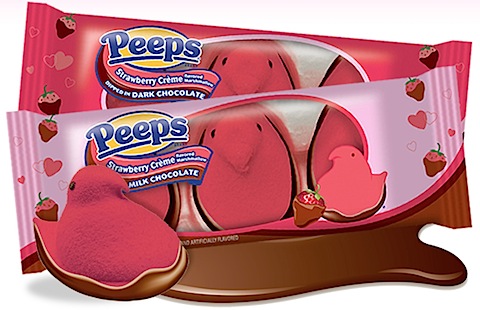 Chocolate Covered Raspberry Hearts: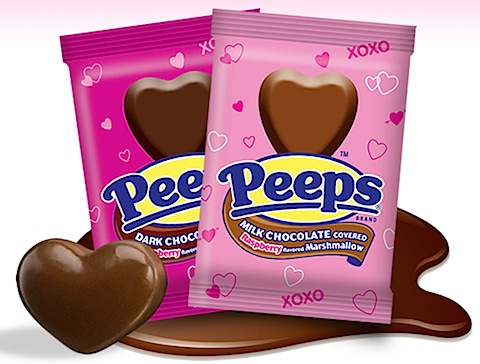 And more. They went all out. Which is the only way to go.
Did you know I've never made a red velvet cake before? I've just never been one of those crazy omg red velvet is the best thing in the world type people. But in honor of Valentine's Day and pretty red Peeps, I decided it was time to go for it. Though I was planning to top each cupcake with a Peep, I didn't want to stop there. So I filled each cupcake with homemade marshmallow fluff and and drizzled a little chocolate ganache on top. Best Peeps cupcakes ever.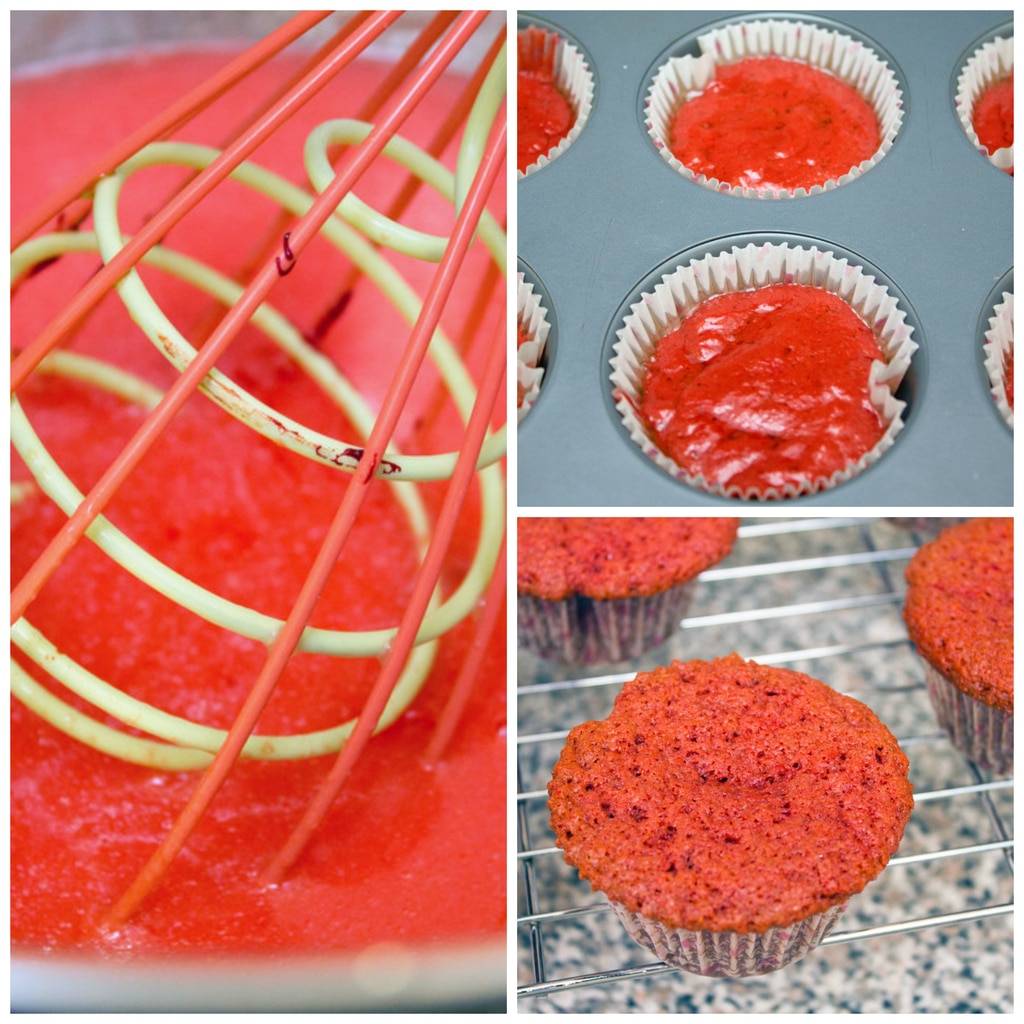 LOVE the bright red color. Even if it is from food coloring. My red gel food coloring said on the lid "no taste red," which I guess is a good thing?
You can make the fluff while the Peeps cupcakes are baking. You could also buy the fluff while the cupcakes are baking. But I promise that making it is easy. I cut my usual recipe in half so you wouldn't be left with a huge bowl of leftover fluff (actually, I didn't in real life and I WAS left with a huge bowl of leftover fluff, but I figured I'd spare you. Not that it's exactly a bad thing). You only need so much to fill a cupcake up!
If you're in the market for a good cupcake corer (so much easier than using a knife!), I recommend this one from Cuisipro (affiliate link!).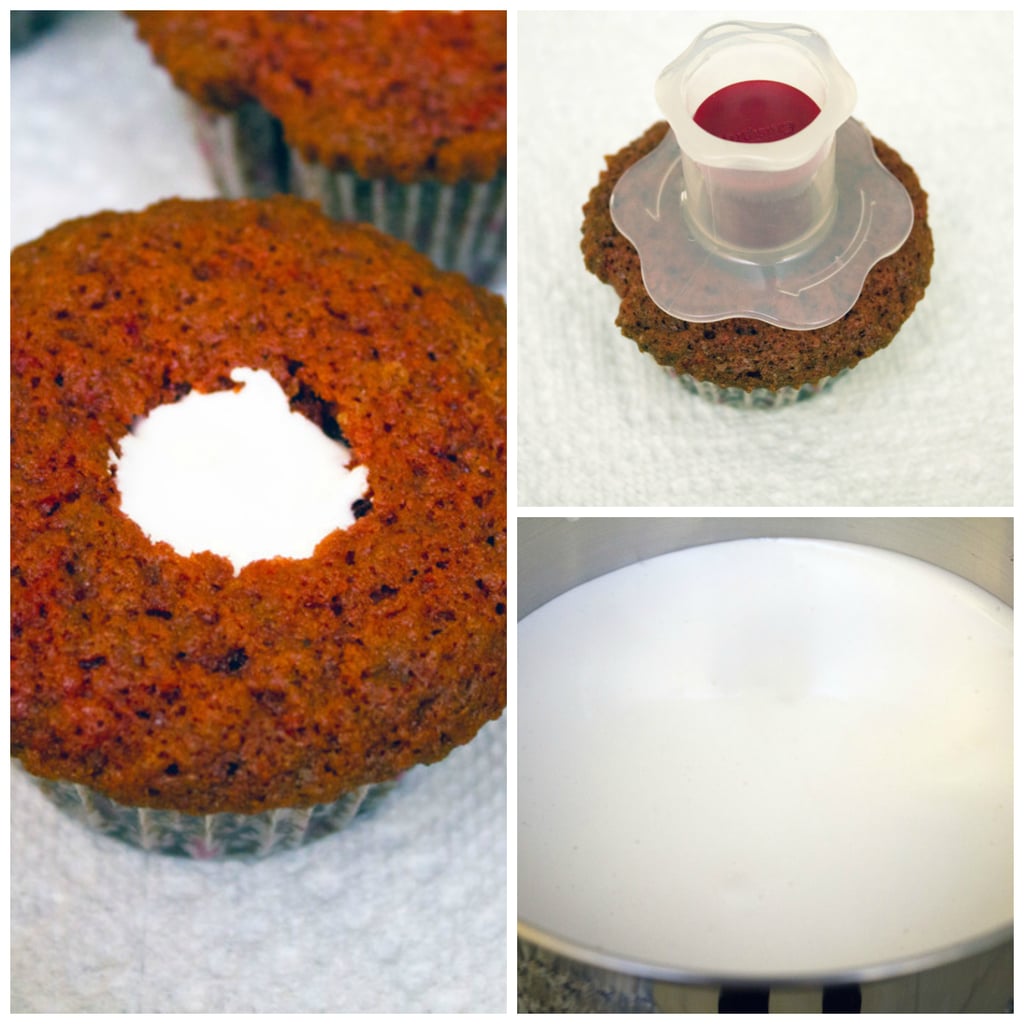 You can pop it in the fridge to chill a bit while you're finishing things up. Like the chocolate ganache. Which is another really easy recipe. You simple pour hot cream over a bowl of chopped chocolate. Done and done.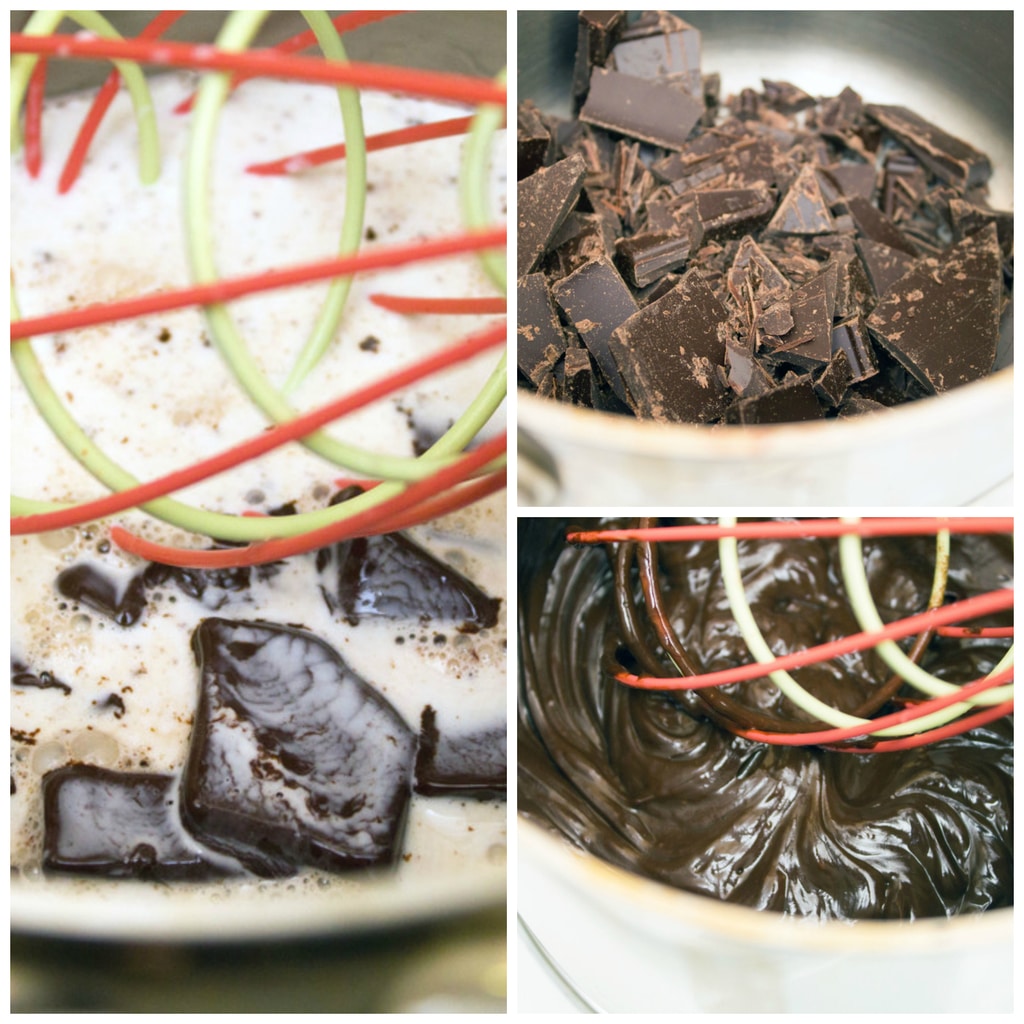 Once your cupcakes are cored and filled with marshmallow fluff, just drizzle some chocolate ganache over the top... And then pop a Peep on it!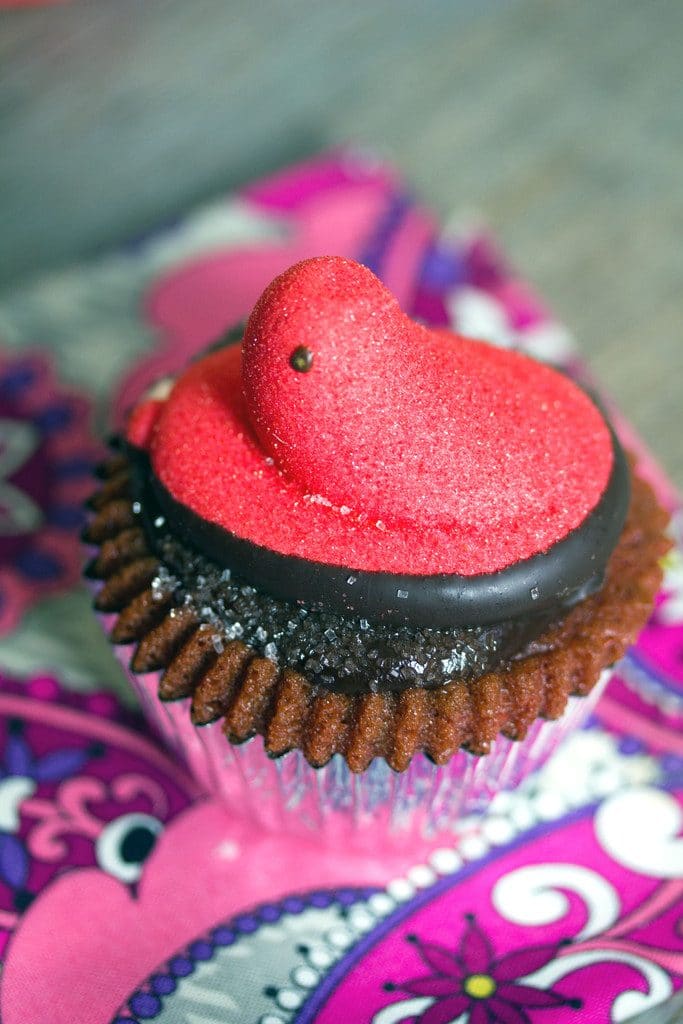 Is that kind of like putting an egg on it? Maybe except the chicken came first. Or the Peep came first. Hmmm.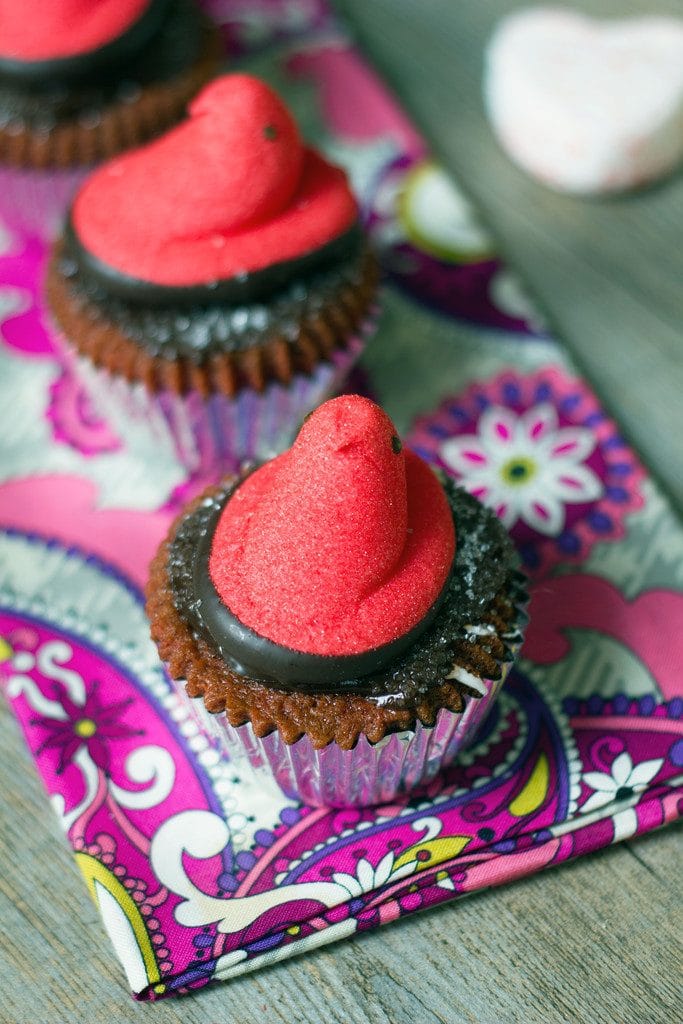 I was slightly disappointed this cupcake wasn't a bit more vibrantly red... I guess next time I'll need to use a touch more food coloring. That batter was so ridiculously red though!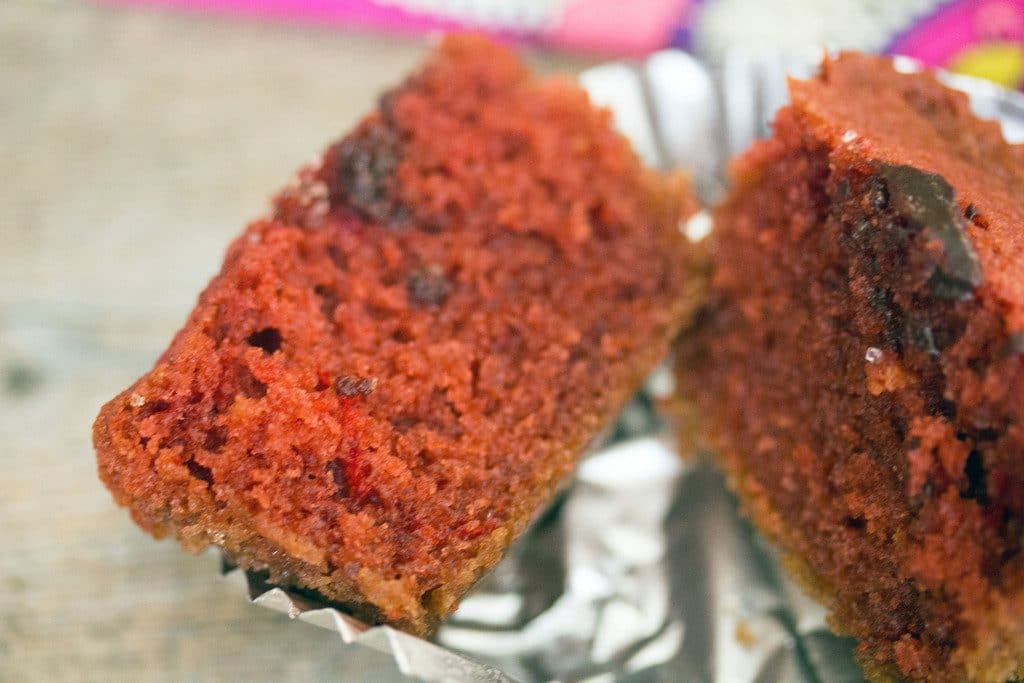 At least the Peeps on top for the perfect shade of red.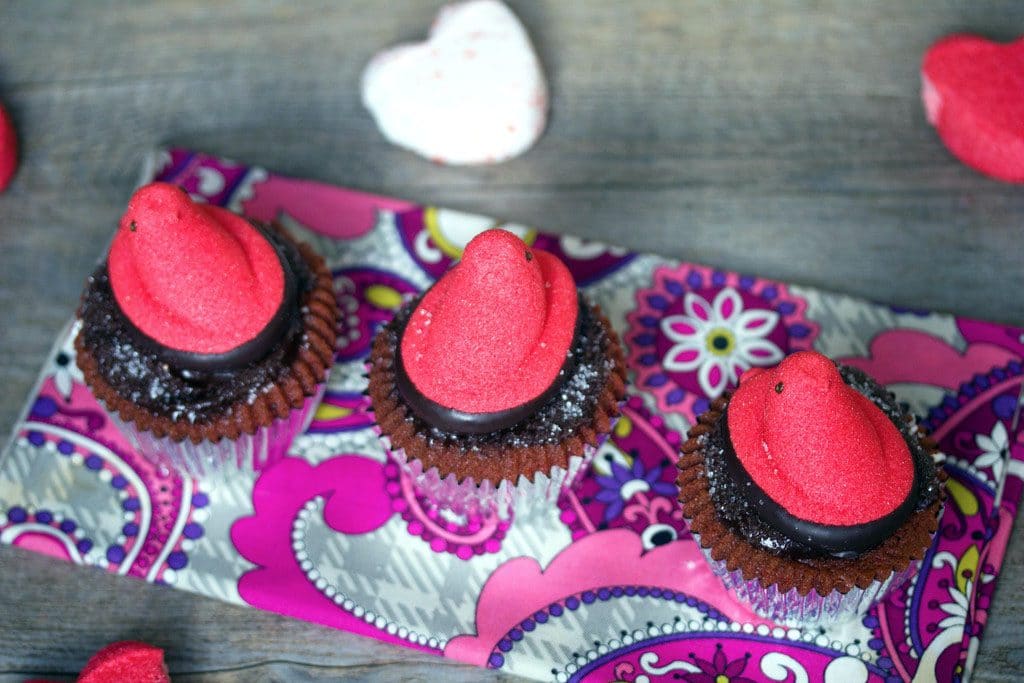 And yes, they really are strawberry flavored. Which was a pretty awesome depart from the typical original marshmallow flavor.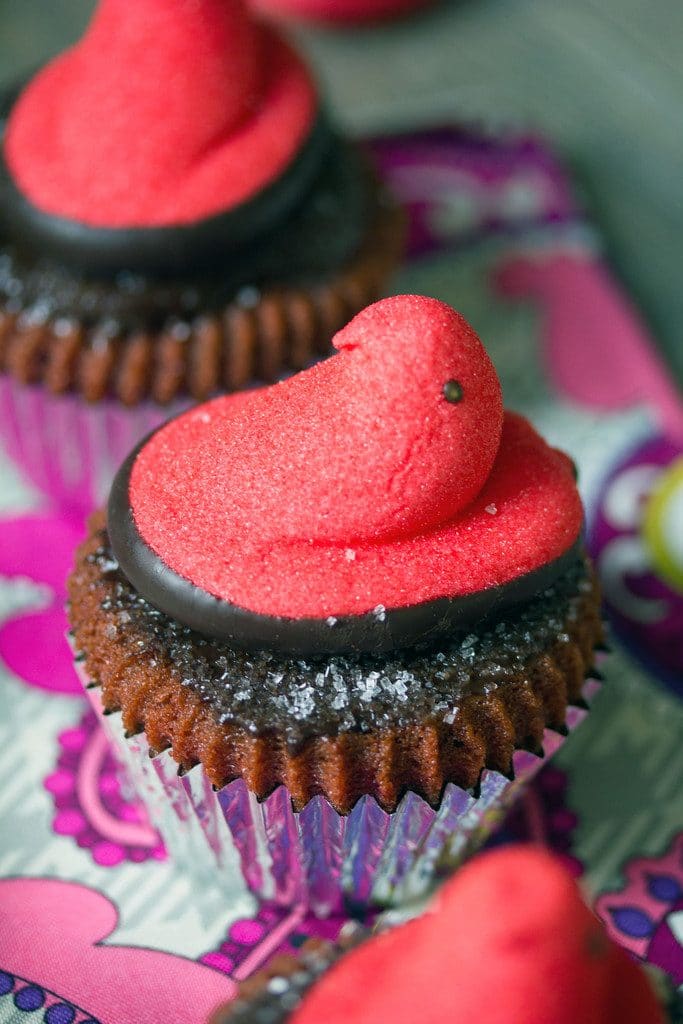 If you're a Peep hater, please just promise me you'll give them another try. Maybe having them on a cupcake will make a difference? I think it will. Especially with that little bit of chocolate on both the Peep and the top of the cupcake. Of course you could make these cupcakes with a different kind of Peep, another kind of candy, or no topper at all, aside from the delicious chocolate ganache.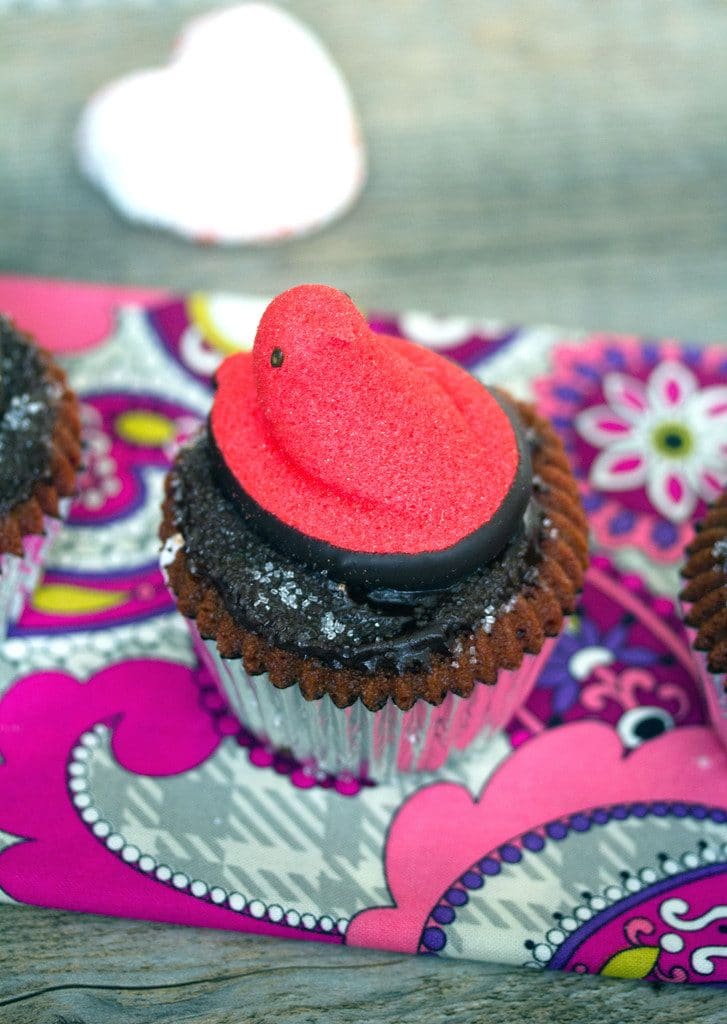 But really, cupcakes and Peeps? Who needs love this Valentine's Day when you have these? Just kidding, love is nice, too. Except when you only have one Peeps cupcake left and you're just not in the mood to share it.
Are you a Peeps person? Which new Valentine's Day Peeps will you be trying this holiday?
📖 Recipe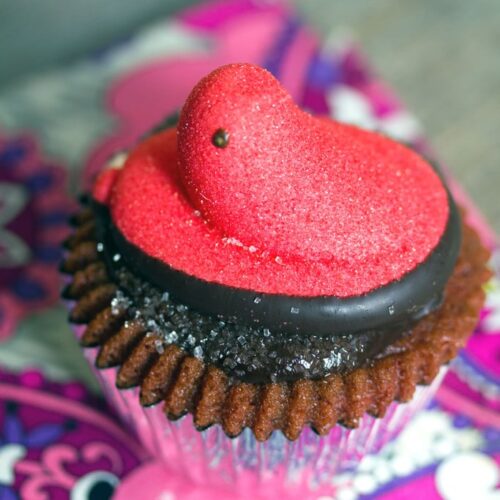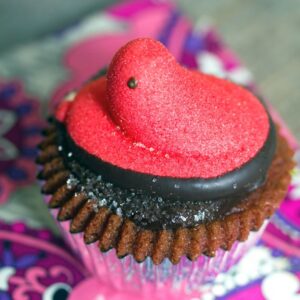 Red Velvet Marshmallow Peeps Cupcakes
These Red Velvet Marshmallow Peeps Cupcakes are the perfect Valentine's Day dessert. Who says Peeps are just for Easter?
Print
Pin
Rate
Ingredients
2 ½

cups

all-purpose flour

1 ½

cups

granulated sugar

1

Tbsp

cocoa powder

1 ½

tsp

baking soda

½

tsp

salt

1 ½

cups

buttermilk

1

cup

canola oil

1 ½

tsp

apple cider vinegar

1 ½

tsp

vanilla extract

½

tsp

red gel food coloring

1

batch

marshmallow fluff

(recipe below or store-bought)

1

batch

chocolate ganache

(recipe below)

12

Valentine's Day Peeps
Marshmallow Fluff
1

large egg white

½

cup

corn syrup

⅛

tsp

salt

¾

cup

confectioners' sugar

½

Tbsp

vanilla extract

⅛

tsp

cream of tartar
Chocolate Ganache
1

cup

heavy cream

12

oz.

dark or semisweet chocolate,

chopped
Instructions
Pre-heat oven to 350 degrees.

Whisk together the flour, sugar, cocoa, baking soda, and salt in a large bowl.

In the bowl of a stand mixer or in a large bowl with a hand mixer, combine the buttermilk, oil, eggs, apple cider vinegar, vanilla, and food coloring.

Mix the dry ingredients into the wet ingredients gently until just combined, taking care not to over-mix.

Put papers into a cupcake tin and fill papers ¾ of the way full. Bake for about 20-22 minutes, until cupcakes are cooked through and springy to the touch. Let cool in the pan for a few minutes before moving to a wire rack to cool completely.

Once cooled, remove the center of each cupcake using a cupcake corer or knife. Fill middles of cupcakes with marshmallow fluff.

Drizzle chocolate ganache over the top and then place a Valentine's Day Peep on top.
Marshmallow Fluff
In the bowl of a stand mixer or in a large bowl with a hand mixer, beat together egg white, corn syrup, and salt on high speed for about 4-5 minutes until it thickens up and turns white.

Mix in the powdered sugar, vanilla, and cream of tartar on low speed, until combined.

Place marshmallow fluff in the fridge until ready to use.
Chocolate Ganache
Place the cream in a saucepan over medium heat and bring to a simmer. Put chocolate i

n a heat-proof bowl.

Pour the cream over the chocolate and let stand for a few minutes. Then, stir together to make certain chocolate is melted. Use immediately.
Share a Photo of Your Finished Recipe!
Mention @wearenotmartha and share a photo if you've made the recipe!