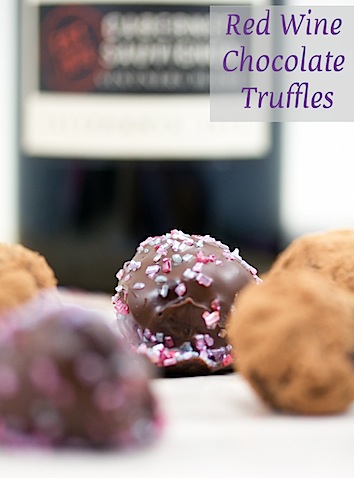 I have the best friends ever. They do things like throw wine tasting parties year after year that I seriously look forward to more than most things in life. In fact, I was just reading my post about last year's wine party at Kyle and Jeff's. I ended it by saying, "Now, I'm just wondering what they're going to do next year. No pressure or anything, guys. But really, this is going to be tough to beat!" Well…. they beat it. And I'll probably end this post in the same manner today. Because there's NO way they can beat this year's party. Right??
I brought along a little dessert, even though, let's be honest, everyone is far too full for dessert by the time they come out. You'll see why in a minute. For now, I spotted a recipe for red wine truffles and knew they'd fit right in at a wine tasting. If truffles scare you, don't let them... they're the easiest things ever. This recipe has a grand total of 4-5 ingredients.
Red Wine Chocolate Truffles (makes about 30):
Adapted from Pastry Affair
Print this recipe!
8 oz. semi-sweet or bittersweet chocolate
½ C dry red wine (I used cabernet)
2 T butter, melted
¼ C cocoa powder for coating or 8 oz. semisweet or bittersweet chocolate for dipping (I did a mix of both!)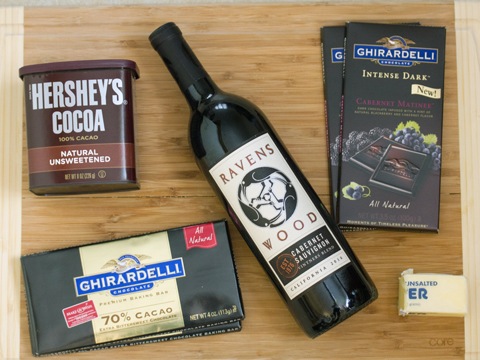 I wanted my truffles to be full on chocolate power. So, I used a 70% cacao bar. You could always use something a bit more mild if you insist!
I used the 70% Ghirardelli for the truffle and then I decided to coat some of them in the Ghirardelli Intense Dark Cabernet Matinee. Because wine chocolate in wine truffles? Double the cabernet, double my happiness!
Anyway, chop up the 8 oz. of chocolate you'll be using the form the truffles.
And put that chocolate into a bowl.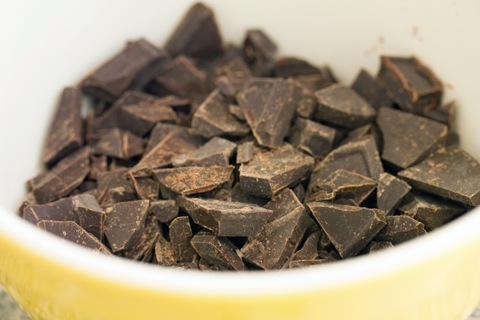 Bring your wine to a boil in a medium saucepan.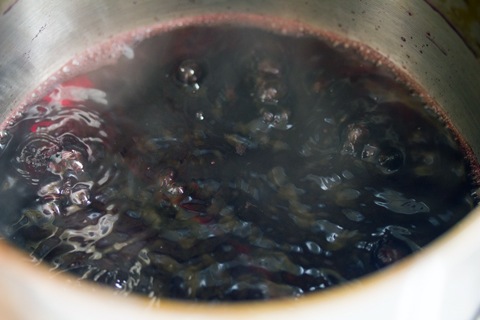 And immediately pour it over the bowl of chocolate.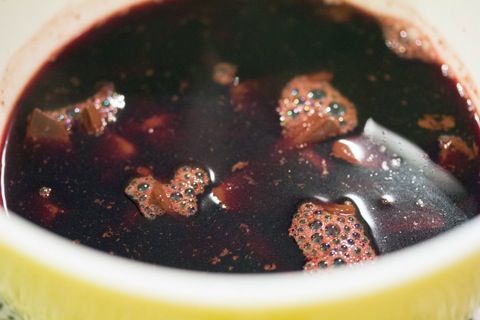 Let the mixture stand for about 5 minutes. And then stir. Add the melted butter here, too.
Doesn't this look like the richest, most beautiful chocolate ever? Pop the bowl in the fridge for about an hour to chill and harden.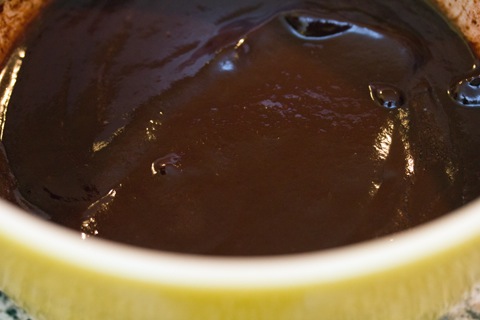 For some reason I stopped taking photos here. Probably because my hands were completely covered in chocolate at this point. But the rest is easy. Once the chocolate has hardened, decide what you want to coat them in. I decided to do half in cocoa powder and the other half in more chocolate. So, I melted the cabernet chocolate in a double broiler and placed my cocoa powder on a plate.
Then I picked up about a tablespoon of chocolate, rolled it in my hands until a ball was formed. Don't roll too much or the chocolate will start crumbling.
I rolled some of the truffles in cocoa powder and some of them I dipped in my melted chocolate. The chocolate ones I put sprinkles on, too. Obvi. I placed the truffles on a wax paper-covered tray and popped them in the fridge until ready to serve.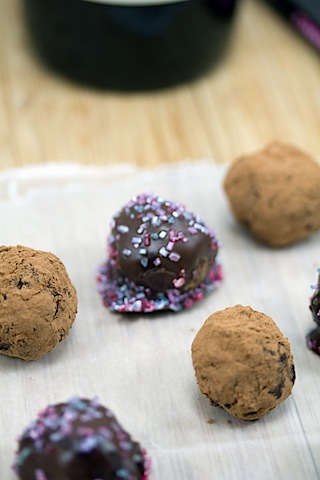 Hooray! My first time making truffles.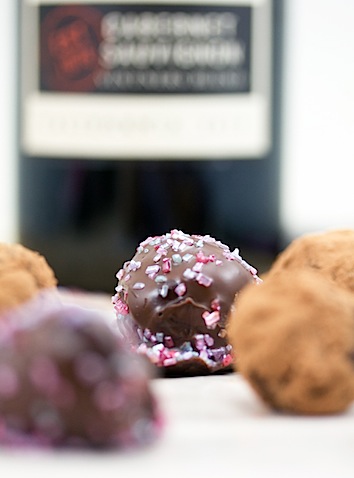 And they involved red wine. Which is pretty much the best idea ever. I'm proud to say these truffles involved double the chocolate and double the wine, when you consider the wine chocolate I used.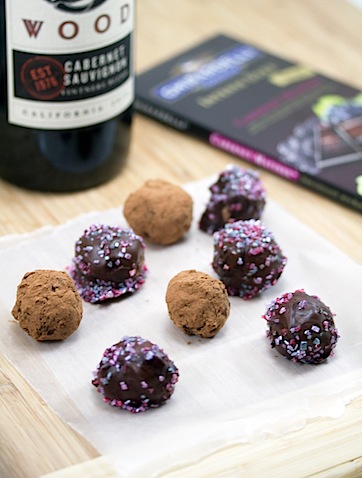 Next up? I totally want to try a white wine truffle. With white wine (duh) and white chocolate.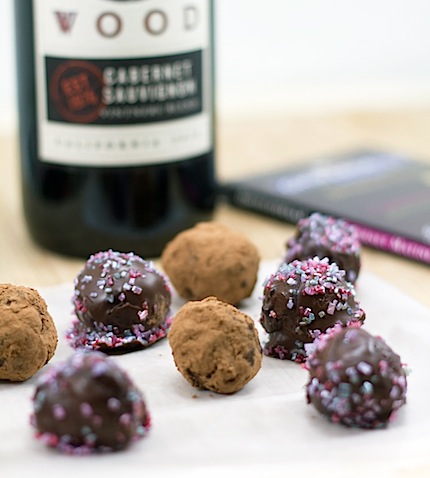 But back to the whole reason for the truffles. All because of this amazing couple: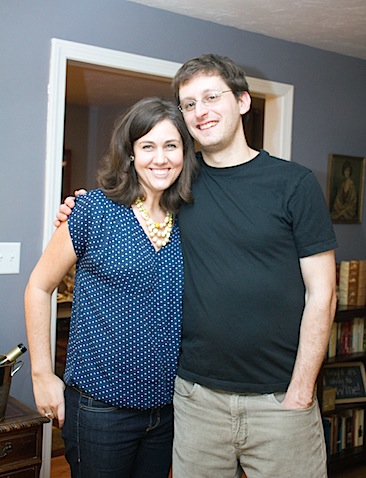 Like I said, their wine parties get better every year.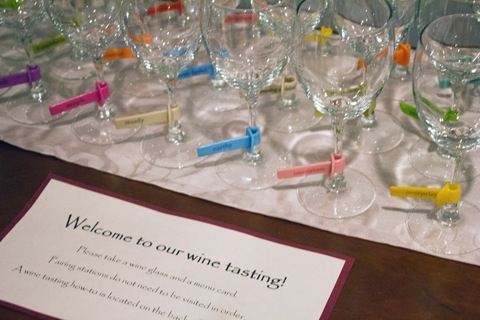 Jeff is one of the best cooks I've EVER met and Kyle is one of the most creative people I've EVER met. And thus, they make the perfect team. Jeff cooks and Kyle puts all kinds of awesome touches on the party.
Like the party menu. So you know exactly what you're getting into.
Even the water had the perfect signage this year!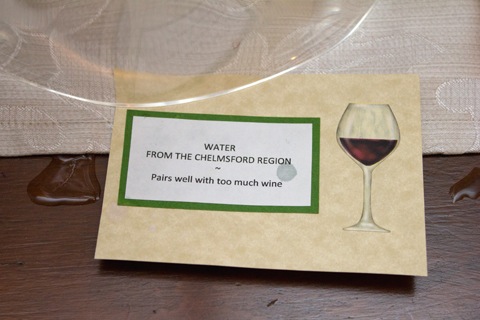 I was too easily distracted and talked too much to get photos of everything, but the photos I did take are already making me hungry again.
The gougeres are a wine party staple because they're such a fan favorite. You have to start by eating several of them with a glass of champagne, but you can't let it get too out of hand since there are still 9 other stations waiting for you.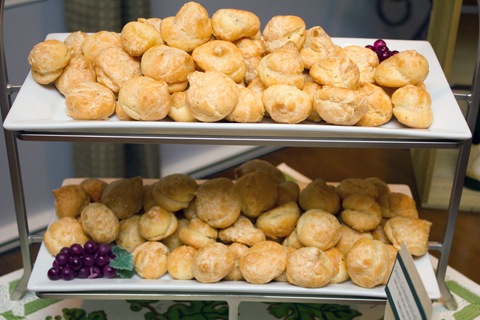 So, you move on to station two. Which might have been my favorite station of the evening.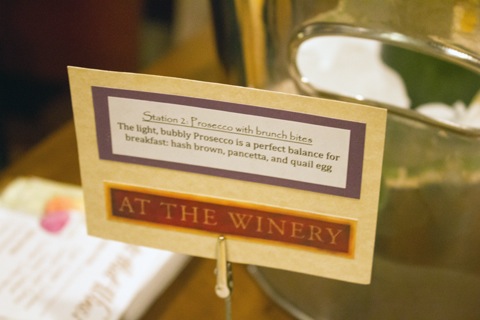 Yup. hash brown with pancetta and quail egg. I'll let the photo do the talking.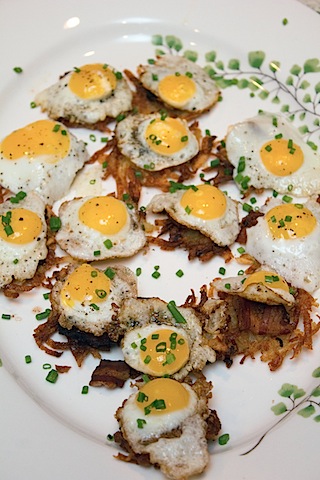 What's better than a brunch bite with some prosecco?
Let's move on to the parmesan cups with goat cheese mousse. See this platter? I'm pretty sure Chris ate the entire thing. That's not even a joke. At one point, he made me get a couple for him because he worried the group sitting around the table would think he had issues. He does. He has an addition. I'm trying to decide if I should learn to make them so he can have them all the time or if we should keep them a special occasion type deal. If Jeff wasn't such a fabulous guy, I'd worry that Chris only likes him for his parmesan cups...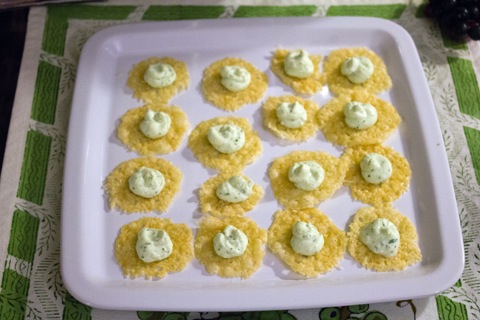 This photo was not staged at all. After finishing a conversation with someone, I saw Chris bolt into the other room. I obviously followed him with the camera and snapped this photo the second he turned around. Nice try, buddy.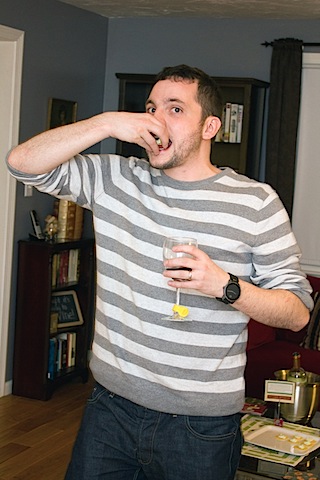 You can't pass by the sushi station.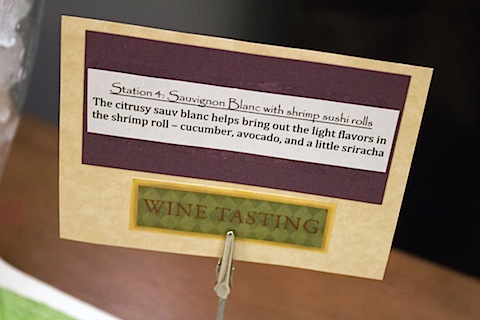 Really, Jeff and Kyle? You're going to make sushi for a party where you're already making a million other things? AND you're going to make the most perfect-looking sushi ever? I have no words.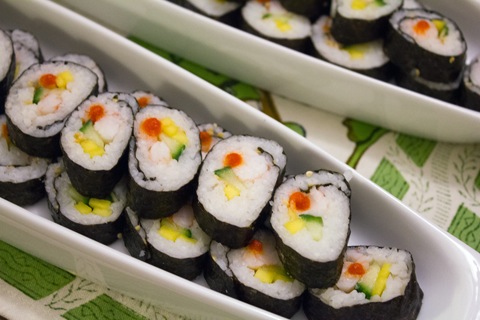 Even the stations with "simple" foods were extremely well done. Also, I think this is my favorite sign of Kyle's.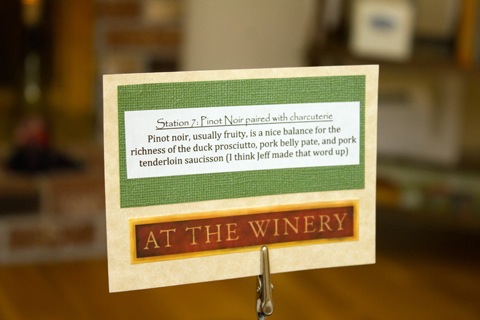 Fine, I'll eat some charcuterie. And drink a glass of pinot noir.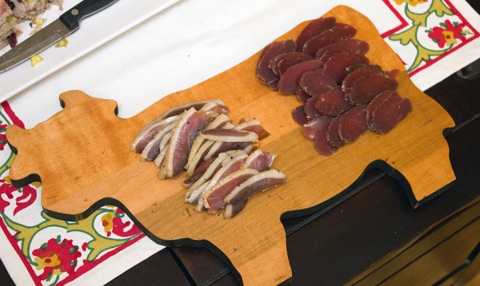 The meatballs and polenta are a yearly favorite and go perfectly with chianti. We were lucky enough to take home leftovers, too!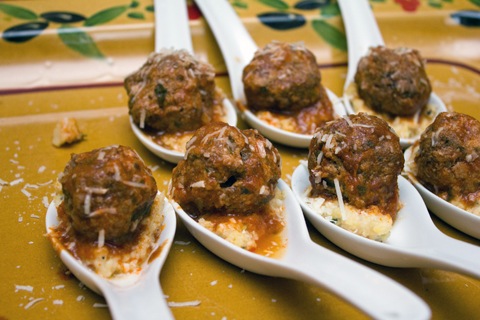 And the chicken saltimbocca tortellini with butternut squash was delectable.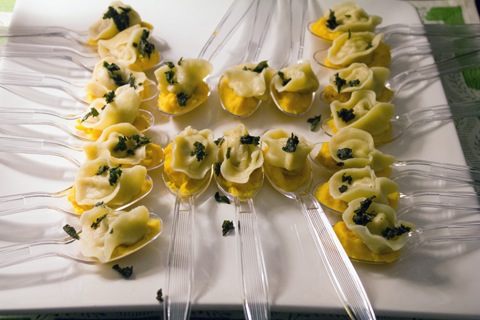 Station 10 ranked right up there with my favorites.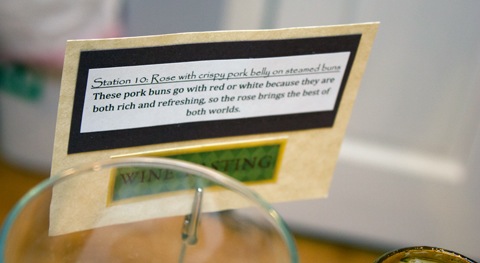 I could have made an entire meal of the crispy pork belly on steamed buns.
There's not much I wouldn't do for a platter of this in front of me right this second.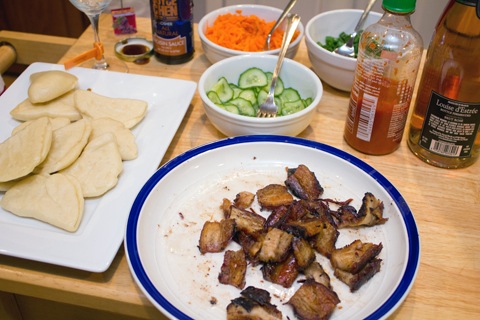 And that doesn't even include the braised beef and mashed potatoes or the pulled BBQ park sliders. I told you there's a good reason nobody has room for dessert.
Wine party year 3! And definitely the best yet. Which is saying A LOT.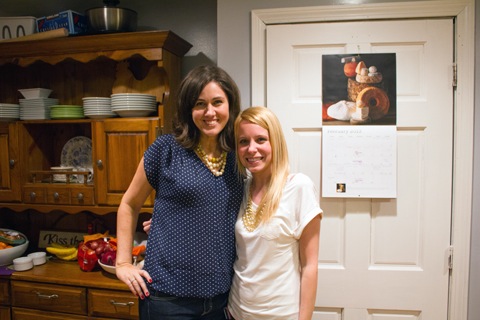 I always love hanging out with Kim, too! And was thrilled to see Kyle's sister (and new mama!) Lindsay. Really, I just featured the food and decor at the party.... But the company is another thing that makes these parties such a hit. Kyle and Jeff have such a fabulous group of people in their lives and the conversation is always right up there with the food.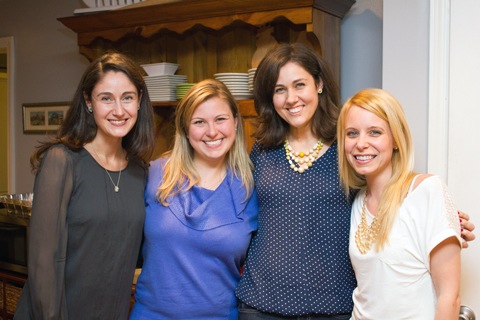 Of course.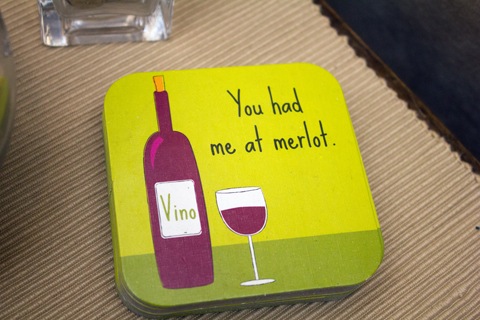 Best friends ever? Best friends ever. I'm so lucky to have Kyle and Jeff in my life and could probably gush forever about how much I love them, but I think you probably get it by now. Though really, it's not just because they throw parties like this!
But still, I'm totally counting on them to still be throwing these parties when we're in our 60s and beyond. But if the parties continue getting better every year, I'm not even quite sure how that will work...
What's the most fabulous party you've been to lately?
[Sues]