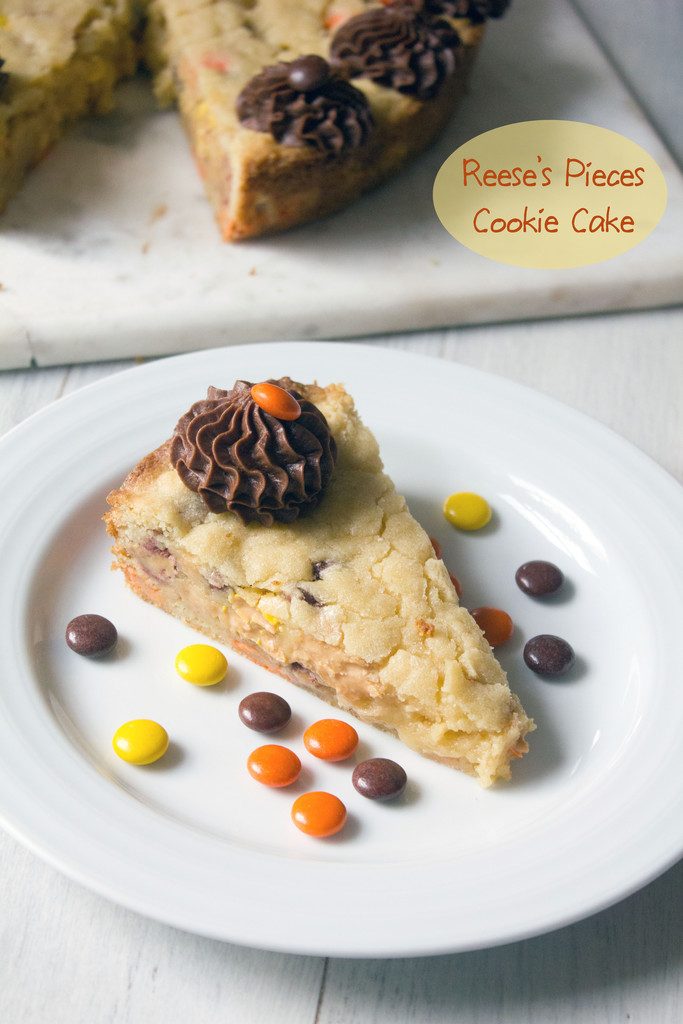 Is candy compatibility a thing? I hope not because my husband and I have some seriously differing interests when it comes to candy. And never has it been more apparent than on Halloween when I had him go out to buy the candy. First of all, he bought a lot of candy. Which I have absolutely no problem with. But the problem is… He bought a whole lot of fruity/sugary candy and was seriously lacking in the chocolate department. It's not even that I don't like fruity/sugary candy. It's just that given the choice, I'm pretty much always going to choose chocolate. It's the higher-value option, right? I can only eat so many Nerds (unless it's Nerds Rope!) and Laffy Taffies before I get a sugar migraine. But I can house Twix, Reese's, Butterfingers, Mounds, etc. etc. like there's no tomorrow. And yes, Mounds is one of my all-time favorite candies. Do you have a problem with that? My husband does.
Not only did we buy way too much candy this year, but we also didn't have as many trick-or-treaters as we have in the past, so basically we have a ridiculous amount of candy in our house right now. Candy that I'm not even really that into. But I mean, it's candy. And it's here. Just staring at me. So, I did what any reasonable person would do. I bought more candy. And then I turned it into a giant cookie cake. Because I mean, you can't really make a cookie cake out of Everlasting Gobstoppers. But you certainly can with Reese's Pieces.
I also added in peanut butter chips. Because I'm not planning to come down from this sugar high any time soon.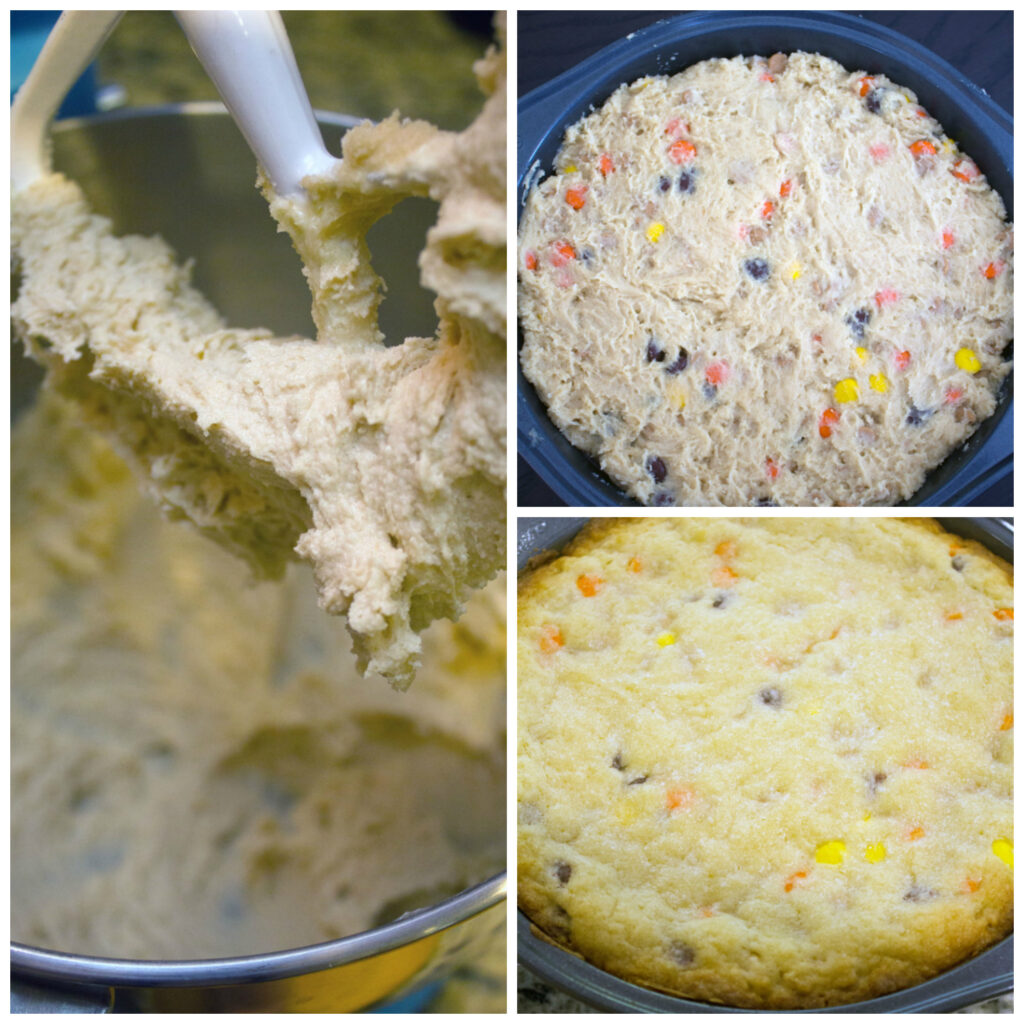 OK, so you're probably wondering why a cookie cake over a couple dozen cookies, right? I'm having trouble really putting it down into words, but this cookie cake was way more delicious than any cookies I've ever had. I think it has something to do with the fact that the cake is thicker than the average cookie and it's moist and gooey and cakey. I mean, you can kind of tell from the photos, right?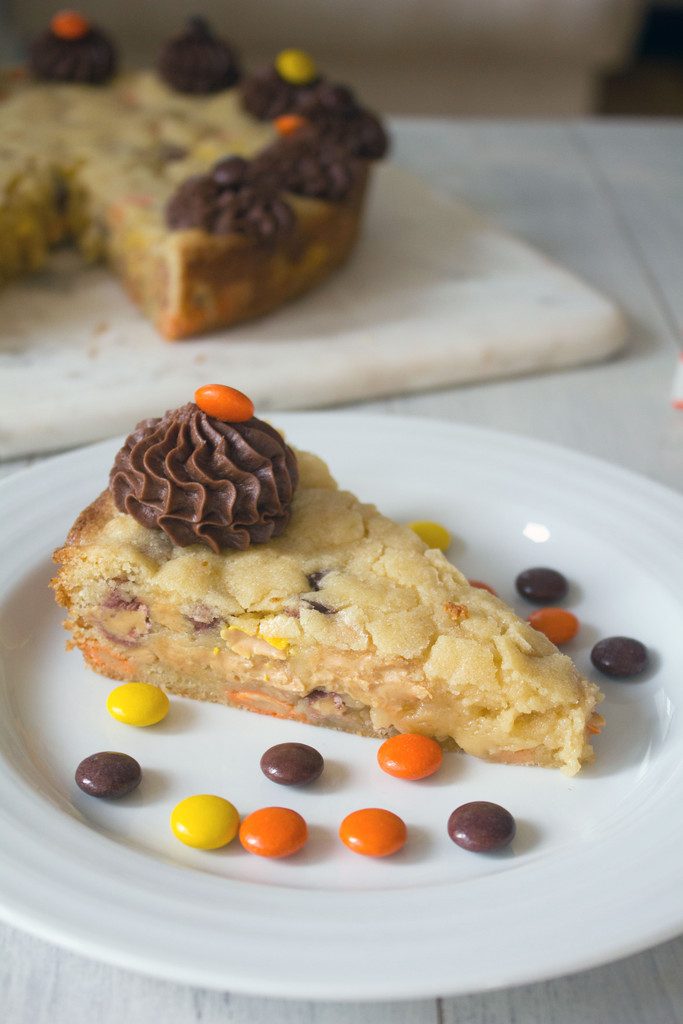 Plus, you can cut yourself a giant slice of cookie and say, "I only had one piece!" which sounds a whole lot better than saying, "I had thirteen cookies."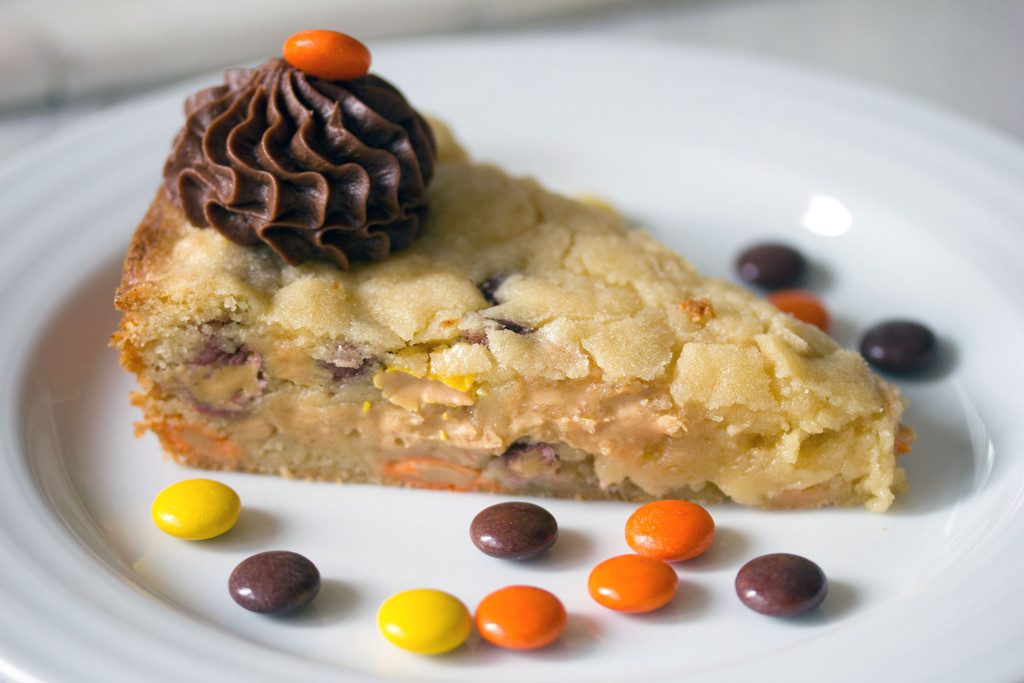 Other than the frosting, this cookie cake contains no chocolate. Did you realize that Reese's Pieces don't actually have chocolate in them? It feels like they should, but they're really just little peanut butter candies covered in a crunchy candy shell. But they're one non-chocolate candy that I fully support.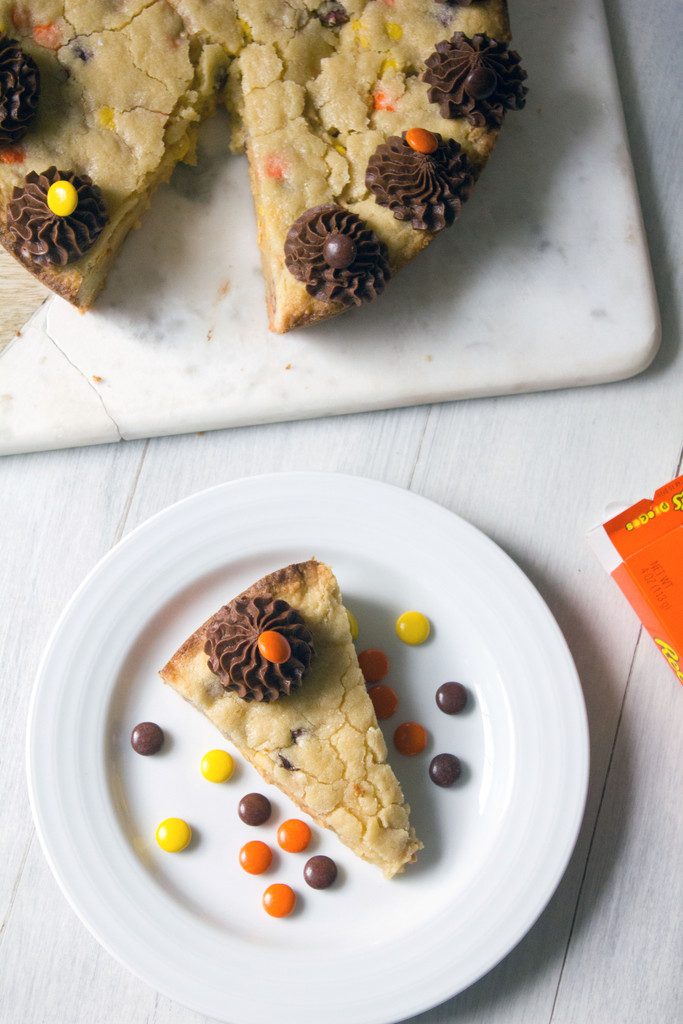 If you do want to add more chocolate to this (and I don't blame you if you do!), feel free to replace the peanut butter chips with chocolate chips. I went back and forth on which to use, but peanut butter ultimately won out.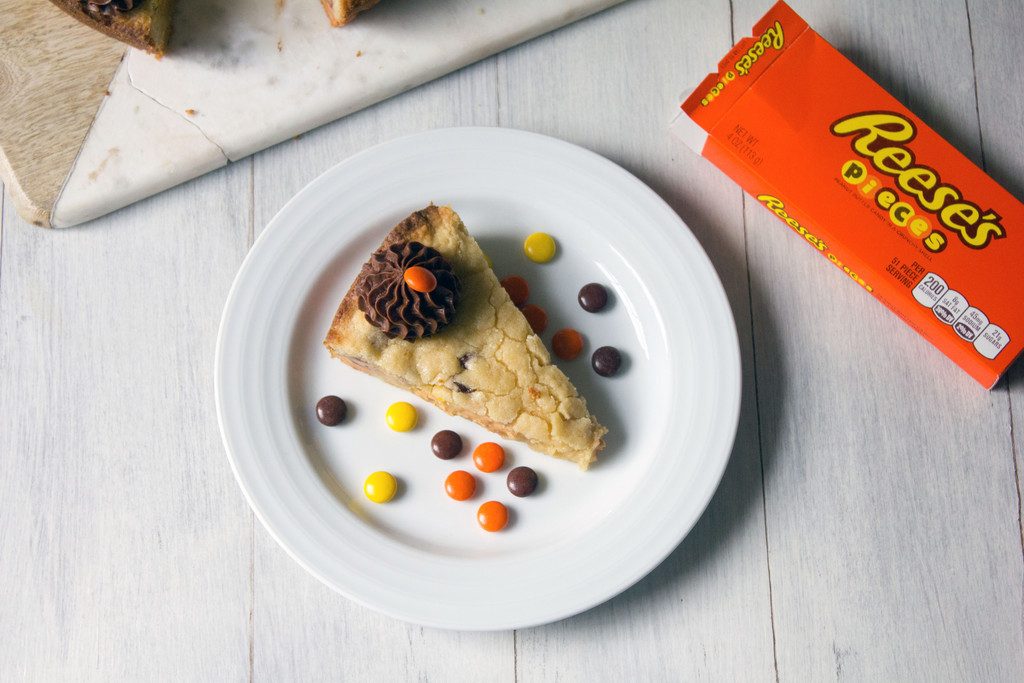 If you have a ridiculous amount of Halloween candy left over, you could use that instead, too. A Snickers or Butterfinger cookie cake would also do the job quite well. If the job refers to making people ridiculously happy. I'll give you extra bonus points if you can tell me how to make a cookie cake with Lifesavers' Gummies or Laffy Taffy. Even more points if you can tell me how to unwrap a piece of Laffy Taffy without the plastic wrapper sticking to it.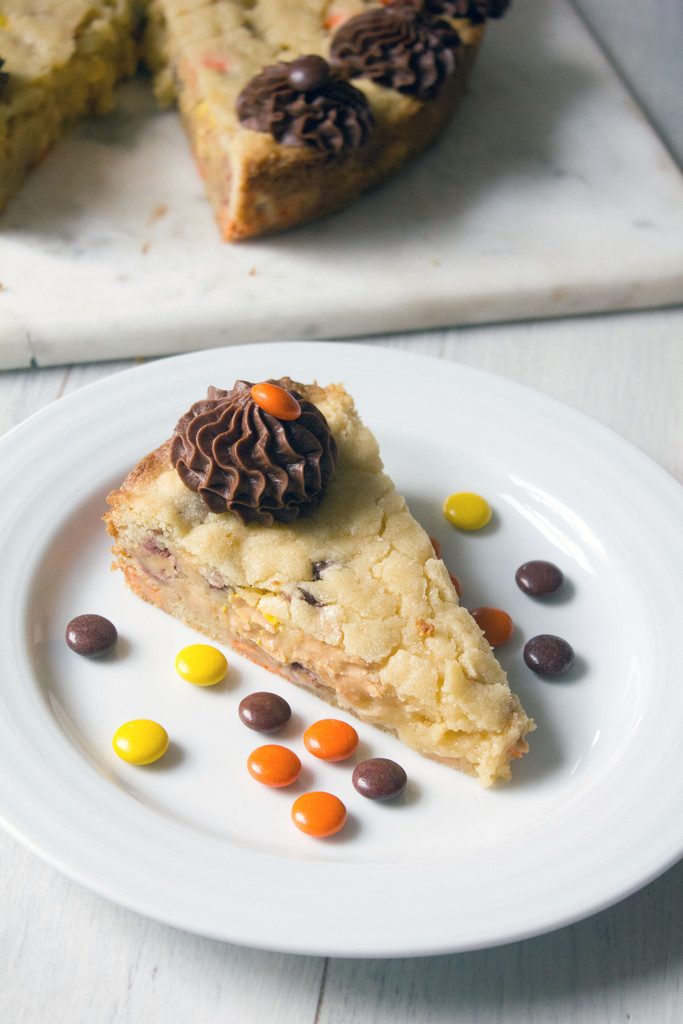 I usually have pretty good self-control around the desserts I make, but I didn't stand a chance around this one. I had a nice big, thirteen cookies worth slice pretty much every evening until it was gone. And I ate it on the couch, while my dog sat and simultaneously gave me judgy eyes and cried out of pure sorrow that she's a dog and not allowed to have a slice of cookie cake. Though she did try to reason with me that since Reese's Pieces don't contain chocolate and most dogs are allowed peanut butter, she should be offered a bite or two. But I was too busy stuffing my face to pay attention.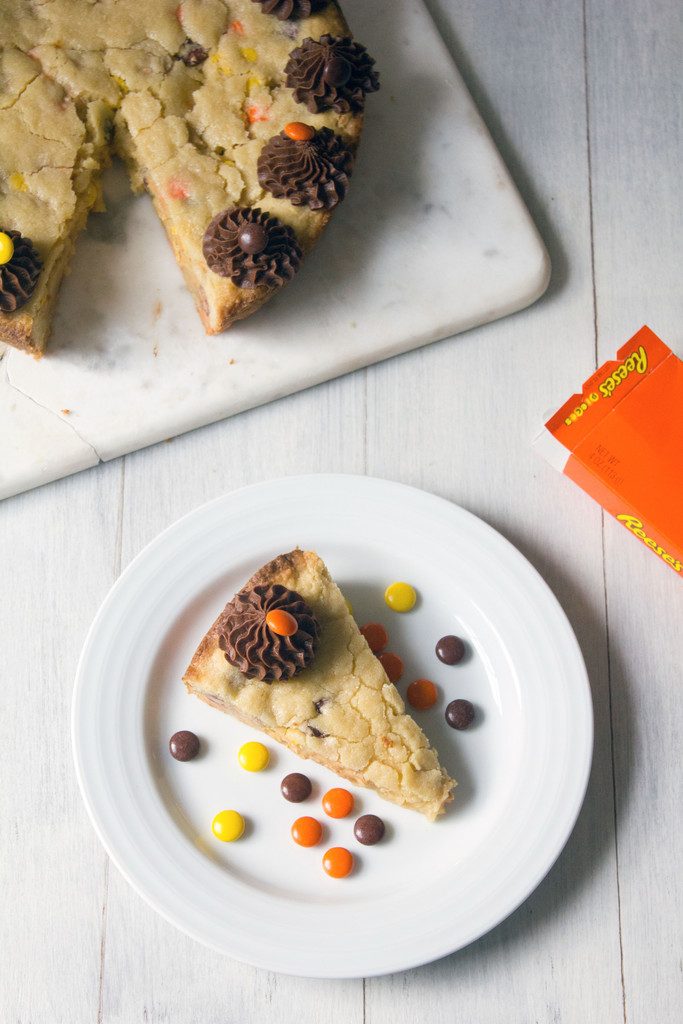 You should probably make this while you're still coming down from your Halloween candy high.
Do you have candy compatibility with your significant other? Are you into the fruity/sugary candy or chocolate candy?

Reese's Pieces Cookie Cake
This peanut butter-packed Reese's Pieces Cookie Cake is more chewy and delicious than your average batch of peanut butter cookies. It's filled with Reese's Pieces and peanut butter chips and topped off with chocolate frosting!
Author:
We are not Martha
Ingredients
2½ cups all-purpose flour
2 tsp baking powder
¼ tsp salt
1 cup (2 sticks) unsalted butter, room temperature
1 cup packed light brown sugar
½ cup granulated sugar
2 large eggs
2 tsp vanilla
1 cup Reese's Pieces candy
¾ cup peanut butter chips (or chocolate if you prefer)
!Chocolate Frosting:
½ cup (1 stick) unsalted butter, room temperature
¼ cup cocoa powder
2½ cups powdered sugar
1-2 Tbsp milk
Instructions
Pre-heat oven to 350 degrees. Line a 9-inch cake pan with parchment paper.
In a medium bowl, whisk together flour, baking powder, and salt.
In the bowl of a stand mixer or in a large bowl with a hand mixer, cream together butter and both sugars until light and fluffy.
Add eggs and vanilla and mix to combine.
Add the flour mixture to the wet ingredients and mix until just combined.
Fold in the Reese's Pieces and peanut butter chips.
Press cookie dough into the prepared pan, as evenly as possible.
Bake at 350 degrees for 22-25 minutes, until edges are turning golden, but cookie is still nice and gooey in the middle.
Remove from oven and set on a wire rack to cool. Once cooled, use a knife to loosen edges of cookie and turn out onto a cake plate or platter.
Put frosting in a pastry bag and pipe along the edges. Add additional Reese's Pieces if desired.
!Chocolate Frosting:
In the bowl of a stand mixer or in a large bowl with a hand mixer, beat butter until light and fluffy, occasionally scraping sides of bowl with spatula.
Mix in cocoa powder and then mix in powdered sugar one cup at a time, until well-blended.
Mix in milk, 1 tablespoon at a time, only adding in second tablespoon if necessary.