These Reese's Pieces Peanut Butter Brownies are packed with peanut butter, chocolate, Reese's Peanut Butter Cups, and Reese's Pieces. Peanut butter lovers, rejoice!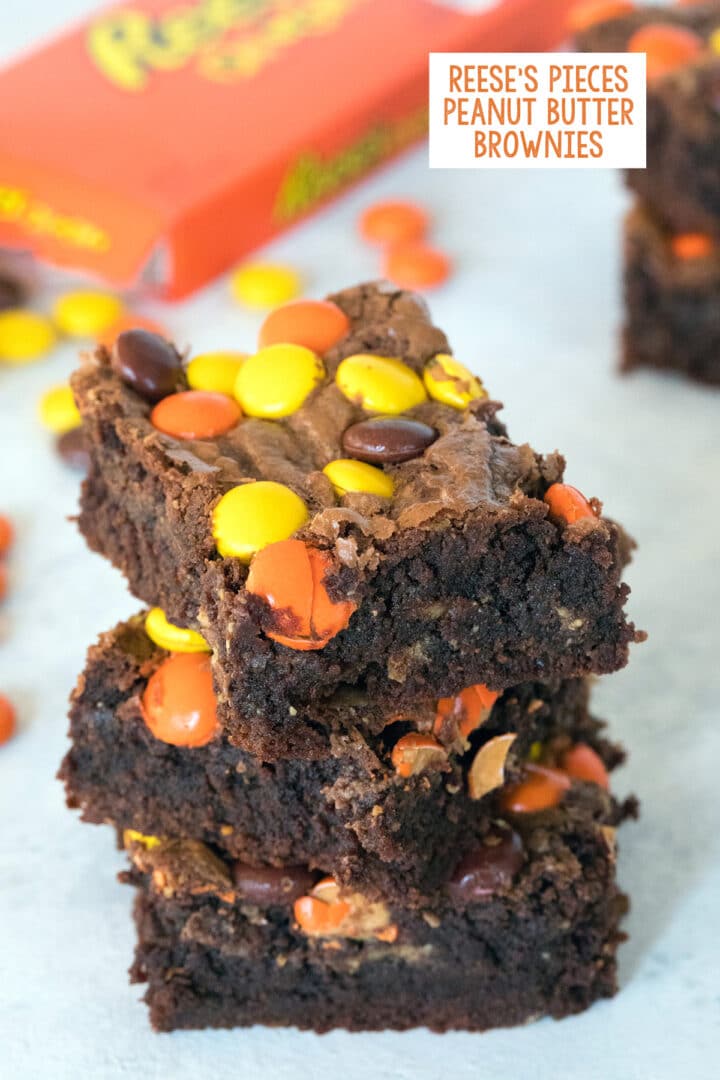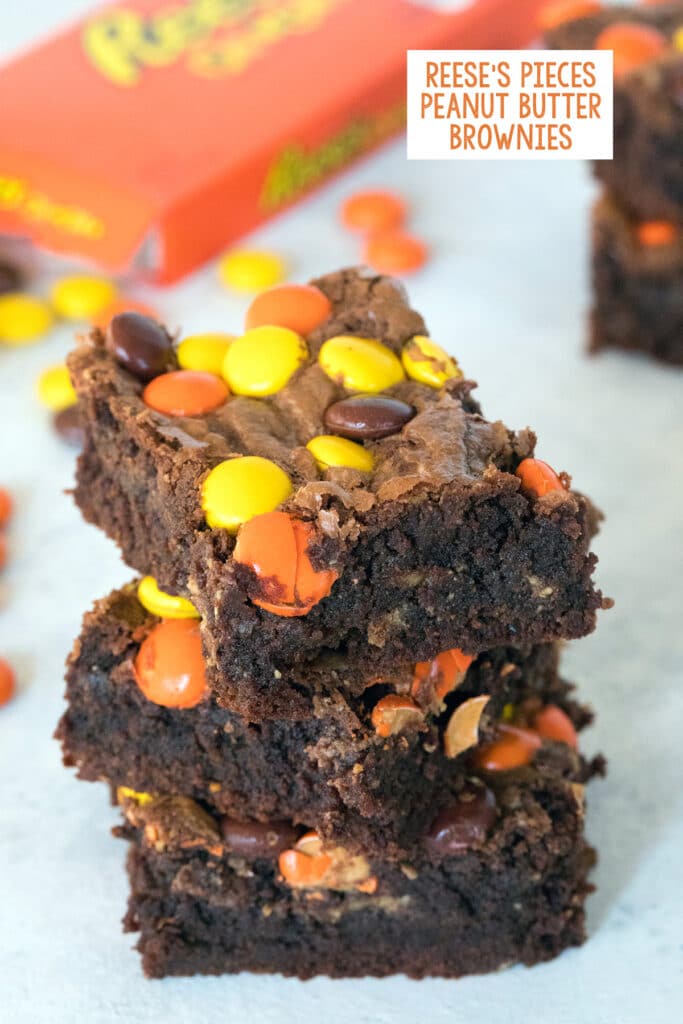 (This recipe for Reese's Pieces Peanut Butter Brownies was originally published in February 2009, but has been updated with new photos and content.)
Is there such a thing as too much peanut butter? If you're thinking "yup, there is!" then you should probably leave now because you're really not going to like these Reese's Pieces brownies. They involve peanut butter in three forms.
But you know what? They're not overly omg sticking to the top of your mouth peanut butter brownies. I think all of that chocolate really helps balance things out. If you don't love peanut butter, you must at least love peanut butter and chocolate together, right??
I first made these chocolate peanut butter brownies wayyy back in 2009, after seeing the recipe on Grumpy's Honeybunch. Sometimes I laugh to myself when I re-read my old posts because I say things like, "next time I'd add peanut butter into the batter." Okayyy, Sues, then why the heck didn't you add peanut butter into the batter before posting about them??
It's like, "here, I'm giving you a recipe, but there are like 10 things I'd do differently next time I make it, so..." Anyway, I suppose blogging times were different back then. So, now that we're in a new era, I went back and made some adjustments to the original recipe until I got to my ideal chocolate peanut butter brownies and I'm updating the recipe here for you now.
Reese's Pieces Peanut Butter Brownies Recipe
But don't worry, these peanut butter brownies are still super easy to make and are made in a 13x9 pan, which means you'll end up with 24 chocolate peanut butter brownies. Which means you can probably share a couple of them and still have enough for yourself.
All you have to do is mix the wet ingredients together, mix the dry ingredients together, and then combine the two. Don't forget to fold in the Reese's Peanut Butter Cups!
Then spread the batter in the pan, top with Reese's Pieces, and bake away.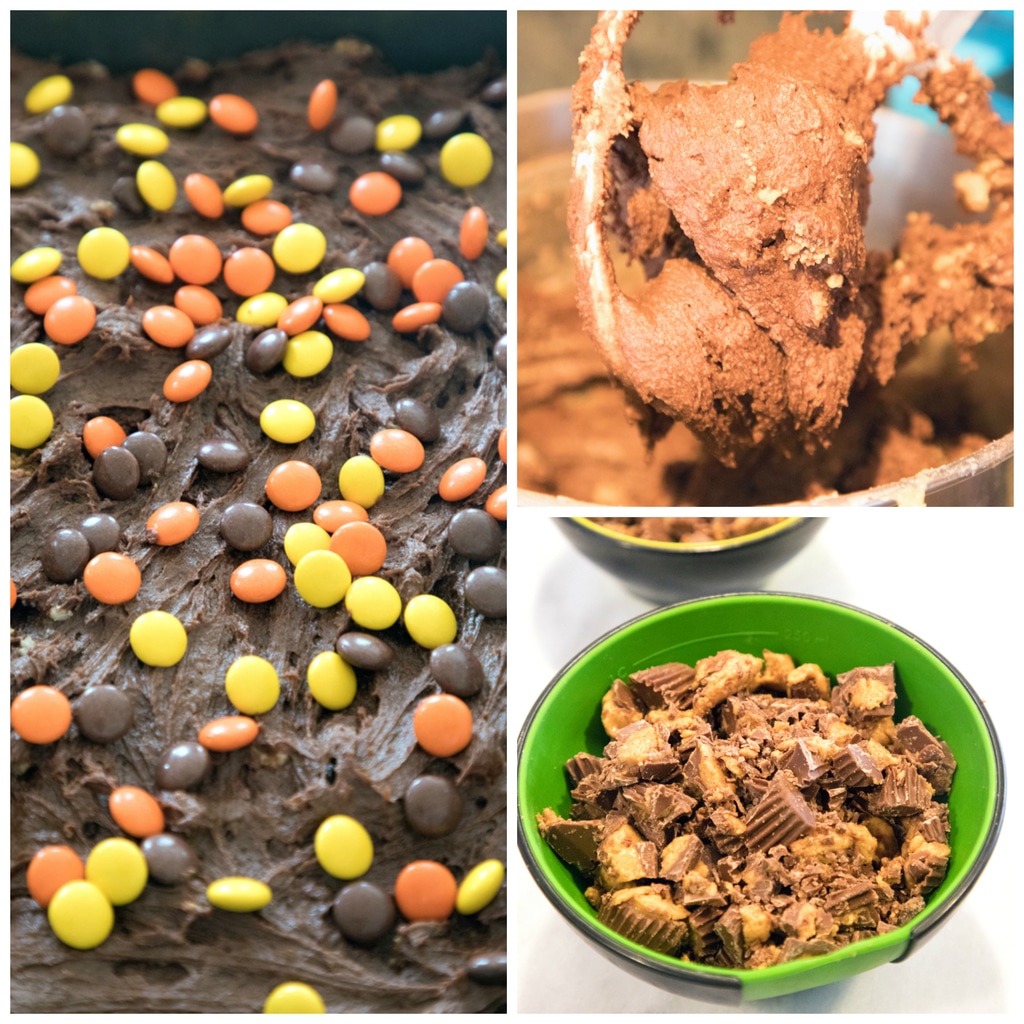 Oh wait, before we move on, we need to talk about the fact that Reese's Pieces do not actually have chocolate in them. Does that blow your mind?
I realize I brought that up the last time I posted a Reese's Pieces recipe, but I feel like I need to make this public service announcement again. If you were already aware then carry on, nothing to see here, I've just clearly been living under a rock.
Either way, I think there's enough chocolate in these Reese's brownies to excuse the lack of chocolate in Reese's Pieces.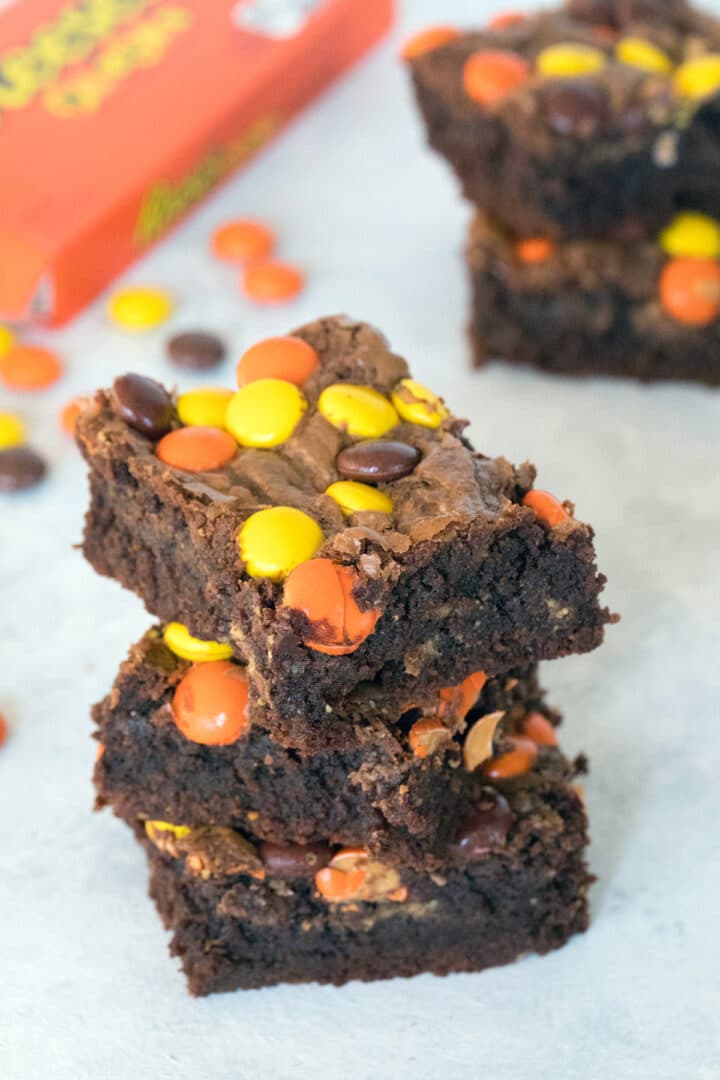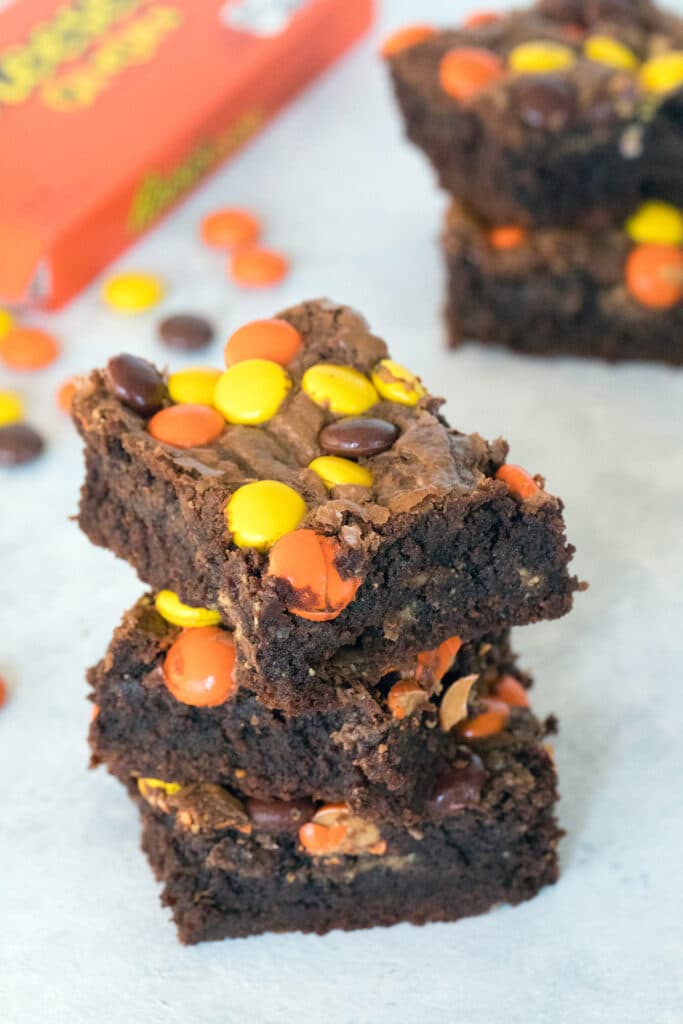 And now that I've adjusted the original recipe, there's also enough peanut buttery goodness to my liking.
Because check out that chocolate. I mean, just look at it. It's so fudgy and intense that you need a little bit of peanut butter to cut through it.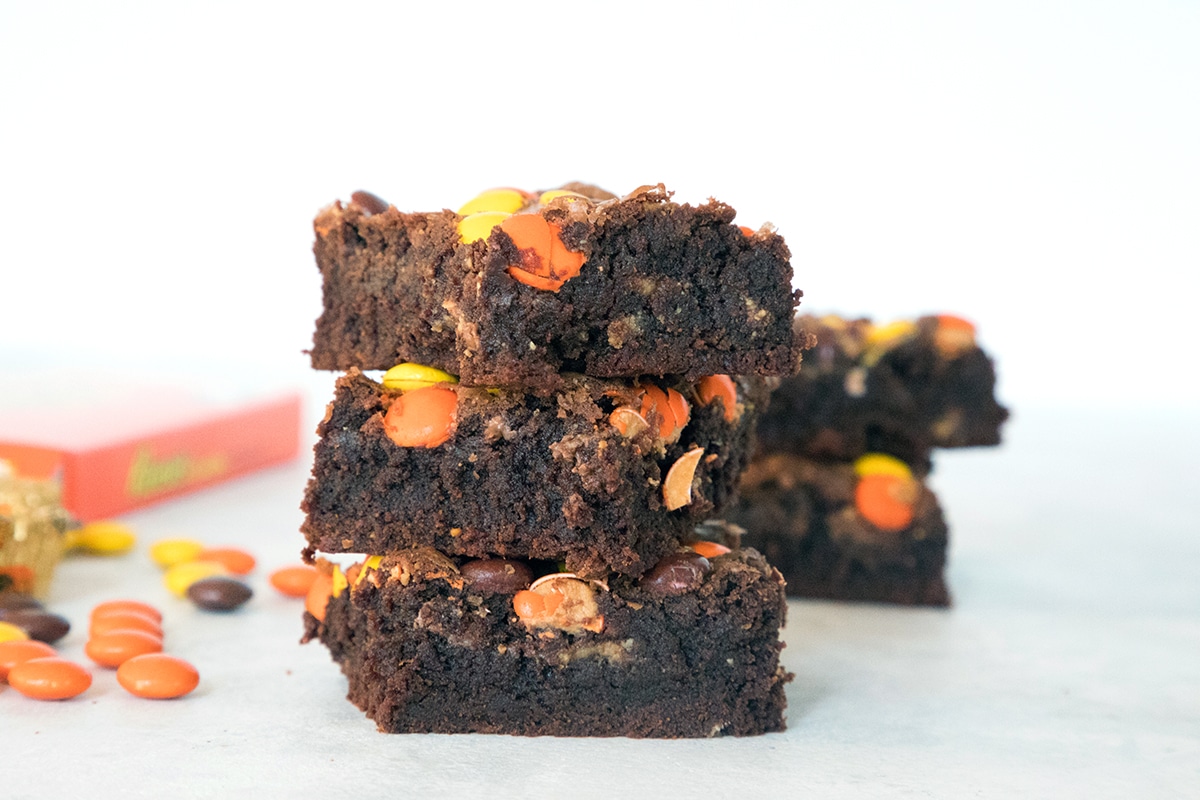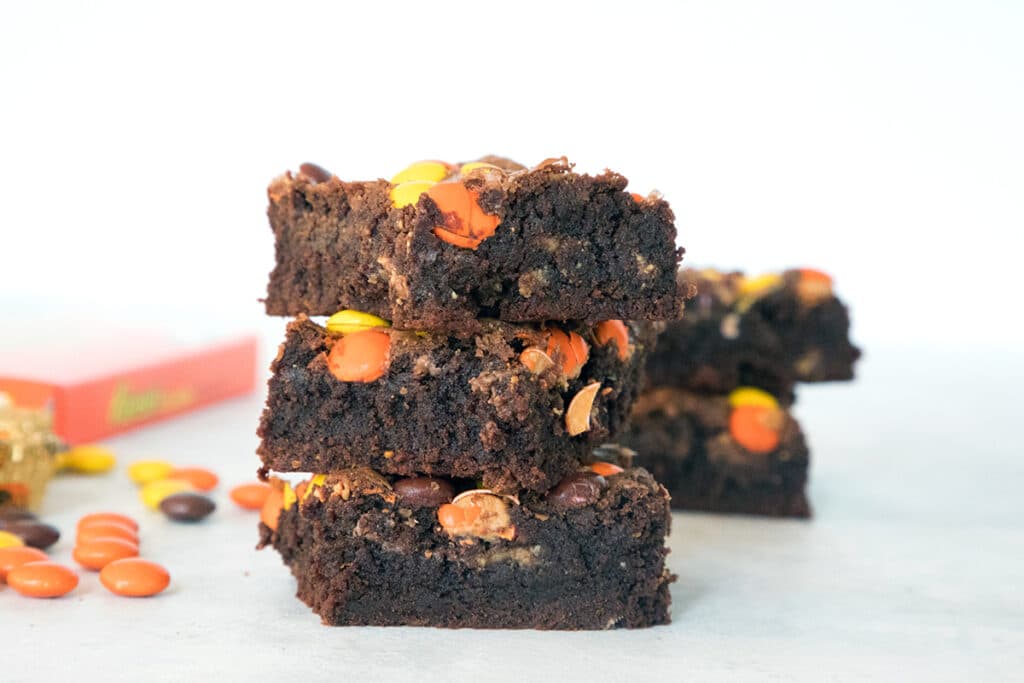 And obviously the Reese's Pieces scattered about on top add a little bit of crunch. And more peanut butter brownie balance.
These are totally the kind of brownies you want to bring to a party. Or sell at a bake sale. Or just have in your kitchen at all times so whenever a guest pops in, you can say, "oh, would you like a Reese's Pieces brownie?"
Something tells me you'd start to have guests wayyy more often than you'd like.
More Peanut Butter Desserts
If you love all things peanut butter and peanut butter desserts as much as I do, be sure to check out some of my other favorite recipes: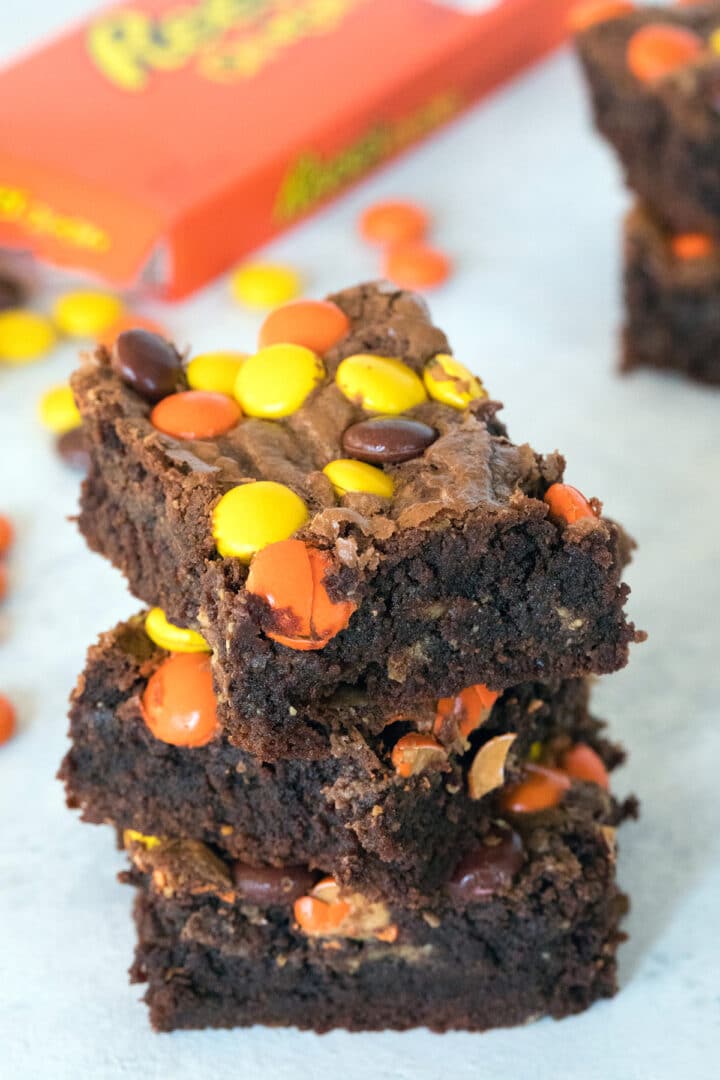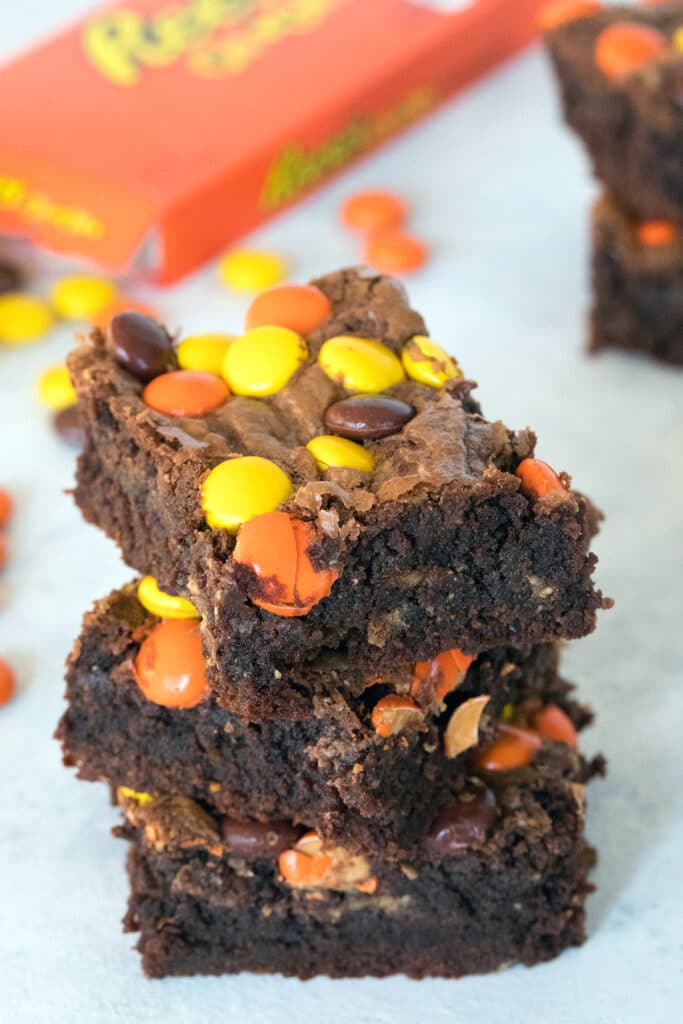 But the best part is that these peanut butter brownies are classic brownies that were delicious in 2009 and are still delicious almost nine years later.
And if they're not still delicious twenty years from now, well then, let's just say 2038 is not a time I'm looking forward to very much.
Are you always in the mood for chocolate and peanut butter? If not, what do you prefer?
📖 Recipe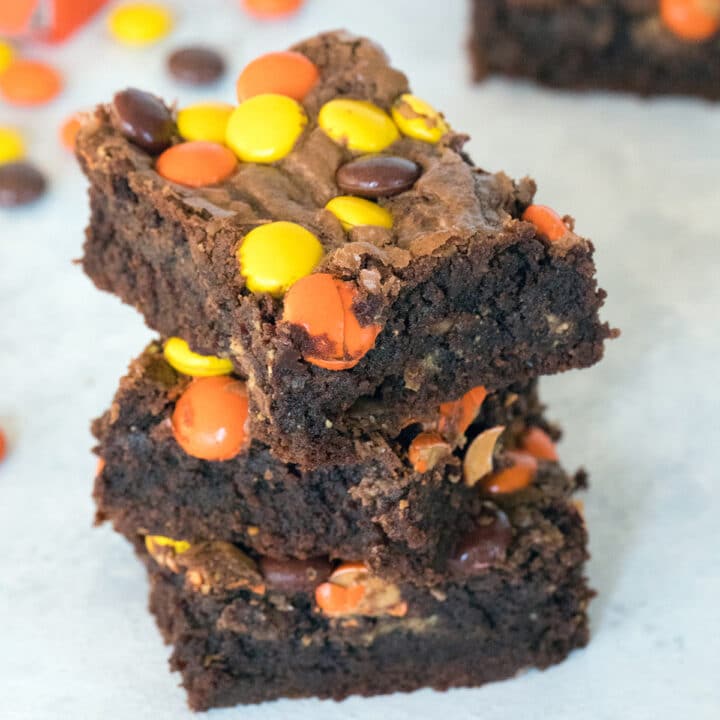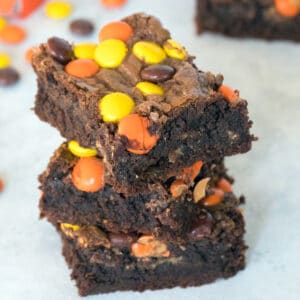 Reese's Pieces Peanut Butter Brownies
Reese's Pieces Peanut Butter Brownies are packed with peanut butter, chocolate, Reese's Peanut Butter Cups, and Reese's Pieces. Peanut butter lovers, rejoice!
Print
Pin
Rate
Ingredients
1

cup (2 sticks)

unsalted butter,

room temperature

2 ½

cups

granulated sugar

½

cup

creamy peanut butter

4

large eggs

1 ½

Tbsp

vanilla

1 ½

cups

all-purpose flour

1

cup

unsweetened cocoa powder

1

tsp

salt

1 ½

cups

chopped peanut butter cups

(about 28 peanut butter cups; note that there are about 38 in a 12 oz. bag)

½

cup

Reese's Pieces
Instructions
Pre-heat oven to 350 degrees and lightly grease a 9×13 baking dish.

In the bowl of a stand mixer or in a large bowl with a hand mixer, cream together butter and sugar until light and fluffy.

Beat peanut butter into the mixture until smooth. Add eggs one at a time, mixing well after each addition. Beat in vanilla.

In a separate large bowl, whisk together flour, cocoa powder, and salt.

Add the dry mixture to the wet ingredients and mix until just combined. Fold peanut butter cups into batter.

Pour the mixture into prepared baking dish and sprinkle Reese's Pieces over the top.

Bake at 350 degrees for about 35 minutes, until a toothpick comes out clean. Set pan on a wire rack and let cool for about 10 minutes before slicing.
Share a Photo of Your Finished Recipe!
Mention @wearenotmartha and share a photo if you've made the recipe!
View Web Story for recipe