These Hot Chocolate Peppermint Pretzel Bites take everyone's favorite sweet and salty flavor combination and give is some holiday cheer!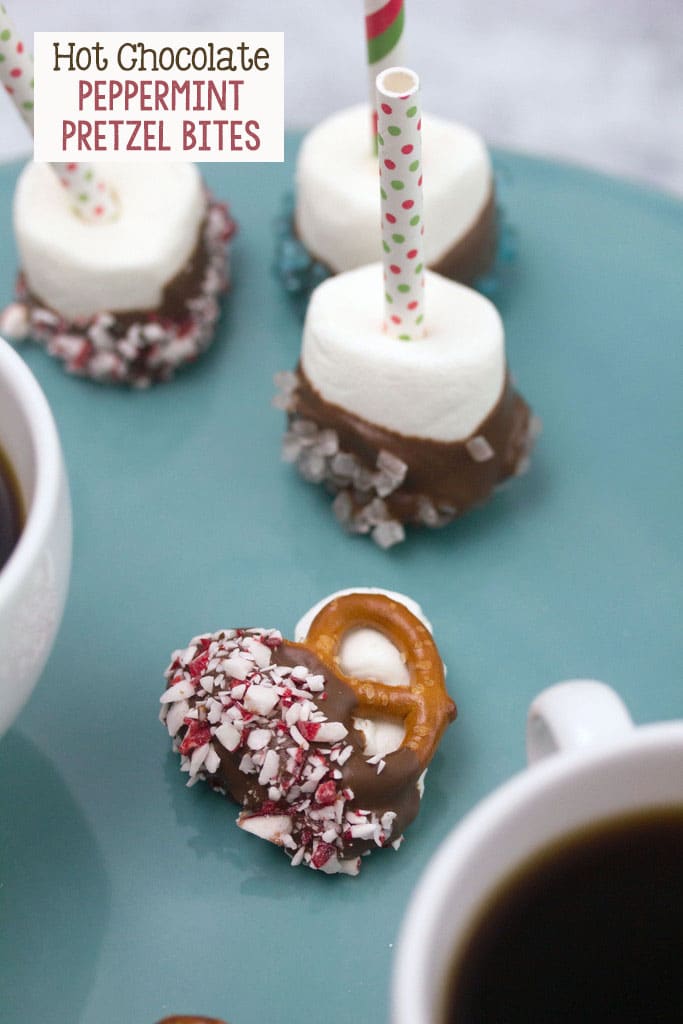 This weekend I made a vow to cook every single night this week. No matter how tired I was when I got home from work, no matter how much I had to get done, no matter how much I would just prefer to collapse in a heap on the couch and order Dominos takeout (because let's face it, when I'm ordering takeout, I don't even want to pick up the phone. Online ordering is a must), I would be dragging my sad self into the kitchen and cooking dinner. I meal planned and grocery shopped and planned which days I wanted to make what. Even that exhausted me.
It is now Monday evening at 11:00 p.m. and I can tell you that I've already failed this initiative completely. Like, didn't even open the refrigerator when I got home. Like, came "this close" to ordering takeout, but got sushi from the grocery store instead (I know... this is getting worse by the second). I 100% blame myself, but to be fair, we went car shopping after work and didn't get home until almost 9:00 p.m. And there's absolutely no way I'm making dinner at 9:00 p.m. I'm just way too old for that.
But ugh, if this is how the week is getting started, I can't wait to see what the rest of the week brings. I'm just thankful I ate something semi-healthy instead of breaking into my stash of Salted Hot Cocoa Peppermint Pretzel Bits. Because trust me, I was tempted. And I blame most of that on the Salted Caramel Hot Cocoa Candy Melts that Wilton is introducing this year.
Sadly, Wilton has since discontinued their Salted Caramel Hot Cocoa candy melts (please bring them back!), but lucky for you, it's easy to swap out for any flavor kind of candy melt you want. I recommend using either Wilton's Dark Cocoa Candy Melts (affiliate link) or Ghirardelli's Dark Chocolate Melting Wafers (affiliate link), but you can even use simple chocolate chips. And if you prefer to skip the chocolate, you can use a salted caramel candy melt instead!
HOT CHOCOLATE PEPPERMINT PRETZEL BITES RECIPE
You'll need to start by melting your chocolate. This is super easy to do using intervals in the microwave or in a double boiler. But I love my Wilton Candy Melting Pot (affiliate link), which makes it even easier to melt them and keep them smooth while dipping.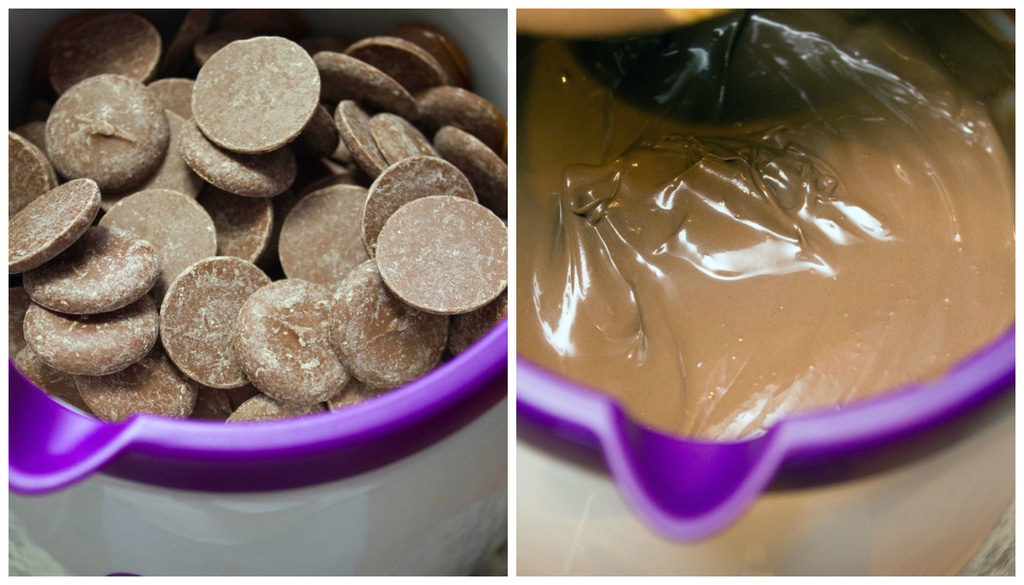 I also blame the temptation on the fact that these are so easy to make, I can practically run a candy factory from my kitchen. After your chocolate is melted, you literally just bake some marshmallows in between pretzels and then dip them in the candy melts and crushed candy canes.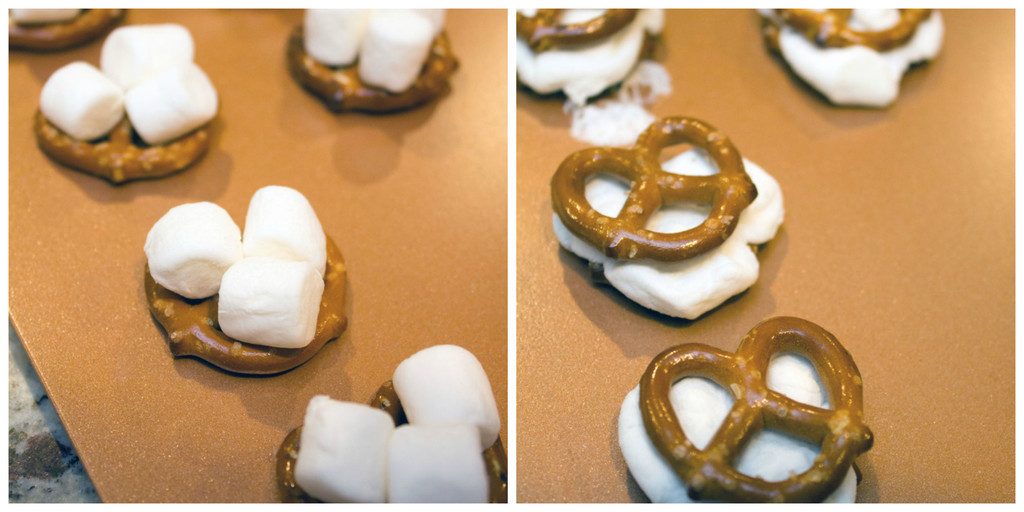 I mean, you could probably whip up a batch of these chocolate pretzels in 10 minutes. Waiting for the chocolate to harden on the pretzels is the most time-consuming part. And you can have a seat and drink a cup of coffee while that's going on.
One of my most hated holiday baking tasks is crushing candy canes. Seriously hate it. You can put them in a bag and whack them with a meat tenderizer (my weapon of choice!), but they get so sticky and icky and it takes way too long. So, please forgive me for being obsessed with Wilton's Peppermint Crunch (affiliate link) pre-crushed candy canes. I know it sounds kind of ridiculous, but they make these peppermint pretzels so much easier. I may even go so far as to say that these saved my Christmas. Too much? Oh well, don't take my word for it.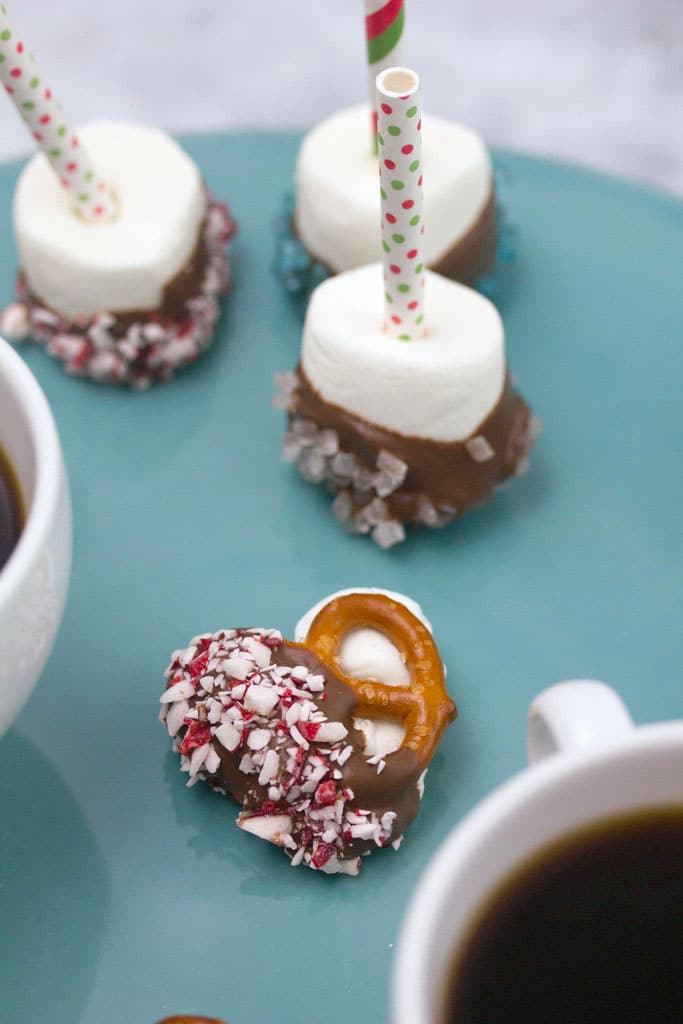 These are perfect for the holiday party dessert table or adding to a holiday cookie platter. However, I will warn you that they're best to enjoy day of, otherwise the marshmallow may get a little bit tough. Not too tough to eat (trust me!), but just not soft and marshmallow-gooey anymore.
They're also a nice treat to have on hand if you have a friend over for coffee or tea. While I was making them, I dipped a few marshmallows in the candy melts for fun. I may or may not have been scanning my kitchen to determine what else I could dip (hint: bananas are wonderful!).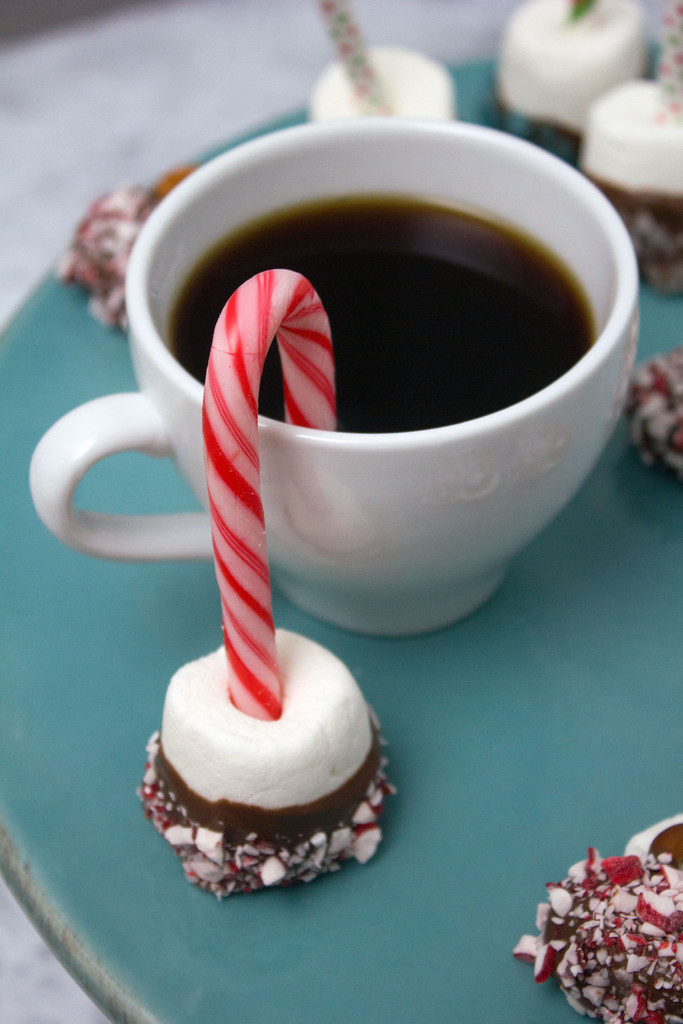 Chocolate pretzels are already a winner because of the salty and sweet flavor combination, but the candy melts bring them to a whole new level with added chocolate, salt, and sweet. Plus, the peppermint adds everyone's favorite holiday zing!
How many chocolate peppermint pretzel bites is too many chocolate peppermint pretzel bites? Actually, I don't want to know your answer. Perhaps I'll reward myself with another batch if I manage to make dinner every night next week. But it's way more likely that chocolate pretzels will just end up being my dinner. 'Tis the season, right?
Oh and for everyone asking, I PROMISE my holiday gift guide for food lovers is coming on Wednesday!
Do you have a favorite candy melt flavor?
If you're looking for more fun ideas for your holiday cookie platters, check out my Eggnog Linzer Cookies and my Guide for Arranging the Perfect Holiday Cookie Platter. I also can't wait to make these adorable Gingerbread Reindeer Cookies from Sense & Edibility this holiday season!
📖 Recipe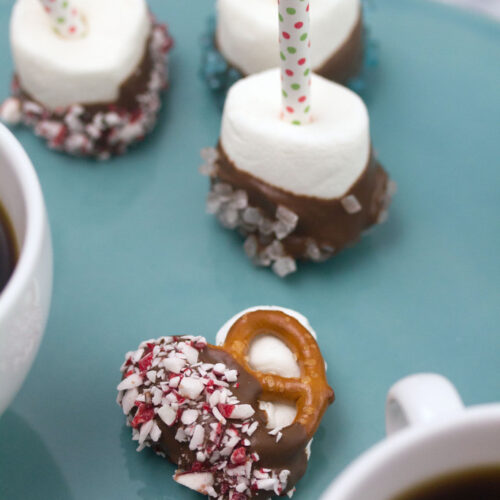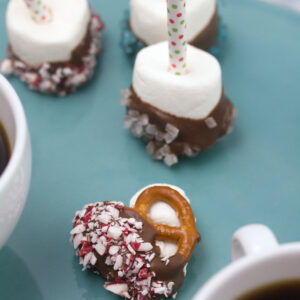 Hot Chocolate Peppermint Pretzel Bites
These Hot Chocolate Peppermint Pretzel Bites take everyone's favorite sweet and salty flavor combination and give is some holiday cheer!
Print
Pin
Rate
Ingredients
48

mini pretzels

72

mini marshmallows

8

oz.

chocolate candy melts or chocolate chips

(or candy melt flavor of your choice)

3

oz.

crushed candy canes
Instructions
Pre-heat oven to 325 degrees.

Place half of the pretzels on a foil-lined baking sheet.

Place 3 mini marshmallows on top of each pretzel and bake for 3-4 minutes, until marshmallows are getting melty.

Remove from oven and press remaining pretzels on top of marshmallows to create little sandwiches.

Place baking sheet in fridge until pretzels are completely cooled.

Melt candy melts in candy melting pot or in microwave according to package directions.

Dip each pretzel sandwich in melted candy until half is covered in chocolate.

Put Peppermint Crunch or crushed candy canes in a bowl and dip chocolate-covered pretzels in peppermint and place back on baking sheet.

Let pretzels sit at room temperature until chocolate is completely hardened.
Share a Photo of Your Finished Recipe!
Mention @wearenotmartha and share a photo if you've made the recipe!