'Tis the season for holiday cookies! But instead of just throwing them on a plate before your holiday party, use these tips for how to arrange the perfect holiday cookie platter. Hint: Always serve the cookies with eggnog!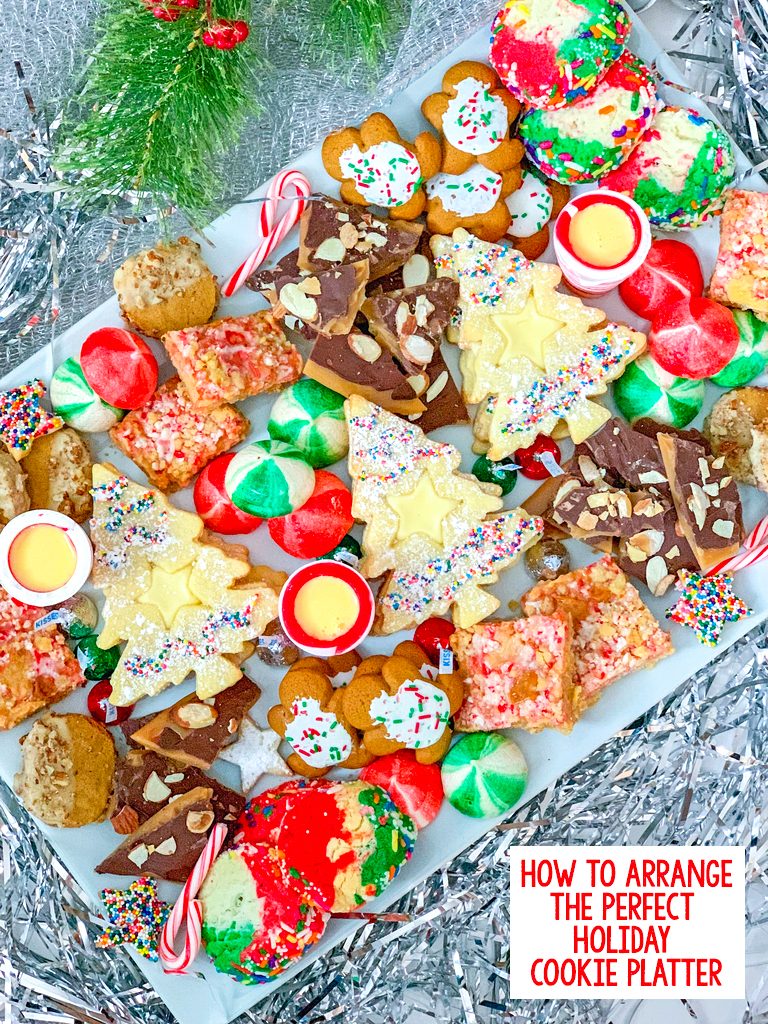 Thank you to Hood Eggnog for sponsoring this post. As always, all opinions are 100% my own and I really appreciate you supporting We are not Martha!
I don't want to get into a debate about which is better (because let's face it, they're both AWESOME), but have you ever stopped to think about how similar cheese and cookies are?
I mean, there are thousands of different kinds of both cheese and cookies, all kinds are basically amazingly delicious, and they're perfect for serving at parties. Plus, you can make a really gorgeous display out of both cheese and cookies, perfect for serving to a crowd.
There are a ton of tutorials for how to arrange a cheese plate, but far less information on arranging a cookie platter. And there's actually an art to a really good holiday cookie platter (though any time cookies are involved, you can't really go wrong).
I'm excited to partner with Hood Eggnog for this post to offer you a few tips on how to assemble the perfect holiday cookie platter. Whether you're having people over for the holidays, heading to a holiday party, or just want to put together a cookie platter for your Instagram feed, I hope my tips will help you!
But before we get started, make sure you pour yourself a glass of eggnog as you're assembling your cookie tray; it will help you get into the holiday spirit, which is essential for cookie making.
I always buy Hood Eggnog because it's perfectly creamy and has the best balance of holiday spices. You already know I love to incorporate it into recipes, but sometimes there's nothing better than a glass of cold eggnog and a plate of cookies! Or um, a platter of cookies.
Plus, I just think Hood's eggnog carton is the cutest. In addition to Golden (their classic eggnog), Hood also has a vanilla flavor and a light eggnog (plus, a pumpkin flavor that's available before Thanksgiving).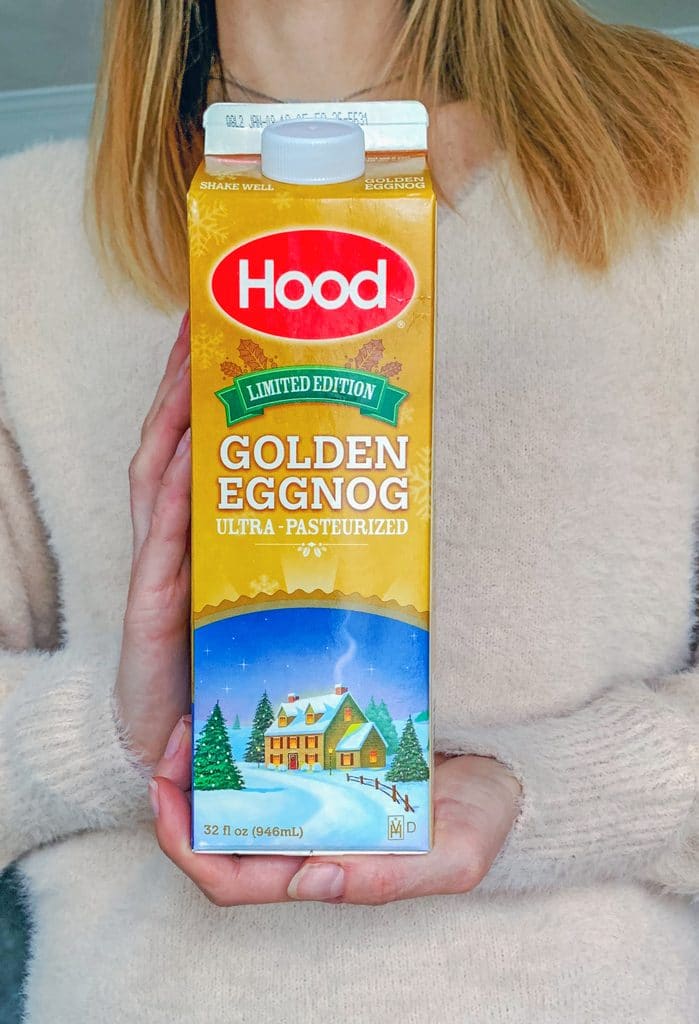 OK, let's talk about holiday cookie trays!
Tips for Assembling the Perfect Cookie Platter for the Holidays
Of course, cookies are delicious no matter how you serve them, but I still think arranging cookies on a platter should involve some sort of thought and planning.
You can freeze cookie dough (and some cookies) if you want to get some of the baking done in advance or you can focus on simpler cookies (sometimes simple is the best!).
Whatever you choose to make, I hope these holiday cookie-arranging tips are helpful to you!
Include a variety of cookies on your platter:
That goes for shapes, sizes, flavors, etc. The key to a really appealing holiday cookie platter is to have a lot of different shapes and textures. You don't want 3 kinds of round chocolate chip-style cookies that all look essentially the same.
On that same note, it's fun to step away from the types of cookies people always seem to make for the holidays, like sugar cookies and peanut butter blossoms. You already know someone will be bringing those to the party, so try to include some more unique cookies that let guests try something new.
Of course, I always make sure to include something peppermint, something gingerbread, something eggnog, and something chocolate. Gotta cover all the holiday bases!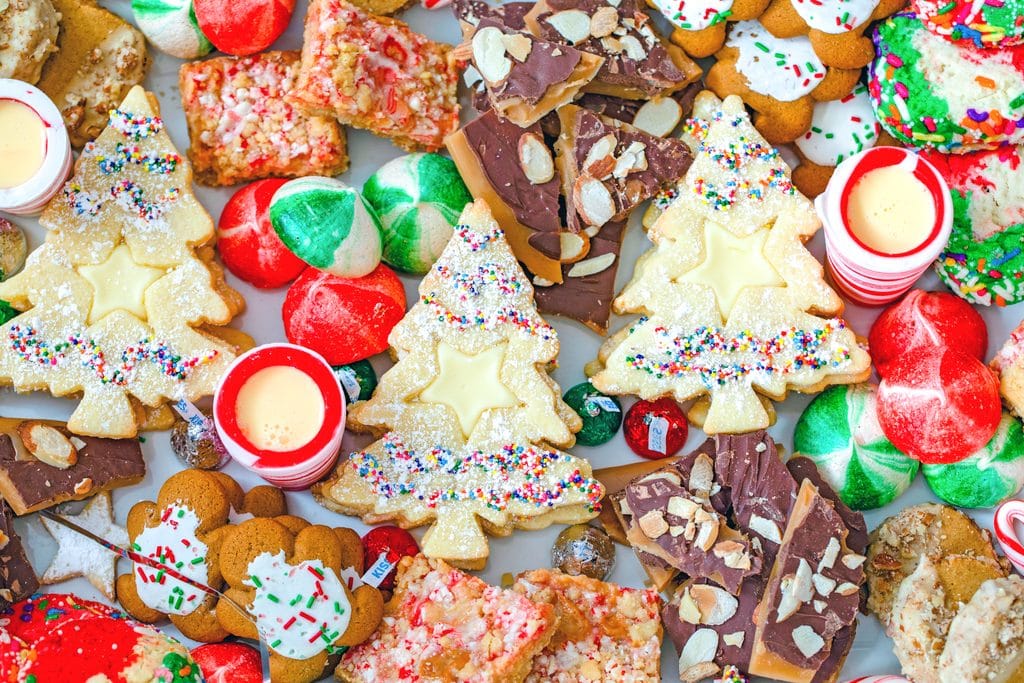 Go beyond the typical cookie:
The definition of what exactly a cookie is varies greatly. For instance, meringues? Some may not consider these true cookies, but they work perfectly on a holiday cookie platter (and they technically are cookies), especially when colored red and green.
The same is true for things like dessert bars, toffee, and holiday bark. All are fair game when it comes to the cookie platter and offer up a fun variety.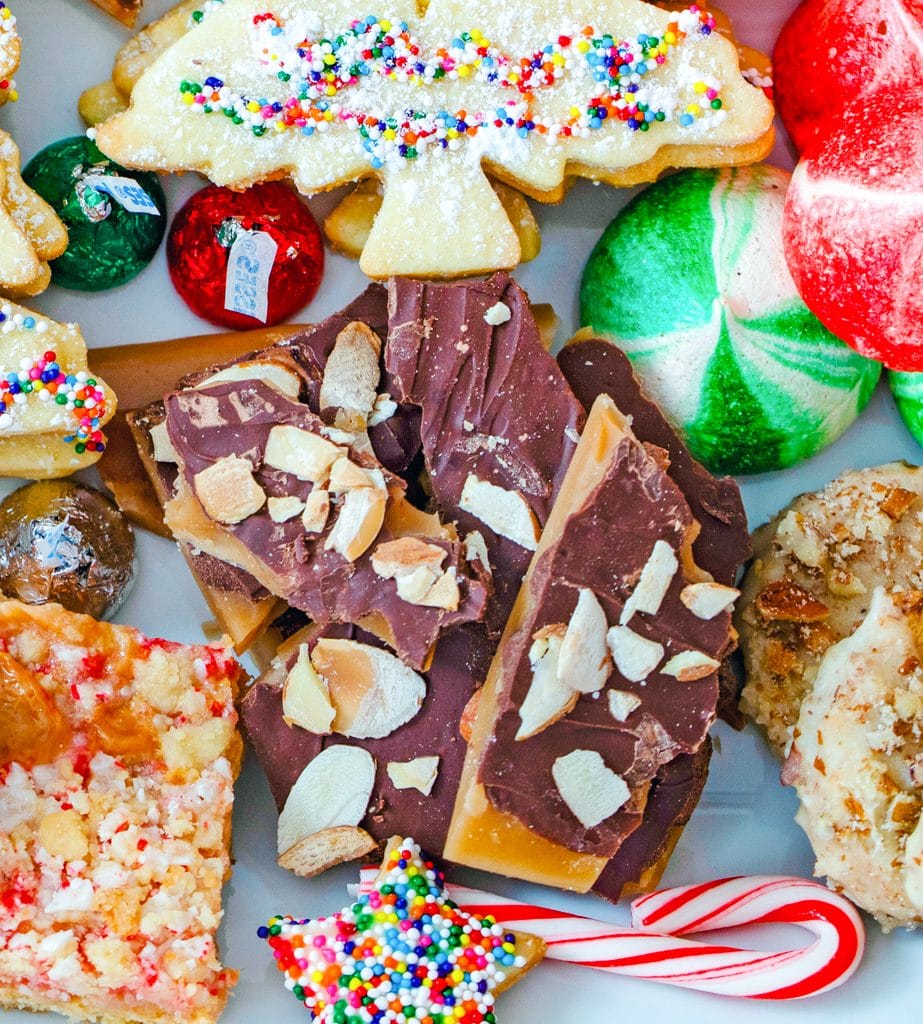 Stick to a simple platter:
I have so many pretty marble and decorative platters, but chose to stick to a big simple white platter here. The focus should be on the cookies instead of what you're serving them on.
Also, make sure your platter is large enough to fit all your cookies without having to overlap them too much.
Get creative with the cookie tray add-ins:
Fill in any empty spots on your cookie tray with fun candies and decor in holiday colors. Whether it's Hershey Kisses, candy canes, or little jingle bells, these add-ins will help fill out your platter.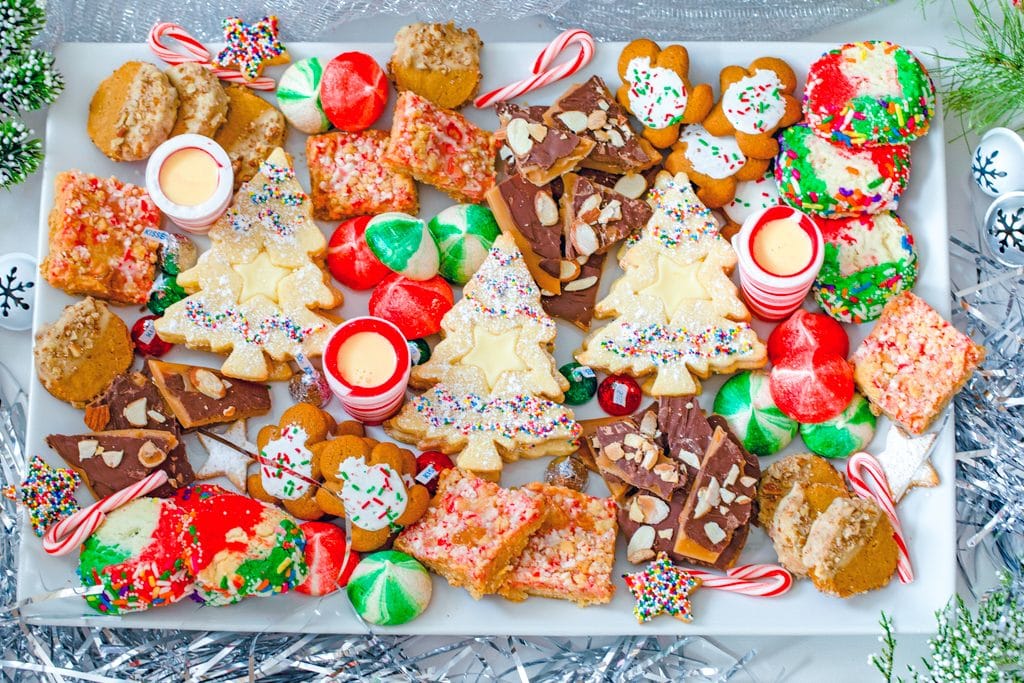 Bakeries can be your friend:
Though I am a huge proponent of baking the cookies that go on your holiday cookie platter, I also fully recognize that the holiday season is an incredibly busy time and you may not have time to bake 6-8 different cookies for your tray.
Pick a cookie that is pretty complicated or that you know a specialty bakery could do better and purchase it instead of baking it. I bought those gorgeous Italian champagne cookies on my platter.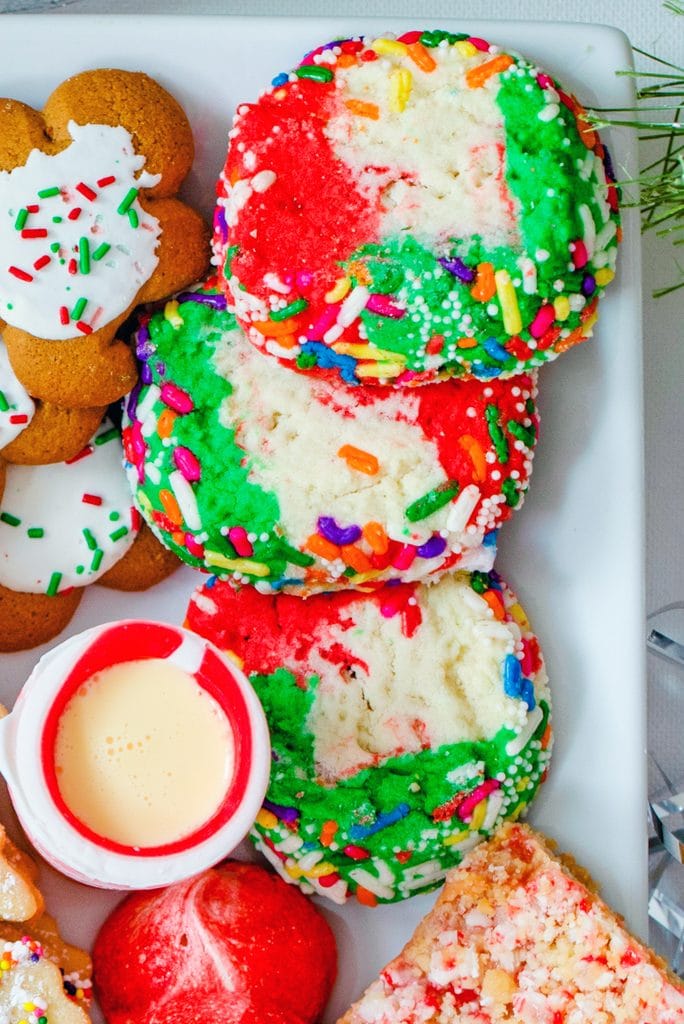 Keep some cookies in the kitchen:
If you're in a setting where it's easy enough for you to re-stock the cookie platter, don't put all the cookies out all at once.
Arrange the cookies how you want them and keep your eye on what people are going for the most. Then re-fill empty spots as necessary.
This helps your cookie tray from getting overcrowded and also ensures it looks robust throughout the party.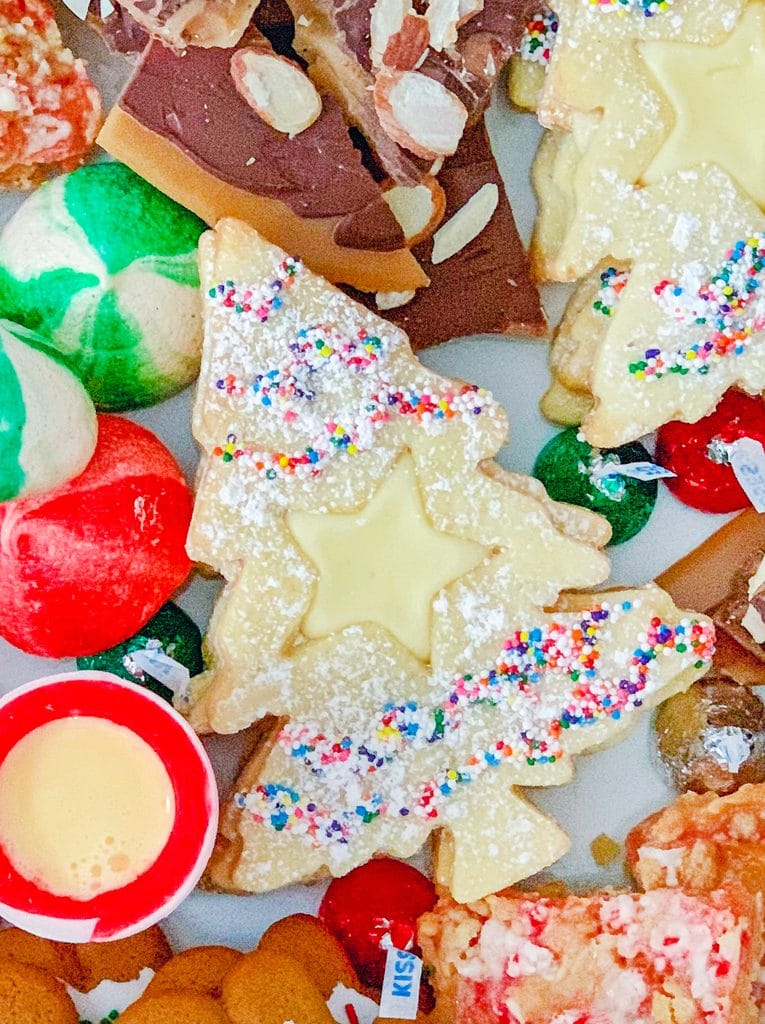 Always include eggnog:
Your guests will need something to wash down all those delicious cookies and eggnog is the perfect option!
I love the idea of incorporating the eggnog right into the holiday cookie tray (I found these adorable little edible candy cane glasses), but at least make sure you have plenty of Hood Eggnog and glasses on hand near the cookies.
You can also always feel free to include eggnog in the actual cookies... The Christmas tree cookies on my platter involve eggnog in both the cookie and the icing (here is the recipe for the eggnog linzer cookies!).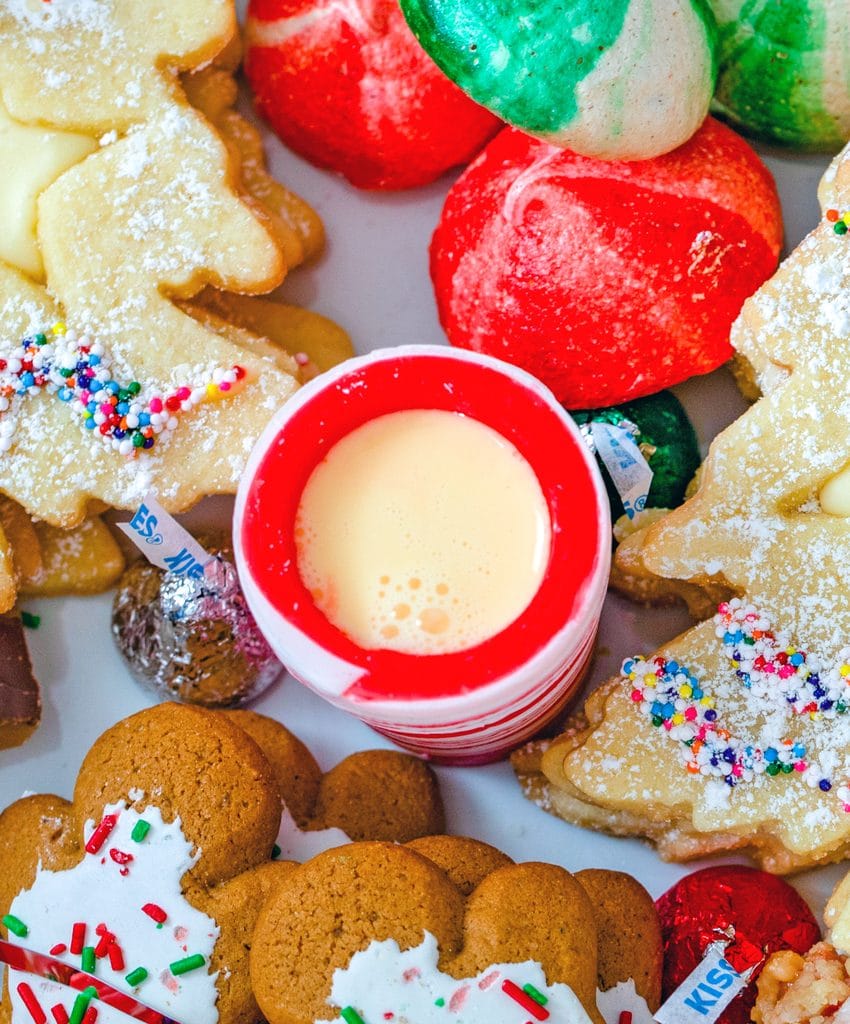 Send guests home with leftovers:
Make sure you have a stock of disposable plates so when the party is over, you can make up some little cookie plates for your guests to take home. If party guests are too busy chatting or are too full from all of the other delicious party food, they'll be thrilled for the chance to take a variety of cookies home with them for later.
And you? You won't be left with a ridiculous stock of cookies in your house. I'll let you decide if that's a good thing or a bad thing.
Dare I say that a holiday cookie platter is even more exciting that a cheese plate?? In any event, I think it's time for you to get baking! But first, feel free to relax and enjoy the holiday season (and some cheesy made-for-television holiday movies) with a cold glass of eggnog.
Of course, Hood Eggnog season doesn't last forever, so make sure you go to your local grocery store to get it while you can, so you can make it a part of your holiday traditions and cookie platters. Check out the Hood website to see more information about the eggnog flavors and get recipes using Hood Eggnog.
What's your favorite holiday cookie?
Christmas Cookies Perfect for Cookie Platters
If you need more ideas, here are my favorite cookies and other treats for adding to holiday cookie platter