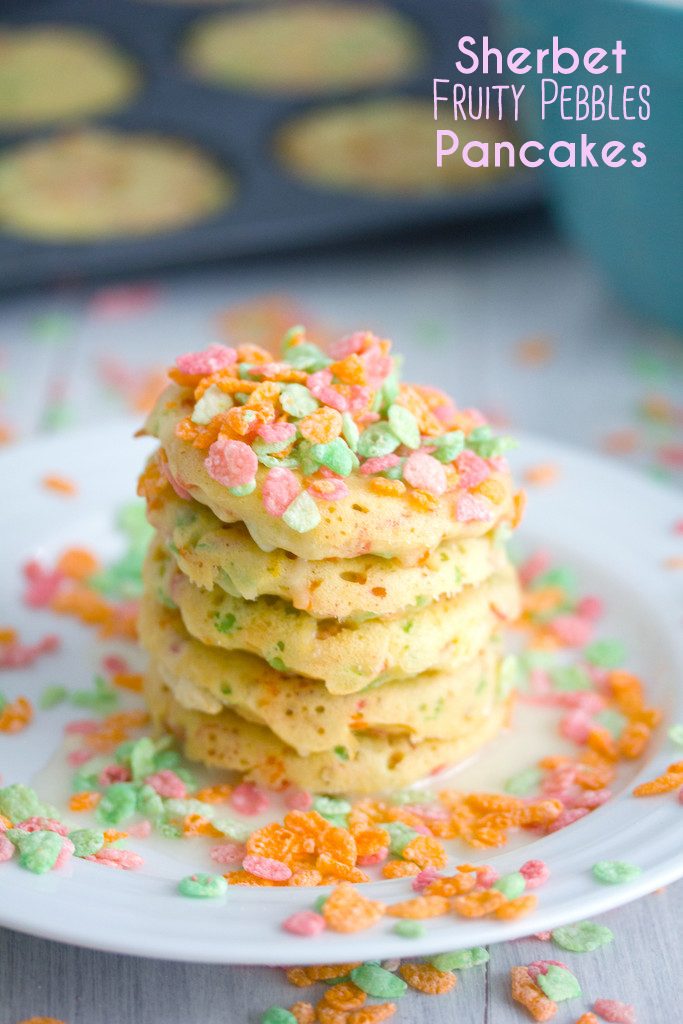 Did you know that in some parts of this country, kids are already back in school?? Seriously. That just blows my mind. It also kind of blows my mind that we're already three days into August to begin with. But the fact that kids are putting on their new corduroy overalls and packing up their LL Bean backpacks (wait, it's not still 1992?) is not OK. I mean, the next three days are going to be 90 degrees here. Hi, that is summer. Back to school is for September. August is for sleeping in, lazy days on the beach, and eating ice cream for lunch. Well, unless you're an adult and have a full-time job. Then August is really just like September, October, and November… except at least it's light out when you leave at the end of the day when you leave the office. #thankful
When I'm not at work, I've been eating my fair share of summer ice cream and for some reason, this has been the summer of sherbet for me. I've been in love with it this season; eating it by the carton-full and dreaming of making these sherbet cupcakes again. So, um, when I saw a new kind of Fruity Pebbles on grocery store shelves, I got a little excited. They're called Ice Cream Pebbles, but I think that's a little bit deceiving because they're actually Rainbow Sherbet Fruity Pebbles!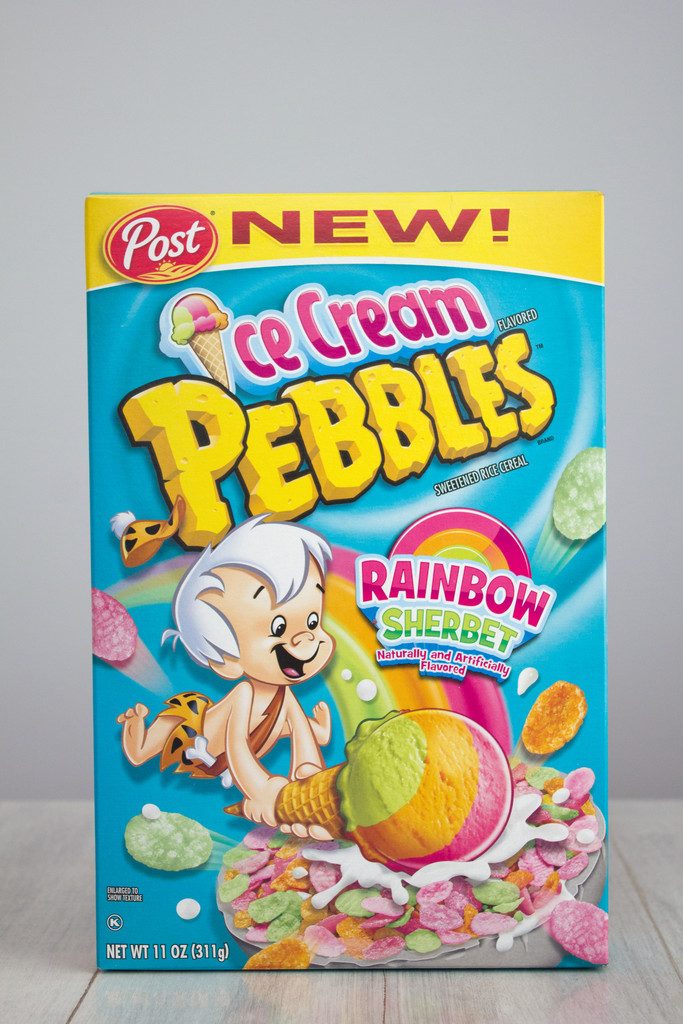 And yes, they really do taste like sherbet. Hello summertime sugar bomb cereal. I thought of about 14 different recipes I immediately wanted to make with these new Pebbles, but I decided to start with pancakes. Cereal and pancakes married together... This is basically double breakfast.
Even better? I baked the pancakes. In a whoopie pie pan! This is a pancake making technique I've been hearing about for a while now and I decided this would be the perfect time to try it. I got 12 perfectly shaped pretty mini pancakes.
If you can make regular pancakes, you can make whoopie pie pan pancakes. You use the same type of batter.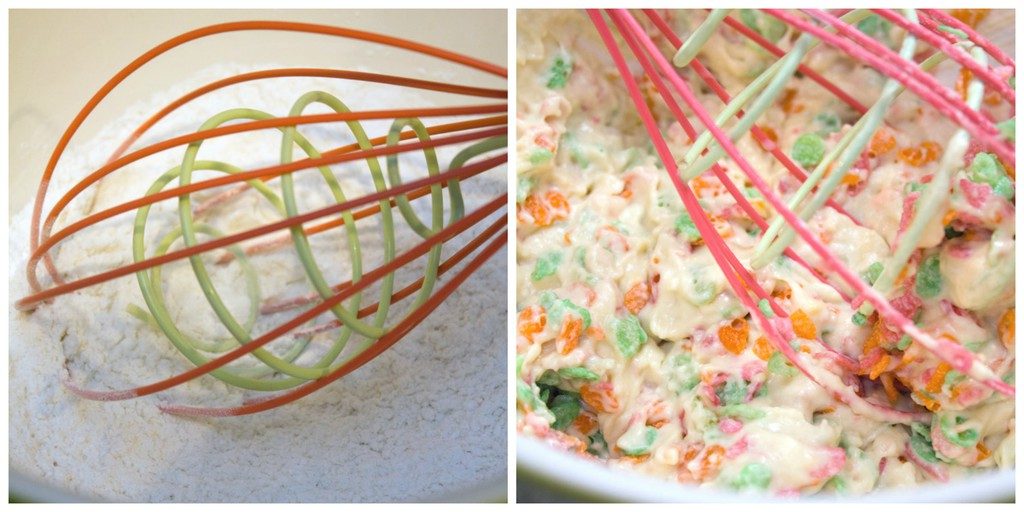 But you bake them in a whoopie pie pan!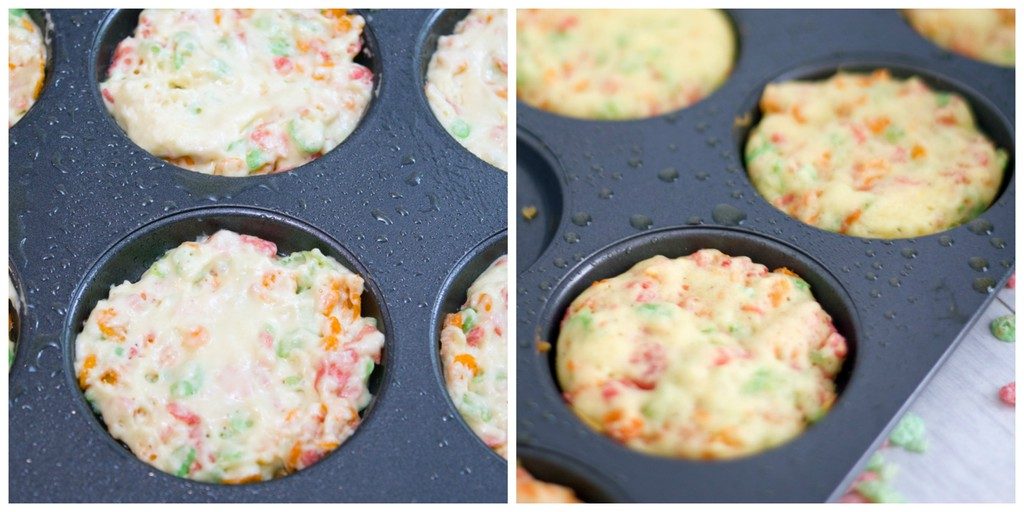 I think this is the perfect way to make pancakes for a crowd… especially if you have more than one pan (I use the Wilton Whoopie Pie Pan). This way you can ensure that all pancakes are the same size… And done at the same time.
Call me crazy (maybe I am!), but maple syrup wouldn't really go with these pancakes… So I made a quick vanilla icing instead. It's allowed on the weekend. I promise.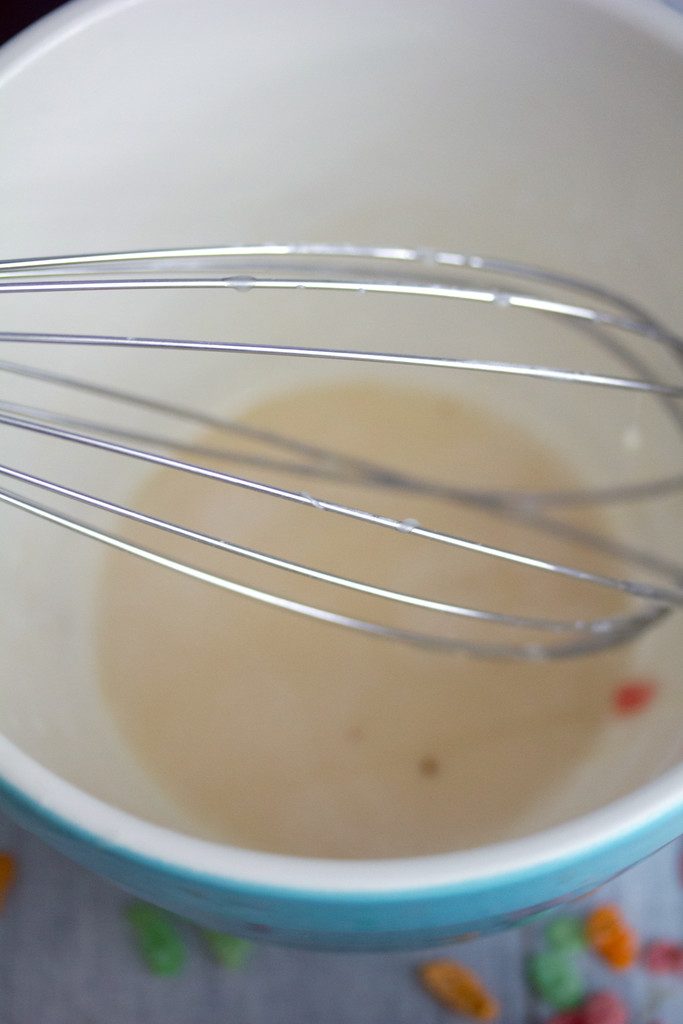 And you can just go ahead and drizzle that vanilla icing over a stack of the pancakes. And then sprinkle more Sherbet Pebbles around. Yeah… I got a little ridiculous.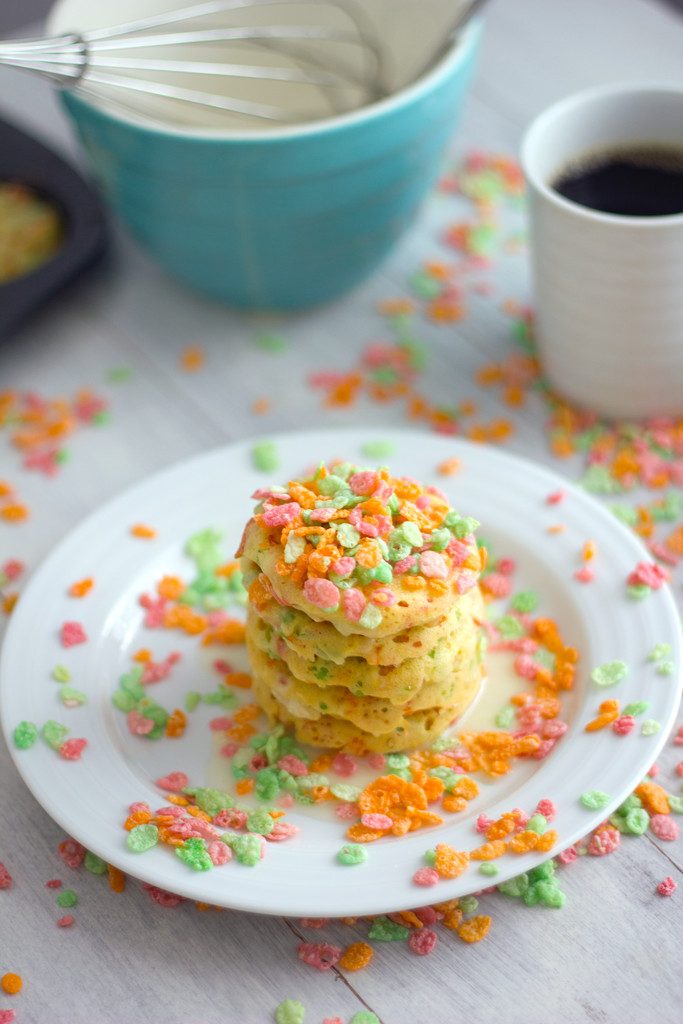 But the Sherbet Pebbles are definitely out for a limited time only so I took full advantage. It's not like I'll be making these pancakes ever day.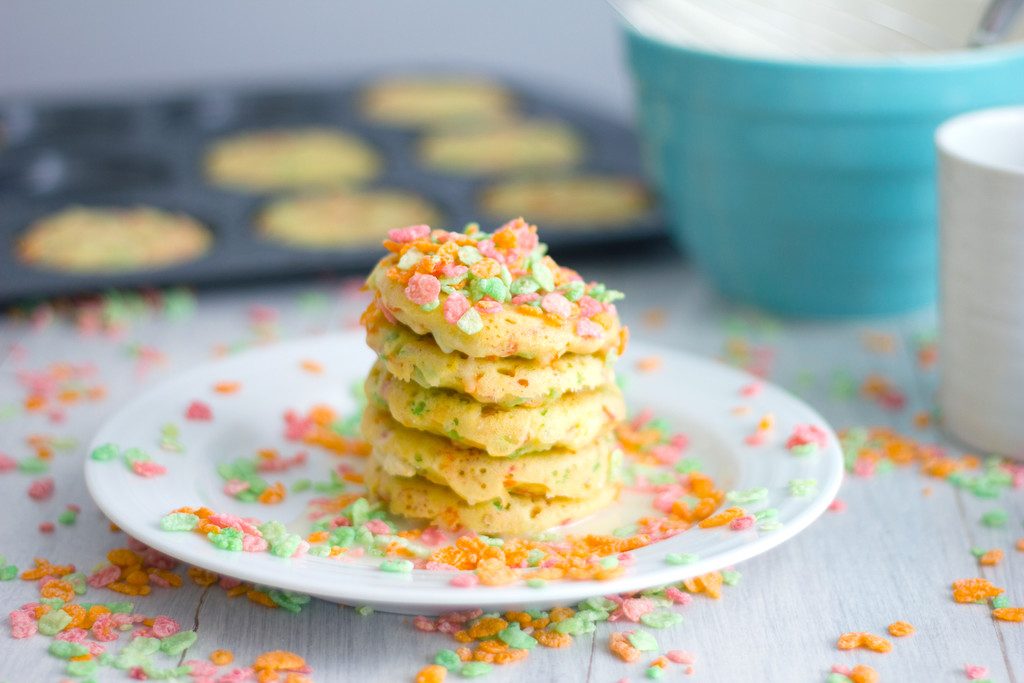 They're pretty much a summertime weekend only thing. Though I have to admit that I may have an easier time getting out of bed for work in the morning if I knew I could eat these first thing.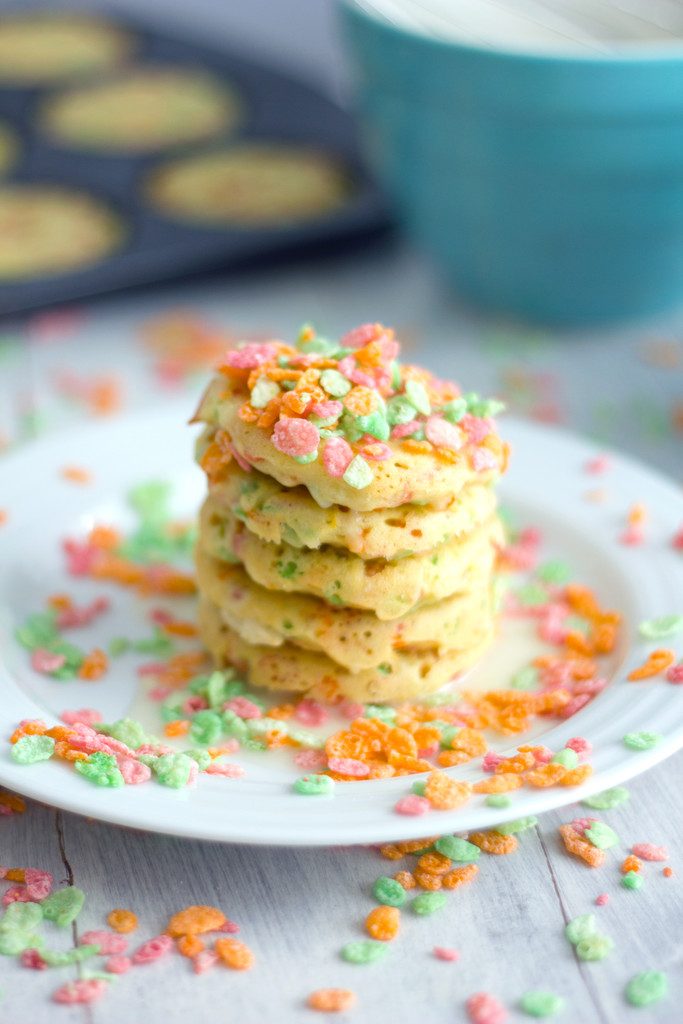 Something tells me your kids' teachers wouldn't appreciate you sending them to school after a breakfast like this. Vanilla icing in the morning? Totally what summers are for.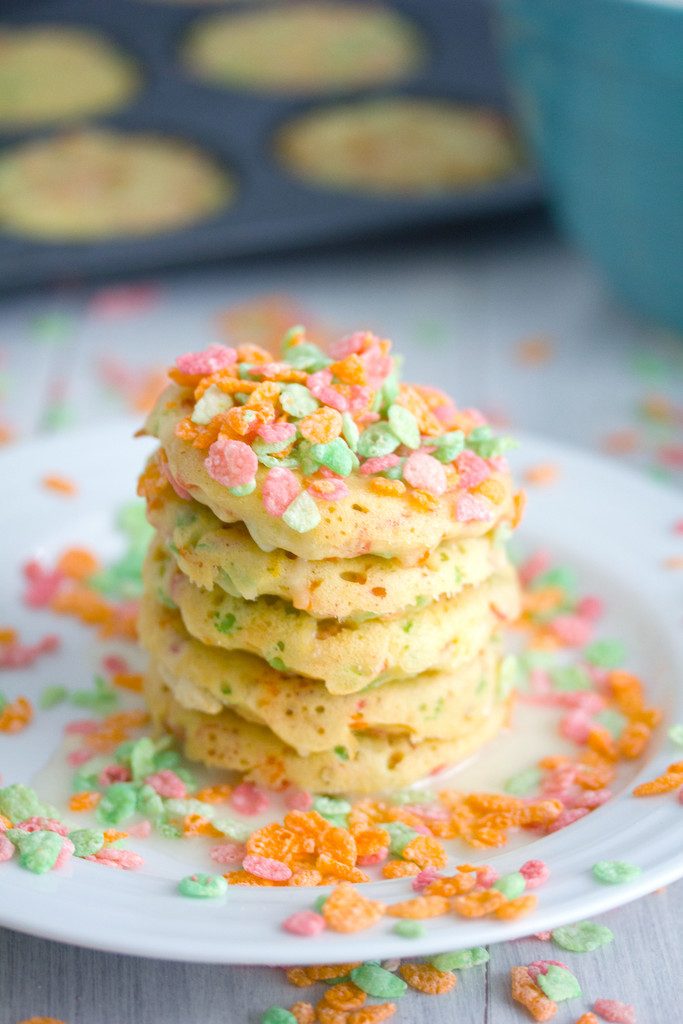 And don't try to tell me it's inappropriate because doughnuts are totally loaded with vanilla icing and many of us fully support doughnuts for breakfast on occasion.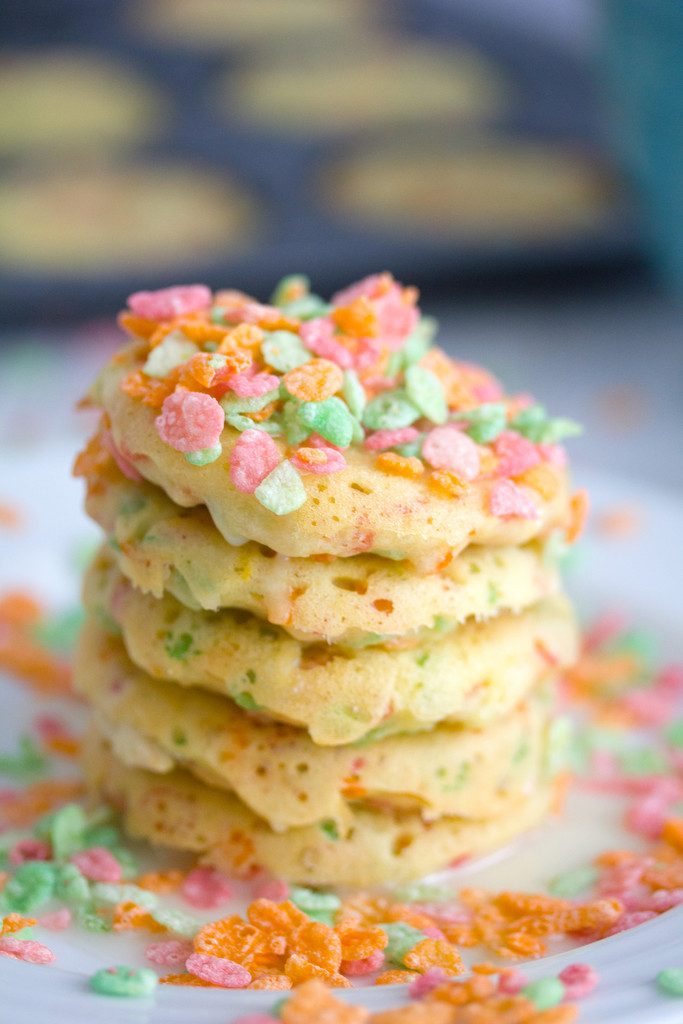 I loved that these were little whoopie pie shaped pancakes. They took just about 8 minutes in the oven and tasted as good as any pancake I've made on a skillet. Whoopie pie pan pancakes are totally my new obsession.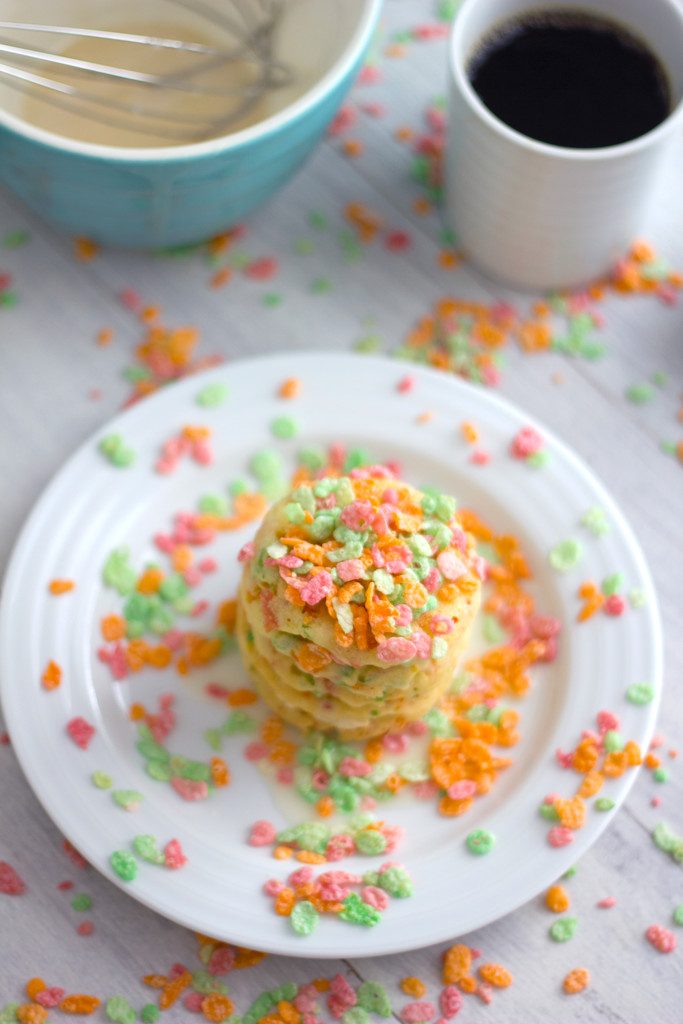 And I'm also pretty thrilled that I now have another way to further my sherbet obsession this summer. And I'm open to more ways, too... Because, you know, it's only August 3. There's still plenty of summer left.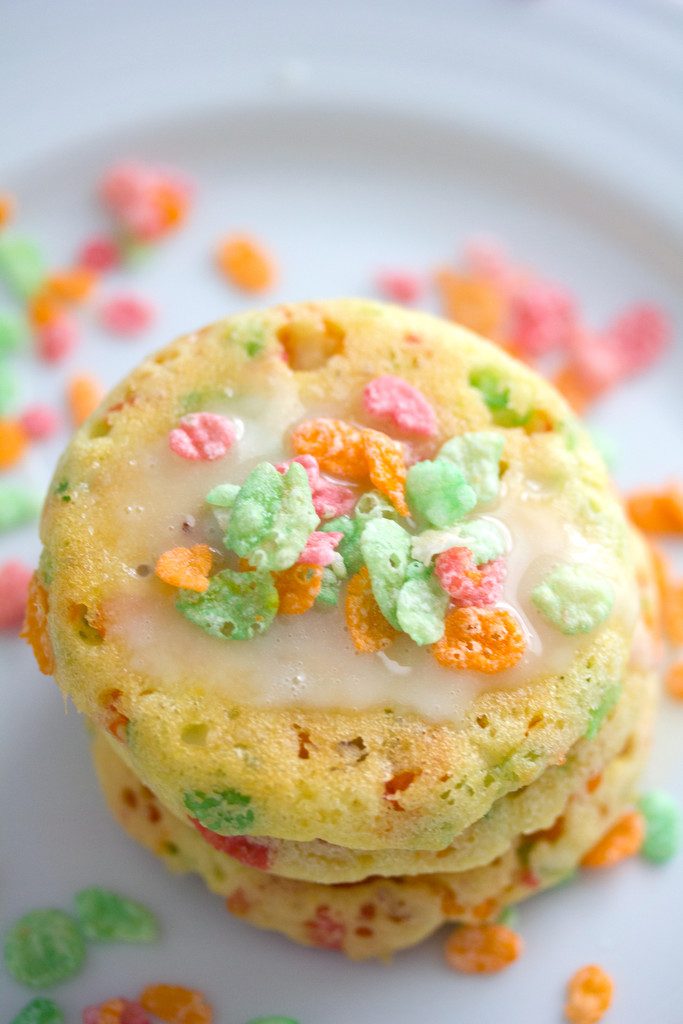 Granted, that's summer in an office for many us grownups. But I'll be dreaming of weekend breakfasts to help get me through the week!
Vanilla icing is acceptable on pancakes, yes or no?
Happy Monday!
📖 Recipe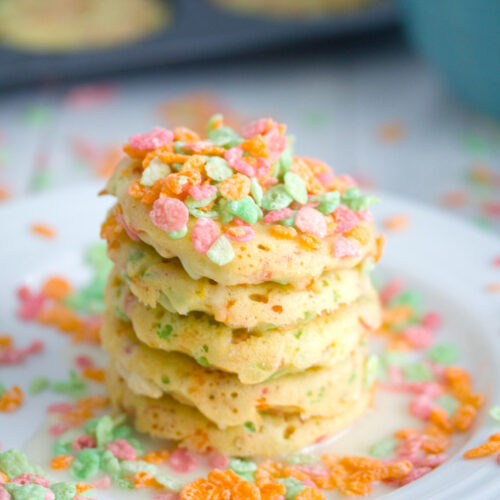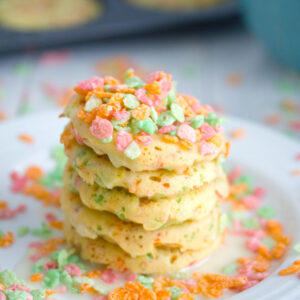 Sherbet Fruity Pebbles Pancakes
These colorful mini pancakes can be made with any variety of cereal, but the new Sherbet Fruity Pebbles contribute a fun summer flavor. The best part? The pancakes are made in a whoopie pie pan, so they can be easily baked in 7-9 minutes!
Print
Pin
Rate
Ingredients
¾

C

flour

2

t

baking powder

1

t

sugar

½

t

salt

½

C

light soy milk

or milk of choice

2

T

melted butter

1

egg

1

t

vanilla

1

C

Sherbet Fruity Pebbles

plus more for topping

Vanilla Icing

recipe below
Vanilla Icing:
½

C

confectioners sugar

1

T

milk

¼

t

vanilla
Instructions
Pre-heat oven to 350 degrees and lightly spray a whoopie pie pan with oil.

In a large bowl, whisk together flour, baking powder, salt, and sugar.

Add milk, melted butter, egg and vanilla to dry ingredients and whisk until smooth.

Fold in Sherbet Fruity Pebbles

Fill cavities of whoopie pie pan halfway.

Bake 7-9 minutes at 350 degrees, until just beginning to turn golden around edges.

Immediately remove pancakes from whoopie pie pan and stack pancakes on plates.

Pour vanilla icing over pancake stacks and sprinkle with more Sherbet Fruity Pebbles
Vanilla Icing:
In a medium bowl, whisk together confectioners sugar, milk, and vanilla.
Share a Photo of Your Finished Recipe!
Mention @wearenotmartha and share a photo if you've made the recipe!