Can't decide between cake or pie? With Sour Cream Pumpkin Pie Bundt Cake, you don't have to! This fall sour cream bundt cake dessert lets you enjoy the best of both worlds.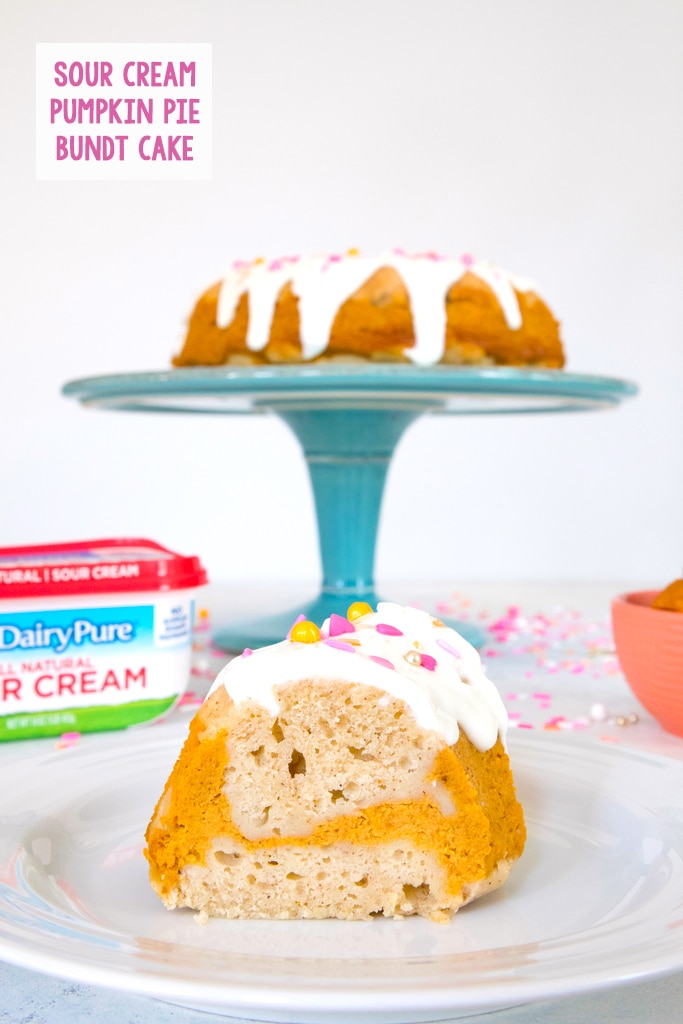 This post has been sponsored by DairyPure Sour Cream, but as usual, all opinions are my own. Thank you so much for supporting We are not Martha!
Pie or cake? That is the eternal question. In my "old" age, I think I have swapped from being a cake person to more of a pie person. I love pie. Like, so much. But I'm also one of the worst decision makers in the entire world (I'm not really a huge astrology lover, but I have to admit that I'm a Libra through and through) and making the decision between cake and pie legitimately hurts me.
Instead of learning to effectively make decisions, which would probably benefit me in many areas of life, I have perfected the art of avoiding decision making. Hence the recipe I'm sharing with you today for Sour Cream Pumpkin Pie Bundt Cake. Rather than deciding between two heavenly desserts, I combined them together, so you can have your cake and um, eat your pie, too.
Sour Cream Pumpkin Pie Bundt Cake Recipe
Let's talk about sour cream for a minute. It's likely you've used it to top your tacos or perhaps you've even made a sour cream-based dip, but have you ever added it to your desserts?
When I started thinking about the kind of recipe I wanted to make for my partnership with DairyPure Sour Cream, I knew I didn't want to do something typical and once I started thinking about cakes and pies, I couldn't get them out of my mind and I couldn't decide which one I wanted more.
I realized that sour cream was the perfect addition to cake, pie, AND icing, so I added it to all the elements and created my Sour Cream Pumpkin Pie Bundt Cake.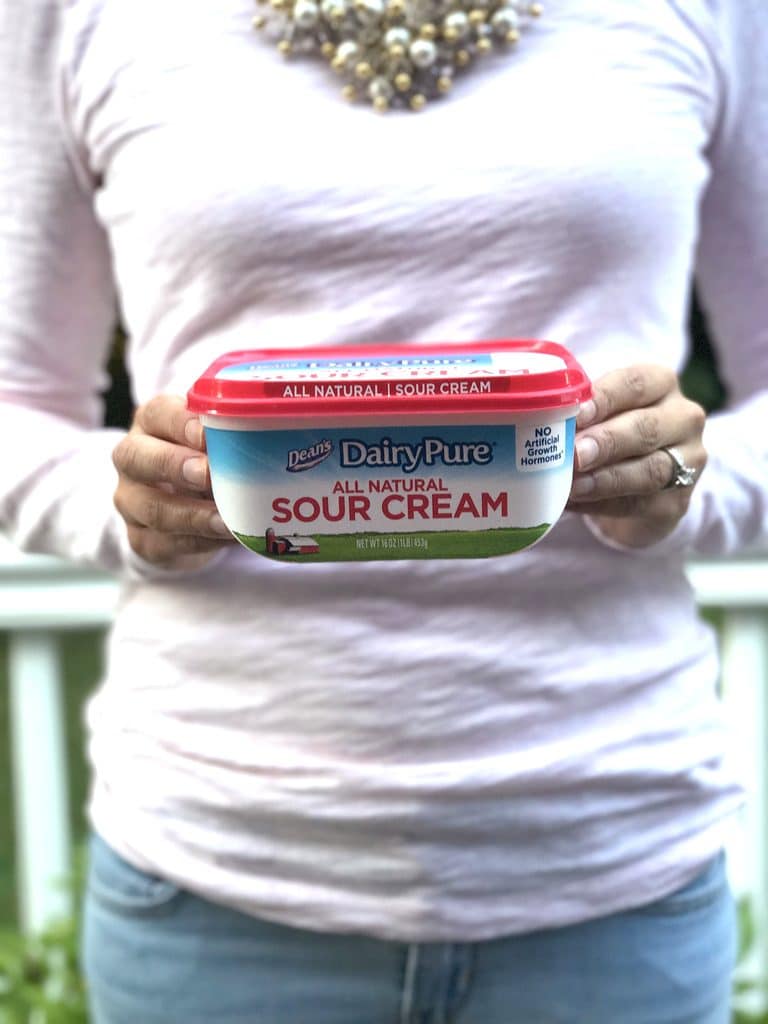 First off, I LOVE DairyPure's packaging. It's made to be fridge-friendly and feels so much more modern than traditional sour cream packaging. I was also excited by the fact that their sour cream is made with fresh cream and milk from their own dairy, has no artificial growth hormones, and is backed by a 5-Point Purity Promise (meaning it has the freshest taste).
DairyPure Sour Cream comes in both All Natural Sour Cream and Light Sour Cream (50% less fat and 41% fewer calories) varieties, but I used All Natural for this recipe since I wanted a richer dessert.
While there are lots of elements to this pie cake, it's actually pretty easy to pull together. Especially considering both the pie and sour cream icing call for putting all the ingredients together in one bowl and whisking.
You'll want to layer the cake and pie in the bundt pan, first pouring in half the cake batter, then pouring in all of the pumpkin pie filling, followed by layering the remainder of the cake batter on top.
Pop it in the oven for about 45 minutes, let it cool a bit and voila! Your pie cake is complete.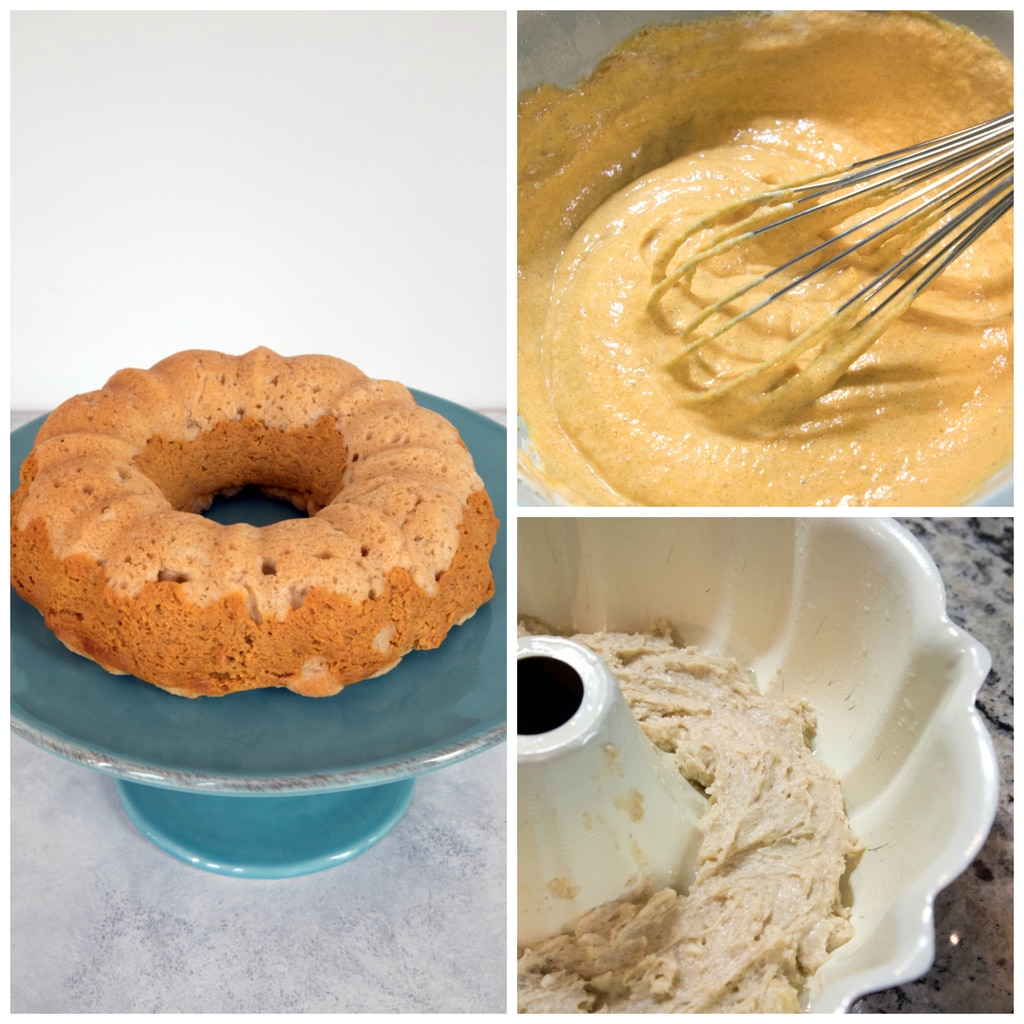 One you've flipped the bundt pie cake out of the pan and let it cool, whisk together your icing and drizzle a nice healthy amount over the top.
Decorating with sprinkles is totally optional, but always a good idea.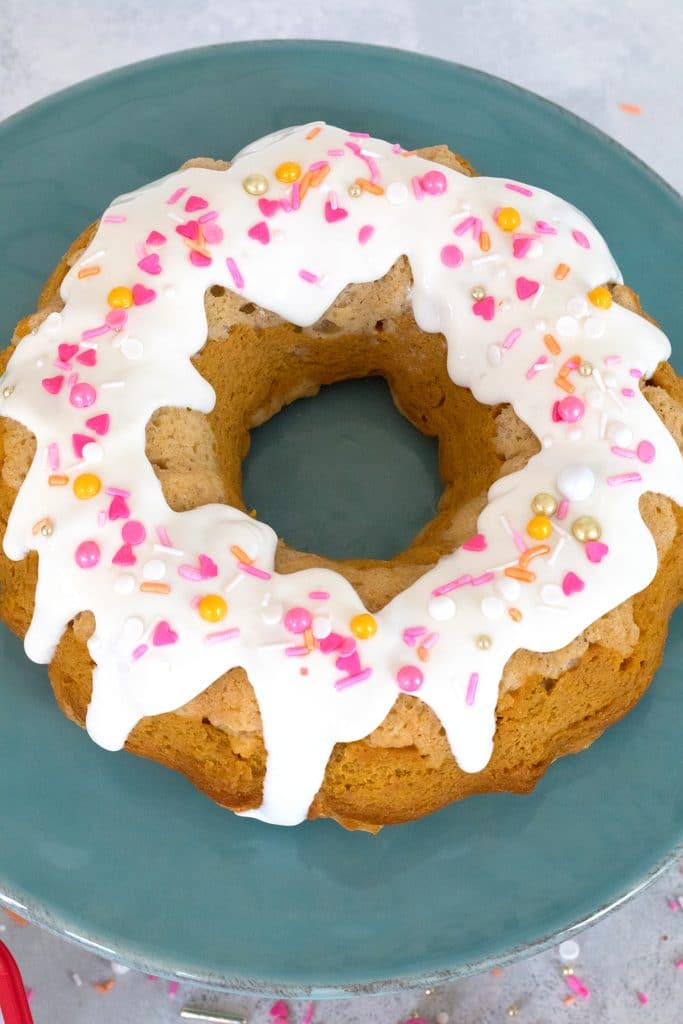 I am so, so excited by how this pie cake turned out. It's exactly what I was dreaming about and is the perfect way to kick off the fall season.
Just an FYI: when you're layering the batter into the bundt pan, you might feel like you don't have enough cake batter, but don't worry, it spreads and rises.
The pie will come up around the sides, but will also give you a beautiful swirl right through the middle.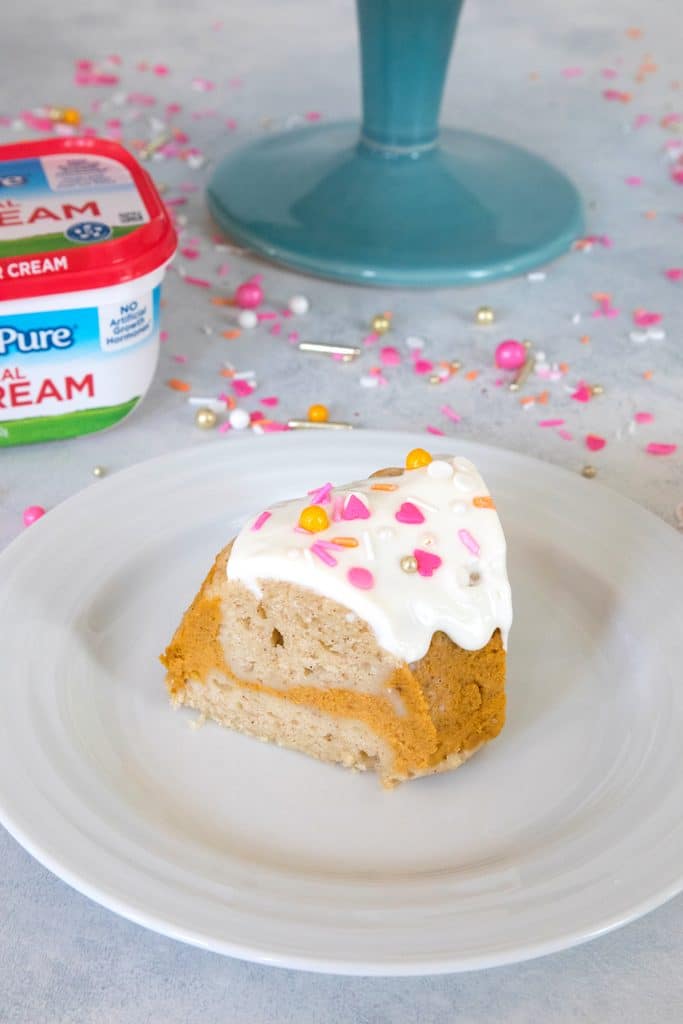 I know you want to talk about what the sour cream does to this dessert, so let's do it. The older I get, the more I find that I want to cut down on the sweetness of my desserts a bit and instead prefer desserts with richness. That's exactly what the sour cream does here!
It makes an ultra rich spiced cake; one that's incredibly moist, but denser than your average cake. In the pumpkin pie filling and icing, the sour cream cuts the sweetness and adds a nice little tart zing.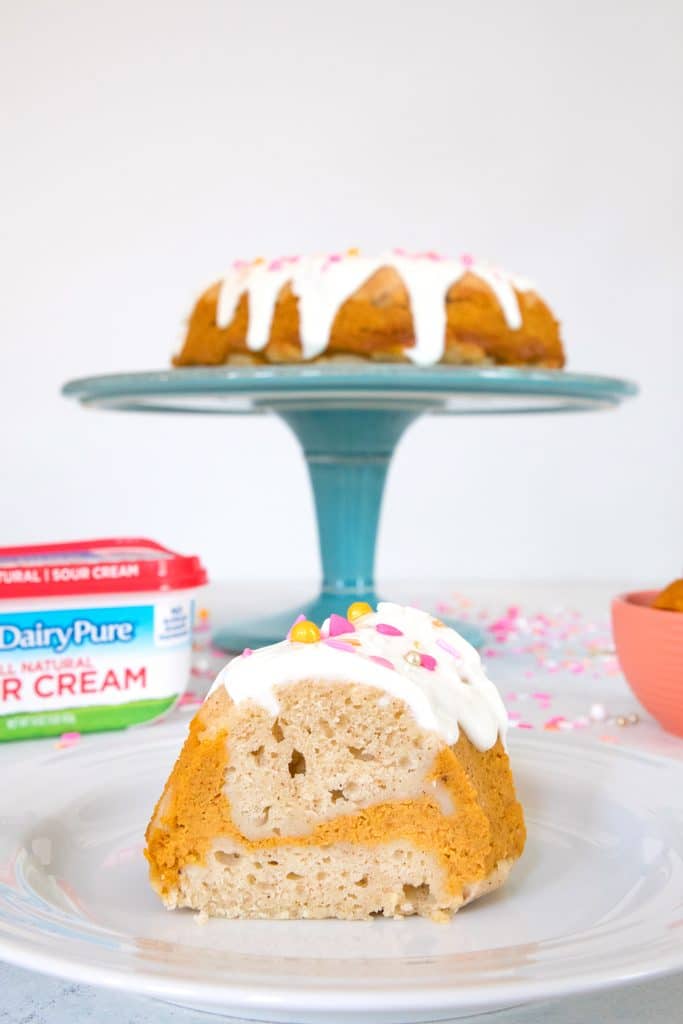 It's the kind of cake you want to curl up on the couch with after dinner. Just a small slice of sour cream bundt cake is enough because it's rich and you'll want to eat it slowly. Definitely a cake for fall.
There's no denying a nice flaky pie crust can be heavenly, but in my opinion, a rich moist cake is even better. But my favorite part of this whole shebang is that thick layer of sour cream icing; you won't find any wimpy drizzles in my house.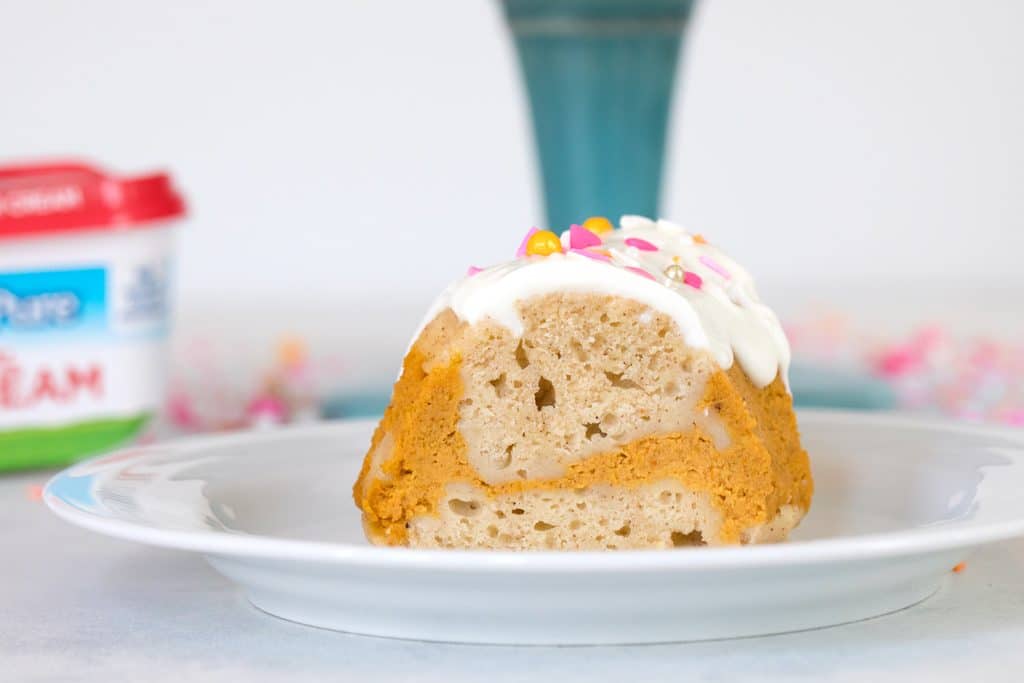 Now that I know how well sour cream incorporates into cake, pie, and icing, I'm thinking about what other desserts I can add it in. Also? I've started to seriously crave a giant bowl of french onion sour cream dip and think I need to make a homemade version.
I honestly feel like sour cream is one of the most under-appreciated condiment (though mayo gets the most hate!) because people don't realize its full potential and what a difference it can make in all sorts of dishes, both sweet and savory.
Sometimes you just need to think a little bit outside the box to realize all of the awesome recipes you can incorporate it into.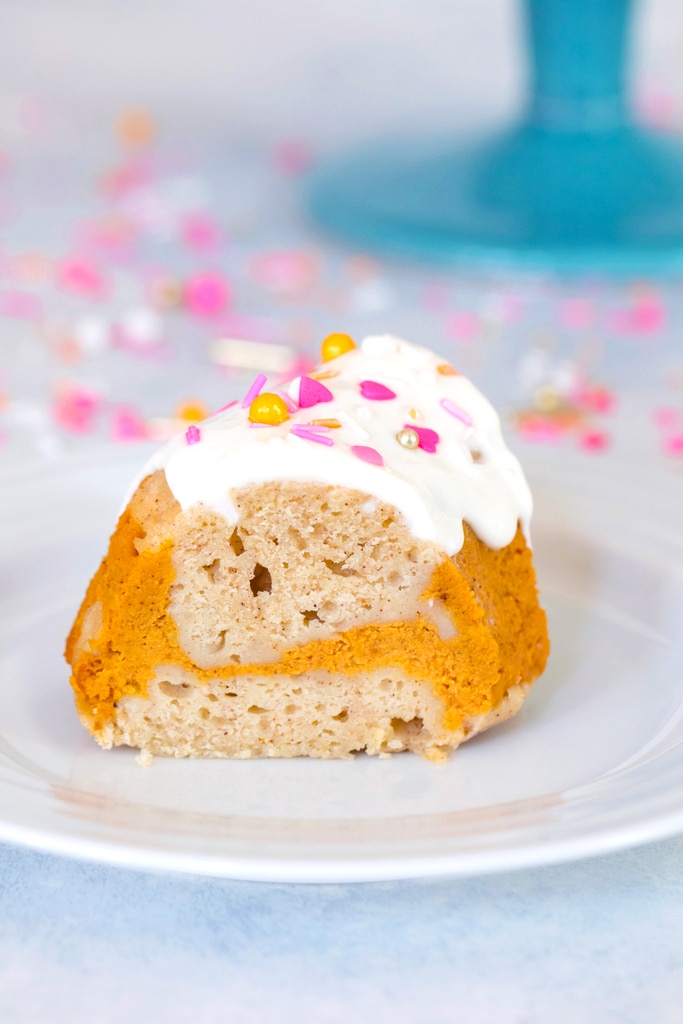 But now if you'll excuse me, I need to go sit on my couch, turn on some bad reality television (not apologizing for it) and have another slice of this Sour Cream Pumpkin Pie Bundt Cake. Happy almost fall, y'all!
Have you ever used sour cream in your baking?
If you like this pumpkin pie bundt cake recipe, check out my Pumpkin Cinnamon Rolls and my Pumpkin Cookie Dough Bars. I also really want to try this Pumpkin Pie Coconut Pudding from Tastefulventure!
📖 Recipe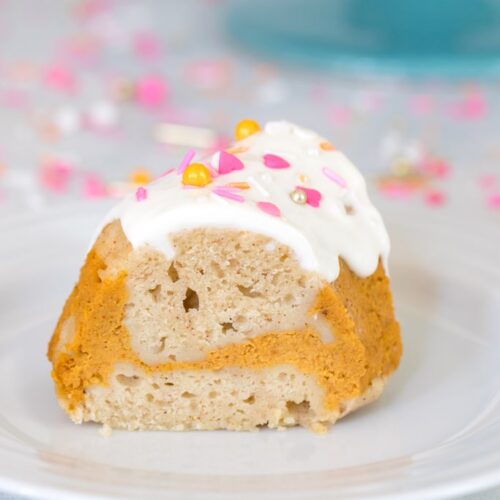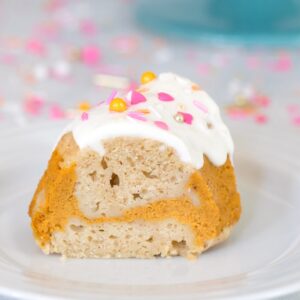 Sour Cream Pumpkin Pie Bundt Cake
Can't decide between cake or pie? With Sour Cream Pumpkin Pie Bundt Cake, you don't have to! This fall sour cream bundt cake dessert lets you enjoy the best of both worlds.
Print
Pin
Rate
Ingredients
Cake
1 ¾

cups

all-purpose flour

1½

tsp

baking powder

1

tsp

cinnamon

½

tsp

nutmeg

¼

tsp

ginger

¼

tsp

salt

1

stick unsalted butter,

room temperature (plus more for pan)

¾

cup

granulated sugar

2

large eggs

1

cup

DairyPure Sour Cream
Pumpkin Pie Filling
1

cup

pumpkin puree

¾

cup

DairyPure Sour Cream

½

cup

granulated sugar

1

large egg,

lightly beaten

½

tsp

cinnamon

¼

tsp

nutmeg

¼

tsp

ginger

¼

tsp

salt
Sour Cream Icing
¾

cup

DairyPure Sour Cream

½

cup

confectioners' sugar

¼

tsp

vanilla

¼

tsp

milk
Instructions
Cake and Assembly
Preheat oven to 350 degrees and lightly grease a 9-inch bundt pan.

In a medium-sized bowl whisk together flour, baking powder, cinnamon, nutmeg, ginger, and salt.

In the bowl of a stand mixer or in a large bowl with a hand mixer, beat butter and granulated sugar on medium speed until pale and fluffy, about 2 minutes.

Beat in eggs, one at a time, until well blended.

Mix in flour mixture in 3 additions, alternating with sour cream.

Spoon half of the batter into the prepared pan.

Pour all of the pumpkin pie filling over the layer of cake batter.

Spoon the remaining batter over the pumpkin pie filling and gently spread with a spatula. If your batter doesn't completely cover the pie filling, that's OK. The cake will expand and rise as it bakes.

Bake at 350 degrees for about 45 minutes, until a toothpick inserted into the top cake layer comes out clean.

Remove from oven and jiggle gently to loosen edges of cake from pan (if this doesn't work, you can gently use a spatula). Place upside down on metal rack and let cool for about 10 minutes. Then lift bundt pan from cake and let cake remain on rack to cool completely.

Once cake has cooled, pour sour cream icing over the top of the cake, letting it drizzle down the sides. Top with sprinkles if desired.
Pumpkin Pie Filling
In a large bowl, combine the pumpkin puree, sour cream, sugar, egg, cinnamon, nutmeg, ginger and salt. Whisk together until smooth.
Sour Cream Icing
In a medium bowl, whisk together sour cream, confectioners' sugar, vanilla, and milk until smooth. If icing is too thick, add more milk ⅛ tsp at a time.
Share a Photo of Your Finished Recipe!
Mention @wearenotmartha and share a photo if you've made the recipe!