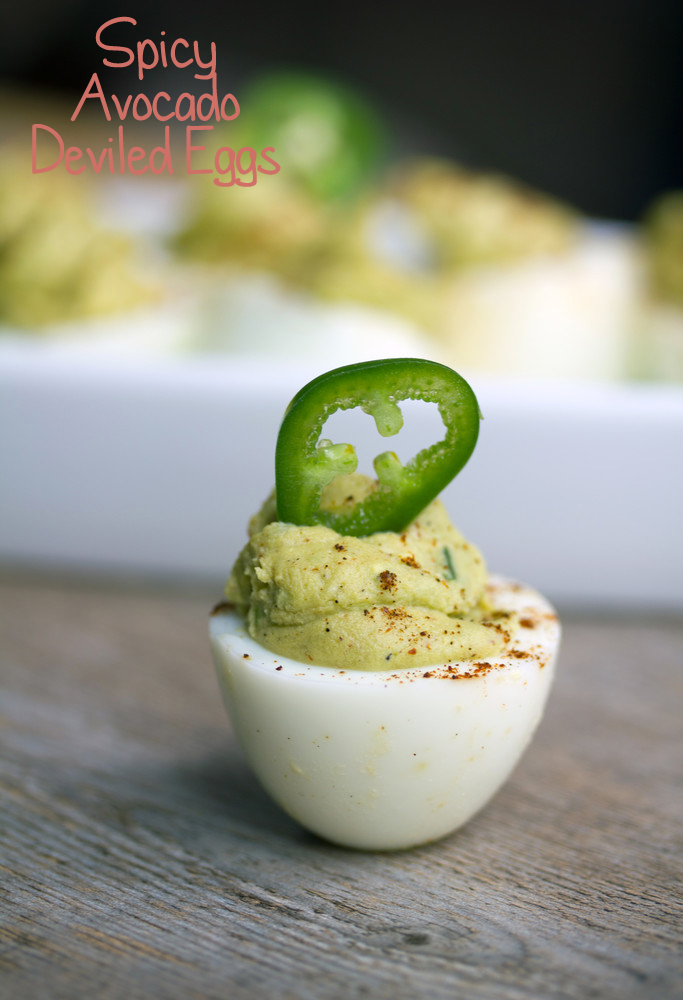 Like, how is it 2014 and I'm only just now getting around to making deviled eggs? Well, I guess it has something to do with the fact that I wasn't alive in the 60s... And it's only now that deviled eggs are coming back in style in a major way. A seriously major way. I feel like I can't turn a corner without bumping into a deviled egg. Luckily, that's an Internet corner and not a real actual hallway corner, otherwise it would get pretty messy and would potentially smell funny.
And yes, I'm jumping aboard the deviled egg train (again, this train is hypothetical) because how could I not? I think I'd have to include eggs in my top 10 foods and hardboiled eggs are basically only the best way to prepare eggs (OK, it's a heated debate with benedict). A couple years ago I made an avocado egg salad (and thus, combined two of my top 10 foods) and have made it about a bazillion times since then. So, I knew adding avocado to my deviled eggs was going to be a must. I was originally going to add Sriracha, too, but then I imagined the horrendous color the filling would turn out to be and I put a stop to that idea real quickly and chose jalapeño and chili powder as my spices of choice instead.
I'm of the belief that deviled eggs can either be really, really ugly or absolutely beautiful-looking. I'm hoping you'll group mine into the pretty category and if so, I owe it all to my good judgement not to use Sriracha. I still might make those deviled eggs in private, though, because I'm dying to taste them.
Spicy Avocado Deviled Eggs (makes 24):
Print this recipe!
12 eggs, hard boiled and peeled
2 avocados
1 jalapeño, finely diced, plus 1 sliced (for garnish)
1 t chili powder
½ t garlic salt
1 t lime juice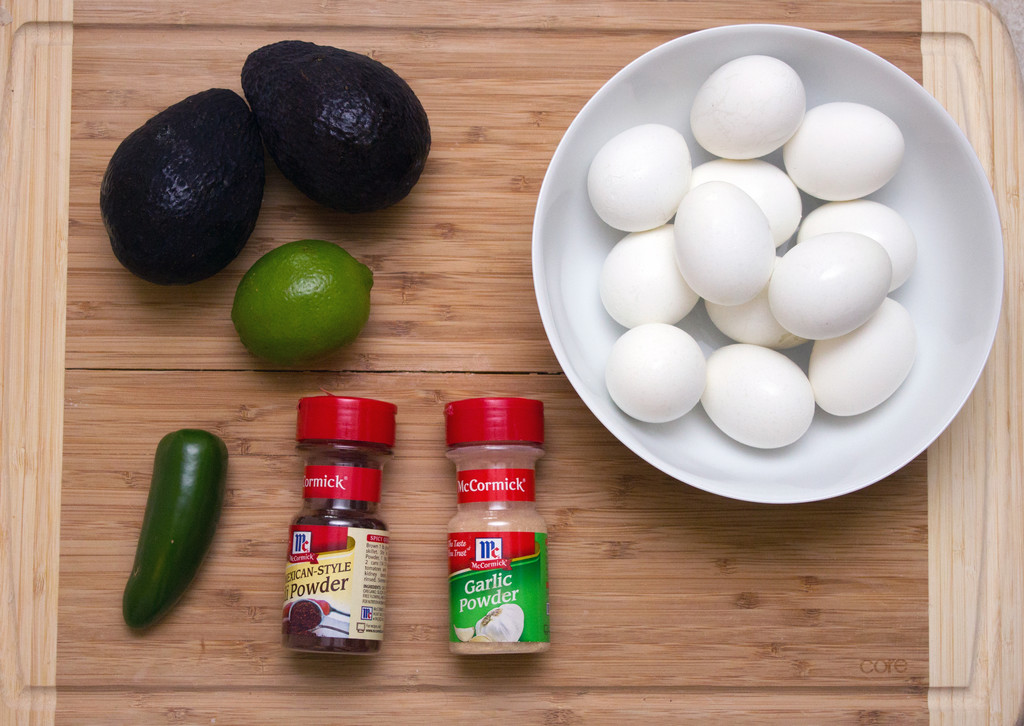 Call me crazy, but I always buy white eggs when I'm planning to hard boil (otherwise, I almost exclusively buy brown eggs from Eggland's Best). This is because fresh eggs are not best for hard boiling... And I always remember the jingle my mom sings, "Brown eggs are local eggs and local eggs are fresh."
Slice the hard boiled eggs in half (p.s. my favorite hard boiling method is here).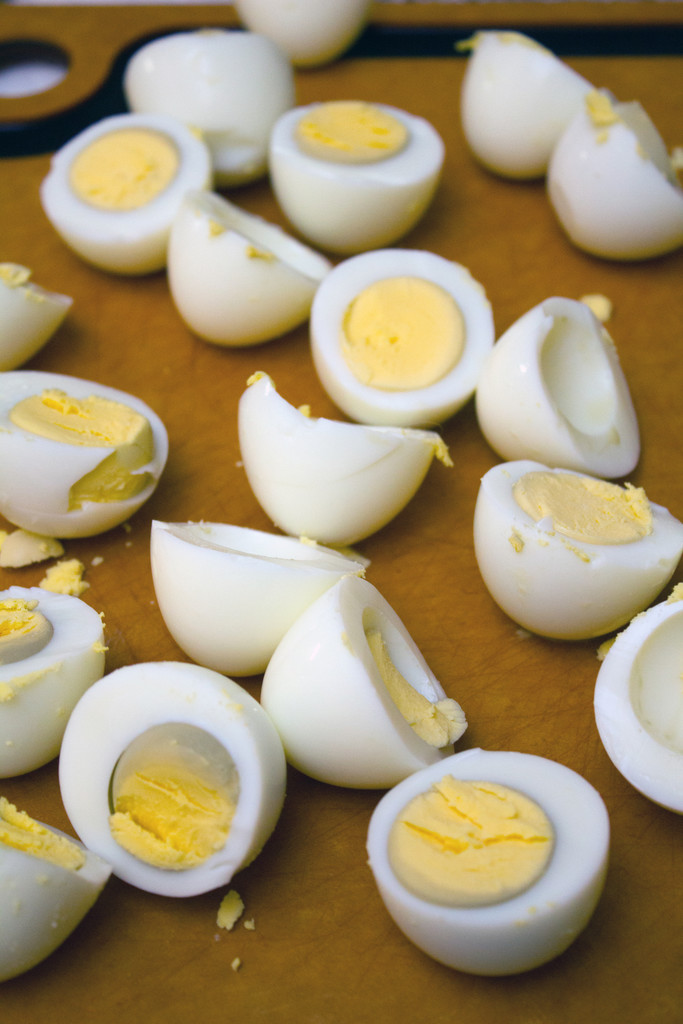 Slice in half and peel avocados, removing the pit.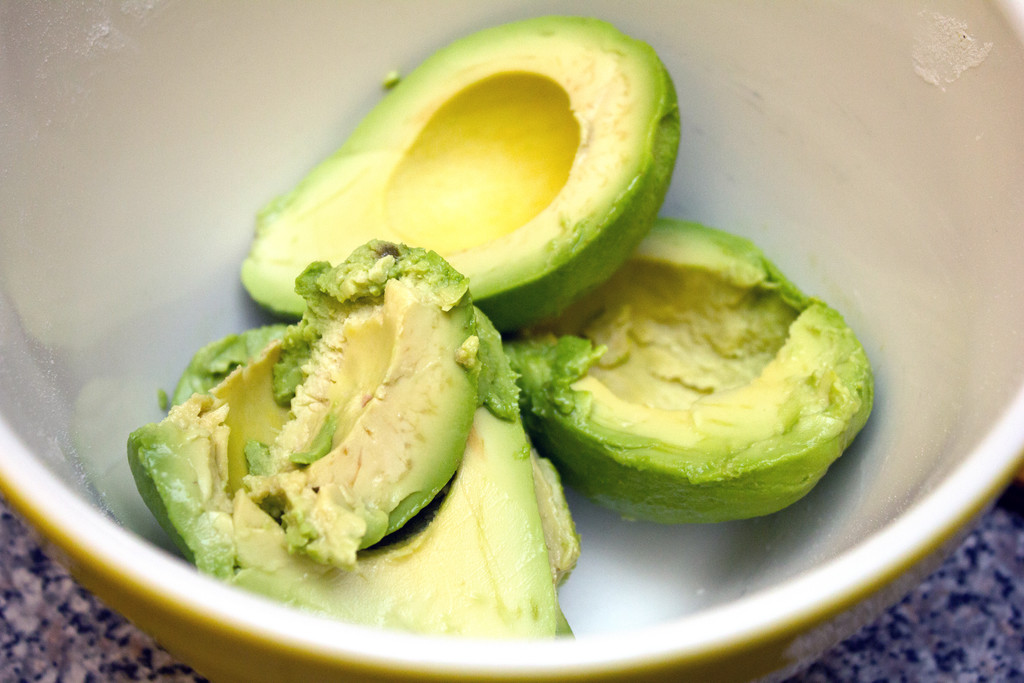 Using a spoon, scoop egg yolks out of eggs and place in a medium bowl with the avocado halves.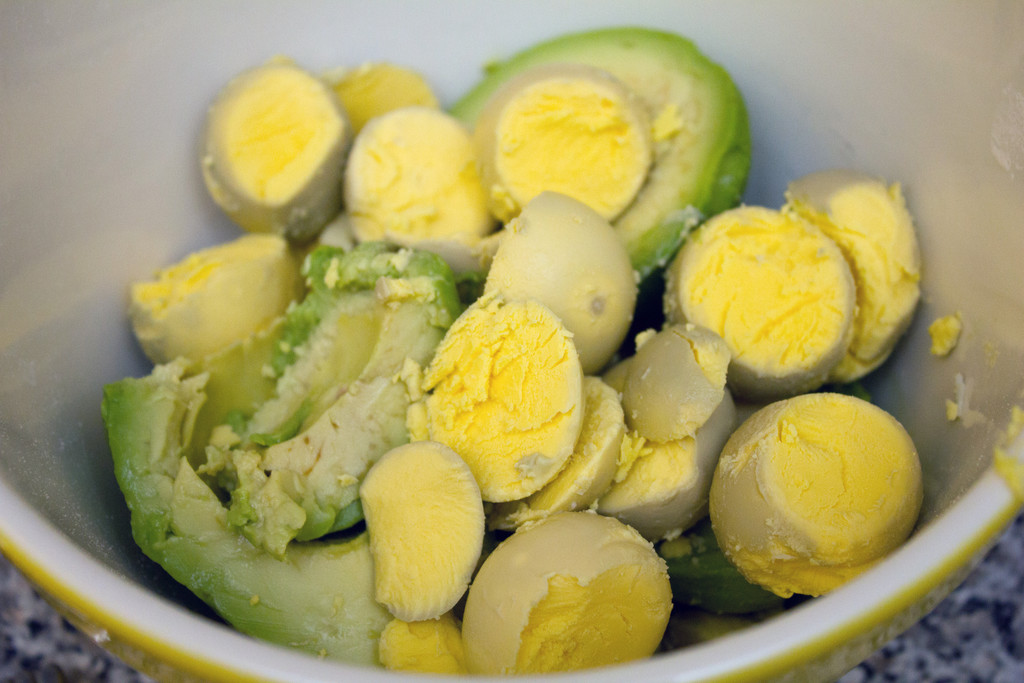 Mash yolks and avocado together, along with the minced jalapeño, chili powder, garlic salt and lime juice.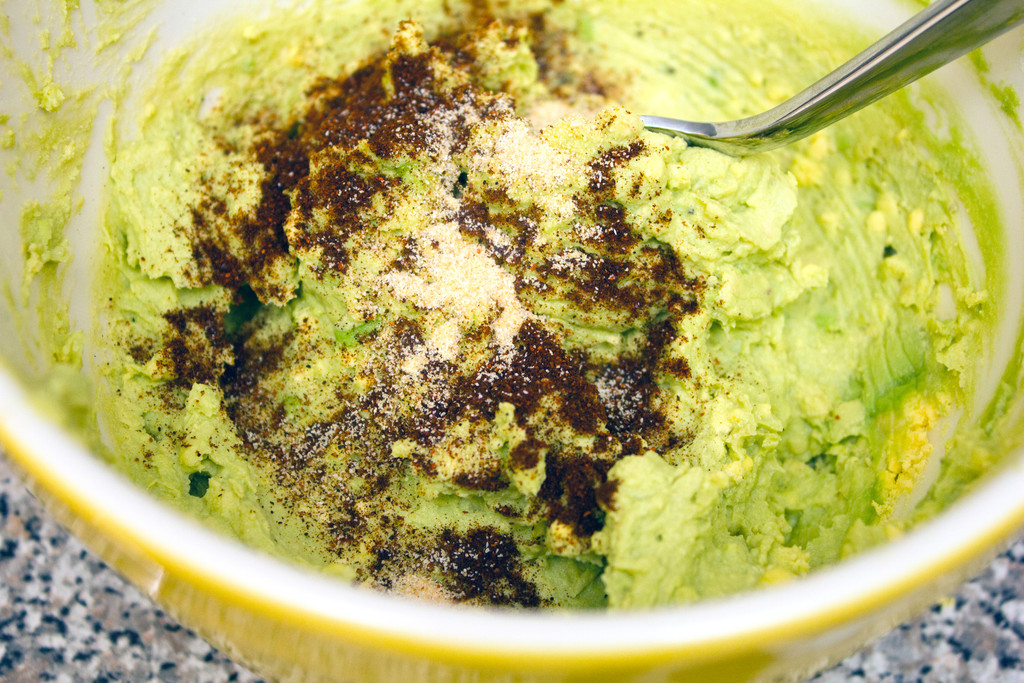 Now take each egg white half and either pipe or spoon the yolk/avocado mixture into them. I simply used a ziplock bag with the corner cut off.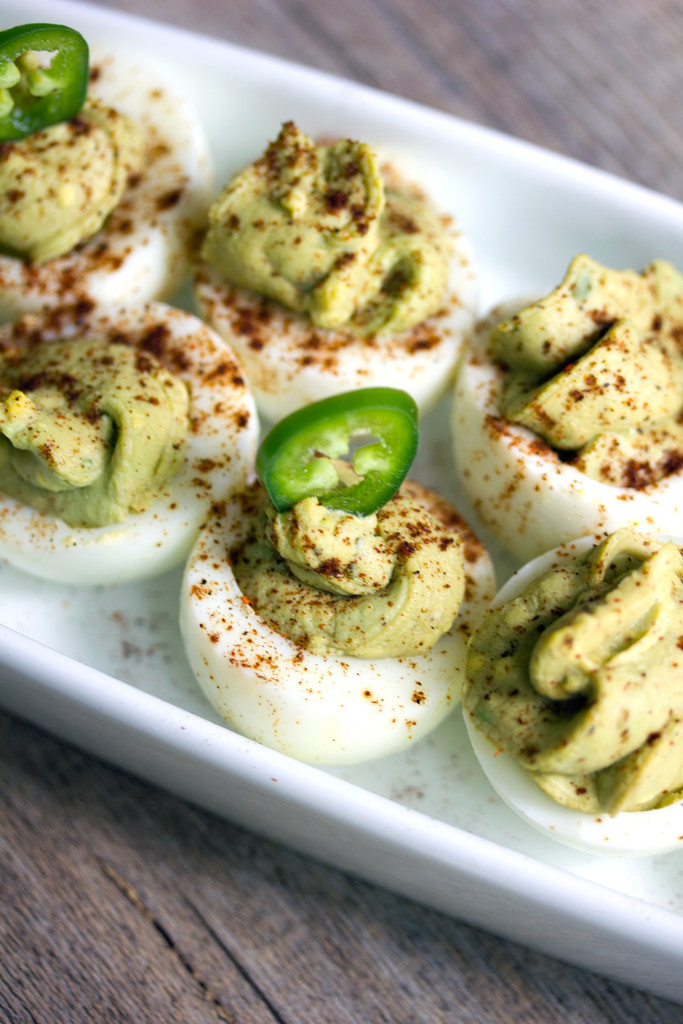 Once filling is piped in, top with jalapeño slice and sprinkle more chili powder over the top.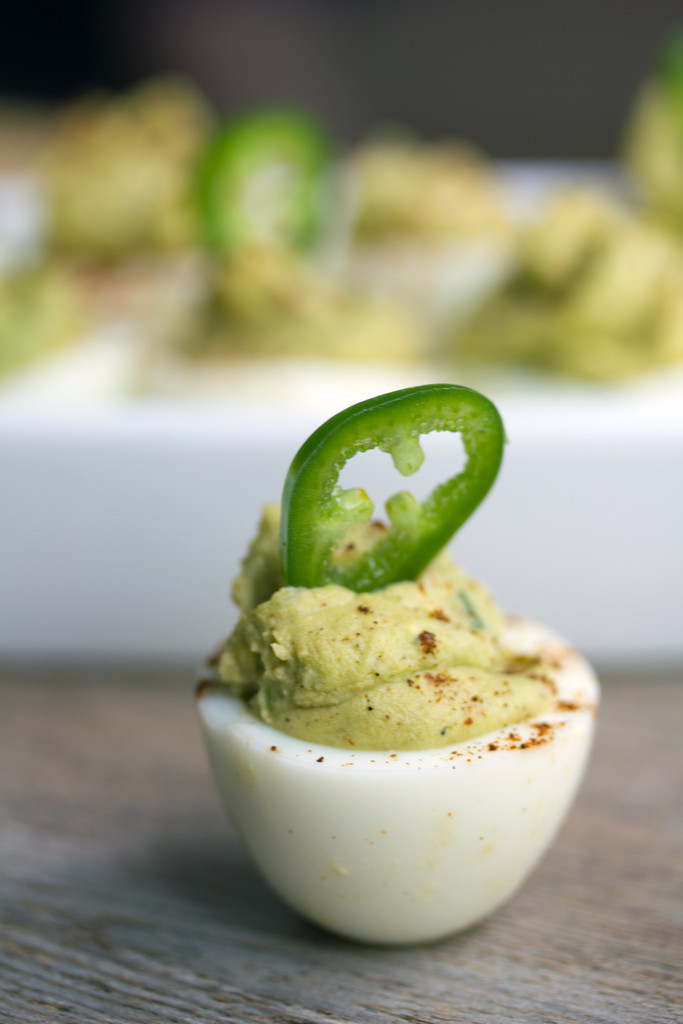 Now I see why deviled eggs have long been such a popular party appetizer. They're amazingly simple to make. And can look ultra pretty and sophisticated, too.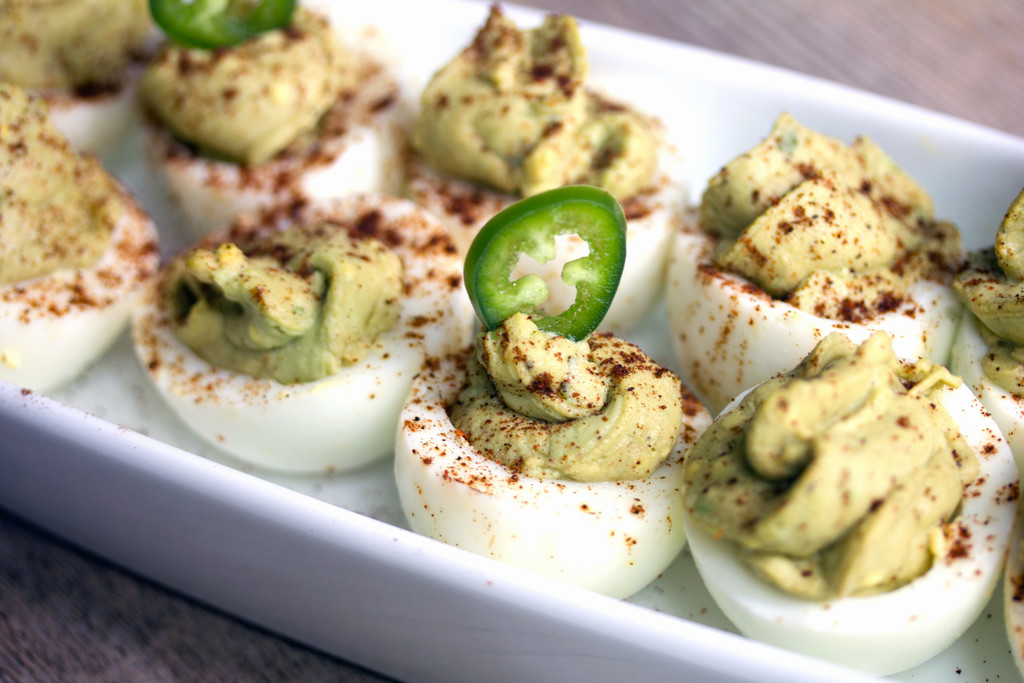 I consider these ones to be sort of a cross between a deviled egg and guacamole. You can't go wrong with either of those foods, am I right?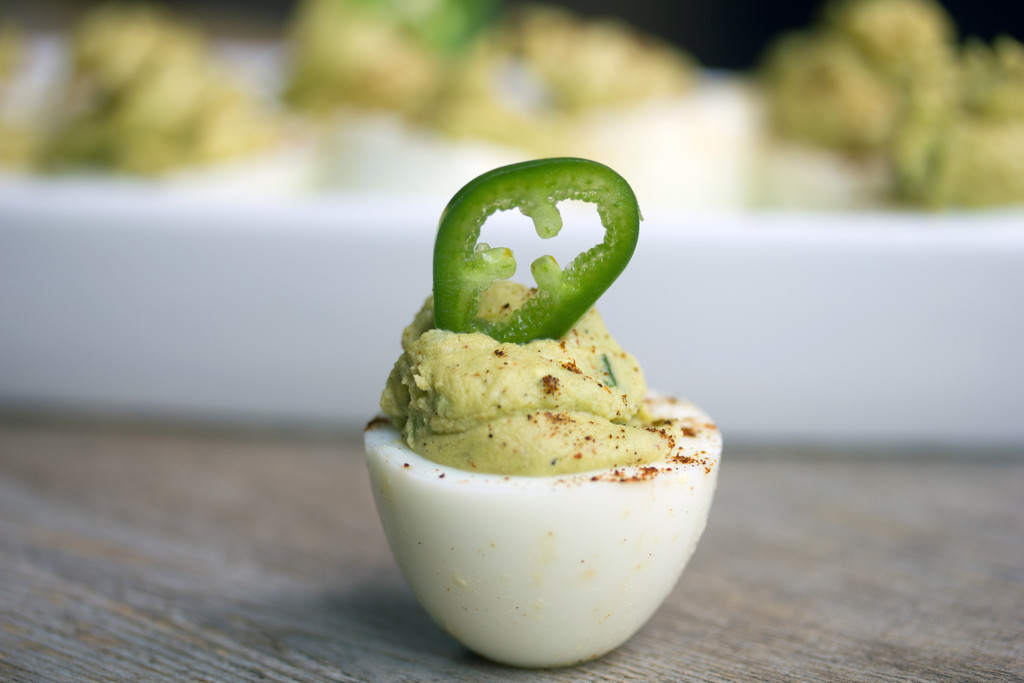 But seriously, you know deviled eggs obviously aren't the most healthy of foods. By replacing the traditional mayonnaise filling with avocado, I felt like I was doing at least a little something good. Because we all know that you can't just eat one deviled egg. It's ridiculously easy to just keep popping them in your mouth. The only thing to stop you would be a little bit of shame if you're at a crowded party where others may notice.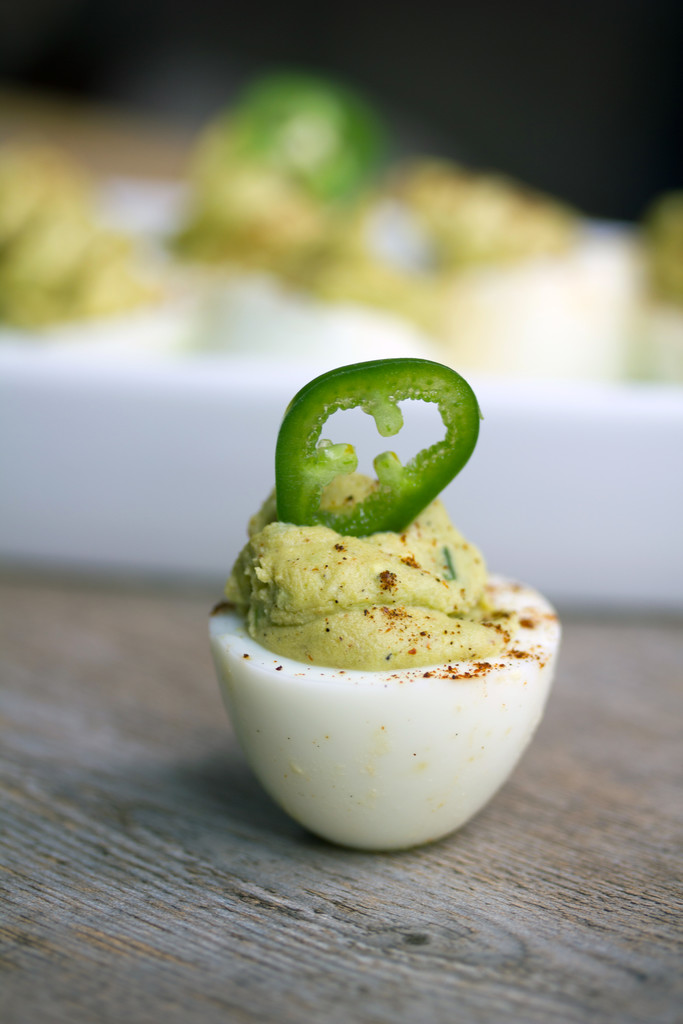 In my opinion, these eggs were perfectly spicy. But if you're not a big spice person (or you're worried you'll scare all your party guests away!), you can certainly omit the minced jalapeño in the filling and stick with simply the sprinkling of chili powder. I wouldn't blame you.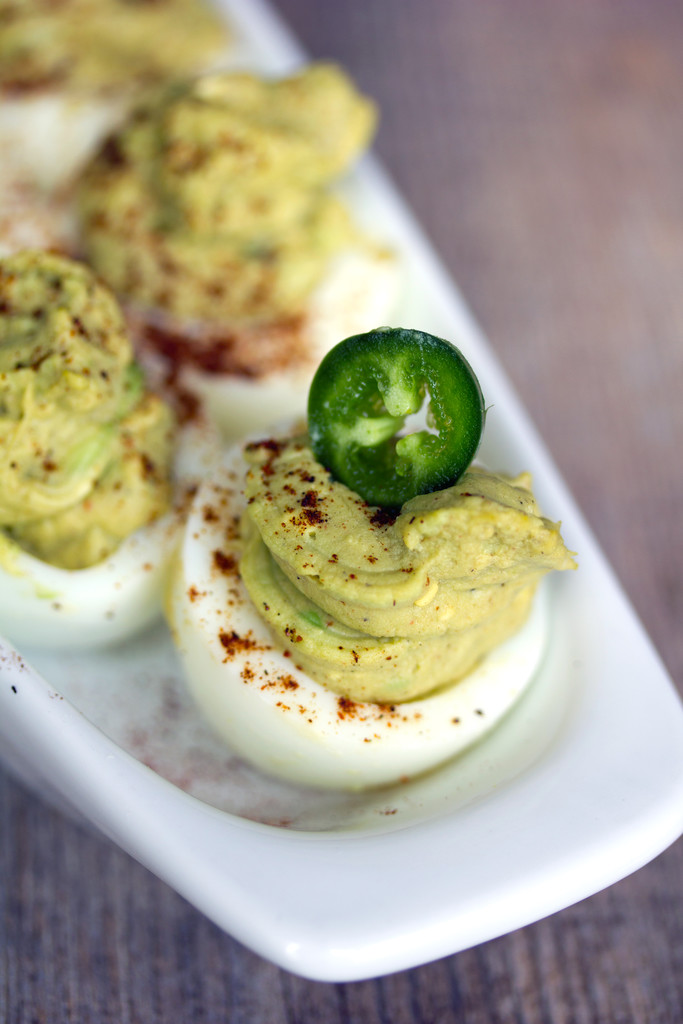 Make these for your next cocktail party or even just prepare them for an evening in with you and your loved one, all 60s Mad Men style. Of course, if you do that, I can't guarantee you won't end the evening with the harsh realization that you just are six whole eggs. Oh well, there are worse things that could happen, yes?
When did you last enjoy a deviled egg?
[Sues]