Happy Monday! Back to the grind 🙂 I'm planning on having an incredibly productive week filled with tons and tons of work. I had an amazingly relaxing fabulous weekend, so I feel ready to tackle everything. Plus, Chris's mom is coming to visit us at the end of the week! We've got all kinds of things planned, like a trip to Maine and a visit to our wedding venue, so she can see it 🙂 Also, I'm sure we'll involve lots and lots of good food.
I've mentioned it here before, but project "cut recipes out of food magazines and organize" is now going on 2+ years. I've successfully gone through every one of my food magazines (I had A LOT. Like over 100 that I've been collecting for years). I've been finding so many fabulous recipes in the magazine, I feel like I could plan my dinners (and desserts... and drinks) for the next couple months. Now I just need to put them all in my big recipe book. Sigh. Basically, this is what my living room table looks like right now: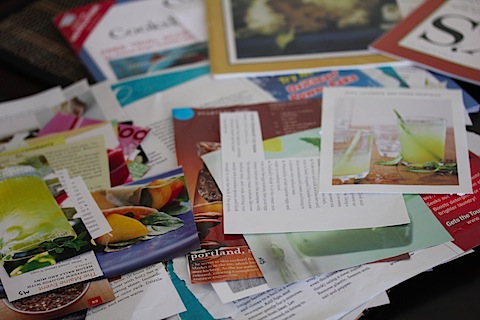 This summer is most definitely going to be the summer of the shrimp. Chris and I are both pretty obsessed with shrimp and I've found about 50 million recipes I want to make with it. This one I spotted in Cooking Light and I have to say it's pretty awesome. In fact, Chris actually called it the best meal he's had since my dad made corned beef. And considering he ate about 5 lbs. of the corned beef, I'll take that as a compliment.
This dish is perfect for the (hopefully) impending summer weather. All I want to do is sit on the deck and watch the setting sun while eating this. Also, make sure you scroll down to see the accompanying avocado, mango, and pineapple salad. It rounds out the meal quite well!
Spicy Chipotle Shrimp Salad (serves 2):
Adapted from Cooking Light
Print this recipe!
• ¾ lb. shrimp, deveined
• ⅛ t salt
• ⅛ t pepper
• Cooking spray
• ¼ C celery, finely chopped
• 2 T red onion, finely chopped
• 2 T fresh cilantro, chopped
• 2 T light mayonnaise
• 1 T chipotle chile in adobo, chopped
• 2 t fresh lime juice
• ½ t ground cumin
• 4 Boston lettuce leaves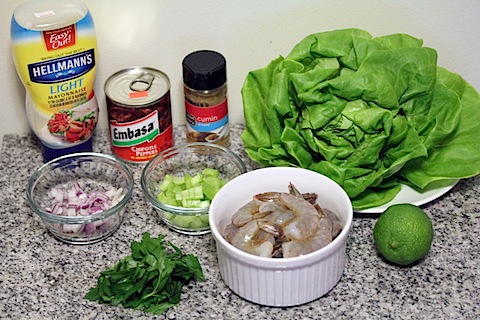 Start by sprinkling your shrimp with salt and pepper. I've always learned that it's best to cook shrimp in its shell because much of the flavor will be retained. So, that's what I did here. Especially since I knew I'd be cooling the shrimp before serving, which meant it would be easy to peel them.
Heat a grill pan over medium-high heat and coat the pan with cooking spray. Add the shrimp to the pan (do it in batches if it doesn't all fit) and cook for about 2 minutes on each side.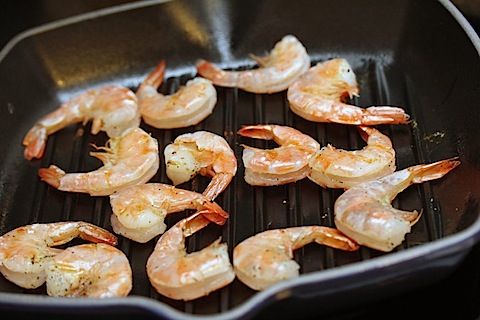 Let shrimp cool for about 5 minutes, while you grill your fruit. The directions for preparing the rest of the salad are below as well.
Avocado, Mango, and Pineapple Salad:
Print this recipe!
• ½ C pineapple slices
• 1 C sliced mango
• ½ avocado, peeled and sliced
• 1.5 T fresh lime juice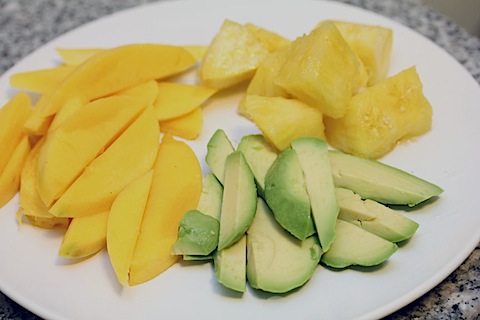 Heat the grill pan over medium high heat. Add the pineapple and mango slices and cook for about 3 minutes on each side, until browned.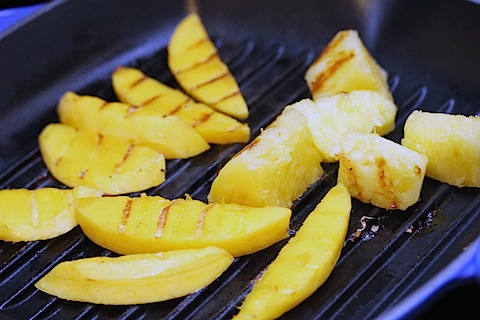 Combine grilled fruit with avocado slices and squeeze lemon over.
Now, place the shrimp in a medium bowl and stir in celery, red onion, cilantro, mayo, chipotle chile, lime juice, and cumin.
Arrange 2 Boston lettuce leaves on each plate and top with half the shrimp salad. Put the avocado, mango, and pineapple salad on the side.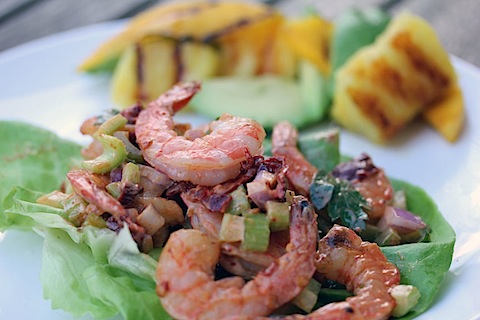 As you could probably tell, this was amazingly easy to make. You literally grill the shrimp and mix it with a bunch of things in a bowl. But as simple as it was, it was absolutely satisfying and delicious. And healthy, too!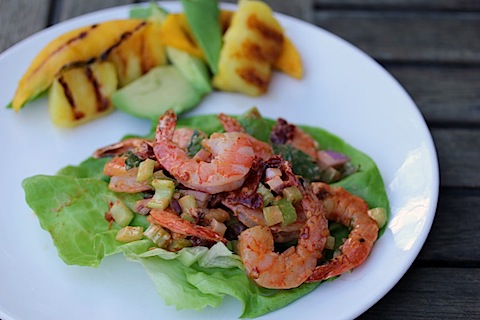 And the grilled fruit was awesome on the side. I already have a huge mango obsession, but grilling it? My obsession has been taken to a whole new level!
It does say "spicy" in the recipe name, but you can totally control the level of spice by how much of the chipotle chile you use. Add less if you don't like it spicy, or add a bit more if you love a good kick. Hint: I added more.
Whatever you do, just make this this summer.
Also, expect to see a whole lot more shrimp on this blog in the coming months. Let the summer of shrimp begin! Oh, and by the way, I've spotted TONS of drink recipes I'm excited to experiment with... So, it will be the summer of drinks, too 🙂
How about you? Fill in the blank: "I'm going to have the summer of ____"
[Sues]