Looking for a make-ahead dish you can serve at a brunch party? This Spinach, Sausage, and Cheese Strata can be prepped the day before so all you have to do in the morning is pop it in the oven! Plus, it's a crowd pleasing dish packed with eggs, sausage, spinach, and cheese.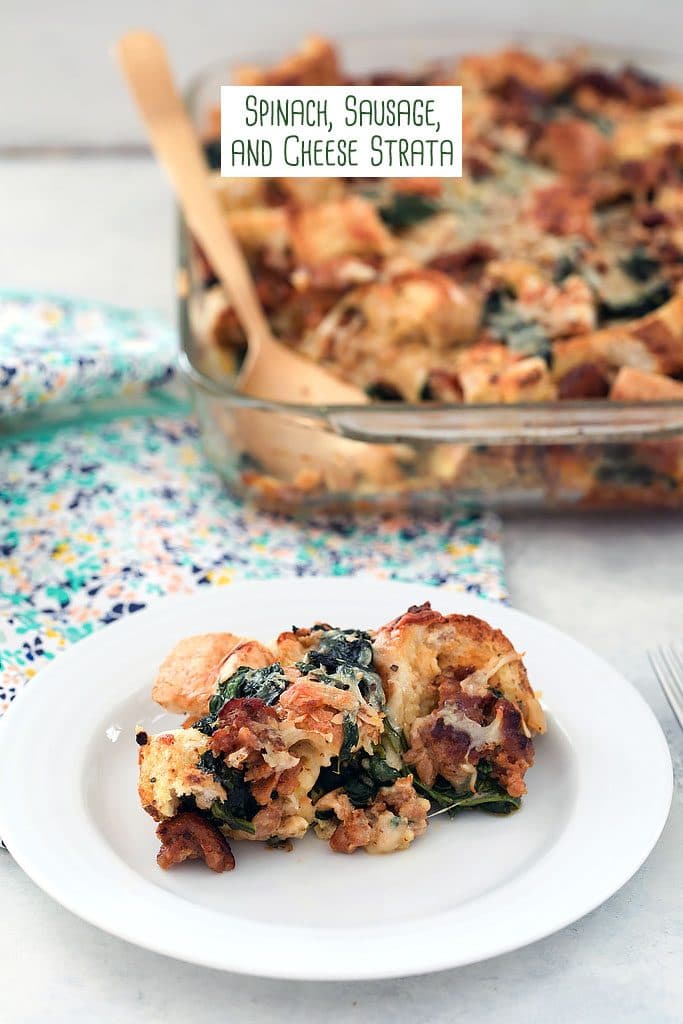 I have a confession to make: I am a very nervous entertainer. Of course, I don't claim to be Martha Stewart over here at We are not Martha. I just claim that I strive to be like her. And entertaining is one thing I'm definitely striving to be better at. And in my mind, entertaining is something that gets easier, the more you do it. So, I keep trying. Family is perfect to practice on because they don't judge too much if you screw everything up (right?!).
Brunch can be the most difficult meal to entertain for because it generally involves people coming over early. So, you either have to wake up at dawn or have a really good plan instead. I invited my family over last weekend (my parents, sister, and her husband) and then started freaking out a bit. What could I make that would be ready at the same time? For 10 a.m.? And that I could serve hot? With as little stress as possible? Because if you know me, you know I'm often found running around like a chicken with my head cut off the second my guests arrive. And then I end up having no fun when I have guests over. Sigh.
I asked my Twitter buddies what I should make for brunch and when Roving Lemon sent me Smitten Kitchen's recipe for Spinach and Cheese Strata, I knew it would be perfect because a) everything Smitten does is gold and b) I could make it the night before and just pop it in the oven in the morning. Fabulous! I made a bunch of changes, including adding a spicy sausage to the strata... Which I personally think was an excellent decision.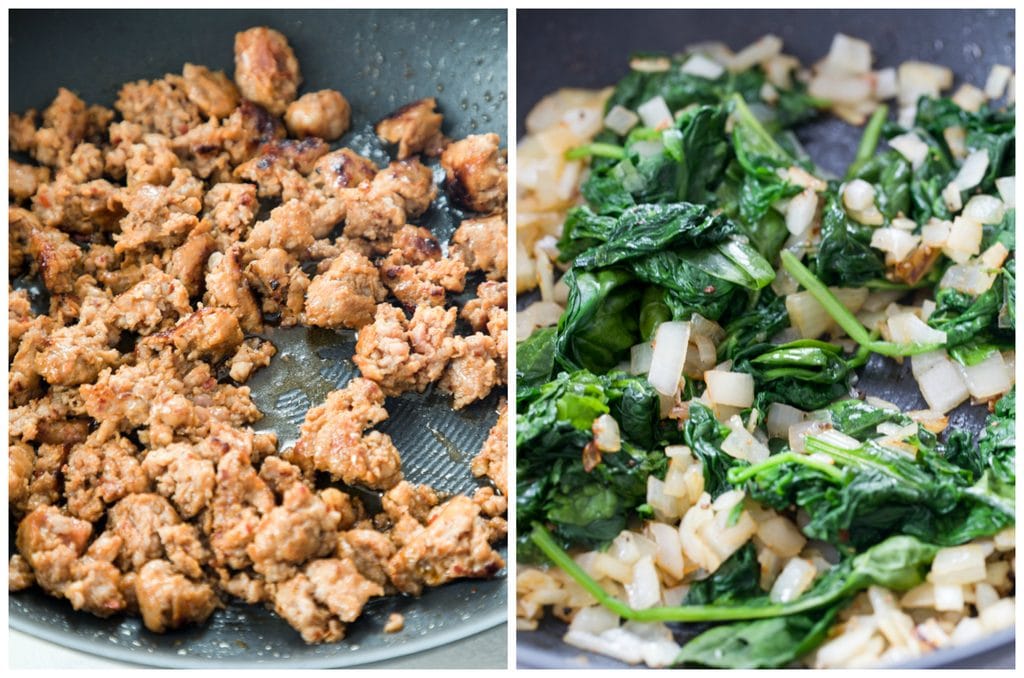 This ENTIRE strata can be prepped the night before and then stuck in the fridge. Which means when you wake up the morning of your brunch party, breakfast is essentially ready and just needs to be popped in the oven.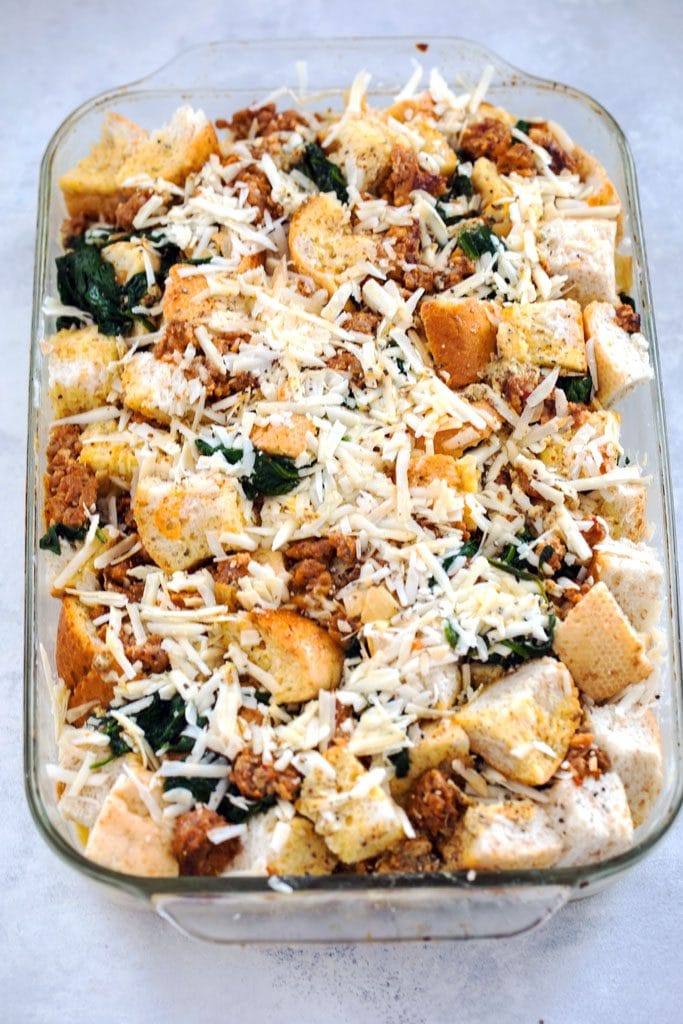 For this brunch, I also made another Smitten Kitchen recipe, for Whole Wheat Apple Muffins. Muffins are another great make-ahead brunch dish. Oh, and I made bacon. Obviously. My family really doesn't eat breakfast without bacon. Even with sausage in the strata, we still need bacon on the side!
My apartment was starting to smell really good by the time everyone arrived.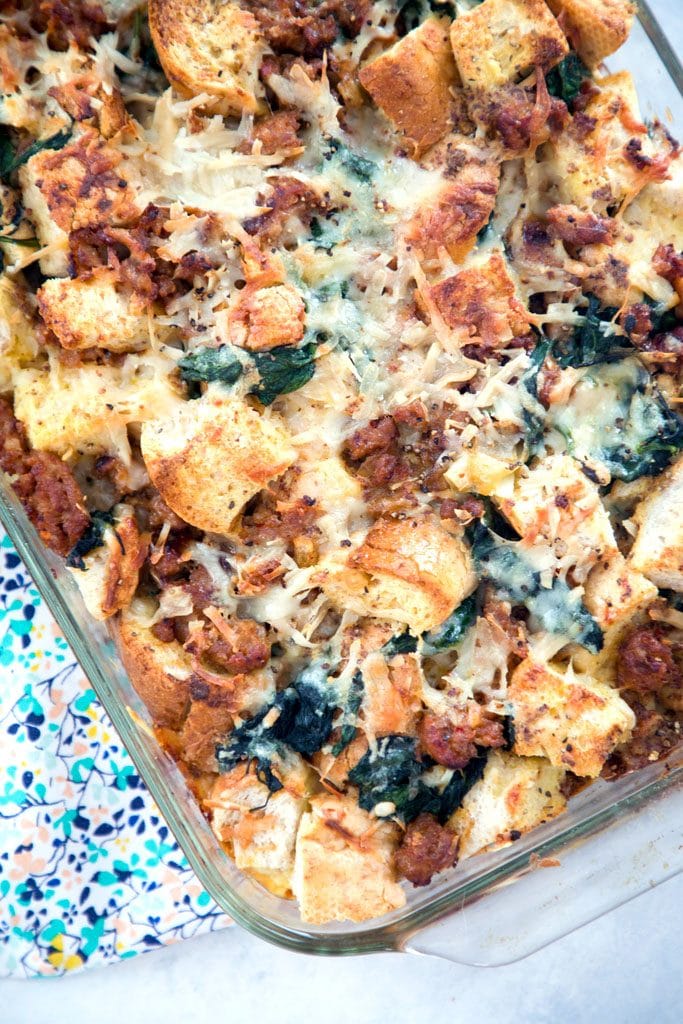 This was the most people Chris and I had had over yet in our new apartment yet! Until last night when we had 9 people over (my relatives are in town!), but I didn't cook for them.
Everything was delicious. OK, so the sausage strata may not have been the prettiest thing in the world, but it was certainly very tasty and perfect for a delicious brunch. I was super happy I added in the sausage!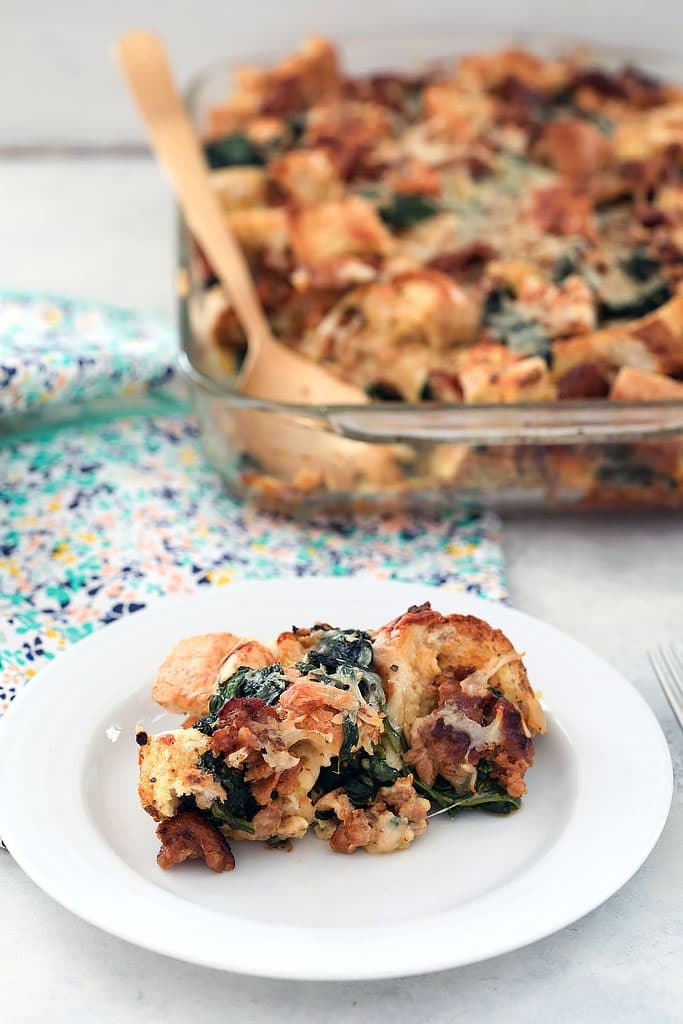 And that was entertaining done easy. I highly recommend you choose a brunch entree that can be prepared the night before if you freak out about entertaining, too. It also doesn't hurt when you have amazing guests who offer to help! I actually got to sit with my family and enjoy the meal and conversation instead of running around like a crazy woman.
Another tip? When you invite people over for brunch, it will FORCE you to finish unpacking all the boxes you've been avoiding for 3 weeks. Everything is finally unpacked; now we just need to start hanging things on the walls (baby steps here!). Luckily, we had some leftover sausage strata in our fridge that has been fueling me to get our of bed in the morning and get moving!
What's your favorite stress-free brunch dish for entertaining?
📖 Recipe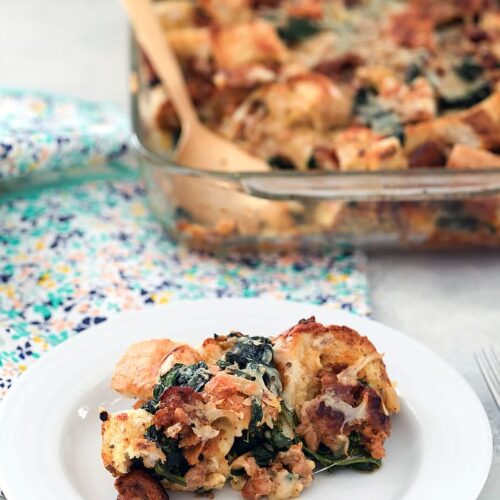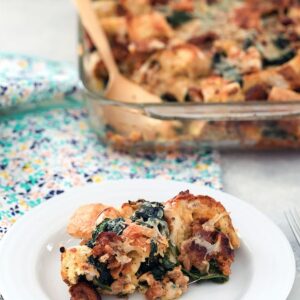 Spinach, Sausage, and Cheese Strata
Looking for a make-ahead dish you can serve at a brunch party? This Spinach, Sausage, and Cheese Strata can be prepped the day before so all you have to do in the morning is pop it in the oven! Plus, it's a crowd pleasing dish packed with eggs, sausage, spinach, and cheese.
Print
Pin
Rate
Ingredients
14

oz.

fresh spinach

(you can substitute for frozen spinach, thawed)

1

Tbsp

olive oil

1

lb.

spicy Italian sausage

(is sausage has casing, remove)

1

large onion, finely chopped

(about 1 ½ cups)

1

tsp

salt,

divided

1

Tbsp

black pepper,

divided

¼

tsp

nutmeg

2

Tbsp

unsalted butter

8

cups

cubed French or Italian bread

2

cups

freshly grated gruyere cheese

1

cup

freshly grated parmesan cheese

2

cups

milke

(I used whole)

9

large eggs

2

Tbsp

dijon mustard
Instructions
If using fresh spinach, start by steaming it down. Rinse with cold water and while leaves are still wet, place in a large pot over high heat. Cover pot and let cook for 3-4 minutes, until just steamed down.

Heat olive oil in a large skillet over medium heat. Add sausage and cook while breaking up with a spoon or spatula until browned, about 5 minutes. Remove sausage to a bowl and set aside, leaving sausage grease in pan.

Add chopped onion to pan and cook until soft, for about 5 minutes. Add ½ tsp salt, ½ tsp pepper, and nutmeg and cook for another minute. Stir in spinach and remove pan from heat.

Generously butter a 3 quart baking dish (I used 9x13) and spread ⅓ of the cubed bread on the bottom of the dish.

Top bread with ⅓ of the spinach/onion mixture, ⅓ the sausage, and ⅓ of each cheese. Repeat until all ingredients are gone.

In a separate large bowl, whisk together egg, milk, dijon mustard, remaining ½ tsp salt, and remaining ½ tsp pepper.

Pour the egg mixture evenly over the baking dish. Cover dish with plastic wrap and place in the fridge for at least 8 hours and up to a day.

When ready to enjoy, remove from fridge and let sit at room temperature for 30 minutes. Then place, uncovered, in oven at 350 degrees for 45-50 minutes, until puffed, golden brown, and cooked through. Let rest for about 5 minutes before serving.
Notes
Note that recipe prep time does not include 8 hours chilling time for strata.
Recipe lightly adapted from Smitten Kitchen
Share a Photo of Your Finished Recipe!
Mention @wearenotmartha and share a photo if you've made the recipe!