I have a confession to make: I am not good at entertaining. I'm actually a nervous wreck about entertaining. Of course, we don't claim to be Martha Stewart over here at We are not Martha. Just that we strive to be like her. And entertaining is one thing I'm definitely striving to be better at. And in my mind, entertaining is something that gets easier, the more you do it. So, I keep trying. Family is perfect to practice on because they don't judge too much if you screw everything up (right?!).
Brunch can be the most difficult meal to entertain for because it generally involves people coming over early. So, you either have to wake up at dawn or have a really good plan instead. I invited my family over last weekend (my parents, sister, and her husband) and then started freaking out a bit. What could I make that would be ready at the same time? For 10 a.m.? And that I could serve hot? With as little stress as possible? Because if you know me, you know I'm often found running around like a chicken with my head cut off the second my guests arrive. And then I end up having no fun when I have guests over. Sigh.
I asked our Twitter buddies what I should make for brunch and when Roving Lemon sent me Smitten Kitchen's recipe for Spinach and Cheese Strata, I knew it would be perfect because a) everything Smitten does is gold and b) I could make it the night before and just pop it in the oven in the morning. Fabulous!
Of course, I added some sausage into this strata because, well, my family enjoys meat at breakfast.
Spinach Sausage, and Cheese Strata (serves 8-10):
6 links Italian sausage (I used hot)
10-14 ounces fresh spinach (you can use frozen, too, but I love fresh best)
1 large onion (1.5 C), finely chopped
3 T unsalted butter
1 t salt
1/2 T black pepper
1/4 t nutmeg
8 C cubed French or Italian bread (1/2 lb.)
2 C freshly grated gruyere cheese
1 C freshly grated parmesan cheese
2 3/4 C milk (I used 2%)
9 large eggs
2 T dijon mustard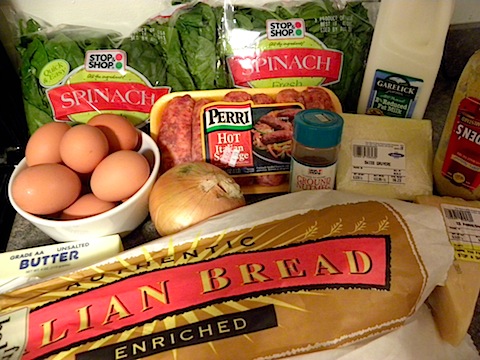 I started by cooking my sausage. I took the meat out of the casing and crumbled it up. I had a feeling it would be a good addition!
Then I steamed my spinach to cook it down. I set it aside and sautéed my onion in the butter in a large, heavy skillet. Once it was soft, about 5 minutes, I added the 1/2 salt, 1/4 pepper, and nutmeg and cooked for another minute.
Then I added the spinach to the skillet and set it aside.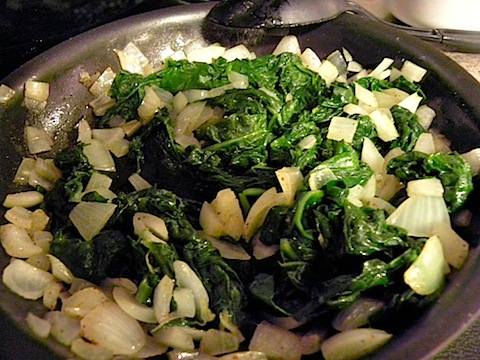 While everything was on the stove, I grated all the cheese. YUM! Is there anything better than gruyere and parmesan?!
Now it was time to construct the strata. I put a layer of bread on the bottom of my buttered 3 qt. baking dish, using 1/3 of the bread.
Then I topped it with 1/3 of the spinach mixture, 1/3 the sausage, and 1/3 of the cheese. I repeated until all the ingredients were gone. It was already looking delicious!
In a separate bowl, I whisked together the eggs, milk, mustard, 1/2 t salt, and 1/4 t pepper.
And poured it over the ingredients in the baking dish. I was really nervous all the liquid wasn't going to fit, but it did! Perfectly!
I wrapped it in plastic wrap and popped it in the fridge, where it has to sit for at least 8 hours, and up to a day. And YAY! I had my main course done with nothing to worry about for the morning 🙂 SUCH a good feeling. I sat on the couch to watch some Dateline with Chris (I know it sounds lame, but it's our Friday night tradition when we're just too tired to go out) and went to sleep with no stress.
The next morning, I got up and took the strata out of the fridge. It's supposed to sit at room temperature for 30 minutes. Then into the oven it went (uncovered) at 350 degrees for 45-55 minutes.
While it was in the oven, Beth and Adam arrived with all the fixing for breakfast cocktails! They made a watermelon and champagne drink.
And it was absolutely amazing. Who doesn't love starting Saturday morning with a cocktail of some sort?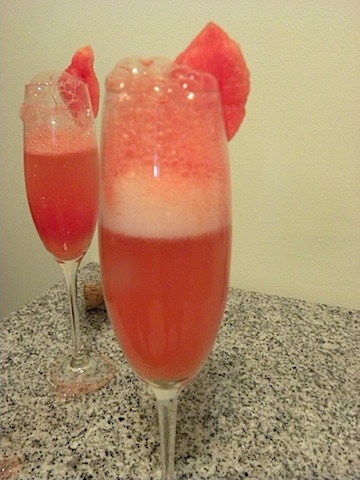 I also made another Smitten Kitchen recipe, for Whole Wheat Apple Muffins. Because I didn't have to worry about the entree, I could take a bit more time to make the muffins.
I also made bacon. Obviously. My family really doesn't eat breakfast without bacon.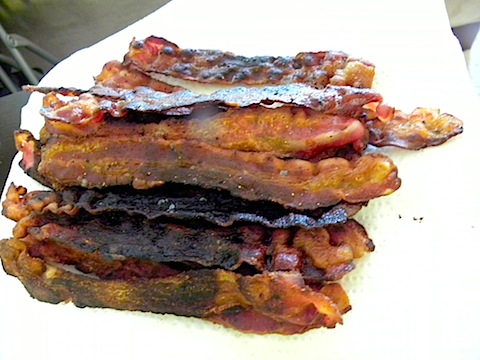 My mom and dad brought a huge delicious fruit salad too. So much beautiful fruit!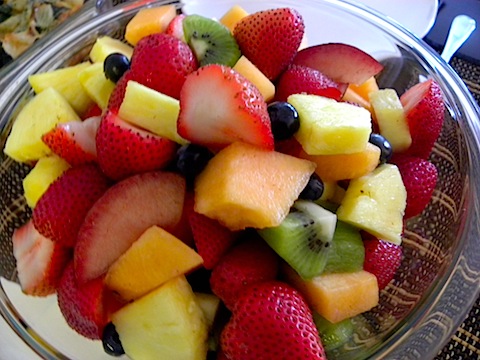 I took the fully baked strata out of the oven!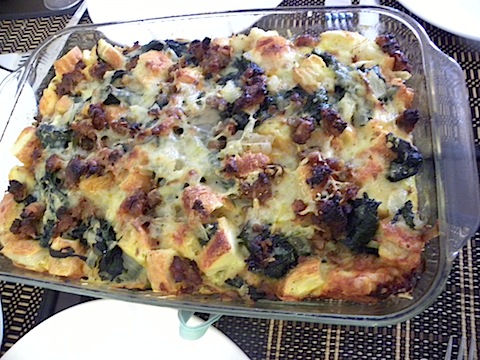 And put everything on our lovely little table. This was the most people Chris and I had had over yet in our new apartment yet! Until last night when we had 9 people over (my relatives are in town!), but I did not cook for them!
Everything was delicious. OK, so the strata may not have been the prettiest thing in the world, but it was certainly very tasty and perfect for a delicious brunch. I was super happy I added in the sausage!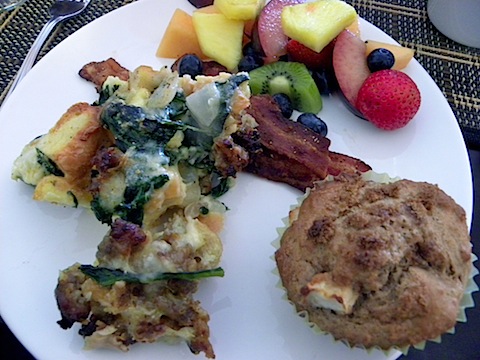 And that was entertaining done easy. I highly recommend you choose a brunch entree that can be prepared the night before if you freak out about entertaining, too. It also doesn't hurt when you have amazing guests who offer to help! I actually got to sit with my family and enjoy the meal and conversation instead of running around like a crazy woman.
Another tip? When you invite people over for brunch, it will FORCE you to finish unpacking all the boxes you've been avoiding for 3 weeks. Everything is finally unpacked; now we just need to start hanging things on the walls (baby steps here!).
What's your favorite stress-free brunch dish for entertaining?
[Sues]