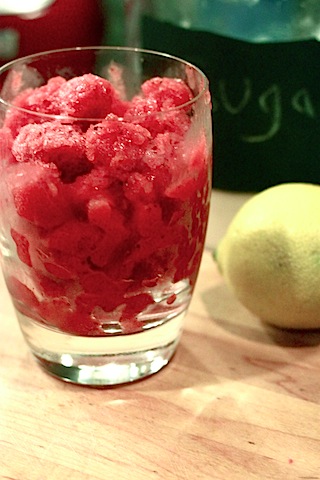 I'm going to be honest here. I'm not quite ready to let go of summer. And you know what? I shouldn't have to since summer doesn't officially even end for another few weeks.
I knew I'd be spending most of the afternoon today outdoors in the heat today and wanted a nice and refreshing treat waiting for me when I got home. This afternoon I went to the beach to get fried clams with Kate one last time and then my roommate's friends, who live down the street, had people over. There were burgers, cupcakes, homemade s'mores, and other non-figure flattering foods, so I wanted something light and refreshing to enjoy once I got home!
I decided to make David Lebovitz's very simple Strawberry Granita from his book The Perfect Scoop, which was part of my birthday gift from Sues. The other part was the ice cream attachment for my Kitchen Aid, in case you were wondering. What can I say? My friends treat me well 😉
Strawberry Granita (makes about 1 quart)
Adapted from The Perfect Scoop by David Lebovitz
Print this Recipe!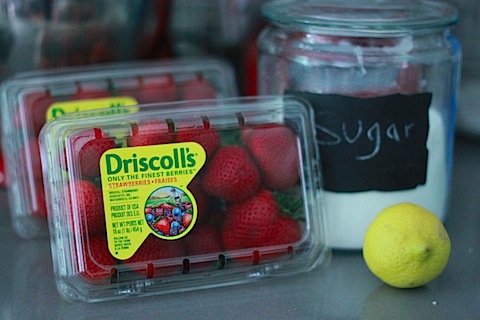 • 2 lbs strawberries, rinsed, hulled, and sliced
• 6 tablespoons sugar
• 1 cup water
• Several drops of freshly squeezed lemon juice
In a medium bowl, combine the strawberries and sugar. Mix until the sugar is just dissolved and the strawberries begin to release their juices. Cover the bowl and let it sit at room temperature for about an hour.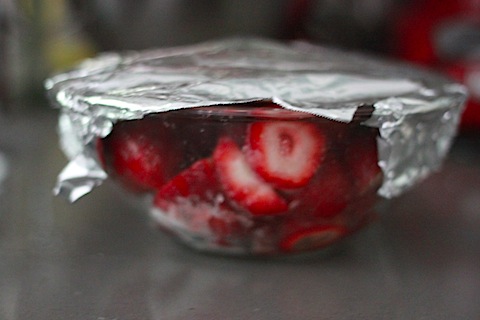 Combine the strawberries, including their liquid, water, and lemon juice in a blender and puree until smooth.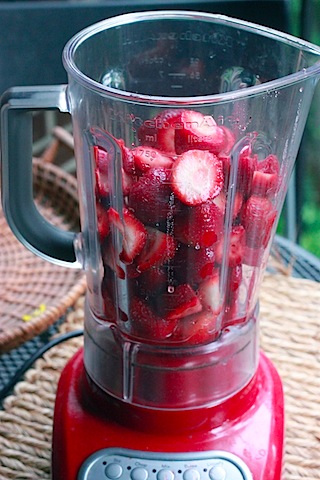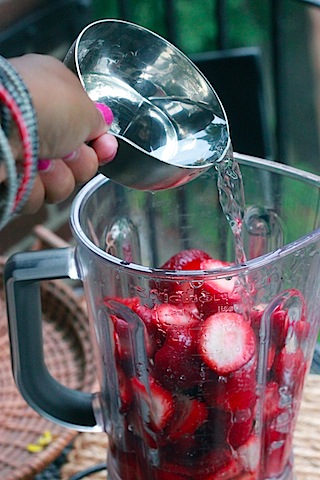 Pour the mixture into a strainer to eliminate all of the seeds. I usually use the backside of a mixing spoon to press all of the liquids through the strainer.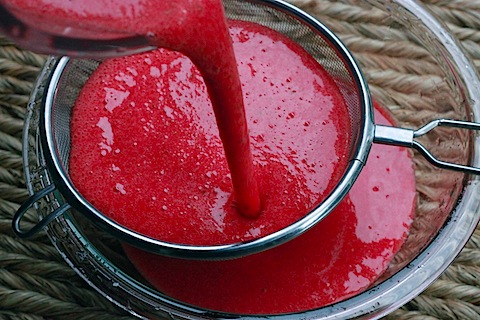 Then transfer the liquid into a rectangular glass dish that is at least 8 inches long with a 2 inch rim.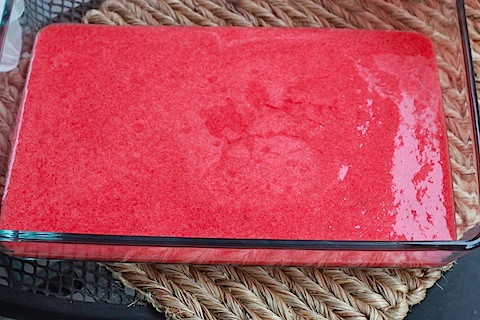 Place glass dish in freezer. Start checking on it after about 1 hour. Using a fork, begin chipping away at the edges of the strawberry mixture and begin to break it into smaller pieces.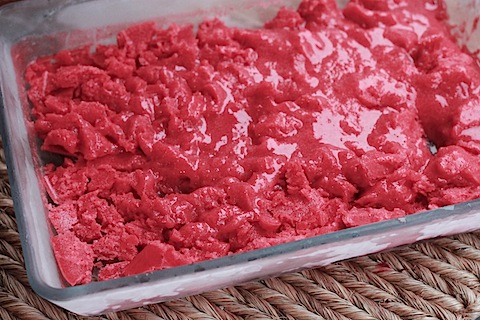 Place the dish back in the freezer and continue checking every 30 minutes until small crystals begin to form. I actually couldn't wait any longer so I think I took mine out of the freezer a bit earlier than I should have 😉 But it still tasted absolutely delicious and was beyond refreshing. It cooled me down quickly! Literally. I dropped some down my shirt by accident. Woops.
While I was eating the granita it obviously began to melt a bit and the consistency reminded me a bit of the Haagan-Dazs fruit sorbets. Which is an icy version of HEAVEN. I'm glad to know it's so easy to create at home now!
Hope everyone enjoyed their Labor Day weekend! And here's hoping you enjoy the rest of your summer. Until it's officially over, that is 🙂
[Chels]