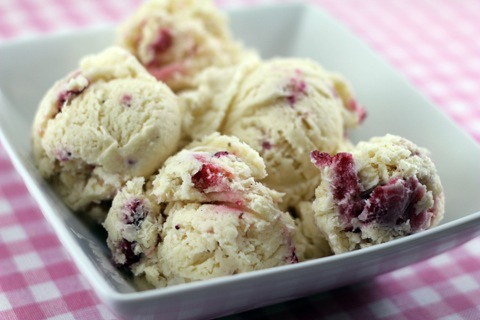 I've always been of the mindset that the more chocolate, the better, when it comes to ice cream. Give me a triple chocolate chocolate chunk ice cream and I'm happy as a duck in a puddle. But the older I get, the more I find myself gravitating away from chocolate and toward the lighter fruiter things in life. I have very mixed feelings about this since I have always considered myself a huge chocolate fanatic and a "keep all fruit away from my desserts, please" kinda gal. But tastes change and obsessions come and go and I'm embracing it. And thus, I've been eating a Strawberry Shortcake Skinny Cow every night for basically the best 3 months (p.s. do too many Skinny Cows make you a fat cow?? If so, help). Because they're absolutely what I've been craving. But please, don't get me wrong; I'd still take a pint of Ben and Jerry's Phish Food ANY DAY. That is a given.
In the midst of my strawberry shortcake ice cream obsession, I decided to attempt my own similar homemade ice cream. Since I knew I wanted more than just a vanilla ice cream base, I decided to attempt a white chocolate ice cream. It was simple to make, with the waiting and chilling the worst part. As always. But it was an absolute dream and everything I hoped for and more. Unfortunately, there is nothing "skinny cow" about this recipe and it's not all packaged up in single-servings either. Which means you might eat a lot.
Also, because I know someone will ask, yes, I do use raw eggs in my ice cream. It's a personal preference and I've made ice cream MANY different ways and think the recipes with a raw egg base truly taste the best. It's only two eggs in two pints of ice cream and I always make sure to use farm-fresh, organic eggs when using them raw. And I always keep them in the fridge until ready to use. If you prefer not to make ice cream with raw eggs, you can definitely make this same ice cream with a custard base, no problem!
White Chocolate Strawberry Ice Cream (makes 2 pints):
Print this recipe!
10.5 oz. high-quality white chocolate
1/4 C whole milk, plus 1 C
2 large eggs
3/4 C granulated sugar, plus 1/8 C
2 C heavy whipping cream
1 T vanilla
3 C sliced fresh strawberries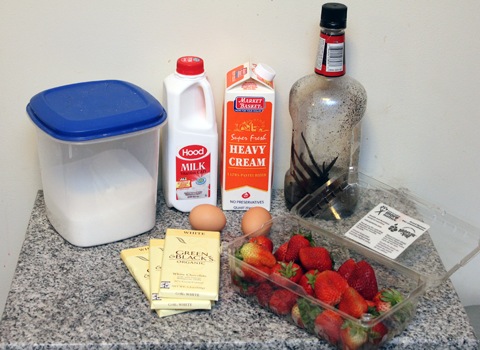 My grocery store only had one variety of white chocolate in stock. ONE. I almost overlooked it because "Green and Black's" made me think of, well, not white chocolate (yes, I blatantly ignored the "WHITE" scrawled across the top of the packaging). But I'm glad I found it because it's not my favorite white chocolate ever. Must try ALL of Green & Black's chocolate now (it's organic AND fair trade!).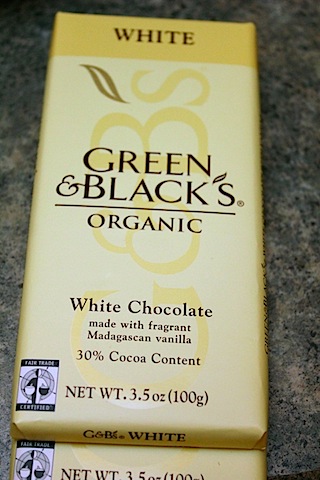 FYI: You absolutely cannot use white chocolate chips for this recipe. I know it's all tempting because they're cheap and easy to find, but they just will not melt correctly. Did you know that chocolate chips actually contain a hardening agent so they can keep their shape? Well, they do. And it makes it tough to melt them smoothly. I've always noticed this with chocolate chips, but especially with white chocolate. Invest in a high-quality chocolate. It's worth it.
To start the recipe you'll need to melt the white chocolate. Break the chocolate bars up and place them in a double broiler or a heat-proof bowl placed over a pot of simmering water. Add about 1/4 C milk to the bowl.
Isn't that some pretty chocolate there? Those little specks are Madagascan vanilla. YUM.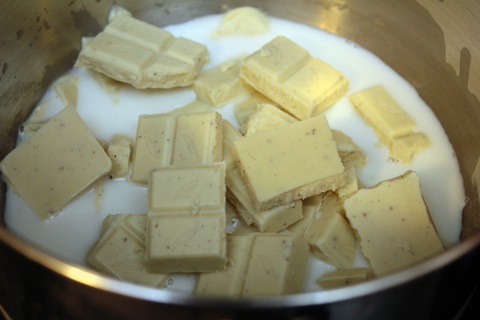 Stir the chocolate until it's all melted and then remove from pot of boiling water and set aside to cool.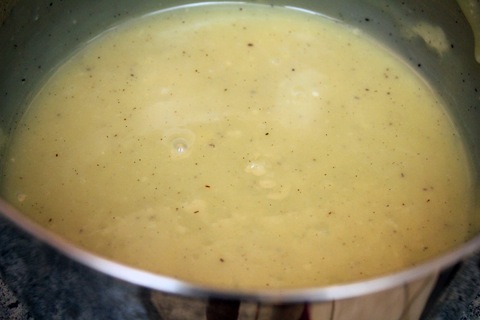 Now, whisk the eggs and 3/4 C sugar together in a large bowl, until light and fluffy. Set aside.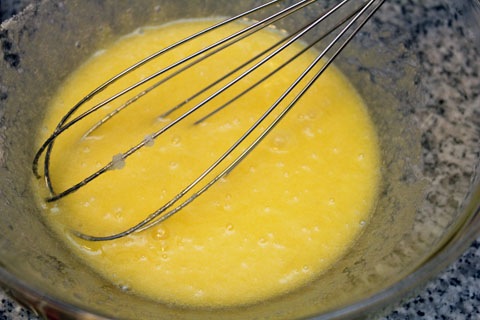 Whisk in the cream, 1 C whole milk, and vanilla to the egg mixture.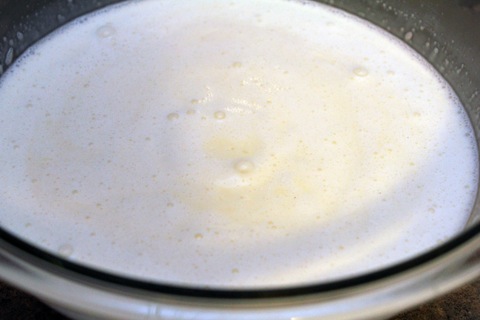 Stir the cooled white chocolate into the mixture and put in fridge to chill. I always try to chill my mixture overnight, but 4 hours should suffice.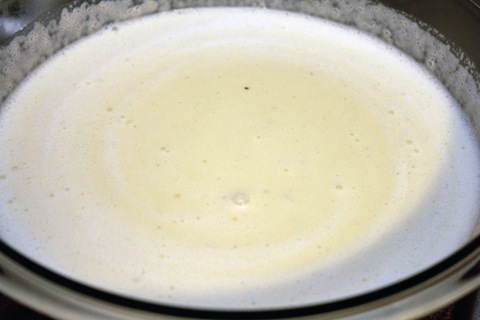 Before you're ready to process your ice cream, slice your fresh strawberries. Yay! I love strawberry season.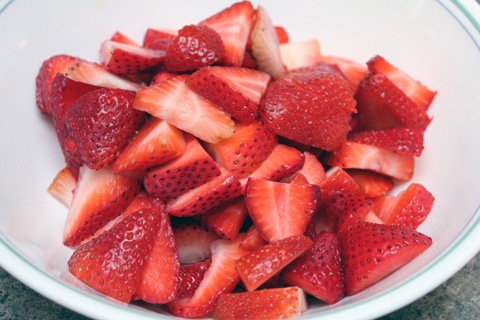 Add 1/8 C of sugar and mash the strawberries into what I'll call a chunky puree. Let sit for a few minutes.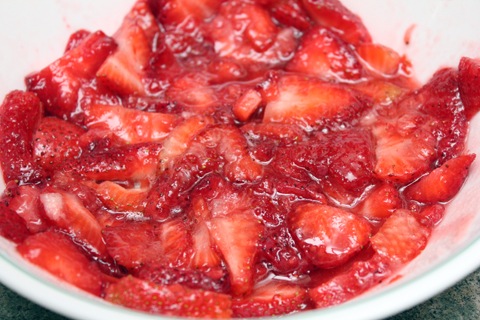 Using your ice cream maker, process according to manufacturer's directions. I simply poured my cream mixture into my chilled Kitchen Aid ice cream maker and let it churn.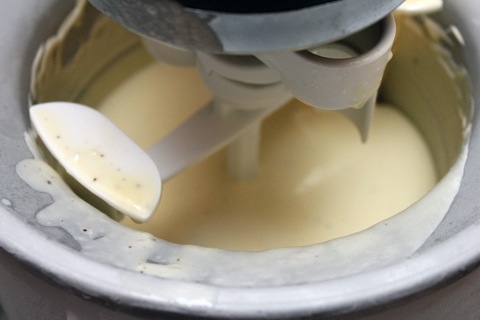 When the ice cream began thickening and was nearing the end of the churning process, I added in my strawberries and blended together a bit more.
Then I popped the ice cream into my handy dandy Zak ice cream containers. I get SO much use out of these things.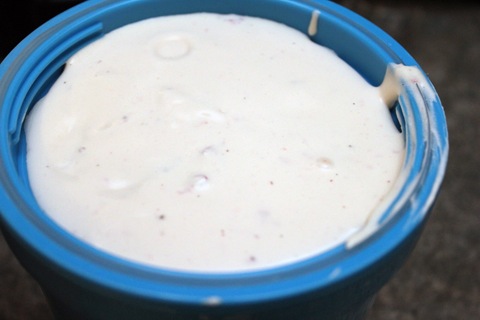 Again, I like to let the ice cream chill in the containers overnight. But it's not totally necessary. You'll just notice that the longer you let it chill, the harder and less soupy it will get. It all depends on how you like your ice cream.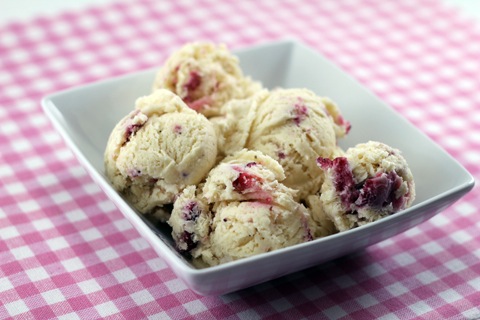 I thought it was pretty fantastic like this. Close to perfect, in fact. Despite my great desire to make this, I have to admit I'm not the biggest white chocolate fan (again, I used to be OBSESSED. But I think one day, I ate too much….), but this white chocolate favor was mild, creamy, and definitely not sickeningly sweet.
This is like the best of both worlds… Sure, it's chocolate, but it's white chocolate… Which isn't reallyyyy chocolate. At least not the kind you generally think of when you hear "chocolate ice cream."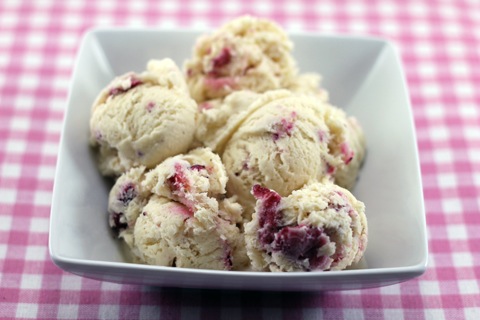 I loved the chunks of fresh strawberries in this recipe and thought they leant the ideal spring flavor. Really, the only thing that could have made this ice cream better is if it maybe had some white chocolate chunks in it. Or if it was fat-free. And calorie-free. But still tasted exactly the same. I'm allowed to dream, right?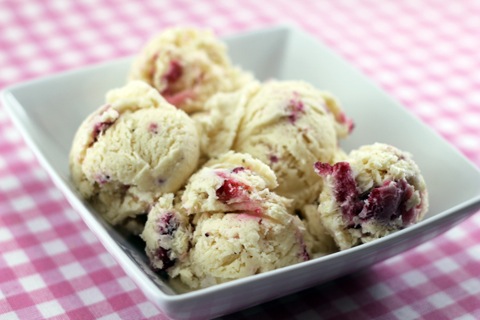 Even though I made ice cream all winter long, I have a feeling I'l be making quite a bit of it this summer and maybe even experimenting with some lower fat versions. Though those never seem to photograph quite as well. I bought Jeni's Splendid Ice Creams cookbook almost a year ago and really want to start digging into it. I've been reading it as a bedtime story every night recently (it's SO pretty!), but have been struggling with what to make first since all of the recipes look like heaven in an bowl. Jeni is awesome. Why can't I just be her? Guess I'll go drown my sorrows in a bowl of ice cream…
Do you like your ice creams fully loaded with chocolate or are you happy with fruit?
[Sues]