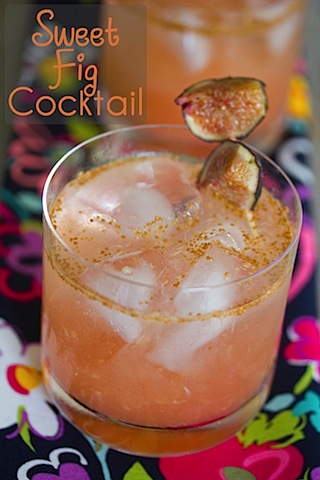 Happy Friday!!!!!!!!! Cocktail Friday!!!!!! I would put a bazillion more exclamation points if I could. But that might get annoying. But you should know that's how I feel. !!!!! I haven't done a Cocktail Friday in what seems like ages. I'm not sure why. Probably just because I've been a bit lazy and when I want a cocktail, I want it ASAP and I don't want to try to develop a new recipe and have a chance it won't be quite right. But over the last long weekend, I figured I'd take advantage of my extra day off and do some cocktail concocting. Columbus would have approved, eh?
Figs are my obsession this season. Now that it's getting a bit colder out (hey, Boston; what was with the chilly temps today anyway??) they are going to be getting a bit harder to find, so I recommend you get on this cocktail immediately.
Sweet Fig Cocktail (serves 1):
Print this recipe!
4 figs, quartered
Ice
2 oz. vodka
1/2 oz. lemon juice
1 T honey
Soda water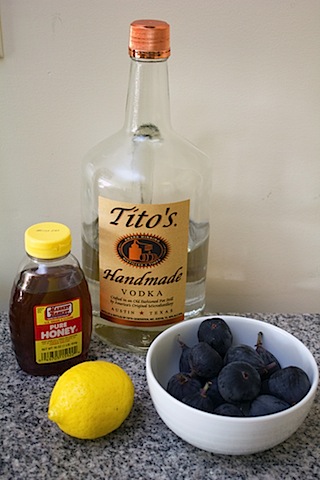 I don't even have photos of the cocktail-making process because um, it's super easy. And nobody really wants to see the dark photos of the inside of a cocktail shaker. Basically, you put the fig quarters in a shaker. And you muddle them as much as you possibly can. Then you put some ice in the shaker, along with the vodka, lemon juice, and honey.
Shake it all up. And strain it into an ice-filled glass.Top it off with soda water. And a pretty fig garnish if you wish.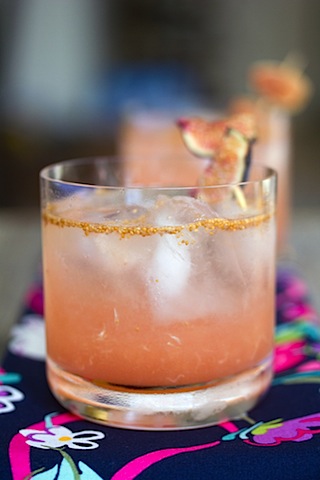 OK, it's officially Friday. Yes, there are a bunch of seeds in this. But I actually liked it. I love pulp, seeds, and all that jazz and these seeds are so tiny, I thought they added a fun seasonal touch. Of course, you can strain the cocktail before pouring into a glass if you wish.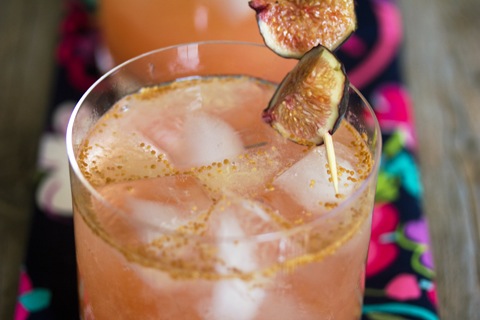 Or you can stop wasting time and just pour this into a glass and get sipping. Much better plan.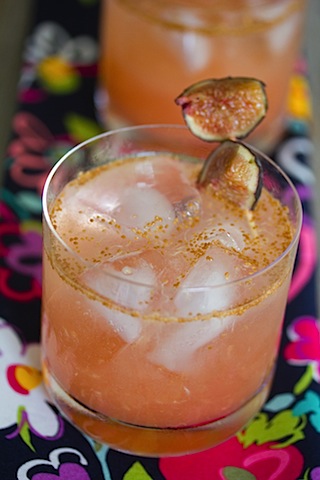 This cocktail totally has me wishing that figs were available year-round because I want to drink this cocktail every day. I mean, if I drank every day. Which I don't. But um, you know what I mean. I just want to have figs in my kitchen all the time. And in my cocktails. And most certainly atop my pizzas with gorgonzola and prosciutto.
But I would say I got a fair amount of fig use in during the late summer and early fall, so I can't do much complaining.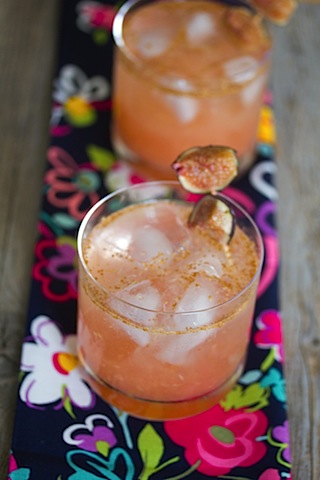 Why did I love this cocktail so much? It had full fig flavor as the vodka really didn't mask any of it. And the lemon and honey nicely complemented the fig, giving it a citrusy sweet touch. it's one of those cocktails that's really difficult to dislike… and really easy to become obsessed with.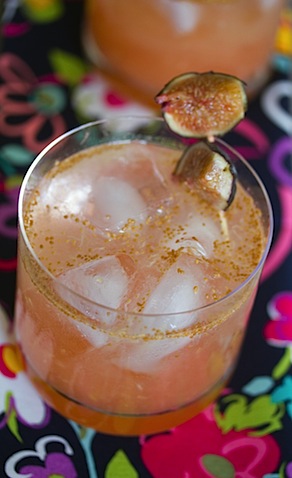 And now we weekend. An act we are all so very naturally good at. What? You don't ever use weekend as a verb? I am on work duty this weekend, but also plan on getting lots of fun stuff done, including, hopefully, a little time in the kitchen. And maybe even a little relaxing (and perhaps some more cocktail-making!), too. Oh, and majorly catching up on Parenthood because I think I'm at least three episodes behind. I'm pretty sure this is my last semi-free weekend before I'm busy pretty much every single weekend until the holidays. Crazy how that happens and just ridiculous that the holiday season is practically here. Help. 🙂
Oh, and I wanted to announce the winner of my Sprinkles book giveaway! The winner is Rachel who commented: Amazing cover! I love sprinkles on sugar cookies. Congrats, Rachel, and I'll reach out to you ASAP for your shipping info!
What are you up to this weekend? Sipping on anything?
[Sues]