Caramelizing figs brings out their natural sugars and leaves you with a deeply sweet little fruit to snack on or to use as an ice cream topping. Just be careful because these caramelized figs can be made in minutes and are addictive!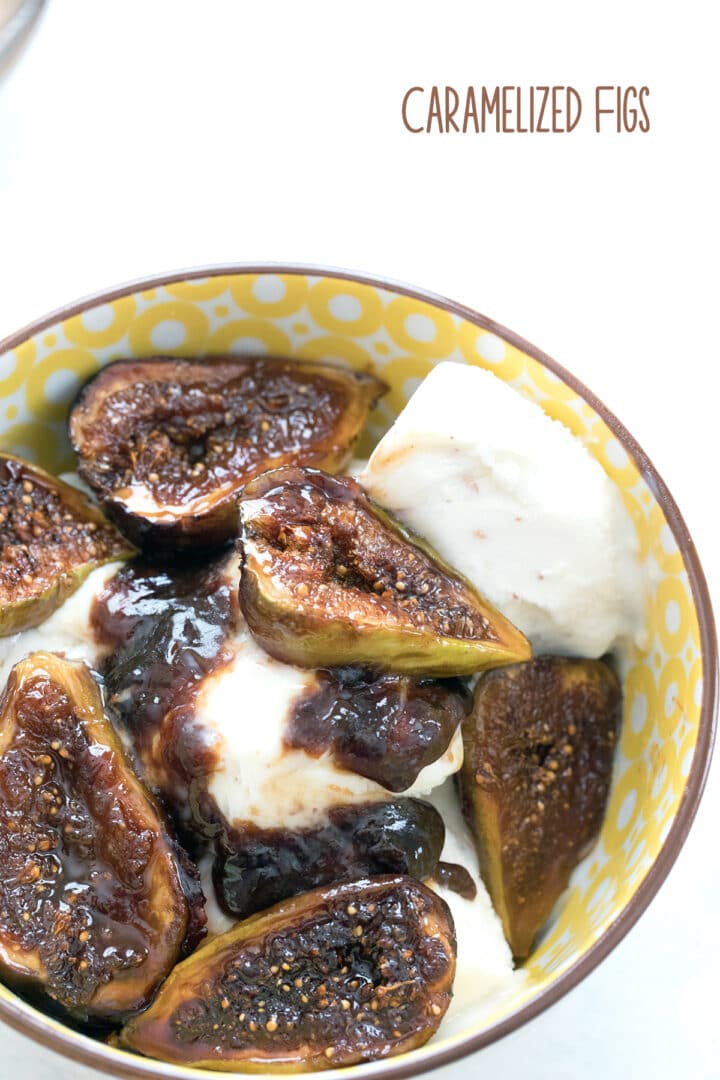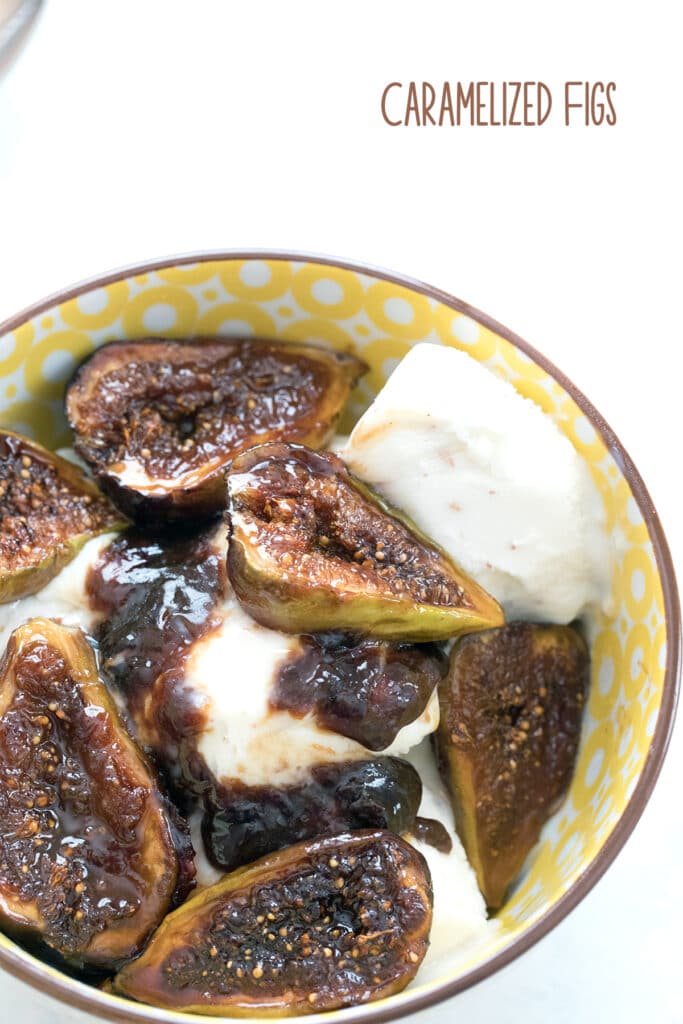 Will you shame me if I tell you that I just spent my entire summer watching Big Brother? If you consider yourself too intellectually advanced for trashy television like Big Brother (I'm jealous of you), then you probably have no idea what the show is about. But you know, even as someone who just watched an entire season of it, I couldn't quite tell you what it's about.
All I know is that it's a major time commitment as it's on three times a week all summer long. Three! At this point, I don't even feel like I'm intelligent enough to do the math to tell you how many episodes that means I watched this summer.
Or maybe I just really don't want to know. I suppose I need to give myself credit for the fact that I didn't watch Big Brother After Dark (the late night live feed you can tune into) or pay to subscribe to the 24/7 live feed so I could watch the house all day every day.
If I had the live feed, my life would be a very dark place and it's highly likely this blog would have ceased production way back in June.
In all fairness, I watch bad TV because I'm usually trying to get work done in the evenings and I can half work and half watch bad TV and still understand what's going on.
Sadly, I don't watch a lot of intellectual television because I'm not good at sitting on my couch and fully immersing myself into a show. I literally need to be doing something else at all times. Which usually means I'm working on my laptop...
But it also occasionally means I'm sitting with a big bowl of ice cream and eating my feelings. Everyone knows ice cream is more healing if it has sprinkles on top, but did you know that caramelized figs have an even stronger effect?
This recipe for caramelized figs was originally posted to We are not Martha back in 2010 and I thought it was high time for an update. Plus, I just really wanted to caramelize figs so I could top my ice cream with them.
How to Caramelize Figs
The recipe has been adapted from Martha Stewart's Cooking School cookbook and is quick and easy, leaving you with a seriously delicious treat. If you haven't tried caramelizing figs yet, make sure you do before fig season is over!
And seriously, how pretty are these? It took me so long to find figs this season and I want them to stick around forever.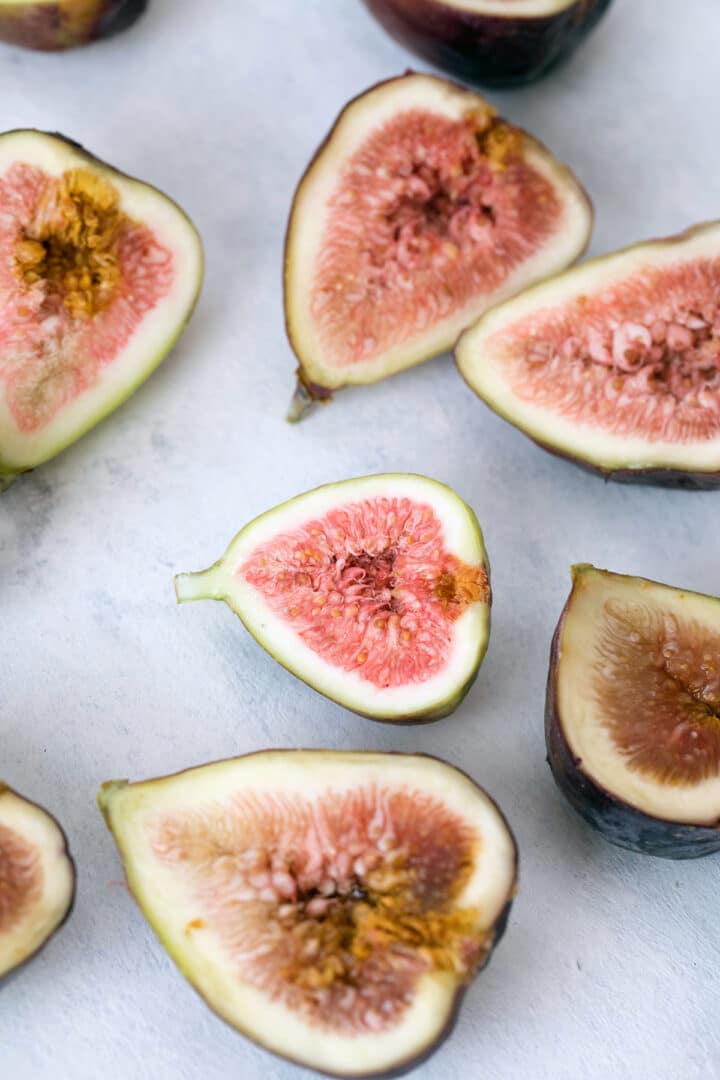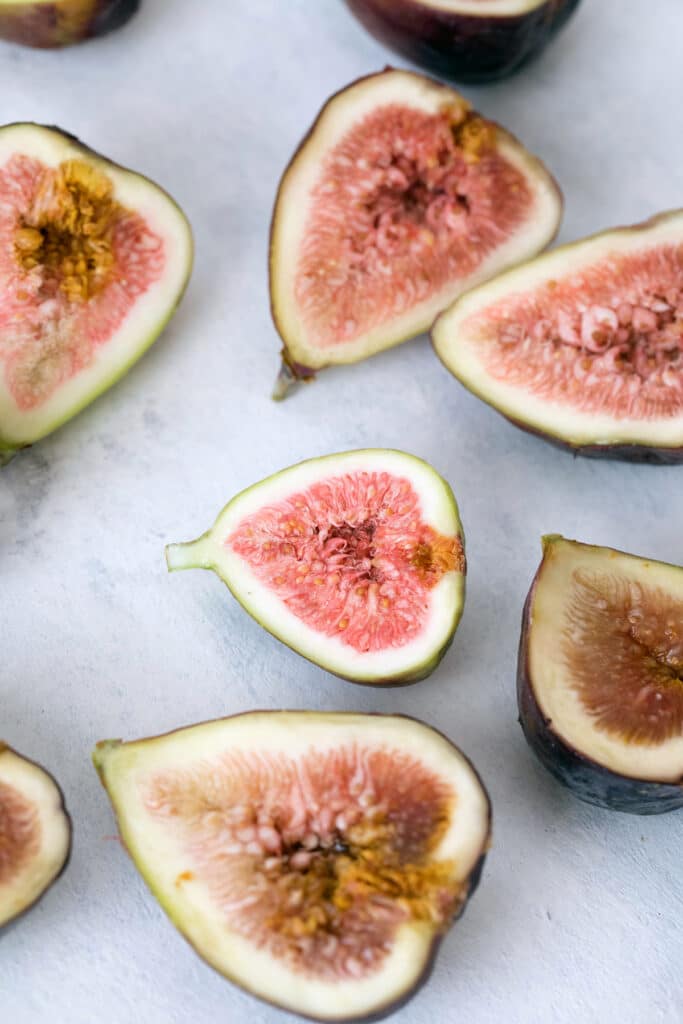 Because figs are delicious.
But figs covered in sugar are exponentially more delicious.
And let's not even talk about what caramelizing them does to their deliciousness levels.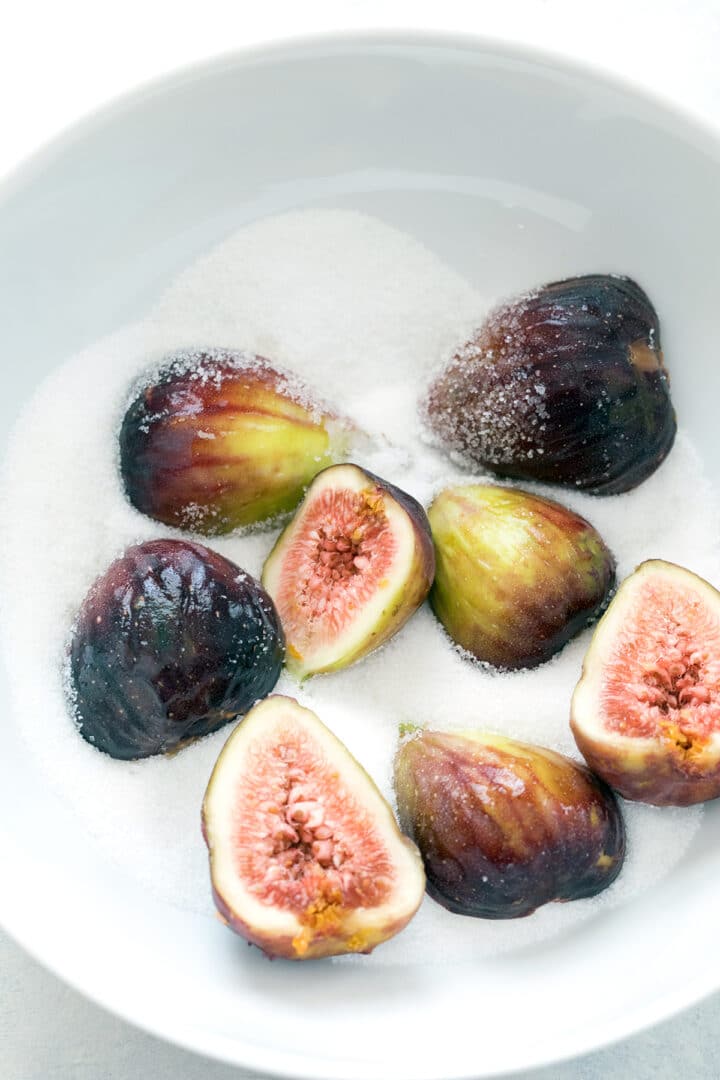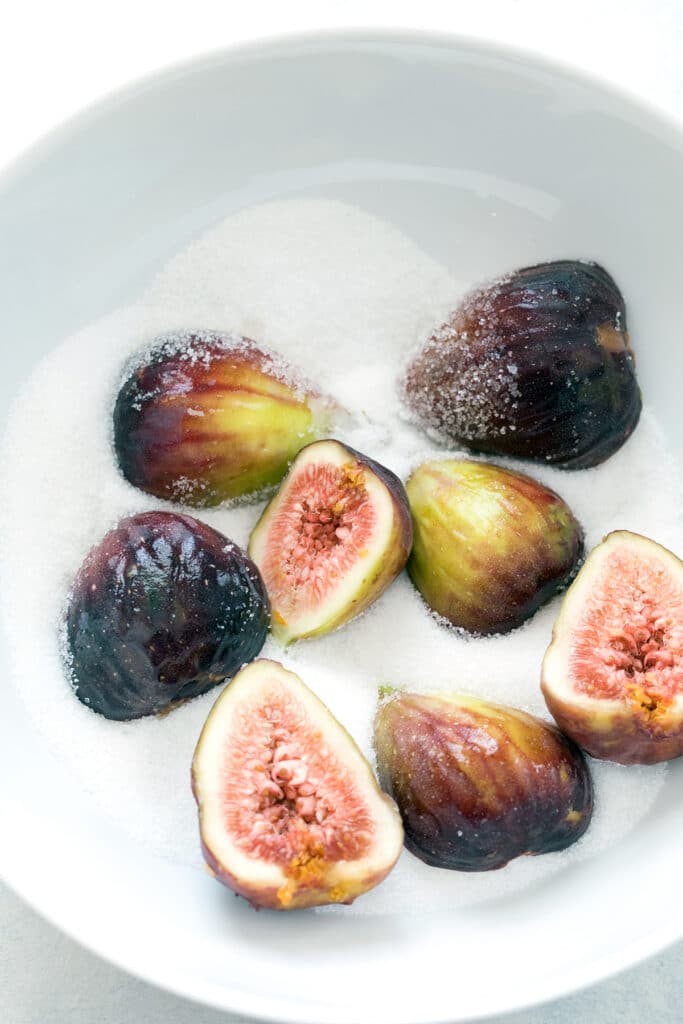 Actually, let's. All you need to do is cover the figs in sugar and place them cut side down in a pan.
Plus, mix in a little balsamic vinegar, butter, and lemon juice.
And you're ready to dig in. You can enjoy the caramelized figs warm or you can cool them to room temperature before digging in.
I'm a fan of adding them as an accompaniment to cheese platters. When I'm not snacking on them right out of the bowl, obviously.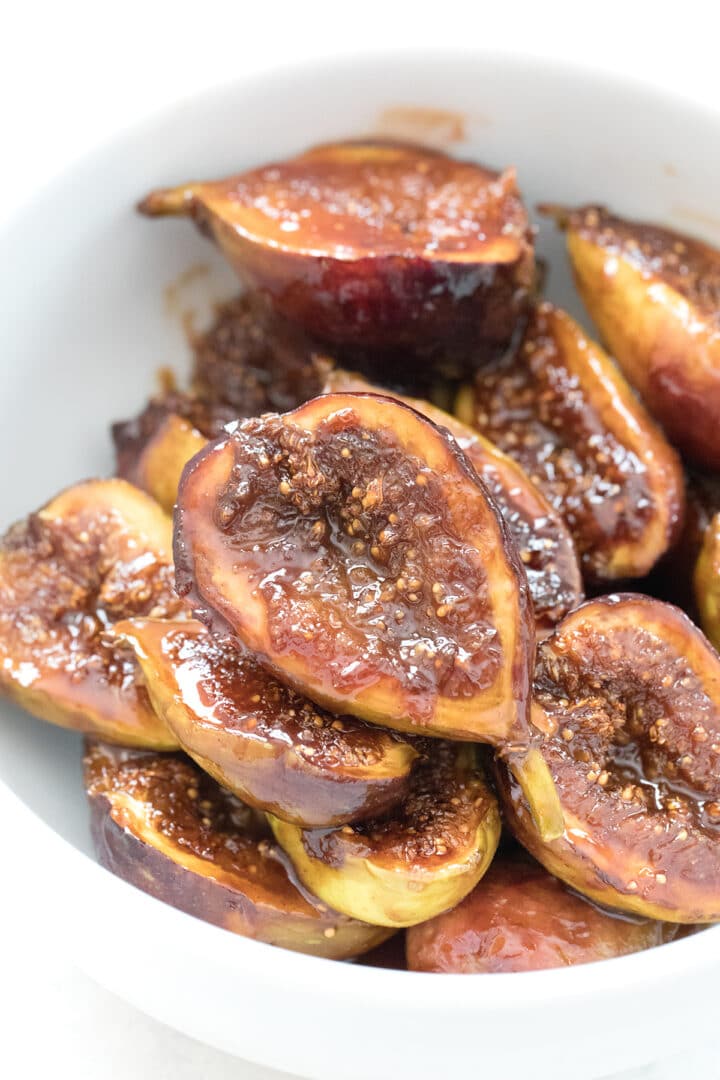 Or, you know, using them as an ice cream topping (I like to drizzle a little of the sauce from the pan over the top, too!).
I pretty much never eat vanilla ice cream, but if it's topped with figs, I'm totally game.
More Fig Recipes
If you're as excited about fig season as I am, check out some of my other favorite fig recipes: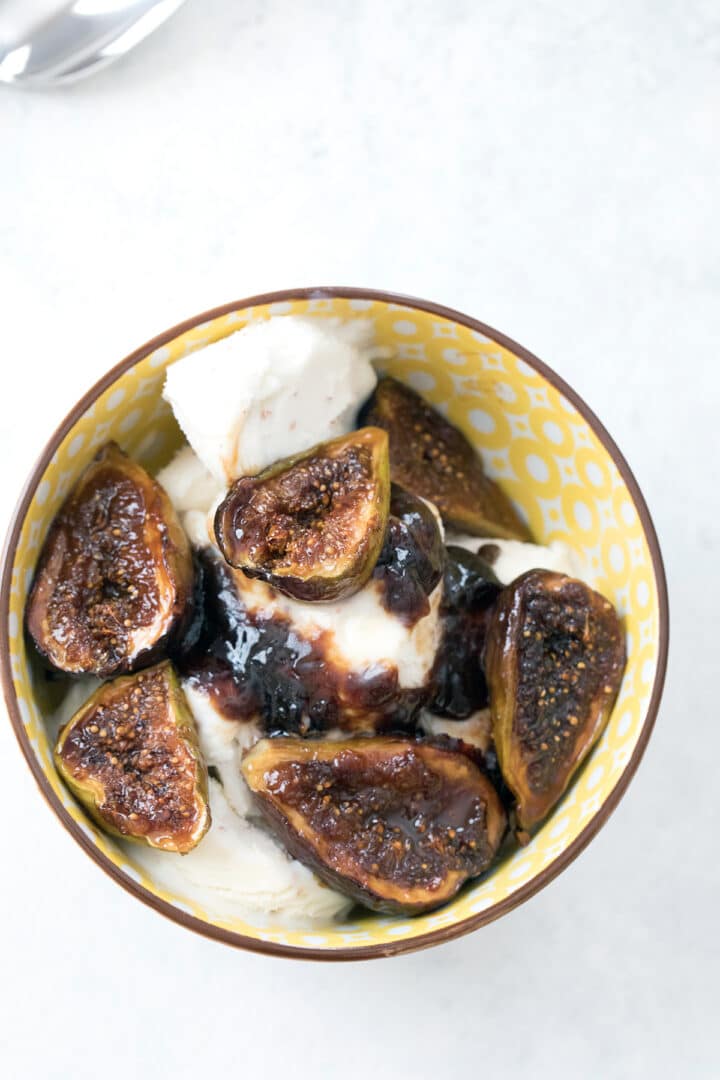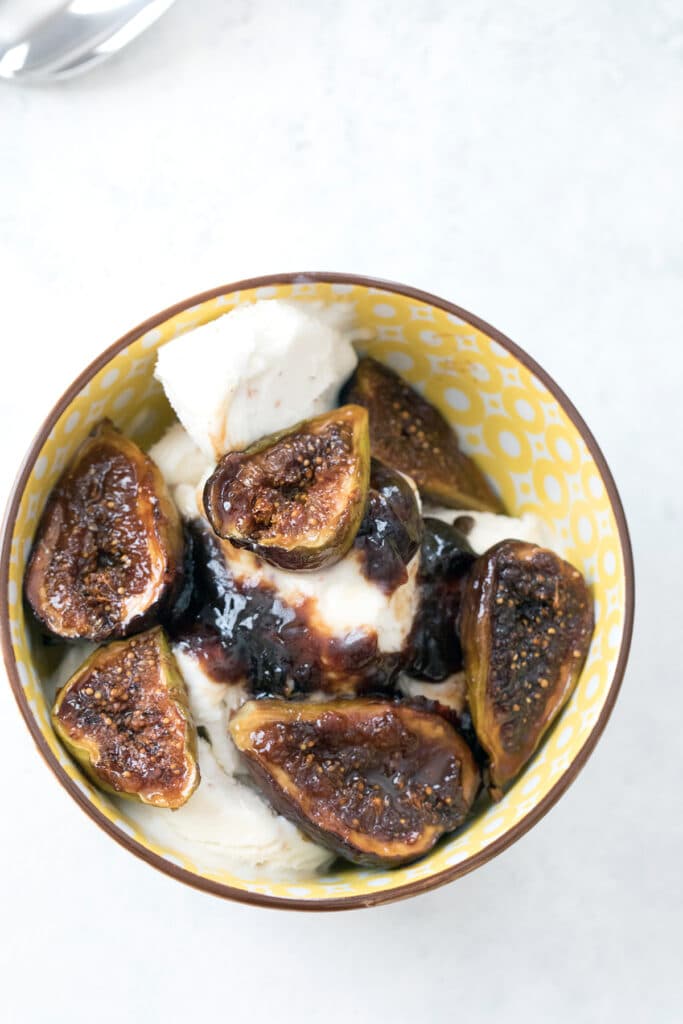 This is heaven. Give me a bowl of fig-topped ice cream, a really bad reality show, and my laptop any day of the week. My needs are pretty simple.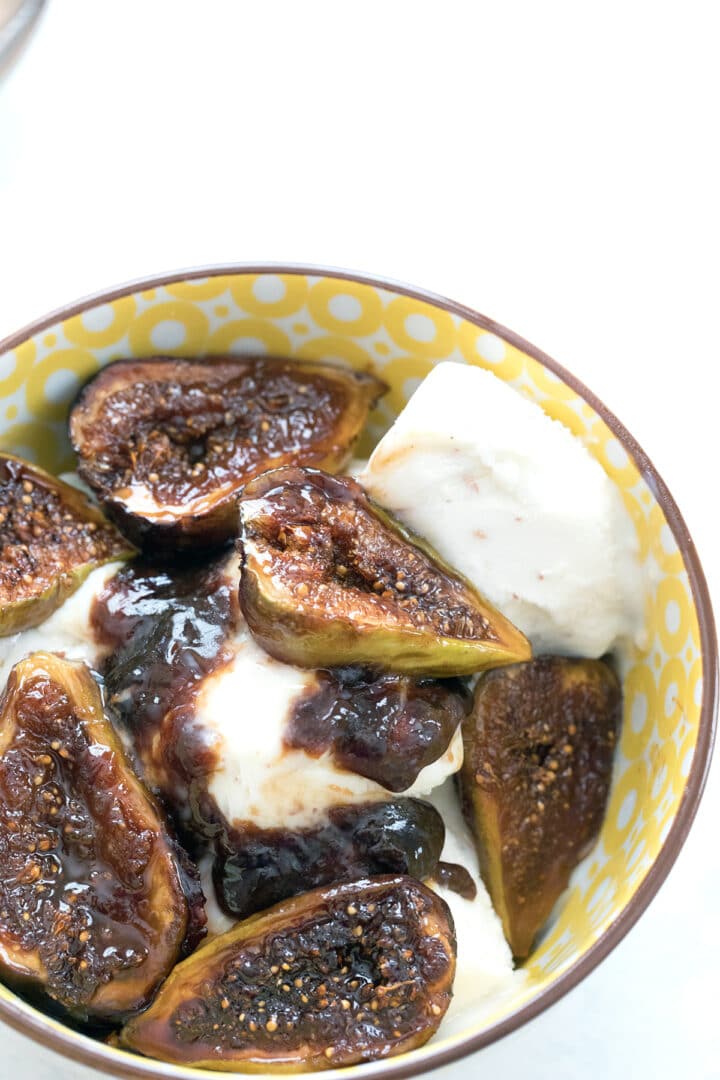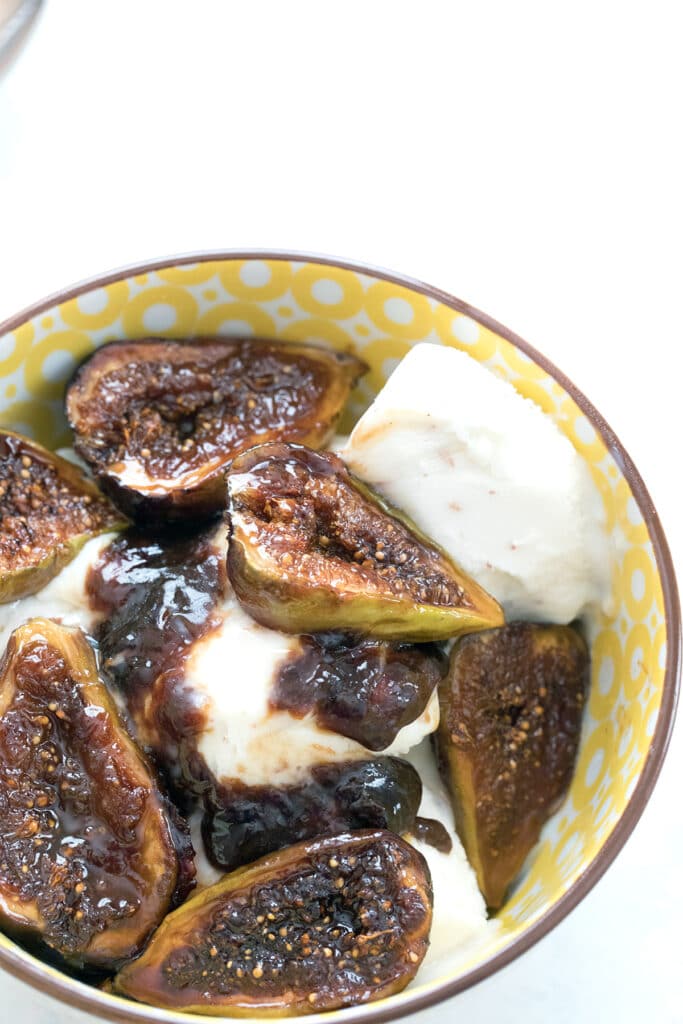 I really hope you're not judging me for my Big Brother fandom, but if you're still here after all my Bachelor rambling over the years, I'm assuming my TV preferences don't offend you much. Or maybe, just maybe, you're in this boat with me?
If that's the case, can we please have a fig caramelizing, Big Brother watching party? I think I need more friends like you.
Have you ever made caramelized figs before? Next up, I want to caramelize pears!
If you're looking for more fig recipes, check out my Dark Chocolate-Dipped Figs with Gorgonzola and my Sweet Fig Cocktail. I also love these Fig and Quinoa Overnight Oats from The Cook and Him!
📖 Recipe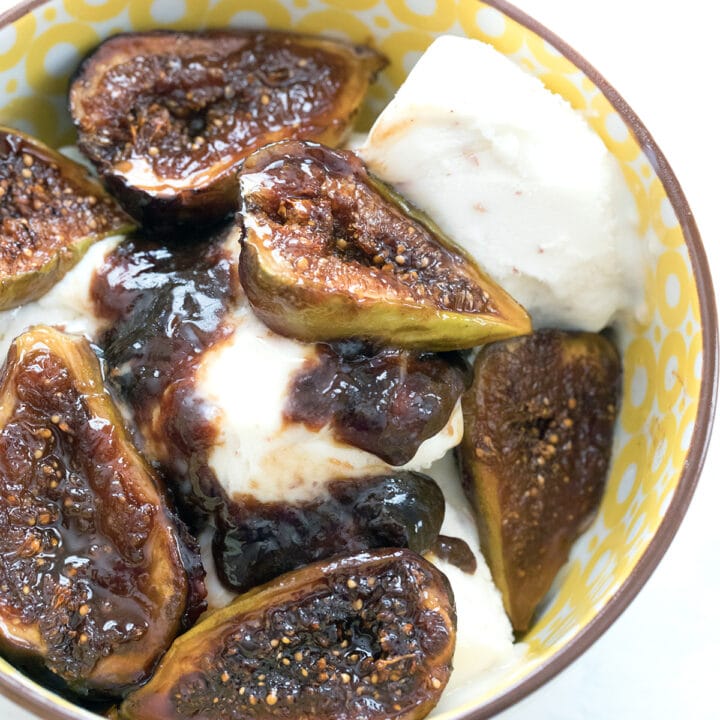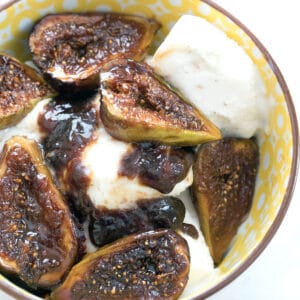 Caramelized Figs
Caramelizing figs brings out their natural sugars and leaves you with a deeply sweet little fruit to snack on or to use as an ice cream topping. Just be careful because these caramelized figs can be made in minutes and are addictive!
Print
Pin
Rate
Makes:
24
caramelized fig halves
Ingredients
½

cup

sugar

¼

tsp

coarse salt

1

pint

figs

(about a dozen, halved lengthwise)

¼

cup

balsamic vinegar

(can also use ruby or tawny port wine, or marsala wine)

1 ½

Tbsp

unsalted butter,

room temperature

1

tsp

fresh lemon juice
Instructions
In a large shallow bowl, stir together sugar and salt. Press the cut side of each fig into the sugar mixture to coat.

Heat a large skillet over high heat and add sugar-covered figs, cut side down, and cook until sugar and juices caramelize, about 3-4 minutes. As figs caramelize, turn them over.

Remove skillet from the heat and add balsamic vinegar. Return to heat and cook to reduce the vinegar a bit, roughly 30 seconds, making sure to scrape up any caramelized bits on the bottom of the pan.

Remove from heat again and add butter and lemon juice, gently swirling to combine.

Serve figs immediately or wait until they cool to room temperature. Add to your cheese plate or top ice cream with the caramelized figs.
Share a Photo of Your Finished Recipe!
Mention @wearenotmartha and share a photo if you've made the recipe!
View web story for recipe