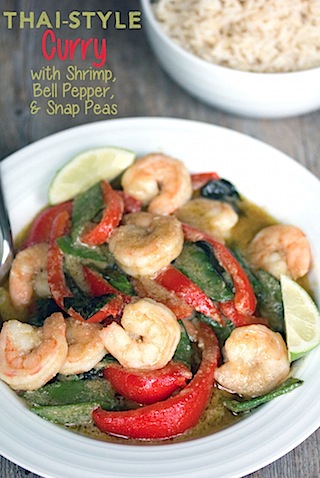 Me and leftovers have a very complicated relationship. Very. On the one hand, there's nothing better than having leftovers in my fridge, so I can just wake up in the morning, grab them out of the fridge, and have my lunch for the day. On the other hand? Lots of times, leftovers bore me to death. And sometimes gross me out. There are a few things you'll never ever find me eating for leftovers and those include salmon, mussels, shrimp… OK basically any fish. Not only does fish just not seem appealing the next day, but heating it up in the office kitchen is a giant unsaid office etiquette no-no. Kind of on the same level as burning your popcorn in the microwave. But probably worse because it wasn't a mistake. You brought that fish to work on purpose.
When America's Test Kitchen sent me their newest cookbook, The Complete Cooking For Two Cookbook, I spent about three hours going through it. Because I wanted to make everything. But I eventually settled on a shrimp dish. Because I'll admit that some of the dishes looked too good NOT to have leftovers from. But shrimp needs to be in and out of my kitchen in one evening, and the trash taken out the very next morning at the latest, thank you very much. Since Chris and I live in a two-person household, we don't need a ton of food for dinner, so these perfect-for-two recipes are just right for us.
I have long categorized Thai food as one of my very favorite types of food. But it's only just now that I've been getting into curry. There is always so much deliciousness to be found on Thai menus and I always want to order one of everything. While it's obviously not from scratch, a jar of curry makes life so easy and at the end of a long (emphasis on the long) day of work, it's just what I need. And it's my new obsession.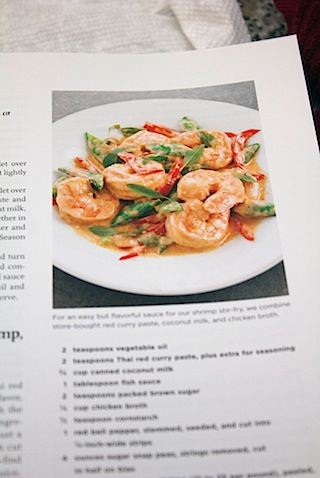 This recipe was supposed to be Thai-Style "Red" Curry, but my grocery store was plum out of red curry, so I decided to use green instead. In totally weird happenings, immediately after I made and ate this dish, I found TWO, count them TWO, opened jars of red curry in my fridge. I have absolutely no clue what they were doing there or what I even made with red curry, but there they were. It kind of makes me worry about my mental health. Anyway, I loved this dish with green curry, but know red would be delicious, too, so use whatever you want. Especially if you randomly have open jars of curry in your fridge.
Thai-Style Curry with Shrimp, Bell Pepper, and Snap Peas (serves 2):
From America's Test Kitchen's The Complete Cooking For Two Cookbook
Print this recipe!
2 t vegetable oil
2 t Thai curry paste, plus extra for seasoning (red or green)
¾ C canned coconut milk (I used light)
1 t fish sauce
2 t packed brown sugar
¼ C chicken broth (I used low-sodium)
½ t cornstarch
1 red bell pepper, stemmed, seeded, and cut into ¼-inch wide strips
4 oz. sugar snap peas, strings removed, cut in half on bias
8 oz. extra-large shrimp (1-25/lb.), peeled, deveined, and tails removed (I used frozen)
¼ C fresh basil (Thai basil if you can find it)
2 t lime juice
Salt and pepper, to taste
Cooked brown rice for serving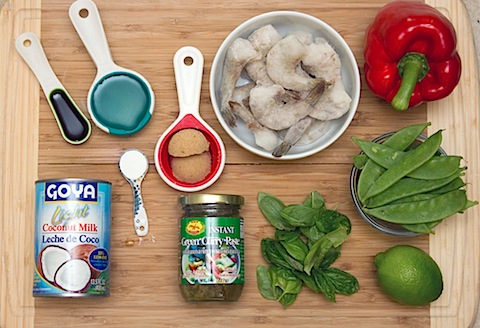 I was psyched to see this recipe was also marked "FAST." I like FAST.
Start by heating the oil in a 10-inch nonstick skillet over medium-high heat until shimmering. I used my large All-Clad wok because I'm obsessed with it and use it whenever I have the chance. Add curry paste and cook until it's fragrant, about 30 seconds. Mmmm, yes this means your kitchen will already smell delicious.
Then whisk in coconut milk, fish sauce, and sugar. In a separate little bowl, whisk together chicken broth and cornstarch and then whisk this into your skillet. Bring it to a simmer.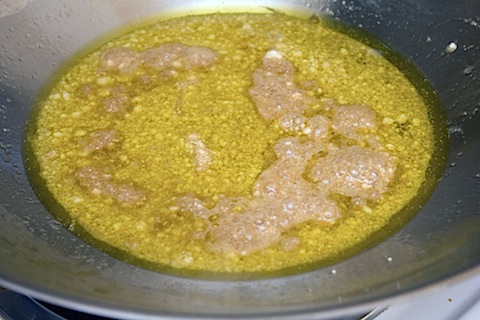 Stir in bell pepper and snap peas and then simmer until the veggies are crisp and the sauce has begun to thicken, about 5-8 minutes. Taste and add extra curry if you think it needs it. I added extra because why not?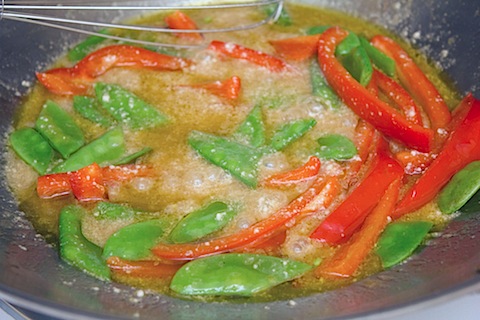 Now you're ready to stir in the shrimp and let it simmer until the shrimp is opaque throughout, 3-5 minutes.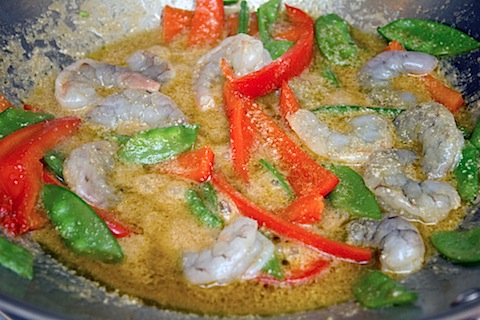 Remove the skillet from the heat and stir in basil and lime juice, before sprinkling some salt and pepper over the top.
I decided to serve the curry over a little bed of brown rice. Because there's nothing better than when rice sops up curry. Isn't sops a weird word?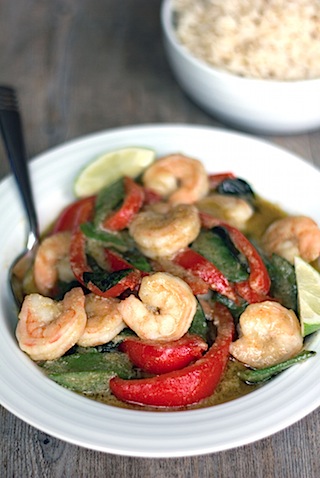 If you just read the above instructions on how to make this, you have to admit this is just about one of the easiest recipes ever.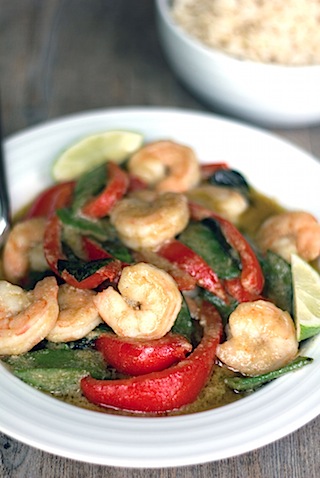 And I hope if you're seeing these photos, you're thinking it might be one of the most delicious. The flavors were OUT OF CONTROL. Any of the broth that the rice didn't sop up, I totally slurped from the bowl. Slurp is another weird word. But I like it.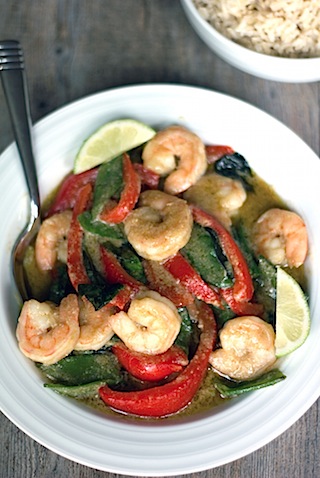 Man, I could eat shrimp for just about every meal at this time of year.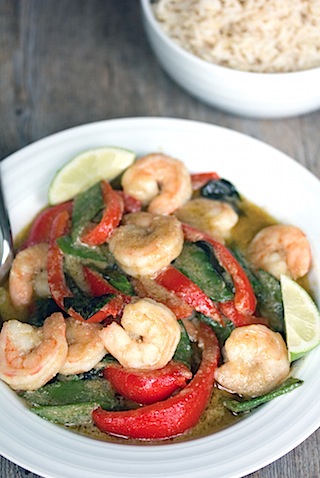 But for one night only. I don't want to find this in my fridge the next morning. With this recipe, I certainly don't have to worry about that. It was absolutely the perfect size meal for me and Chris. We gobbled it up, did the dishes, took out the trash (those shrimp tails), and went to bed.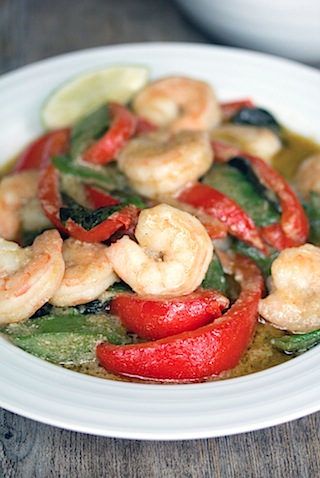 Best plan ever. Also since I used frozen shrimp, I still have enough leftover to make this again in the very near future. All I need to buy at the store is red pepper and pea pods since I always have brown rice and all the other staples in my fridge. Plus a beautiful blooming basil plant. And now three (THREE) open jars of curry in my fridge.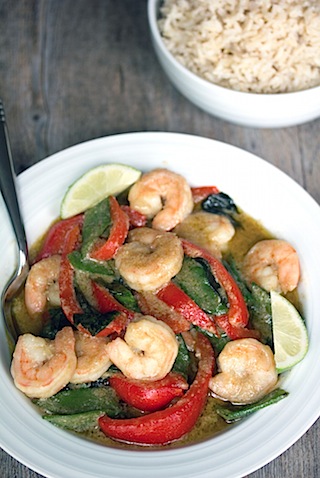 I'm definitely going to continue working my way through this new The Complete Cooking For Two Cookbook from ATK, probably starting with the Grilled Mediterranean Swordfish Skewers (also labeled as FAST!) and moving on to Seared Scallops with Butternut Squash, Clams with Israeli Couscous, Kielbasa, and Fennel, Tempeh Tacos (still haven't cooked with tempeh), and Panzanella Salad (everyone knows panzanella just isn't as good the next day… Soggy bread…. Enough said).
But I'm also going to make this curry about a million more times.
Do you cook for two at home? Or do you have a big family or just love a lot of leftovers?
[Sues]
Full disclosure: My friends at America's Test Kitchen sent me their new cookbook, but all opinions are 100% my own!