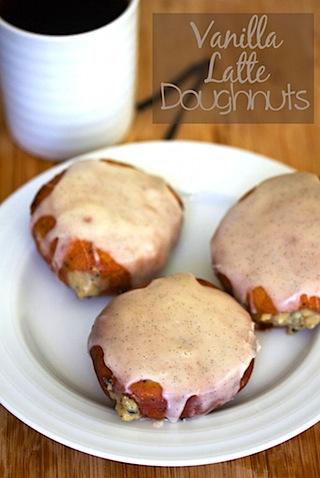 Monday morning. There are only two things that can save it. Coffee and doughnuts. And they need to be had together. To be fair, a national holiday is really the perfect way to save a Monday morning, but as there are only so many of those in year, we'll take what we can get. Which is coffee and doughnuts. There's not really much of a better pairing (unless you're talking wine and cheese or wine and chocolate or wine and charcuterie or really just wine and anything I guess… though maybe you should try to stay away from those pairings on a Monday morning). You know coffee and doughnuts go together like match made in heaven, so why not incorporate the coffee into the actual doughnuts? Kill two birds with one stone, if you will… Plus you can have another cup of coffee on the side. Or 12. It is Monday morning, after all.
I'm seriously kicking myself right now for not saving one of these doughnuts for this Monday morning. Probably the only thing worse than a Monday morning is a Monday morning in February. In New England. I mean, are we done with winter yet? I was in Virginia this weekend and wore my spring jacket or no jacket the entire time. Now I'm back in Boston and back to my knee-length, fur covered winter coat. I'm about ready to burn the thing in ceremonial fire symbolizing the death of winter. Have I mentioned my winter coat doesn't have a hood? Who makes a winter coat without a hood? Not someone who spends winters in snowy Boston. End rant.
Back to the doughnuts. These were born from me wanting to incorporate the idea of coffee and doughnuts together, but then going a little crazy with vanilla paste and deciding to whip up a vanilla latte custard to pipe into my espresso doughnuts. And a vanilla glaze to top them. Vanilla lattes are pretty much my favorite treat coffee anyway. And now they're my favorite treat doughnuts.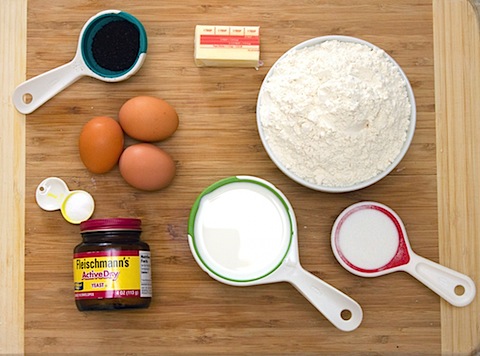 Vanilla Latte Doughnuts (makes 12):
Print this recipe!
2 1/2 t active dry yeast (1 packet)
2 T warm water
3 1/4 C all-purpose flour
1 1/2 T espresso powder
1/4 C sugar
1 t salt
1 1/4 C whole milk
1/2 stick unsalted butter, room temperature
3 egg yolks
Canola oil
1 batch vanilla latte custard (see below)
1 batch vanilla icing (see below)
You can either use espresso powder or you can embrace the opportunity to use your mortar and pestle and crush your own. I didn't crush mine super fine (mostly because I got a little bored after crushing it for so long), but I kind of liked the bigger granules in the doughnuts and custard.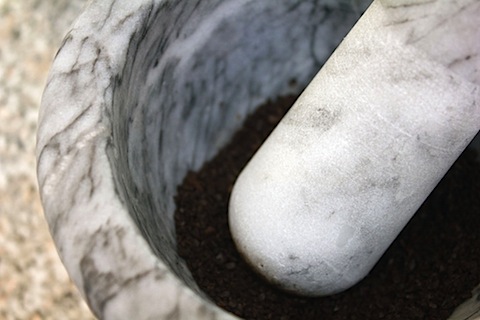 Dissolve your yeast in the warm water for about 5 minutes, so it gets a little bit frothy.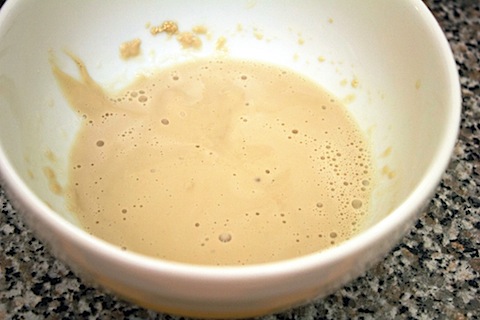 In a mixer (or in a big bowl with a hand mixer), whisk together flour, espresso powder, sugar, and salt.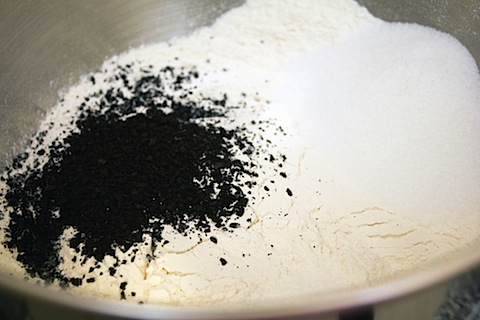 Then add in milk, butter, egg yolks, and yeast mixture and blend together using the mixer's dough hook (if you don't have a mixer with dough hook, a hand mixer is fine).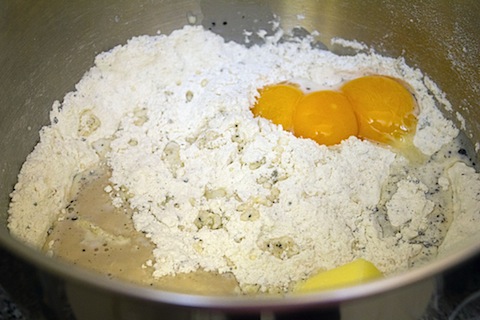 Form dough and then increase mixer speed to medium and let mix for about 3 minutes.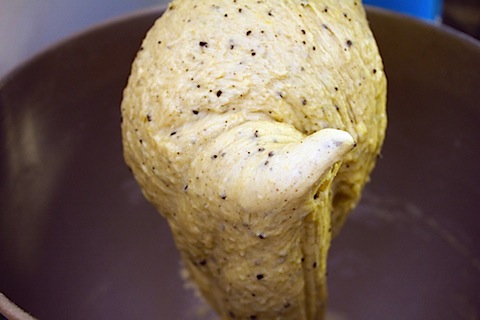 Sprinkle the dough with some flour, cover with a kitchen towel, and place in a warm place for about two hours, so it can rise.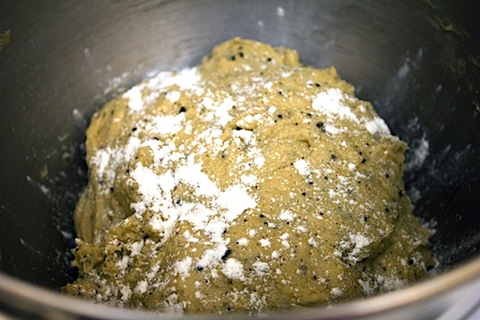 While the dough is rising, you should probably make the custard because it's going to need some time to cool down.
Vanilla Latte Custard:
Print this recipe!
2 C whole milk
1 t vanilla paste or vanilla extract
2/3 C granulated sugar
5 large egg yolks
1/4 C cornstarch
1 T unsalted butter, room temperature
1 1/2 T espresso powder dissolved in 1 tablespoon water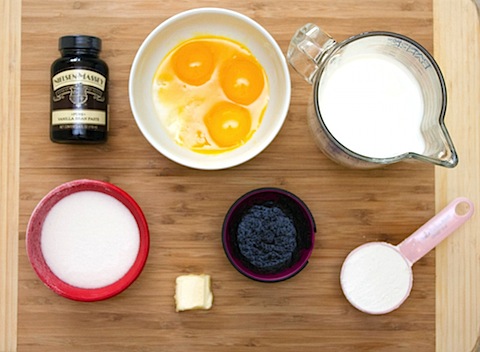 Bring milk and vanilla to a simmer in a large saucepan and then remove from heat.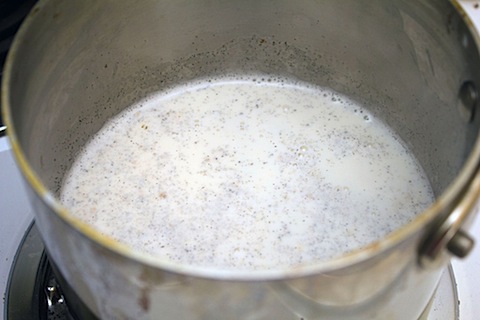 In a separate large bowl, beat sugar and egg yolks together until thick.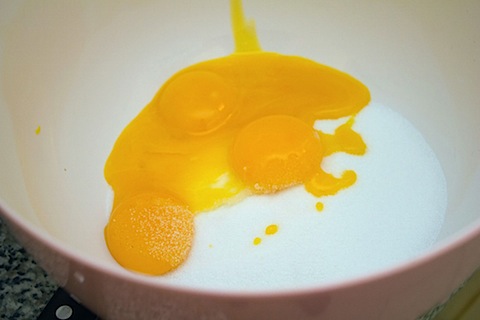 Stir in cornstarch.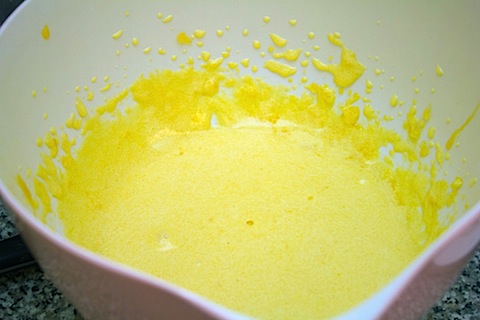 Slowly whisk half of hot milk from the saucepan into the bowl with the egg mixture to temper the eggs.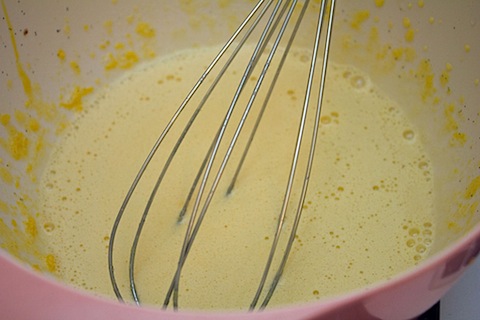 Then add that egg/milk mixture back into the saucepan and whisk over medium heat until the mixture is thickened. This will take about 4 minutes.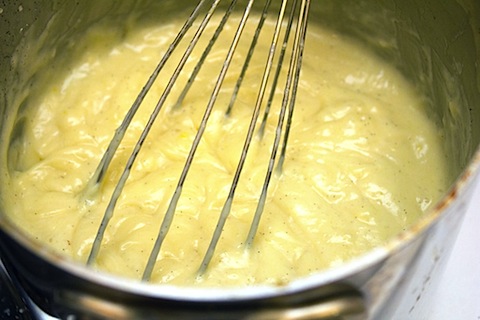 Remove the custard from the heat and stir in espresso water.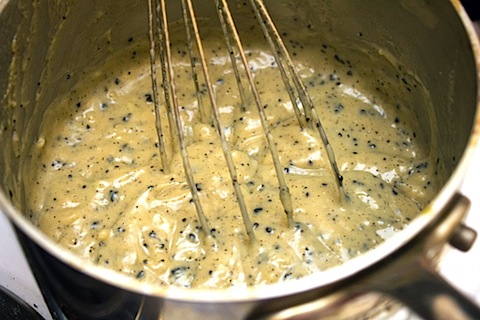 Remove custard to a separate bowl and cover with plastic wrap. Make sure the plastic wrap is actually touching the custard so that a skin doesn't form. Put the custard in the fridge to cool.
Oooh, look; your dough rose! So pretty.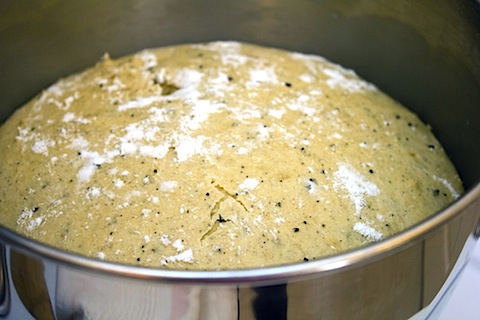 Place your dough on a lightly floured surface.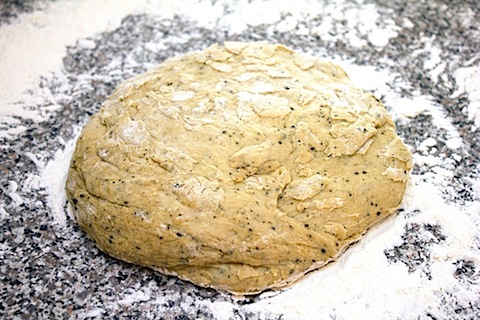 And roll it out so it's about 1/2 inch thick.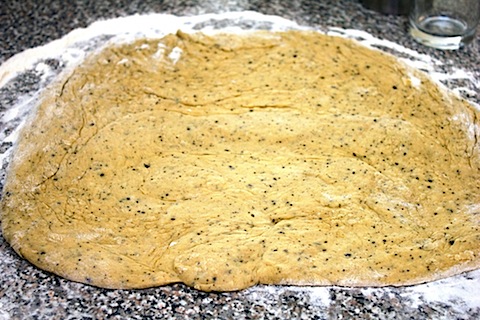 Using a biscuit cutter or the top of a drinking glass, cut out as many rounds from the dough as you can. I used a 3-inch drinking glass since 2 3/4 inch is the largest my biscuit cutters comes. Place rounds on a lightly floured baking sheet.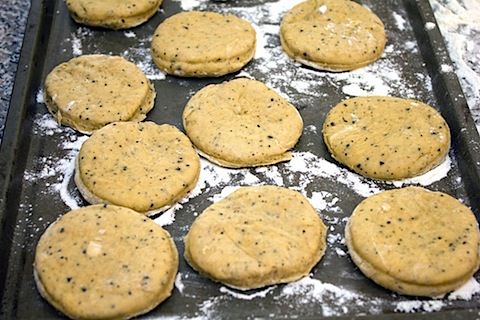 Cover the baking sheet with your kitchen towel and let rise again for about 30 minutes.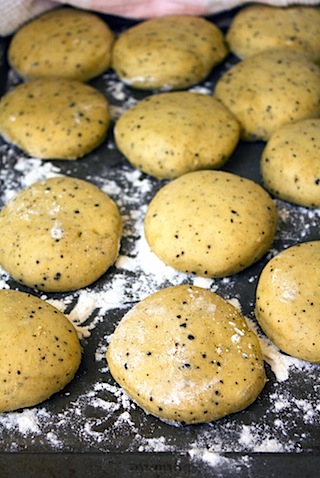 In the meantime, heat your oil up. You want about 2.5 inches of canola oil in a large pot. And you'll need to bring it up to 350 degrees. This temperature is very, very important. If your oil isn't hot enough when you fry, all of the oil will seep into the food. If the oil is the right temperature, the food will quickly fry and the oil won't seep in. So, 350 degrees for healthier frying, y'all.
I know I shouldn't be using the words "healthier" and "frying" in the same sentence… But I did.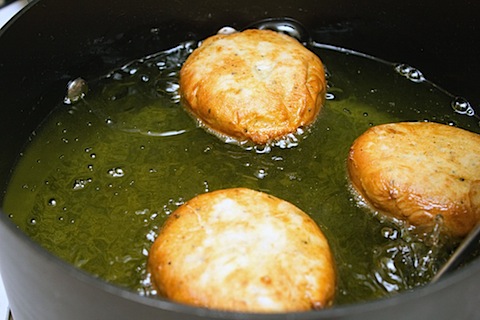 Fry those lovely dough balls for a minute on each side until they start turning golden. You can do a few at a time.
Place fried doughnuts on a paper towel-covered plate to rest.
And when all are fried, move to a metal rack to cool.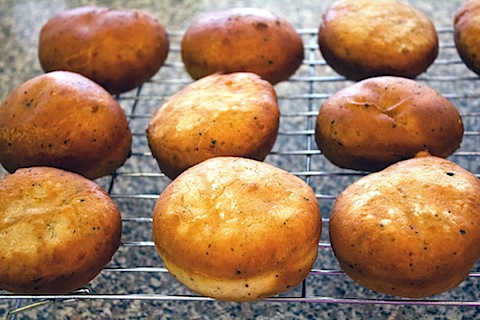 While they're cooling, make the icing. I know these doughnuts are a lot of steps, but they're SO SO worth it. And this icing is basically the easiest thing ever.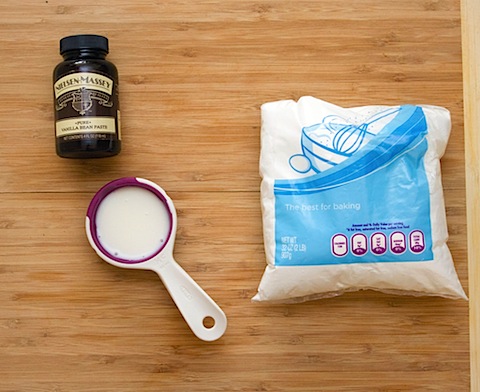 Vanilla Icing:
Print this recipe!
2 C powdered sugar
3- 3 1/2 T milk
1 t vanilla paste or vanilla extract
All you have to do is whisk all the ingredients together. Start with 3 T milk and if you need the icing to be a bit more liquid-y, add a bit more. If you want even more vanilla flavor, feel free to adjust that measurement, too.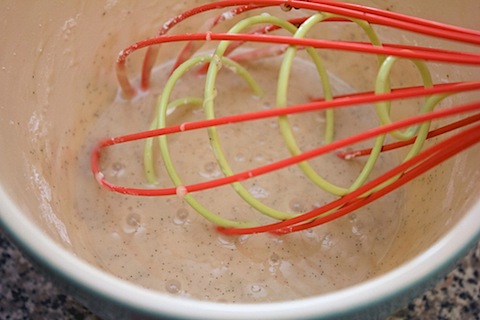 Get your cold custard out of the fridge and using a pastry bag with long tip, pierce each doughnut and squeeze some custard into the middle. Then drizzle a layer of icing over the top.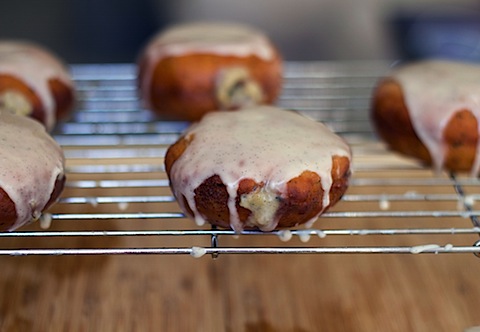 I recommend letting the doughnuts rest for about 10 minutes so the icing will harden.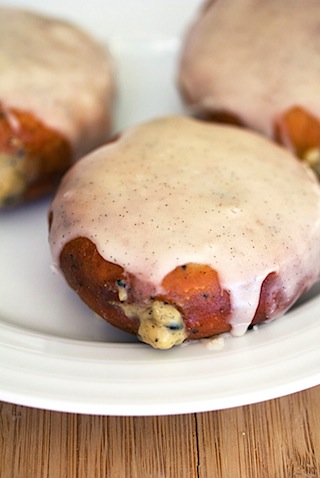 Pour yourself a cup of coffee OR whip up a vanilla latte and dig in. Monday morning, who?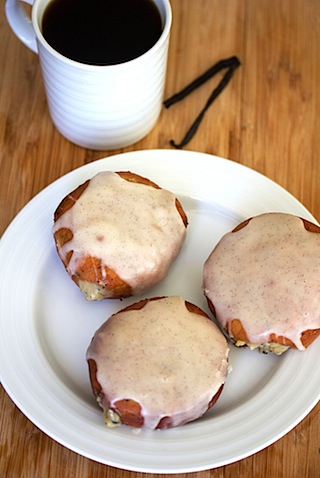 I'm not sure what exactly I loved best about these. Could be the creamy custard filling with strong vanilla notes, but also deep espresso flavoring. Like I mentioned, my espresso granules were a bit on the bigger side and I loved their impact each bite of doughnut I took.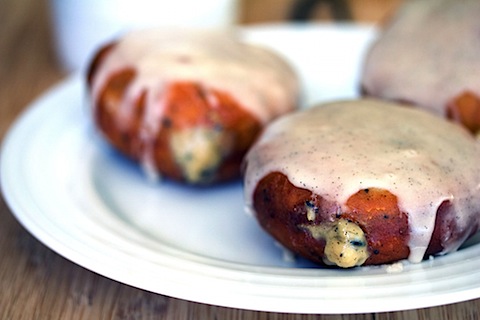 If you're feeling lazy, you could always skip the filling and stick to an espresso doughnut with vanilla icing. Not quite the same, but definitely saves a few steps. I used to think frying doughnuts was so hard, but now I'm finding that it's dangerously easy.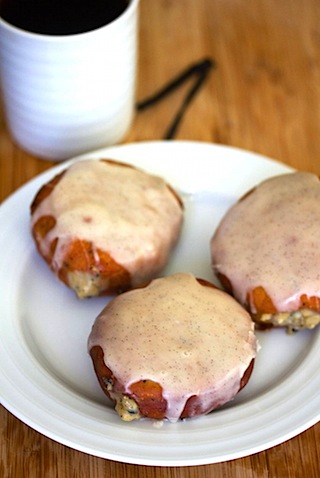 I know doughnuts aren't part of a balanced breakfast, but I strongly believe how rules go out the window on Monday mornings. Whatever it takes to get you through. Whatever it takes.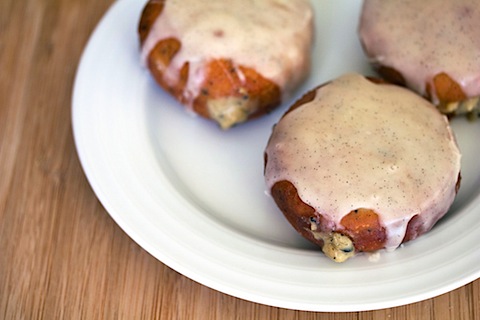 The only major issue is that these doughnuts are so light and airy, that you'll find yourself grabbing for a second or third without even thinking about it. At least I'll still have my coffee…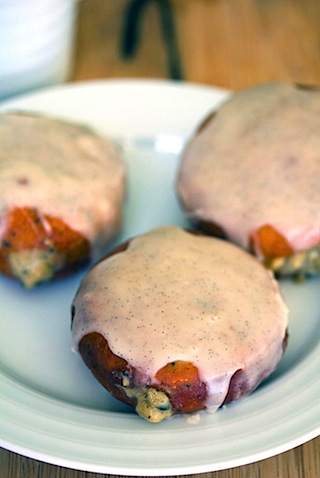 UGH. Have I mentioned how mad I am that I have no doughnut in my hand this Monday morning? Because I'm pretty sure it's going to throw off my entire day.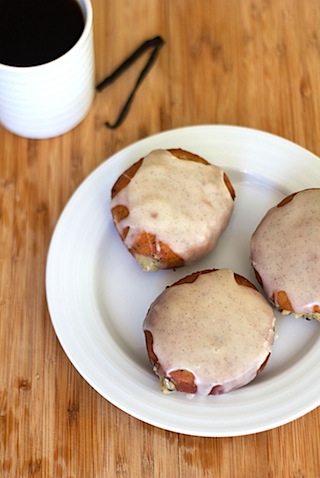 Now I'm seriously craving a jelly doughnut. What is wrong with me?
How do you make your Monday mornings a little bit brighter? Doughnuts and coffee?
P.S. Happy, happy birthday to my dad, the very best dad!! 🙂
[Sues]