If you're going to fry donuts, you may as well go all out and make glazed chocolate frosted donuts. And add in coffee for good measure!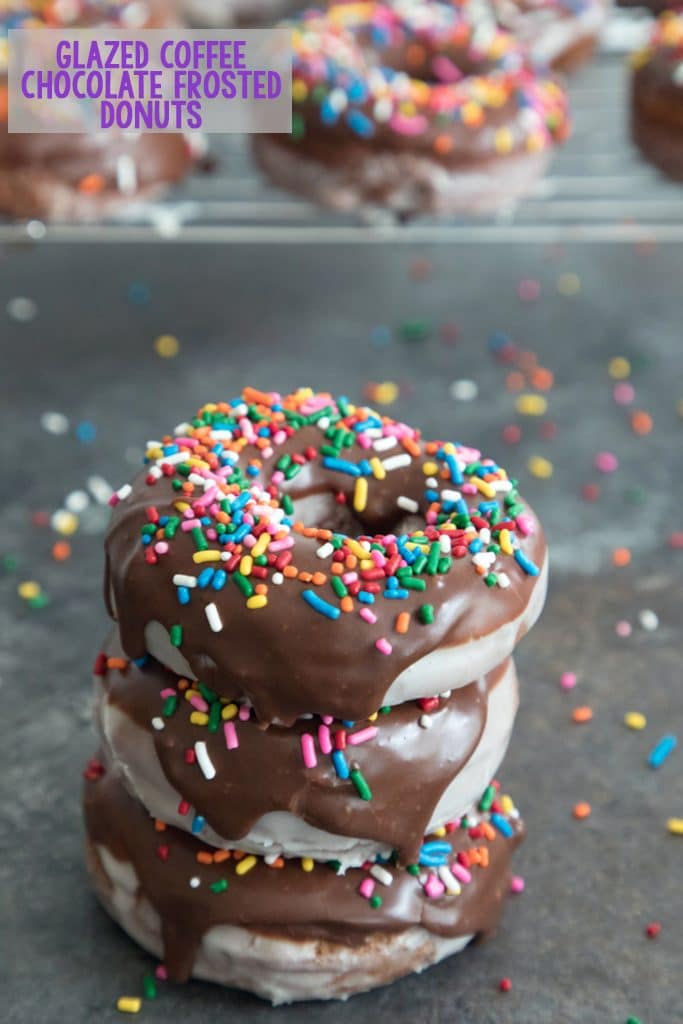 Is there anything worse than the sound of your alarm clock going off on a weekday morning? Actually, yes. You know what's worse? When you wake up naturally and think to yourself, "please, God, let it be 2:00 a.m. so that I have three more hours of sleep ahead of me."
But then, despite the fact your eyes are still closed, you notice some light coming in through the blinds. And when you turn to look at the clock, you see that it's 4:58 a.m. and realize you have approximately two minutes left in your warm and cozy bed with your dog snuggled in close with you before the alarm goes off.
That is worse than being woken up by your alarm. Then, if you're me, you have to figure out how to ease your way out of bed while your dog is draped across you absolutely refusing to budge. Do you even know how difficult it is to get out of bed when you're snuggled up with a warm little fluff ball? Ugh. The only thing that can save things is a donut. Or 12.
Bonus points if said donut involves coffee... Like these ones. Really, there's nothing fancy about these donuts, other than the fact that there's a little coffee mixed in to the dough. And they're glazed and chocolate frosted. Oops?
Oh, and did I mention they're fried and not baked? Guys, it's been so long since I fried donuts and I was majorly craving them, so I went for it. I've actually been craving glazed and chocolate frosted donuts for weeks, but for some reason, I thought frying donuts was going to be such a commitment.
It's really not and I forgot just how easy they were. And since I was craving both glazed and chocolate frosted donuts, I decided I would just combine my cravings into one donut. Perhaps a little bit excessive, but ask me if I care (hint... I don't!).
Glazed Coffee Chocolate Frosted Donut Recipe
If you haven't done much baking with yeast, I think donuts are a great place to start. Mainly because the reward makes everything so well worth it. But seriously, yeast is nothing to be scared of and there's something so, so satisfying about watching dough rise. The dough for these coffee donuts can be quickly whipped up in a mixer (or in a bowl with a hand mixer) and then placed in a bowl to rise.
Even just looking at these photos is like therapy for me.
You can literally cut the donuts with a drinking glass and shot glass if you don't have round cookie cutters or a donut cutter. [affiliate link!] See? No fancy tools required. Just a lot of oil.
But you shouldn't be intimidated by that either. All you need to do is bring the oil up to 375 degrees and let the donuts fry for like 1.5 minutes. It doesn't get smoky or too smelly (like frying with oil sometimes does).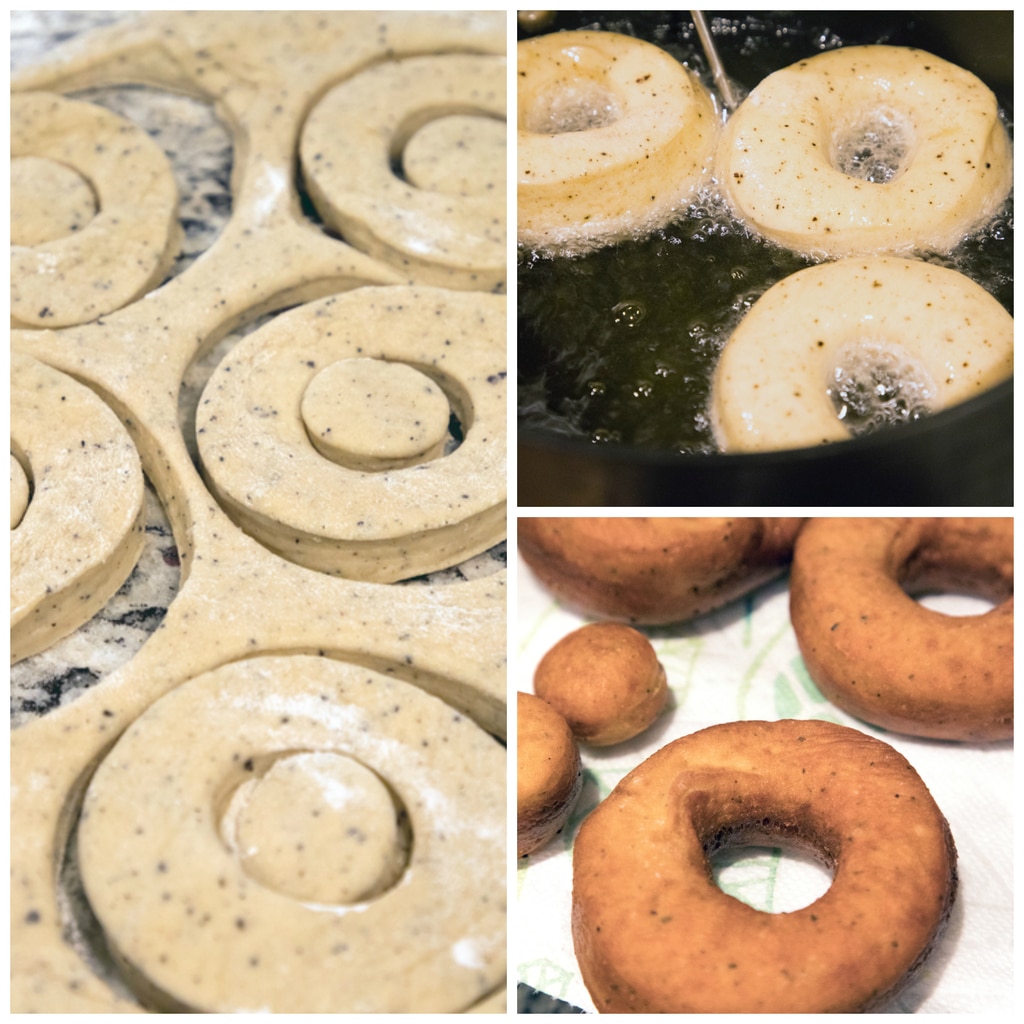 And you're left with beautiful homemade coffee donuts. Which are basically a blank canvas for doing absolutely anything you want. Like I mentioned, there's no way I could decide between a glaze and a chocolate frosting, so I went with both. It was worth it.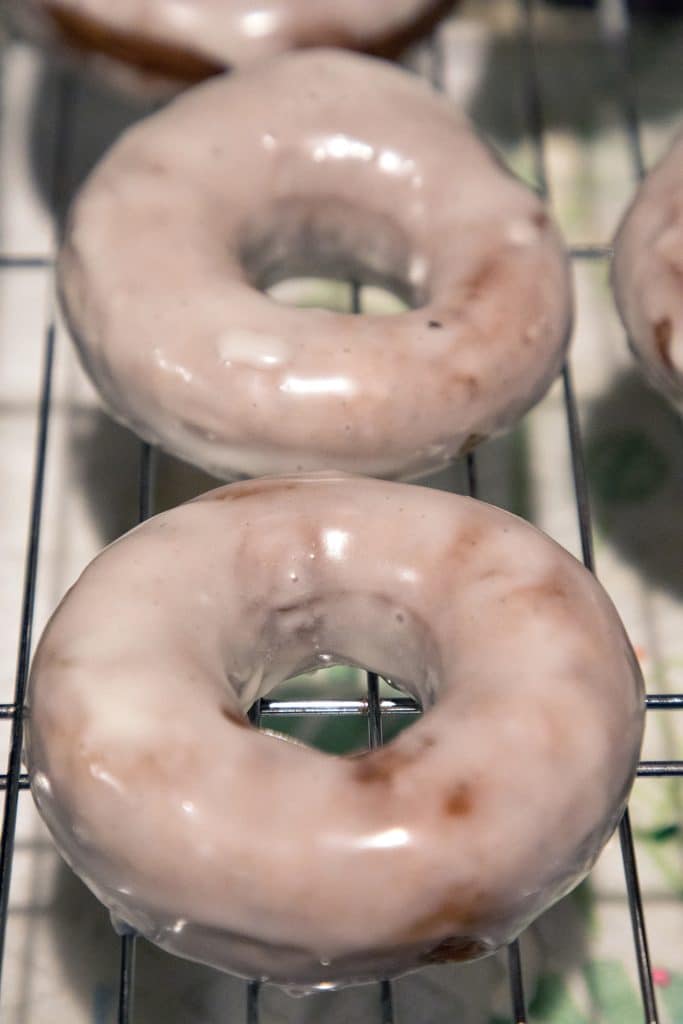 I'm pretty sure that's how Krispy Kreme does theirs. Though I wouldn't really know considering Krispy Kreme lasted in Boston for a total of .5 seconds. Everyone was so excited the chain was coming, but then nobody ended up frequenting it.
Probably because we're a city that's stuck on its Dunkin' Donuts (seriously, my town has EIGHT Dunkin' Donuts in it... And my town isn't that big). But I also think it's because independent donut shops are becoming more of a thing. I rarely go to Dunkin's because we also have a couple really good donut shops near us.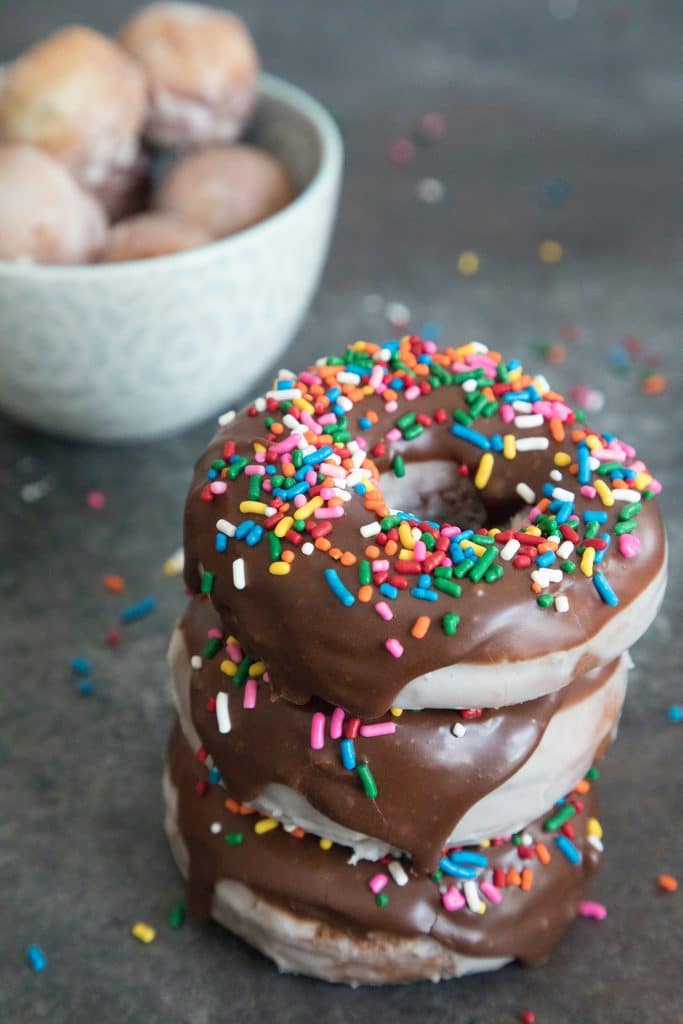 Not that I should really be frequenting donut shops very often... Especially when I'm making these babies right at home. But you know... Sometimes on Saturday morning, the feeling strikes.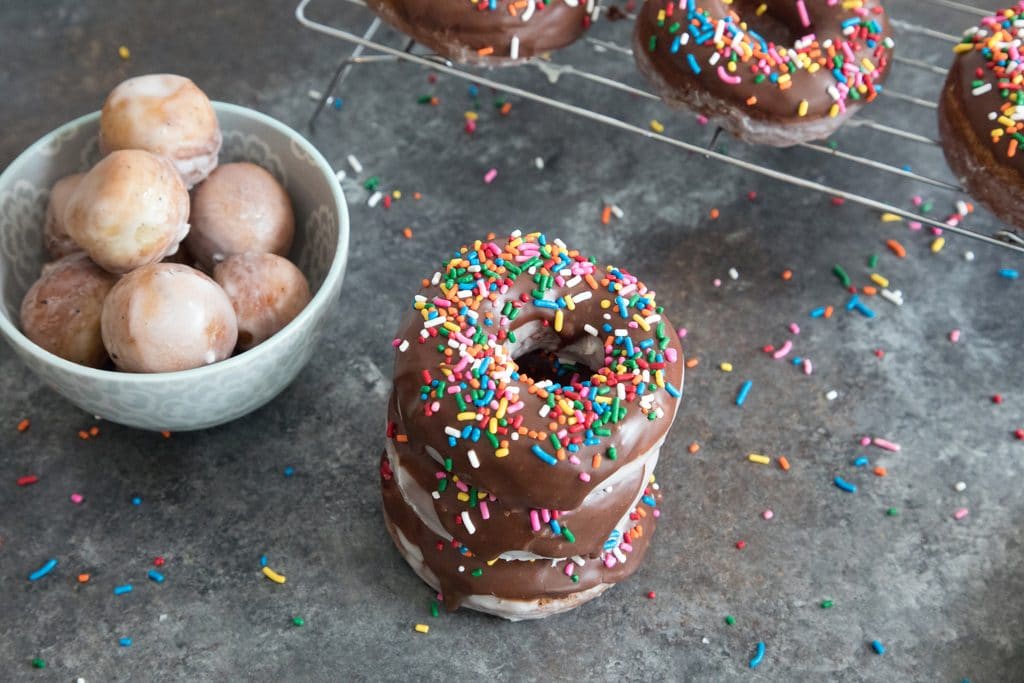 I normally crave strawberry frosted, but for some reason I haven't been able to stop thinking about chocolate frosted donuts lately. The more sprinkles the better.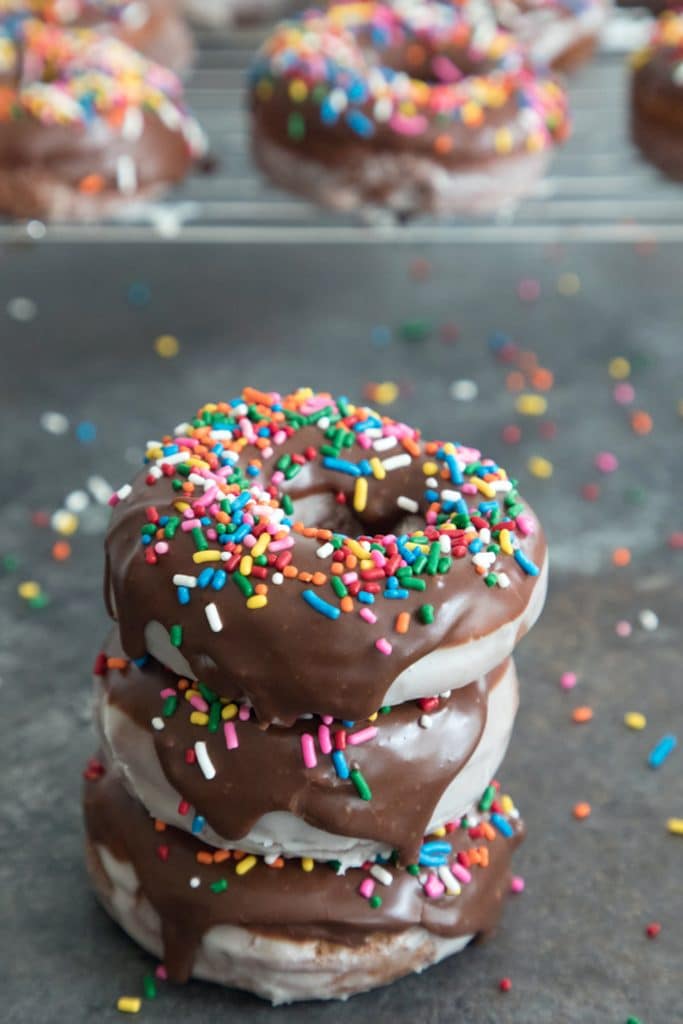 While some people may tell you that donuts don't make an appropriate breakfast, I'm willing to argue that with a) hey, whatever gets you out of bed in the morning and b) there's coffee in these, so... breakfast. The coffee was kind of an afterthought, but I'm all about coffee anything and everything and it gave these donuts a little extra kick that I was looking for.
Obviously if you're making donuts, you need to fry up the donut holes as well since waste is a terrible thing. I simply glazed the coffee donut holes since I figured adding chocolate frosting would be going a little too far. Plus, that glaze is really good.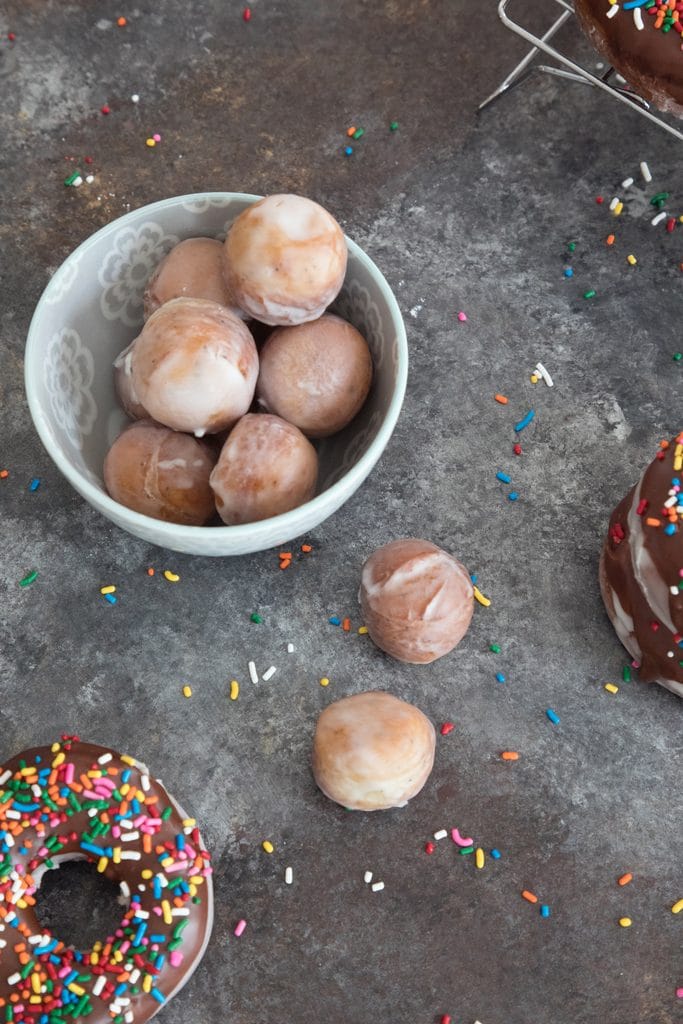 I might actually start waking up at 4:58 and being happy my alarm is about to go off knowing that these are waiting for me in the kitchen.
Of course, I'd be even happier if I could sleep in until 8:00 and then leisurely indulge in one of these chocolate frosted donuts while reading my favorite food blogs and watching the Today Show. But hey, beggars can't be choosers, right?
Happy Monday!! I hope the idea of a Glazed Coffee Chocolate Frosted Donut with extra sprinkles is enough to help make the start of the week a little bit easier on you. Next week is the 4th of July, so I hope that means you get a little extra time off... I'm lucky enough to have Monday and Tuesday off, which makes me probably the happiest person alive right now.
What's your favorite kind of donut?
If you're looking for more delicious donut recipes, check out these Blueberry Mojito Donuts and these Grapefruit Donuts. I also can't wait to make these Maple Glazed Donuts from Cooking for My Soul.
📖 Recipe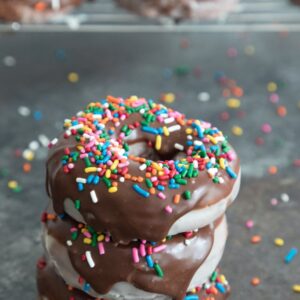 Glazed Coffee Chocolate Frosted Donuts
If you're going to fry donuts, you may as well go all out and make glazed chocolate frosted donuts. And make them coffee flavored for good measure!
Print
Pin
Rate
Ingredients
Coffee Donuts:
1 ¼

cups

whole milk

2 ¼

teaspoons

or one package active dry yeast

2

large eggs

½

cup

1 stick butter, melted and cooled

¼

cup

granulated sugar

2

Tbsp

coffee grounds

1

tsp

salt

4 ½

cups

all-purpose flour,

plus more for rolling out the dough

2

quarts

canola oil (or other neutral oil),

plus more for bowl

1

batch donut glaze

(recipe below)

1

batch chocolate frosting

(recipe below)

Rainbow sprinkles
Donut Glaze:
3

cups

confectioners' sugar

¼

cup

plus 2 Tbsp whole milk

1 ½

tsp

vanilla
Chocolate Frosting:
3

cups

confectioners' sugar

5

Tbsp

cocoa powder

¼

cup

plus 2 Tbsp whole milk

1 ½

tsp

vanilla
Instructions
Coffee Donuts
In a small saucepan, heat milk until it's warm but not hot, about 90 degrees.

Pour milk into the bowl of a stand mixer or other large bowl if using an electric mixer) and sprinkle Fit stand mixer with dough hook or use electric mixer to beat the eggs, butter, sugar, coffee grounds, and salt into the yeast mixture.

Add half of the flour (2 cups ¼ cups) and mix until combined.

Mix in the rest of the flour until the dough begins to pull away from the sides of the bowl.

If dough feels too wet, add more flour, 1 tablespoon at a time.

If the dough becomes too thick to knead in the mixer, transfer it to a lightly floured surface and gently knead it until smooth.

Grease a large bowl with a little oil, transfer the dough to the bowl, and cover with a kitchen towel. Let rise at room temperature until dough doubles in size, about 1 hour.

Turn the dough out onto a floured surface and roll to ½-inch thickness.

Cut doughnuts with a lightly floured doughnut cutter, cookie cutter (one large and one small), or a drinking glass (and shot glass), making sure the larger round is 3-3 ½ inches in diameter. Reserve donut holes.

After cutting donuts from dough, knead any leftover dough together again, taking care not to overwork and let rest for a few minutes before rolling out and cutting again.

Place doughnuts on two floured baking sheets, leaving about 2 inches between each one. Cover with a kitchen towel and let rise in a warm place until dough is slightly puffed up, about 45 minutes (if your kitchen is too cool, you can pre-heat oven to 200 degrees, turn off, and then place pans in oven with door slightly cracked).

When donuts are almost done rising, put oil in a heavy-bottomed pot or Dutch oven over medium heat and bring to 375 degrees.

While oil is coming to temperature, line cooling racks, baking sheets, or plates with paper towels.

Carefully place donuts in oil, a few at a time (you can use a metal spatula if they're too delicate to pick up with your hands).

Fry for 30-45 seconds, until bottoms are deep golden, and then use a slotted spoon to flip and cook for another 30 seconds until donuts are golden all over.

Transfer donuts to the prepared plates or racks and repeat with the rest of the dough, keeping oil at 375 degrees. Once donuts are fried, repeat with donut holes, taking note that these will fry faster than donuts.

Once donuts are cool enough to touch, dunk in glaze, flip over and dunk again, and let excess drizzle off before placing on wire racks with paper towels underneath to catch any additional excess glaze.

Let glaze harden before dipping tops of doughnuts in chocolate frosting and adding rainbow sprinkles.
Donut Glaze
In a medium bowl, whisk together confectioners' sugar, milk, and vanilla until smooth. If glaze is too thick, add additional milk 1 tsp at a time.
Chocolate Frosting
In a medium bowl, whisk together, confectioners' sugar, cocoa powder, milk, and vanilla, If frosting is too thick, add additional milk 1 tsp at a time.
Share a Photo of Your Finished Recipe!
Mention @wearenotmartha and share a photo if you've made the recipe!