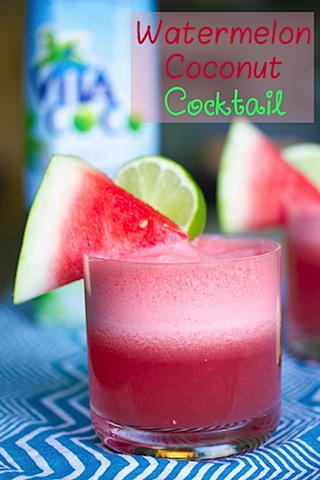 I know coconut water is, like, majorly old news by now. I mean, most of you are probably so over it and remember it like you do a bad fad from the early 90s, like troll dolls or No Fear t-shirts. You wore them with your Umbro shorts and Sambas and thought you were soooo cool. Kind of like you did when you were drinking coconut water after yoga while wearing your Lululemon getup last year. Oh, and then there's the rest of you who probably never liked coconut water because, let's face it, it's a little weird-tasting. Well, guess what? I love it and I'm still hooked on it. And I'm drinking it more than ever.
I still think of it as a kind of magical liquid. Whenever I'm feeling down or just a little blah, I start chugging the stuff and immediately feel better. Silly? Perhaps. But it even relieves my headaches and I'm not going to argue with that. So, for hangovers? This stuff is a godsend. And consider I'm now at an age that I can't have two drinks without waking up feeling like I went on a drinking binge, it's welcome in my life. So um, I guess it's a little ironic that I'm not drinking it in cocktail form. Huh.
Think of it as both the problem and the solution. In one. You can't beat that. And you CAN have your fun and drink it, too. If that makes sense? If I have to explain it, probably not. Oh well. It's Friday. Let's have a drink!
Oh wait, have you had Coco Cafe yet? It's coconut water, but with espresso and milk. Mix in a little liquor and I don't even know what to say right now. This might have to be involved in my next cocktail: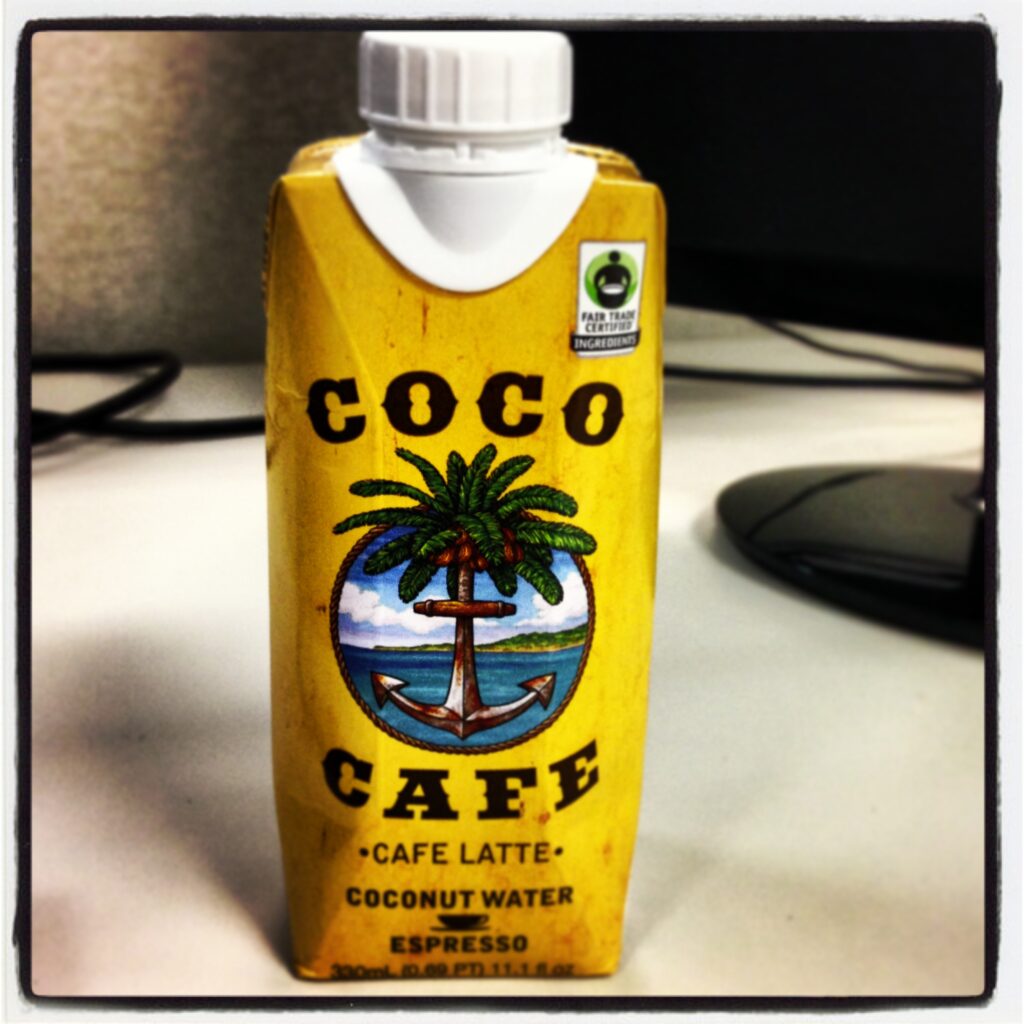 Anyway, without further ado… ahem.
Watermelon Coconut Cocktail (serves 4):
Print this recipe!
1 C ice
3 C seeded cubed watermelon
1 1/2 C coconut water
1/3 C light rum
2 T freshly squeezed lime juice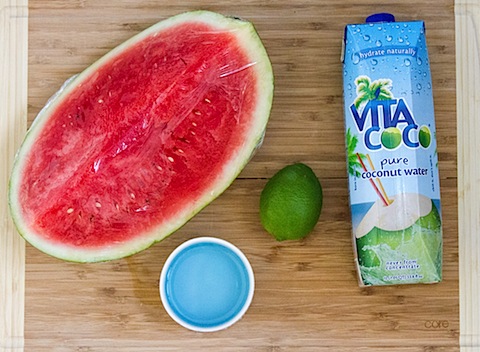 I didn't even take photos of the drink-making process here. Probably because I was too anxious to just get it in the glass and drink it. And because there's not really much of a process, unless you want to see photos of me lugging my blender out of my pantry, which I'm guessing is a big nope! Though my pantry is such a mess right now, you might actually find a little bit of humor in it. You really just want a watermelon cocktail, right?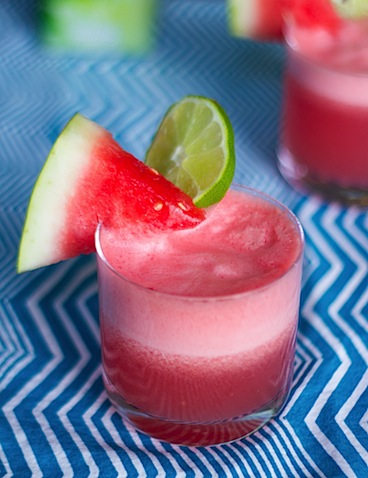 So really, all you do is put all of the ingredients in the blender. My Vitamix is the best! Blend everything together and serve in a glass.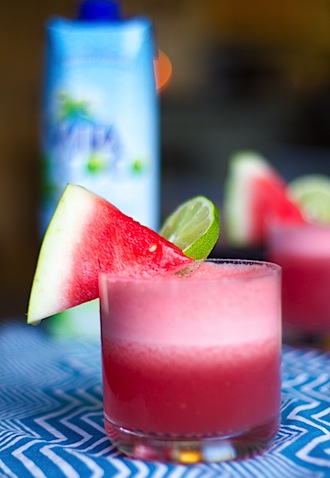 Garnish with a watermelon wedge and lime slice. And a wedge of coconut if you have one. Which you probably don't. Which is why you purchase coconut water in a little carton from the grocery store. Amiright?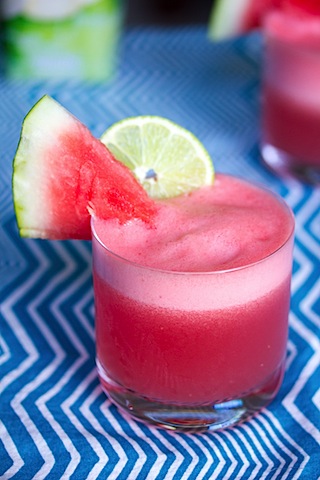 Easy. And the color totally blew my mind. Bright and vibrant and totally summer in my glass. With a bit of froth for good measure. If you haven't tried coconut water yet, I'll tell you you'll likely either love it or hate it. I wasn't a fan the first time I tried it, but then I tried it again and got hooked. It's super mild and just tastes like water with a touch of coconut. There's a little bit of saltiness, too. What is not to love?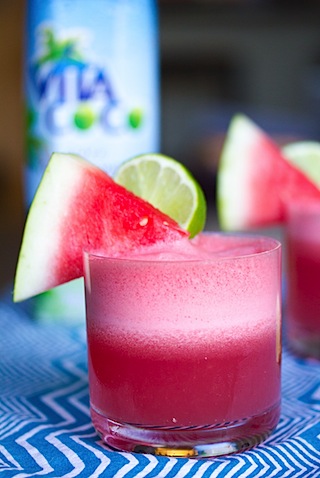 I think this watermelon cocktail would be the perfect drink to sip on at a daytime party. By the pitcher. It will go fast. So, make extra.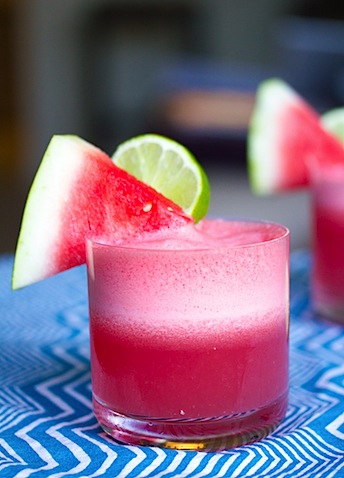 The watermelon combined with the coconut water make this drink amazingly refreshing. Which means you won't get dehydrated and even with the kick of rum, you can enjoy a couple. Because remember… watermelon and coconut water are both fairly low calorie. Woot. These days it seems that we have to think way too much about how something will make us feel in the morning and how many calories are involved. Oh, isn't growing up a joy!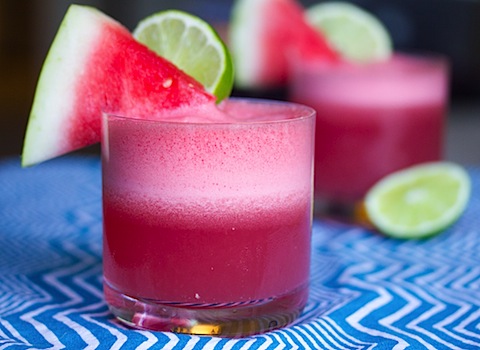 Speaking of feeling like the oldest person in the world… and sharing the oldest news ever, have you seen this Taylor Swift parody yet? I discovered it a couple months ago and still go back to watch it all the time because it's SO true. Especially the part where she calls the cheese bad news. Instead of the guy. And when she falls asleep at the bar. Because that is so me. I only wish she were sipping on coconut water.
Oy. Happy Friday!
Are you a fan of coconut water?
[Sues]