When you're craving a sweet treat on a hot day, forego the glass of wine for Watermelon Rosé Slushies. Who said slushies are just for kids?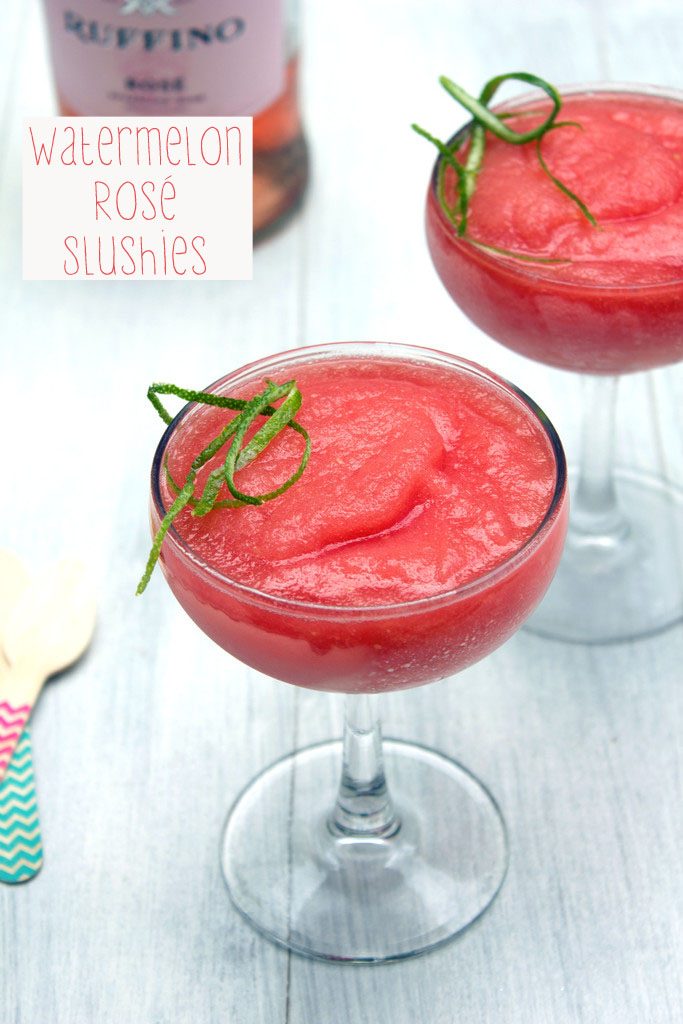 Have you read any good books this summer? Sometimes I fantasize about taking an entire week off from work and doing nothing but reading.
Of course, this will never happen. If I did happen to take a week off from work without having plans, I'd most likely spend 50% of that in the kitchen, 25% sleeping, and 25% zoning out in front of my computer.
And I'd end the week with a huge stack of unread books and a major deficit in my vacation time. Also, I'd still be pale.
To be fair, I also often dream about taking a week off to organize my basement (confession: we still have a ton of boxes down there from when we first moved in), but really, if I have any time off in the summer, the chances of me spending it in the basement are slim to none.
These Watermelon Rosé Slushies are pretty much the perfect, "I'm taking time off and I deserve to indulge" treat. They're easy to make and won't keep you from your relaxation time. They'll help beat the heat on a hot day, while also allowing you to relax a bit. They're best paired with a backyard deck, a good book, and an entire afternoon of freedom in front of you. Basically heaven, right?
There are wine brands that make actual watermelon rosé in a bottle (which I'm sure makes for deliciously refreshing summer sipping!). But part of what makes these wine slushies (AKA frosé) so delicious is that they're made with fresh watermelon and classic rosé wine.
What Kind of Rosé Should I Use?
You can use whatever kind of rosé you have on hand for frosé! Oh, you mean you're not me and you don't have a summer stockpile of rosé at all times? No problem. Go out and get yourself a bottle that's less expensive to moderately priced.
Definitely don't use an expensive bottle of rosé for these slushies. Since you're going to dilute the rosé with watermelon, it would feel a bit wasteful for a really nice bottle. But, of course, you don't want to go too cheap or your flavor may be off. I usually buya $8-$12 bottle for these slushies.
How to Make Watermelon Rosé Slushies
You guys, these are some of the easiest "fancy" cocktails ever!
All you need to do is chop watermelon into cubes and place them in the freezer to chill until frozen. Then simply pop them in a blender with your rosé and a little bit of lime juice. Look at how yummy and icy that mixture is!!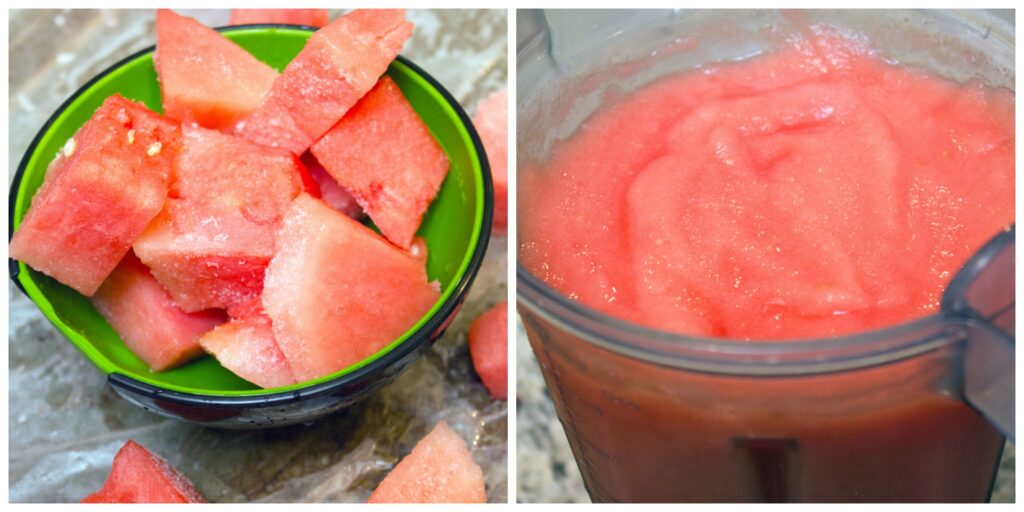 I recommend letting the slushies chill a bit more after scooping them into glasses, otherwise they'll get super melty super quickly. Not that that's really a bad thing... You can start off by eating them with a spoon and finish by sipping straight from the glass.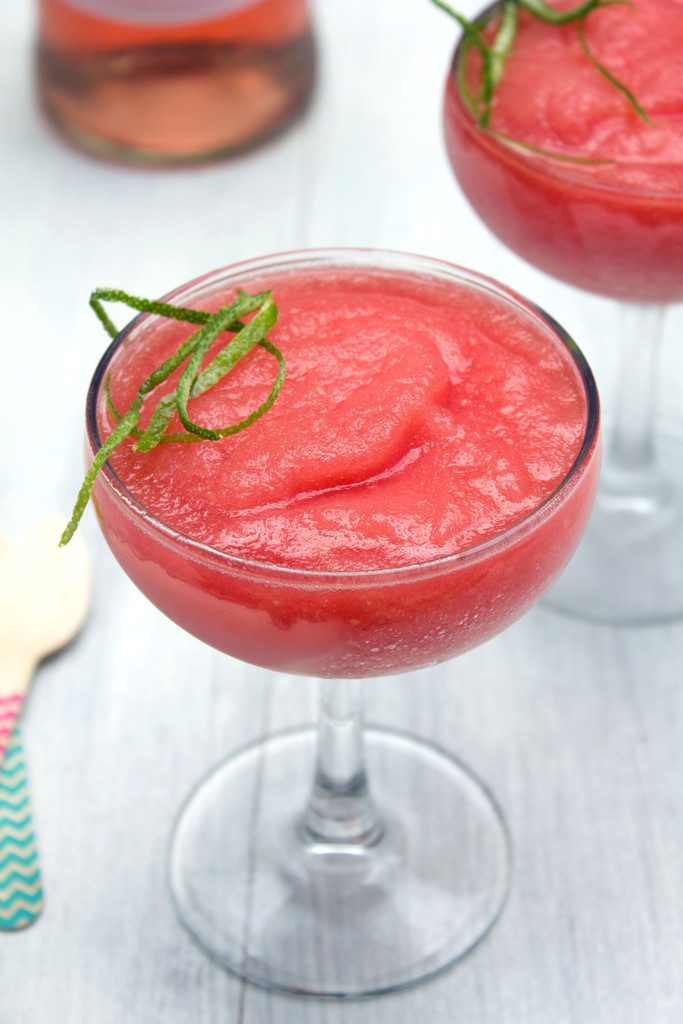 Variations on Wine Slushies
If you love the idea of a watermelon slushie, but aren't a big rosé drinker, you can definitely use the white wine of your choice here. I prefer a dry white wine like pinot grigio, but really anything should work.
I've never tried these with red wine before and you don't see the watermelon red wine combination around too often, but I think it would also be tasty!
Lastly, you could definitely make these with champagne. Just take care in blending the champagne since it's already quite fizzy.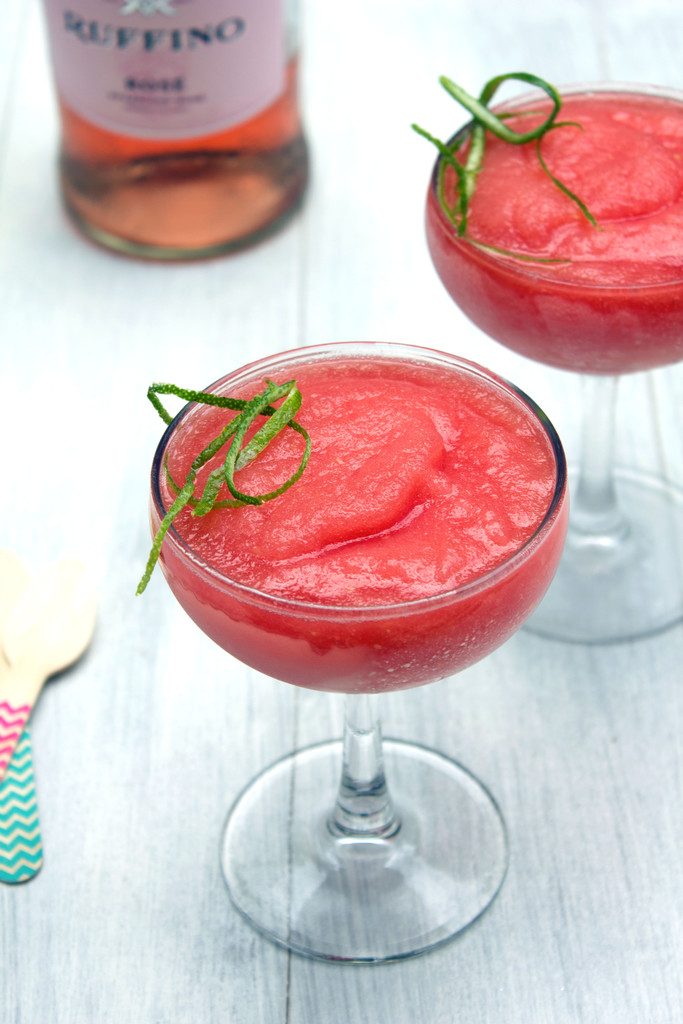 This is totally the kind of life I signed up for. You know, sipping on watermelon rosé slushies all day long in the hot summer sun. And yes, it's been HOT in Boston lately. But I'm absolutely loving it.
Every year, I make a pledge not to complain about being hot since winters are so long and cold and miserable in New England. But honestly, it's really not that hard for me because I love the heat so much and rarely get "too hot."
I'm also very lucky and have AC in my home... I think trying to sleep is the only time I get a little uncomfortable in the heat. Otherwise, I'm more than happy to sit outside and just cool off with an endless supply of slushies.
I guess I could keep a pitcher of watermelon rosé slushies on my bedside table... Hmmm. I was going to say I need a machine that makes these, but then I remembered how ridiculously easy they are already.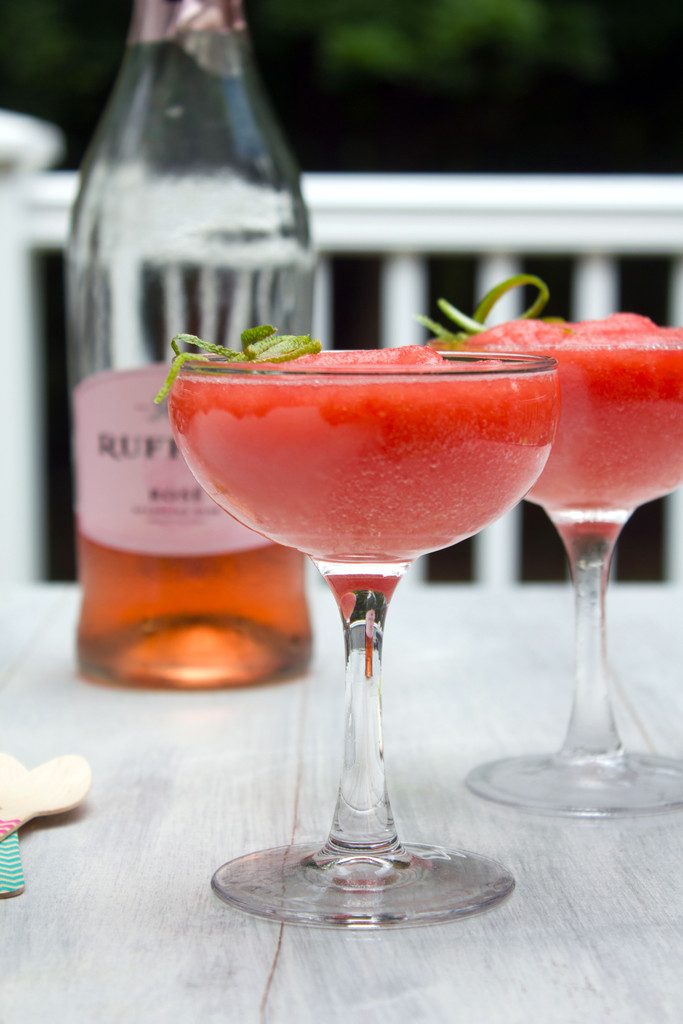 One of these days, I really will take a day to put my to-do list away and sit outside with a stack of books.
My reading list is hefty, but my cocktail glass is also filled with watermelon rosé slushies, so we're all good!
Of course, if you're more of a social type, these are also the perfect treat to serve your friends. Who would ever turn down these slushies?? Then again, books are my best friends, so...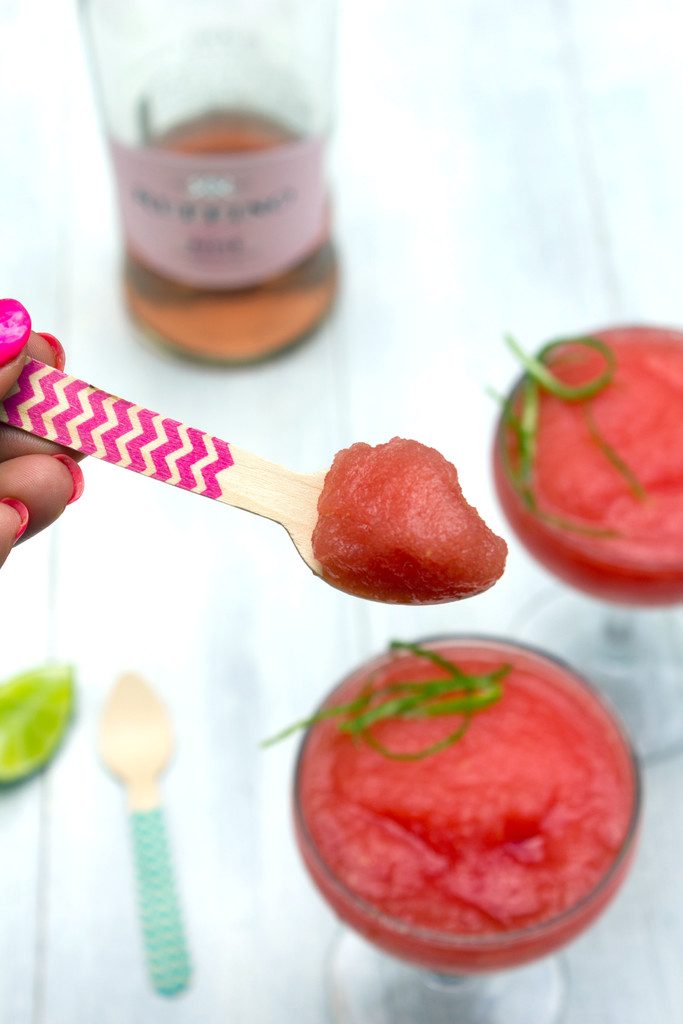 But actually, maybe it's time to make these watermelon rosé slushies my new best friend... They're pretty, sweet, and always completely delightful.
What are your favorite summer book recommendations this year?
If you like these slushies, be sure to check out my Rosé Sour Patch Kids or my Watermelon Coconut Cocktail! I also really want to try these Pomegranate and Lemon Rosé Spritzers from Short Girl Tall Order.
📖 Recipe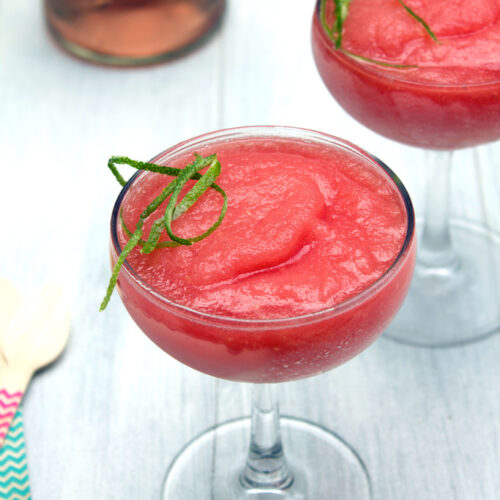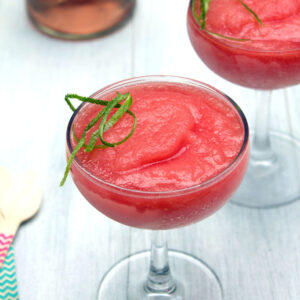 Watermelon Rosé Slushies
When you're craving a sweet treat on a hot day, forego the glass of wine for Watermelon Rosé Slushies. Who said slushies are just for kids?
Print
Pin
Rate
Ingredients
4

cups

diced frozen watermelon

1

bottle (750 ml)

chilled rosé

2

Tbsp

freshly squeezed lime juice

Lime zest for garnish
Instructions
Put frozen watermelon, rosé, and lime juice in blender and blend until slushy.

Pour mixture into glasses and place in freezer for about 30 minutes to firm up a bit more.

Top with lime zest before serving.
Share a Photo of Your Finished Recipe!
Mention @wearenotmartha and share a photo if you've made the recipe!