Remember when you were a kid and you thought, "gosh, being an adult must be SO boring"? I used to think that, too. Boring parties where everyone sits around sipping wine, eating finger foods, and making small-talk. Snooze fest. But guess what? I love growing up. And after attending two wine tasting parties in just as many weeks, I'm now convinced that "adult" parties are the absolute best.
My friend Kyle and her husband, Jeff, threw a glorious wine-tasting party this weekend and I offered to bring a dessert. I thought long and hard about what to bring and then realized my red wine cupcakes would be quite appropriate. But then I started thinking... If I can make red wine cupcakes, couldn't I make white wine cupcakes, too? There surprisingly aren't many white wine cupcake recipes online. I found one with champagne and adapted my own cupcakes to that recipe.
I used a sweet riesling wine, but say you can use whatever you want. I think a sweet white would work best. I'd actually be interested to try these cupcakes with red wine, too. My red wine cupcakes are chocolate-based, but I think a yellow cake version could also be tasty. By the way, I'm now thoroughly convinced that I can make pretty much any baked good with any type of alcohol. And trust me, I will continue to prove this fact.
White Wine Cupcakes (makes about 20):
• ⅔ C butter, room temperature
• 1 ½ C sugar
• 2 ¾ C all-purpose flour
• 3 t baking powder
• 1 t salt
• ¾ C riesling wine (or other sweet white wine)
• 6 egg whites
(Pre-heat oven to 350 degrees)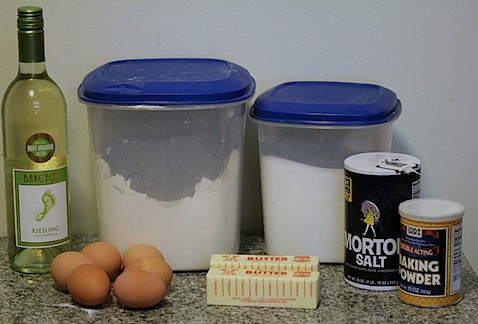 In your mixer or large bowl, cream together the butter and sugar, until light and fluffy.
Sift together the flour, baking powder, and salt together.
Mix the dry ingredients into the butter mixture, alternating with the wine.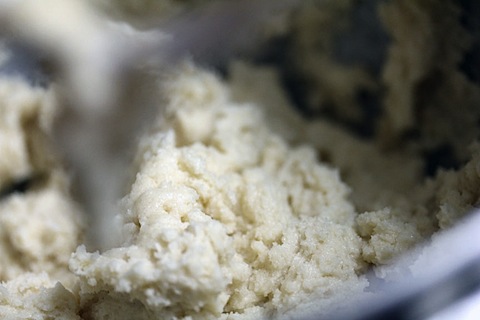 In a separate small bowl, beat your egg whites until stiff peaks form. I'll admit, I was a little skeptical about a cupcake recipe that called for 6 egg whites and no egg yolks. But I decided to give it a try. And yes, yes, yes, do it!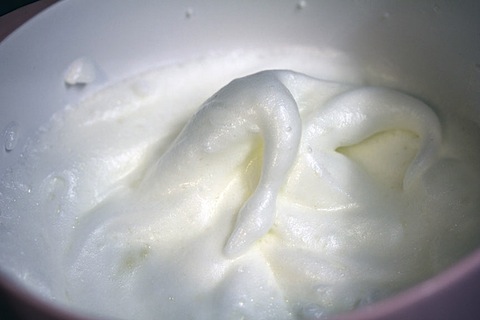 Fold the egg whites into the batter.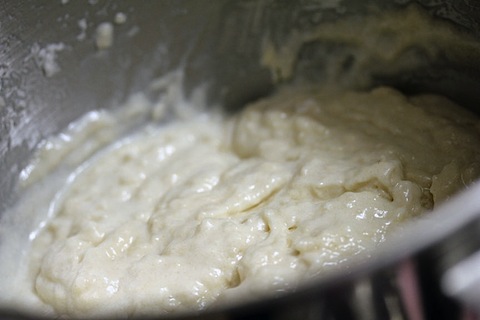 Fill cupcake liners in tray about ⅔ of the way full.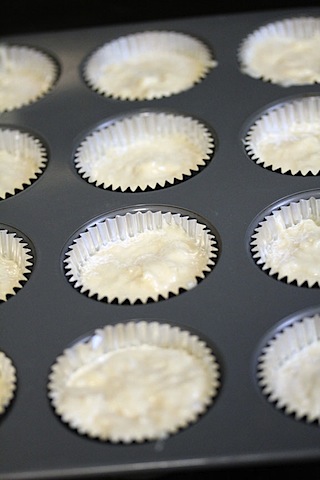 And bake at 350 degrees for about 20 minutes.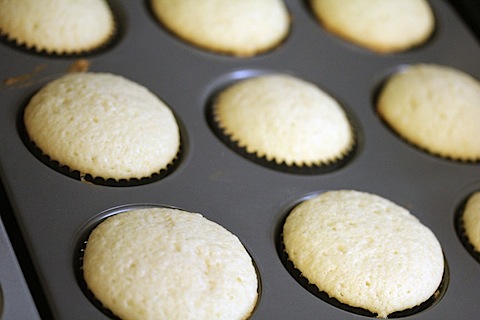 Let the cupcakes cool for a few minutes in the pan. And then finish cooling on rack. I could tell right when I took these cupcakes out of the oven that they were going to be super light and fluffy!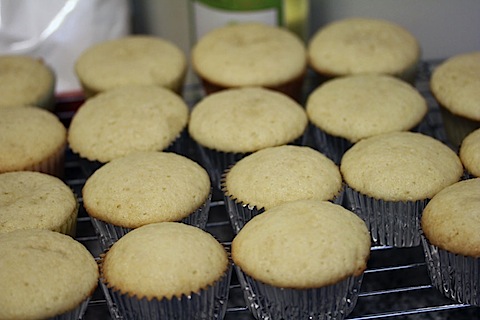 Onto the frosting! I opted for a white chocolate riesling buttercream. But you could really do anything with these.
White Chocolate Riesling Buttercream:
• 1.5 C butter, room temperature
• 6 oz. white chocolate
• 2.5 C confectioners' sugar
• 1.5 t riesling (or other sweet white wine)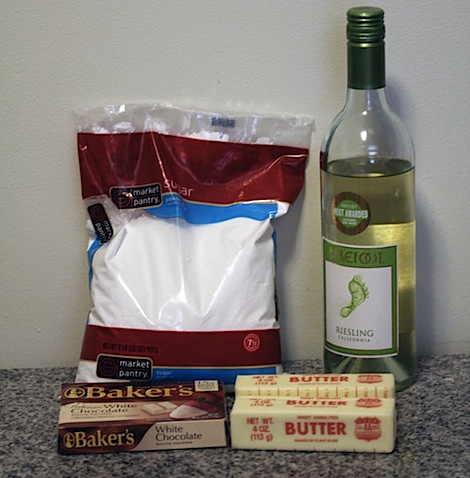 Start by melting your white chocolate over a double boiler. Or very carefully in the microwave. Let cool slightly.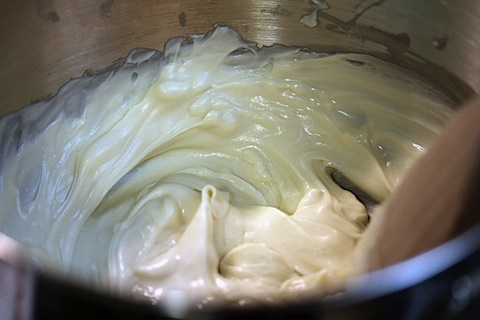 In a mixer or in a large bowl with a hand-mixer, cream your butter at medium speed.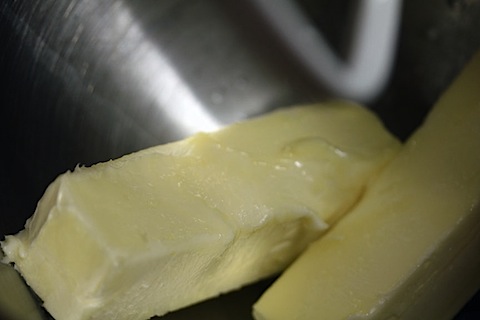 Beat in the melted white chocolate. Then add the confectioners' sugar ½ cup at a time, alternating with the wine (if you get to your desired consistency before using all 2.5 cups of sugar, you can stop). Beat at low speed until well-blended and light and fluffy.
My frosting was a little runny (I didn't let my white chocolate cool enough), so I stuck it in the fridge for a few minutes.
Much better!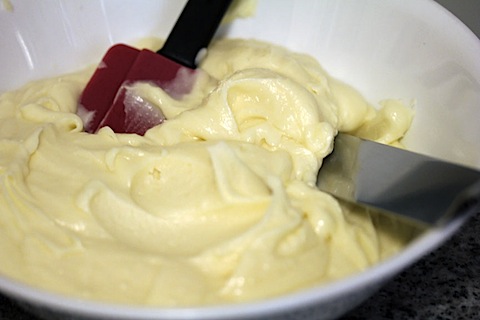 I frosted all the cupcakes.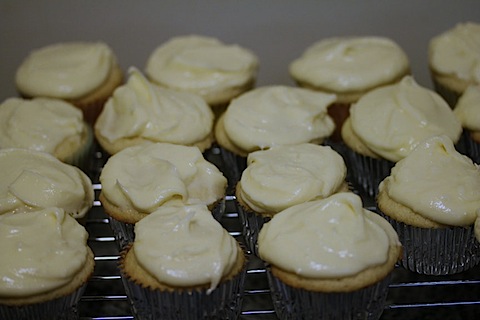 And added a little decoration to them.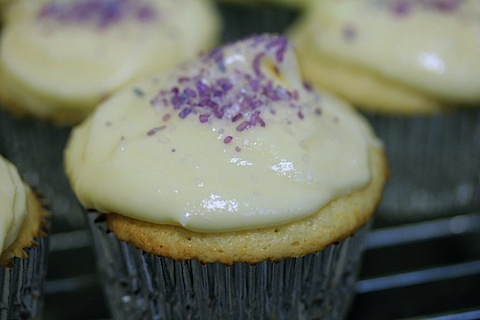 Verdict? YES, make these! They weren't super wine-y and you might not even realize there's wine in them, unless you were told. But they had a really wonderful flavor that definitely wasn't vanilla.
I'm also now totally obsessed with the idea of folding whipped egg whites into cupcake batter. I loved the consistency of these and I'm pretty sure the egg whites were responsible.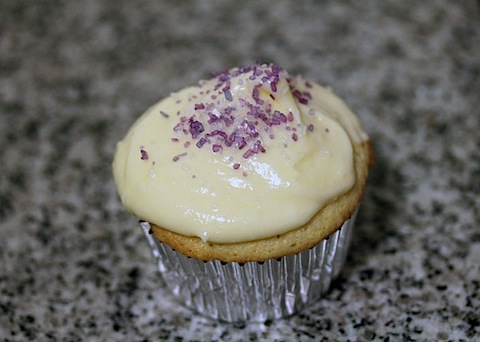 I also think the white chocolate buttercream was the perfect frosting. But any kind of buttercream would have worked well... Or even a cream cheese based frosting.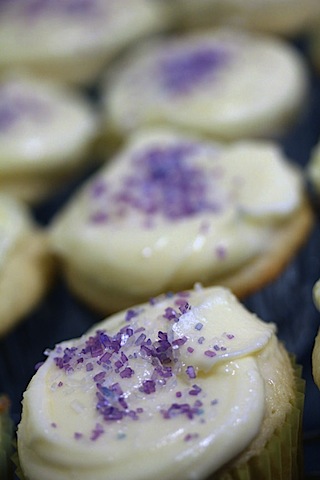 Of course, I also whipped up a batch of my red wine cupcakes for the party, too, since I wanted to represent both wines. Obviously. I used a cream cheese red wine frosting for these.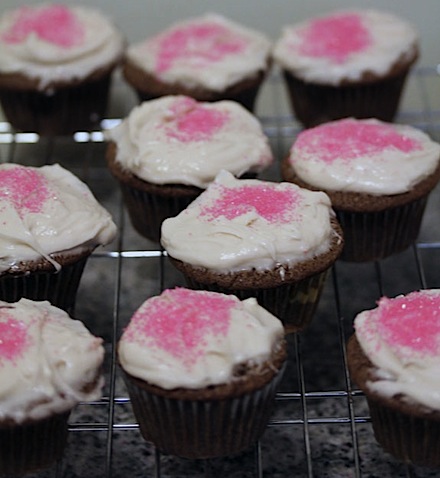 I don't generally don't take a lot of photos at the parties I attend. Mainly because I like to live in the moment and enjoy being with my friends without thinking about blogging non-stop. And also because people tend to think it's strange and slightly annoying if I start taking photos of every morsel of food I eat. And I think it can make party hosts a bit uncomfortable (like watch out, Susie's going to be blogging, so this party better be good!).
But when I walked in and saw what Kyle and Jeff had done, I HAD to take photos. And I knew they wouldn't mind if I blogged about it because they had done everything perfectly.
First of all, they set up stations throughout the main floor of their house, featuring different types of wine paired with appropriate foods.
So, at the champagne station: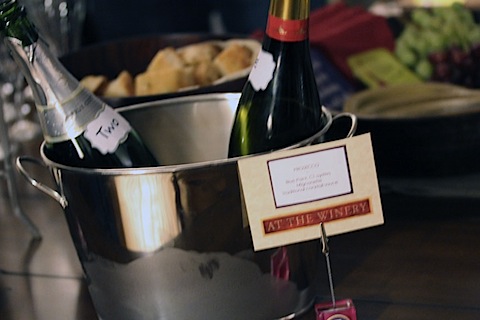 Were oysters on the half-shell.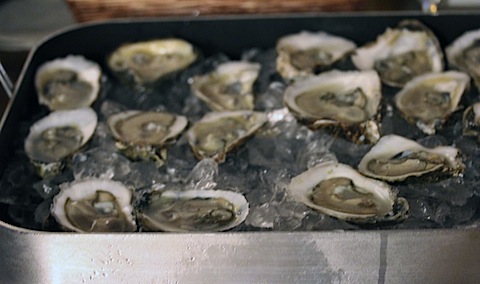 (Along with gougeres and more).
Kyle's husband, Jeff, is an absolutely amazing cook. And Kyle is a fabulous designer/crafter/etc. So, Kyle created signage for the party: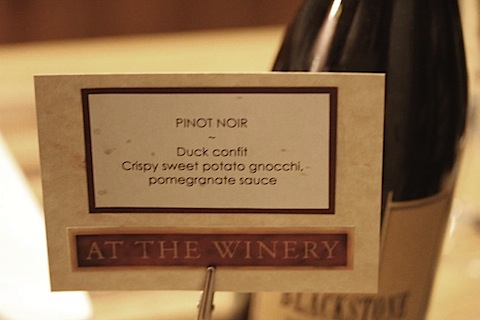 And Jeff cooked up amazingness, like this duck confit.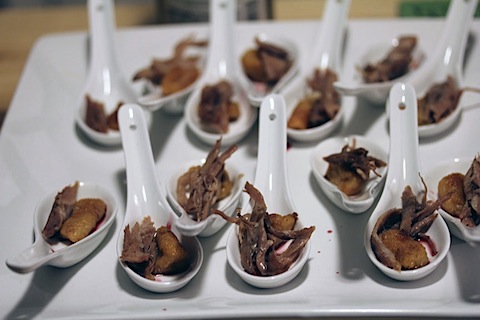 Take a sip of chardonnay: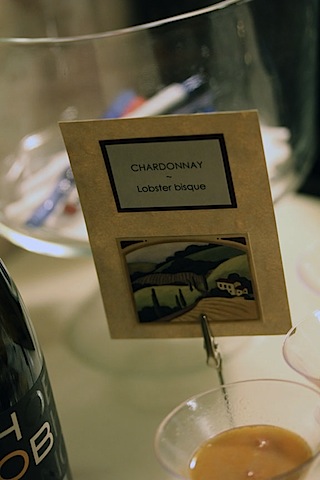 And a sip of lobster bisque.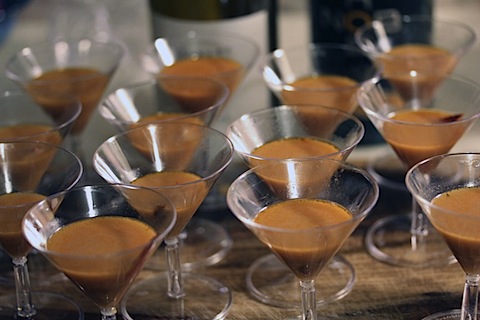 Short ribs with mashed potatoes and some cabernet sauvignon.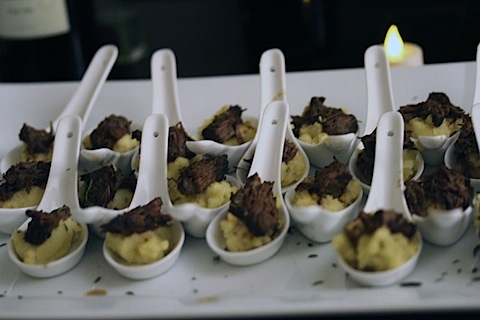 Then head to the chianti station.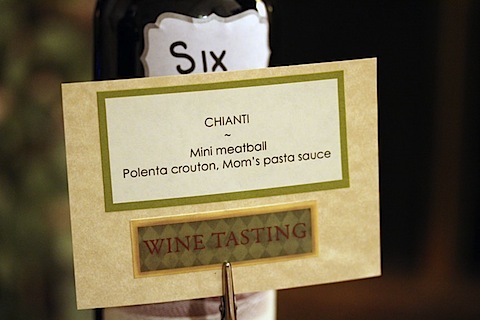 And indulge in legit the best meatballs I've ever had. These were SO SO good, I planted myself down in front of them for a good hour.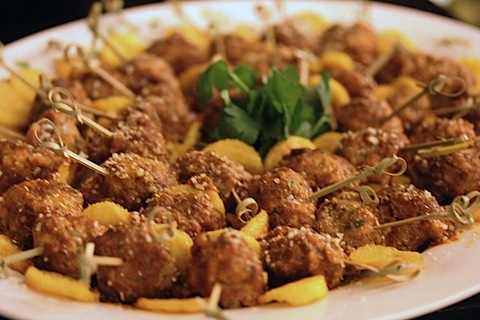 Also amazing? Parmesan crisps with goat cheese mousse.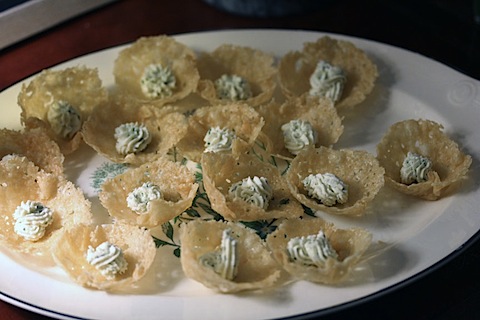 Kyle thought of all the little touches, like custom wine charms for everyone.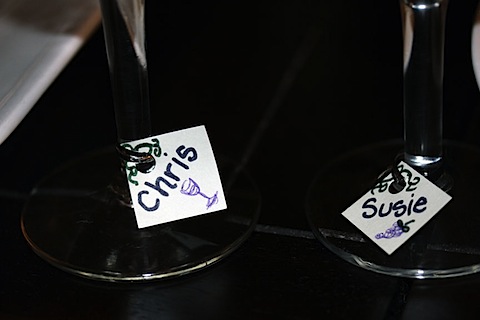 And I kind of love these napkins. Though I'll always be a huge fan of Twitter and blogging, I'm an even bigger fan of cocktail parties with friends.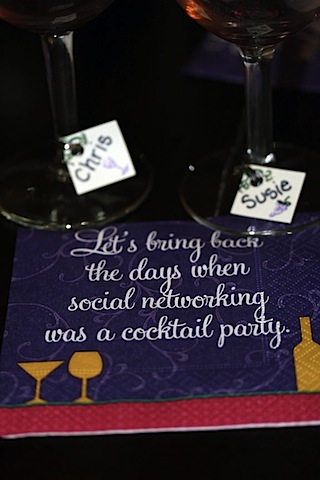 How perfect are these table decorations??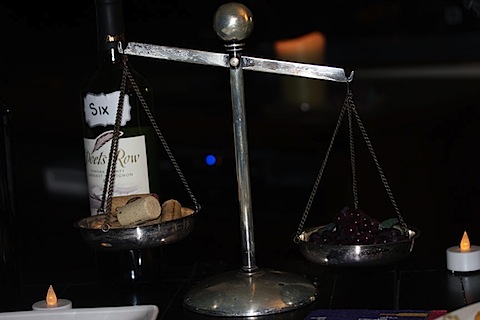 Me, Kristen, and Kim enjoying the party. Kim had sadly removed her wine-tasting beret by this point. Also, Kristen brought an amazing cranberry red wine in a beautiful lighthouse bottle from Cape Cod's Truro Vineyards. Loved it.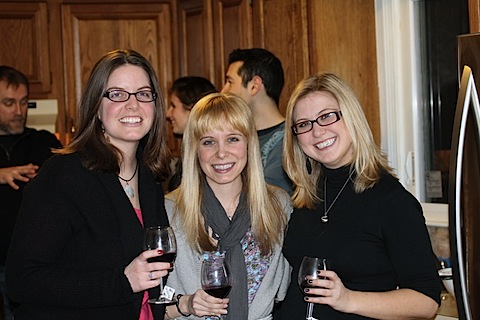 And our men with their wine.
I feel horrible I didn't get to snap a photo of chef Jeff, but I did get a few with Kyle. Who, of course, dressed for the party (she still loves to indulge in her sorority girl theme party side from time to time).
I love that Kyle and I met the first day of freshman year at UNH and spent 4 years going to fraternity parties together and having all kinds of college fun. And now she's hosting wine tasting parties. Which, in my book, are SO much more fun than frat parties. But I bet my 19-year-old self would have argued that one.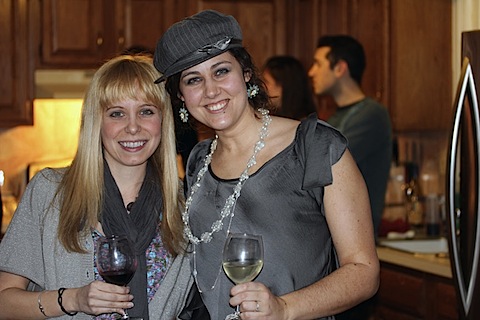 Kyle and I tried to get our serious wine-tasting faces on, too.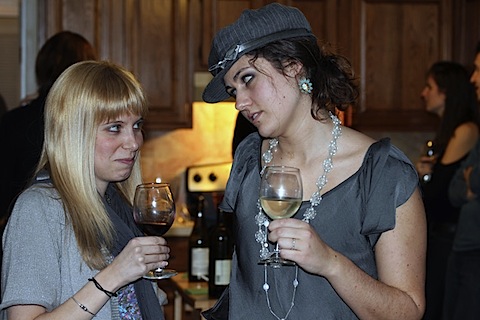 And totally succeeded.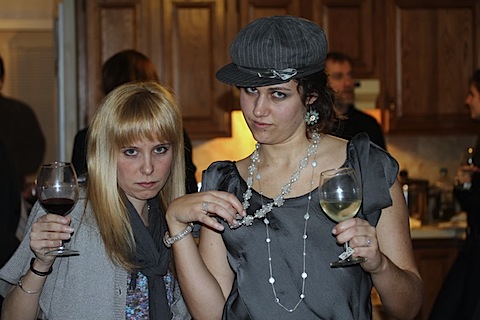 Can I be an adult forever? Oh wait...
So, huge thank you to Kyle and Jeff for throwing one of the most fantastic parties I've attended. They're both true hosts and play to each other's strengths so, so well. Most fabulous couple ever? Yes!
And now, go make those white wine cupcakes. And serve them at your own wine tasting party. Or just eat them with a glass of wine. That works, too.
What's the best party you've been to recently? Did it involve wine?
Whole Foods Healthier Pantry Makeover Winner!
I also wanted to announce the Whole Foods Healthier Pantry winner! It's Alexandra from Mommy Glow! Congrats on getting the opportunity to stock up on some awesome healthy foods, Alexandra 🙂 We'll contact you with more info!
[Sues]