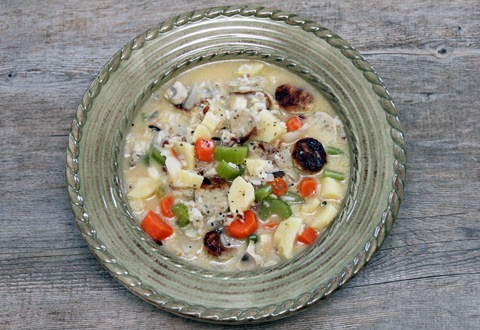 What is the difference between a soup and a stew? I haven't a clue. Nor, it seems, does anyone else on the World Wide Web. After much debate, I decided to call this wild rice and chicken sausage dish a stew. Because it sounds warmer. And more homey. And it's cold out there. Plus, this dish has a whole lotta stuff in it. Just stewing away.
If you had the kind of holiday weekend I did, then you're in serious need of some stew… soup… whatever. I enjoyed a huge feast of a dinner at L'andana on Christmas Eve, followed by a rather large Christmas brunch and beef tenderloin and stuffed shrimp dinner. Oh and homemade peppermint marshmallow ice cream and buche de Noel galore. And cocktails. Many cocktails. Basically, I ate and sat on the couch in my pajamas with my family and my Kindle all weekend long (which was exactly my goal). So, I needed to come down easy. Which meant sausage. But chicken sausage. And a slightly creamy stew, but only using one cup of milk in the whole pot. Oh, plus lots and lots of vegetables. Of course, you can add or eliminate anything you want to this dish. That's the beauty of a good soup slash stew! But try to include at least one vegetable… I know you need it right now.
While I'm calling this a stew, it actually doesn't need a whole lot of time to "stew" on the stove like you would think. In fact, it's incredibly quick and easy to make. Which is another essential as you come down from this holiday season. Now maybe you'll have enough energy to vacuum up those pine needles and rearrange your kitchen to fit all your new goodies. But even if you eat this in your slippers while on the couch continuing your holiday laziness, you can rejoice in the fact that you're packing in both vegetables and healthy protein. That's something not even Santa could bring you.
Wild Rice and Chicken Sausage Stew (serves about 8):
Print this recipe!
1 C wild rice
1 1/2 T olive oil
1 onion, diced
3 cloves garlic, finely chopped
3 carrots, chopped
3 stalks celery, chopped
2 parsnips, chopped
1 C mushrooms, sliced
1 t cayenne
4 C reduced-sodium chicken broth
4 links chicken sausage (I used roasted garlic), sliced
1 C milk
1/3 C flour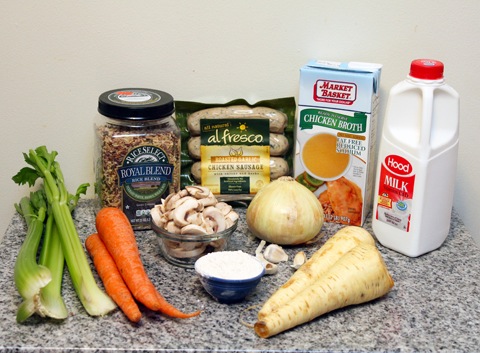 Begin by cooking your cup of rice, according to directions. For some reason, neither grocery store I went to had just plain wild rice in stock, so I had to get a blend. You can get whichever you prefer. Or really use any type of rice you prefer. I'm a huge sucker for wild rice. Cook until just al dente.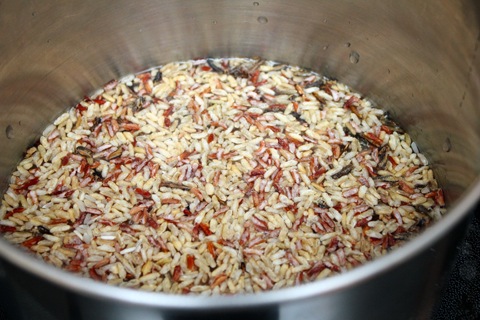 Make sure your onion, garlic, carrots, celery, parsnips, and mushrooms are all chopped up.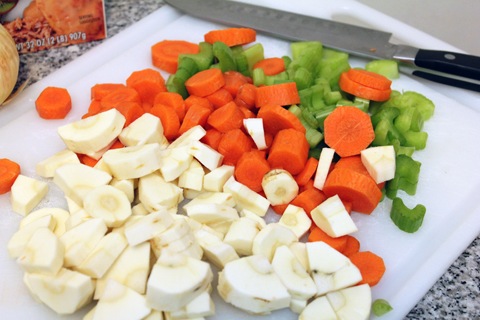 Pour olive oil into a medium-sized stock pot or french oven. Add all the veggies in and stir. Cook for about 5 minutes, until softened. Sprinkle in salt, pepper, and cayenne.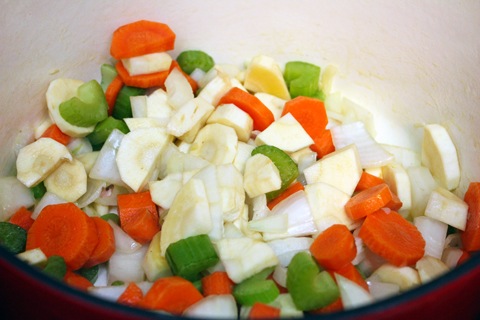 In a medium pan, cook chicken sausage in a little bit of olive oil until heated through and browned a bit. I used Al Fresco's Roasted Garlic sausage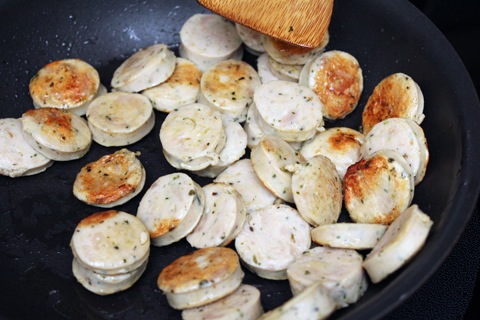 Now pour chicken stock into stockpot and bring to a boil. Reduce to a simmer and let cook another 5 minutes.
Stir in chicken sausage.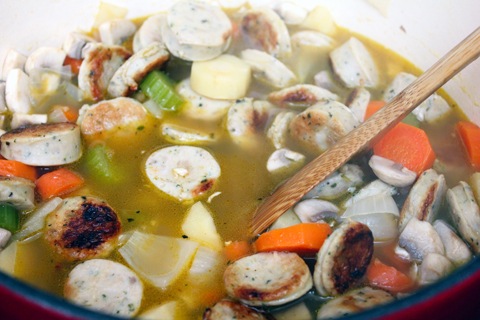 Whisk together the flour and milk.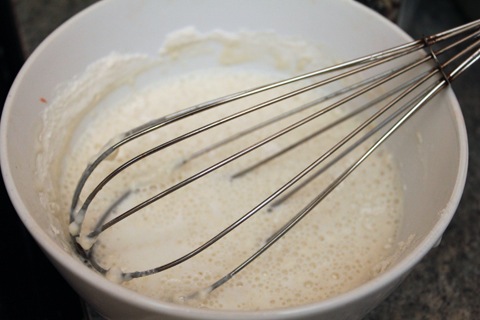 Add rice to stockpot and then stir in flour/milk roux.  Cook for 2 minutes.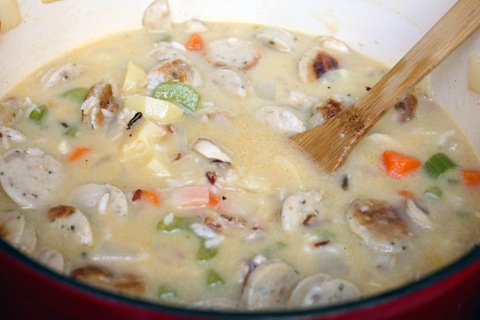 Taste and add more salt, pepper, or cayenne if needed.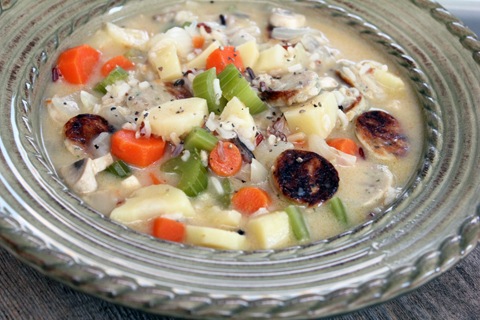 And dig into this jam-packed stew that will seriously satisfy you. I didn't even feel the need to dip a huge hunk of bread into the broth while eating it, which is saying a whole lot for me. Generally soup has me craving bread big-time.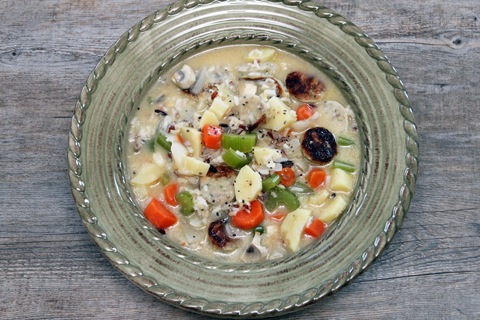 Honestly, it felt really good to be chowing down on vegetables. Though I do consider myself a fairly healthy eater, I think one of my New Year's resolutions is going to be to pack in more vegetables every single day. Consciously eating more bright greens and oranges (and that doesn't mean Skittles…) makes all the difference in the way I feel throughout my day.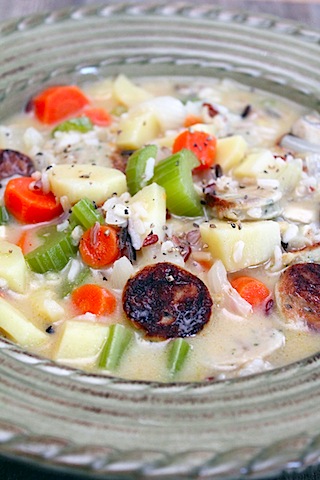 And get ready because I have another veggie-packed dish coming to you later this week. But don't worry; I won't be getting rid of the cupcakes, marshmallows, and cocktails in 2012 either.  You know me better than that.
Are you trying to eat a bit healthier this week? Or are you waiting until after January 1st? 🙂 
[Sues]