These Winter Salmon Tacos with Butternut Squash Salsa and Cranberry Crema let you celebrate the winter season while sticking to a healthy eating plan! Packed with lots of winter flavors, algae oil is used to boost good fats.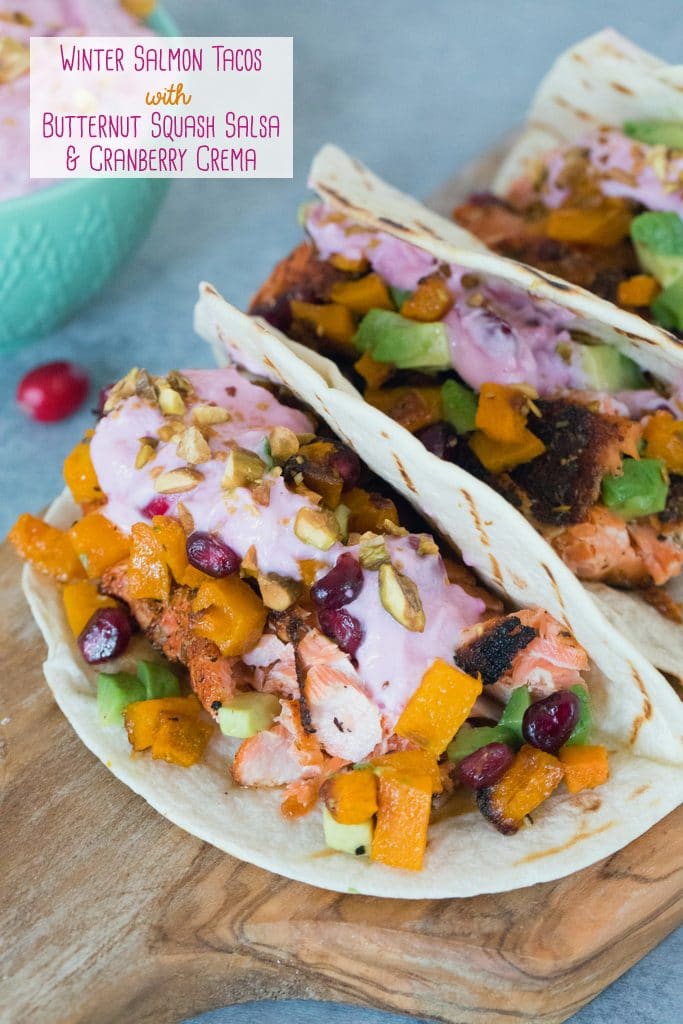 This post is sponsored by Thrive® Algae Oil, but as usual, all opinions are 100% my own. Thank you for supporting We are not Martha!
It feels like I snapped my fingers and Christmas was over. I guess I had my fill of cookies and cakes and little cheesy appetizers leading up to the big day, but I'm still not done celebrating. We're now in that time of year where many of us are going back and forth between "Happy New Year! Let's celebrate!" and "Happy New Year! omg I need to get my health back on track." The good news is you can do both at once! The other good news is that I think you can convince any salmon skeptic to fall in love with the fish after trying these tacos. Oh and one other piece of good news (you know, just trying to make your day brighter over here!) is that I'm going to introduce you to a cooking oil that will likely make a big difference in your life!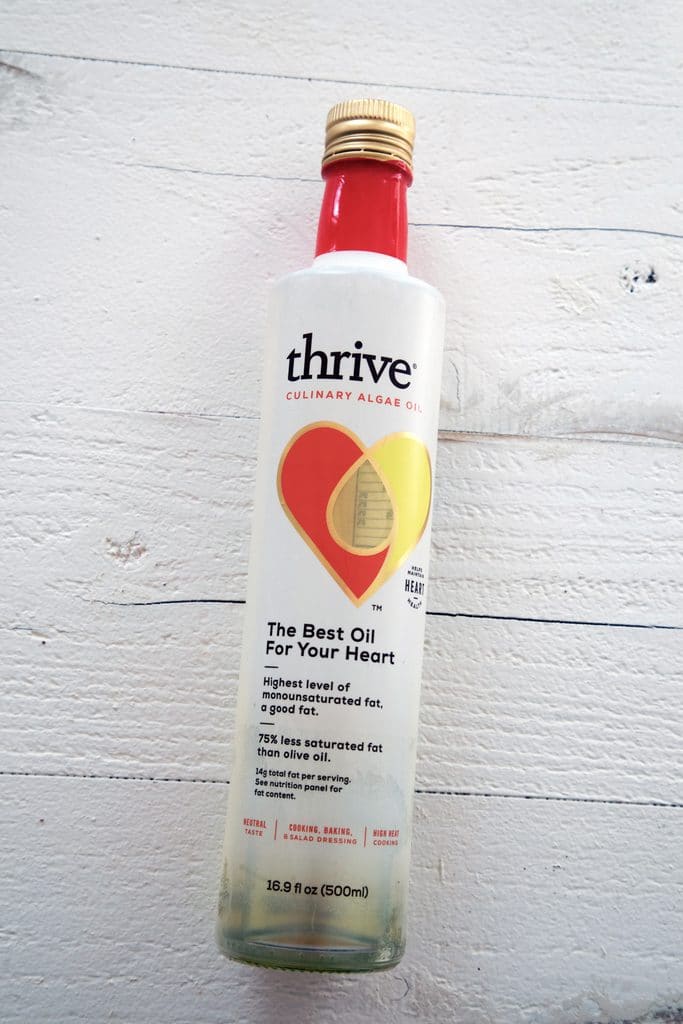 We've all been cooking with olive oil and canola oil for ages now. And many of us have started getting into peanut oil, coconut oil, and avocado oil in the recent years. But now I'm excited to tell you all about Thrive® Algae Oil, a new to me cooking oil! Let me tell you why it took me about .2 seconds to fall in love with algae oil:
It only has 0.5g of saturated fat per serving, the lowest level of saturated fat of any cooking oil.
It contains 90% monounsaturated fats (MUFAs), while olive oil contains approximately 70% MUFAs.
It has a really high smoke point (up to 485 degrees), which means it doesn't burn at high temperatures.
It has a light, neutral taste, which means the natural flavors of your food can shine through.
Thrive® has a goal to make their algae oil one of the most sustainably produced cooking oils, with more produced per acre of land and a lower carbon and water footprint. They've sought the advice of over 50 non-profit and scientific institutions in creating an oil that's better for our planet.
I had never heard of algae oil before, but now that I've been using it for a month, I can honestly say, it's my new favorite oil! Don't let the "algae" scare you. As mentioned above, it has a neutral taste, so it really works in everything from dressings to stir-fry to many components of the Winter Salmon Tacos I made here.
I sautéed my salmon at a pretty high heat, so Thrive® Algae Oil was perfect for using in the pan. Seriously, is there anything better than a nice piece of wild salmon?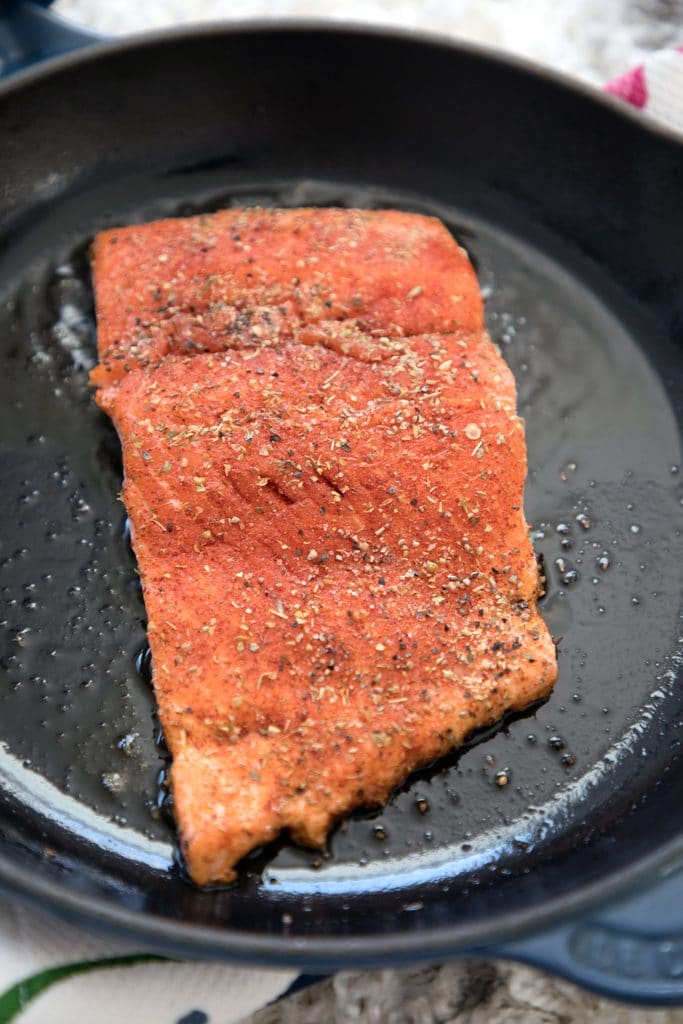 But I also tossed my diced butternut quash in the oil before roasting it. And added some more to the salsa once I added in the avocado and pomegranate oils. Lastly, I brushed my grill pan with a little algae oil to heat up my tortillas before filling them with all the good stuff.
Sometimes I forget how much I use cooking oil until I realize how quickly I'm going through it. It goes into so much that I make in the kitchen every single day.
I also whipped up a cranberry crema to top the tacos with. Just because Christmas is over doesn't mean cranberry season is! I'm still planning to incorporate them into my meals all winter long. I make a little cranberry sauce from scratch here, but if you have leftover cranberry sauce, definitely use that! Once the crema was mixed, the salmon was cooked, and the salsa was combined, I layered up my tacos. I sprinkled on some crumbled pistachios before serving for a little bit of crunch.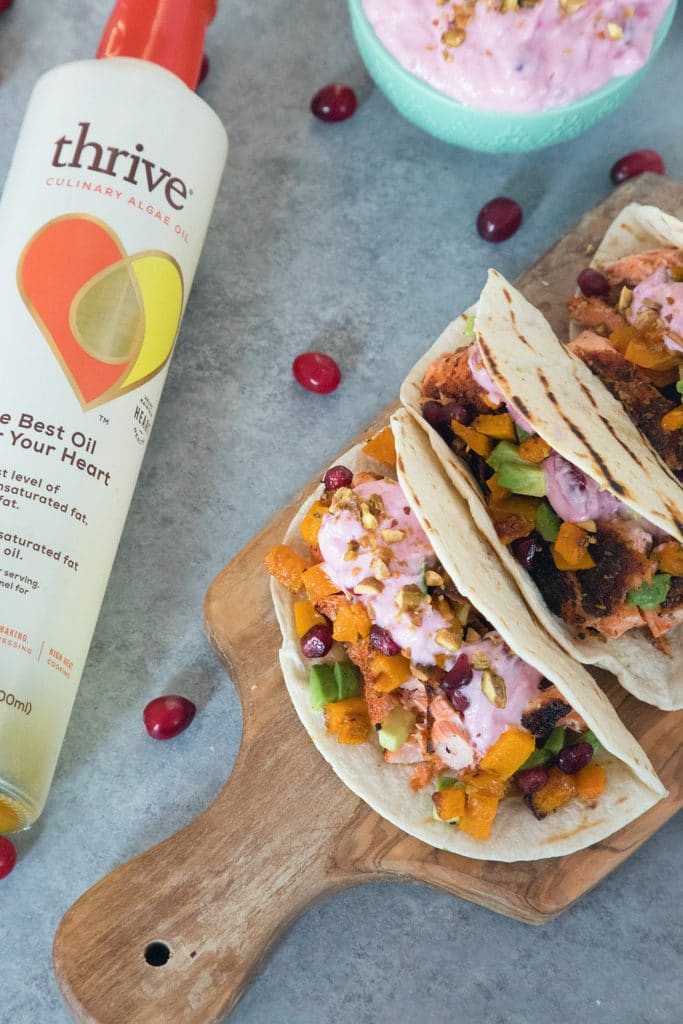 And I now declare these salmon tacos my favorite food of 2018! OK, so the year has only just begun but I'm honestly in love with these and know they'll be making it into my meal rotation many times throughout the year. I love when salmon is cooked so it has a nice crispy crust on it. And it's so wonderful combined with the flavors of the winter salsa and the tartness of the cranberry crema. You know how they say you should eat the rainbow? I'm fairly certain these salmon tacos with help you accomplish that goal!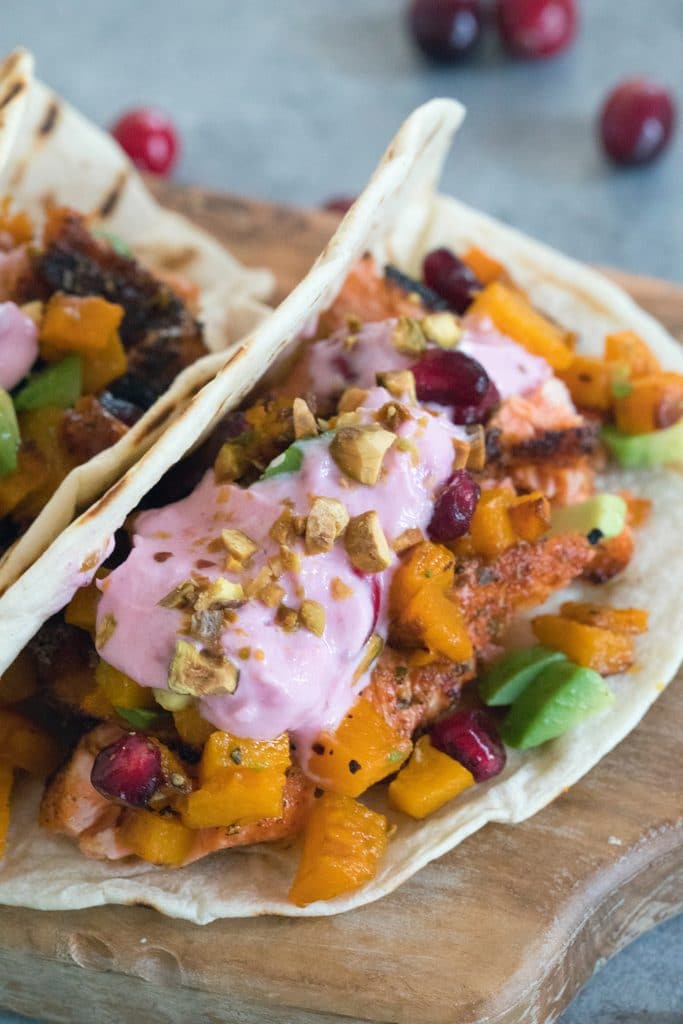 With temperatures in the negatives here in New England (seriously, how is this OK?!), it can be a struggle to find too much to celebrate in January. But sometimes a really good dinner can be enough. Especially when that really good dinner makes for extra lunch leftovers for the next day. I know bringing fish to the office is kind of looked down upon and all, but I can tell you from experience that these salmon tacos also taste delicious cold, so you don't have to put them in the office microwave to enjoy them. I'm just sayin'.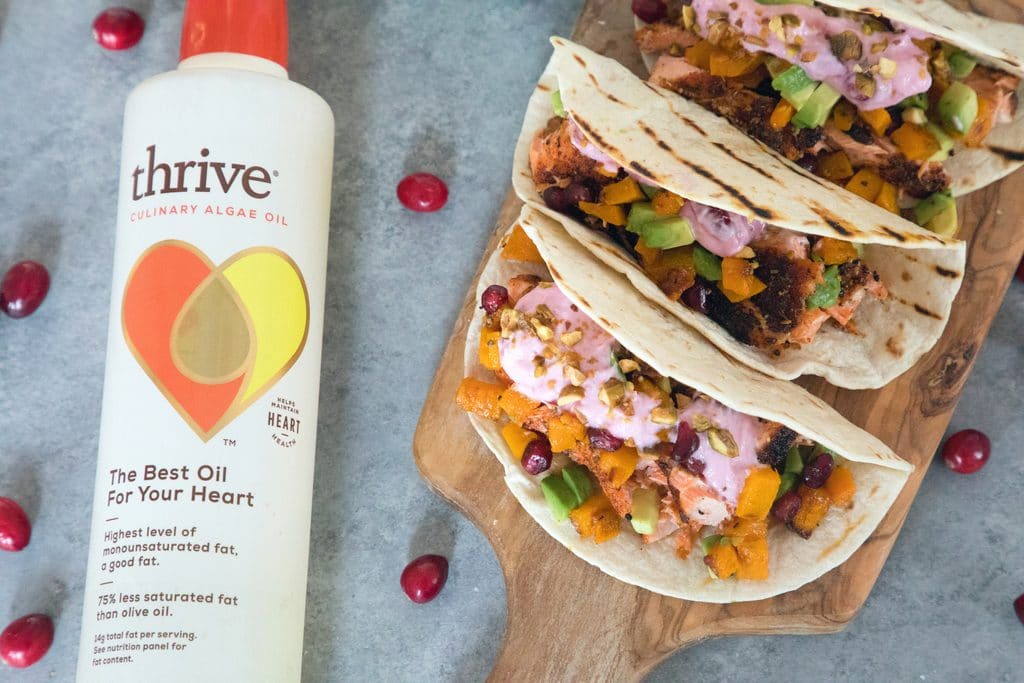 One of my favorite things about the blog world is being given the opportunity to discover new products and I can honestly say that Thrive® Algae Oil is one of my favorite discoveries yet! I'm so excited to get my 2018 off to a healthy start, while still eating all of the foods I love.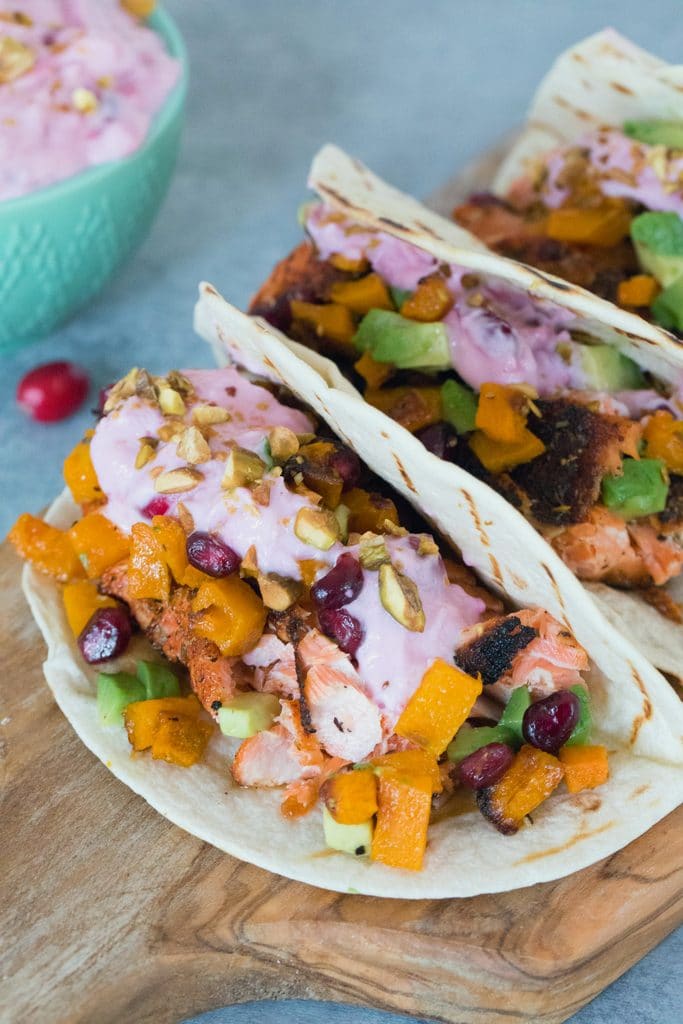 If you're interested in learning more about Thrive® Algae Oil, check out their website! It's now available at Stop & Shop stores in the northeast and select stores will even be hosting free tastings on January 20! If you can't find it in your local store, it's available on Amazon (affiliate link!) and as you can see, has fabulous reviews. I recommend picking up a bottle and using it as your main cooking oil for the month to see how you like it. I also recommend that these Winter Salmon Tacos be one of the first recipes you make with it!
I hope you're all having an awesome start to your 2018 and have been celebrating the new year with delicious food and good company. Also, I hope you're staying warm. Can we please talk about how freaking thankful we should be for warm homes? Sometimes I want to weep with joy when I'm sitting in front of my gas fireplace with a big warm blanket, cup of tea, cuddly dog, and my husband. Life is so, so good that I really can't complain about it being cold outside. Throw in some salmon tacos made with algae oil and I am the happiest.
What has been your most exciting food discovery lately?
📖 Recipe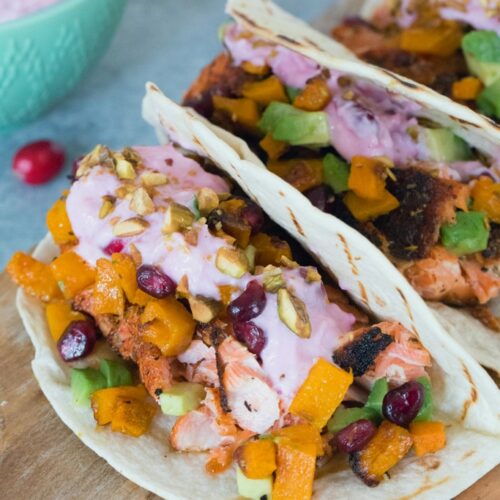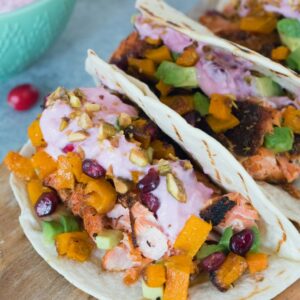 Winter Salmon Tacos with Butternut Squash Salsa and Cranberry Crema
These Winter Salmon Tacos with Butternut Squash Salsa and Cranberry Crema will let you celebrate the winter season while sticking to a healthy eating plan! Packed with lots of winter flavors, algae oil is used to boost good fats.
Print
Pin
Rate
Ingredients
2

tsp

cayenne

2

tsp

oregano

1

tsp

garlic powder

½

tsp

pepper

½

tsp

salt

1

lb

salmon, skin removed

2 ½

Tbsp

Thrive® Algae Oil, divided

8

flour tortillas

Butternut Squash Salsa

(recipe below)

Cranberry Crema

(recipe below)

¼

cup

crumbled pistachios
Butternut Squash Salsa
2

cups

diced butternut squash

2

Tbsp, plus 2 tsp

Thrive® Algae Oil

¼

tsp

salt

¼

tsp

pepper

½

avocado, diced

¼

cup

pomegranate arils
Cranberry Crema
1

cup

fresh cranberries

(or frozen and thawed)

¼

cup

granulated sugar

2

Tbsp

freshly squeezed orange juice

¼

cup

water

1

cup

2% Greek yogurt

1

Tbsp

freshly squeezed lime juice

¼

tsp

salt
Instructions
In a small bowl, combine cayenne, oregano, garlic powder, pepper, and salt.

Pat the salmon filets dry and rub each filet with the seasoning mixture.

Heat 1 ½ Tbsp Thrive® Algae Oil in a large skillet over medium high heat. Once the oil is hot, add the salmon fillets and cook 3-4 minutes on each side until browned and lightly crispy. Set aside and keep warm.

Heat a grill pan (or other pan) to medium heat. Lightly brush both sides of flour tortillas with remaining Tbsp Thrive® Algae Oil and place each on grill pan for 1 minute per side until warm and malleable.

Divide salmon among 8 tortillas. Top with butternut squash salsa, cranberry crema, and crumbled pistachios.
Butternut Squash Salsa
Pre-heat oven to 425 degrees.

Toss diced butternut squash in a large bowl with 2 Tbsp Thrive Algae Oil, salt, and pepper.

Place squash in a single layer on a foil-lined baking sheet and bake for 20 minutes, stirring halfway through. Remove from oven and let cool.

Toss roasted squash in a large bowl with diced avocado, pomegranate arils, and remaining 2 tsp Thrive® Algae Oil.
Cranberry Crema
In a medium saucepan, combine cranberries, sugar, orange juice, and water. Stir to combine.

Over medium heat, bring mixture to a boil and then lower heat and let simmer for about 10 minutes minutes, until cranberries start bursting. Remove saucepan from heat and let cool slightly before putting cranberry sauce in bowl in fridge to cool completely.

Mix cooled cranberry sauce with Greek yogurt, lime juice, and salt.
Share a Photo of Your Finished Recipe!
Mention @wearenotmartha and share a photo if you've made the recipe!