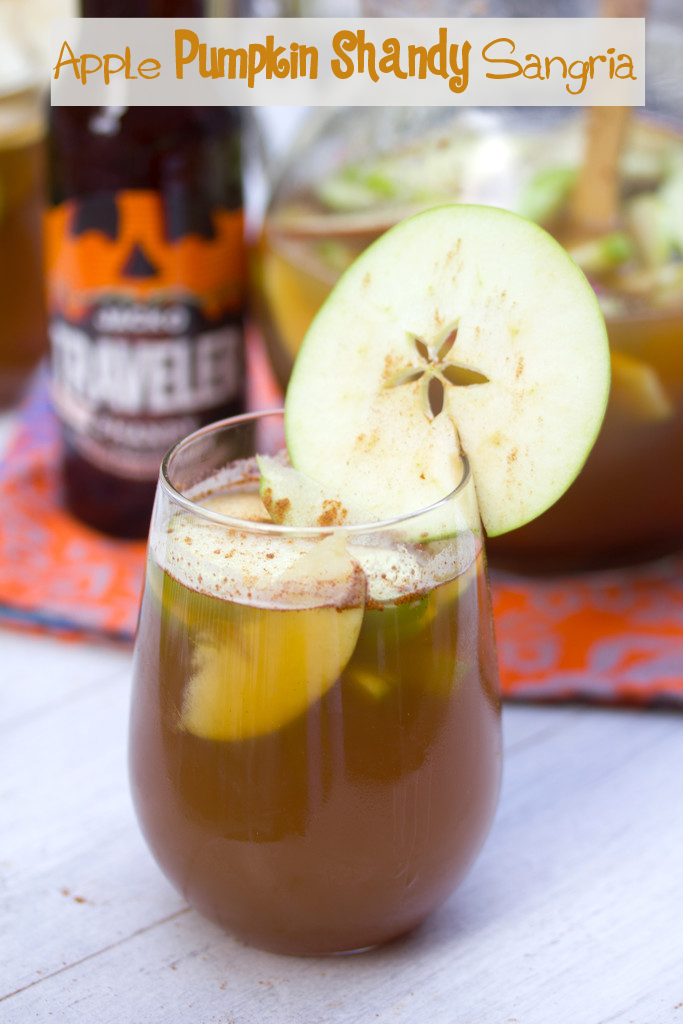 The sun is setting earlier and earlier and I don't even know how I'm going to deal with the time change that's coming in a few weeks. It's been the most heavenly thing in the world to cook and bake on weekends until 7:00 p.m. or so and still be able to take photos. Soon, I'll have to put down my spatula at about 3:30 p.m. and call it a day. Ugh. On a positive note, I guess that means more time on the couch with a cocktail for me.
And the really good news? I have found my drink of fall. And it's a sangria. Well, kind of. I guess it really depends on your definition of sangria. My definition of sangria is simply "delicious," so I'm going with it. Luckily, it's easy to make a ridiculously large batch of this drink, so I can basically keep a pitcher of it in my fridge all fall long.
So far this fall, my apple kick has been a bit stronger than my pumpkin kick, but for this cocktail, I'm combining the two. And it won't be the last time. Don't get me wrong, I'm just as crazy about pumpkin beer as the next "basic" girl, but sometimes I like to mix it up. This cocktail mixes it way up.
Apple Pumpkin Shandy Sangria (serves about 8):
Print this recipe!
4 C apple cider
1/2 C apple brandy
2 apples, plus additional for garnish (any type)
1/2 t ground cinnamon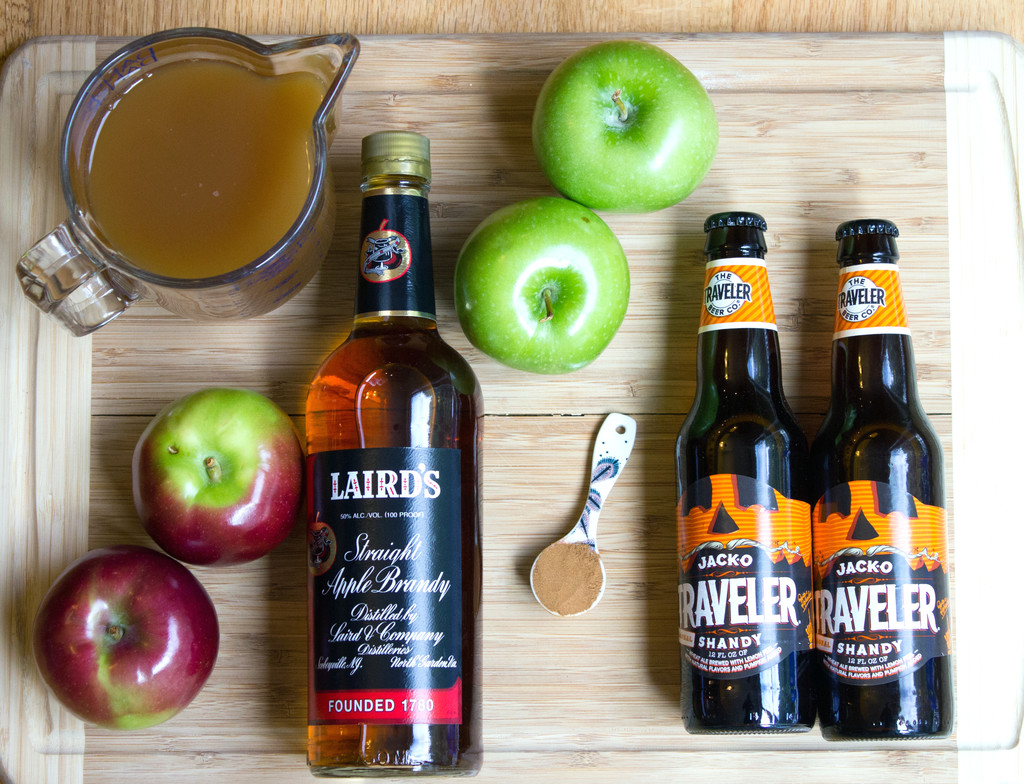 I really have no photos of the drink making process here, because there's not too much to discuss. Besides… fill a pitcher up! Really though, pour the chilled cider, chilled pumpkin shandy, and apple brandy into a large pitcher. You can taste it and make sure the ratios are to your liking. I started with two pumpkin shandies and decided to add another after tasting. Then slice two apples and put them in the pitcher, too. And stir the cinnamon in. Let the sangria chill in the fridge for a few hours… overnight is really best.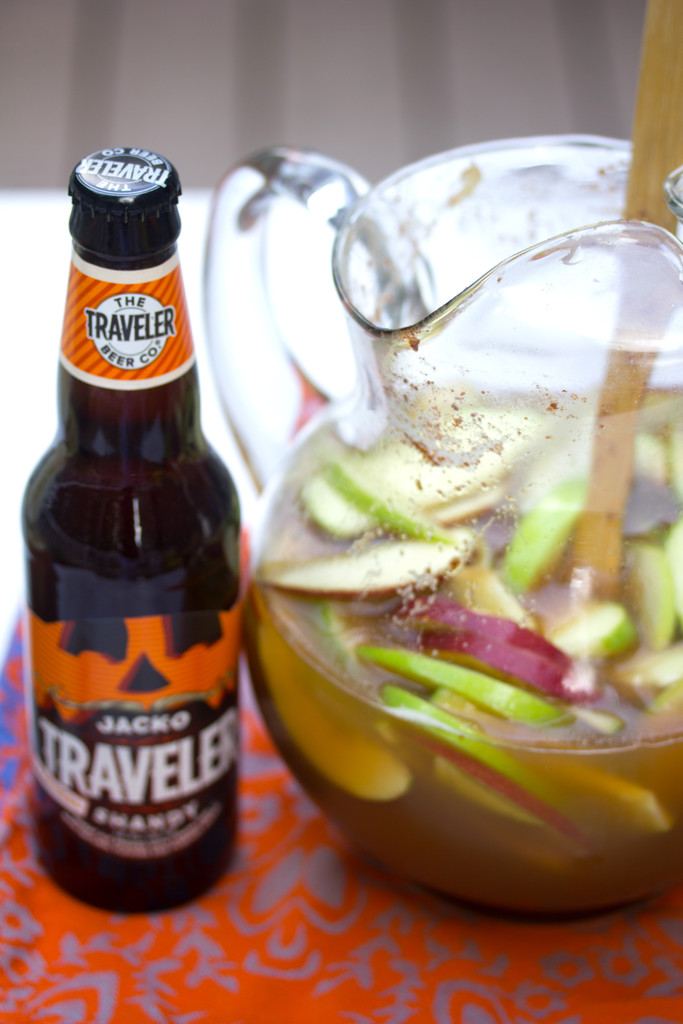 Fill a glass with ice and pour sangria into glass. Garnish with a pretty apple slice and a little more cinnamon sprinkled over the top.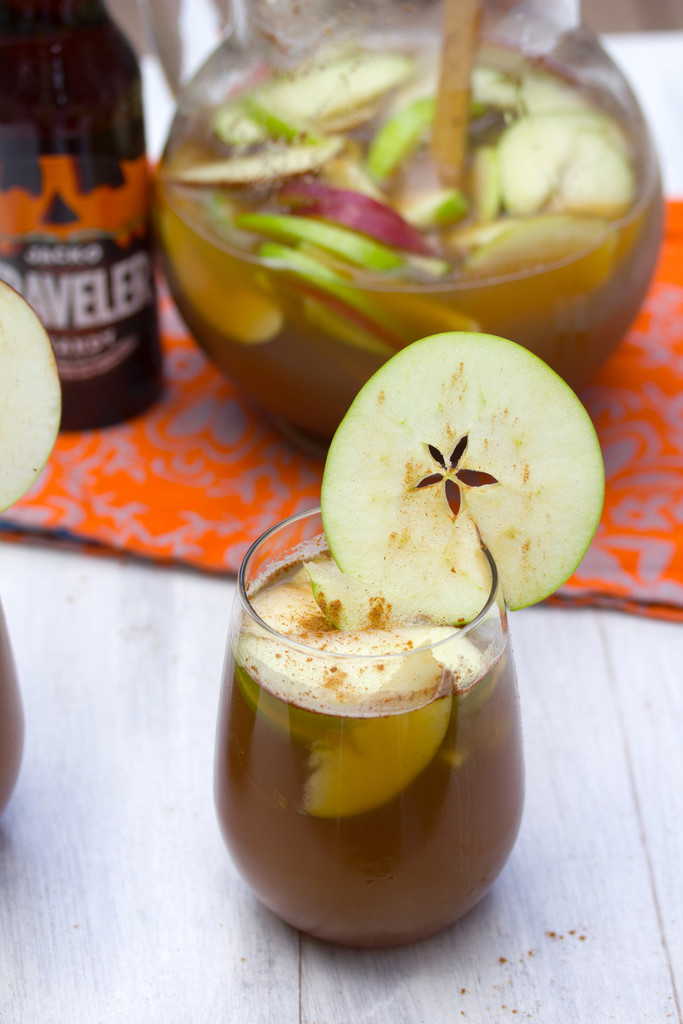 Sip away! Wherever the weather will let you. Since it's only October, we're not quite in need of warm drinks just yet. But it may be too chilly to drink this sangria outside. Maybe only if the sun is shining… And it's been pretty rainy over the last week in Boston. Definitely not fun outside fall weather.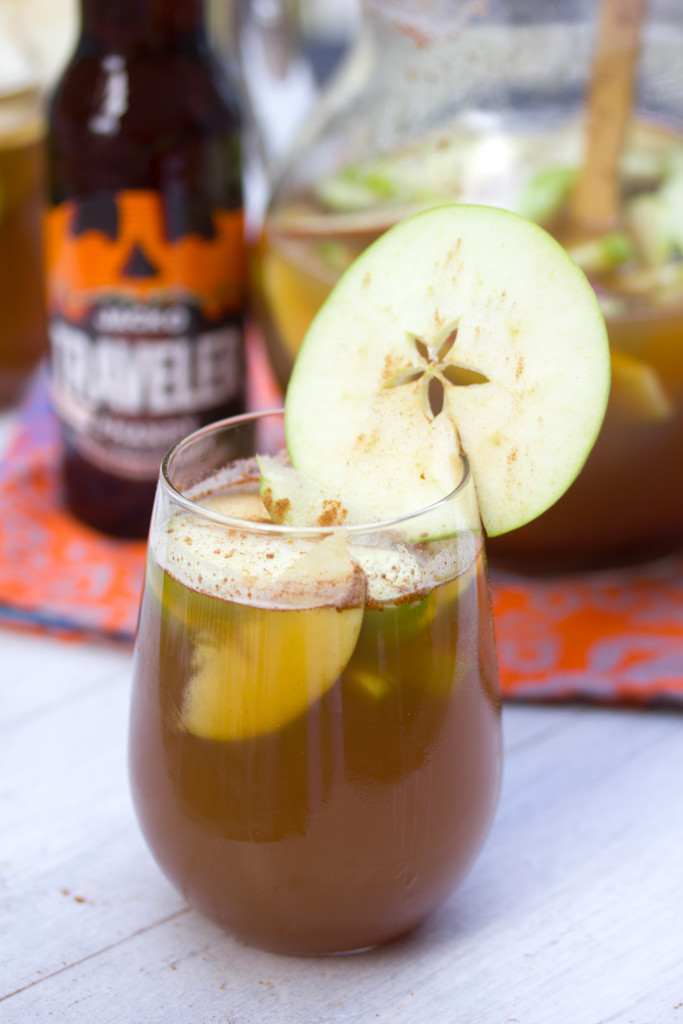 This is the kind of drink that can be dangerous if you're not careful. After all, pumpkin shandy is already a lighter kind of beer. And then the apple cider adds the juice that makes you feel like a kid again. Until you add in the apple brandy, which is in no way a tame drink. It's easy to drink a large glass of this pretty quickly.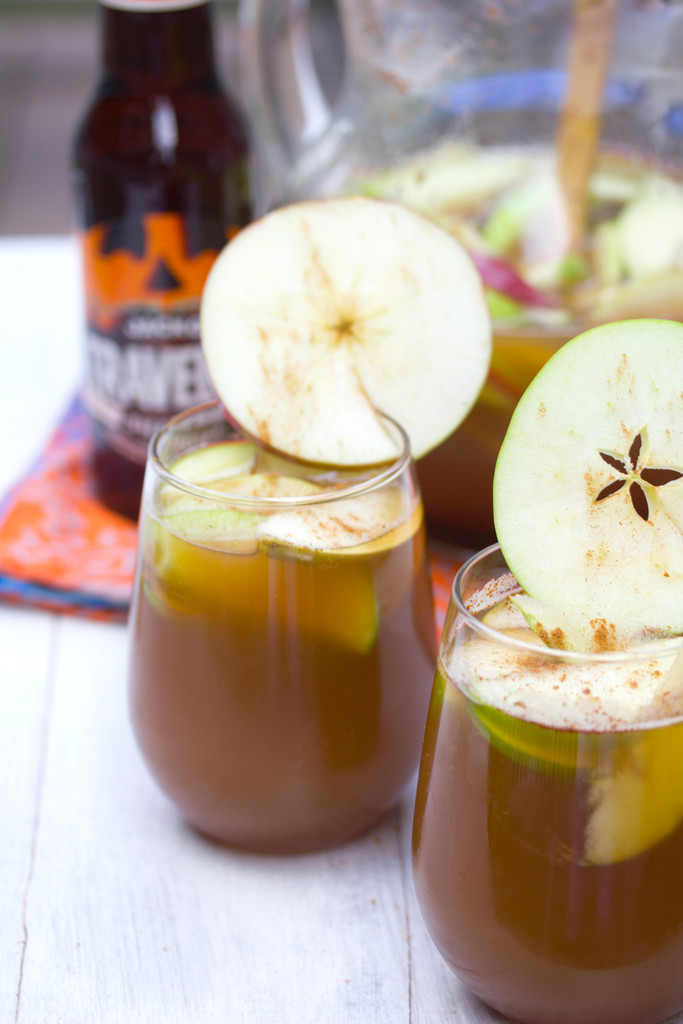 The bottle of apple brandy I got (Laird's) was a little pricey, but I figured it would be an investment. First of all, I knew this drink would really need a touch of something a little bit stronger. Second of all, I am going to be drinking apple brandy all fall long. I've been doing a little research and now want to make all of the drinks here.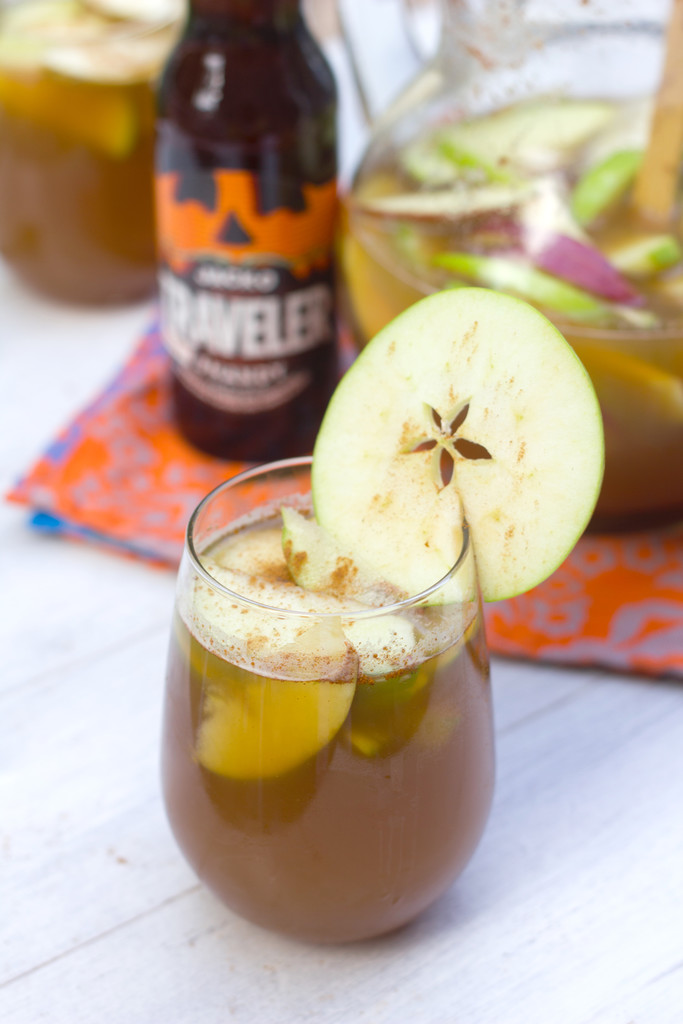 But this drink will definitely be showing up in my kitchen again. I forgot how much I loved apple cider, but now I know I love it even more when there's pumpkin involved. At first I was a little bit nervous about how everything in the drink would go together, but the flavors all complemented each other perfectly and felt like they were meant to be together.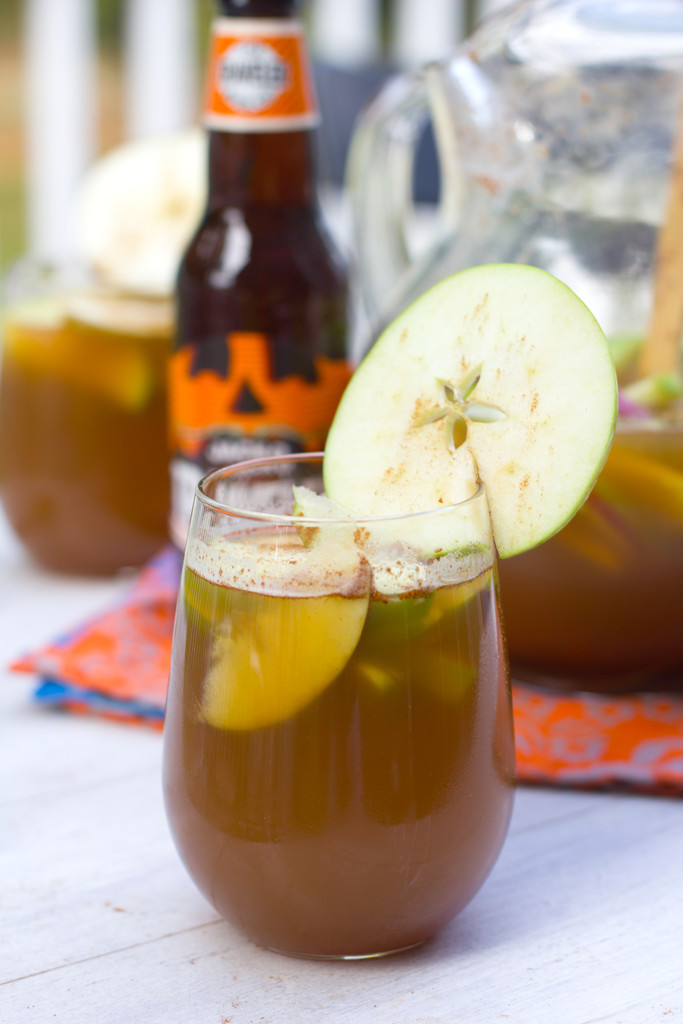 I know, I know, it's probably sacrilegious or something that I'm calling this drink a sangria. But I'm sticking to it.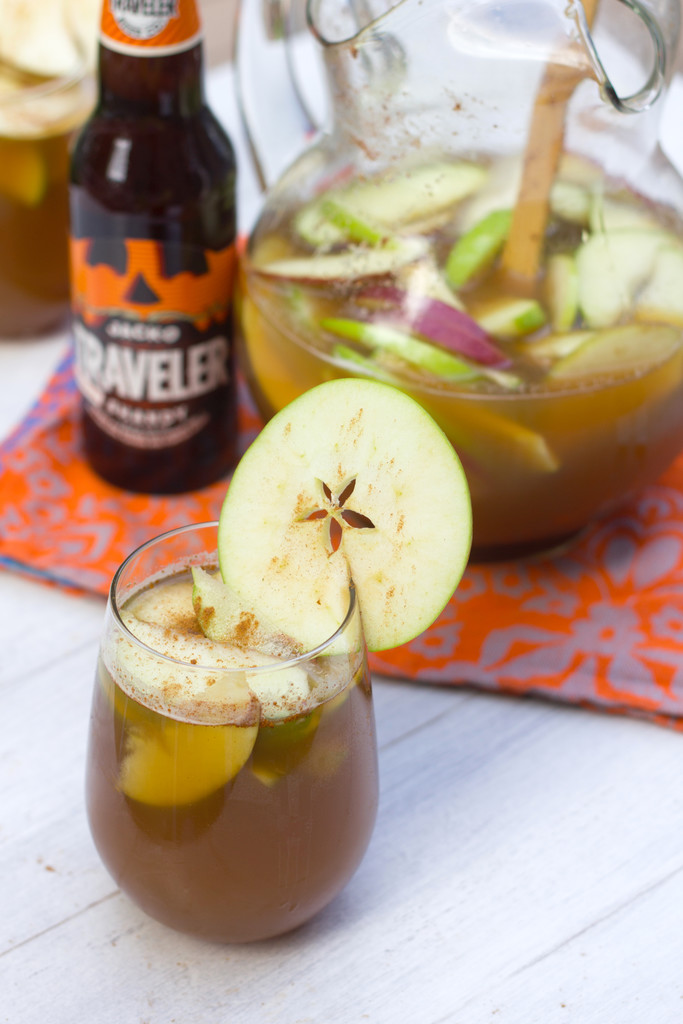 Really though, all I could hear in my head while I was writing this post is the song from Blake Shelton's new album that goes, "Your lips taste like sangria…" It's actually a kind of creepy song, but I love me some Blake and I love me some sangria. Even when it's made with beer.
What's your favorite fall drink?
[Sues]