If you're going to be obsessed with all things orange, eventually you're going to need to introduce orange drinks to your diet, right? And I'm not talking orange juice (booring) or fresh-squeezed carrot juice (I don't have a juicer. boo). I'm talking the good stuff. You know, orange martinis. More specifically, pumpkin martinis. OK, OK pumpkin pie martinis.
I've been dreaming of pumpkin pie martinis for days, but forced myself to wait until Friday to experiment and indulge. Not that I'm afraid of a martini during the week. Because I'm not. I just wanted to have time to sit and enjoy it. So, earlier this afternoon, I took a little break from work and started doing some research. I saw plenty of awesome pumpkin pie martini recipes, but eventually decided to adapt one from Sweet and Sour in Boston. Which begs the question, how have I never heard of this Boston food blog before? Anyway, I LOVED the idea of the caramel pumpkin pie syrup and knew that it had to be involved in my martini.
Pumpkin Pie Martini (makes 1 martini):
Adapted from Sweet and Sour in Boston
• 2 oz vanilla vodka (or you could use 2 oz. vodka plus 1 teaspoon vanilla extract)
• 2 1/2 T pumpkin puree
• 2 t caramel pumpkin pie syrup (recipe below)
• 2 ice cubes
Caramel Pumpkin Pie Syrup (makes enough for 8+ martinis):
• 1 C sugar
• 1/2 C warm water
• 1 T pumpkin pie spice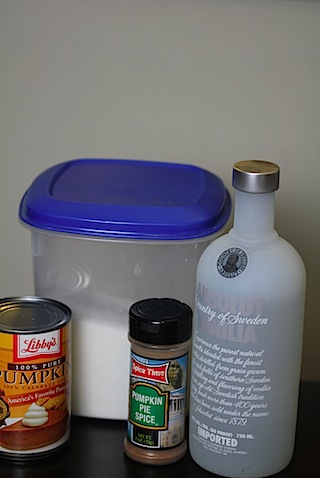 You'll want to start by making the caramel pumpkin pie syrup. Now, syrup can be a bit of a pain of a thing to make. But one thing I've learned is that you just have to pay attention. I have a horrible attention span and love multi-tasking in the kitchen. But I tried my best to just pay attention to the syrup tonight.
Put about a 1/4 C of sugar in a saucepan over medium heat. Keep your eye on it.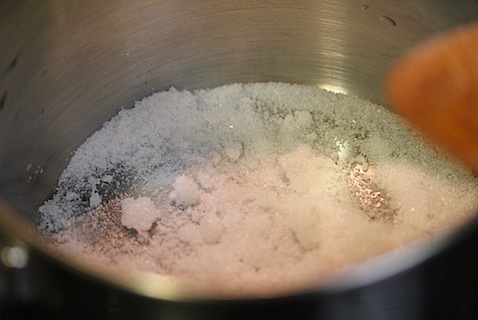 And it will start to caramelize. Once it begins to caramelize, you can add more sugar. Keep stirring to combine. In fact, my philosophy with caramelizing sugar is to just keep stirring and stirring.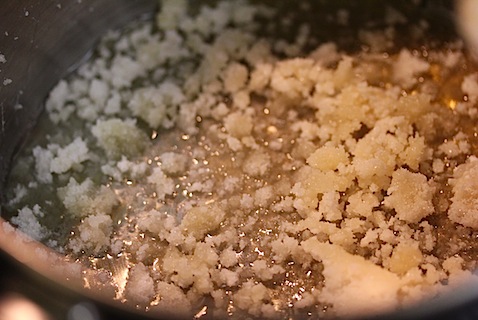 Oooh, look! Call me crazy, but I thoroughly enjoy caramelizing sugar. When it comes to Friday night activities it might be close to the top of the list. Seriously.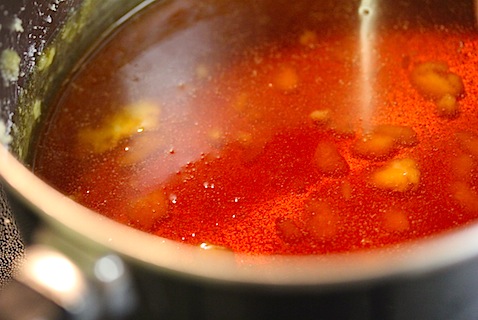 Once all your sugar is caramelized, remove the pan from heat and add 1/2 C warm water. It will sizzle like woah, so make sure you stand back when you add the water.
Stir in the pumpkin pie spice and your caramel is done.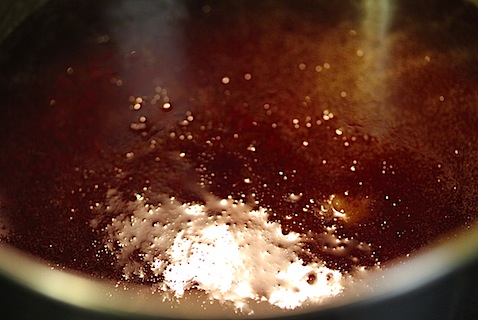 Now moisten the rim of your martini glass and cover it in some extra sugar mixed with pumpkin pie spice. If you so desire.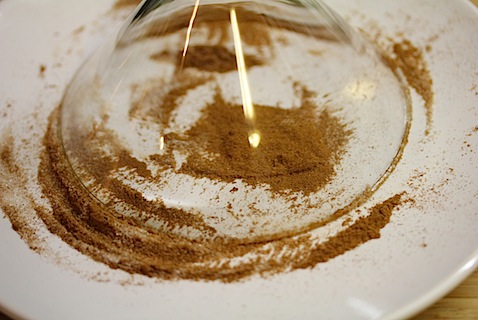 And prepare your cocktail. In a shaker, combine the vodka, pumpkin pie puree, caramel pumpkin pie syrup, and ice cubes.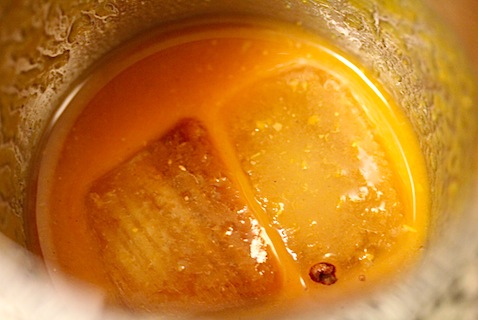 Strain into your martini glass. Sprinkle some more pumpkin pie spice on top.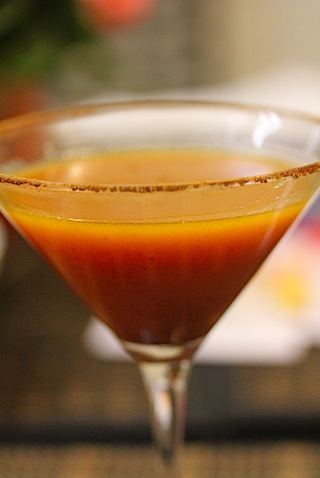 And enjoy your Friday night. I'm not even kidding when I say this tastes exactly like a pumpkin pie. The pumpkin puree gives it a little thickness, but it's not too thick by any means.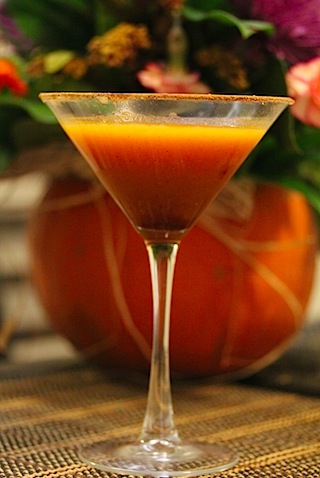 It's packed with the flavors of fall and I'm left wondering how I never made one of these before. Of course, it's the kind of drink you likely only want to have one of. OK, maybe two. But it is pretty sweet. Just like pumpkin pie 🙂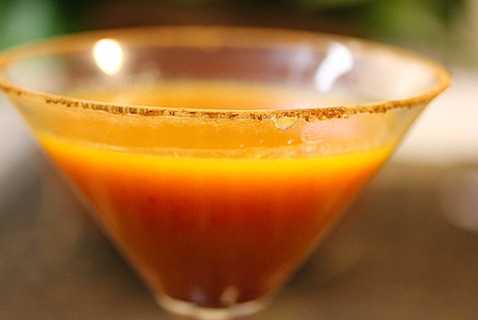 And this will now be my new drink until Thanksgiving hits.
Except for tomorrow evening when I'm attending Cambridge Brewing Company's Pumpkin Beer Festival. From pumpkin martinis to pumpkin beer? I'm game.
Chels and I want to thank everyone for their support for us in Project Food Blog. We didn't make it past round #6, but we had a blast and are so happy we made it as far as we did. And really? We're now thrilled to actually have some time to relax and not constantly be thinking about the next post! I haven't had a free Friday night since August… But I'm obviously still blogging 🙂
Happy weekend, everyone! And don't forget to go shopping at Stella and Dot this weekend for a chance to win the super cute Petra bracelet. I think it's the perfect weekend to get a head-start on your holiday shopping!
What will you be sipping on this weekend?
[Sues]