This pumpkin pie martini is basically pumpkin pie in a cocktail glass. Made with pumpkin puree, vanilla vodka, and a pumpkin caramel syrup, it's a pumpkin cocktail that will have you in the fall spirit in no time at all!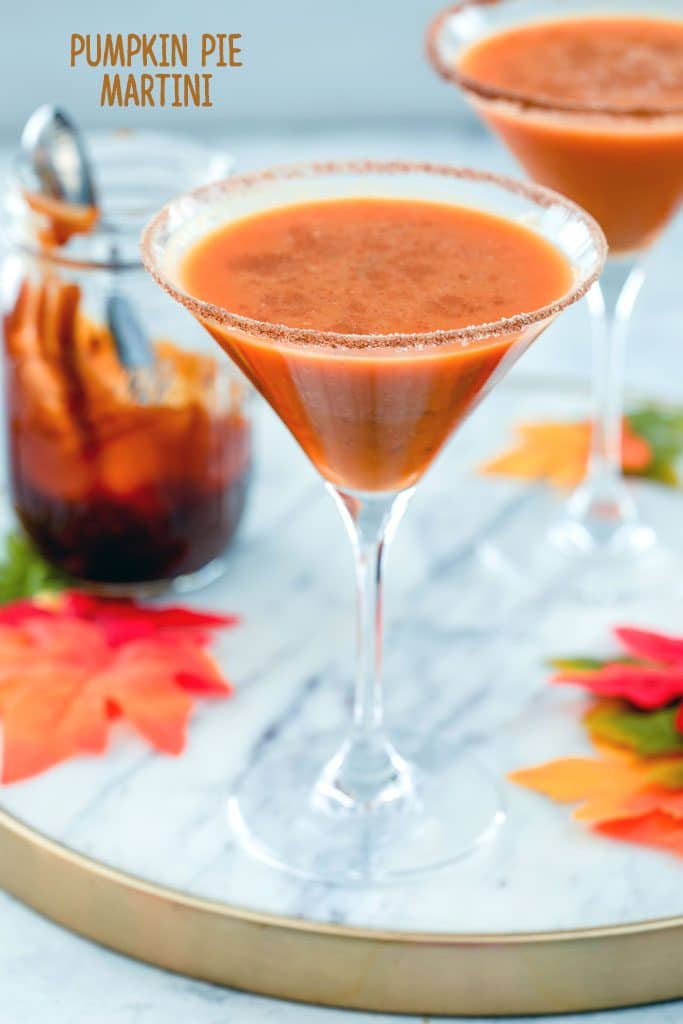 (This recipe for Pumpkin Pie Martinis was originally published in October 2010, but has been updated with new photos and content in 2018).
Listen up, all you pumpkin haters. It's time for you to simmer down. See, pumpkin spice sentiment has come a long way since I launched this blog back in 2008. Back then, pumpkin was just starting to become super trendy. And then for quite a few years it was all the rage to the point where it became a bit, dare I say, basic? Yup, I think many would say pumpkin spice loving became basic.
But guess what? The times have changed. Now, I can barely get through a day where I don't see some sort of pumpkin hatred and vitriol out there. It's to the point that pumpkin hatred has now become trendy and yes, basic. It's almost like people enjoy bragging about how they don't like pumpkin and want some sort of medal for it.
Please just let us pumpkin lovers live in peace with something simple that makes us happy for a short period of time each year. I'd rather be a lover than a hater any day. End rant (and seriously, if you don't like pumpkin, that's perfectly OK… But please just let me have it).
That said, I do kind of feel the need to apologize for posting a pumpkin recipe when it's 90-something degrees out (in New England… It's not like I live in California or something). But lots of people are already getting into the spirit and searching for pumpkin recipes on my blog and this pumpkin pie martini first made in 2010 is already getting a fair amount of traffic. And it was in desperate need of a photo upgrade.
I'm also happy to say I made a few improvements to the recipe from the first time I made it back in 2010. Now, this pumpkin martini is back and better than ever. And the photos don't look like they were taken with a camera phone in the middle of the night (at least I hope they don't. Please don't tell me if you think they do).
PUMPKIN PIE MARTINI RECIPE
Like an espresso martini, the pumpkin pie martini is more of a dessert, or at least after dinner, martini. Though I did have to recipe test these quite a few times and certainly wasn't opposed to enjoying them in the afternoon (all a part of the life of a blogger!).
They're incredibly easy to make, but they do involve a pumpkin pie caramel syrup that you'll want to make ahead of time so it can cool. However, you can also buy a store-bought caramel and add pumpkin pie spice in (or make your own) and use that instead. It will be thicker than the syrup, but when shaken up with the other ingredients, it should blend in (just make sure it's fully cooled to room temperature or it will harden when it hits the ice).
f you are making your own caramel, make sure the recipe you use is for a caramel that stays more liquid-y at room temperature. I made this a ton of times with lots of different types caramel and can honestly say it's delicious no matter what you use.
To make the caramel syrup, you simply need to caramelize sugar and then add warm water and pumpkin pie spice to it. If your mixture hardens after you add the water to it (I've heard this feedback from some and had it happen to me once, as well), simply put the saucepan back on the burner over medium-low heat and it should turn back to liquid in no time.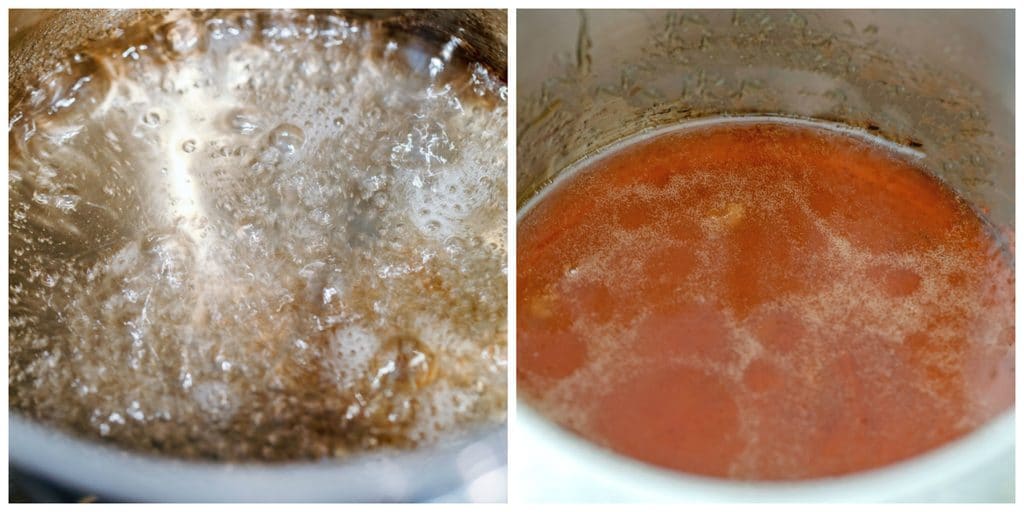 You'll definitely have enough syrup for quite a few cocktails and you may also be tempted to eat it with a spoon because it is ridiculous good.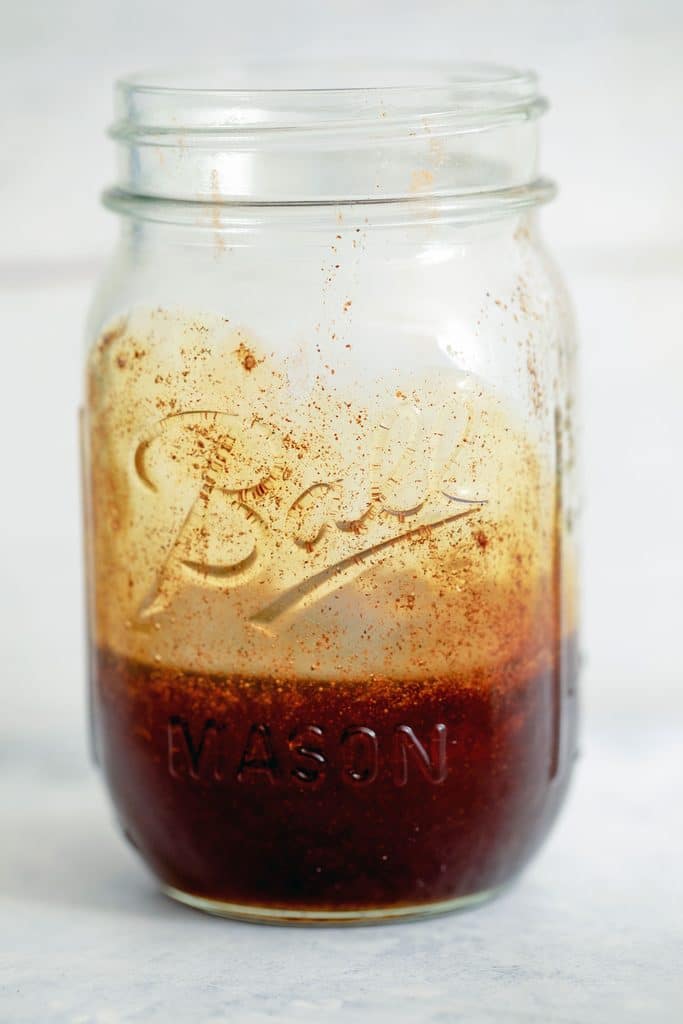 When you have your caramel syrup or caramel ready, just put it in a shaker along with the pumpkin puree, vanilla vodka, and some ice. Obviously, you're gonna want a sugar/pumpkin pie spice rim on those martini glasses!
Strain the mixture into your martini glass and sprinkle some more pumpkin pie spice on top.
And enjoy your night. I'm not even kidding when I say this tastes exactly like a pumpkin pie. The pumpkin puree gives it a little thickness, but it's not too thick by any means. Next time I'm totally going to make little pie crust garnishes because yum.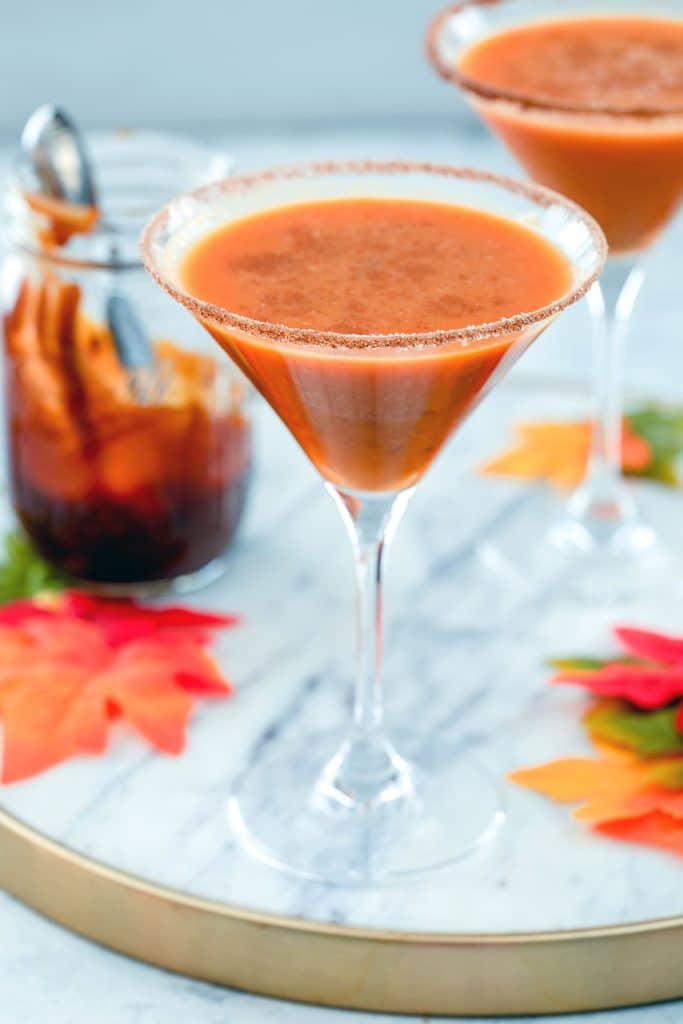 This cocktail is packed with the flavors of fall and the kind of drink that will totally hit the spot once the temperature falls just a littttle bit. Some people enjoy pumpkin throughout the whole year (after all, the puree is always available!), but I try to only indulge from September to Thanksgiving. Otherwise I fear I will go on overload. And I certainly don't want to become a pumpkin hater!
Of course, this pumpkin pie martini is the kind of drink you likely only want to have one of. OK, maybe two. But it is pretty sweet. Just like pumpkin pie 🙂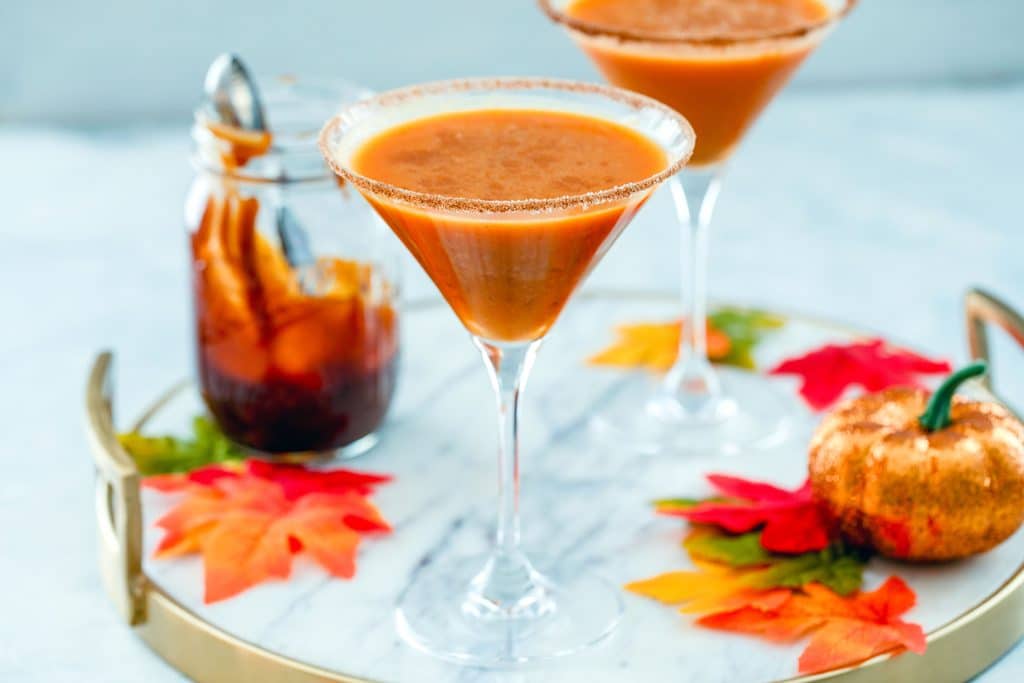 I don't even want to admit how many times I'll probably make this from now until Thanksgiving. That is, when I'm not enjoying pumpkin beer. Can we talk about how many pumpkin beers are on the market now?? It's absolutely insane. But I'm not complaining.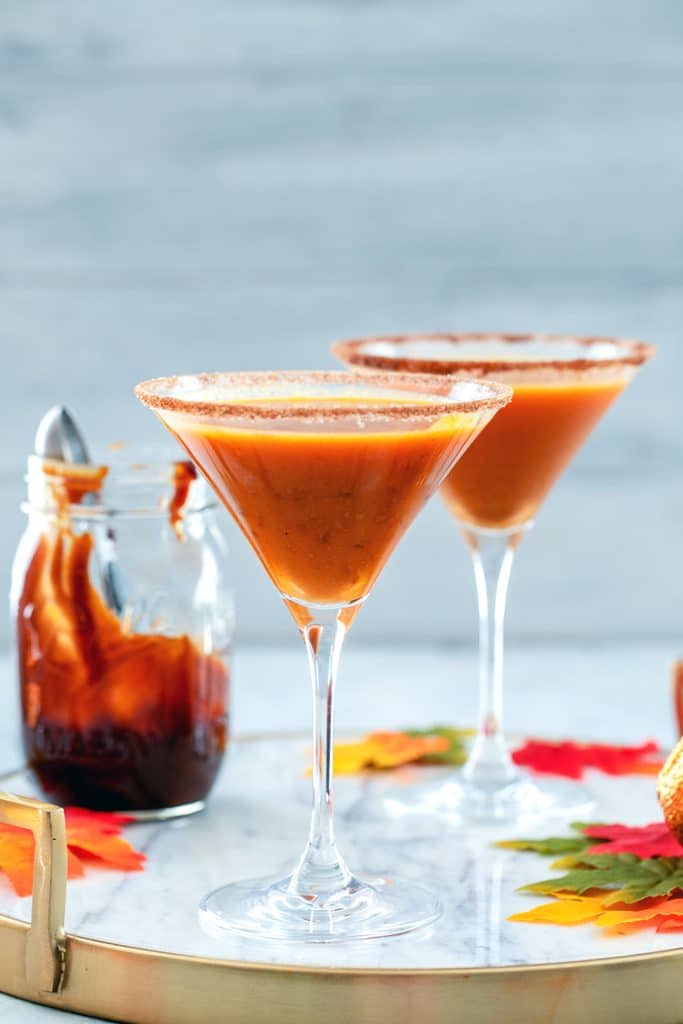 If you're not a pumpkin fan, stay far far away from this cocktail. But just maybe you can work to unite the world in some small way and make this for a friend who does like pumpkin. You can tell them, "even though I don't like pumpkin, I know you do and I want you to be happy."
And then you can gleefully accept your pumpkin haters medal with pride.
What's your favorite fall drink?
If you're looking for more pumpkin recipes, check out my sour cream pumpkin pie bundt cake or my pumpkin spice linzer cookies. I'm also planning on making these Pumpkin Spiced White Russians from Casa de Crews as soon as the weather calls for it!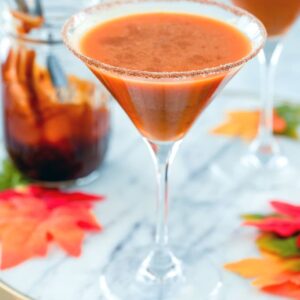 Print Recipe
Pumpkin Pie Martini
This pumpkin pie martini is basically a pumpkin pie in a cocktail glass. Made with pumpkin puree, vanilla vodka, and a pumpkin caramel syrup, it's a pumpkin cocktail that will have you in the fall spirit in no time!
Syrup Cooling Time
30
mins
Ingredients
Pumpkin pie spice,

for glass rim and cocktail garnish

Granulated sugar,

for glass rim

2

oz.

vanilla vodka

(you can also use regular vodka with 1 tsp vanilla extract added in)

3

Tbsp

pumpkin puree

2

tsp

Pumpkin Caramel Syrup

recipe below (you can also use homemade or store-bought caramel with pumpkin pie spice mixed in)

Ice
Pumpkin Caramel
1

cup

granulated sugar

1/2

cup

warm water

Pinch salt

1

tsp

pumpkin pie spice
Instructions
Mix pumpkin pie spice and sugar on a small plate. Moisten rim of glass (either with water or simple syrup) and roll in mixture to coat in pumpkin pie spice/sugar.

In a shaker, combine the vodka, pumpkin pie puree, pumpkin caramel syrup (or caramel), and ice cubes. Shake well.

Strain into prepared martini glass. Sprinkle more pumpkin pie spice over top.
Pumpkin Caramel Syrup
Place sugar in medium saucepan set over medium heat. Without stirring, let sugar melt until it's completely liquid and a light amber color.

Remove pan from heat and pour in the warm water. The mixture will sizzle and bubble and some of the sugar may harden. if this happens, return saucepan to heat and simmer until mixture is liquid again.

Pour syrup in jar or heat-proof bowl, mix in pumpkin pie spice, and let cool completely before using in cocktail.