This Banana Split Affogato recipe is the perfect way to end a meal. But I wouldn't judge you if you indulged at breakfast time. Vanilla ice cream and espresso pair with the traditional banana split toppings for an incredible treat. Extra sprinkles, required.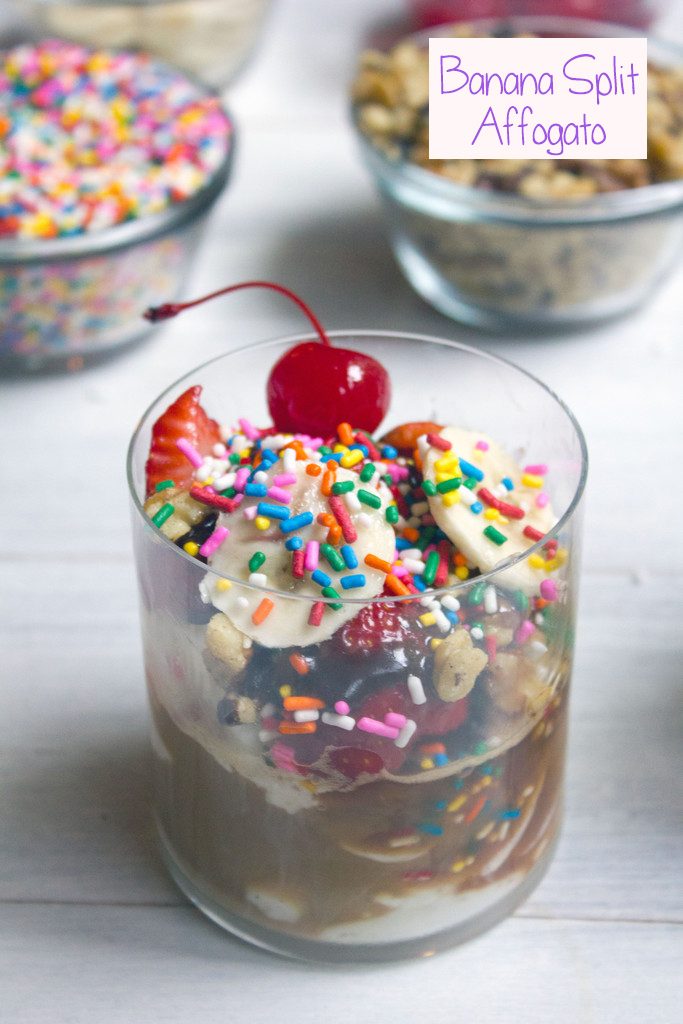 What's the cure for the Monday after a really, really fabulous weekend and prior week? Usually I would say COFFEE! But um, today, coffee is definitely not going to cut it. I spent most of last week hanging out with Superior Farms in Sonoma having an absolutely amazing time learning everything there is to know about sheep, wining and dining, and hanging out with some fabulous people (see my trip details here and here!). But on this Monday morning, I'm heading back to work and trying to come down off my traveling high. It's not easy, my friends... At all.
So instead of a regular Monday morning coffee, I'm proposing that we all start our day with affogato today. I mean, it's a totally logical choice, given that it's espresso... with ahem, just a little bit of ice cream. Which, I'm sorry, but when we're talking about Monday morning, ice cream is allowed. You don't have to tell anyone if you're too embarrassed to. Or you can shoot me an email and confess to me and I'll tell you it's OK and that you are beautiful and strong and deserve only the best. I will be your support system.
This affogato isn't just any affogato either... It's a banana split affogato. And to be honest, I'm not really sure if that makes it more or less acceptable for breakfast. The bananas, strawberries, and walnuts are making me think this is an A-OK breakfast food. But the chocolate sauce and sprinkles (fine and probably the maraschino cherry, too) are obviously more dessert focused. But this morning, I just don't care. Sprinkles are helping me come to terms with reality and if that's what I need, that's what I'm doing.
WHAT IS AFFOGATO
First thing first, you may be wondering what the heck affogato even is. OK, so it's technically not a breakfast food. At all. It's a dessert. An Italian dessert involving ice cream and espresso. Basically, the ice cream (or gelato) is put in a glass and a shot of espresso is poured over it. The ice cream melts into the espresso and omg it's so good and the perfect way to end the evening after a really good meal. Oh, and sometimes liquor is added to affogato, too... usually amaretto. Yum. I almost always order affogato when I see it on restaurant menus, but it's so easy to make at home yourself. And it's also fun to put different spins on it... Like with this banana split affogato.
BANANA SPLIT AFFOGATO RECIPE
And hey, this affogato is pretty easy to throw together on a Monday morning. Really, all you need to do is scoop some vanilla ice cream into a heat-proof glass or coffee mug. Top it with half a sliced banana, some sliced strawberries, walnuts, a drizzle of chocolate sauce, and as many sprinkles as your heart desires.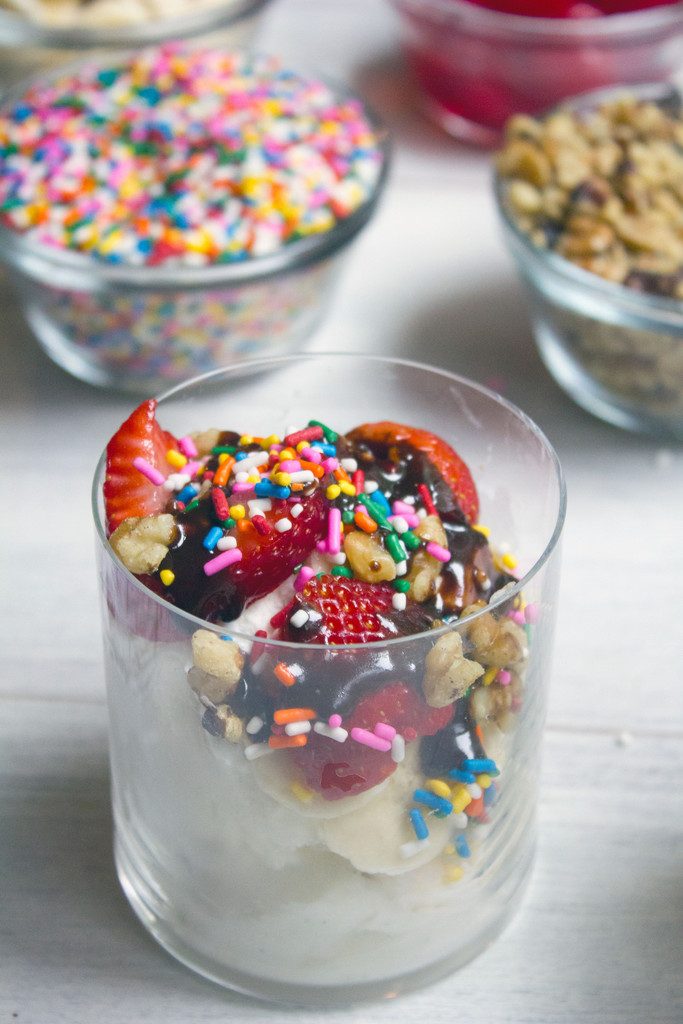 Then comes the important part... Espresso. Pour it on over the top of the ice cream. I brewed my espresso using my Nespresso machine, but brew yours however you want. If you don't have access to espresso, strongly brewed coffee will do the trick.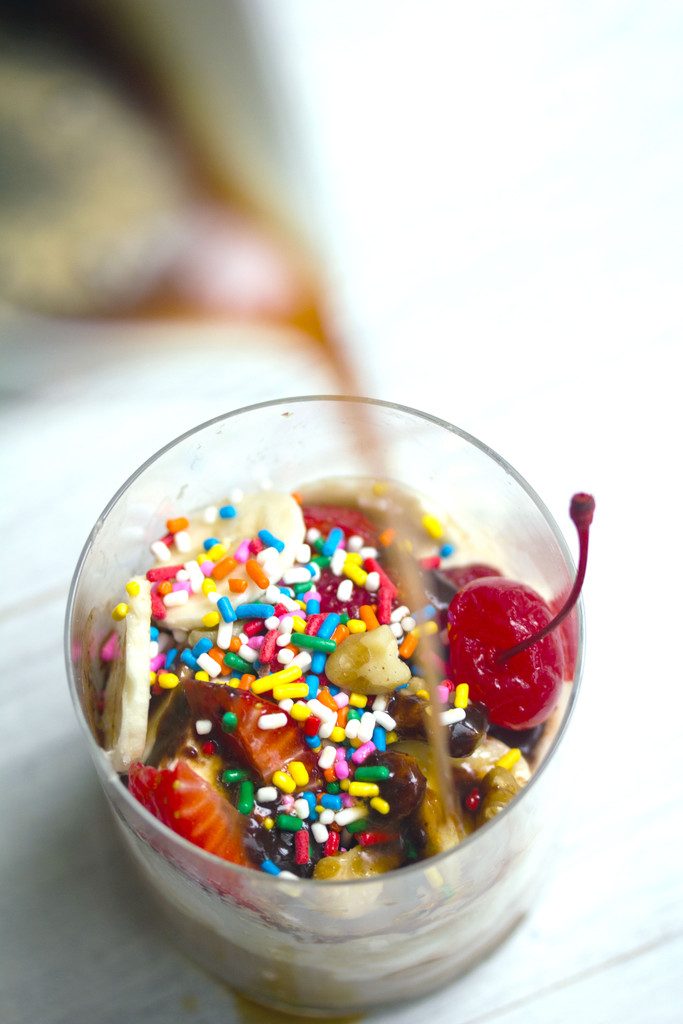 Don't forget that maraschino cherry. Seriously, even if you don't like them; it's totally necessary to complete the dessert (or, um, breakfast). You're also totally justified in adding even more sprinkles over the top at this point.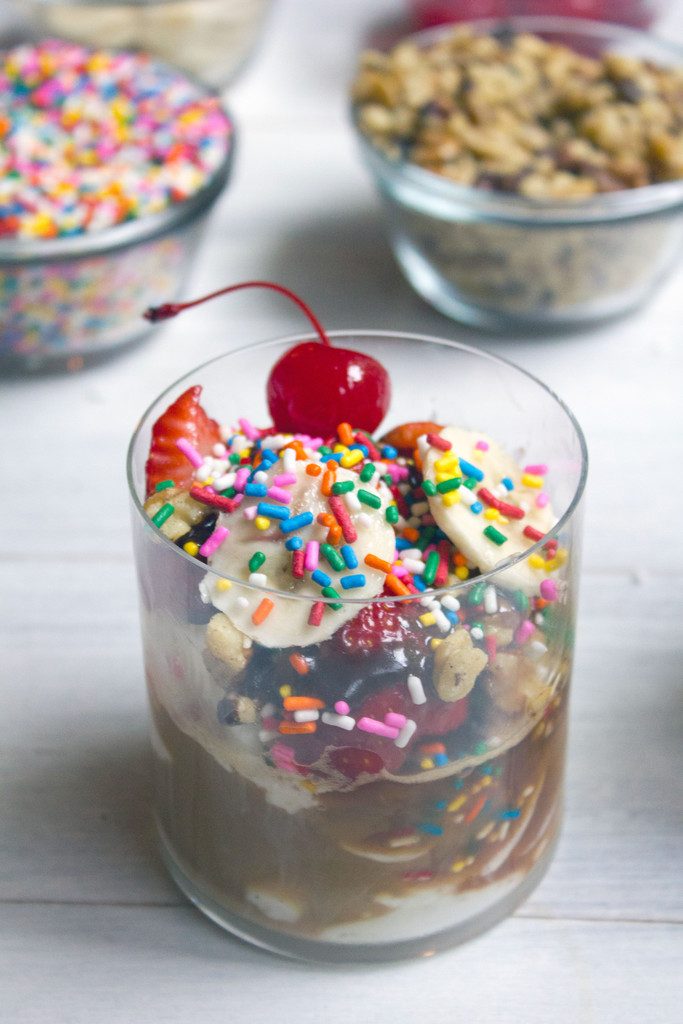 Now, grab a spoon and dig in. Monday, who??
I've been really into banana split inspired treats lately and I'm not at all interested in stopping. They are the best of so many different worlds. I didn't think they could get any better, but then I discovered how to pair them with coffee with this banana split affogato, which changes everything.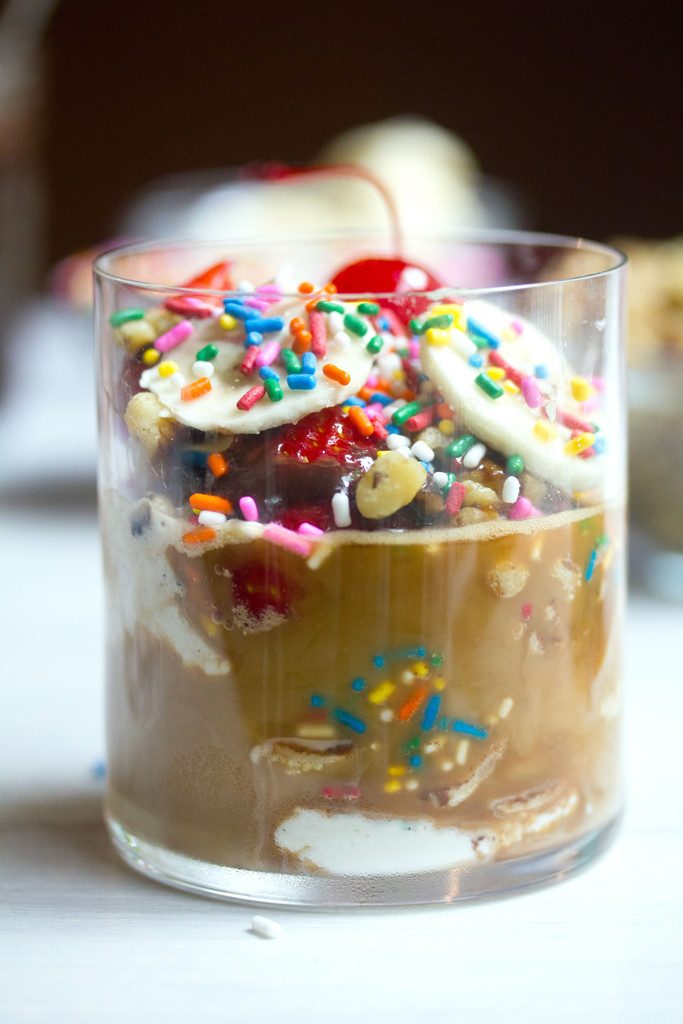 Is this really so different from adding lots of cream and sugar to your coffee? I think not. These days, people are mixing butter into their coffee, so I'm pretty sure you can't look down on me for adding in a couple scoops of ice cream.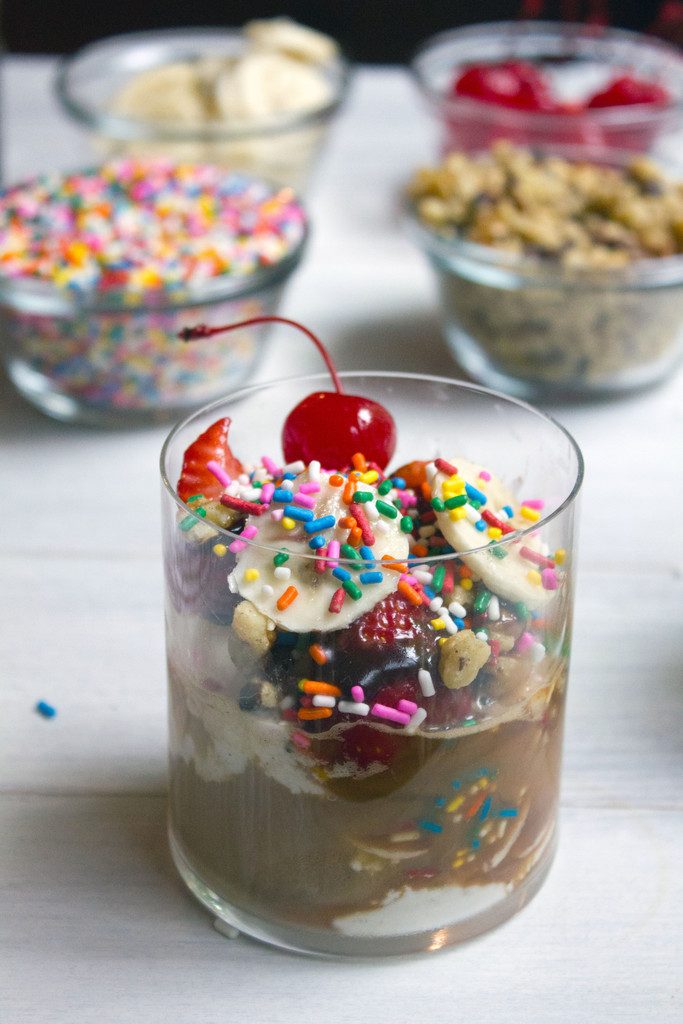 Like I mentioned earlier, sometimes affogatos have liquor in them, so I'm calling this a tame one and adding more sprinkles. I said good day, sir. Good MonDAY.
Seriously though, I hope you have a good day. I'll be sitting over here in my office envisioning myself back in Wine Country (real talk: when can we more to Healdsburg?? Today? OK, cool) and eating ice cream for breakfast. With coffee. Lots of coffee.
Would you or wouldn't you have a little ice cream for breakfast?
If you like the idea of combining ice cream and coffee together, be sure to check out my Birthday Cake Oreo Coffee Ice Cream and my Caramel Coffee and Doughnuts Milkshake. I also NEED to try these Coffee Affogato Popsicles from Sheri Silver ASAP!
📖 Recipe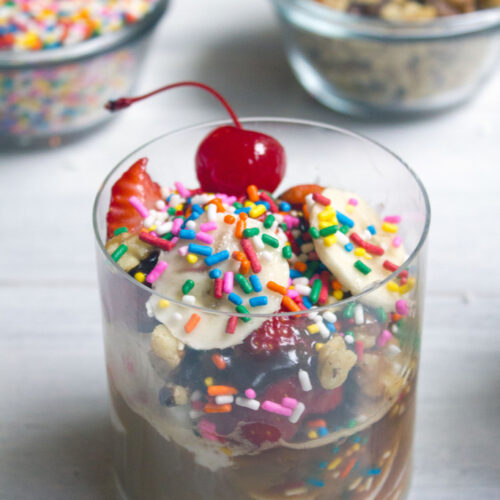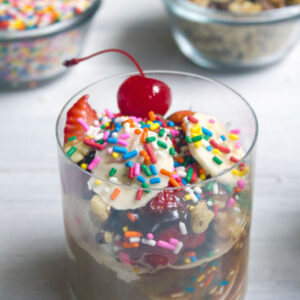 Banana Split Affogato
This banana split affogato recipe is the perfect way to end a meal. But I wouldn't judge you if you indulged at breakfast time. Vanilla ice cream and espresso pair with the traditional banana split toppings for an incredible treat. Extra sprinkles, required.
Print
Pin
Rate
Ingredients
2

cups

vanilla ice cream

1

banana,

peeled and sliced

10

strawberries,

hulled and sliced

¼

cup

chopped walnuts

¼

cup

chocolate sauce

2

Tbsp

rainbow sprinkles

8

oz.

espresso or strongly brewed coffee

2

maraschino cherries
Instructions
Divide ice cream between two heat-proof glasses or coffee mugs.

Top with banana, strawberries, walnuts chocolate sauce, and sprinkles, divided evenly between glasses.

Slowly pour 4 ounces of espresso over the top of each glass.

Top with a cherry and more sprinkles, if desired.
Share a Photo of Your Finished Recipe!
Mention @wearenotmartha and share a photo if you've made the recipe!