Coffee Oreo ice cream is delicious and birthday cake ice cream is delicious. But the two are combined in this Birthday Cake Oreo Coffee Ice Cream, along with lots of rainbow sprinkles, for the best ice cream ever!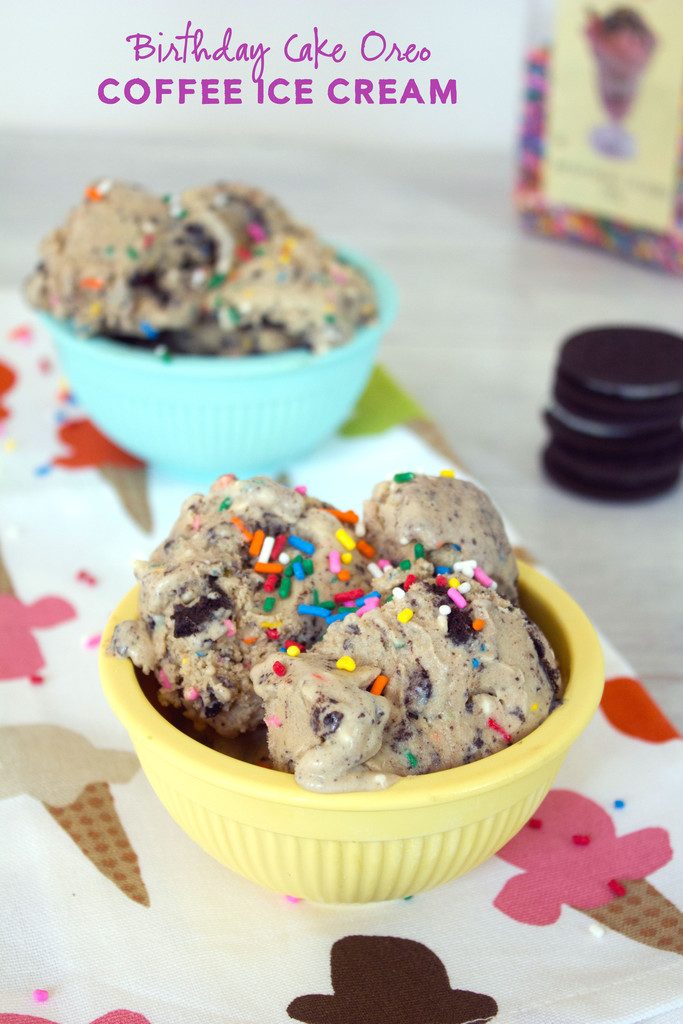 I just realized that it's January 9, and I have yet to make a single purchase from Amazon.com this year. Based on my purchase history from 2016 (which, omg is making me want to cry), I'm pretty sure this is some kind of record. I'm actually a little bit embarrassed to tell you how many orders I placed from Amazon in 2016, but in the interest being fully transparent on this blog, I'm going to put it all out there. Keeping it real y'all.
Hi, my name is Susie and I placed 68 orders on Amazon last year. No, that's not 68 items that I ordered throughout the year... That's 68 orders, some of which consisted of multiple items. I'm part horrified with myself, but I'm also slightly proud. I mean, did I even leave my house at all in 2016?? Looking back at my order history, it appears a majority of my orders related to stuff for my dog and health and beauty-related items. But I also bought plenty of food items and clothing. FYI clothes shopping on Amazon is the best. I'm nervous to share all my secrets because I'm greedy and worried that you'll buy everything I want before I can. But I could write a whole manual on it.
Looking back through my order history, I also saw that my very first Amazon order was placed back in 2002 when I purchased the Dave Matthews Band, Live at Folsom Field, album. Yup, that sounds about right for my 2002 self. For years, it was just books, CDs, and DVDs in my order history, until 2008, when Amazon expanded its selection and I realized how convenient it was. Somewhere around 2014, I must have started wearing my pajamas full time, but it wasn't until last year that I truly went crazy ordering anything and everything.
The ability to purchase seven pounds of sprinkles without stepping foot out of my house is pretty much my favorite thing about Amazon. I purchased a seven pound container (affiliate link) back in March to create my sprinkles lamp and have looked for every opportunity to cook and bake with sprinkles since then. In the midst of dreaming up this coffee Oreo ice cream (my favorite flavor in all the world!), I stumbled upon Birthday Cake Oreo cookies and my necessity for sprinkles was multiplied.
Despite the fact that it was one degree out this morning (ONE!!), I'm sharing a coffee ice cream recipe. I truly believe that ice cream is a year-round treat and should be enjoyed just as often in the winter cuddled under a blanket as it is in the summer out in the sunshine.
BIRTHDAY CAKE OREO COFFEE ICE CREAM RECIPE
Coffee ice cream has been my favorite for as long as I can remember, even back before I drank coffee. The only time I'll veer from it is when I'm craving Oreo ice cream (or if coffee heath bar is on the menu!), so why not combine the two and call it a day? And if you have the opportunity to give anything in life a birthday cake flair, I say go for it! Call me "basic" if you will, but rainbow sprinkles really do make everything more fun and birthday cake ice cream always has sprinkles. Even Birthday Cake Oreos have sprinkles, which is the happiest thing ever.
This is a pretty basic ice cream, consisting of a milk and cream mixture (and in this case, espresso!) with eggs tempered in (a custard-based ice cream). Oh, but when you're almost done processing it in your ice cream maker, you'll add in two very important components: Birthday Cake Oreos and rainbow sprinkles. The hardest part about this easy ice cream recipe is all the time you need to wait while it chills.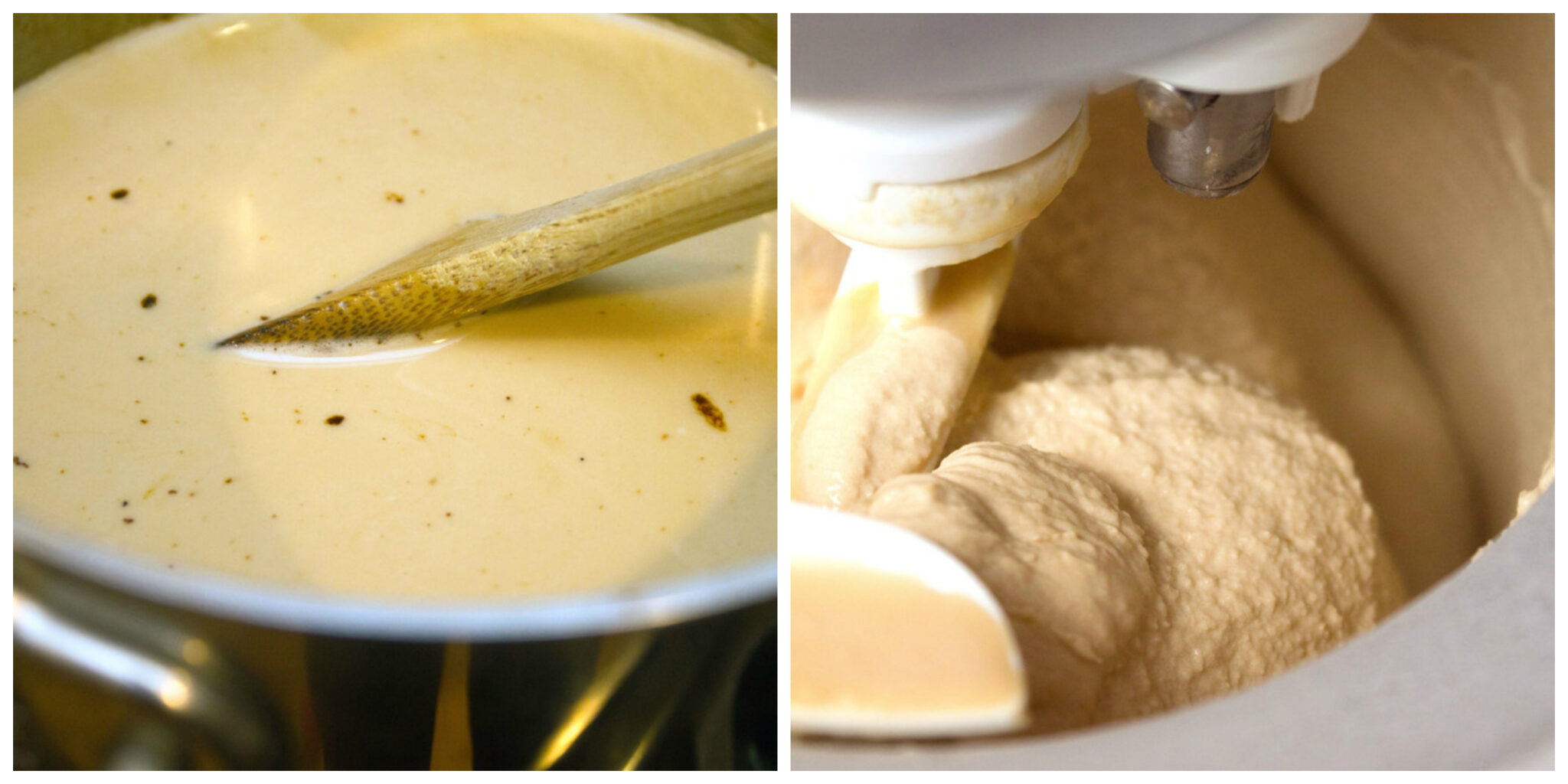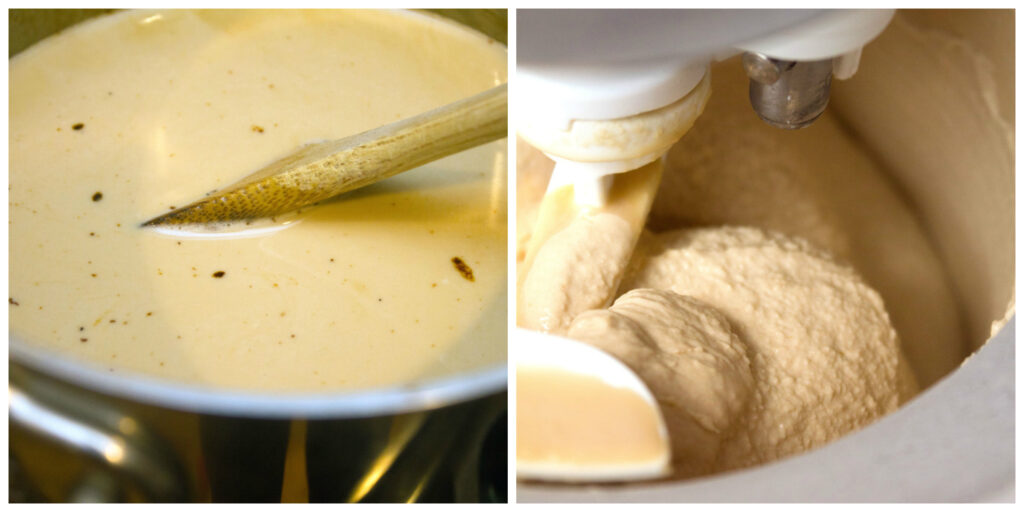 This ice cream was so delicious that I'm pretty sure you could have tempted me to eat it while I was walking to the train this morning. You know, when it was one degree and I had fleece-lined leggings under my pants, a blanket scarf wrapped around my face, and my whole head basically covered in a fur hood. Also, despite my gloves, my hands felt like they had frostbite and were going to fall off.
But still. I'm really not sure I could have turned down this coffee birthday cake Oreo ice cream. Even if my hands fell off. WORTH IT.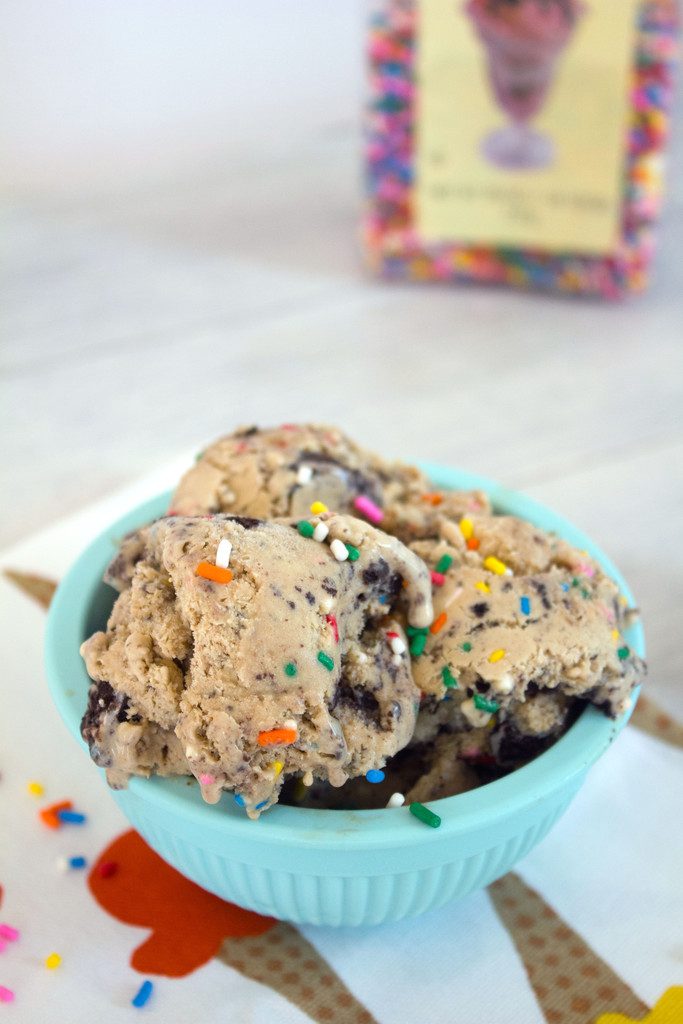 Plus, even though ice cream isn't typically a breakfast food, I'm working on justifying the idea that coffee ice cream can technically be a breakfast food. Because coffee with cream and sugar is totally a normal thing people do. The Birthday Cake Oreos might throw a bit of a kink in my plans, but I think I can work around that (AKA conveniently forget that eating cookies for breakfast could potentially be a problem).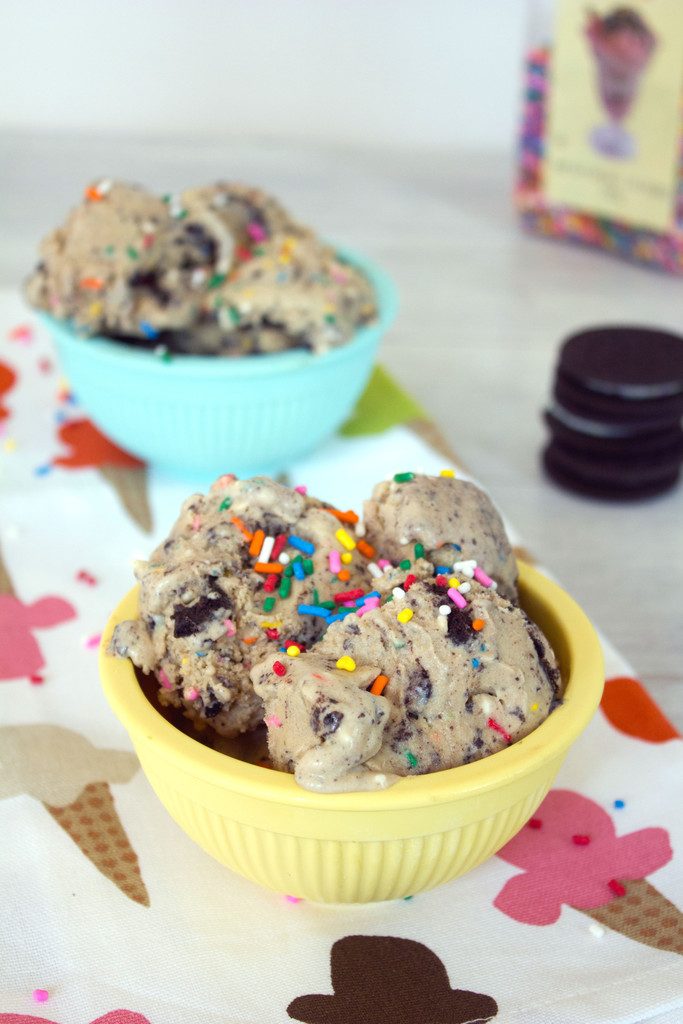 I've made coffee ice creams before, but this time I added a bit more espresso for a deeper, more robust flavor. In my mind, there's no such thing as too much coffee (or caffeine! I'm one of those crazies who can drink a couple cups of coffee at 11:00 p.m. and fall right to sleep. Not sure if that says more about how I'm not affected by caffeine or about how freaking tired I always am). There's also no such thing as too many sprinkles, which is why I added more to the ice cream, despite the fact that the Oero cookies already involved rainbow confetti.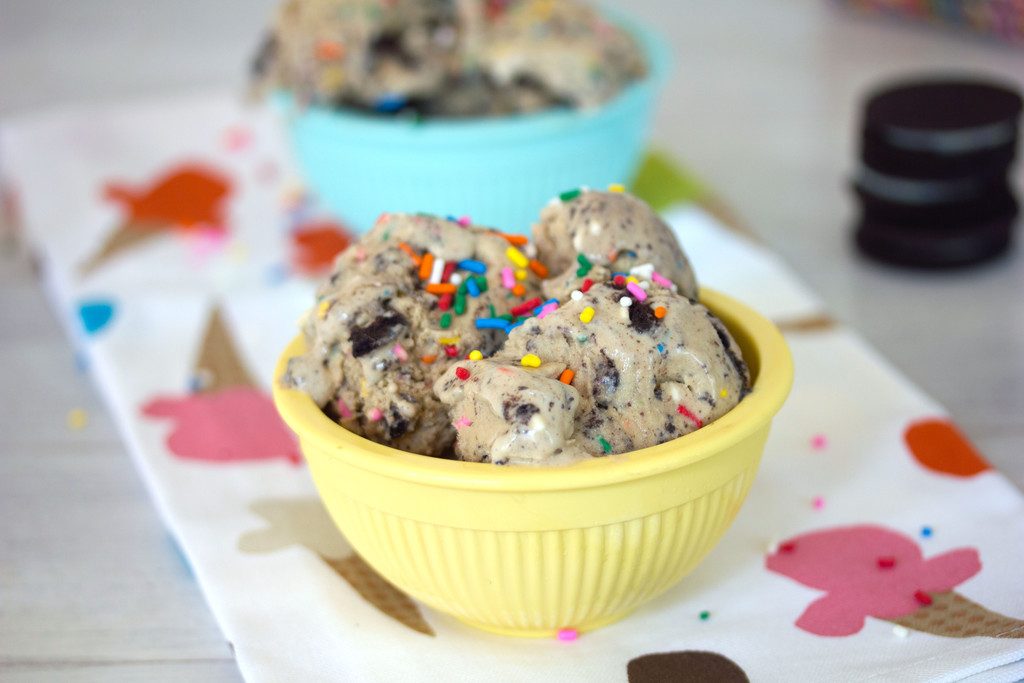 Don't worry; I've got plenty more sprinkles where those came through (um, several pounds worth) and I'm not afraid to use them. I'd proclaim 2017 the year of sprinkles, but I also kind of feel like that's so 2014 and will make me sound even more basic than you may already think I am. Should we just make 2017 the year of ice cream instead?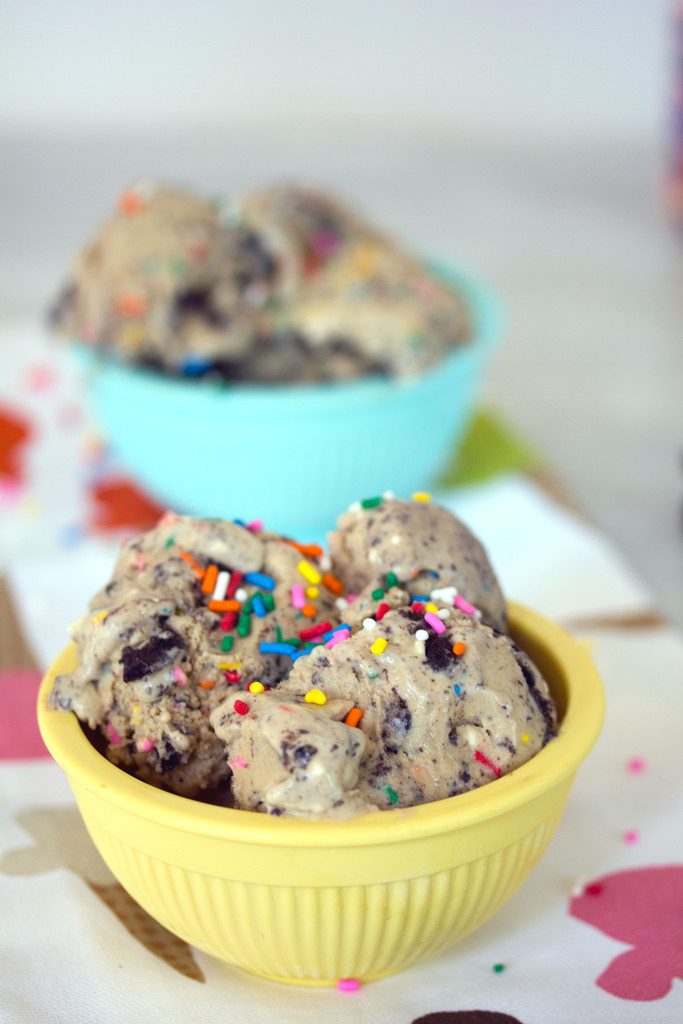 All I know is that I need to make an Amazon purchase ASAP if I hope to beat my 63 orders record this year. That's the kind of resolution I can get behind. It will take dedication, patience, and resilience, but I believe I have what it takes.
But first, let me start my day with a couple scoops of this birthday cake Oreo coffee ice cream. For the caffeine, obvi. And please, even if you don't want to make this ice cream, you really need to try Birthday Cake Oreos immediately. They are so freaking good!
Are you a fan of coffee ice cream? Birthday cake ice cream? And can you beat my Amazon purchase record?
If you're looking for some other fun ice cream recipes, check out my Cinnamon Toast Crunch Ice Cream or my Red Velvet Ice Cream with Cookie Dough.
And if you're looking for another way to enjoy all those Birthday Cake Oreos, try my Oreo Funfetti Popcorn or this Birthday Cake Oreo Ice Box Cake from Sweetest Menu.
📖 Recipe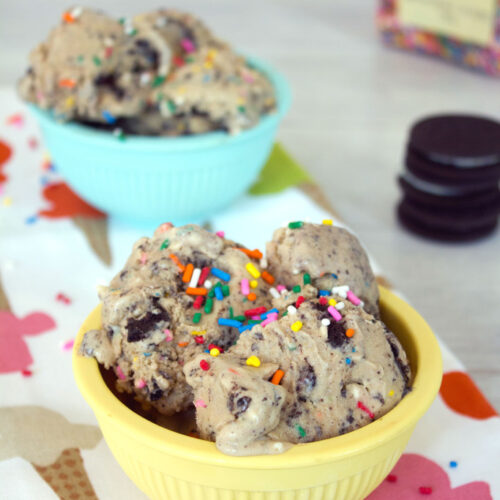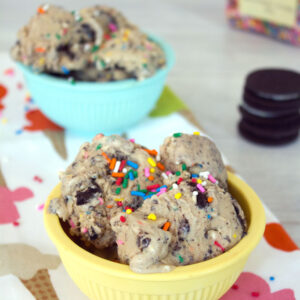 Birthday Cake Oreo Coffee Ice Cream
Coffee Oreo ice cream is delicious and birthday cake ice cream is delicious. But the two are combined in this Birthday Cake Oreo Coffee Ice Cream, along with lots of rainbow sprinkles, for the best ice cream ever!
Print
Pin
Rate
Ingredients
1½

cups

whole milk

2

cups

heavy cream

¾

cup

granulated sugar

¼

tsp

salt

2

Tbsp

ground espresso

4

large egg yolks

16

Birthday Cake Oreo Cookies,

crushed

½

cup

rainbow sprinkles
Instructions
Heat milk, cream, sugar, salt, and espresso in a medium-sized saucepan over medium heat.

Stir constantly, until the mixture just reaches the point of simmer. Remove from heat.

While milk is heating, lightly whisk egg yolks in a separate medium-sized bowl.

Pour half of the warm milk/cream into the bowl with the egg yolks, whisking while you do so.

Then pour the egg/milk mixture back into the pan with the rest of the milk.

Continue to cook over low heat, while stirring with a wooden spoon. Stir for about 3-5 minutes, until the mixture thickens enough to coat the back of the spoon. Remove the saucepan from heat.

Strain egg/milk mixture into a separate large bowl.

Cover bowl with plastic wrap, making sure plastic wrap is touching top of the liquid so skin does not form, and refrigerate for at least 4 hours.

Once mixture is chilled, freeze in an ice cream maker according to the manufacturer's instructions, mixing in Birthday Cake Oreo Cookies and sprinkles when ice cream is almost done processing.

Place ice cream in airtight containers and put in freezer for at least 4 hours to continue to harden.
Share a Photo of Your Finished Recipe!
Mention @wearenotmartha and share a photo if you've made the recipe!