It doesn't get any more fun than these banana split cookies! The banana strawberry cookies are covered in chocolate sauce and marshmallow sauce with rainbow sprinkles and a cherry on top.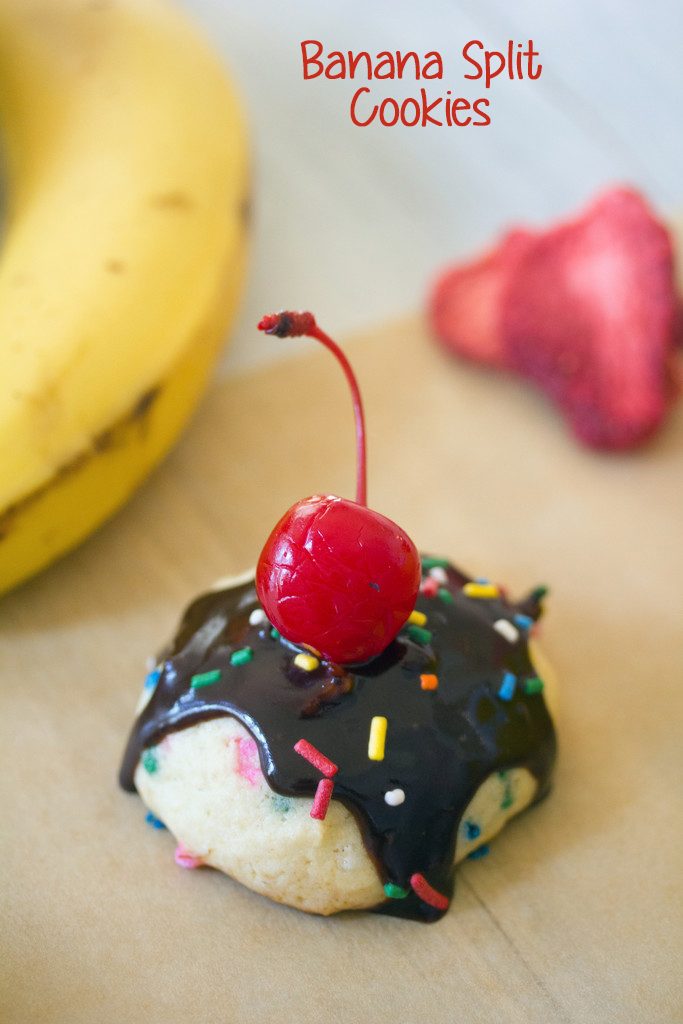 Happy International Women's Day! I'm celebrating with cookies and sprinkles and also wanted to take this opportunity to talk about all the reasons I feel lucky and privileged in my life:
I was not only expected to go on to receive higher education, but my parents fully supported and funded my undergraduate experience, for which I am forever grateful! My family has also always fully supported my dreams and believed in me and have always been my biggest fans.
I hold an executive position at my place of work, along with many other women leaders and a majority women team. I never feel like I'm treated as less and always feel respected.
I have strong female friends who are incredibly supportive and when we're together, we work to bring each other higher instead of bringing others down.
I have an amazing husband and best friend and we work together to be a team (also, I can't remember the last time I vacuumed or mopped our house, thanks to him).
I'm a part of the best ever community of food bloggers, many of who happen to be women and most of who are super supportive and positive and help me push myself to be better.
I live in a world where I rarely feel oppressed, but I know I'm extremely lucky and that not everyone has these privileges. And even in my opportunity-filled life, there are still things that happen on a regular basis that aren't OK, like men making crude comments or telling me to smile more (don't even get me started on this one. Biggest pet peeve).
But at the end of the day, I have it pretty good. And today I had the opportunity to participate on a Women's Day panel at work where I got to speak about my experiences as a female executive. I also got to work with mostly female clients, one of whom works extremely hard to support women in technology and the workplace.
I also got to spend lots of time working closely with my lady co-workers who are all awesome. I'm a lucky girl and I am thankful every single day. Oh, and for those of you saying, "when's International Men's Day???" I'll have you know it's November 19, and is also an initiative I've worked with my clients on supporting. Equality, y'all.
In true WANM style, I think any celebration deserves sprinkles and a celebration of women probably deserves marshmallow sauce and a cherry on top, too.
I made these banana split cookies in part because I realized how long it's been since I baked a batch of cookies and in part because I had a bunch of almost-bad bananas on my counter. Also because I'm obsessed with banana split-style desserts, though I can't even remember the last time I had an actual banana split.
BANANA SPLIT COOKIES RECIPE
These banana split cookies are super easy to make and really just consist of a typical cookie batter with mushed banana, crushed freeze-fried strawberries, and rainbow sprinkles mixed in.
The batter is so yummy, you'll definitely want to lick the spatula.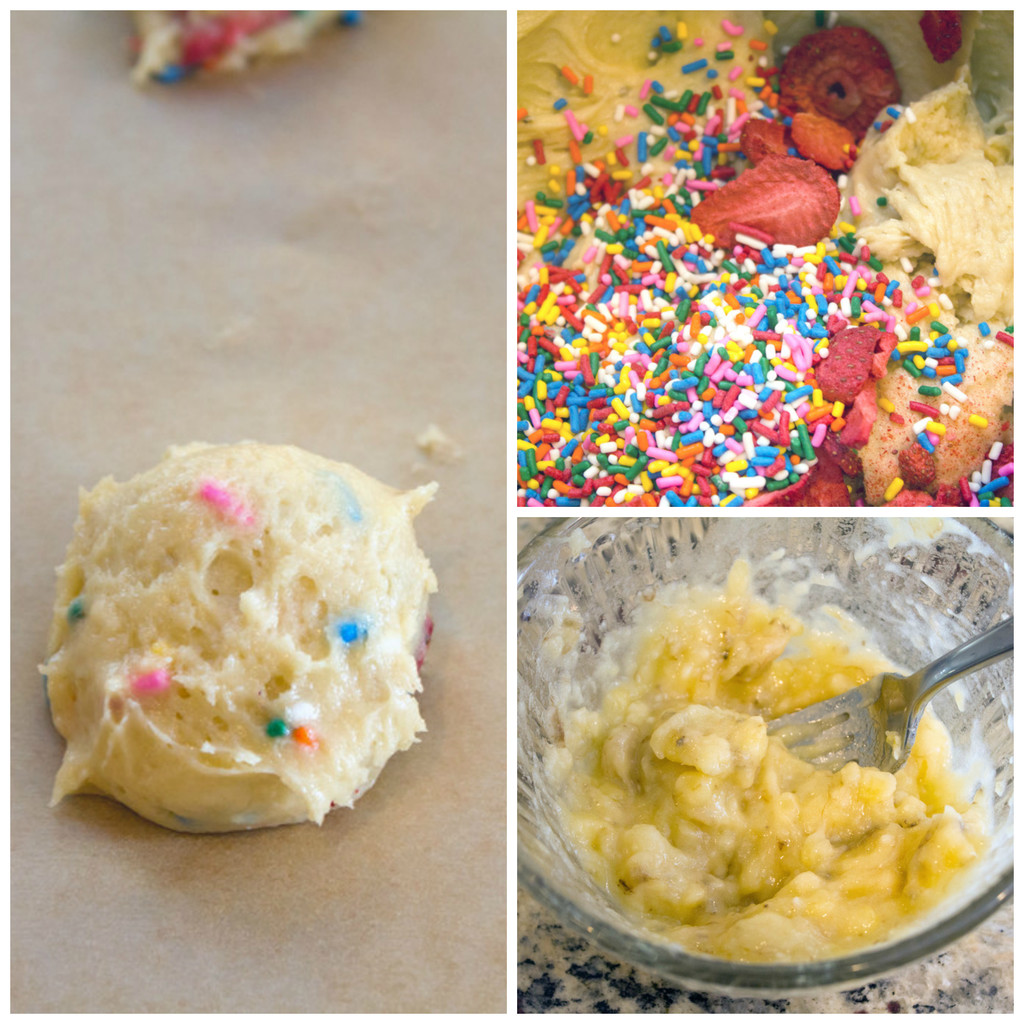 Once the cookies are baked and cooled, simply drizzle with either chocolate sauce or marshmallow sauce (or do half and half like I did!) and add some additional sprinkles and a cherry on top!
These cookies are super cute and impressive looking while being incredibly easy.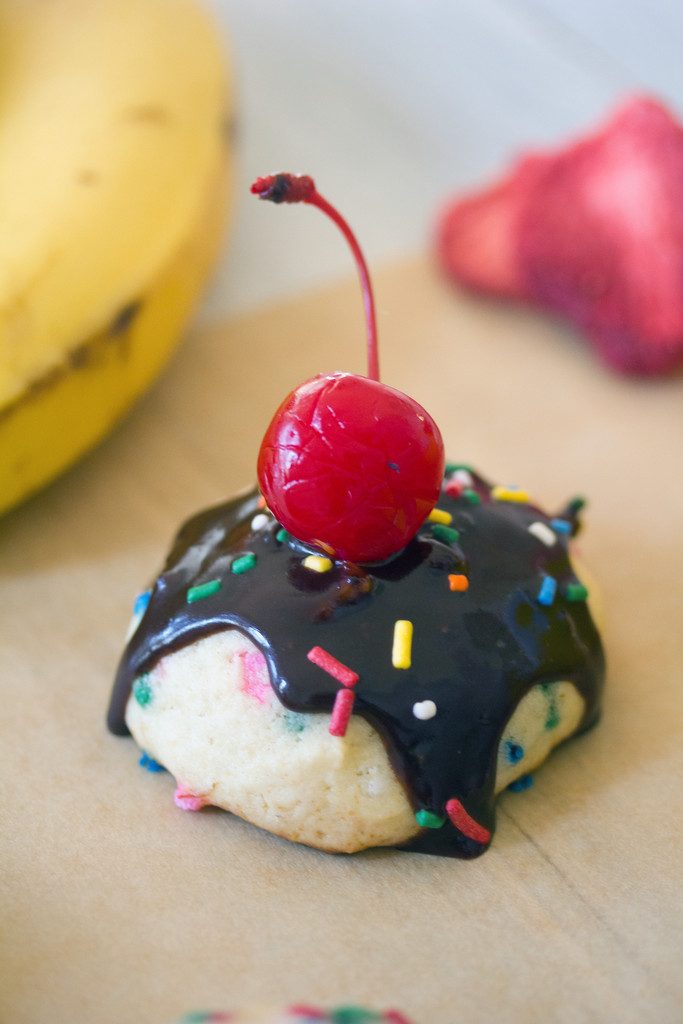 To be honest, I can't even remember the last time I baked cookies. Isn't that crazy? The most classic of all the desserts and I rarely make them... I bake doughnuts and cupcakes much more frequently.
But man, who can turn down a cookie? Plus, they're often a little lighter than most doughnuts and cupcakes... Unless of course, you eat 10 of them in a sitting, which I'm likely to.
Because these banana split cookies had a banana base, these cookies are light and chewy with the perfect touch of sweetness. Also, I'm pretty sure the fact that they are made with fruit makes eating 10 of them more acceptable. Please just let me believe that, OK?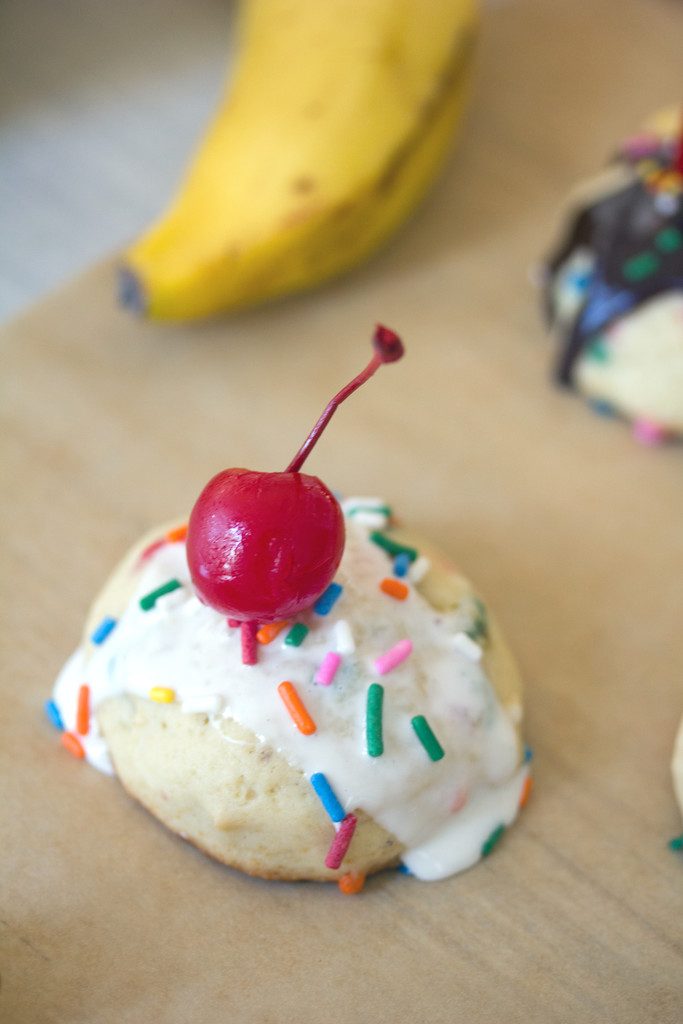 I topped half of the cookies with marshmallow sauce and half of them with chocolate sauce because I couldn't choose and both on one cookie felt a little like overkill. But all involved sprinkles and a cherry.
Because I'm not a monster and wasn't about to make you choose one or the other. Not that I expect you to eat only one cookie. I mean, how often do you get banana split cookies?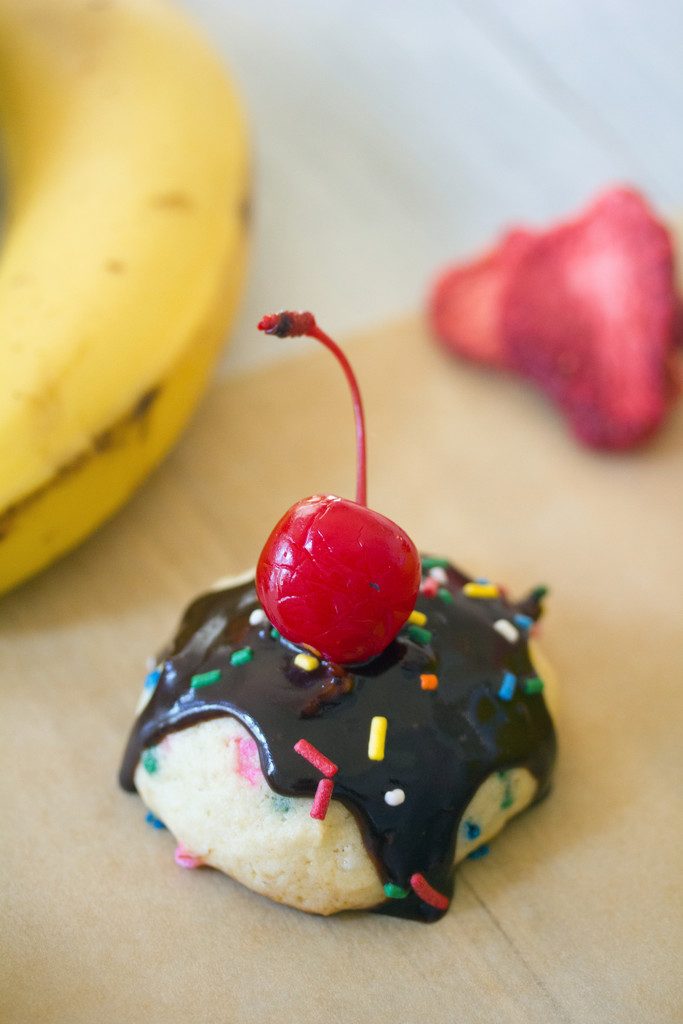 So, let's celebrate all of the awesome ladies in our lives and in our world. So many of us are doing awesome things and I'm proud to be a part of it. Celebrate with sprinkles, cookies, extra marshmallow sauce... And, of course, a healthy dose of helping to #BeBoldForChange, especially with the knowledge that everyone is not as lucky as you might be.
I also recommend checking out this article on how brands and agencies are celebrating the day (Burger Queen!).
I hope you all had a fabulous day and surrounded yourself with good people and good food.
What sprinkle-filled treat is your favorite to celebrate with?
If you love banana splits as much as I do, be sure to check out my recipes for Banana Split Affogato and Banana Split Milkshakes. I'm also in love with these Banana Split Marshmallows from Pine and Crave!
📖 Recipe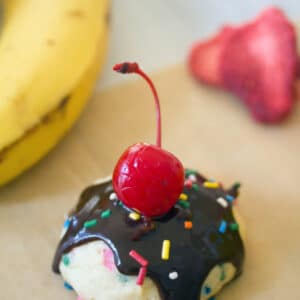 Banana Split Cookies
It doesn't get any more fun than these banana split cookies! The banana strawberry cookies are covered in chocolate sauce and marshmallow sauce with rainbow sprinkles and a cherry on top.
Print
Pin
Rate
Ingredients
2 ¼

cups

all-purpose flour

1 ½

tsp

baking powder

¼

tsp

salt

1

stick unsalted butter,

room temperature

½

cup

granulated sugar

½

cup

light brown sugar

2

large eggs

1

tsp

vanilla

¾

cup

mushed banana

(about 2 medium bananas)

1

cup

chopped freeze-dried strawberries

⅓

cup

rainbow sprinkles,

plus more for topping

Marshmallow sauce

(store-bought or using recipe in notes section)

Chocolate sauce

(store-bought or using recipe in notes section)

24

maraschino cherries
Instructions
Pre-heat oven to 350 degrees.

Whisk together flour, baking powder, and salt together in a medium-sized bowl.

In a large bowl with a hand mixer or in the bowl of stand mixer, mix butter and both sugars at medium speed until light and fluffy, 2-3 minutes.

Mix in eggs, vanilla, and mushed banana until well-blended.

Add flour mixture to bowl and mix until just combined, taking care not to over-mix.

Fold in freeze-dried strawberries and rainbow sprinkles.

Drop rounded tablespoon-sized scoops of cookie dough onto parchment paper-lined cookie sheets about 2 inches apart.

Bake at 350 degrees for 12-15 minutes, until edges are just turning golden.

Remove from oven and place cookies on wire racks to cool completely.

Once cooled, drop teaspoonfuls of marshmallow sauce or chocolate sauce onto cookies and top with additional sprinkles and a maraschino cherry.
Notes
If you want to make your own marshmallow fluff, you can use this recipe (it's so easy!)
I like this recipe for homemade chocolate sauce
Share a Photo of Your Finished Recipe!
Mention @wearenotmartha and share a photo if you've made the recipe!