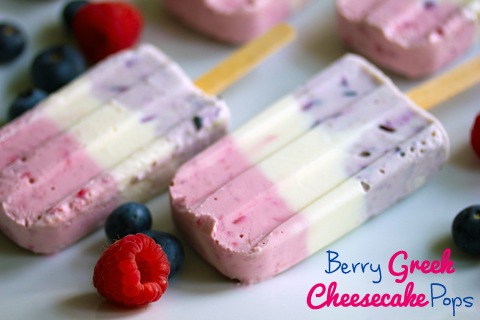 It's the first of July! Can you even believe it? I'm totally concerned about where the time has gone and the fact that half of 2013 is gone. At the same time, I'm not at all concerned with the fact that half of 2013 being over means that we're officially into summer, which is the loveliest time of all. I'm one of those weird people who likes the weather as hot as it can possibly get. The words "heat wave" are music to my ears and I rarely ever feel that the temperature is hot enough. I'm also not a big fan of a cool breeze or of AC. I KNOW. I do try to appreciate it and put up with it (and know I'm lucky to have it!) and also admit, I would probably die at night without it (sleeping is the only time I like being cold because… blankets!). But during the day? I just want to bask in the warmth of the sun, even if that warmth is so extreme people are frying eggs on sidewalks. Does anyone actually do that anymore? Did they ever? I might want to try.
Of course, there are ways of staying cool that don't involve AC. One of the best is ice cream. And also popsicles. Remember a few weeks ago when I made bruschetta with Greek Cream Cheese? Well, I'm officially obsessed with it. I may never buy regular cream cheese again. Sadly, my regular grocery store (Market Basket!) doesn't sell my fave Green Mountain Farms Greek Cream Cheese, but luckily that grocery store is right next door to Stop and Shop, which does sell it. And yes, I take a special trip to S&S just so I can pick it up! Since I made an appetizer last time, I wanted to try my hand at a dessert this time around. When you think of cream cheese what do you think of? Cheesecake, obviously. So I translated that into Berry Greek Cheesecake Pops. That I must admit are pretty perfect for the 4th of July. Which did I mention is just mere days away? Because it is. Hooray!
Also, if you read to the end of this post, there's a little giveaway so you can try Greek Cream Cheese for yourself 🙂
Berry Greek Cheesecake Pops (makes 8):
Print this recipe!
16 oz. Greek Cream Cheese, softened
1 C red raspberries
1 T sugar, divided
1 C blueberries
1/4 C 1% milk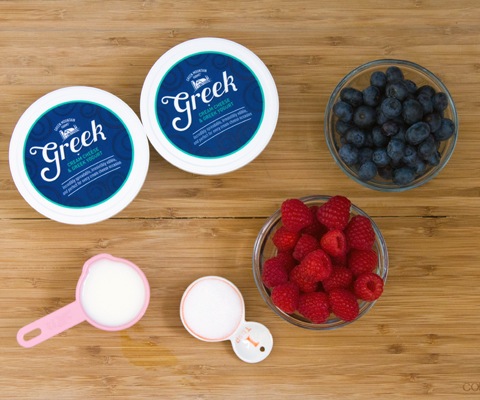 I now know that other brands of Greek cream cheese exist, but I am staying pretty loyal to Green Mountain Farms' as I was incredibly impressed with it the moment I tasted it. Plus, the folks who work there have been just lovely and spotted my post literally moments after I wrote about them! That always impresses me.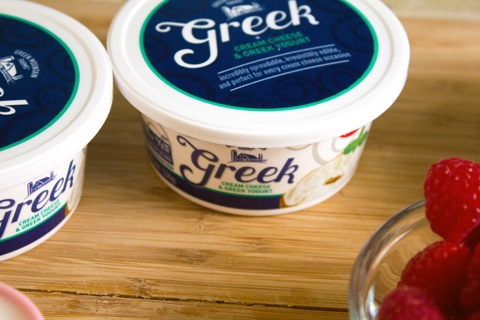 Anyway, let's make some Berry Greek Cheesecake Pops! Put raspberries in a bowl and sprinkle half of the sugar over them.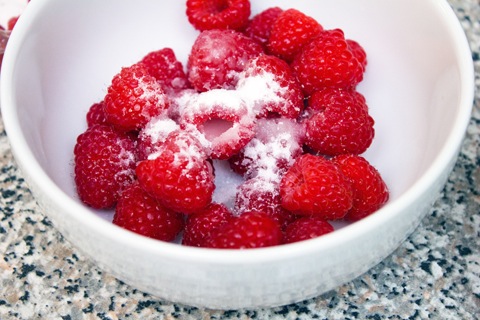 Then mash them up into a nice puree.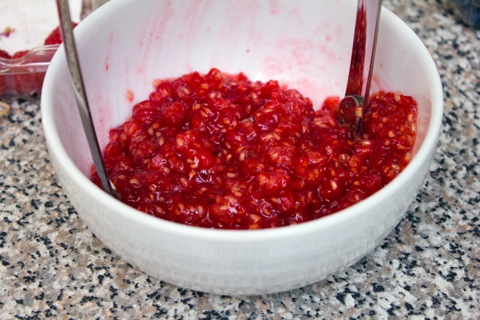 Now, take about 1/3 of the Greek cream cheese and mix it into the pureed raspberries (I decided to dirty a million dishes and do all of this in separate bowls, but if you want to minimize dish-use, simply use a larger bowl for the raspberries and mix the cream cheese right in). Stir until well-combined.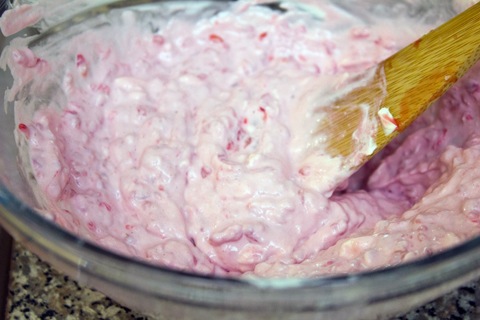 Do the same exact thing with the blueberries. Sprinkle 1/2 T sugar on them.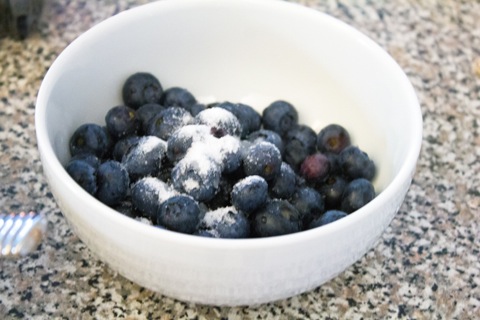 And mash them into a puree.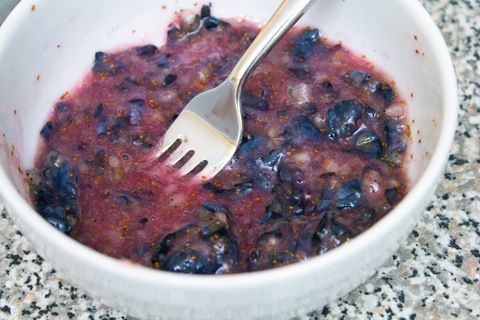 And mix another third of the cream cheese in until well combined.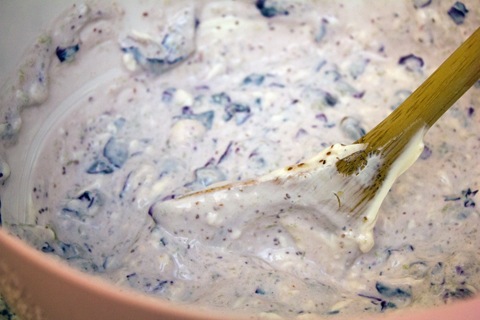 And one more mixture! Which means one more bowl. Oops. Combine the plain cream cheese you have leftover with the milk and mix well.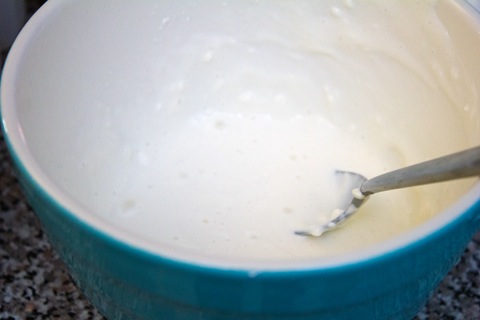 Now comes the hard part. Filling the popsicle molds. I don't know what made me think this would be easy. But since I wanted a nice layering look without a mess, I decided to use a little squeeze bottle with an icing tip. I filled them and then squeezed the cream cheese mixture into the molds one at a time so it didn't get all over the sides.
I went red, then white, then blue. Duh. 🙂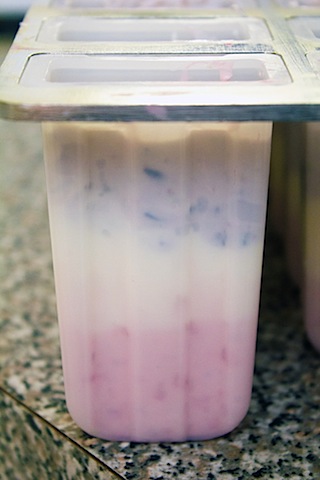 Did I tell you I made a mess? Because um, I did.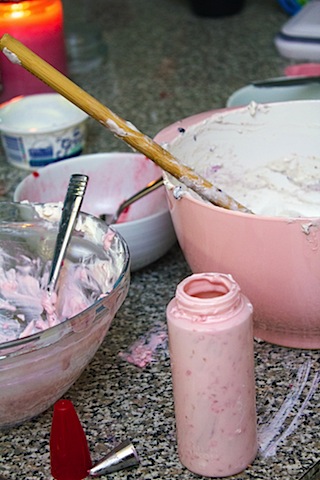 If it was a thing, I'd probably get the award for world's messiest cook.
But no matter because after I stuck my popsicle molds in the freezer for about 6 hours, I was extremely pleased with the results!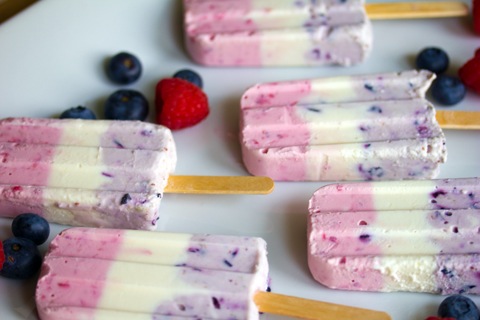 Red, white, and blue layers. Though they're really kind of pink, white, and purple. But YOU GET THE POINT. Right?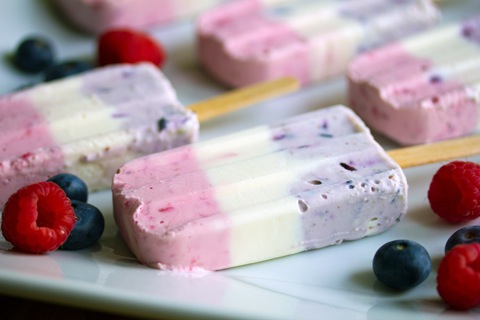 Oh, you're probably wondering how they taste, right? Well, I thought they were pretty fantastic! And considering Chris ate 2 in a row, I think he agreed. They were fruity and creamy and definitely tasted like cheese cake. But a little like yogurt, too. Pretty much all good things!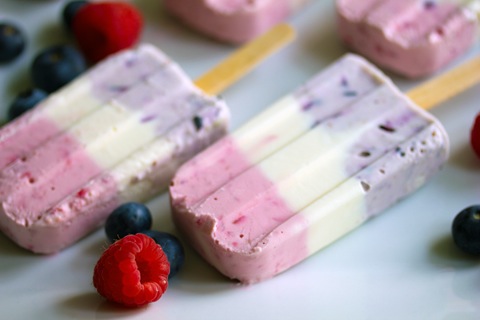 I think you should make these for your 4th of July party. If you're having one. If not, just make them for yourself and your family. Because they're fun, festive, and super tasty.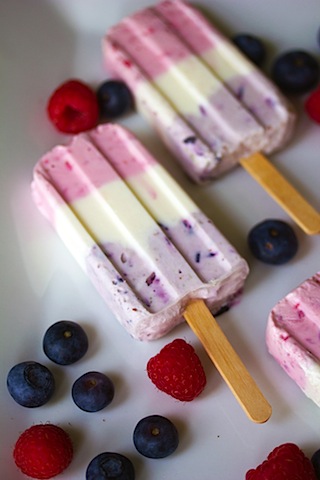 And then you'll probably want to devour an entire bagel smothered in Greek cream cheese. Because it's the best thing in the world and it will make you wonder why regular cream cheese was even invented. Well, except for honey walnut. Green Mountain Farms should come up with a Greek version of that.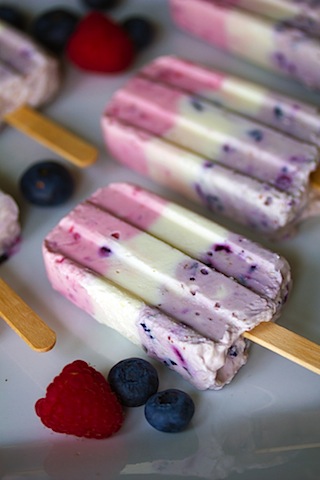 Have you tried Greek Cream Cheese yet? Want to? My friends over at Franklin Foods are giving away a few VIP coupons to 10 We are not Martha readers! You know I don't usually do coupon giveaways, but I seriously want all of you to try this, so I'm doing it! Just leave a comment on this post telling me how you would use Greek Cream Cheese for a chance to win some coupons… that's all you have to do! You could also like Green Mountain Farms Greek Cream Cheese on Facebook if you want to be super awesome. OK, I'm going to go now before I scare myself by how much I'm gushing over tubs of cream cheese. But seriously. Seriously.
[Sues]