These Berry Greek Cheesecake Popsicles combine fresh berries with Greek cream cheese for a healthy pastel red, white, and blue frozen treat!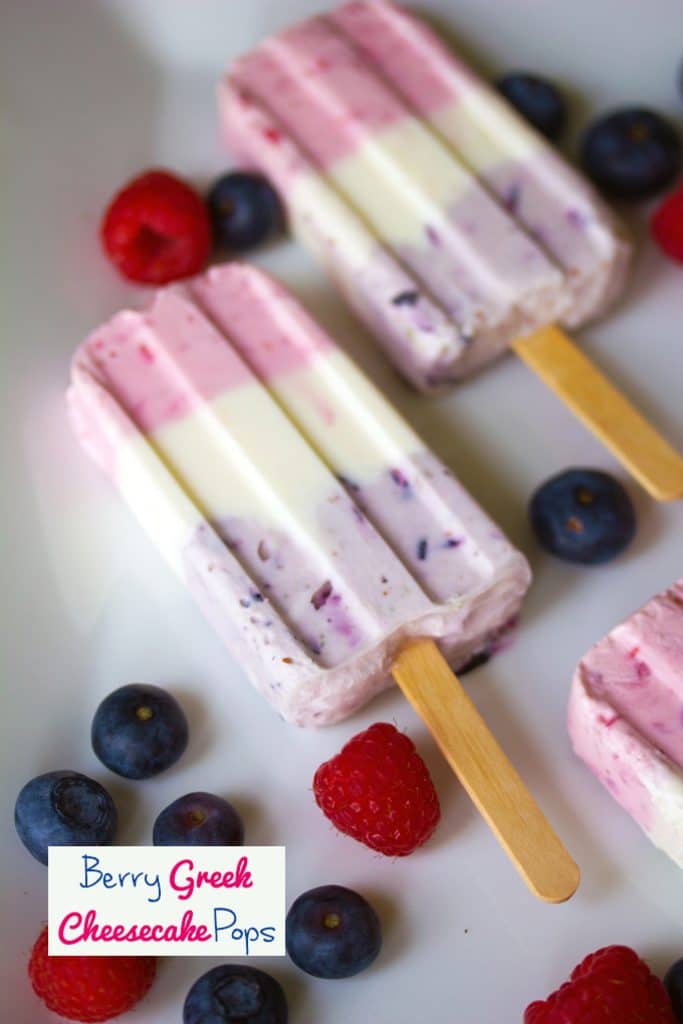 It's the first of July! Can you even believe it? I'm totally concerned about where the time has gone and the fact that half of 2013 is gone. At the same time, I'm not at all concerned with the fact that half of 2013 being over means that we're officially into summer, which is the loveliest time of all. I'm one of those weird people who likes the weather as hot as it can possibly get. The words "heat wave" are music to my ears and I rarely ever feel that the temperature is hot enough. I'm also not a big fan of a cool breeze or of AC. I KNOW. I do try to appreciate it and put up with it (and know I'm lucky to have it!) and also admit, I would probably die at night without it (sleeping is the only time I like being cold because… blankets!). But during the day? I just want to bask in the warmth of the sun, even if that warmth is so extreme people are frying eggs on sidewalks. Does anyone actually do that anymore? Did they ever? I might want to try.
Of course, there are ways of staying cool that don't involve AC. One of the best is ice cream. And also popsicles. Remember a few weeks ago when I made bruschetta with Greek Cream Cheese? Well, I'm now officially obsessed with Greek cream cheese. I may never buy regular cream cheese again. Sadly, my regular grocery store (Market Basket!) doesn't sell my fave Green Mountain Farms Greek Cream Cheese, but luckily that grocery store is right next door to Stop and Shop, which does sell it. And yes, I take a special trip to S&S just so I can pick it up! Since I made an appetizer last time, I wanted to try my hand at a dessert this time around. When you think of cream cheese what do you think of? Cheesecake, obviously. So I translated that into Berry Greek Cheesecake Pops. That I must admit are pretty perfect for the 4th of July. Which did I mention is just mere days away? Because it is. Hooray!
I now know that other brands of Greek cream cheese exist, but I am staying pretty loyal to Green Mountain Farms' as I was incredibly impressed with it the moment I tasted it. Plus, the folks who work there have been just lovely and spotted my post literally moments after I wrote about them! That always impresses me.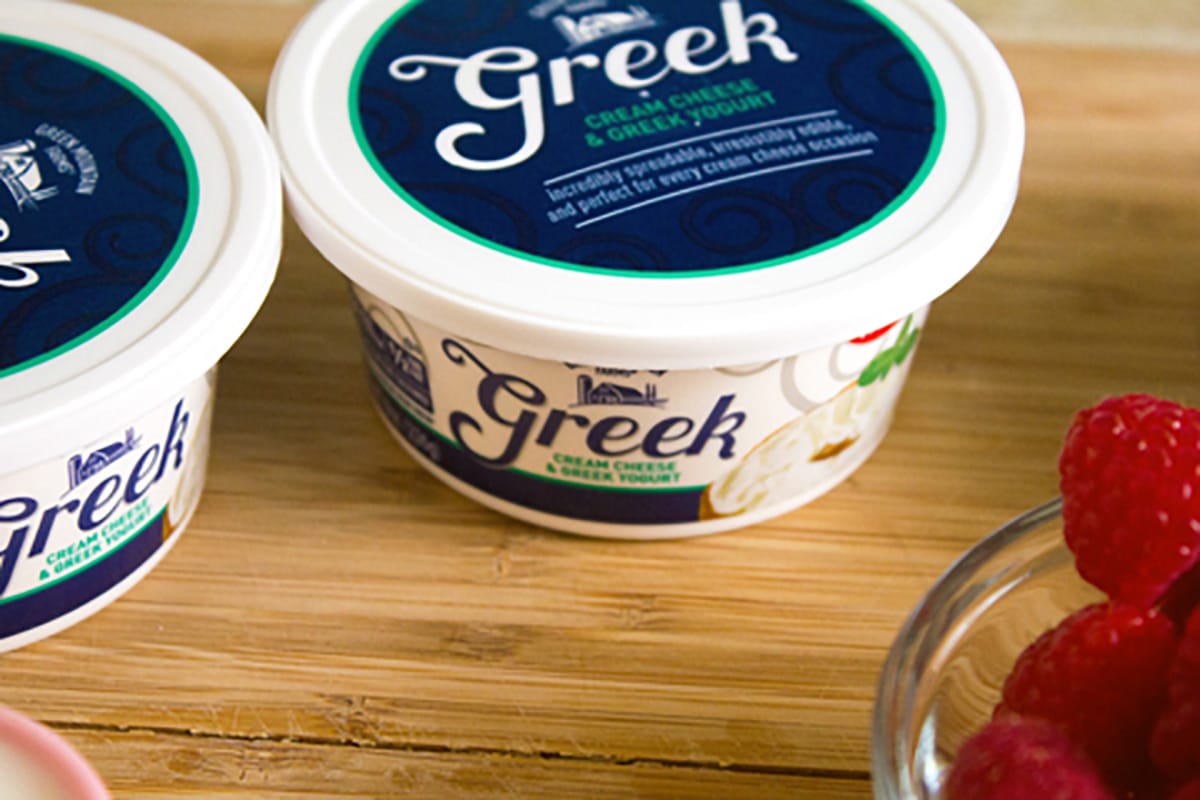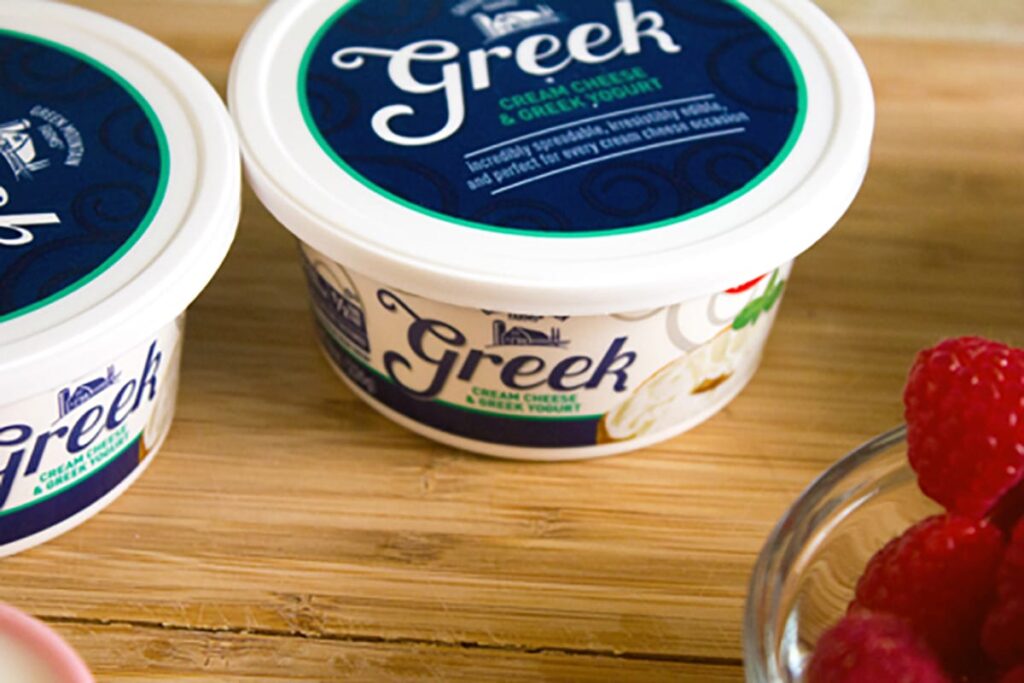 To make these Berry Greek Cheesecake Popsicles, you basically need to make three different Greek cream cheese purees and then layer them in your popsicle molds. How easy can you get??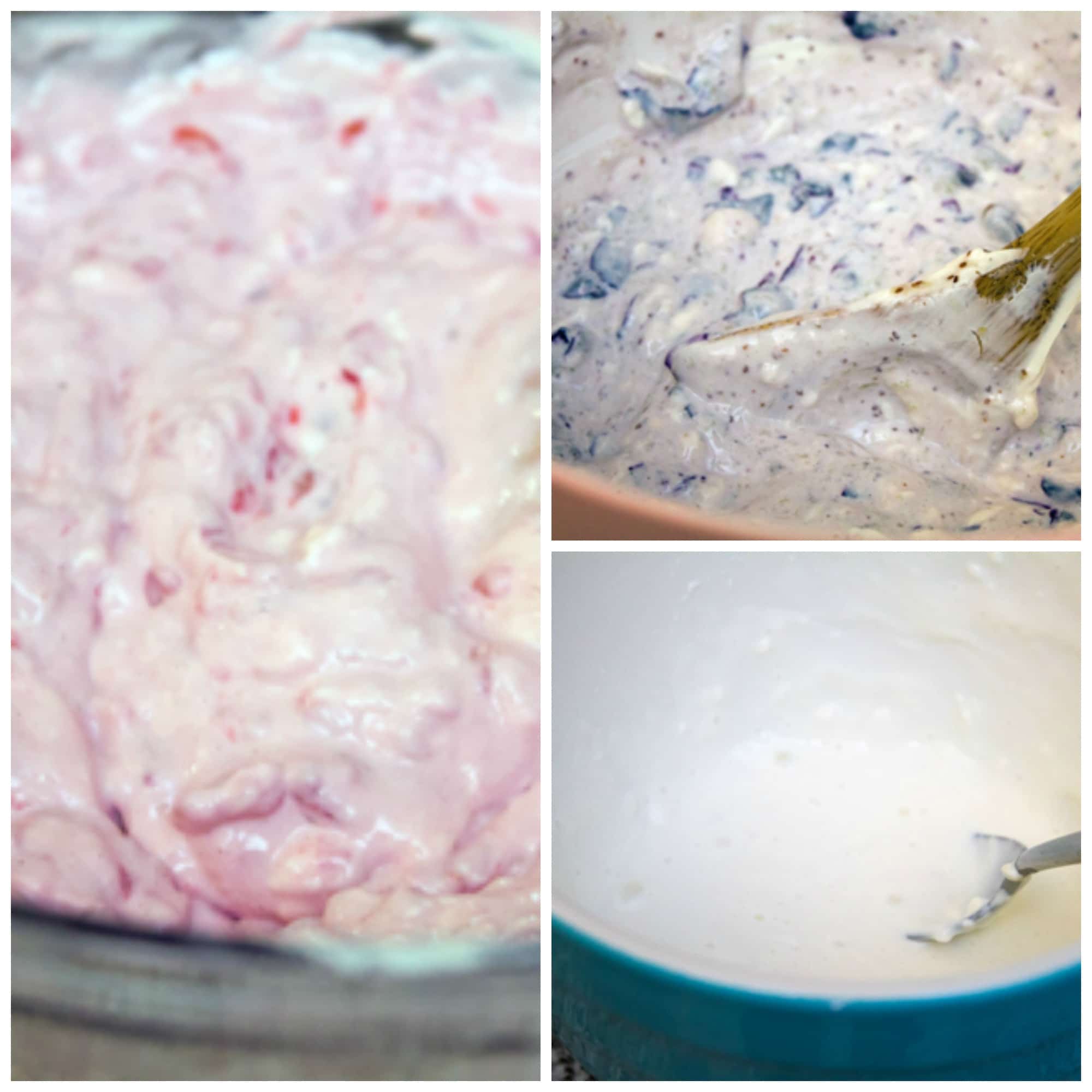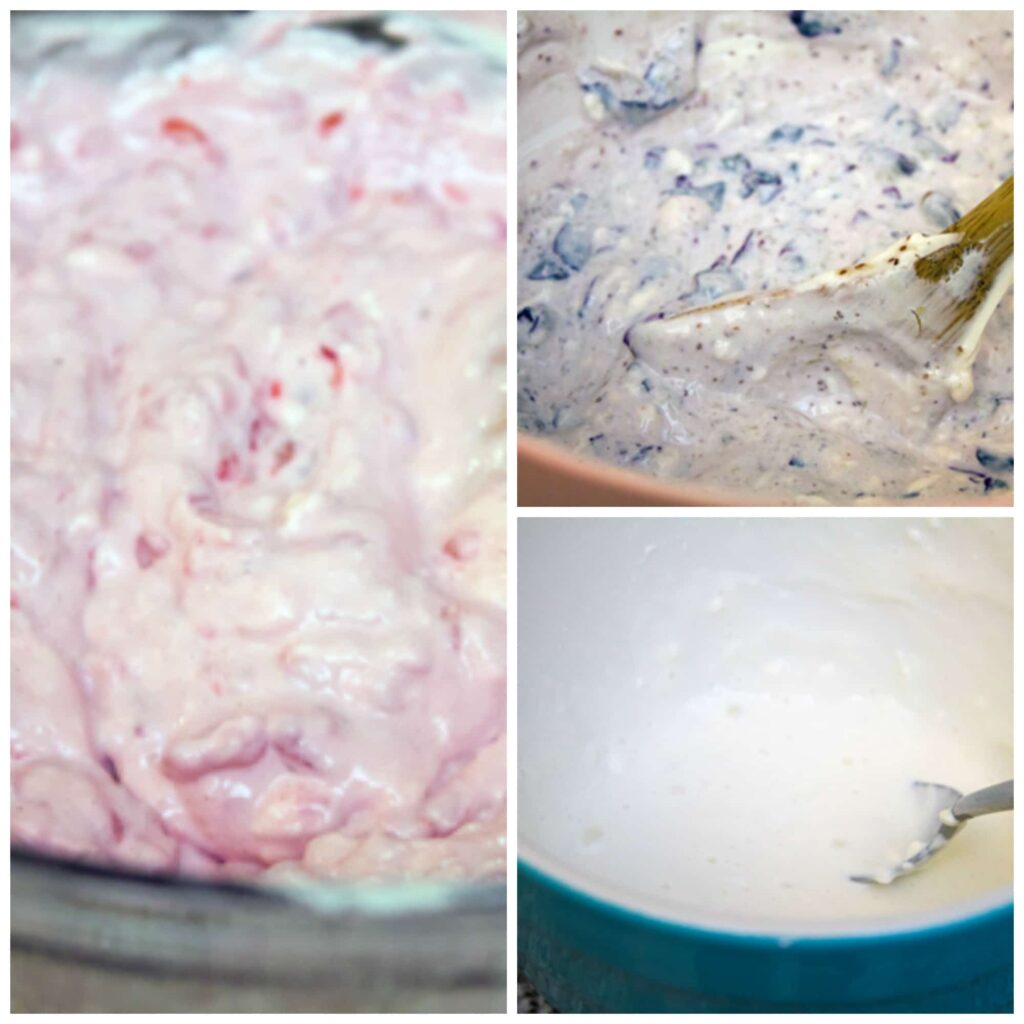 The first time I made these, I somehow made things as difficult as possible and used one million bowls and created a huge kitchen disaster. Don't be like me. Just use one bowl for each puree (raspberry, blueberry, and plain) and hopefully your kitchen won't look like this: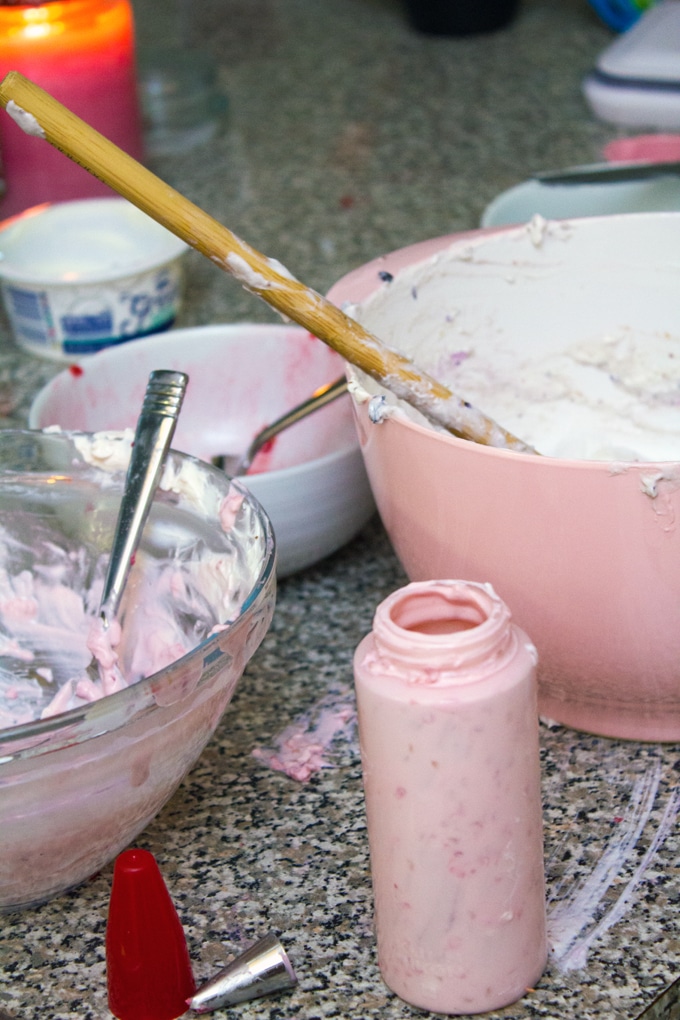 If it were a thing, I'd probably get the award for world's messiest cook.
Anywayyy. Fill your popsicle molds by pouring or spooning the mixtures into the molds in whatever order you choose. However, I strongly recommend going red, white, and then blue. Especially if you're making these cheesecake popsicles for the 4th of July or Memorial Day!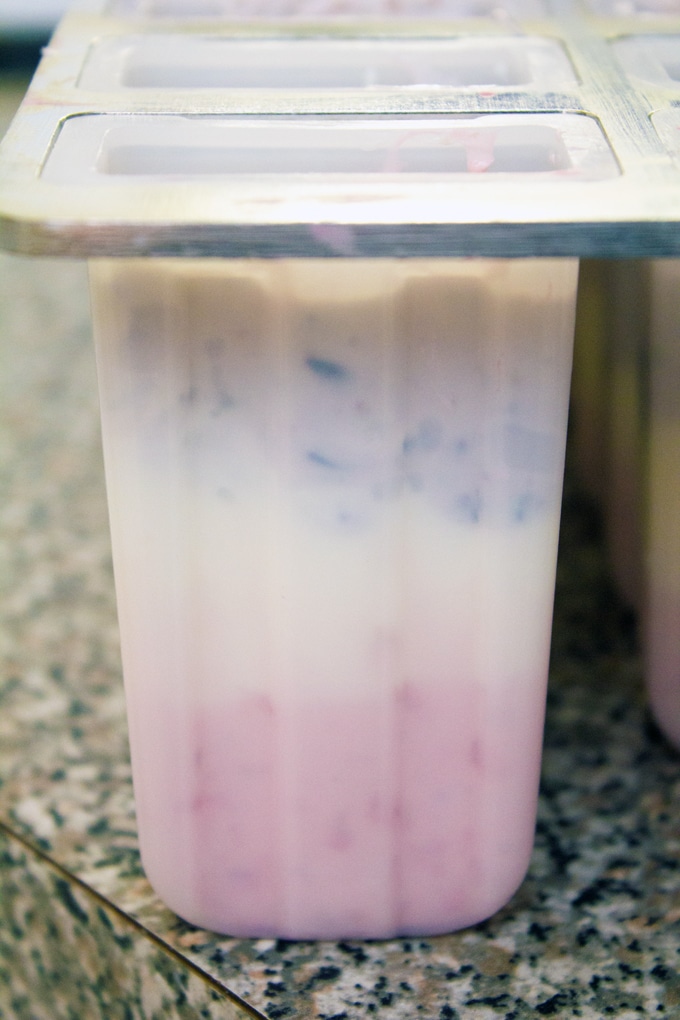 OK fine, the layers are really pink, white, and purple (darn blueberries always turning purple!), but I didn't really care because, once frozen for about 6 hours, the popsicles were absolutely delicious.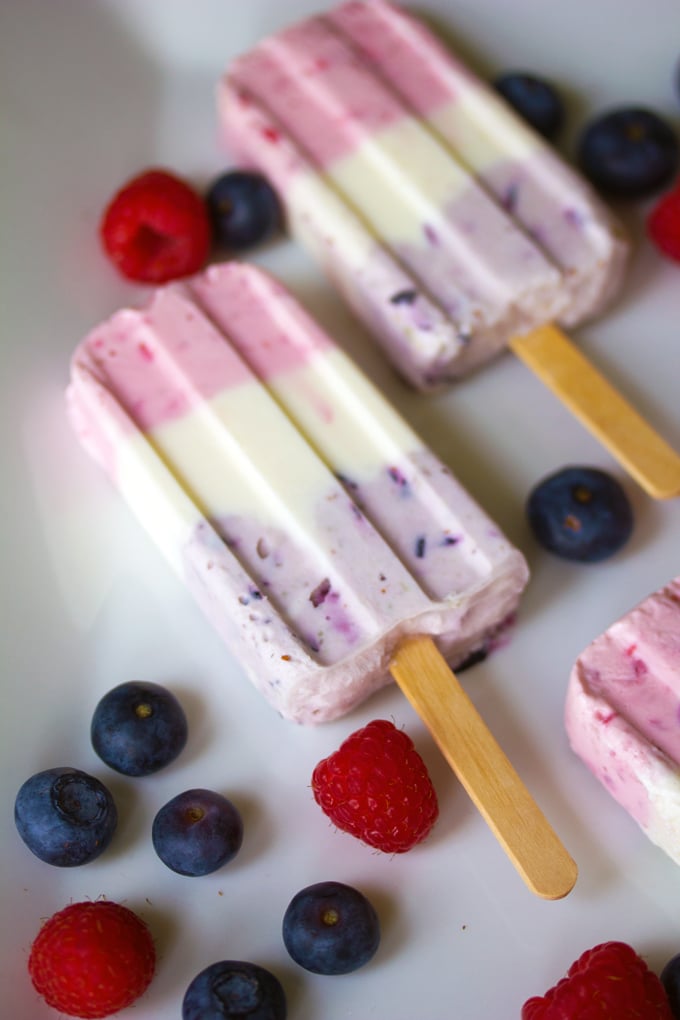 Oh, you're probably wondering how they taste, right? Well, I thought they were pretty fantastic! And considering Chris ate two in a row, I think he agreed. They were fruity and creamy and definitely tasted like cheesecake with a berry twist.
They're perfect for adults and kids and are certainly healthier than your average cheesecake popsicles (is there such a thing as an average cheesecake popsicle??). Obviously cream cheese doesn't have a super fabulous reputation, but the Greek yogurt version of cream cheese has fewer calories, less fat, less cholesterol, and less sodium. Win!!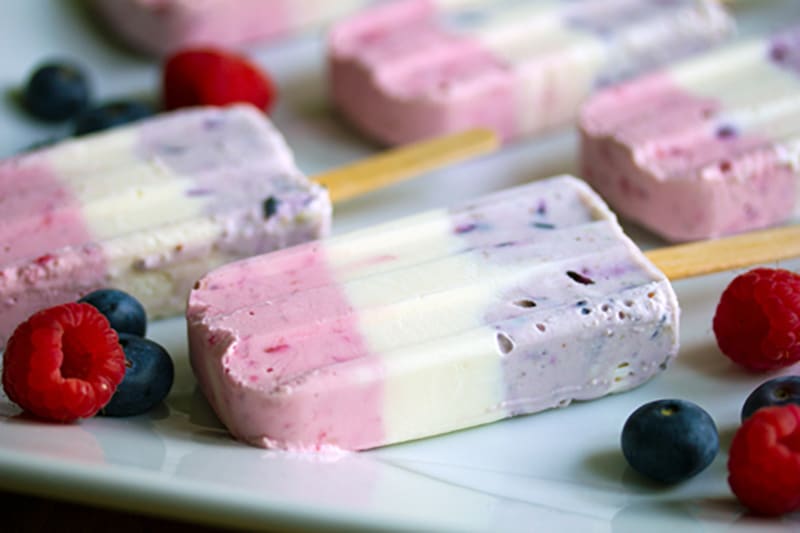 Plus, berries have antioxidants, so basically these berry Greek cheesecake popsicles will fix all your problems and make your dreams come true.
Although, after eating these popsicles, you'll probably want to devour an entire bagel smothered in Greek cream cheese. Because it's the best thing in the world and it will make you wonder why regular cream cheese was even invented. Well, except for honey walnut. They really need to get on a Greek yogurt version of that.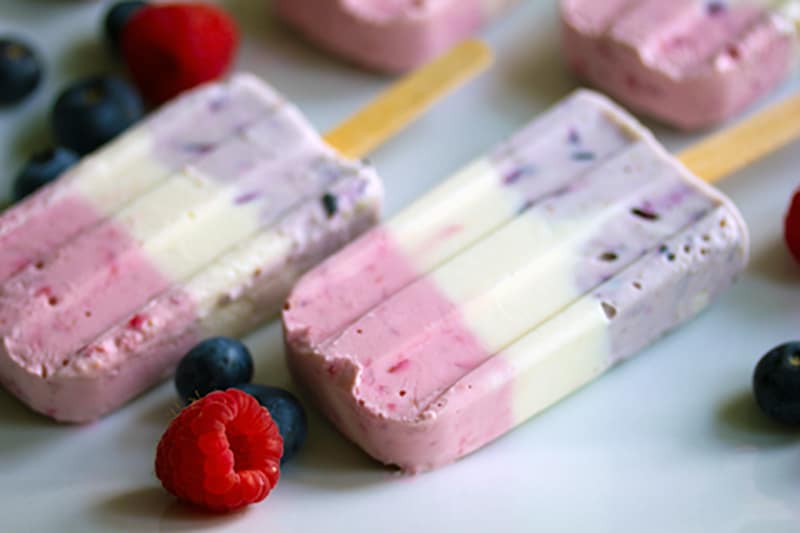 OK, I'm going to go now before I scare myself by how much I'm gushing over tubs of cream cheese. But seriously. Seriously.
📖 Recipe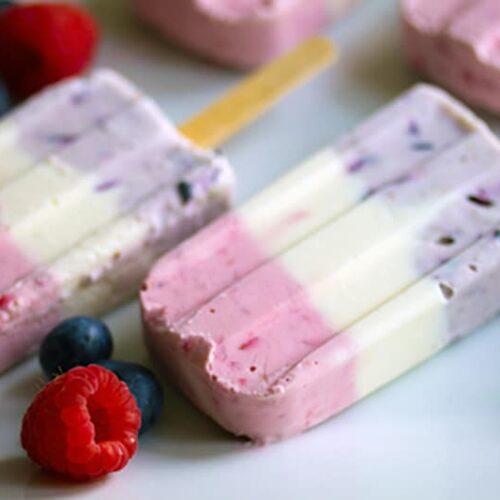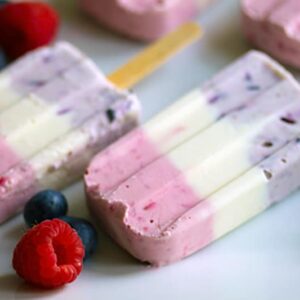 Berry Greek Cream Cheese Popsicles
TheseBerry Greek Cheesecake Popsicles combine fresh berries with Greek cream cheese for a healthy pastel red, white, and blue frozen treat!
Print
Pin
Rate
Ingredients
1

cup

raspberries

1 ¼

Tbsp

granulated sugar,

divided

16

oz

Greek cream cheese,

softened

1

cup

blueberries

¼

cup

1% milk
Instructions
Place raspberries in a medium bowl and sprinkle ⅓ of the sugar over them.

Using a fork, mash into a puree.

Mix ⅓ of the Greek cream cheese into the pureed raspberries. Stir until well-combined.

Place blueberries in a separate medium bowl and sprinkle ½ of the remaining sugar over them. Using a fork, mash into a puree.

Mix ½ of the remaining cream cheese into the pureed blueberries until well combined.

In a third medium bowl, combine the remaining cream cheese with the remaining sugar and milk and mix well.

Alternating colors, pour or spoon cream cheese mixtures into popsicle molds, add sticks, and freeze for at least 6 hour or overnight

To remove popsicles from molds, run molds under hot water until you can pull on the popsicle sticks gently release popsicles from molds.
Notes
Note that cook time does not account for 6+ hours that popsicles need to freeze.
Share a Photo of Your Finished Recipe!
Mention @wearenotmartha and share a photo if you've made the recipe!