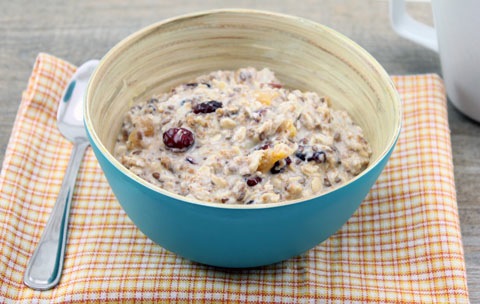 In so many ways, I really am a creature of habit. But that also means I'm the Queen of overdoing it. Meaning, I find a food I like and I eat it and eat it and eat it. Until I do not like it anymore. Usually, I just need a good, healthy break before I can go back with all my previous enthusiasm. But this often puts a damper on life. Especially in terms of breakfast, which, I don't like to think about too much (I'm a zombie in the morning). I need easy, filling, and palatable for first thing in the AM.
Foods I have overdone in my life:
Lasagna (4th grade. 5 times in one week. Ruined it for years)
Cupcakes (seriously, I need to take cupcake breaks every now and then or they just don't sound appealing to me. Balance is key here)
Pumpkin (again, I KNOW. That's why I pledge to only eat pumpkin from September-December. I never want to be sick of it again)
Power Bars (in high school, I ate a Power Bar with Gatorade and coffee for breakfast every day. No, I wasn't really an athlete. And I think one day I just realized that Power Bars are actually gross. Never got sick of Gatorade or coffee…)
Laughing Cow Cheese (got over that one pretty quickly, but yeah, I ate a lot of these little cheesy delights)
Candy Corn (it happens every Halloween)
Turkey sandwiches with swiss cheese on whole wheat bread (standard lunch… and boring)
English muffins with peanut butter
Let's focus on those English muffins for a moment. Every since I started my office job, I've been eating one pretty much every morning. And it got to the point where I found no joy in eating breakfast. In fact, what I felt was the opposite of joy. I legit had to force the English muffin down. Because I knew I would be starving if I didn't. Ugh. A change had to be made! And that change came in the form of oats. Which is the form I least suspected.
I've never been the kind of person to get excited about oatmeal. Boringgg. Sure, you can dress it up, but what's that they say about putting lipstick on a pig? However, bircher muesli? Totally different story. I had it for the first time at Au Bon Pain years ago and would buy it every time I found myself in a random Au Bon. I found myself thinking about it a couple weeks ago and decided I needed to attempt my own. I looked up the basic ingredients in Au Bon's bircher muesli, but then added a ton of my own and I dare say it tastes even better than I remember it. I'm in love.
(Full recipe at bottom of post)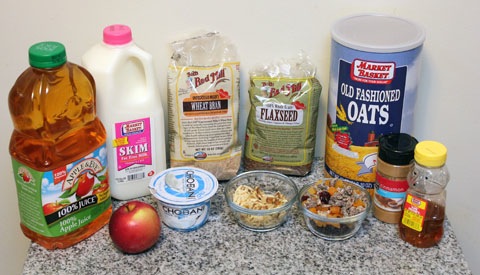 This recipe is so fun because you can do pretty much whatever you want to it. I've already made it 4 times (what? I swear I won't overdo it!) and have done it a little differently each time depending on what ingredients I had on hand and what mood I was in. If you feel like more bran or flax, add more bran or flax. If you have a completely different grain you'd like to add, add it.
Start by putting oats, bran, and flax in a big bowl.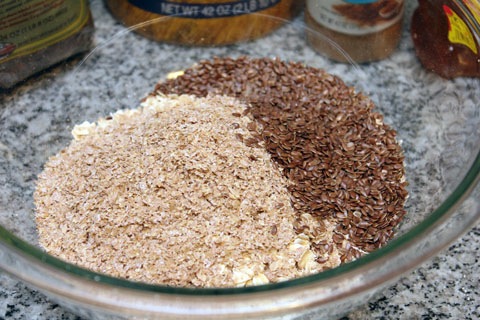 Stir in the dried fruit and the nuts. Of course, you don't have to use dried fruit or nuts, but I think they make it a bit more fun. Part of what I love about Bircher Muesli is all the different textures and consistencies. Mix in the cinnamon, too.
Now, pour the 2 cups of milk into the mixture and stir. Your mixture will probably be a little liquidy, but that's OK. You want it to be like this because the grains are going to soak all that milk up and get nice and soft. So, now you have to let the mixture sit. I think it works best if you let it sit overnight (and complete the final steps in the morning right before you're ready to eat), but you definitely need to let it sit for at least 4 hours.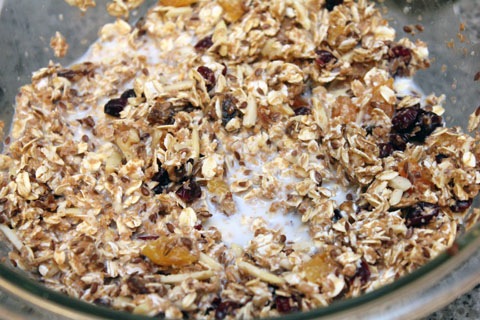 I know. Waiting is painful.
But the next morning, you'll see how the liquid absorbed and everything is nice and mushy. Yes, I should probably note that you have to like mushy foods to enjoy this. But mushy, with lots of other stuff going on. Like deliciousness.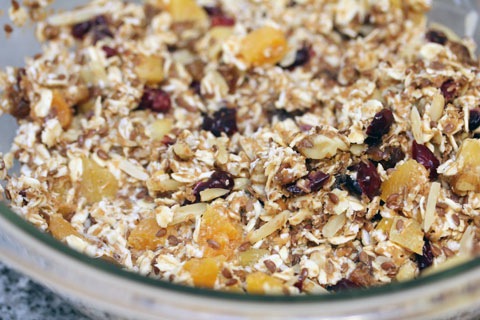 Now you're ready to mix in the rest of the ingredients. Like the honey… though I'll be honest, I haven't been adding the honey lately… It does add a nice sweetness, but isn't totally necessary.
But the yogurt and apple juice are! Stir them in. If you feel like you need to add a little less or a little more apple juice in, go for it. You don't want the mixture to be dry, but you don't want it to be super liquidy, either. I like when it looks like this: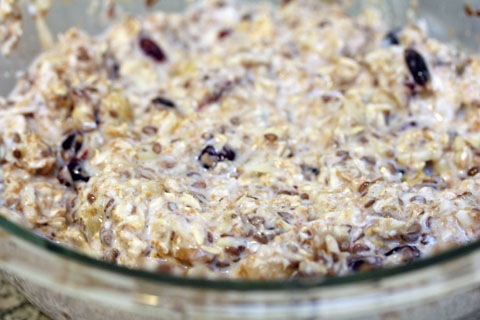 Don't forget to grate the apple on top. It's also delicious if you feel like stirring in a banana.
And there you have it: My ideal breakfast. For now.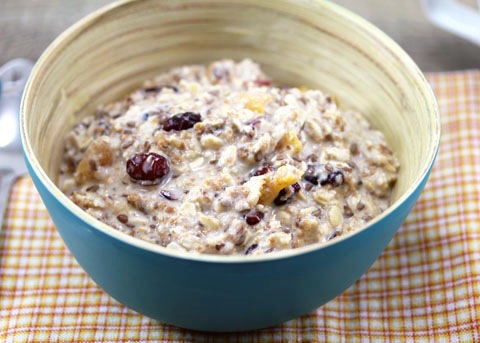 Well, hopefully for a long time because I'm really feeling this one. It's so much more exciting than a blah English muffin (trust me, I even tried making that English muffin cinnamon raisin and it only helped for 3 days). It's easy to make ahead of time and really just consists of throwing things into a bowl. It's also easy to throw in a Tupperware and tote to work.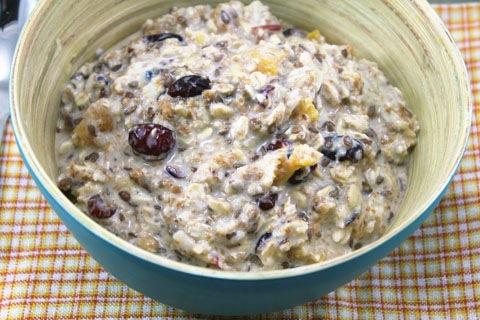 And it's filling; oh so filling! I mean, all those oats, bran, and flax? And dried fruit? Yes, that's a lot of fiber. Which means you won't be starving 30 minutes after you eat.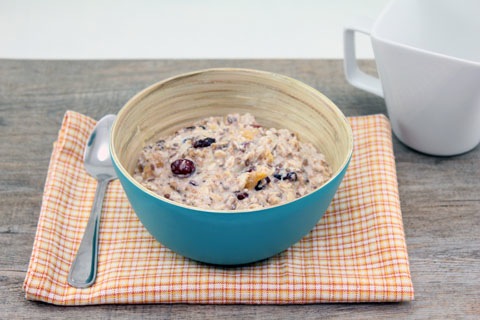 It's cold, but it's creamy and comforting first thing in the morning. And it's definitely going into my breakfast rotation for a long time. And when I say rotation, I mean semi-permanent spot. Or at least until I decide I can stomach an English muffin again. Which might be never. Thank goodness I discovered this delight.
What foods have you overdone it with?

Bircher Muesli
This recipe for Bircher Muesli will make your breakfast anything but boring! My version has oats, bran, flax, dried fruit, apple juice, Greek yogurt, and more, but it's easy to mix things up to ensure it stays your favorite breakfast cereal no matter how many times you eat it!
Author:
We are not Martha
Ingredients
1½ cups rolled oats
½ cup bran
¼ cup flaxseed
1 cup dried fruit (I used dates, cranberries, and apricots)
⅓ cup nuts (I used walnuts and almonds)
2 cups skim milk
½ tsp cinnamon
1 tsp honey, optional for added sweetness
¼ cup Greek yogurt
½ cup unsweetened apple juice
1 apple (I like macintosh)
Instructions
In a large bowl, mix together oats, bran, and flaxseed.
Add dried fruit, nuts, and cinnamon to mixture.
Pour milk into the mixture and stir. Your mixture will probably be a little liquidy, but that's OK. Cover bowl with plastic wrap and place in fridge for at least four hours, but ideally overnight.
Before serving, stir in honey (if using), Greek yogurt, and apple juice.
Serve in individual bowls and grate apple over the top.