These Mocha Overnight Oats let you start your day off with a little bit of chocolate and a little bit of coffee and will keep you satisfied all morning long!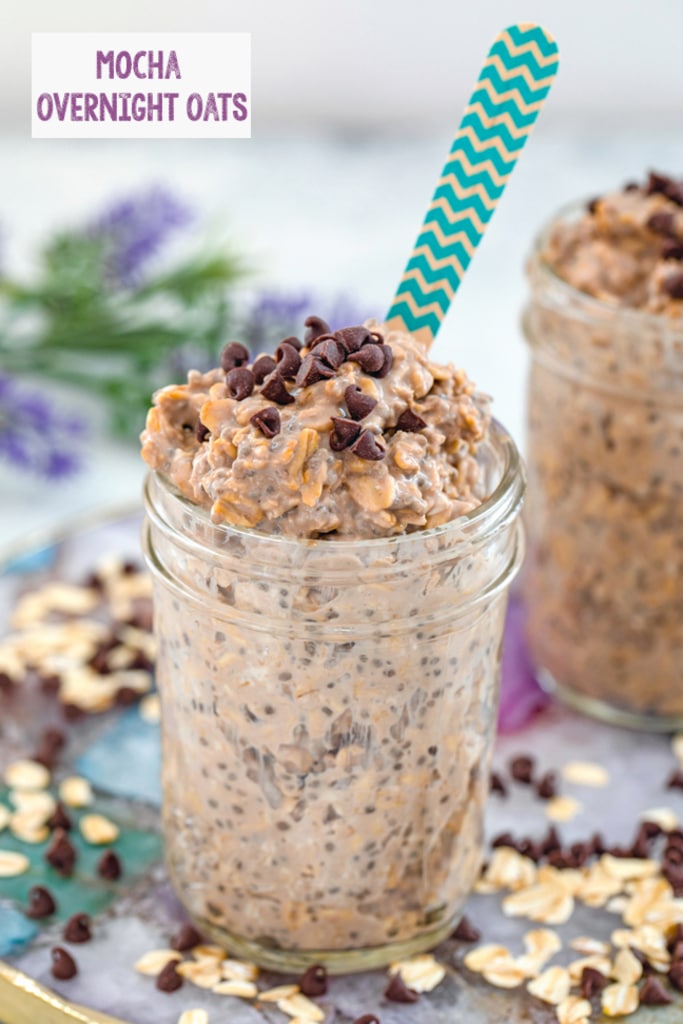 Jump to:
Hello, Monday. If you were out late partying for St. Patrick's Day last night, then you're probably extra tired today. As if Mondays weren't tough enough! I wasn't out late partying (just out late eating corned beef), but I still feel like I need a lot of coffee today.
And a super satisfying breakfast. Which is exactly why I'm combining the two into these mocha overnight oats. Don't worry... I'm still drinking a nice large cup (or 3) of coffee on the side.
Trust me when I say you should be starting every day with mocha-flavored breakfasts. OK fine, and old-fashioned oats and chia seeds, too (but really, chocolate and coffee win over all!).
I love weekday breakfasts like these because not only do you prep them the night before, but because the prep is so ridiculously easy, so you don't feel like you're spending half your evening in the kitchen. It literally takes 5 minutes maximum to get these mocha overnight oats ready!
❓ What are overnight oats?
Overnight oats are basically a really easy way to have a deliciously healthy breakfast in the morning. You soak raw oats in the liquid of your choice and in the morning, they're nice and soft and ready to be consumed.
And of course, you can add in any other ingredients you want!
A lot of times overnight oats are made in jars because it's easy to add ingredients, shake up, and cover, but you can also make them in a bowl and stir.
💗 Are overnight oats good for you?
As with most foods, of course, it depends on your overall diet and what you choose to add into them. But in general, overnight oats are a great way to start the day for a few reasons.
Oats are packed with fiber, protein, omega-3s, and more. Plus, they don't have any added sugar (though you may be adding some into your overnight oats!).
When you cook oats in hot liquid (aka oatmeal), it can cause some damage to the oats. According to Bob's Red Mill (the experts on oats!), letting them "cook" overnight in cold liquid helps the starches break down and reduces phytic acid, which helps your body utilize the nutrients more effectively.
Overnight oats also contain more resistant starches than cooked oats, which is great for improved digestion.
🥛 What kind of liquid should I use?
You can use any kind of liquid you want! I used chocolate soy milk and coffee for these mocha overnight oats, but you can use real dairy milk, almond milk, cashew milk, etc. You can even use juice... Or just plain old water.
That's one of the reason overnight oats are so popular... They are so easy to customize to whatever you like best.
👩‍🍳 How to make mocha overnight oats
There are a couple ways you can prep your overnight oats depending on how you're planning to serve them. "Traditionally" (I say that in quotes since overnight oats haven't really been around long enough to carry much tradition!), overnight oats are made and served in mason jars.
You add all the ingredients to the jar, shake them up, and then put them in the fridge to chill overnight. In the morning, you simply eat them out of the jar. Which is super convenient, especially if you want to throw them in your bag and bring them to work.
But if you don't have mason jars or your jars aren't large enough, you can mix all the ingredients in a big bowl, cover with plastic wrap, and then put the oats in jars or glasses in the morning. Or just eat them right out of the bowl!
I wanted my oats to be overflowing out of my jars in the photos for this blog post, so I whipped my mixture up in a big bowl and scooped into my jars in the morning. By the way, the mason jars you see in my photos are 8 oz. mason jars- you can purchase a set of 4 here.
In these mocha overnight oats, I used:
Old-fashioned oats
Chia seeds
2% Greek yogurt (you can use any fat content you choose, but I almost always go for 2% since it satisfies more)
Chocolate soy milk (but you can use any chocolate milk or dairy alternative)
Brewed coffee (that's been cooled)
Mini chocolate chips (I use 2 tsp)
Did you know you can also make overnight oats with cottage cheese? Check out this recipe for cottage cheese overnight oats to see how.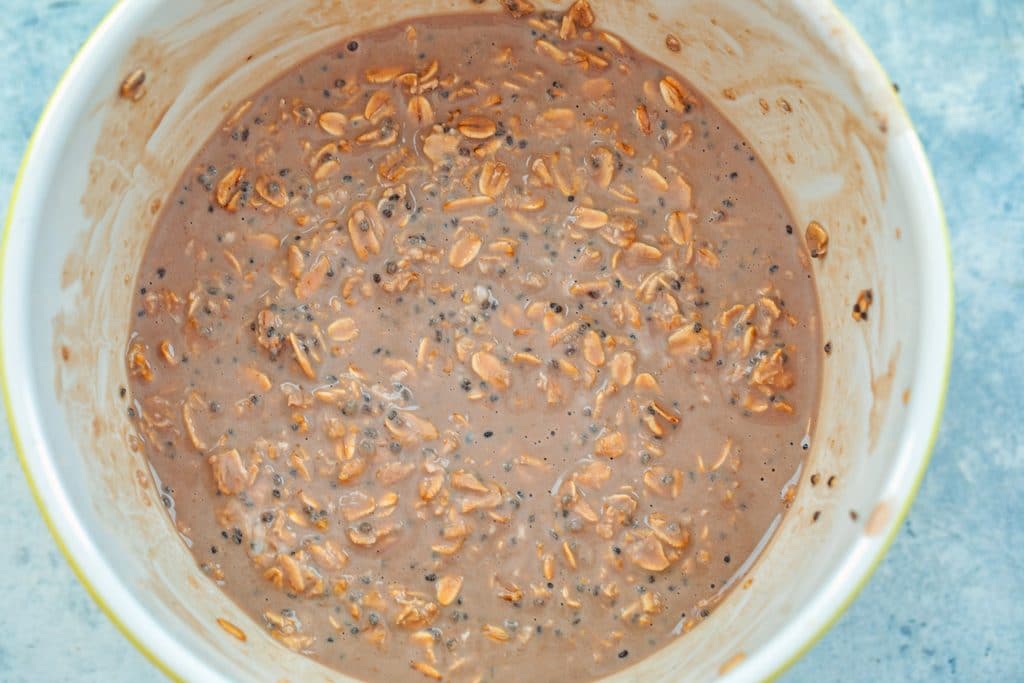 After 8 hours in the fridge, my mixture had thickened up quite a bit and was ready for enjoying! Well, not before topping with more mini chocolate chips.
I didn't want to go too overboard with the chocolate here since it is breakfast and all...
But sometimes a little bit of chocolate is exactly what you need to get you out of bed in the morning.
If you're as obsessed with mocha as I am, try this mocha milkshake, too!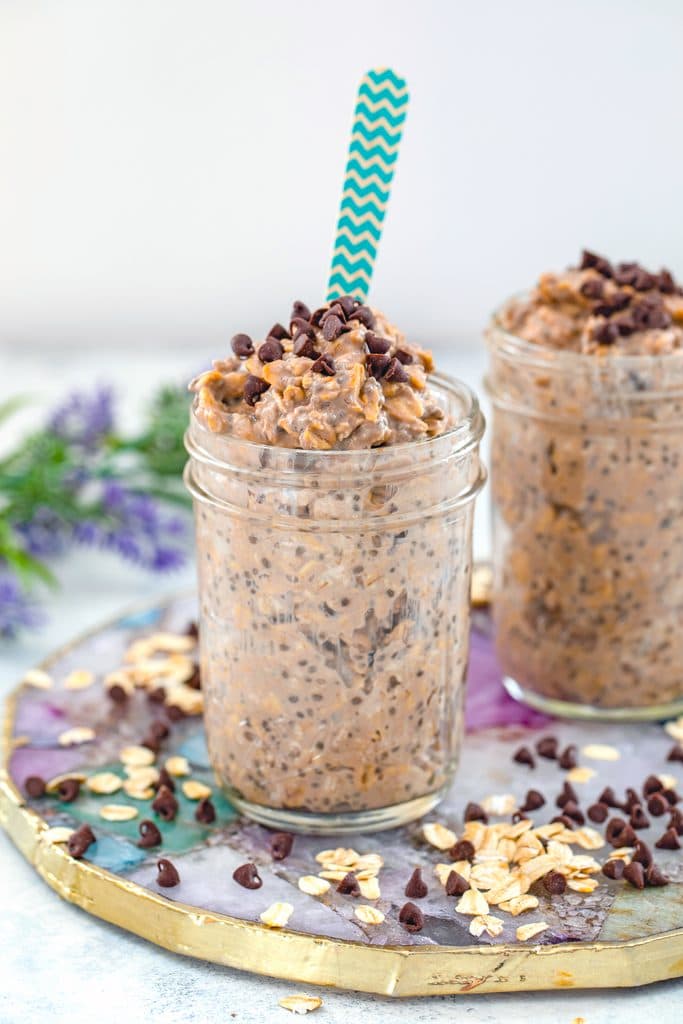 Plus, you can excuse a little bit of chocolate for breakfast when you're also packing in lots of healthy oats and chia seeds!
That said, you can totally adjust the amount of chocolate chips used. I actually made a batch of these with no chocolate chips added at all and the oats were still delicious, but just a tad bit bland, though it will also depend on how much sugar is in your chocolate milk.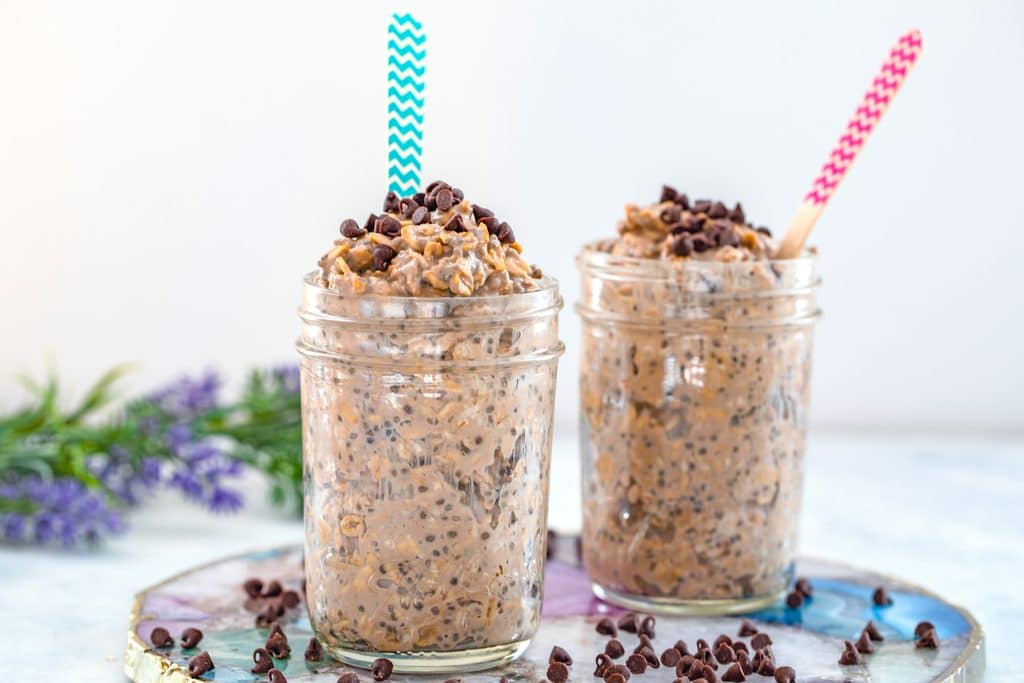 I absolutely love that you can taste the chocolate and coffee in every bite of these mocha overnight oats.
So many times, things are labeled "mocha" flavored and I can't taste the coffee at all. And let's just say, I love my coffee and I want to taste it.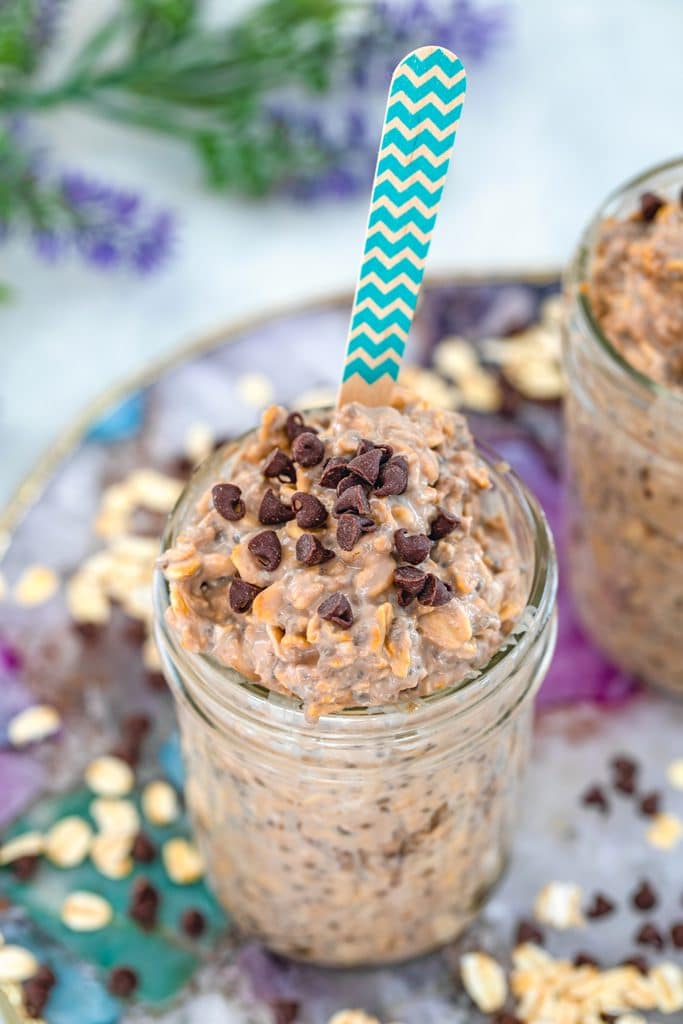 And my chocolate, too. Which is why mocha is basically the best flavor in all the world. Even better when it's for breakfast. Annnd even better when that breakfast is so ridiculously easy to make.
I'm telling you, 5 minutes at night and this mocha overnight oats breakfast can be yours in the morning!
Just make sure you save a little leftover coffee in that pot. I know... that's probably asking too much, right?
Luckily, I have a Keurig so if I forget to save coffee, I just make another cup later in the day so I can make coffee overnight oats!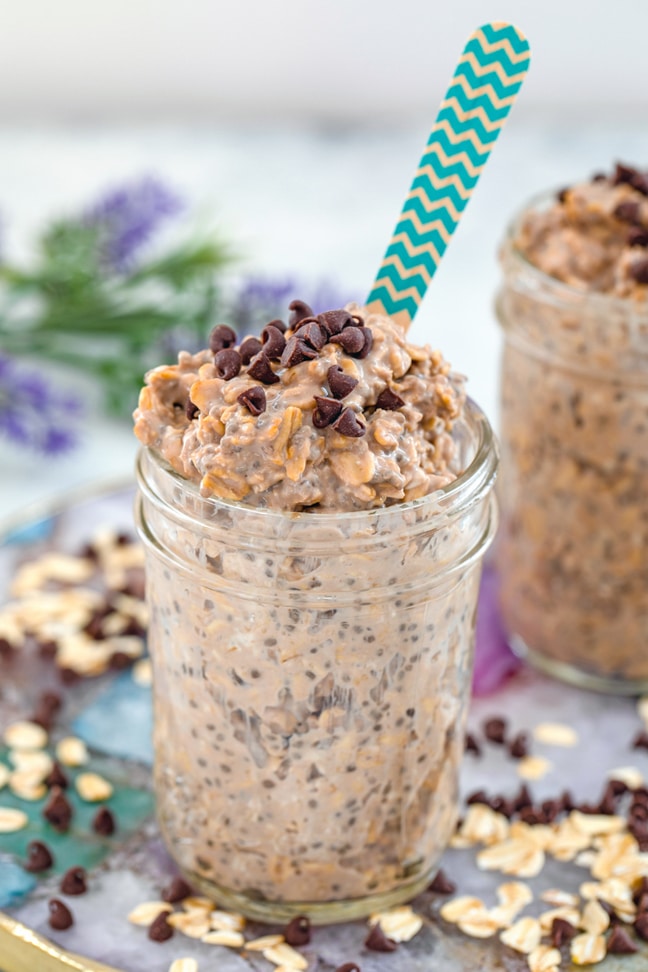 I definitely go through phases when it comes to making overnight oats, but every time I do, I tell myself I need to make them more often. They're so easy and ridiculously satisfying... Especially this chocolate/coffee version!
When I eat these mocha overnight oats in the morning, I feel full all morning long when on a typical morning, I'm hungry pretty much every hour.
🥣 More healthy-ish breakfast recipes:
If you're like me and want to start your day with a little bit of nutrition, but also a lot of deliciousness (no boring old oatmeal for me!), try these healthy-ish breakfast ideas:
Do you ever make overnight oats?
📖 Recipe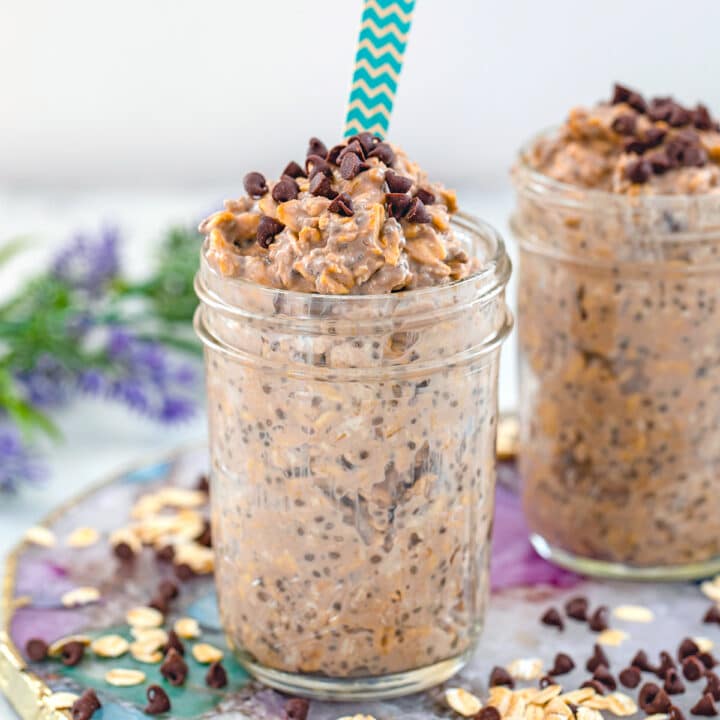 Mocha Overnight Oats
These Mocha Overnight Oats let you start your day off with a little bit of chocolate and a little bit of coffee and will keep you satisfied all morning long!
Print
Pin
Rate
Ingredients
½

cup

old-fashioned oats

2

tsp

chia seeds

½

cup

2% Greek yogurt

¼

cup

chocolate soy milk

(can use any chocolate dairy or dairy alternative)

¼

cup

brewed coffee,

room temperature or chilled

3

tsp

mini chocolate chips,

for topping
Instructions
Combine old-fashioned oats, chia seeds, Greek yogurt, chocolate milk, coffee, and 2 tsp mini chocolate chips in a mason jar; cover; and shake to combine. If your jar isn't big enough, you can mix ingredients together in a bowl.

Refrigerate overnight, or for at least 8 hours.

Before eating, top with remaining 1 tsp mini chocolate chips.
Notes
Feel free to adjust sweetness by adding more or fewer chocolate chips to mixture.
You can easily double or triple this recipe to make additional servings.
Share a Photo of Your Finished Recipe!
Mention @wearenotmartha and share a photo if you've made the recipe!
View Web Story for this recipe.