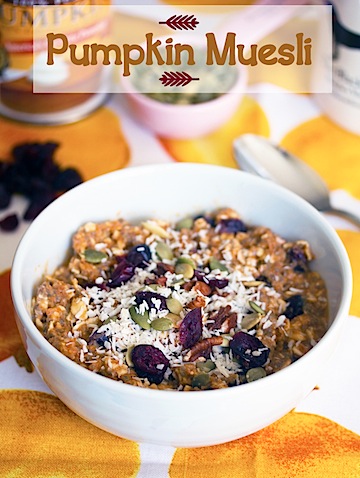 Breakfast! Because sometimes you need a reason to get up in the morning. You know, besides life is wonderful and you have a to-do list from here to China and back and all that jazz. Nope, sometimes that is just not motivation enough. And to be honest, when it's cold and pitch black out (what the heck, October??), sometimes not even breakfast is enough. But it can help. Plus, I guess the knowledge that you'll get fired from your job if you don't get up really should be motivation enough… But breakfast helps just a little bit more. Or at least can make you smile a little bit. And at 6:00 a.m. that is no easy feat.
I'm one of those people who never ever gets enough sleep. Ugh. I'm always so tired in the morning and sometimes again at like 3:00 p.m. when all I can think about is black coffee, chai lattes, and what my life would be like if I still ate things like Power Bars. Or if I ever drank things like 5-Hour Energy. But at 11:00 p.m.? Not ready for bed. I'm not saying I couldn't go to sleep if I wanted to… I'm just saying I'm not in the mood to go to sleep and I get a second wave of "OMG I'm getting so much done!" late at night. And that basically means that getting up during the week is never fun. Never. But I do it anyway. Mostly because of my job, my to-do list that's on its way to China, and the fact that my basil plant is still miraculously flourishing and I like to water it first thing in the morning. Pesto in October will be mine!
I wrote about bircher muesli last year and claimed I wasn't going to overdo it and would never get sick of muesli for breakfast. Well, after bringing muesli to work every single day, I kind of sort of got bored of it. So, after not eating it for a few months, I decided to try again, but to switch it up a bit. I added pumpkin and some other fall delicacies and am super excited to have a brand new breakfast that fits perfectly with the season and doesn't really require me to open my eyes in the morning. I can deal with that.
Fall Pumpkin Muesli (serves 6):
Print this recipe!
1 1/2 C old fashioned oats
1/2 C wheat bran
1/4 C chia seeds (or flax seeds)
1/2 C dried cranberries
1/4 C chopped pecans
1/2 t cinnamon
1/4 t nutmeg
1 C pumpkin puree
1 1/2 C soy milk (or other dairy)
1/4 C apple cider
1 apple, grated, for topping
Coconut flakes, for topping
Pumpkin seeds, for topping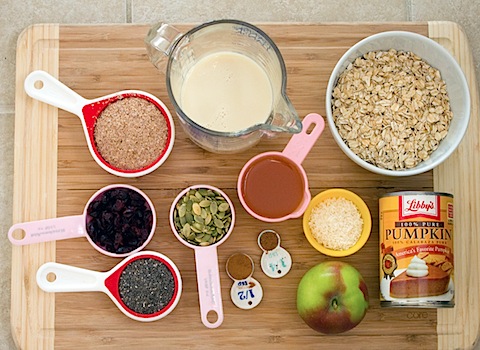 The concept is totally simple. Put a bunch of healthy ingredients in a bowl and let them chill and soak together for a while. Then top with some garnishes and eat. The best thing is that you make it the night before you want to eat it. And then you have it waiting for you in your fridge for a couple days after it's made. I love eggs for breakfast, but they're certainly no good if you make them ahead and leave them in the fridge. This? This is the way you have to do it for this muesli.
In a large bowl, mix together oats, wheat bran, chia seeds (or flax seeds), dried cranberries, chopped pecans, cinnamon, and nutmeg.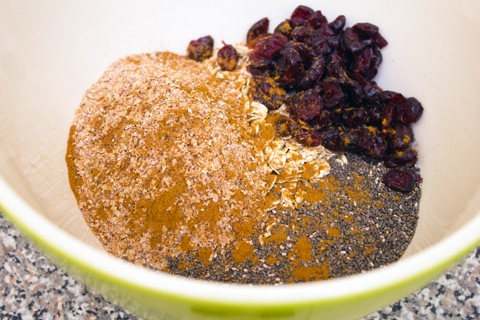 Then mix in the beautiful pumpkin puree.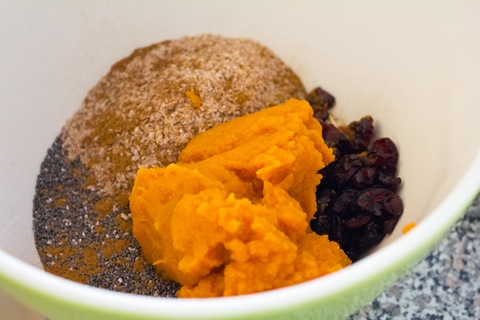 And pour in whatever milk you're using. I use Silk Vanilla Soy Milk. But you could use regular dairy milk or almond milk or really any type of milk you choose.
Once everything is mixed together, you'll want to cover and pop the bowl in the fridge for at least a few hours, but ideally overnight.
In the morning? All you'll have to do is stir in a few ingredients. Like the apple cider. If you're going to be eating this over multiple days, I recommend serving the muesli in a bowl (or putting it in a Tupperware to bring to work!) and pouring just a little bit of apple cider into the portion. Top with some grated apple, coconut flakes, and pumpkin seeds.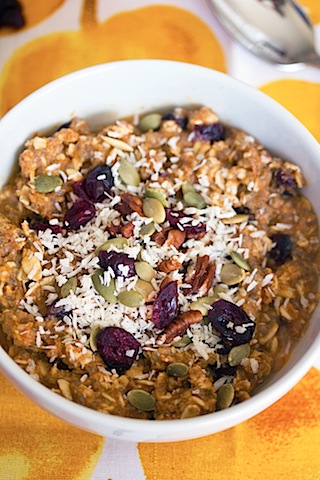 Of course, all of these ingredients are pretty optional. You can leave any of them out (well, maybe include the oats… and also the pumpkin) and add anything else in (well, maybe try to stay away from M&Ms and other non-breakfast candies and ice cream).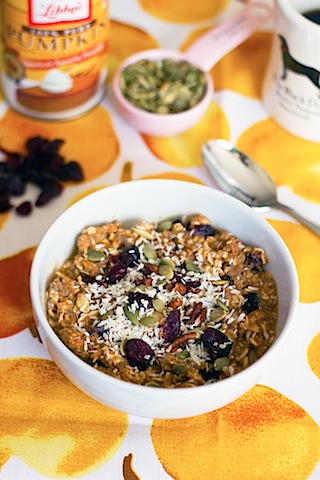 Really though, the beautiful thing about muesli is that you can basically do whatever you want with it. I'm partial to my creation because I feel like it's both healthy and delicious, but there are probably a million things you can do that I haven't even begun to imagine yet.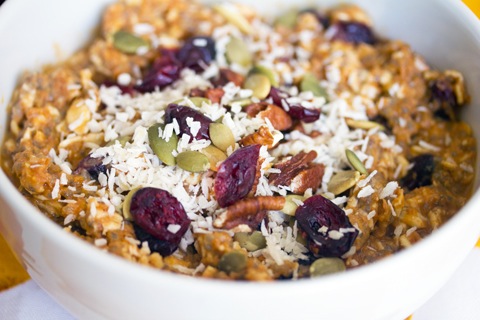 Now, I've legit been putting this in tupperware every morning and going off to work so I can indulge when I get to my desk. It makes my mornings just a little bit happier. And also? It keeps me full for way longer than absolutely anything else I've ever had for breakfast. And when you have a super loud hungry stomach like mine and you work in a fairly quiet office, this is a very good thing.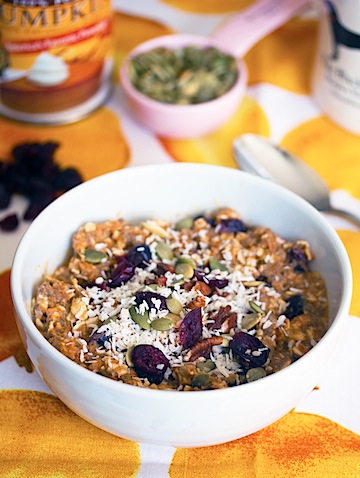 Holy heck this is delicious. So many crazy fall flavors all coming together in a one-bowl breakfast.
The black coffee helps, too. And I love drinking it out of my Black Dog mug. Even though I've never been to the Black Dog or even to Martha's Vineyard (I KNOW). It's still my go-to mug that is the perfect size and weight. Also, I did see a few episodes of that absolutely horrible non-reality show about Martha's Vineyard. I promise I didn't like it and that my husband made me watch it. He met one of the "stars" dads at his barbershop and had to watch to see when the dad visited the show. I couldn't… I can't… But I kind of did.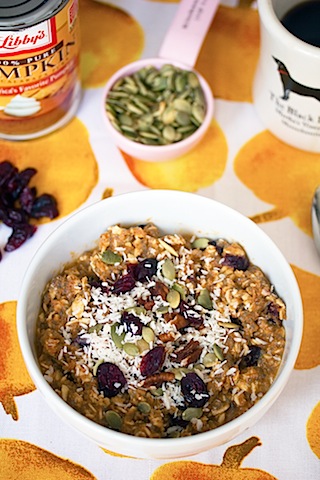 Another thing that wakes you up in the morning is when your towel rack comes out of the wall and lands on your bare foot. Which is exactly what happened to me on this lovely Monday morning. But I think this Fall Pumpkin Muesli is a better way to wake up. Yup, I'm pretty sure it is. Fall Pumpkin Muesli brings happiness to all!
What's your typical weekday breakfast?
[Sues]