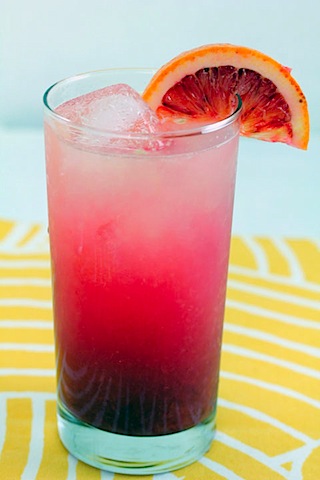 Happy Cocktail Friday! This is going to be a quick post because a) this drink is super simple to make and b) I've slept about a total of 15 hours this week. Like the entire week. And while I've been in some weird kind of zone the last couple days coasting on through, I'm starting to crash. And it's likely going to come on hard. Which means I'll probably sleep for about a zillion hours tomorrow. And wake up at 3 p.m. confused and depressed that I wasted an entire day of weekend.
I actually didn't fully realize tomorrow was St. Patrick's Day until today. Or else I would have a delightful green drink for you. Instead you'll have to deal with pinkish red. And two of my all-time favorite fruits. The blood orange. And the grapefruit. Hurry up and make this before blood oranges are gone for the advent spring. And if you are celebrating the Day o' the Irish with Irish-inspired food (and green!), you could always make:
Chocolate Stout Cupcakes with Irish Whiskey filling and Bailey's Frosting
Guinness Cupcakes with Cream Cheese Frosting
Corned Beef Melts
Avocado Spinach Egg Salad (what? It's green!)
But you should also make this drink, despite its serious lack of green. You don't need pink grapefruit vodka for this drink. You can totally use regular old vodka and the fresh grapefruit juice with give it the jazz it needs. But my parents got me a bottle of Belvedere pink grapefruit vodka for Christmas and I'm obsessed.
Grapefruit Blood Orange Cocktail (makes one drink):
Print this recipe!
1.5 oz. pink grapefruit vodka (I like Belvedere)
3 oz. fresh squeezed grapefruit juice
.5 oz. fresh squeezed lime juice
3 oz. fresh squeezed blood orange juice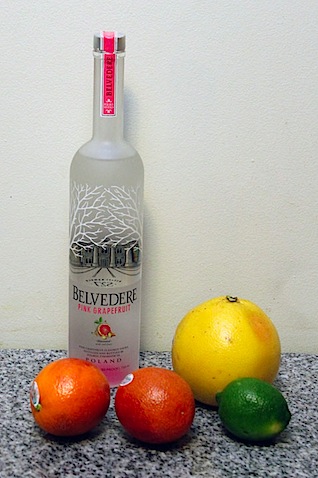 I'm a sucker for a pretty bottle. And a delicious vodka. This one is great over ice with a little bit of soda. Or in this drink, of course.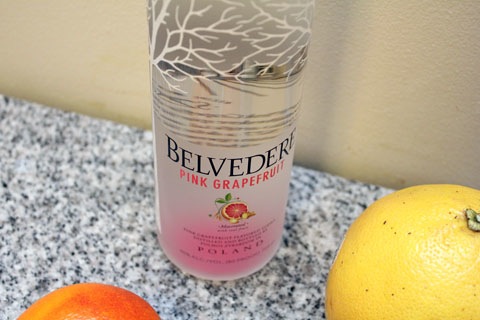 First you'll want to juice your grapefruit and blood oranges and lime. Here's another image for my someday book I'm titling "The Aftermath." So far, it includes a lot of blood orange and other citrus photos. They make such beautiful messes.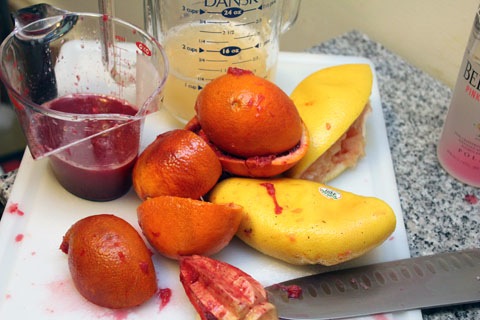 Now, in a shaker filled with ice, combine vodka, grapefruit juice, and lime juice.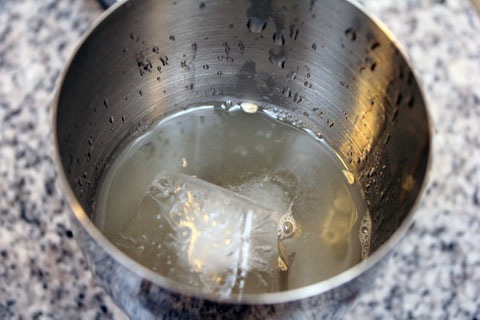 Shake it all up and pour it into a glass filled with ice.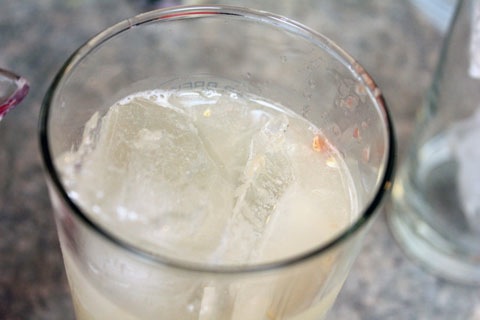 Top with the fresh squeezed blood orange juice and a blood orange slice for garnish.
I wasn't quite sure what the cocktail would look like, but I absolutely love how the colors separated and formed this beautiful cocktail.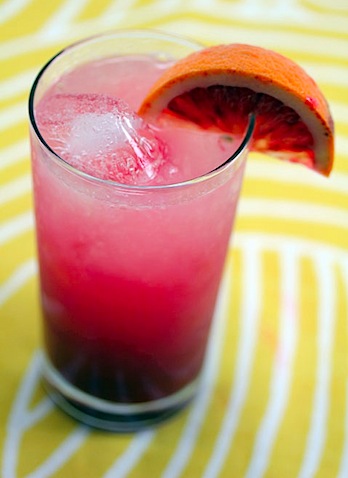 It almost looks kind of summery… But it's not. Because it's blood orange.You may want to repeat this recipe again for good measure. And to share with a friend/loved one. I always do.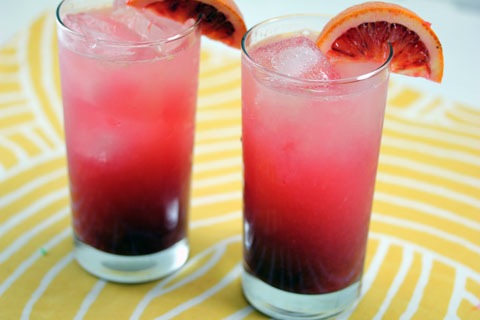 And then sip away, mourning the fact that blood oranges are almost gone… But celebrating the idea that spring is close by. Like really close. Like I think it's going to be 70-something degrees in Boston next week. Which is totally crazy for March (and a winter with no snow) and probably means we're going to have a blizzard on our June 9 wedding. Oh well, snow looks nice in wedding photos, right?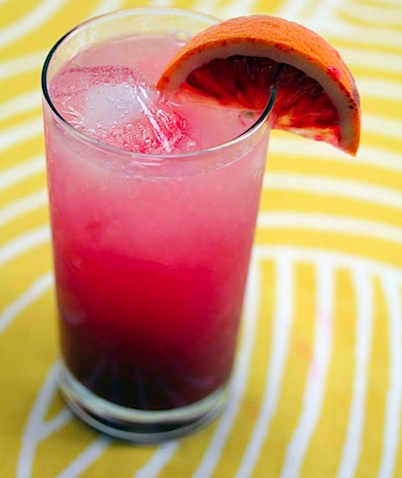 I have one more blood orange recipe (that is surprisingly NOT a drink!) to share next week before they may get tough to find. At which point I'll probably cry myself to sleep. Sure, you can make this with just grapefruit juice. Or grapefruit and regular orange juice. But it likely would't be so delicious. Nor would it be half as pretty. The other great thing about this drink is that it's not so alcohol packed that you feel like you can't move after you take a few sips. It's just plain light and refreshing.
OK, I'm pretty sure my eyes are officially closed (I'm a really good typer). But you should make this. It's almost so easy that you actually can do it with your eyes closed. Of course, those are blood oranges you're dealing with. And that could get really messy really quickly. Goodnight!
What will you be sipping this weekend? Something for St. Patrick's Day?
[Sues]