Do you ever have food flashbacks? You know, when you're just minding your own business and you suddenly think of a food from your past? Sometimes the flashbacks are so strong, you can almost still taste the food, even though you haven't had it in 20 years. I, for one, think quite often about Keebler's Magic Middles. And long for them to come back to my grocery store. From what I remember, they were the best cookie ever.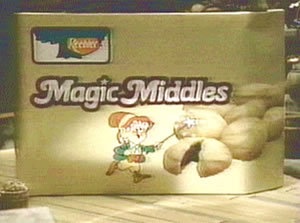 There are actually lots of recipes for Magic Middle-similar cookies out there and some day I will conquer one. But I'd really like to have the originals back, so I can compare. Why on Earth did they ever get rid of these in the first place? Silly little elves in their trees.
And sometimes you just happen upon a recipe and realize it totally reminds you of something from your childhood. When I saw this recipe for Wild Blueberry Cornmeal Cookies on 5 Star Foodie's blog, I immediately thought of an old breakfast favorite of mine. Thomas' Toast-R-Cakes. The blueberry variety. Remember these?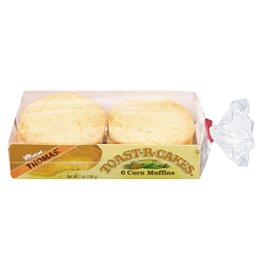 Allegedly, they still make them, but I haven't seen the blueberry Toast-R-Cakes anywhere lately. But now I can actually bake them myself! The recipe I followed calls them cookies, but I'm calling them cakes because they are so incredibly similar to the cakes from Thomas'.
Blueberry Cornmeal Cakes:
• 3/4 C corn flour (I used Bob's Red Mill found at Whole Foods)
• 1/4 C all-purpose flour
• 1 t baking powder
• 1/4 t salt
• 1/4 C unsalted butter, softened
• 1/3 C sugar
• 1 egg
• 1/2 t coconut extract
• 1/2 C wild blueberries (fresh of frozen)
(pre-heat oven to 350 degrees)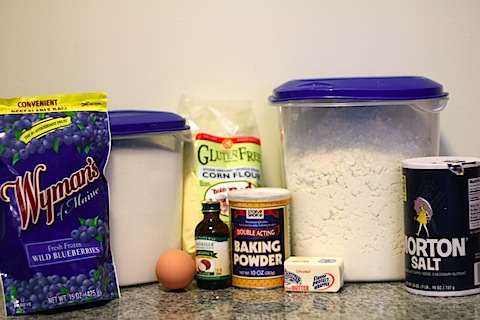 Whisk together the corn flour, all-purpose flour, baking powder, and salt.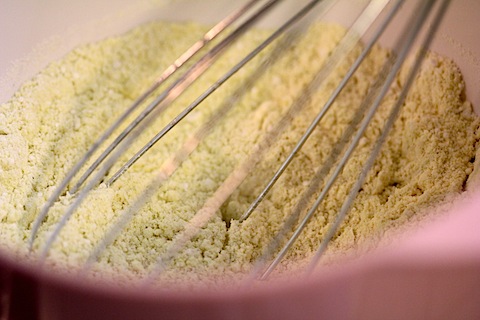 In a separate bowl, cream together the butter and sugar. I used my stand mixer. Don't call me lazy.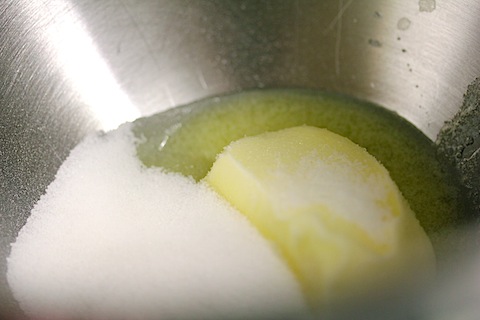 Add the egg and coconut extract and blend well. The second I read that there was coconut extract in this recipe, I remembered the slightly coconut-y taste from the Thomas' cakes.
Then combine the flour mixture slowly into the butter mixture.
Stir in the wild blueberries.
I love how the colors blend together.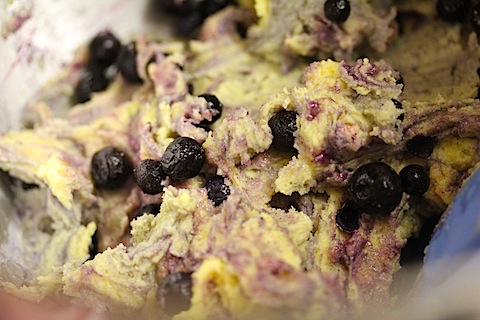 Place scoopfuls of batter onto a parchment lined cookie sheet, about an inch apart.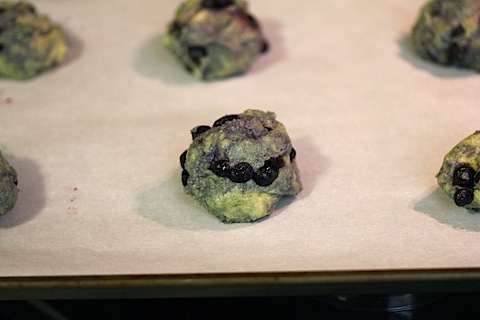 Put the cookie sheets in the fridge for at least 10 minutes… You can pop them in while you're pre-heating the oven to 350 degrees.
Bake the cookies for about 12-14 minutes, until the edges start turning golden brown.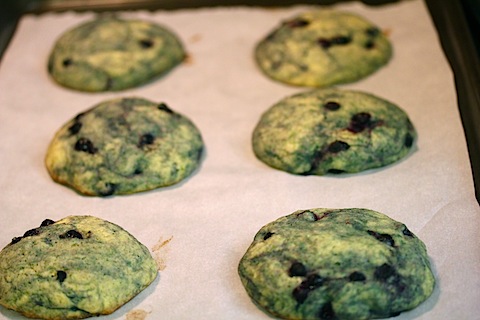 And voila! You have your blueberry cornmeal cookies. But really, these are more like toast-r-cakes. In fact, when I told Chris I made cookies, he said "those aren't cookies!" and said they were more like muffin tops. And he's right. That's why I'm calling these cakes.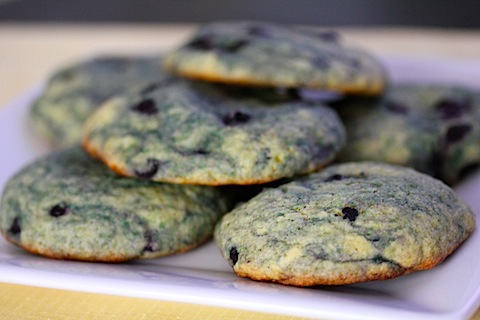 They really do taste like the Toast-R-Cakes I remember. Talk about a food flashback!
And since I'm sitting here comparing them to Thomas' Toast-R-Cakes, that means they're most definitely acceptable to eat for breakfast.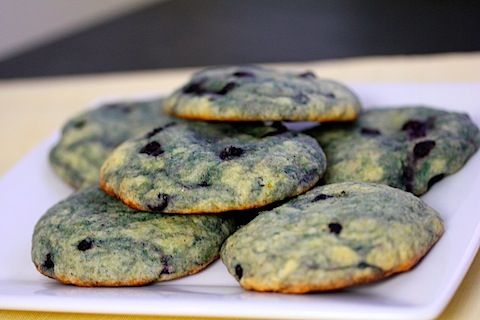 Warmed up and spread with lots and lots of butter.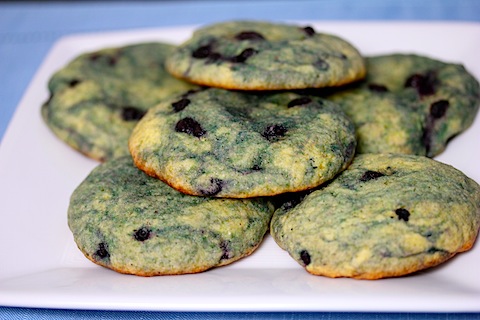 What's in a name anyway? A cookie (cake, muffin top) by any other name would be as sweet.
Do you have a food from your childhood that you totally miss? Will you ever try to recreate it?
Next, I totally need to figure out how to make these: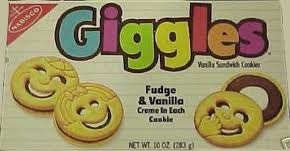 Why did they get rid of all the good cookies from the 80s?
Don't forget to enter our Sugarbush Ski/Snowboard Gift pack Giveaway! It's pretty sweet 🙂
[Sues]