This salad was a complete experimentation! A couple weeks ago I was roasting some veggies and decided to toss in some very thin slices of zucchini. When I took them out of the oven they were browned quite perfectly and had a really crispy texture, so by complete accident, I created zucchini chips! I decided to play around some more with the idea this afternoon.
Here's what you need for one serving (I mostly eyeballed my measurements but you can find a more exact recipe here):
• 1/2 of a large zucchini, cut into 1/4″ thick slices
• 1/4 cup dry bread crumbs (I used panko since that's what I had on hand, you could also use seasoned bread crumbs)
• 1 tablespoon Italian seasoning
• ground black pepper
• 1 tablespoons grated Parmesan cheese
• 1 egg (I used the entire egg, you can also use just the egg white)
Here's what you do:
• Preheat oven to 475 degrees.
• In a small bowl mix bread crumbs, Italian seasoning, pepper, and parmesan cheese.
• Place the egg in a separate bowl, dip the zucchini slices in egg, then coat with the bread crumb mixture.
• Place all slices on a greased baking sheet. I sprayed mine with a bit of olive oil.
• Bake for 5 minutes then flip each slice and bake for another 7-10 minutes until golden brown and crispy.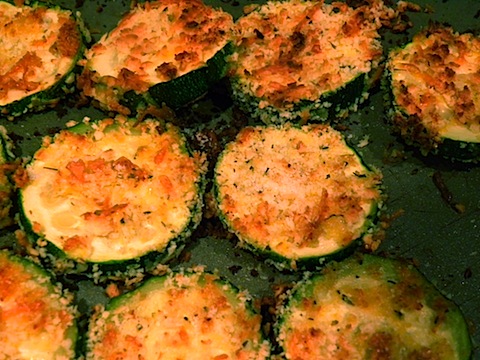 The taste and flavor were definitely there but this is definitely a work in progress. I think next time I'd like to cut the slices just a tad thinner because they brown a bit better than the thicker slices. They're more "chip-like" and crispy when they're thin, too!
After the chips were done baking I realized I hadn't eaten any lunch so I topped a bed of spinach with some fresh sweet corn, Athenos Tomato and Basil Feta, and the zucchini chips. And I quickly whipped up a dressing that consisted of plain Greek yogurt, fresh parsley, red onion, lemon juice, extra virgin olive oil, cumin, and tomato which worked really well and was just the right consistency with the zucchini chips!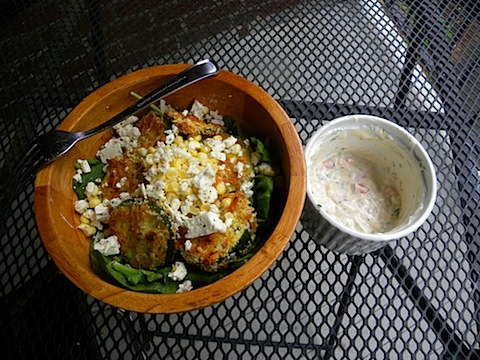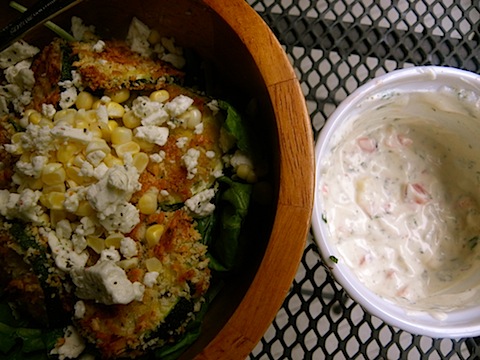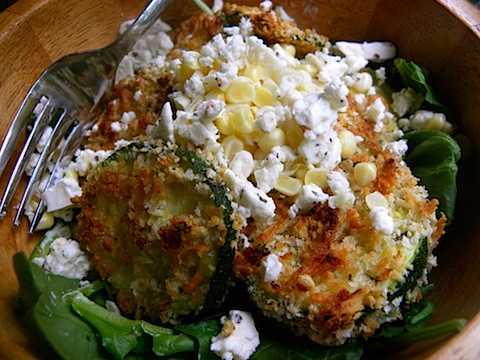 And now it's Feta Friday Giveaway Time! Making a change for the Feta one giveaway at a time 😉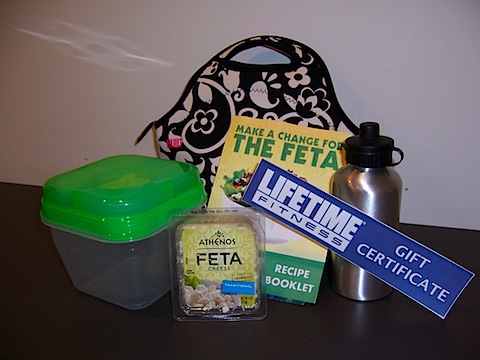 The prize pack includes:
• Free Athenos Feta coupon
• 1-month gym membership to LifeTime Fitness
• Athenos water bottle
• Athenos Feta recipe booklet
• Salad shaker travel container (great for picnics or taking your lunch to work!)
• Reusable lunch bag
Just like I created zucchini chips completely unplanned, share with us your best accident turned "this is a keeper recipe"! Leave a comment on this post with your story by Tuesday, July 27 11:59pm EST for your chance to win the prize pack! We'll randomly select a winner and announce it next week 🙂
Happy weekend, friends!
[Chels]